If I could, I'd gladly eat Mexican food for the rest of my life. I'm pretty sure that I will never, ever, ever get sick of warm and fluffy tortillas, spiced chicken, melted cheese, warm chips dipped in warmer salsa, guacamole bowls the size of my head and ladlefuls of queso. Oh and margaritas! Who could forget margaritas? I'd like one right now, please and thank you.
Growing up, we ate tacos at least one night a week—many times twice with some makeshift leftovers. It wasn't until I reached my teens that I discovered my love for refried beans, and this is years after my mom would heat a huge pot on the stove for herself that the rest of us wouldn't touch. I'd ask her how on earth she could eat something that looks like … THAT … and then she'd stare at me like I had four heads.
I'm so glad I was wrong about that.
Obviously, the minute I saw Table for Two's recipe for said beans, I bookmarked it that day. It fit in perfectly with our weekly Mexican feast (I mean, I can't help but carry on that tradition) and is so simple that I can barely stand it.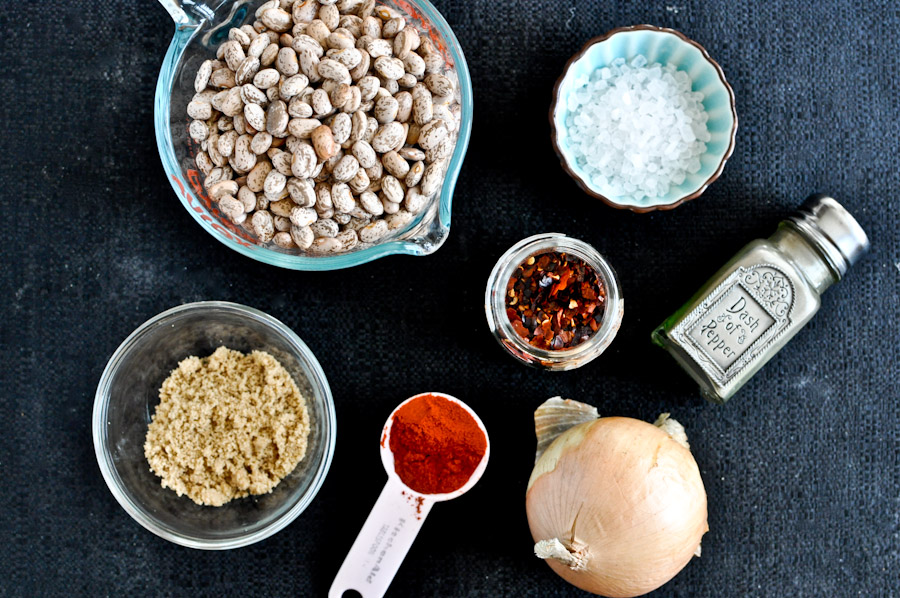 Here's all your need! Pinto beans, salt, pepper, an onion, red pepper flakes, paprika and brown sugar. Oh and tons of water. About 3 quarts to be exact.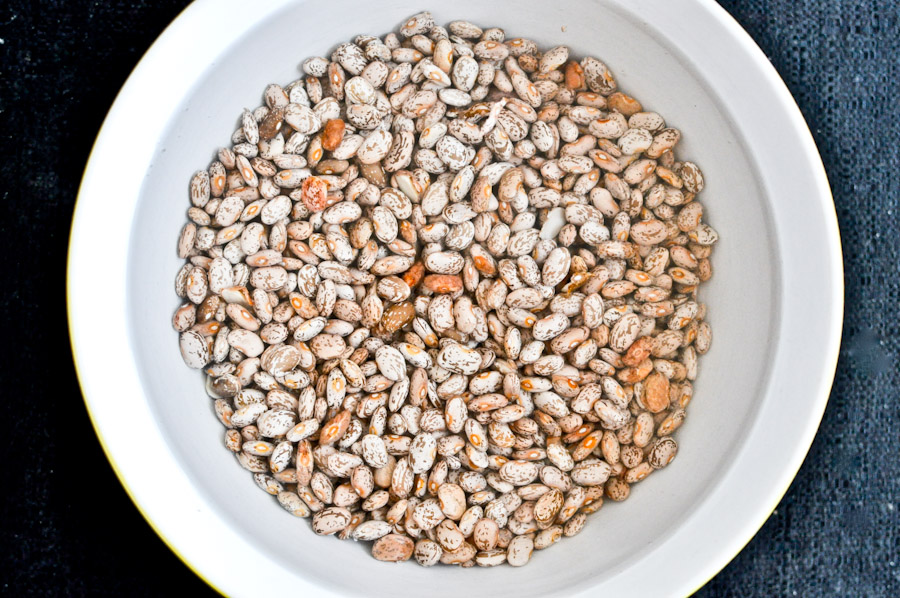 The first step—soaking the beans overnight—is optional. I know, I know. Sometimes it's difficult to remember to do such things at night when you really just want to smash your head onto your pillow and watch the four episodes of Friends on Nikelodeon. I get it! If you forget or simply don't want to soak the beans, no worries. You will just cook them slightly longer and I'll tell you more about that later. Whether you soak them or not, give them a really great rinse. K?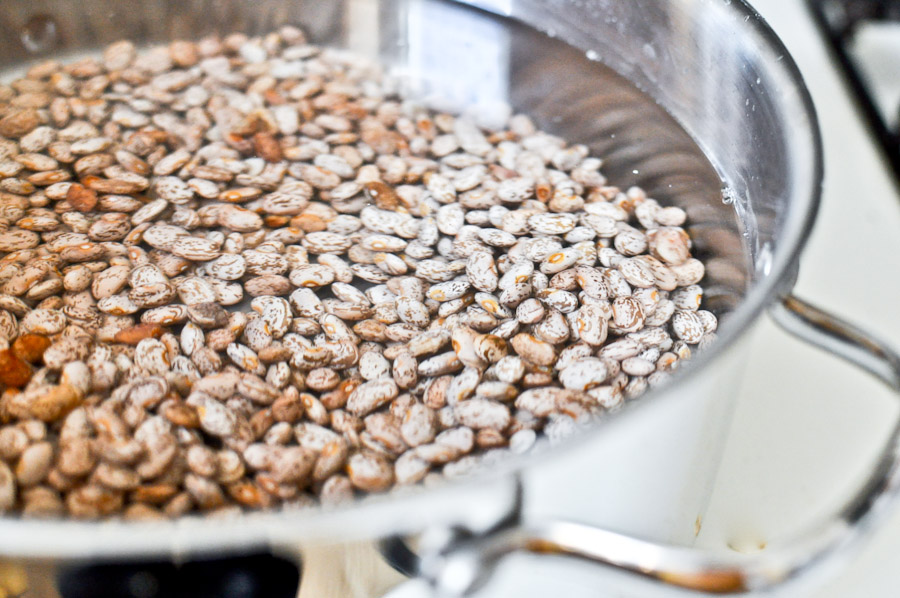 Next, throw your beans in a large pot and add 3 quarts (a little more or less is fine) of water. The key is to have about 3-4 inches of water above the beans. If you are a nerd like me, you might measure it with a ruler. If you are cool and don't measure, I wish we were friends.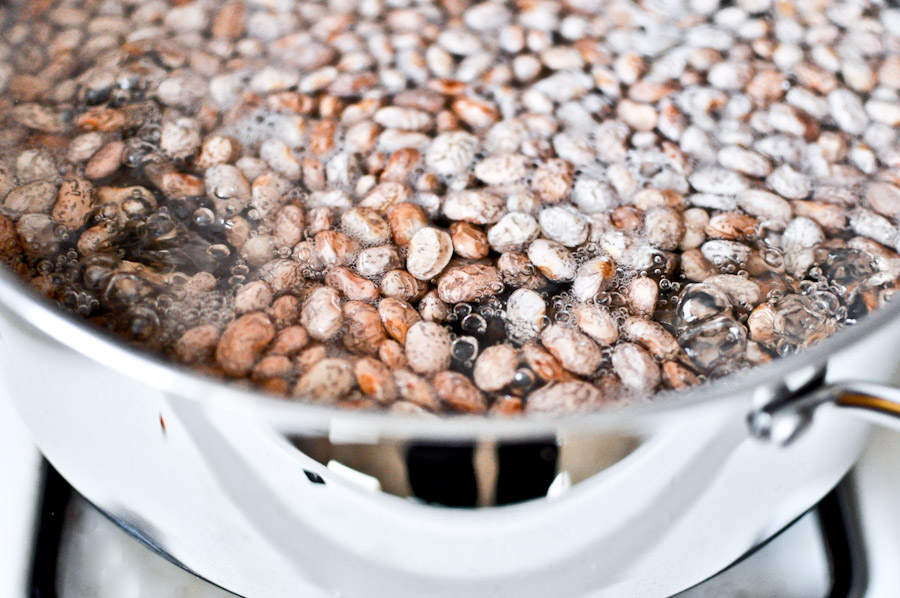 Bring the beans to a boil, then reduce to a simmer. If you soaked your beans overnight, you are going to cook them for 1 1/2 hours. If you didn't soak the beans, you are going to tack another hour on to the cooking time for a total of 2 1/2 hours. I did not cover my pot o' beans, FYI. I'm sure it would be fine if you did. Just make sure to check them periodically and give them a stir.
This part is important! Before draining your beans, reserve 1 cup of liquid and set it aside. And I mean before you drain your beans. Because, uh, someone I know once drained the beans, pouring all the delicious liquid down the sink. I don't know who would do such a thing.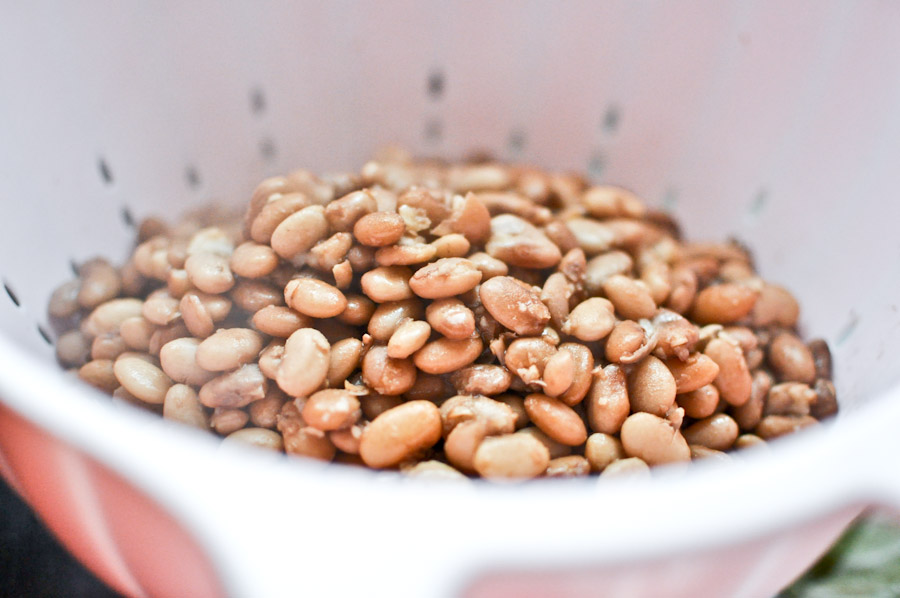 After reserving the liquid, drain the beans, then throw them back in the pot and set them aside for a few minutes.
Grab a skillet and saute your chopped onion, paprika (I used smoked paprika), brown sugar and red pepper flakes until soft, about 5 minutes.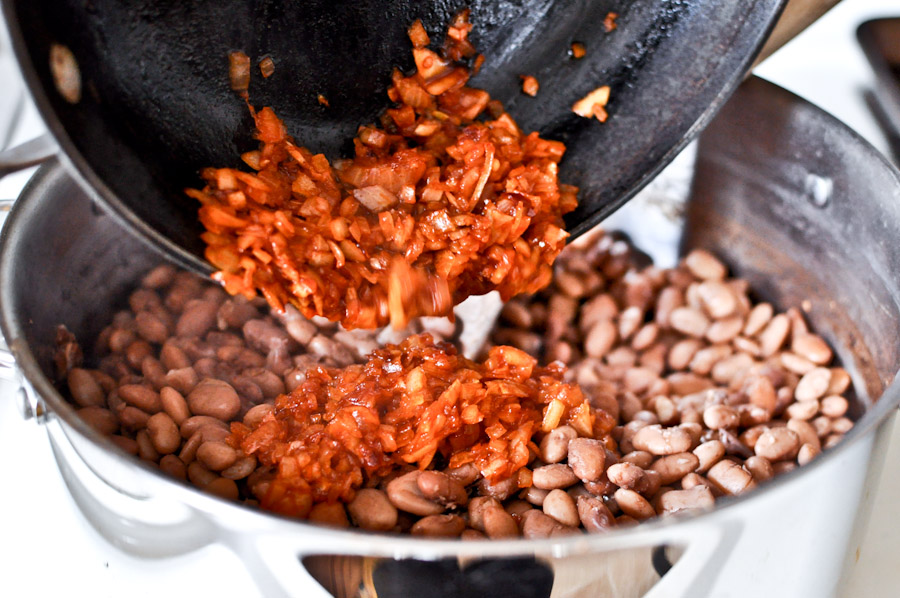 Add the contents of that skillet to the big pot of beans. Oh yes.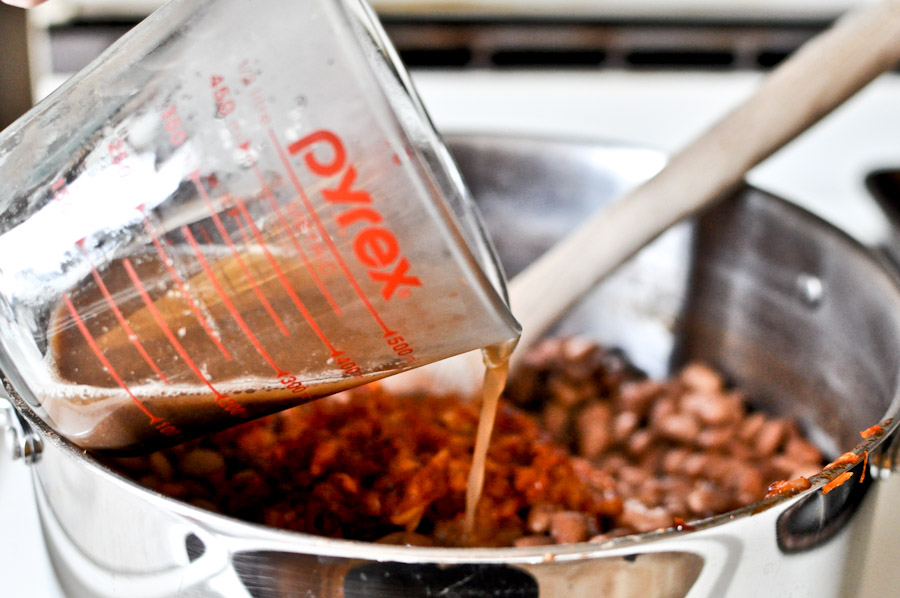 And add the reserved liquid too.
Next comes the mashing of the beans. To begin, I used a potato masher to smash everything together. You can also use a pastry blender or heck, even a few forks. That will give you a good arm workout, but it will work.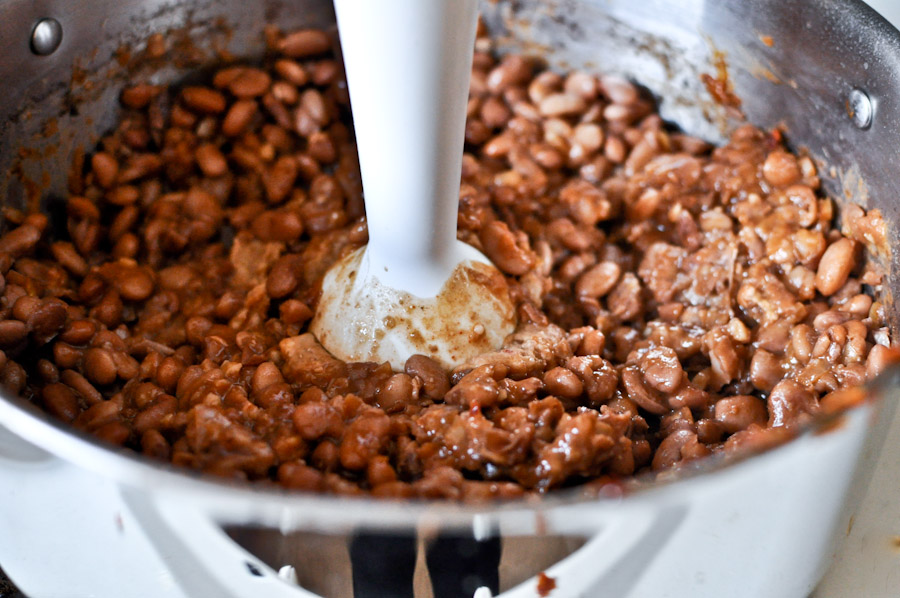 After mashing the beans, I went to town with my immersion blender. This gave the beans a really creamy texture, so if you prefer a more rustic mix, continue mashing with your tool of choice. Additionally, if you do not have an immersion blender, an electric hand mixer also work, though it didn't smoothen the beans out quite as much. Don't freak if you can't get the beans super creamy. They will still be delicious.
At this time, you also want to take a few tastes of your beans. They will taste pretty bland since we haven't added any salt, so begin with an amount you feel comfortable with. The original recipe called for 4 tablespoons, but I began with 1 teaspoon and got away with about 1 tablespoon of salt for the whole pot. I also think this had to do with my use of the smoked paprika, as well as the pinch of salt I added to my sauteing onions.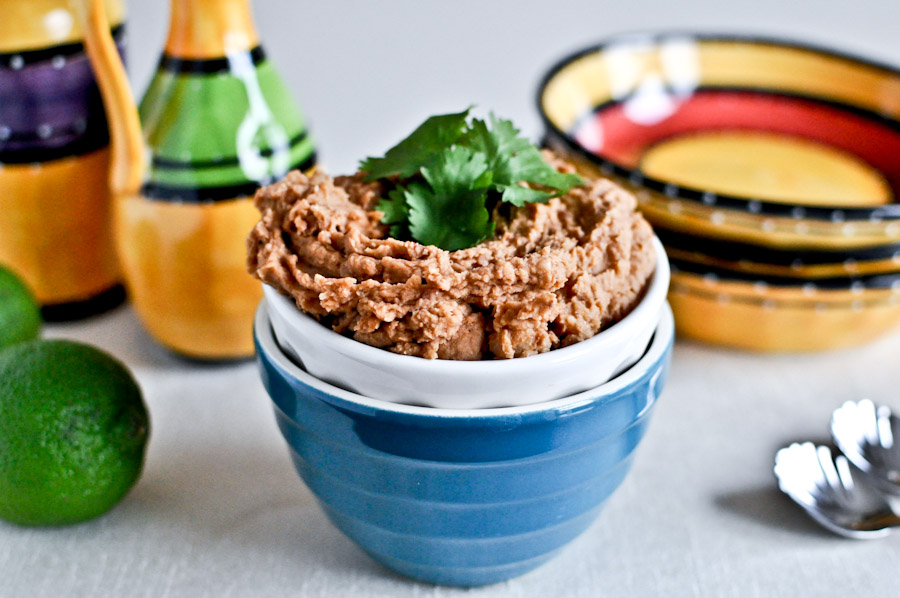 After seasoning, scoop the beans into a bowl (or your mouth) for easier consumption. Top with your favorites, like cheese, green onions and cilantro.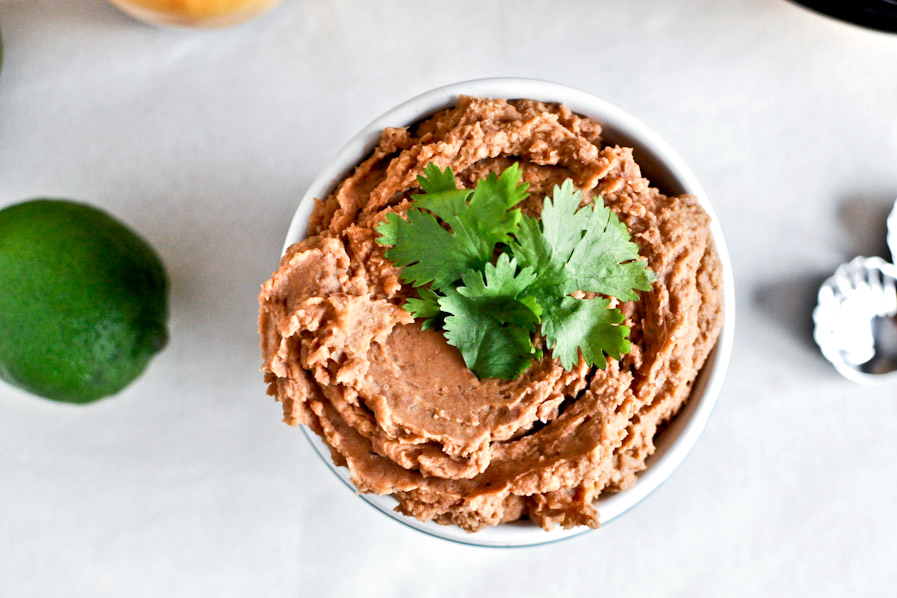 Throw on burritos, tacos, nachos or salads. Even use as a delicious dip for blue corn chips! Die and go to heaven. These are fabulous.
Thanks so much to Julie for the recipe! Be sure to check out her blog, Table for Two, where she posts some of the most delicious comfort food I've ever seen.
Printable Recipe
See post on Table for Two's site!
Description
Homemade refried beans: you won't ever go back to the canned stuff!
Ingredients
2-½ cups Dry Pinto Beans
3 quarts Water
1 Onion, Chopped
½ Tablespoons Red Pepper Flakes, Or More To Taste
½ Tablespoons Paprika
2 Tablespoons Light Brown Sugar
4 Tablespoons Salt, Or As Needed
Preparation Instructions
1. If possible, soak pinto beans overnight. This will cut down your cooking time a lot. If not, it's okay. Instructions are the same as below.
2. Rinse the beans to get off any dirt.
3. Add the beans to a pot and cover with the water. Make sure there is at least 3-4 inches of water above the beans. Cook the beans for 2 1/2 hours, about 1 1/2 hours for pre-soaked beans.
4. Once the beans are cooked, reserve 1 cup of the water, then drain the rest. Set aside.
5. In a skillet, saute the onions, red pepper flakes, paprika, and brown sugar for about 5 minutes. Add this to the pot where the beans are and add the reserved cup of water.
6. Using an immersion blender, lightly blend the beans until they're the consistency you want. If you don't have an immersion blender, you can use a pastry blender (like I did). It gives a coarser consistency than the immersion blender since it's harder to get every bean.
7. Season with salt as needed. Keep tasting it occasionally. This is also where you can add more red pepper flakes if desired.
8. Serve immediately.


_______________________________________
Jessica Merchant is a personal trainer turned food writer and blogger. Her blog, How Sweet Eats, is where she proclaims her love for all things sweet, all things bacon, and everything else in between. She works her magic in her Pittsburgh kitchen, which she shares with her husband of 2 years.