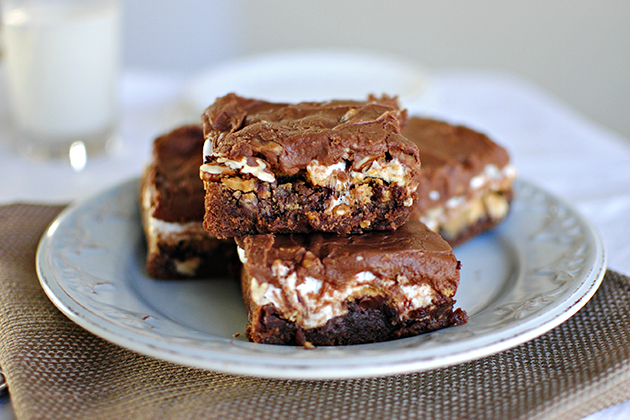 What exactly is a Mississippi Mud Brownie? Okay, so get this: it's a moist brownie layered with chocolate chips, topped with melted crunchy peanut butter, marshmallows, sprinkled with toasted pecans and lacquered with a thin layer of frosting. Are you sold?
Instantly, when my eyes fell upon TK member Taylor's (greensnchocolate) recipe for Mississippi Mud Brownies, I just knew I had to make them. I desperately felt the need to sink my teeth into these ooey-gooey sinful brownies! And these brownies didn't disappoint.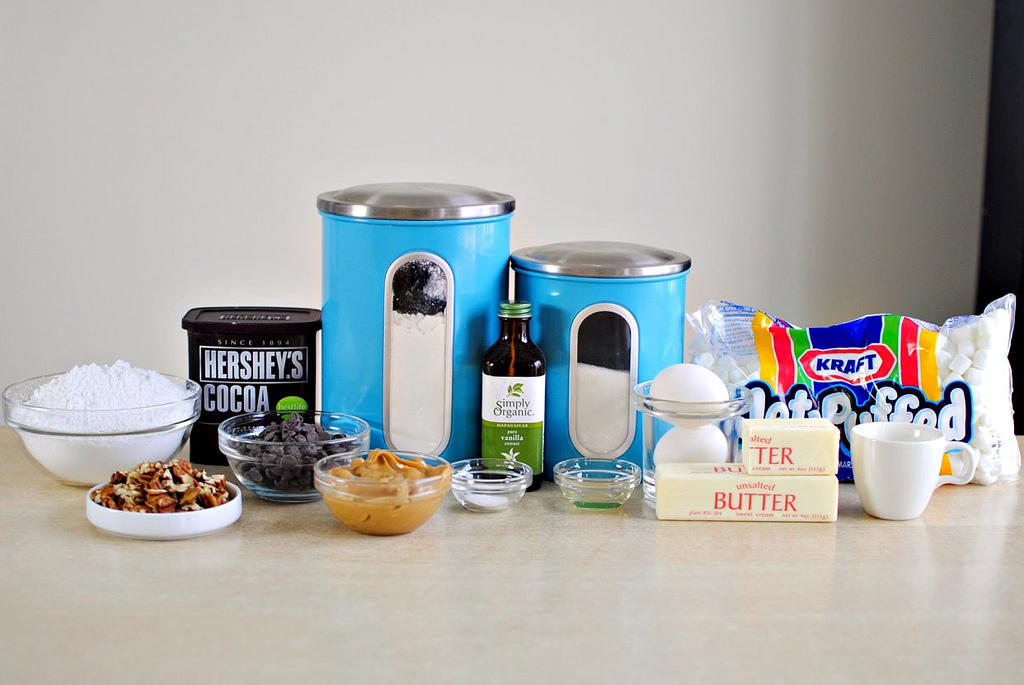 These brownies require a few basic pantry ingredients, and they take less than 30 minutes to prepare! I chopped the toasted pecans ahead of time to quicken the process a bit.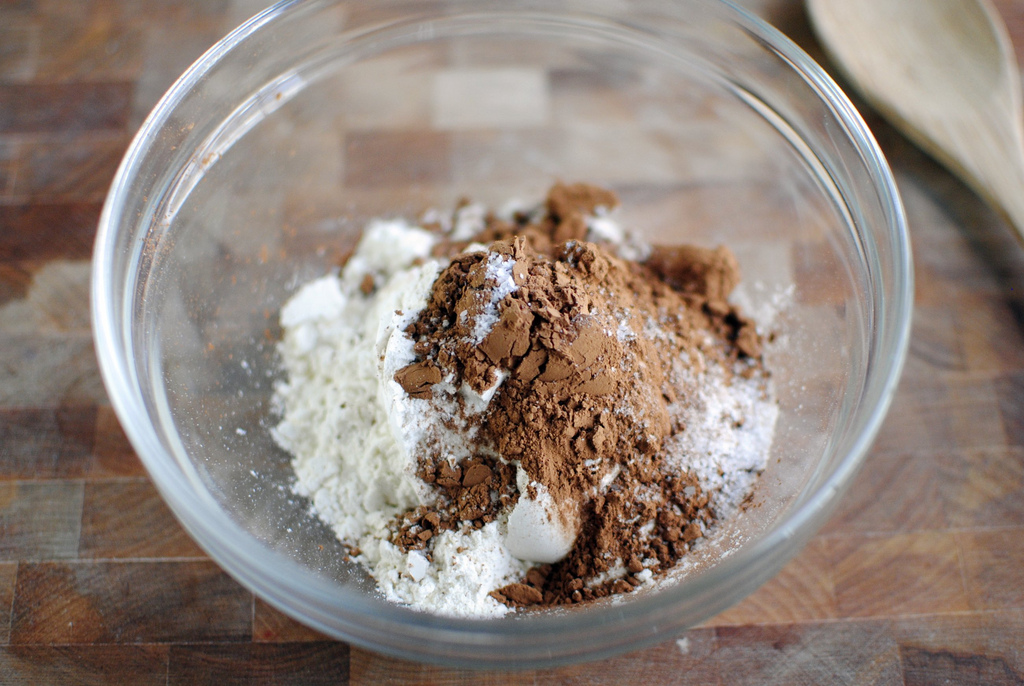 Start off by measuring the flour, cocoa powder and salt. Add them into a small bowl.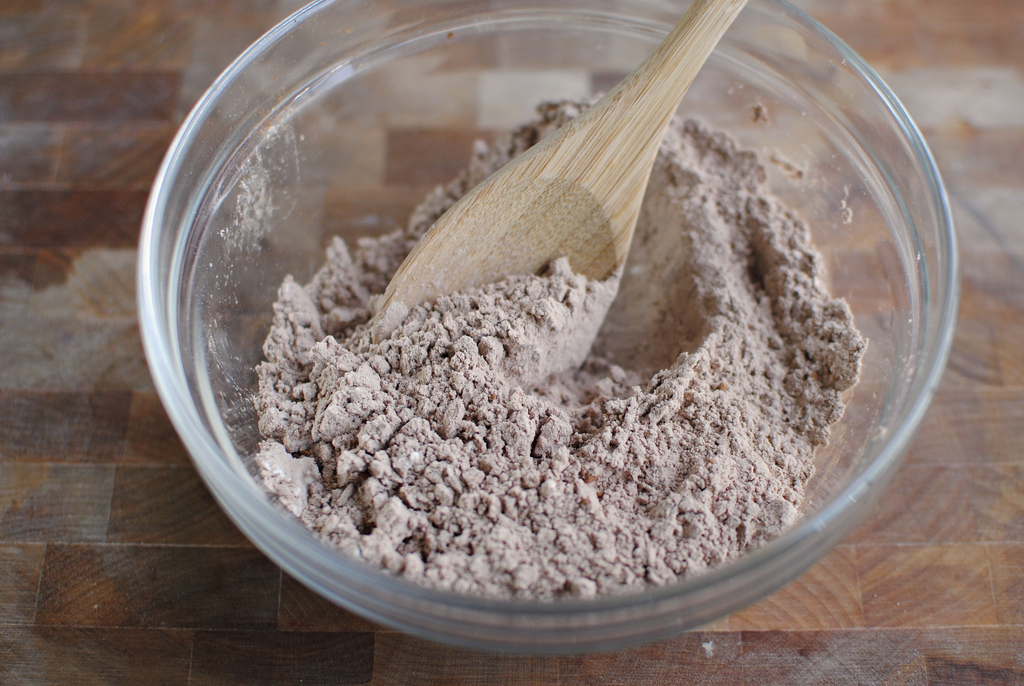 Stir to combine and set aside.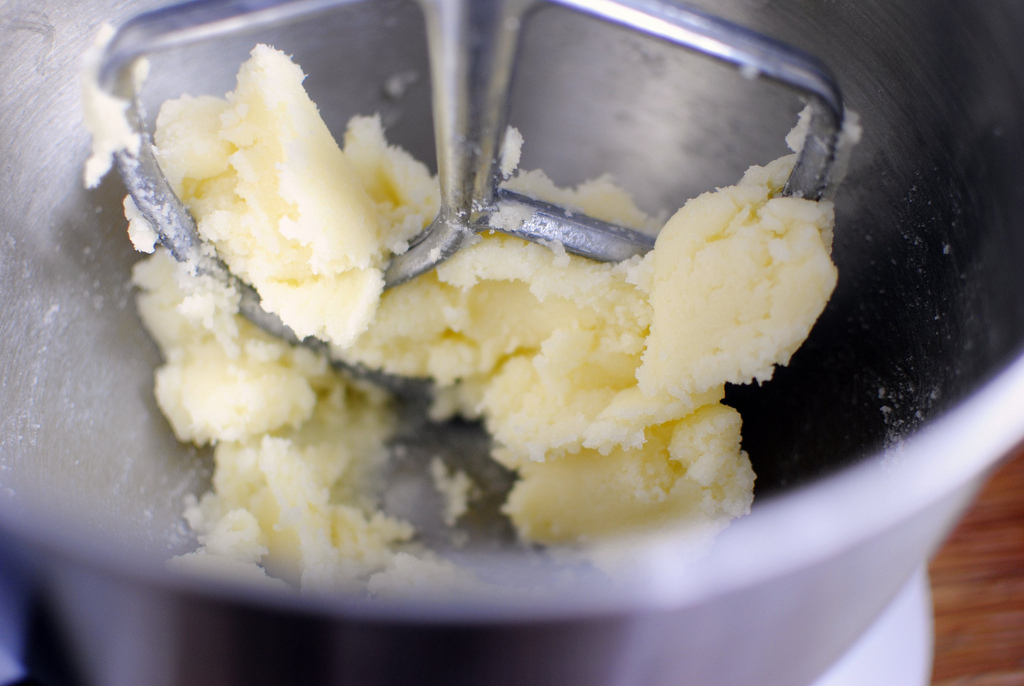 Cream the stick of butter along with a cup of sugar until light and fluffy.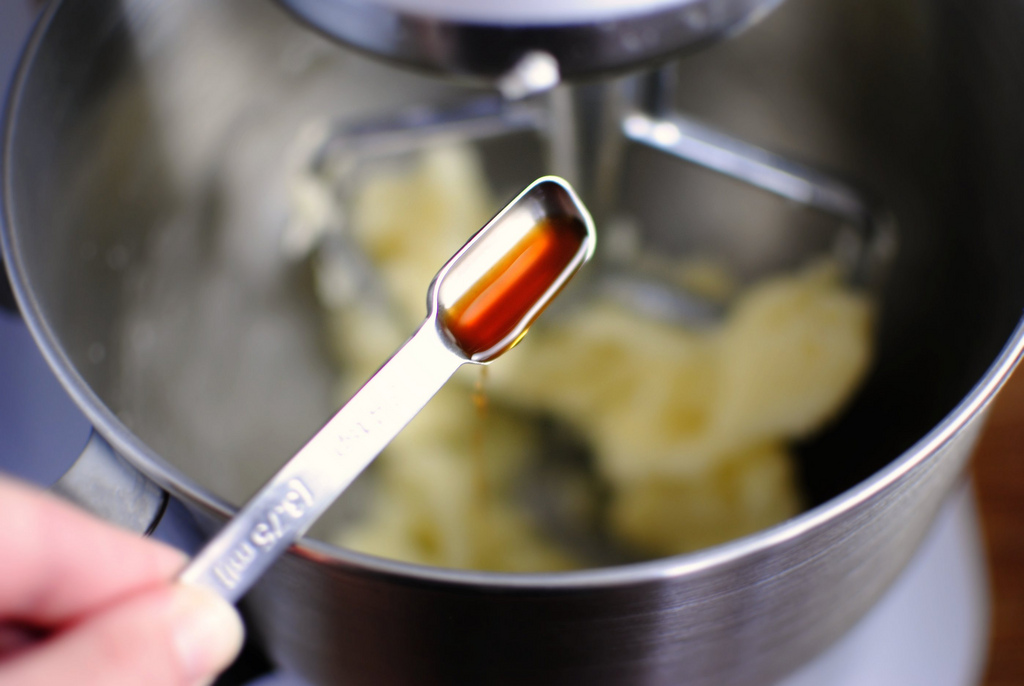 Add in the vanilla extract.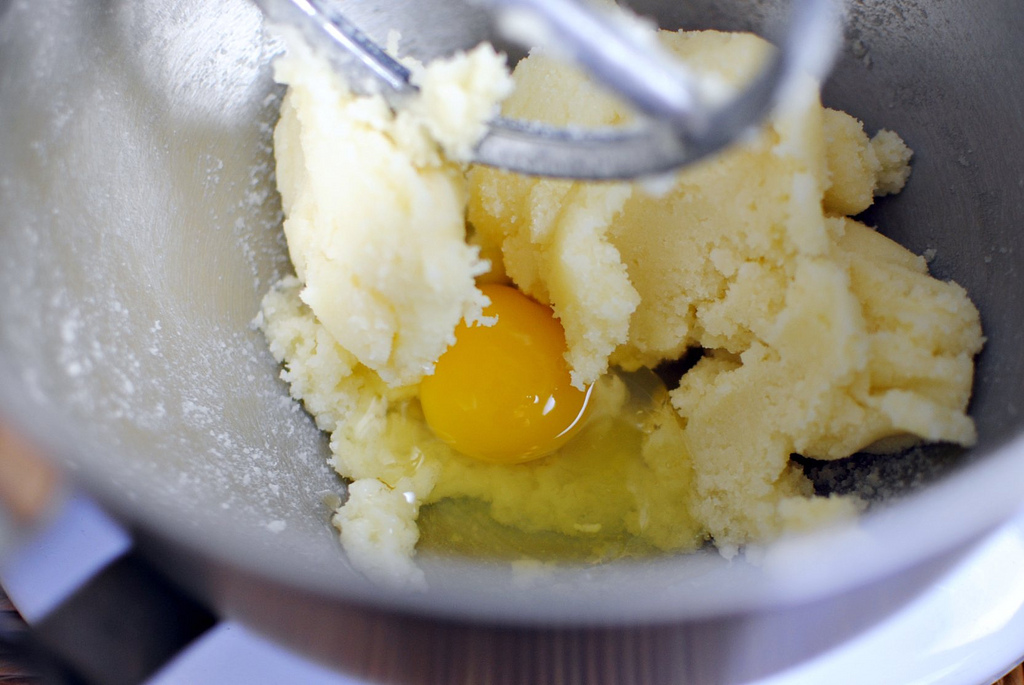 Add one egg at a time and blend well after each addition until both are incorporated.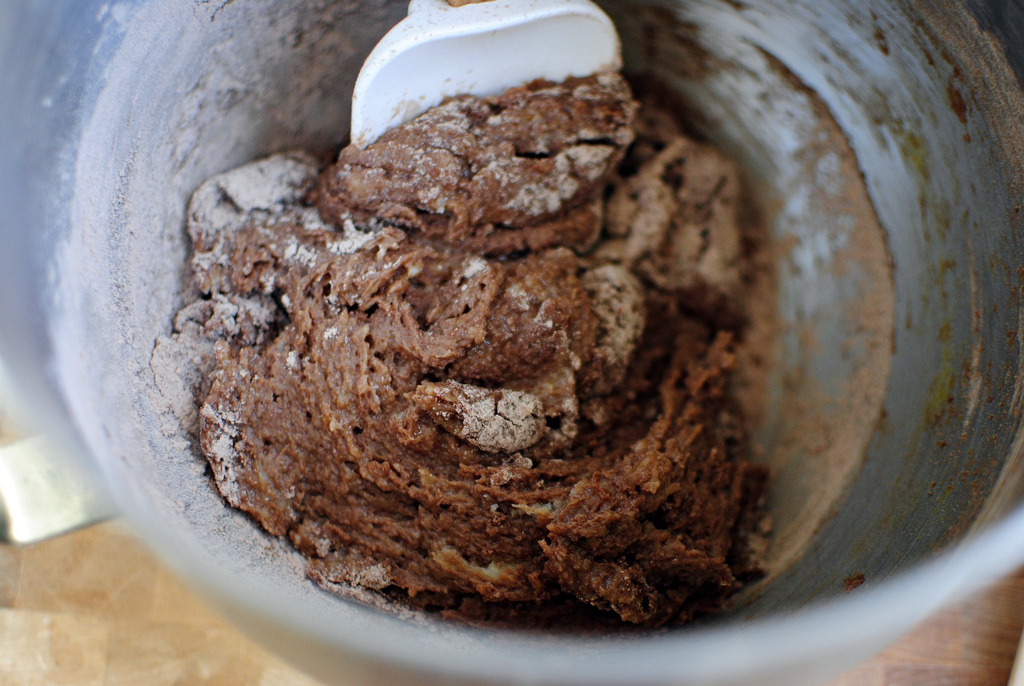 Add the dry ingredients in with the sugar/butter mixture and stir to combine.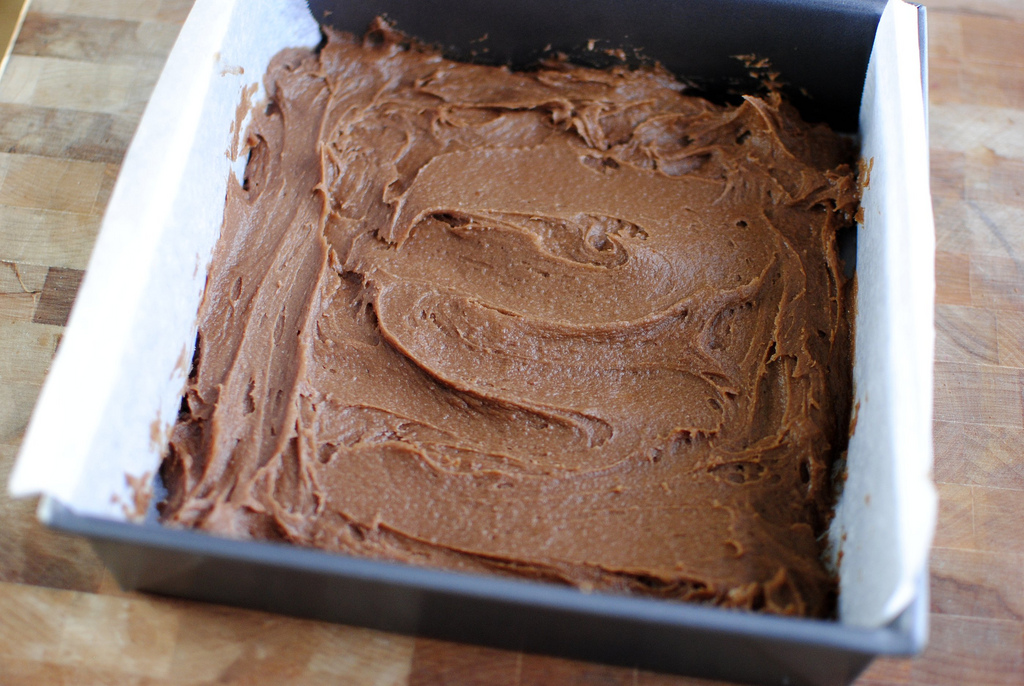 Spread the brownie mixture into the bottom of a lined 8×8 square pan.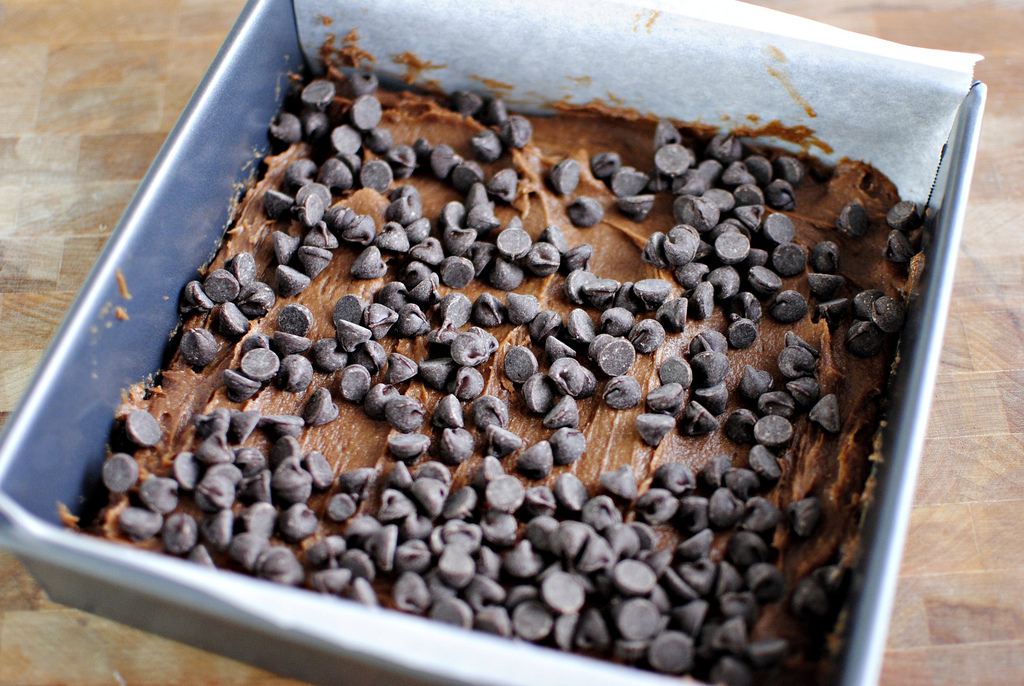 Sprinkle with chocolate chips and pop into a 350ºF oven for about 20-22 minutes.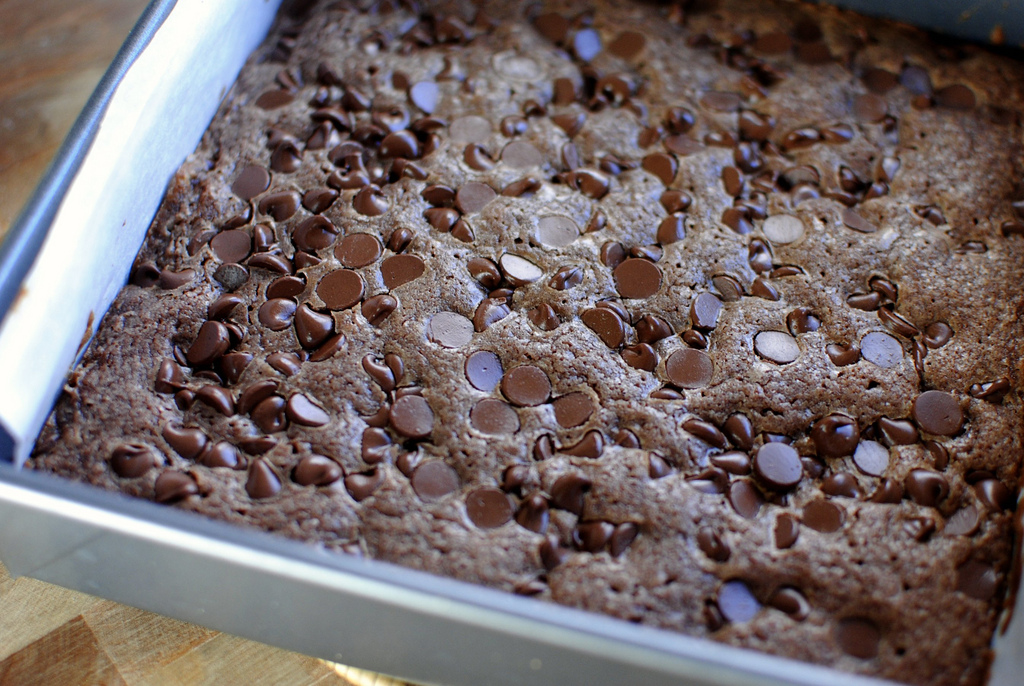 Once the brownies have baked, here comes the really fun part.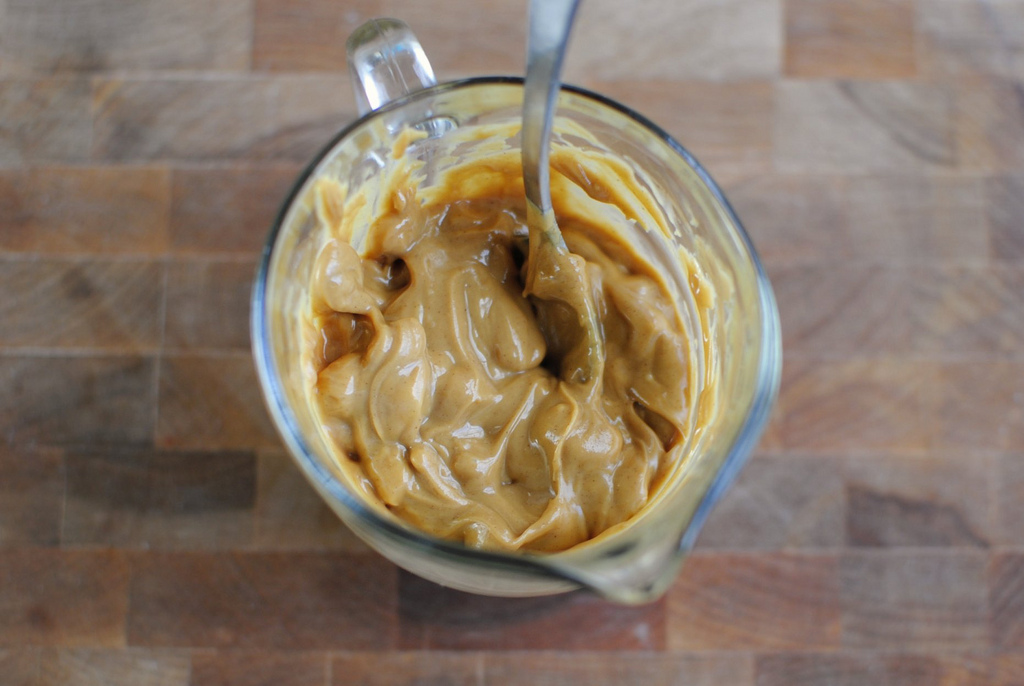 Start by mixing oil in with some warmed peanut butter.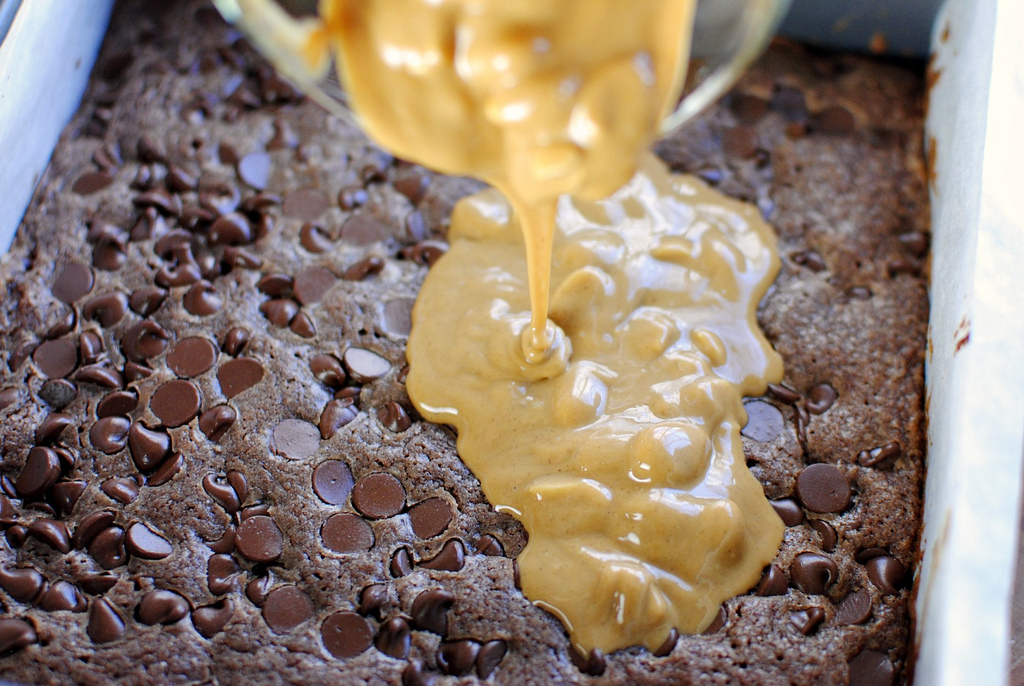 Then evenly pour the peanut butter all over the warm brownies.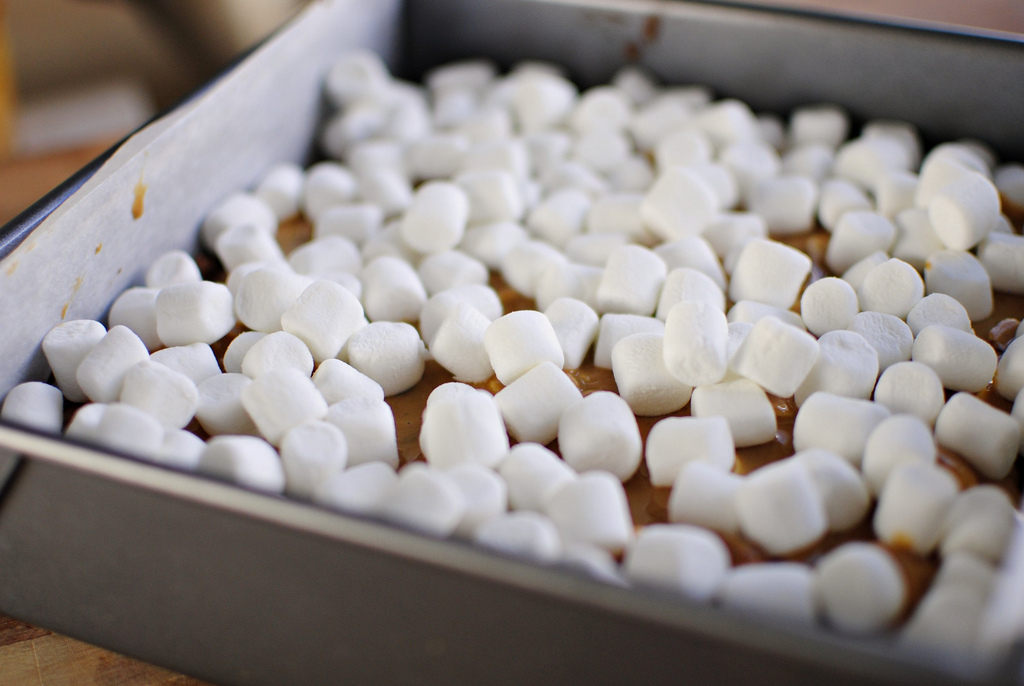 Sprinkle 2 cups of marshmallows over the peanut butter. Bake in the oven for 3 minutes, just to puff up the marshmallows.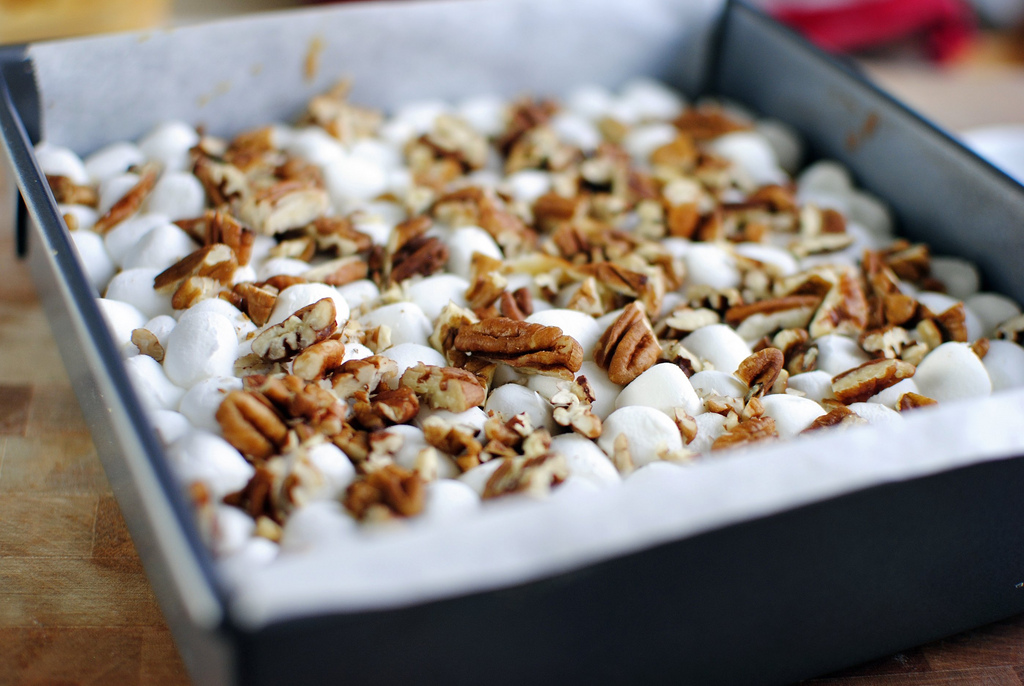 Top with the chopped toasted pecans and set aside to cool. Now it's time to make the frosting!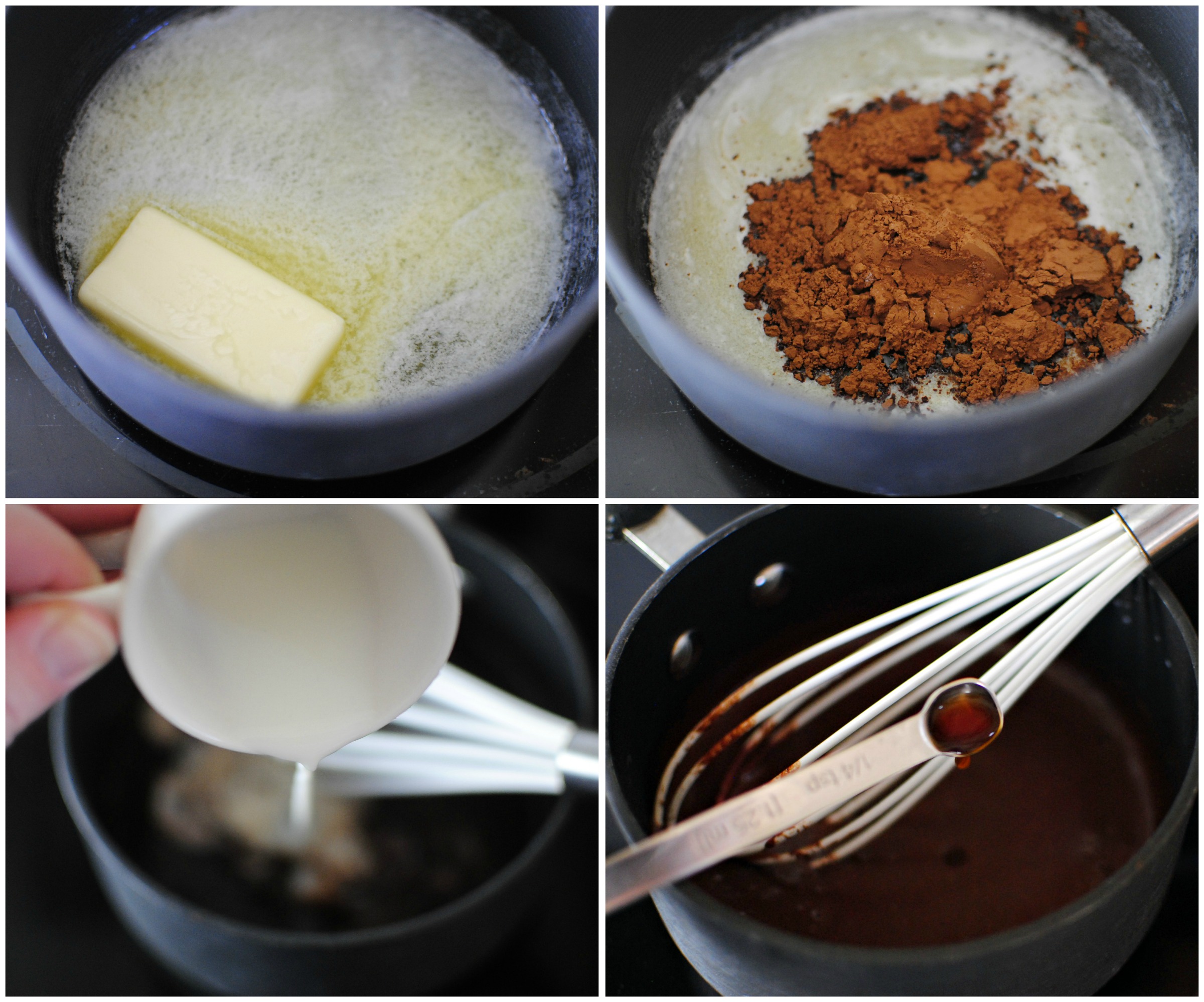 In a small pan, melt 4 tablespoons of unsalted butter. Next add in the cocoa. Stir and gradually pour in the milk. Heat the chocolate mixture until just about boiling, remove from the heat and add the vanilla extract. You could also add the vanilla to the frosting once it's been mixed.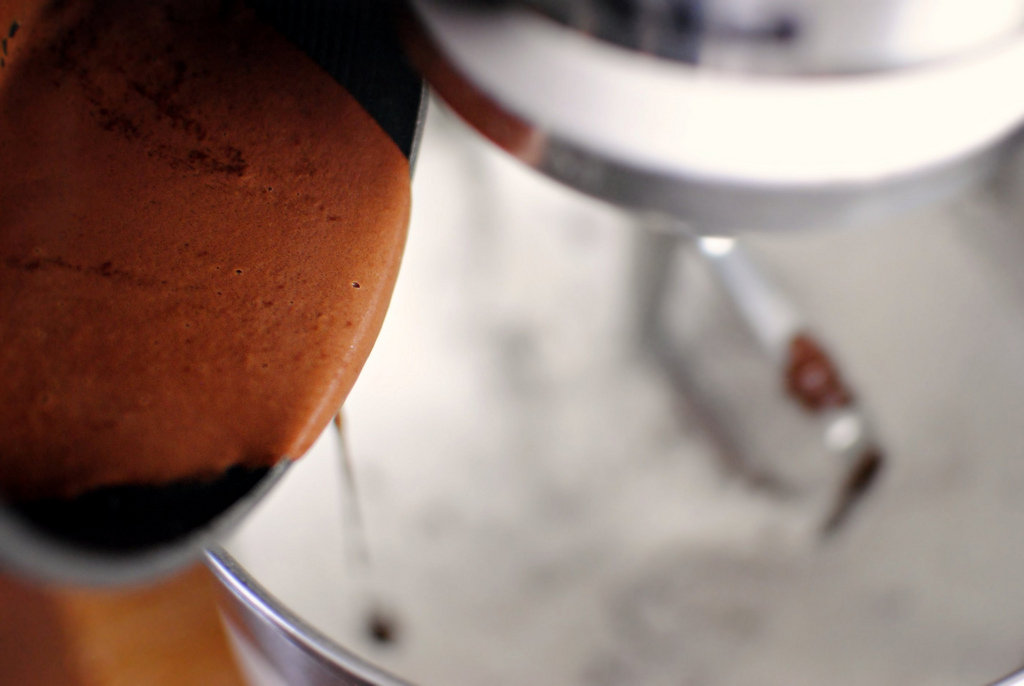 In a mixing bowl that contains 2 cups powdered sugar and 1/8 teaspoon salt, pour in the warm chocolate mixture while the mixer is on low speed.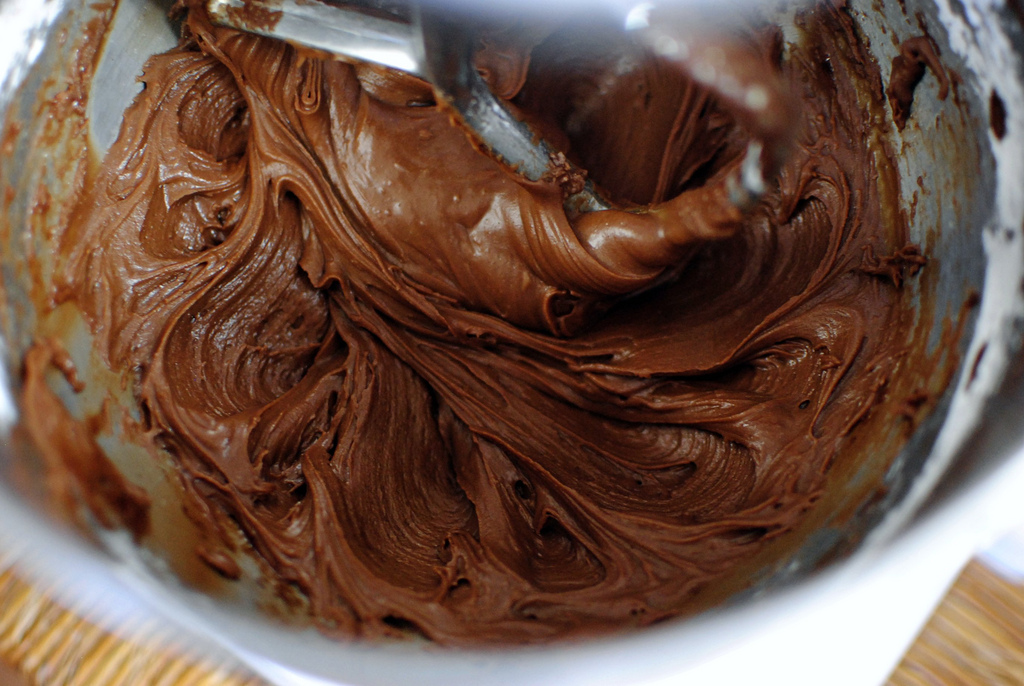 Scraping down the sides as you go, mix until the powdered sugar is absorbed into the chocolate. If the frosting looks too thick, add a tablespoon or two of milk to thin it out.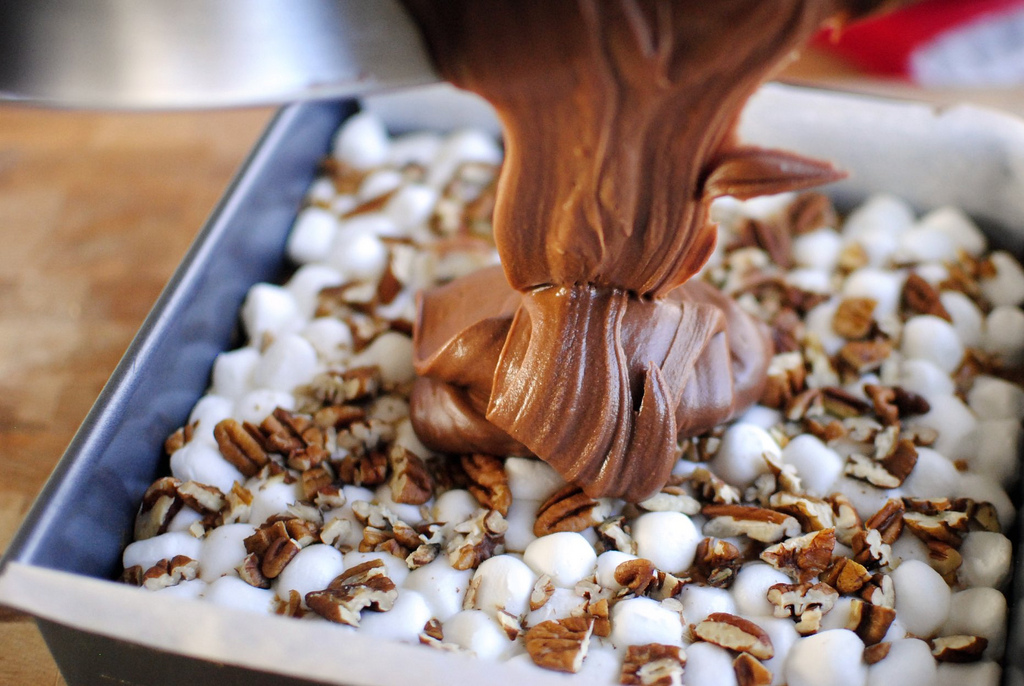 Pour over the pecans and marshmallows.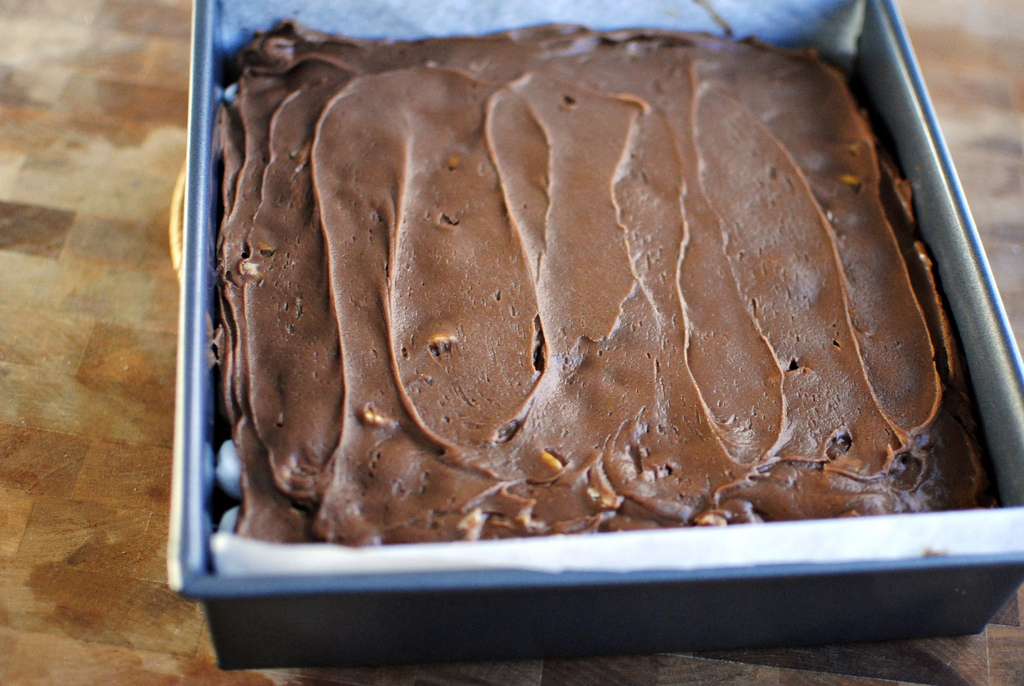 After I poured the icing over top, I realized my frosting must have cooled down too much because the icing didn't melt into the crevices of the pecans and marshmallow. So I just spread the frosting out evenly. Once cooled enough, I placed the pan into the fridge for an hour or two.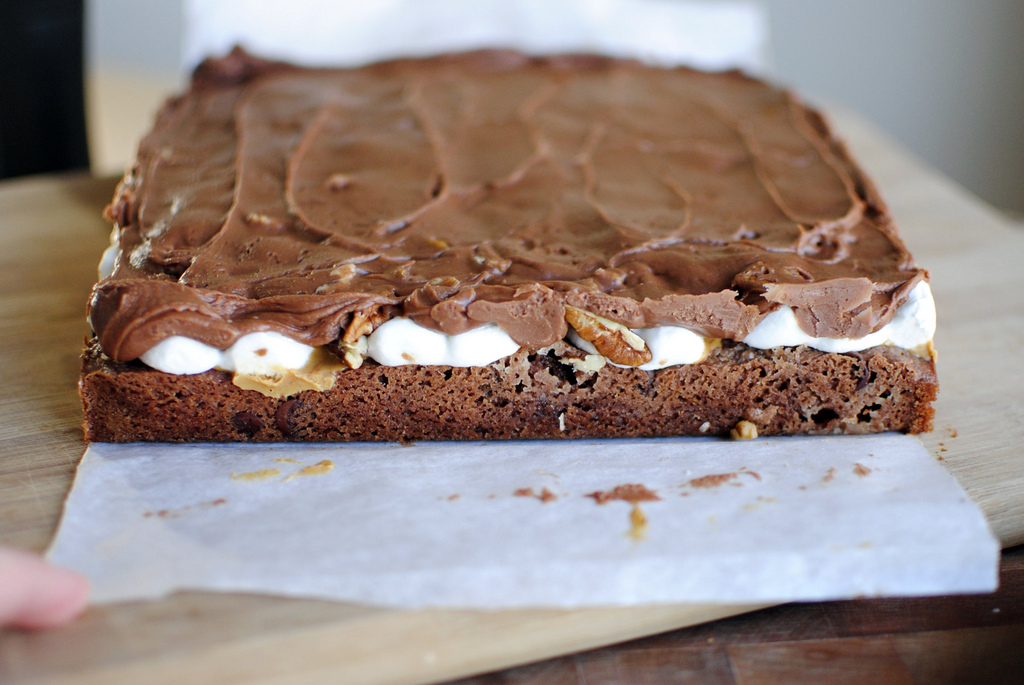 It wasn't until I removed the brownies and pulled back the parchment paper did I realize what I was in for. These bars contain everything that I love in life. And it was almost to pretty to eat.
Almost.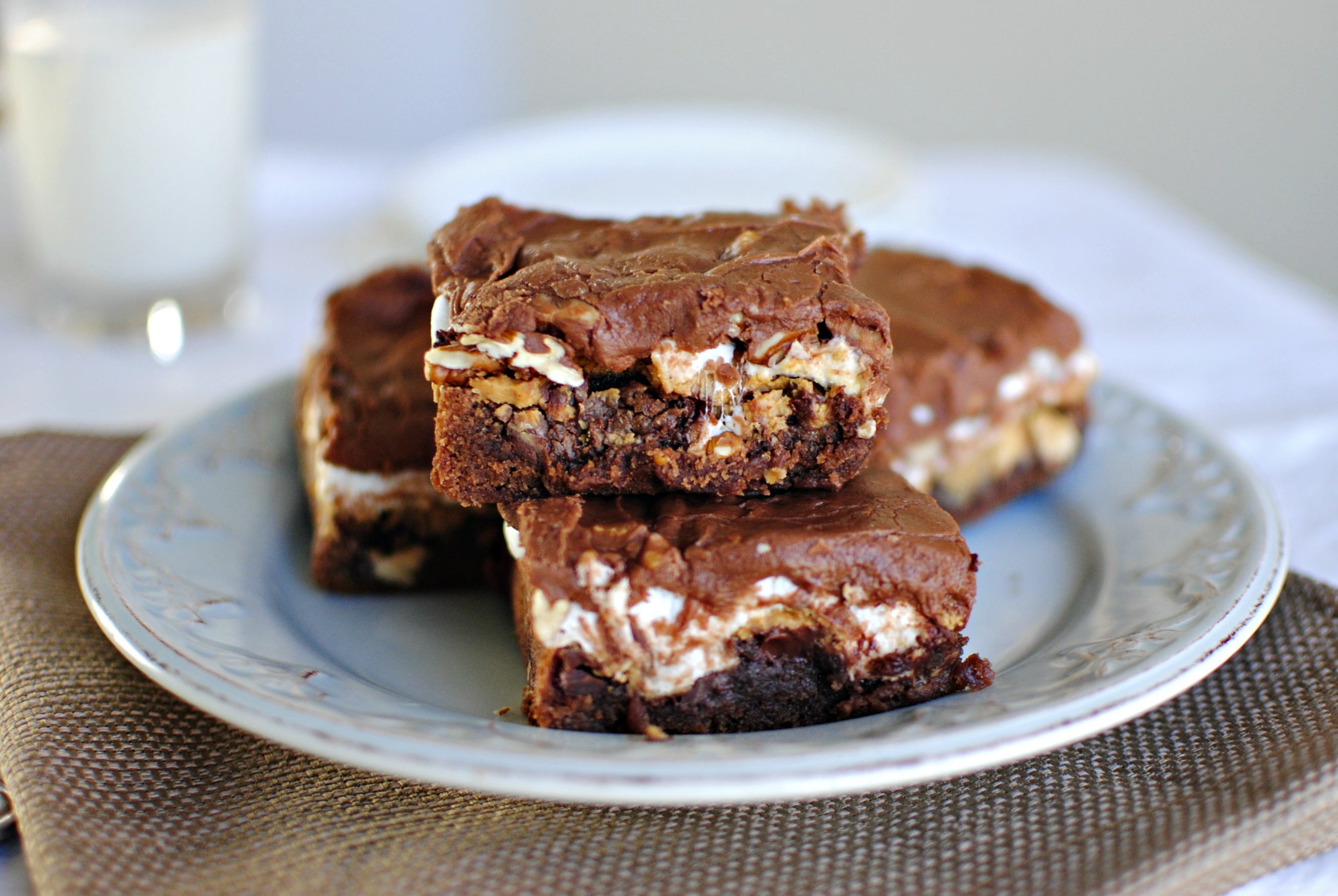 This is exactly what one needs to get over the cold weather and post holiday blues. Just be sure to pour yourself a giant glass of milk, because these brownies are rich and will definitely make you thirsty.
 
Thank you to Taylor for sharing this recipe with us on Tasty Kitchen. It was so much fun to make and definitely the most decadent brownie I have ever had the pleasure to taste!
 
Taylor has a plethora of delicious recipes on her blog Greens and Chocolate. From Avalanche Bars to Zucchini, Leek and Bean soup, you'll definitely walk away with at least a dozen recipes to try! You could also stop by Taylor's recipe box here on Tasty Kitchen; I guarantee you'll find recipes equally fantastic there, too.
Printable Recipe
See post on greensnchocolate's site!
Description
A dense brownie layer topped with crunchy pecans, sticky marshmallows, then drizzled with a thin chocolate frosting.
Ingredients
¾ cups All-purpose Flour
2 Tablespoons Unsweetened Cocoa Powder
½ teaspoons Salt
½ cups Unsalted Butter, At Room Temperature
1 cup White Sugar
¾ teaspoons Pure Vanilla Extract
2 whole Large Eggs
¾ cups Semi-Sweet Chocolate Chips
½ cups Crunchy Peanut Butter
1-½ teaspoon Canola Oil
2 cups Mini Marshmallows
½ cups Chopped And Toasted Pecans
2 cups Confectioners Sugar
⅛ teaspoons Salt
4 Tablespoons Unsalted Butter
2 Tablespoons Unsweetened Cocoa Powder
¼ cups Plus 2 Tablespoons Of Milk
¼ teaspoons Pure Vanilla Extract
Preparation Instructions
Preheat oven to 350 degrees F. Line an 8×8″ square baking pan with parchment paper or foil. If using foil, spray it with cooking spray.
In medium bowl, combine flour, 2 Tablespoons cocoa powder, and 1/2 teaspoon salt. Set aside.
In large mixing bowl, beat together 1/2 cup butter, sugar, and 3/4 teaspoons vanilla until creamy. Add the eggs one at a time. Stir dry ingredients into batter. Pour batter into prepared pan and spread evenly. Sprinkle with chocolate chips. Bake in preheated oven for 22-25 minutes.
When brownie layer is done baking, combine peanut butter and oil in a microwave safe bowl or measuring cup and microwave on high for 20 seconds to soften. Pour this warm mixture over hot brownie and spread. Sprinkle the peanut butter covered brownies with marshmallows. Return to oven to bake for 3 more minutes, or until the marshmallows puff. Remove from oven and sprinkle puffed marshmallows with toasted pecans.
To make frosting, combine confectioners sugar and salt. In small saucepan, melt 4 Tablespoons butter over medium heat. When butter is melted, add the 2 Tablespoons of cocoa powder and 1/4 cup of the milk and heat until the mixture begins to boil. Pour this mixture into confectioners sugar/salt mixture and beat on high speed with an electric mixer until smooth and glossy. If frosting is not pourable at this point, add remaining 2 Tablespoons of milk (I didn't have to do this). Lastly, beat in 1/4 teaspoon vanilla, then pour evenly over puffed marshmallows and pecans.
Let cool completely in refrigerator for 1-2 hours. Cut into squares and enjoy!


_______________________________________
Laurie is the force behind Simply Scratch, a blog that documents her efforts to find and create recipes that are made simply from scratch. (We think it's sweet that her mother-in-law helped her set up her blog and get started.) We love her recipes; they're not just tried and true, but they look gorgeous as well. Check out her blog and you'll become a fan too.