Are you like me and have this forever growing "recipe bucket-list"? Things like homemade fruit leathers, giant cinnamon rolls have snuck their way onto my mile long list, but on the very tippy-top of that long list was to make my own ricotta cheese. It was when I saw Megan's recipe for Lemon Basil Ricotta Cheese (courtesy of the fine folks of America's Test Kitchen), I knew it was time to cross that recipe off of my list and get elbow deep into some ricotta cheese baby.
 
First of all I had no idea how easy it was, or else I would have made it a long time ago! You just need a few ingredients, cheesecloth and a trusty digital thermometer and poof, ricotta. This recipe is light and bright from the lemon and basil, which complements the ricotta's smooth and creamy texture. But if you desire plain ricotta just simply leave out the lemon and basil.
 
This stuff is good. Reeeal good. It's safe to say I won't be buying store bought ricotta ever again. Period.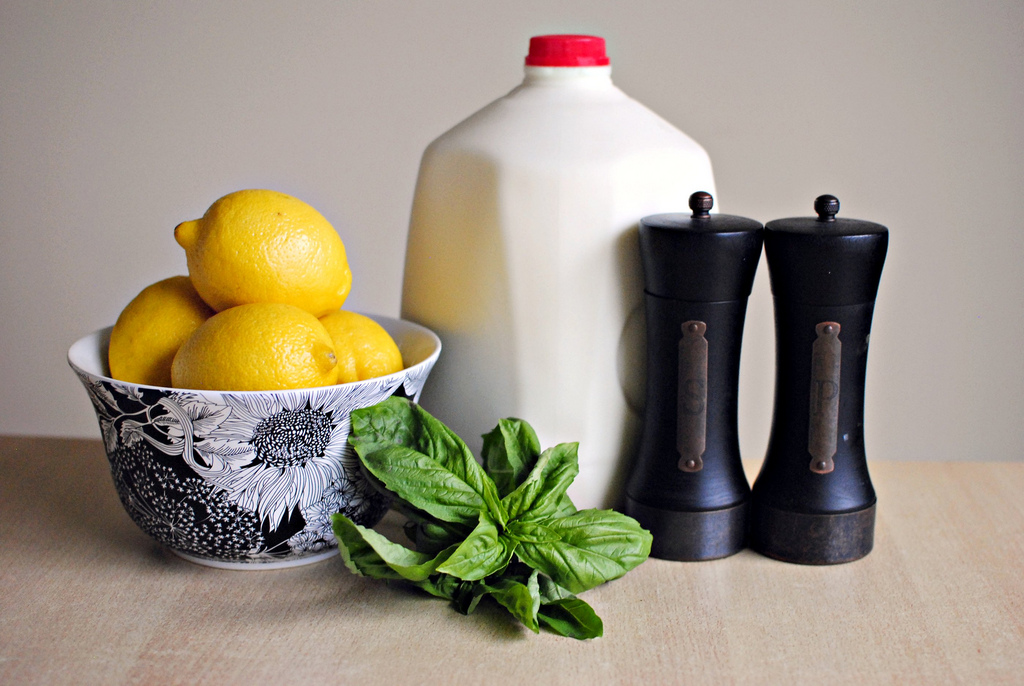 The recipe calls for whole milk, I suppose you could try to make it with two percent or even skim, but whole milk is where it's at. The creamy factor is out of this world!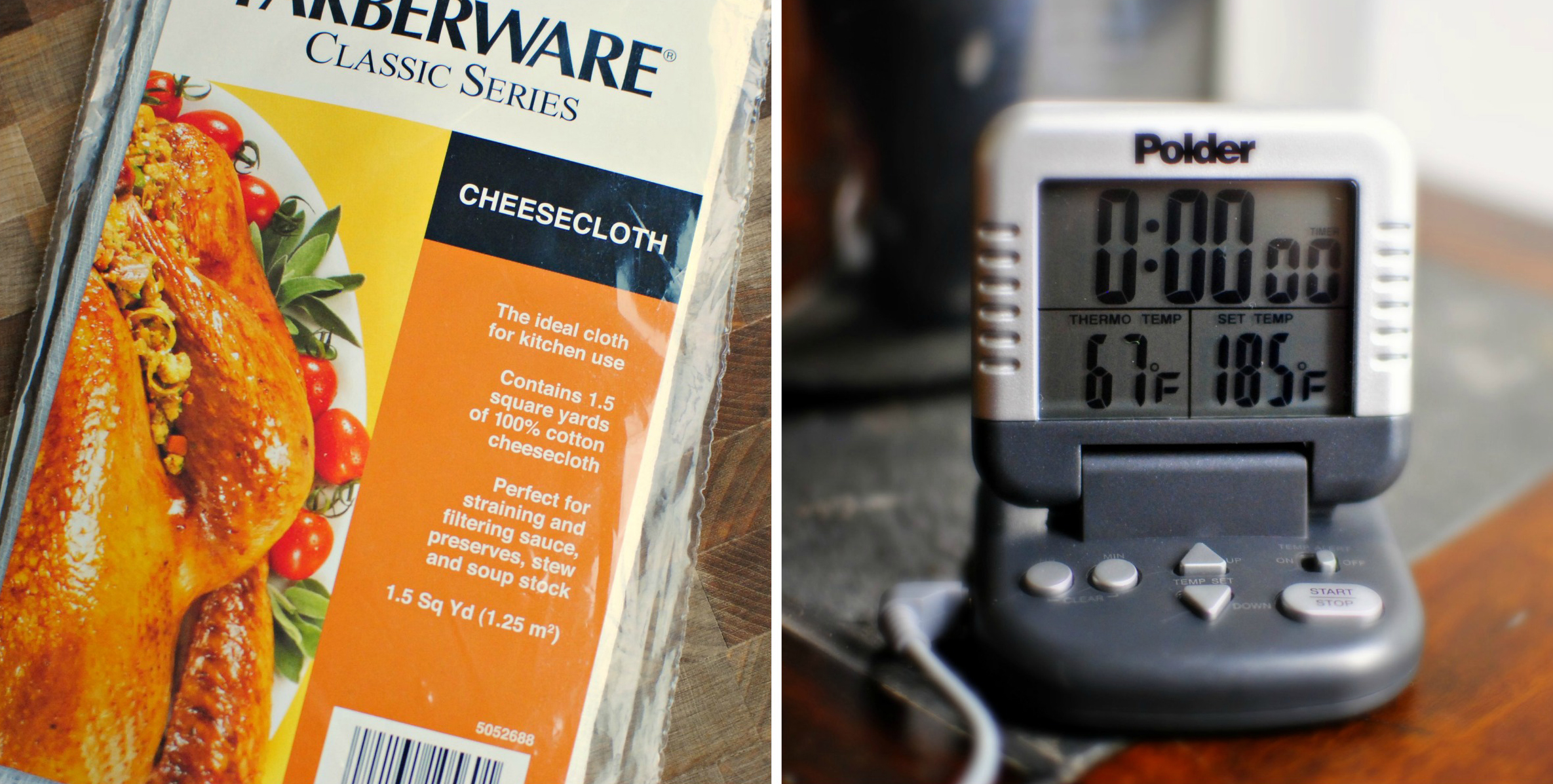 Make sure to place cheesecloth on your grocery list, along with a digital thermometer that clips to your pot, if you don't already have one in your kitchen.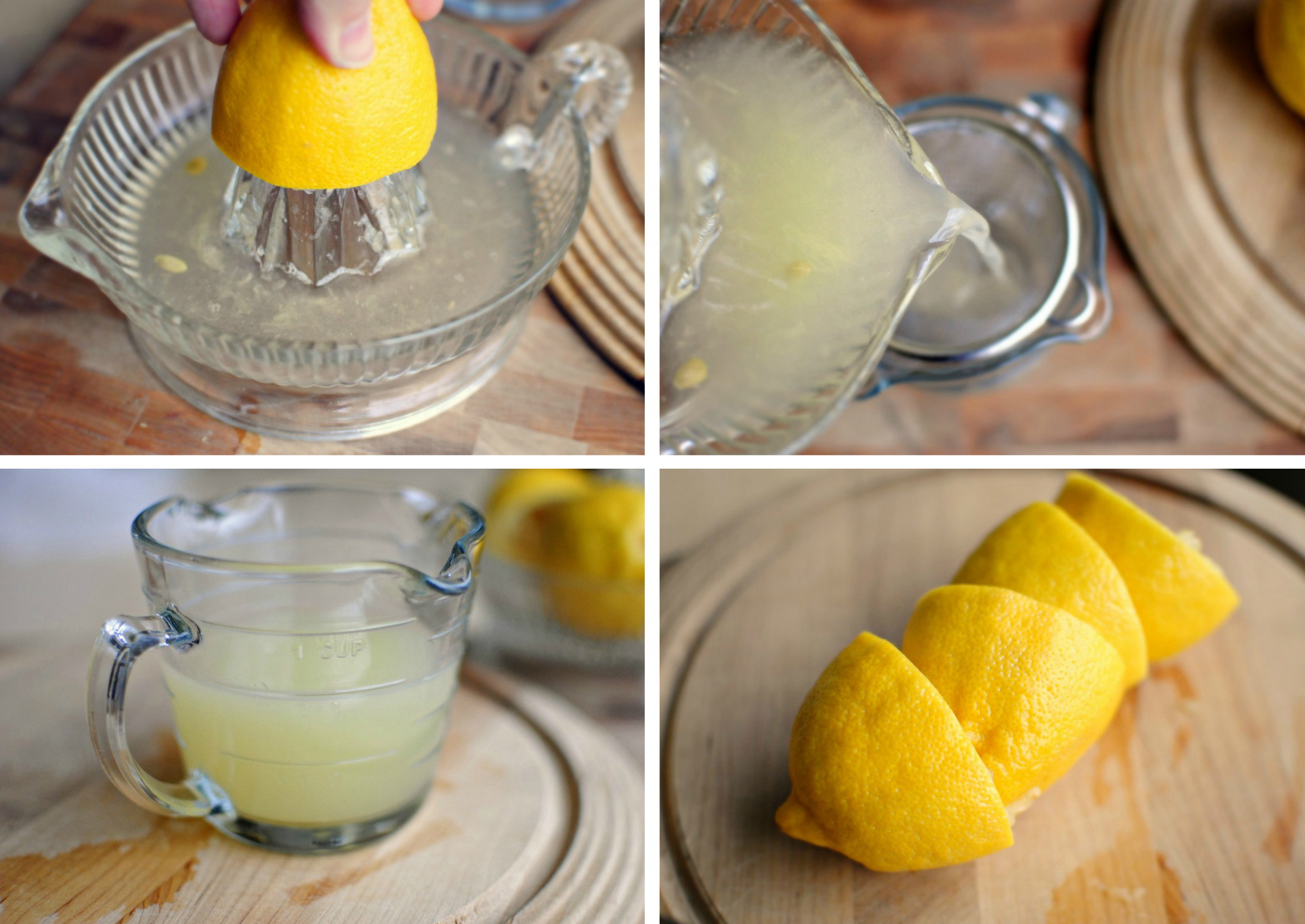 Start by squeezing a few lemons and straining out all the pulp and seeds. My lemons were mighty juicy, so it only took 2 to get 2/3 cup of lemon juice. But always buy a couple extra just in case.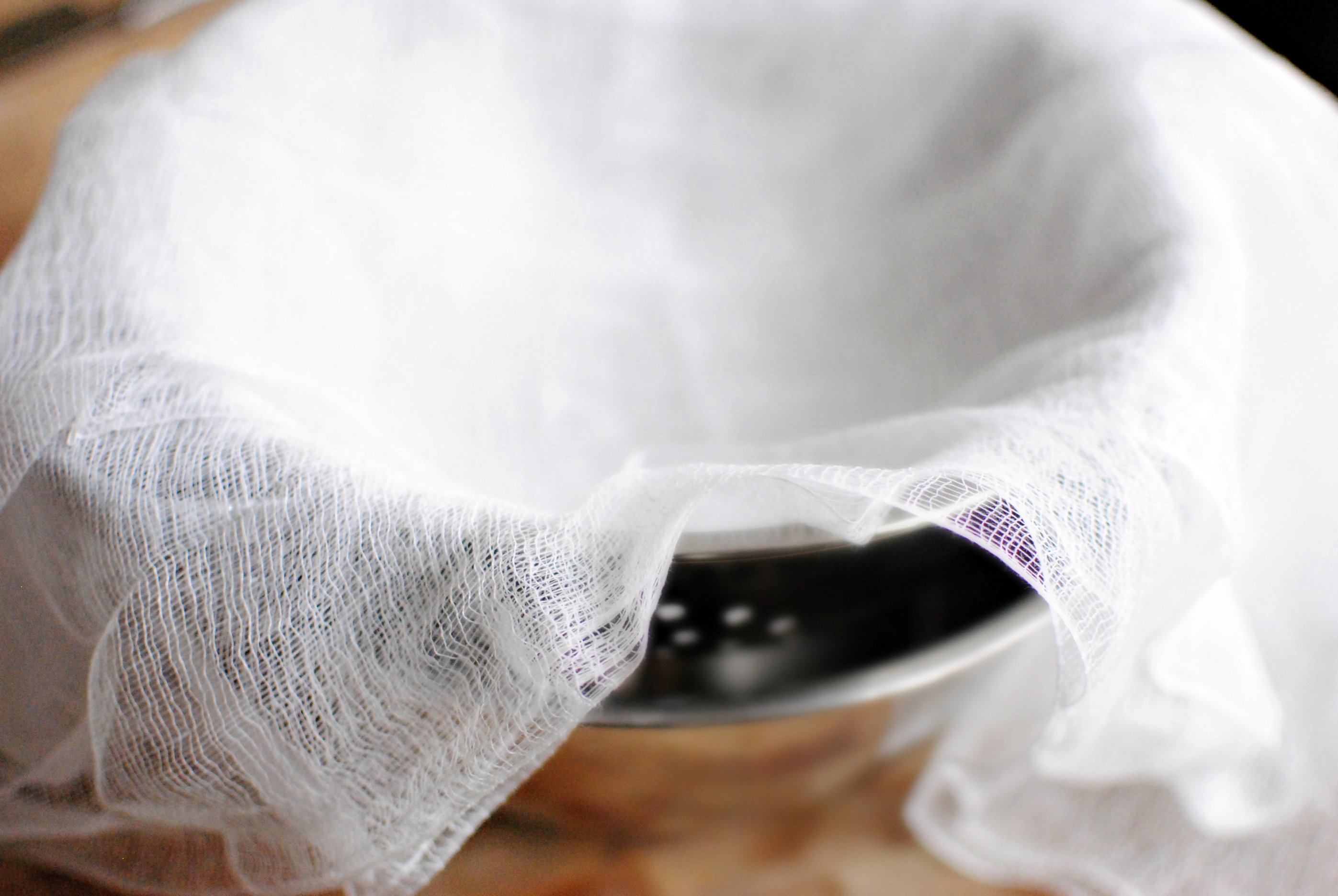 Line a mesh strainer or a colander with a few layers of cheesecloth and set it inside the deepest—and I mean deepest—bowl you have.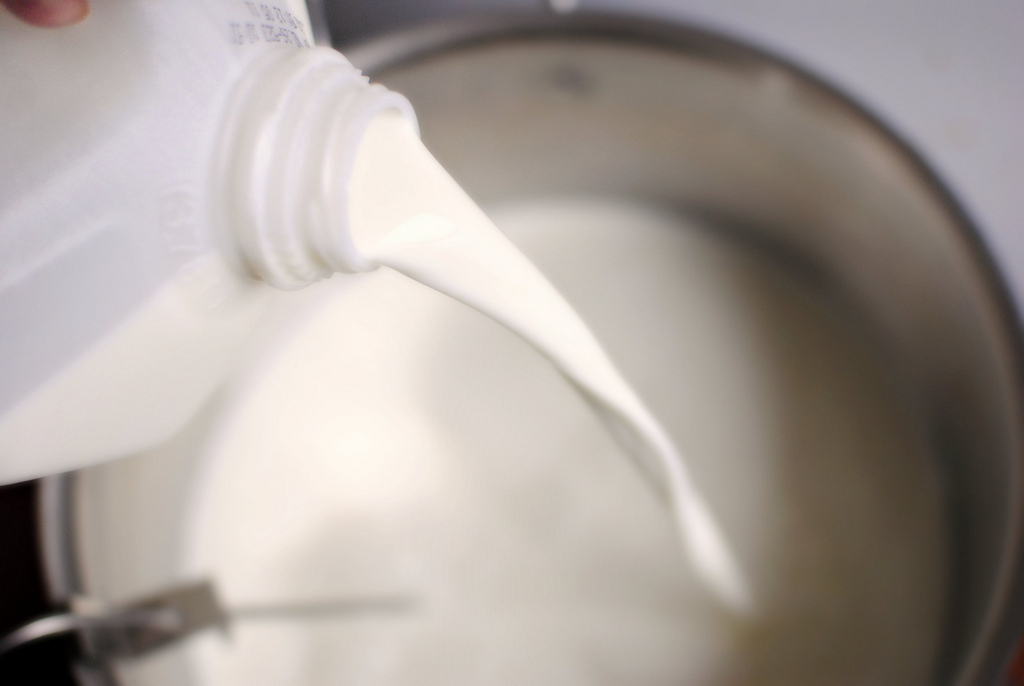 In a large stock pot or Dutch oven, pour in an entire gallon of milk.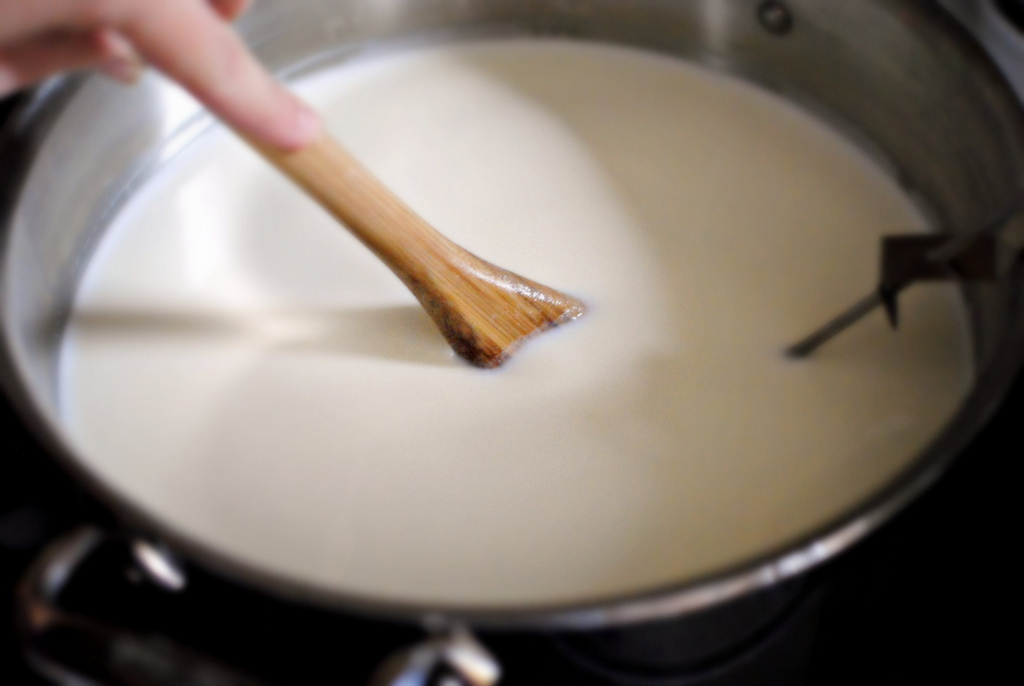 While you patiently wait for the milk to heat up to 185ºF, stir … stir … stir! It will help prevent the milk from scalding.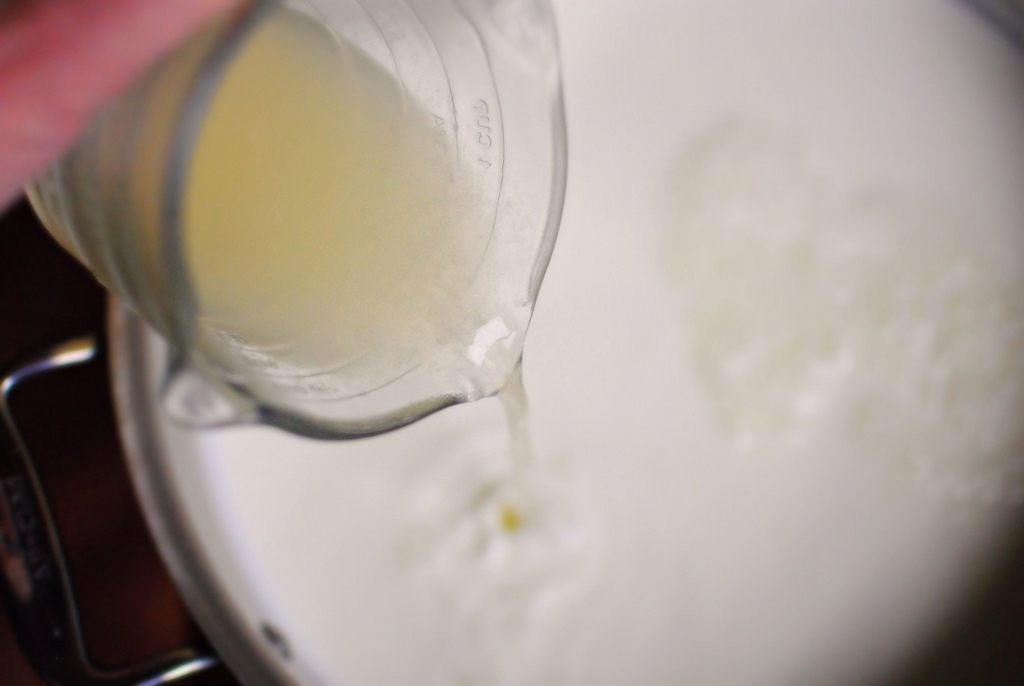 The moment the milk reaches 185ºF, remove the pot from the heat and pour in the lemon juice. Now we wait, and specifically directed, DO NOT DISTURB for 25 minutes! In this time the lemon juice will coagulate the milk to form the curds, which will be the ricotta!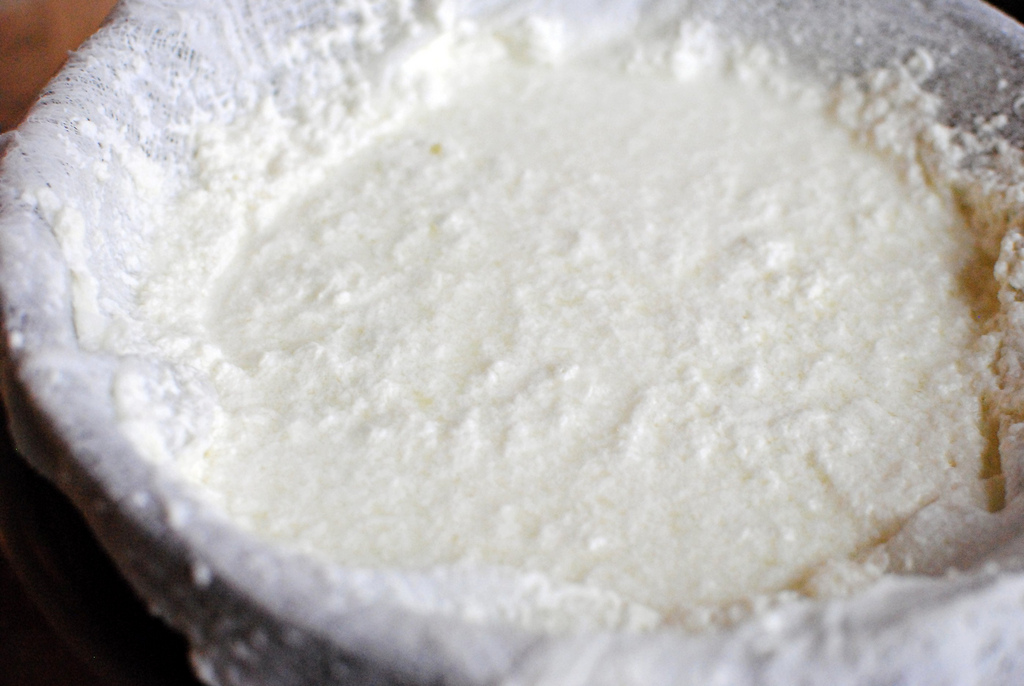 The moment the buzzer rings, pour the ricotta slowly into the cheesecloth-lined strainer. I recommend doing this step by a sink in case you need to drain out some liquid from the bowl.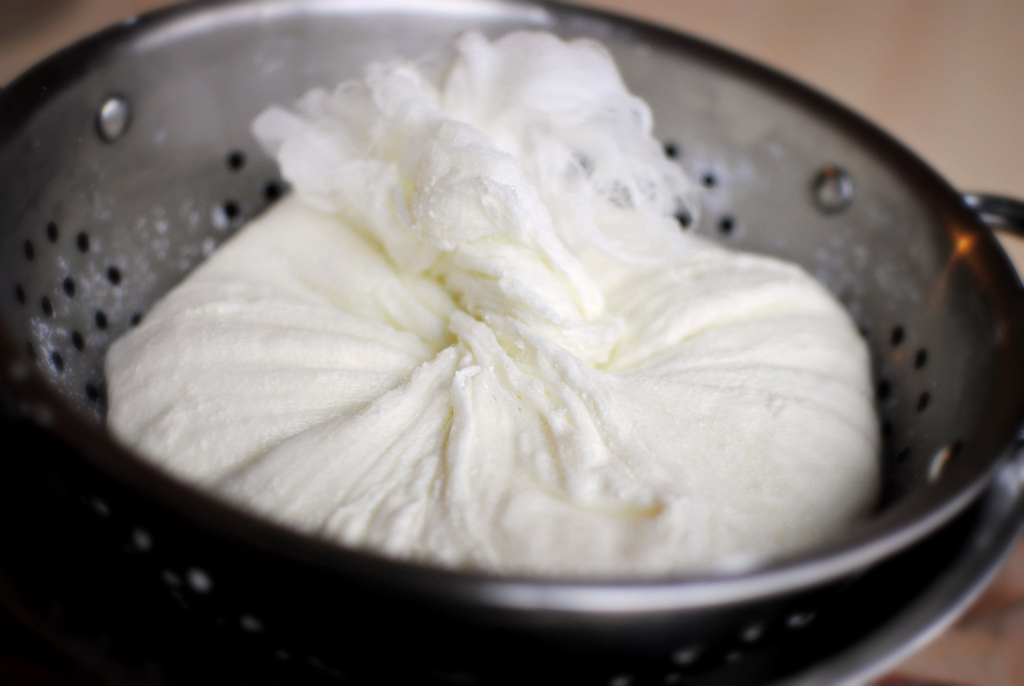 I twisted the cheesecloth and squeezed to get the most moisture out.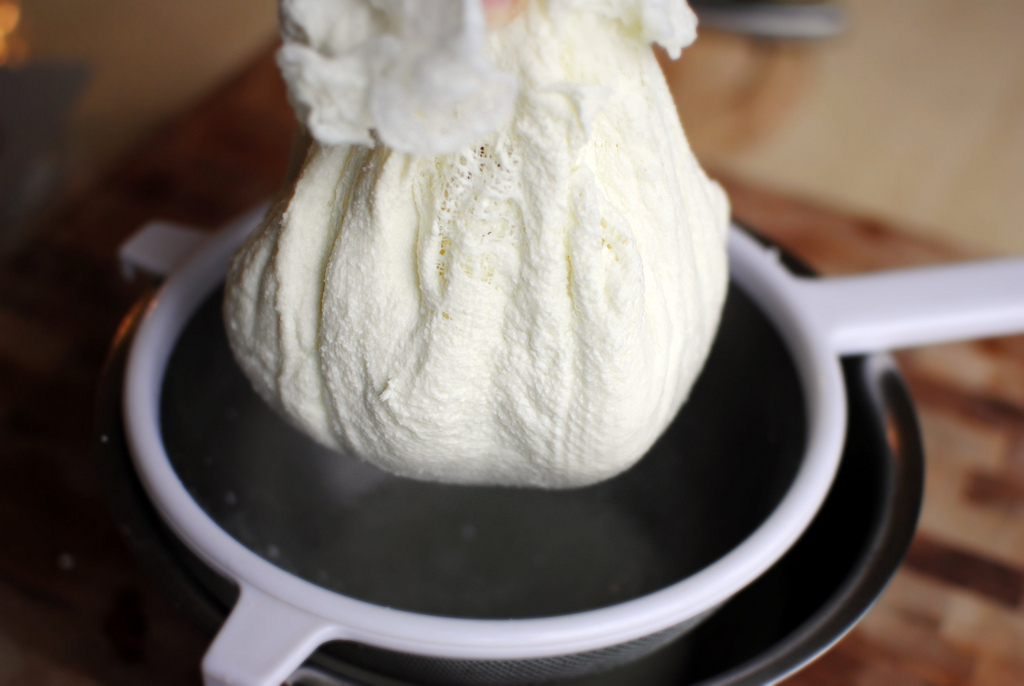 If you wanted more of a loose ricotta, don't squeeze, just stop draining when the liquid stops flowing freely.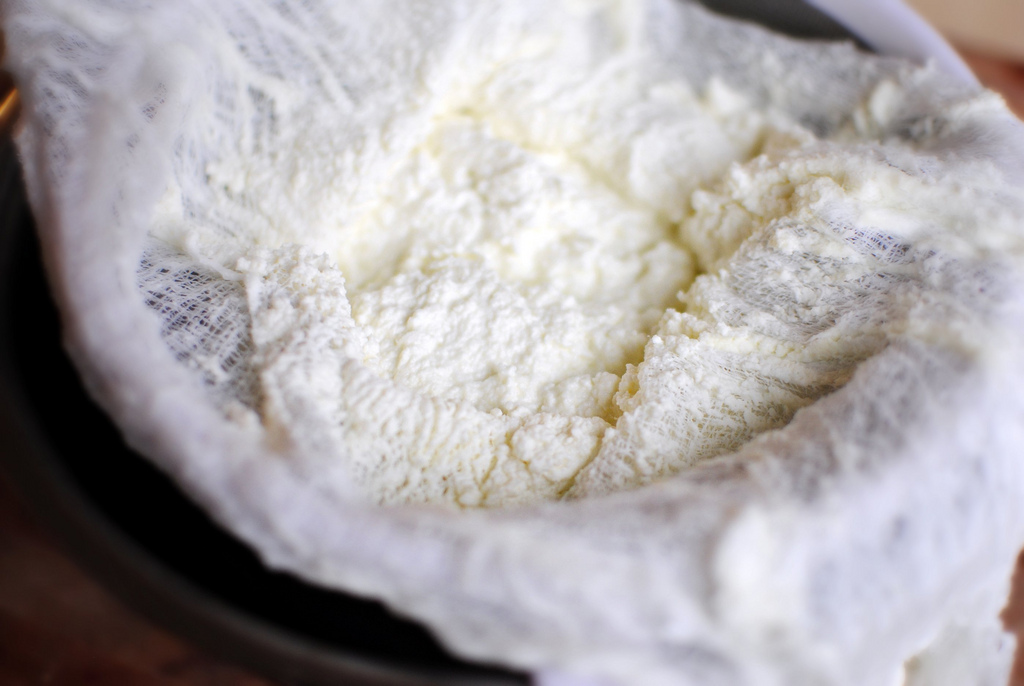 Just look at that cheese!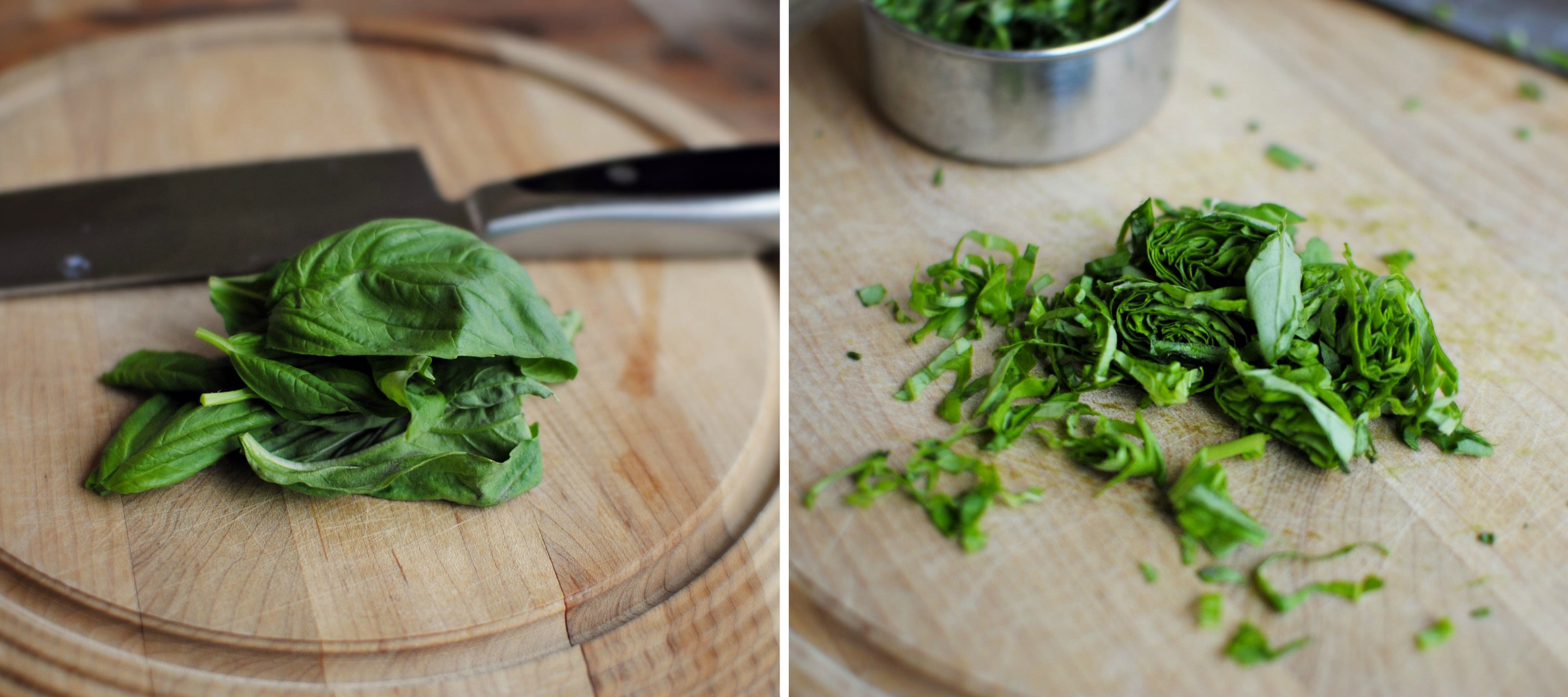 Grab a few fresh basil leaves, roll and mince the heck out of them until you get 1/3 cup.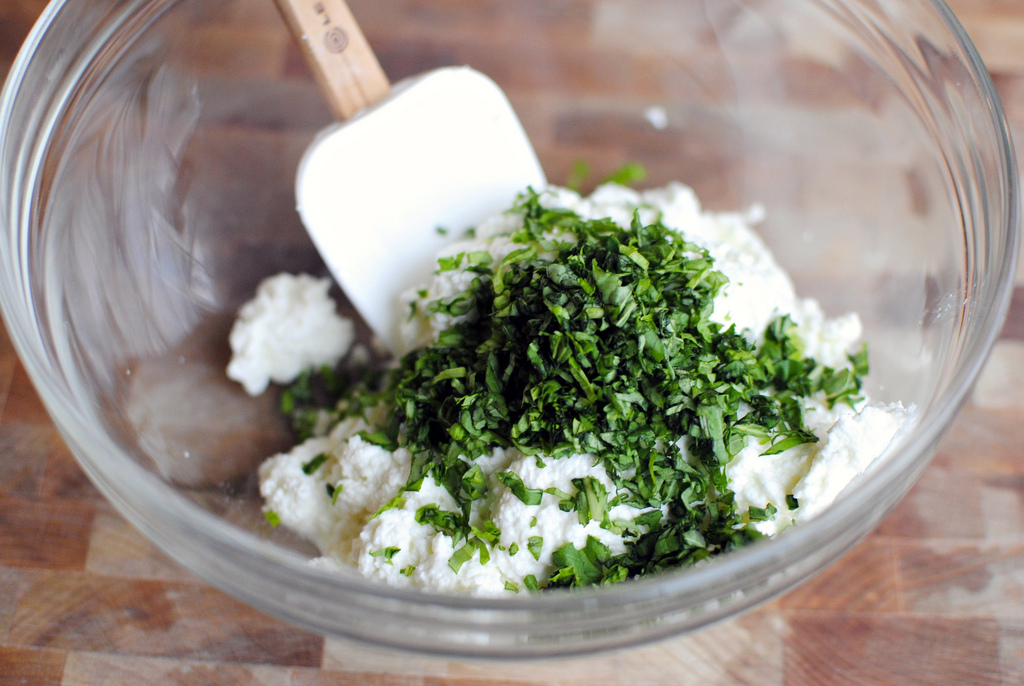 Throw the basil in with the fresh (and still warm) ricotta!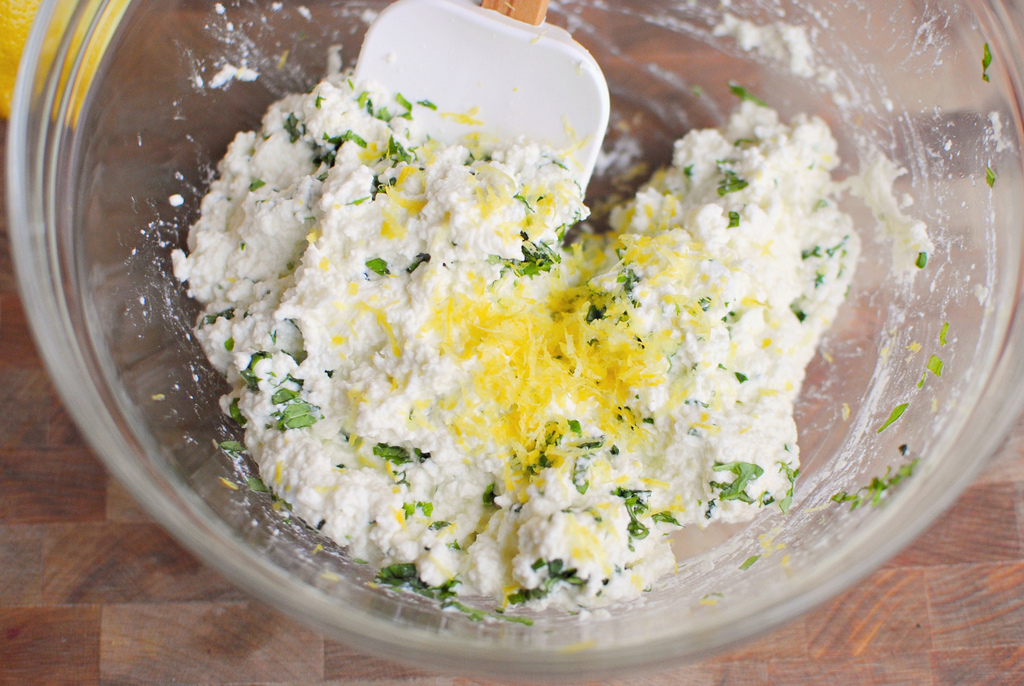 Zest in half a lemon.
 




Season with some salt and black pepper, and then gently fold it all together until the lemon and basil are incorporated.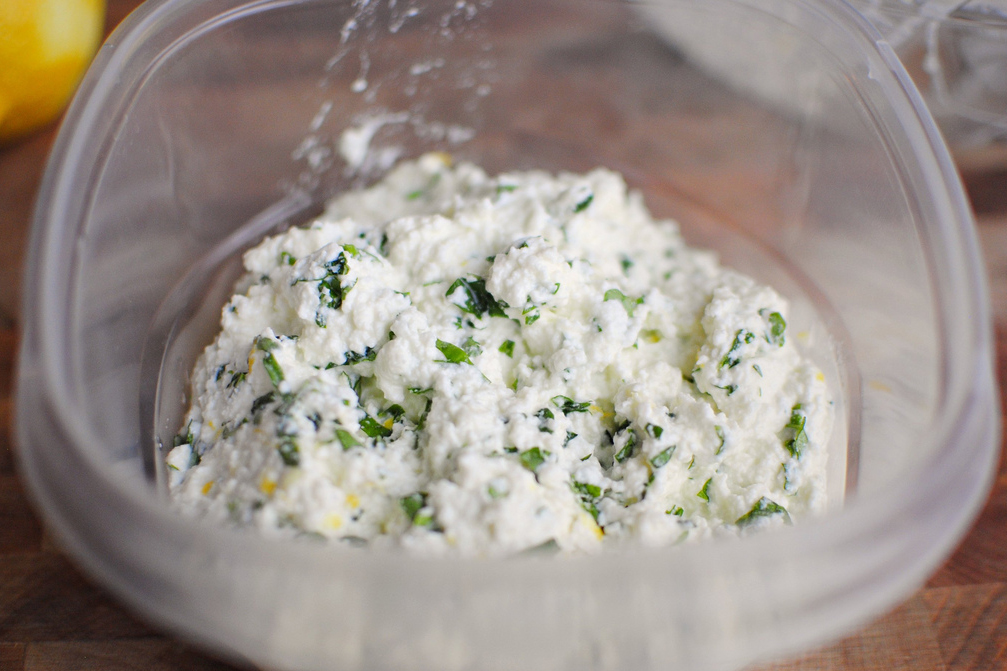 Transfer the ricotta to a container with a tight fitting lid and refrigerate for 2 hours or overnight.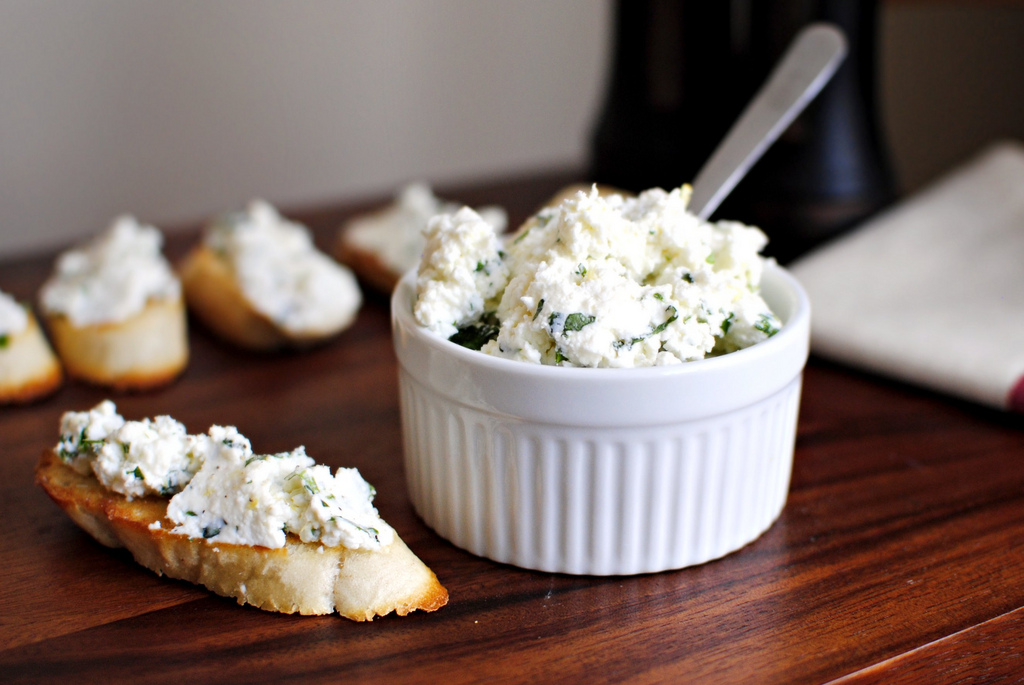 I literally can't stop thinking about how delicious this cheese tasted and how easy it was to prepare! You can spread it on bread, bake it in pasta—the options are endless! Until you run out and that's a total bummer deal. But now you know just how simple it is to whip up some ricotta in your very own kitchen! So go give it a try!
 
Be sure to stop by Megan's newly revamped blog Wanna Be a Country Cleaver. It's where she's cooking her way through life, dishing up one after one fun and delicious recipes. You could also take a peek in her recipe box here on Tasty Kitchen and you'll see what I mean! Thank you Megan for sharing this ricotta recipe with us. I know my life won't be the same!
Printable Recipe
Description
Fresh ricotta made at home. Better than anything in the store.
Ingredients
1 gallon Whole Milk
1 teaspoon Salt
⅔ cups Lemon Juice
⅓ cups Basil, Minced
1 teaspoon Lemon Zest
⅓ teaspoons Pepper
Preparation Instructions
Yields 3-4 cups of ricotta.
In a large Dutch oven or deep pot, heat milk and salt to 185ºF, stirring frequently to avoid scalding. Remove from heat and pour in lemon juice. Let sit for 25 minutes while curds separate and form. Do not disturb.
Line a large colander or strainer with a double layer of cheese cloth, placing them over a deep bowl. Slowly pour cheese mixture into the strainer lined with cheesecloth and allow to drain, about 10-15 minutes or until the liquid no longer strains freely.
Place in a large bowl. Fold in minced basil, lemon zest, and pepper if desired. Do not mix too much, just enough to incorporate.
Place in sealed containers and let chill for two hours. Serve with garlic toast and olive oil for drizzling.


_______________________________________
Laurie is the force behind Simply Scratch, a blog that documents her efforts to find and create recipes that are made simply from scratch. (We think it's sweet that her mother-in-law helped her set up her blog and get started.) We love her recipes; they're not just tried and true, but they look gorgeous as well. Check out her blog and you'll become a fan too.