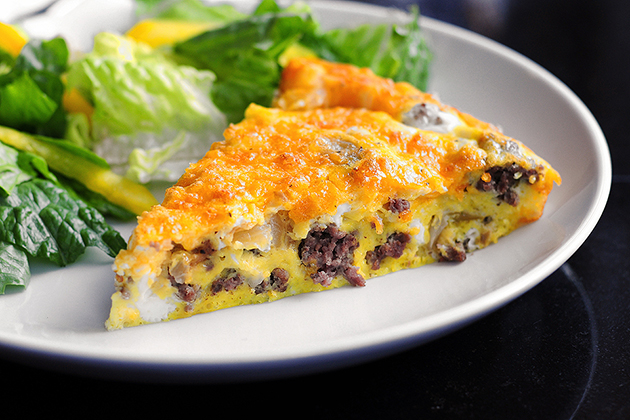 Trying to manage a balanced diet is difficult for me. One of the hardest things is to make sure I'm getting enough healthy protein. During a busy day, carbs are usually the quick go-to meal for me, but I've found when I focus on getting more good protein during the day I function much better, physically and mentally. I feel more even keel, if you know what I mean.
Enter the frittata. A frittata is a great meal option for breakfast, lunch, or dinner. It's quick like an omelet, and much lighter than its cousin the quiche. And like an omelet or quiche, the frittata flavor combinations are endless. It's the perfect "clean out the fridge" meal.
For this version I had cheeseburger on the brain, so a Cheeseburger Frittata it was. I added browned ground beef, cheddar, and sautéed onions, but like any burger, build it like you want. Add some bacon, substitute a different cheese, or maybe mushrooms? Yum, mushrooms would be mighty nice.
Also, while a frittata is usually made stovetop in a skillet then finished under the broiler, I baked this one in a pie pan for the whole cook time. I found it gave a lighter texture, and it was easier, no fuss.
Take a second to assess your fridge, see what you have on hand and let's make a frittata. Let me show you how I made this one.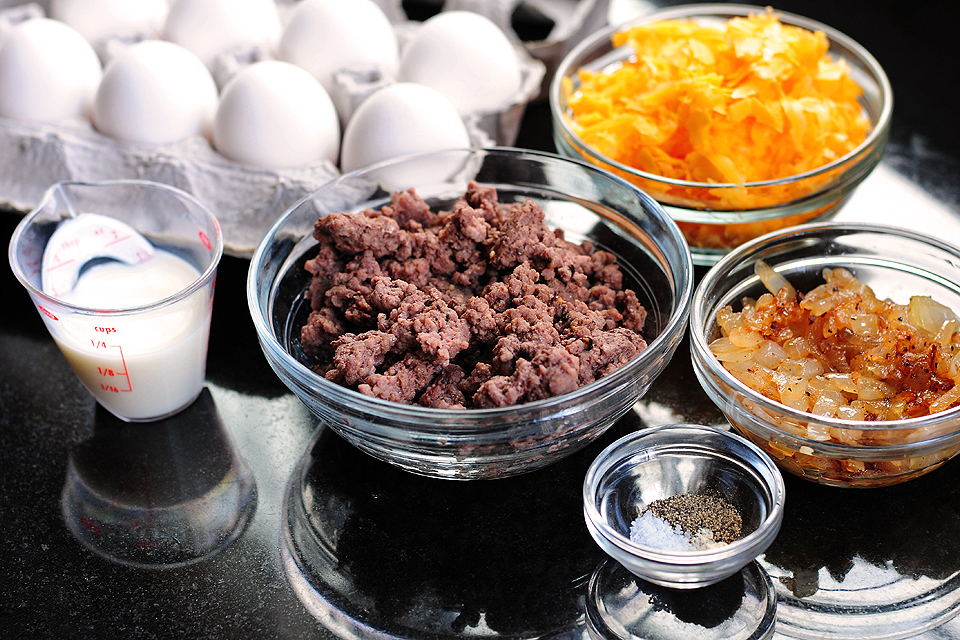 You'll need eggs, a little milk, cheese (I used cheddar), browned ground beef, sautéed onions, and seasonings. I used salt, pepper and garlic powder (our favorite hamburger addition). Pretty simple stuff.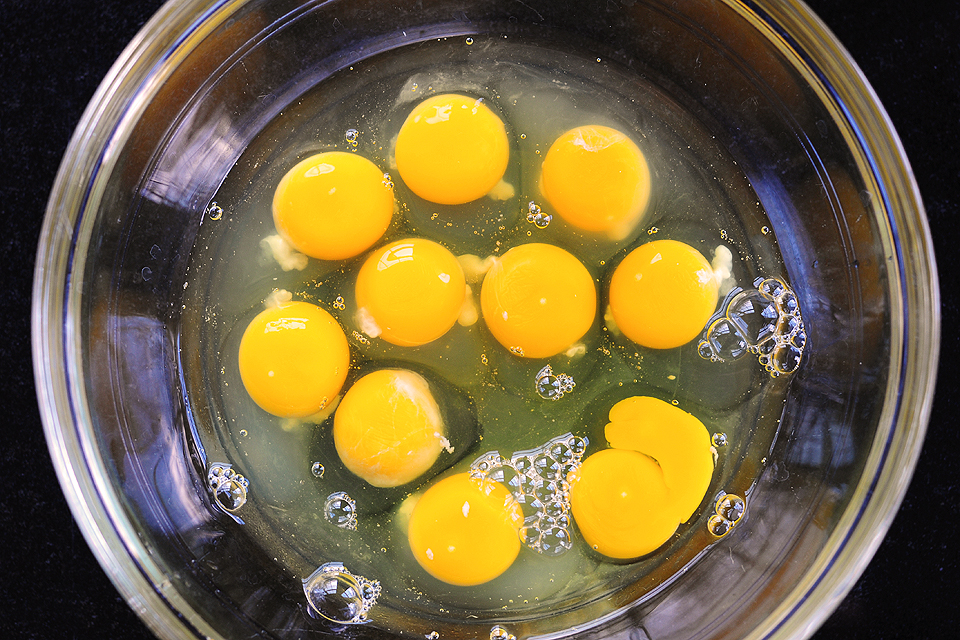 Begin by cracking the eggs into a large bowl.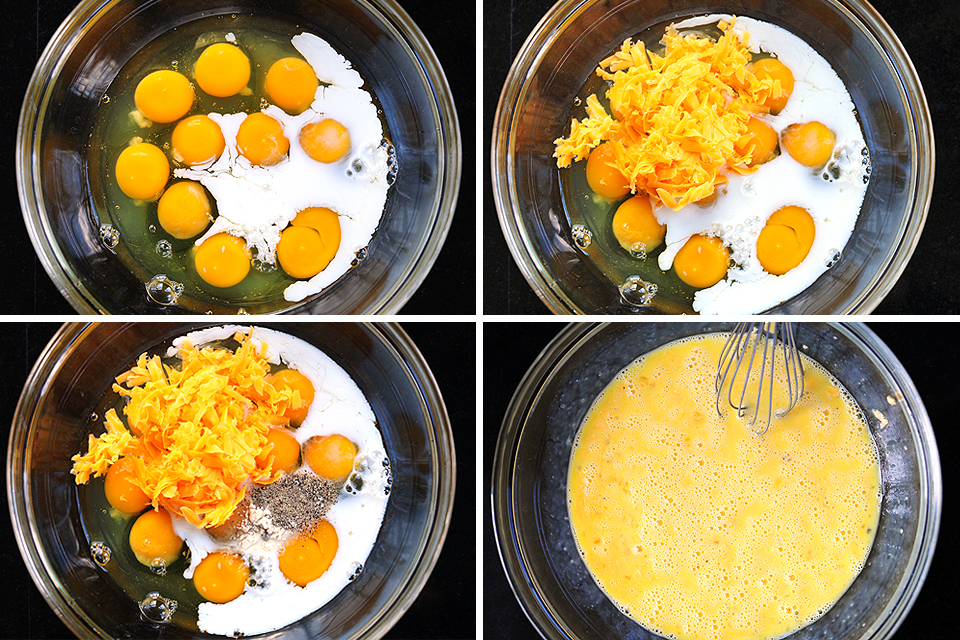 Next add the milk, half of the cheese, and 1/4 teaspoon of each of the seasonings. Beat all together until combined well.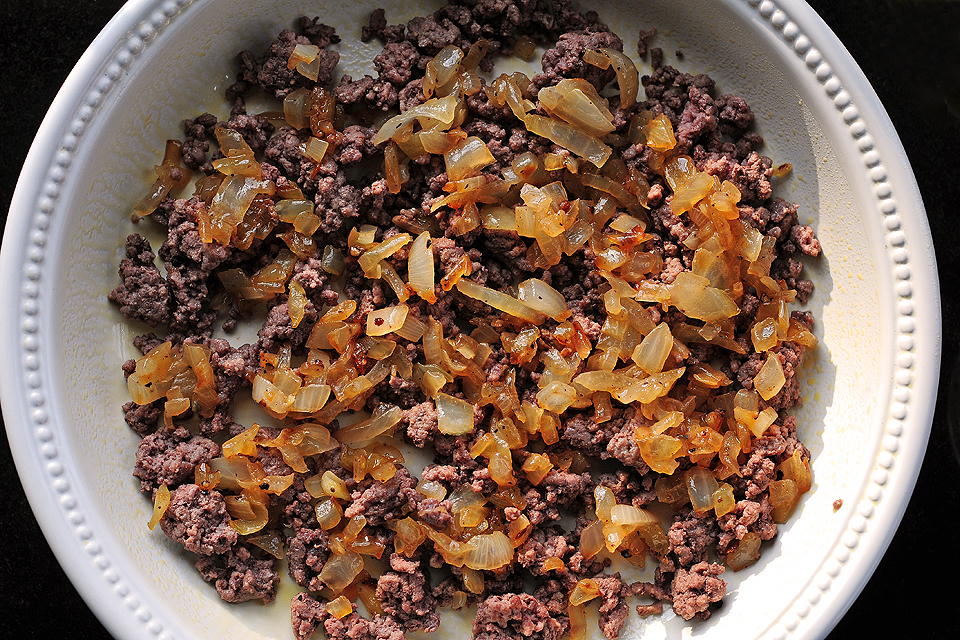 In a pie pan coated well with butter or cooking spray, layer the browned ground beef and sautéed onions. Note: I used a 10″ pie pan, but a 9″ deep dish pie pan would work nicely here and give you a thicker frittata, too. Remember to adjust cook time for different sized dishes.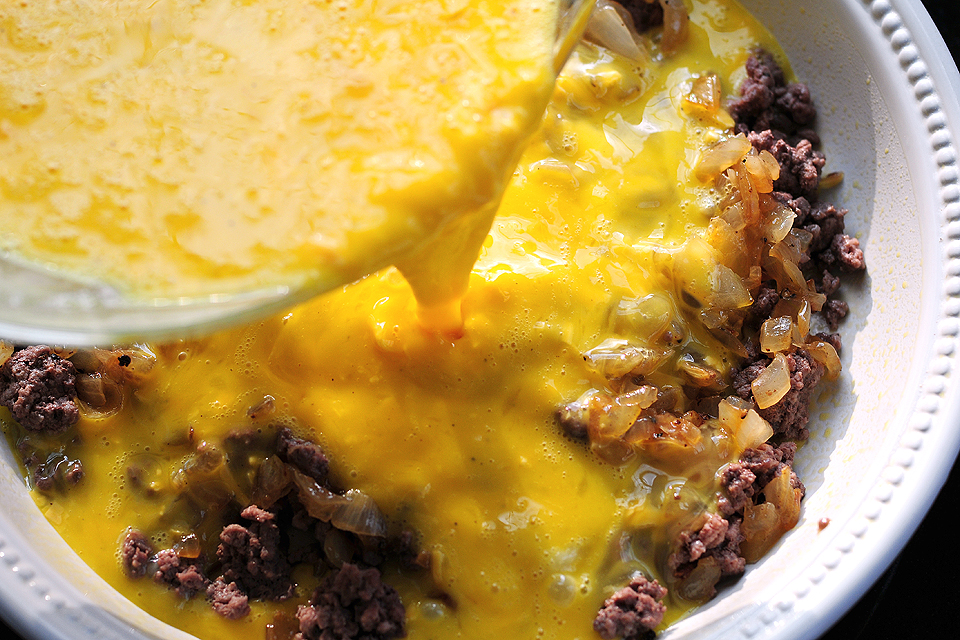 Pour the egg mixture over the ground beef and onions.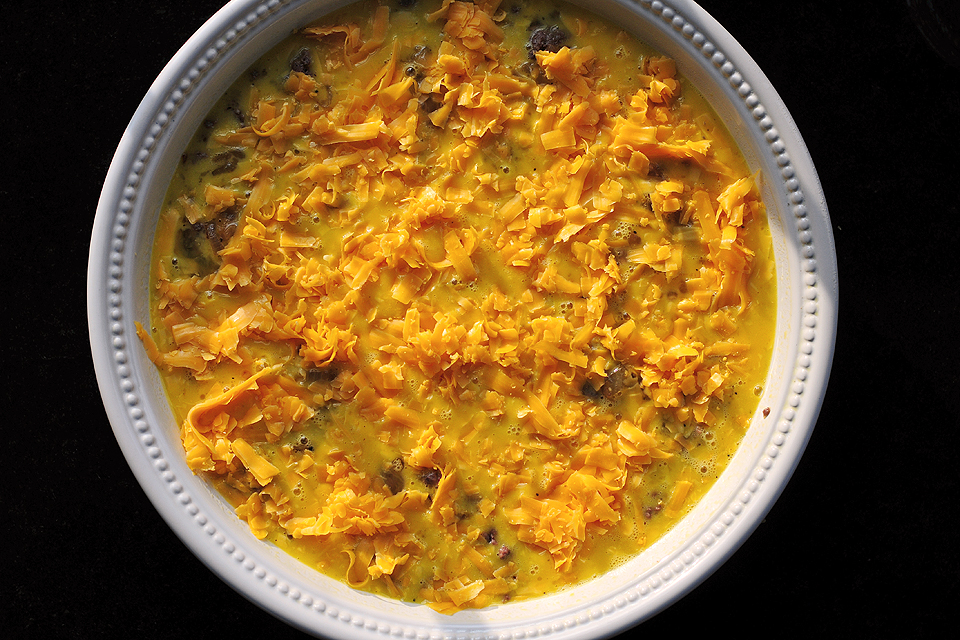 Spread the remaining cheese evenly over the top.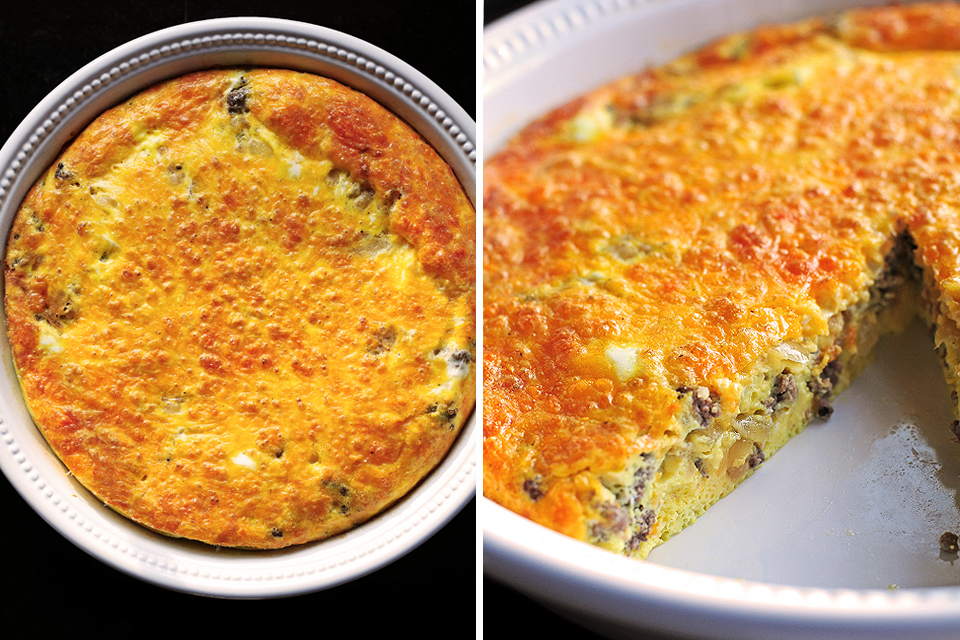 Bake in a 400°F oven for about 15-20 minutes until center is set. Oven temperatures vary so be careful and watch for overcooking.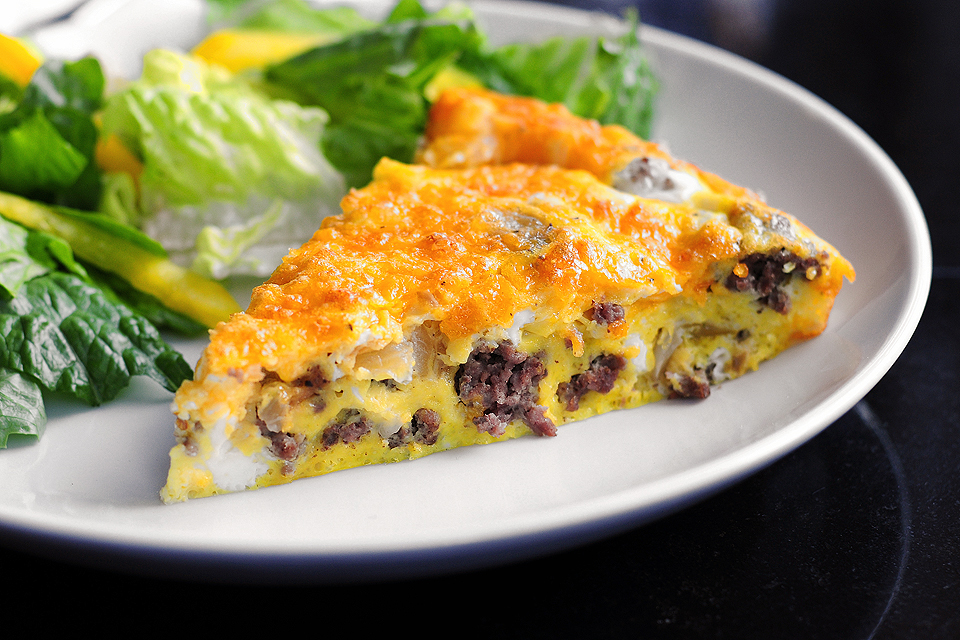 Slice a piece and serve with a side of fruit for breakfast, or with a salad and/or soup for lunch or dinner. Frittata is flexible like that. Enjoy!
If you have any other frittata combos, please share below in the comments. I'm in a frittata-making mode right now.
Printable Recipe
See post on missamy's site!
Description
A simple Cheeseburger Frittata for a quick, low-carb cheeseburger meal.
Ingredients
1 pound Ground Beef
¼ teaspoons Plus Two Dashes Of Salt, Divided
¼ teaspoons Plus Two Dashes Of Pepper, Divided
¼ teaspoons Plus Two Dashes Of Garlic Powder, Divided
1 Tablespoon Olive Oil
1 whole Medium-large Onion, Chopped
10 whole Large Eggs
3 Tablespoons Milk
4 ounces, weight Cheddar Cheese, Shredded, Divided
Optional Additions: Bacon, Sautéed Mushroom, Sliced/diced Tomatoes
Preparation Instructions
Preheat oven to 400 F.
I used a 10″ pie pan for this recipe, but a 9″ deep dish should work as well. Grease it with some butter or spray it with cooking spray.
Brown the beef in a skillet over medium heat with a dash of salt, pepper and garlic powder.
In another skillet, heat olive oil over medium heat and sauté onion with a dash of salt and pepper. Saute until onions are translucent.
Beat together eggs, milk, 1/2 of the shredded cheddar cheese and 1/4 teaspoon of salt pepper and garlic powder.
Evenly distribute the browned hamburger on the bottom of the pie pan then top it with the sautéed onions.
Pour the egg mixture over the top of the hamburger and onion. Top that with the remaining cheese.
Bake at 400 F for 15-20 minutes until set. (I used a 10″ pie pan, so adjust cooking time accordingly for a different size of pan.)


_______________________________________
Amy Johnson is a blogger who writes about food, travel, the home (both inside and out), and various observations and random musings about anything and everything. Visit her blog She Wears Many Hats for a dose of deliciousness, practicality, hilarity, or just plain fun. She lives in South Carolina with her husband and two children.