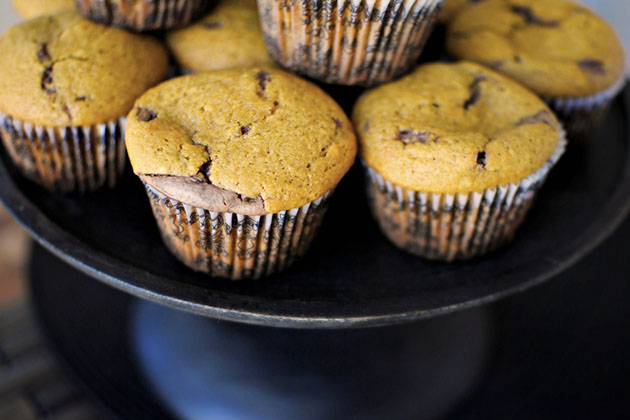 I distinctly remember the moment I fell in love with Nutella. I was sold by its creamy texture, distinct hazelnut flavor, and how well it tasted spread over a banana, then sprinkled with coconut. Ever since that very moment, I knew if there was one thing I needed to always have in my pantry, that would be Nutella. It quickly became a pantry staple as would peanut butter or flour for that matter. Whatever you decide to do with it, you're sure to love it. I'm pretty sure there is simply no way to ruin any recipe that has Nutella in it.
 
So when I came upon this recipe for Nutella Cheesecake Pumpkin Muffins from TK member (Amy) mynameissnickerdoodle, I instantly knew this recipe was going to be a keeper. I could hardly wait for the cold weather to really set in so I could curl up with a cup of coffee and a plate of these muffins. I mean, the thought of Nutella cheesecake alone sounds heavenly, but Nutella cheesecake in the center of a pumpkin muffin? Only one word comes to mind: magical. And that's exactly what they are.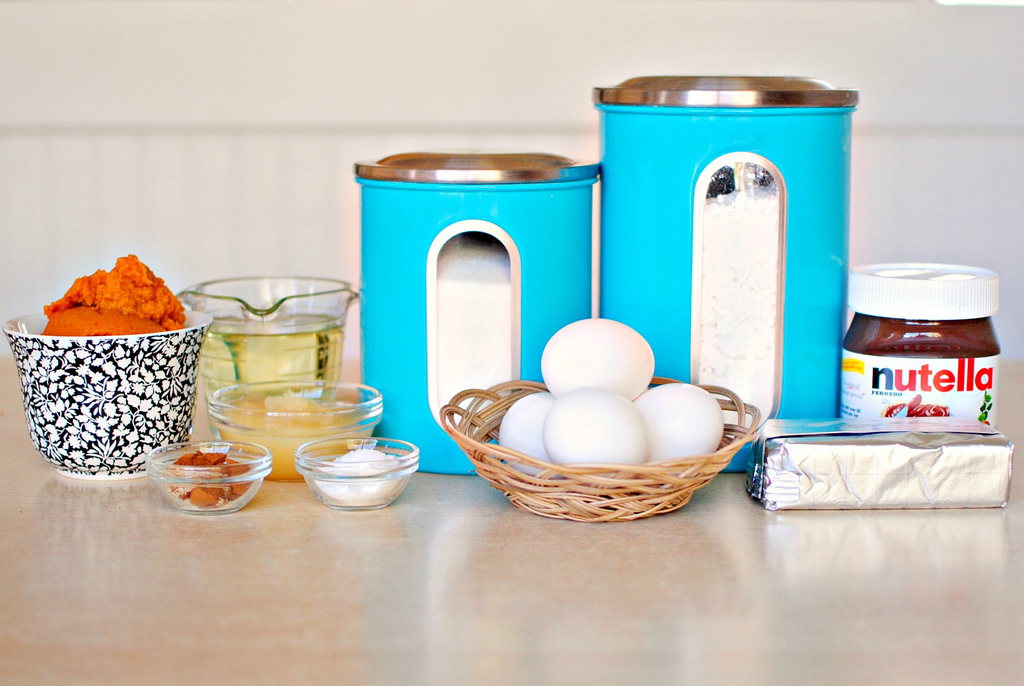 To make these delicious muffins, you'll need eggs, sugar, pumpkin puree, oil, flour, cinnamon, nutmeg, baking soda, salt, Nutella and cream cheese. I didn't have any vegetable oil so I just substituted 1 cup extra light olive oil and a half cup of unsweetened applesauce and it worked like a charm.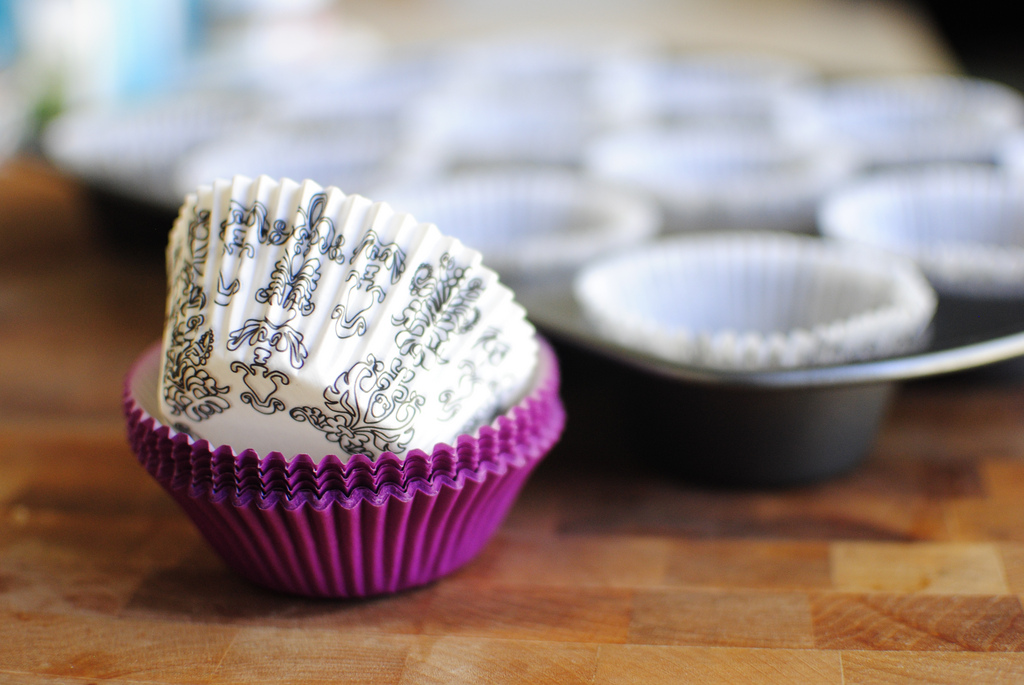 Preheat your oven to 375ºF and line a muffin tin with some baking liners. These days you can find liners in all sorts of different colors or designs, which can really add personality and dress up any cupcake or muffin.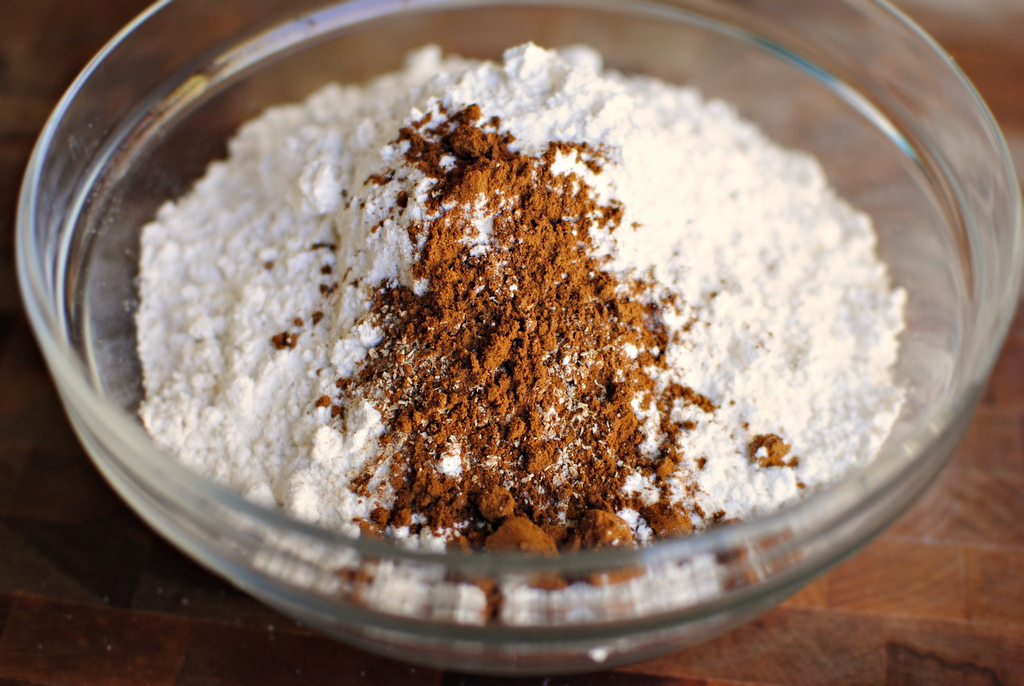 Now let's get going with the pumpkin batter. In a bowl, add the all-purpose flour, baking soda, salt, cinnamon and nutmeg. It should start to smell good already!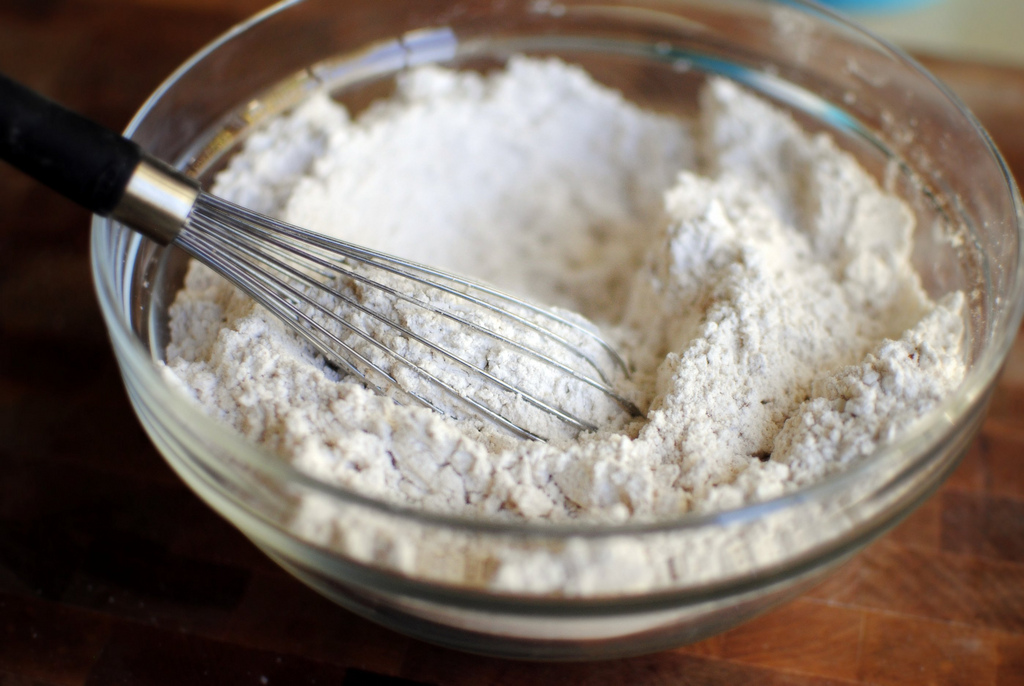 Whisk the dry ingredients together and set aside for just a moment.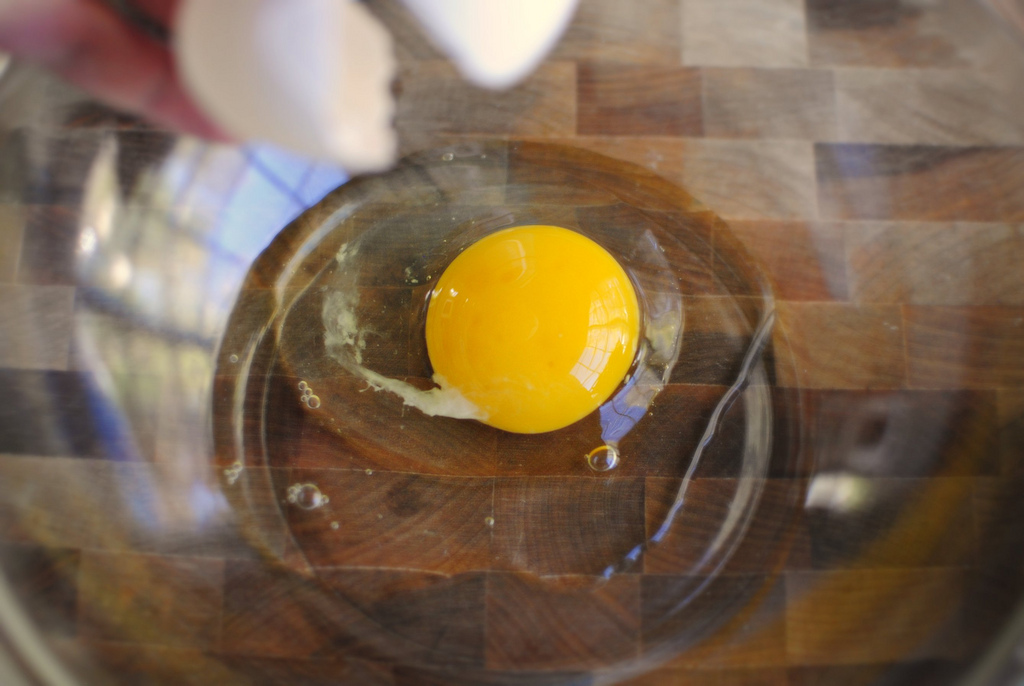 In a large bowl, crack four eggs.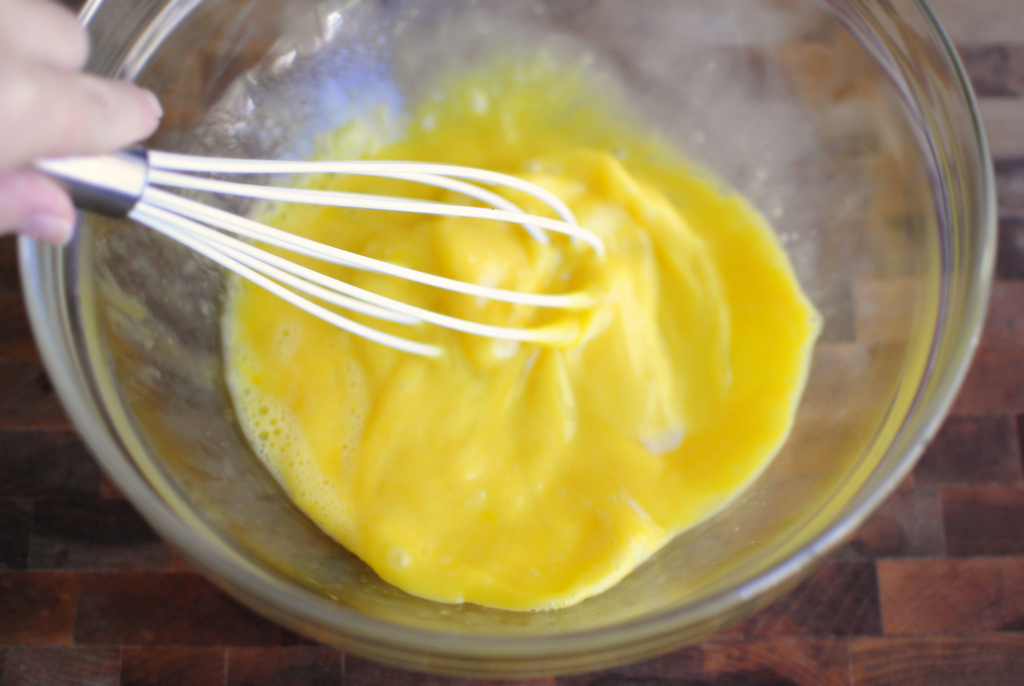 Gently whisk the eggs until they are slightly beaten.
 




Next add in the sugar, applesauce and pumpkin puree.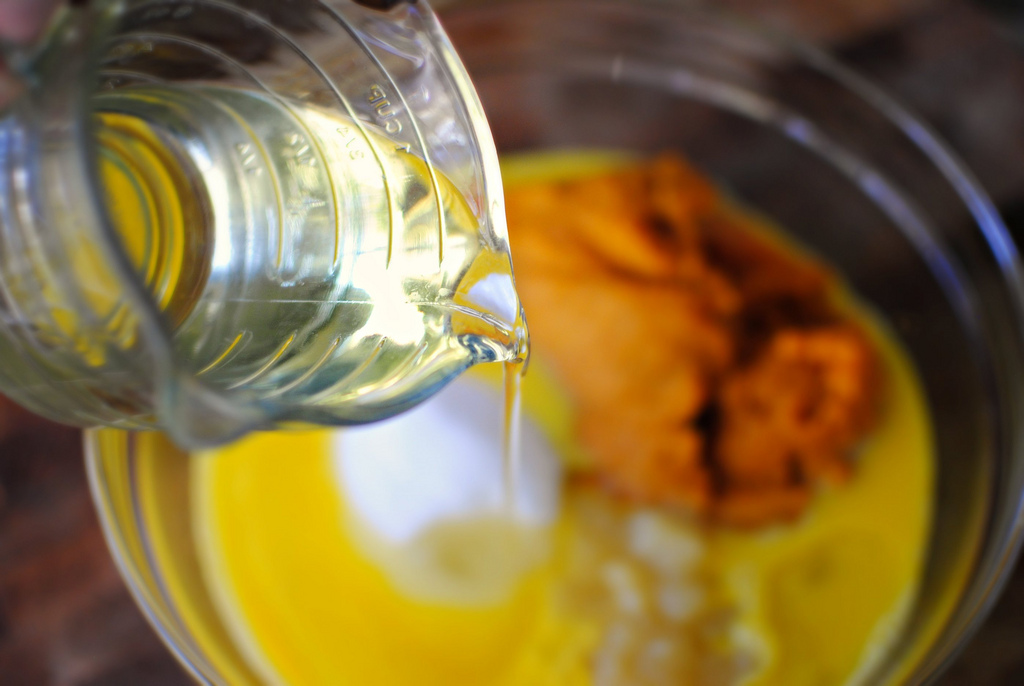 Lastly, add in the oil.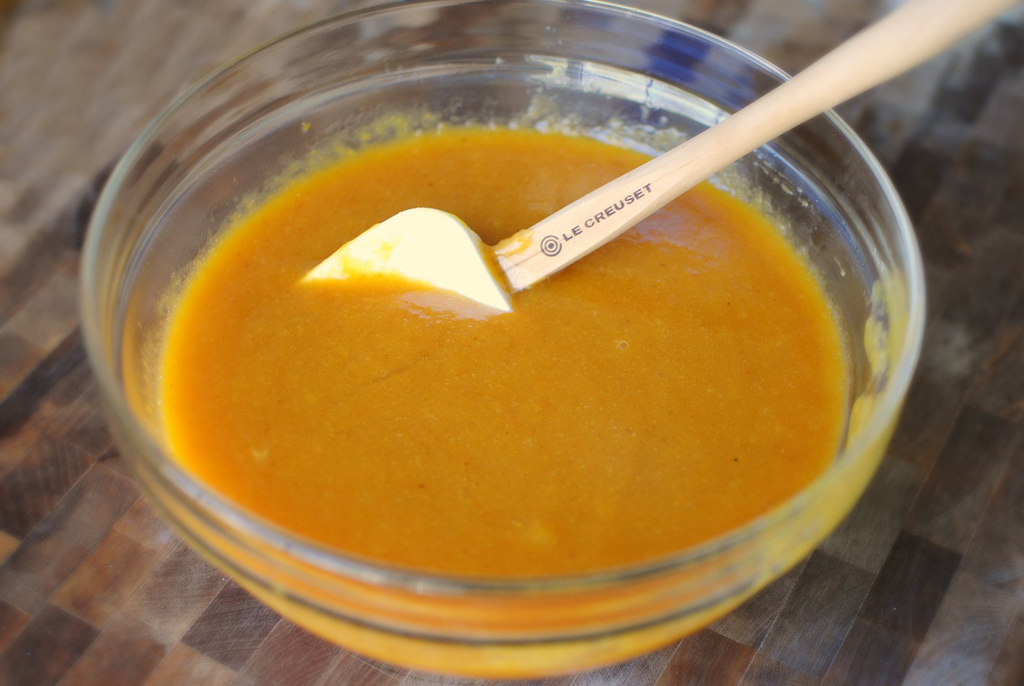 Stir until all the wet ingredients are thoroughly combined.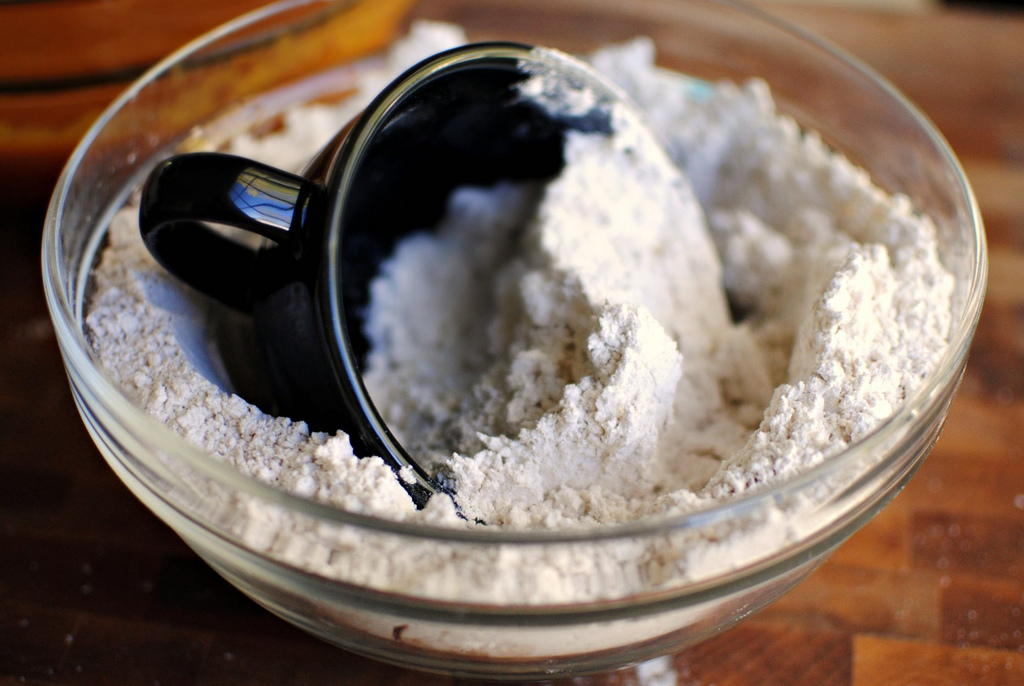 Working in batches, add a little of the flour mixture into the pumpkin batter.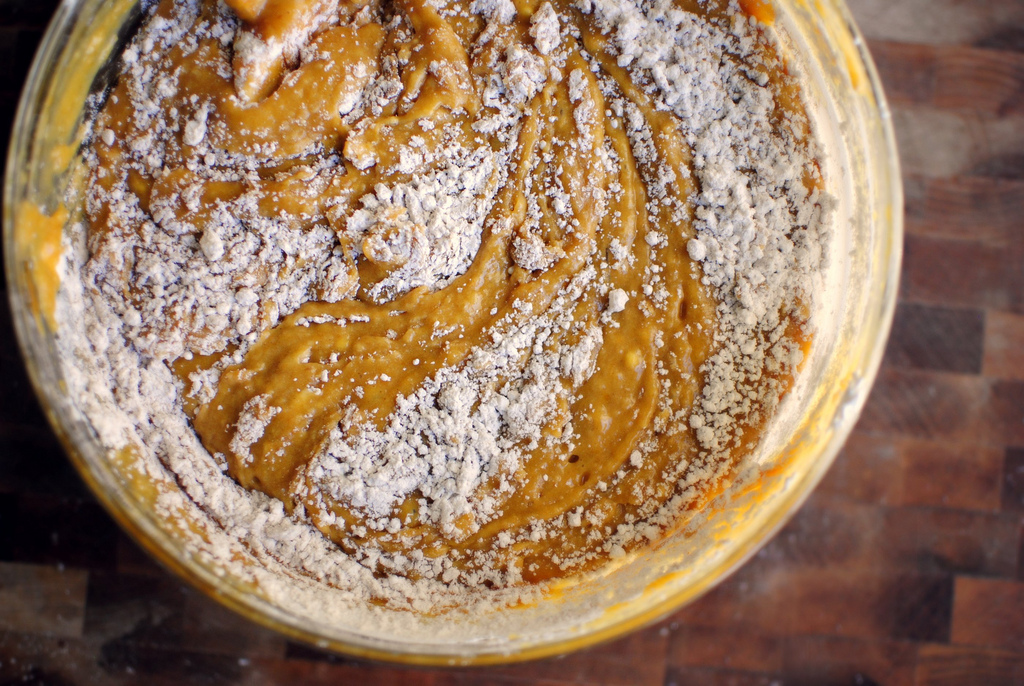 Stir until all ingredients are incorporated.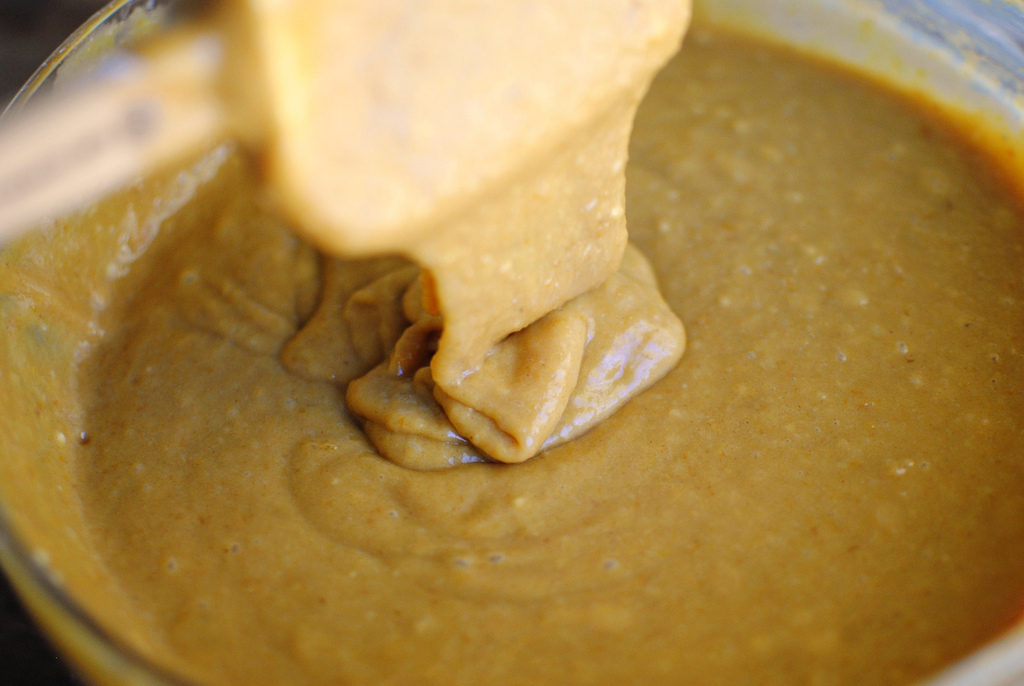 The batter should be smooth yet slightly thick. My rule of thumb: if the batter tastes amazing, so will the final baked product. And let me just tell you, the batter is absolutely fantastic! Now, if you can help it, set it aside and get started with the cheesecake filling.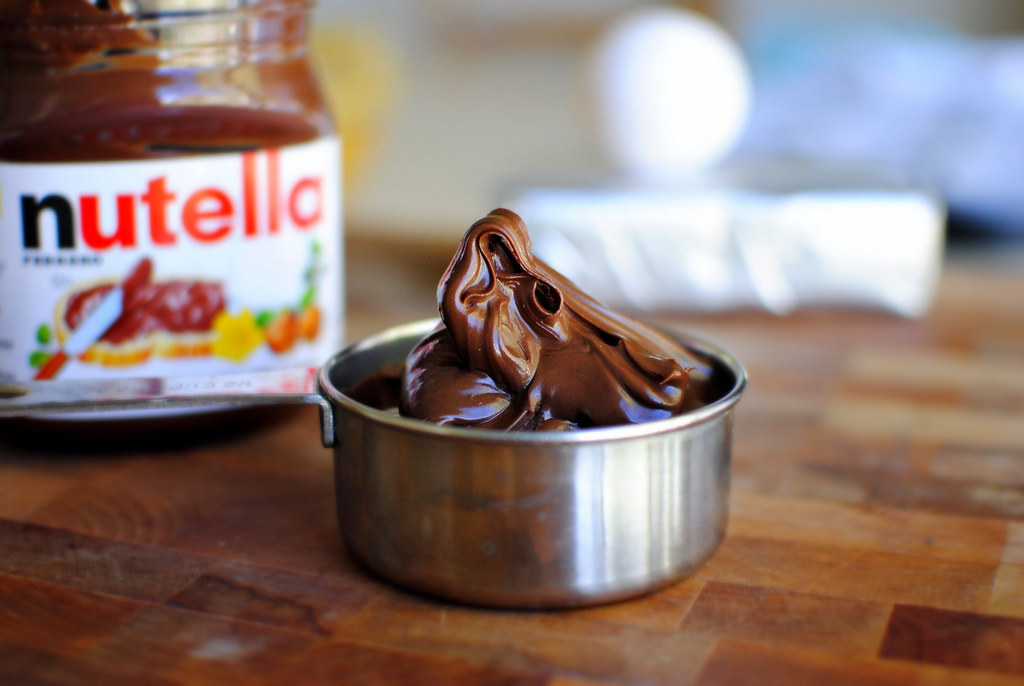 Measure out a half cup of Nutella.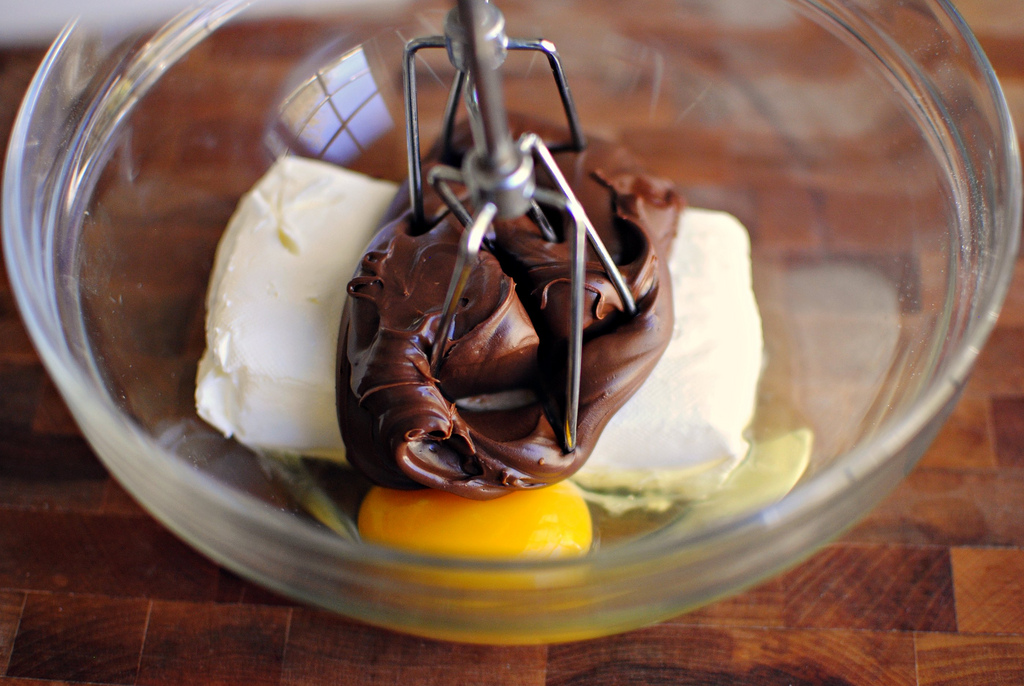 >
Add the Nutella, along with the 8 ounces of softened cream cheese and one whole egg into a medium bowl.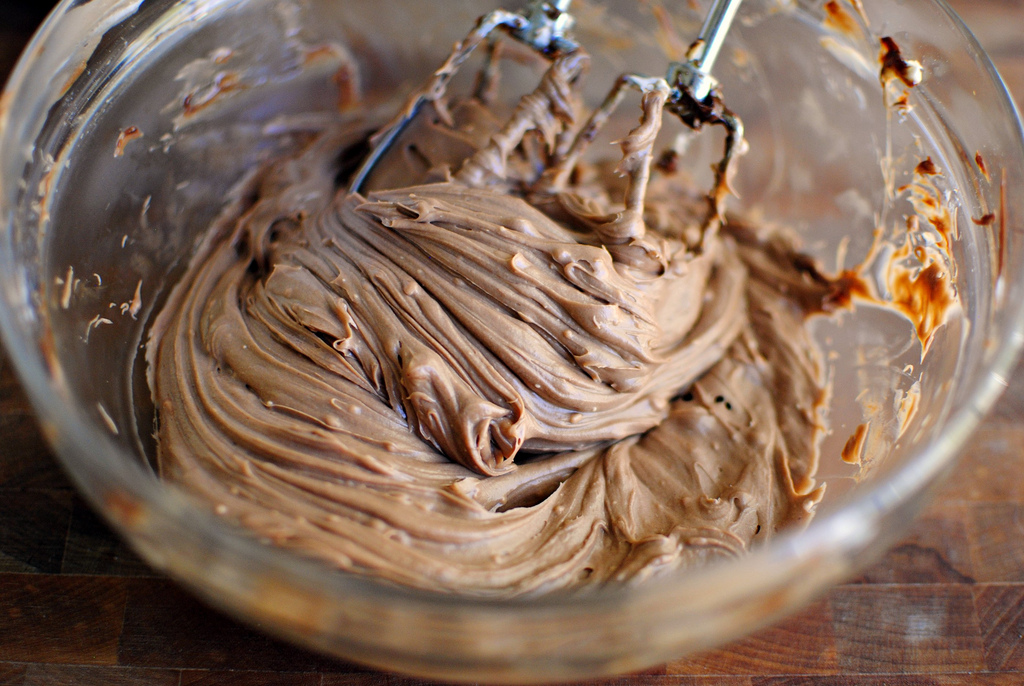 Using a hand mixer, blend until smooth.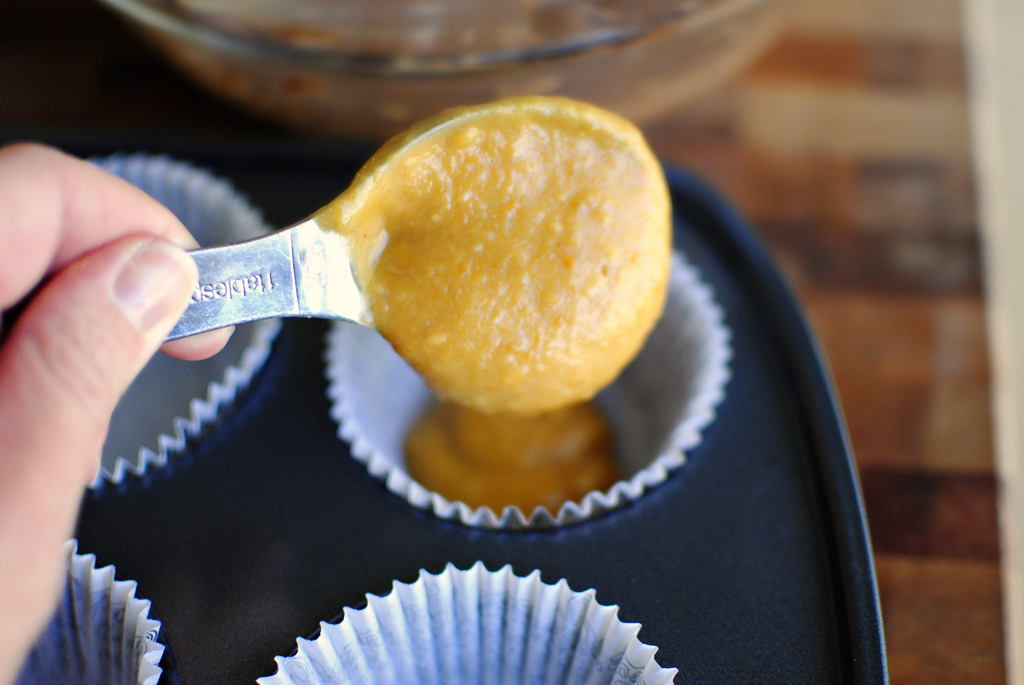 Now comes the fun part! To the lined muffin tin, add two level tablespoons of the pumpkin batter.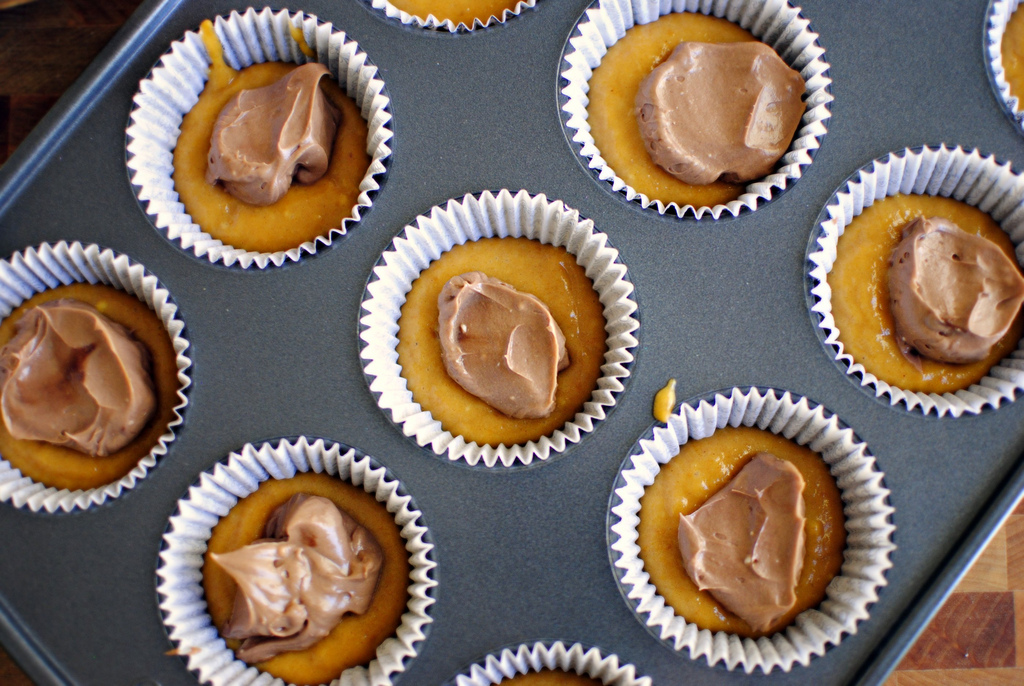 Next place a tablespoon of the Nutella cheesecake mixture on top of that.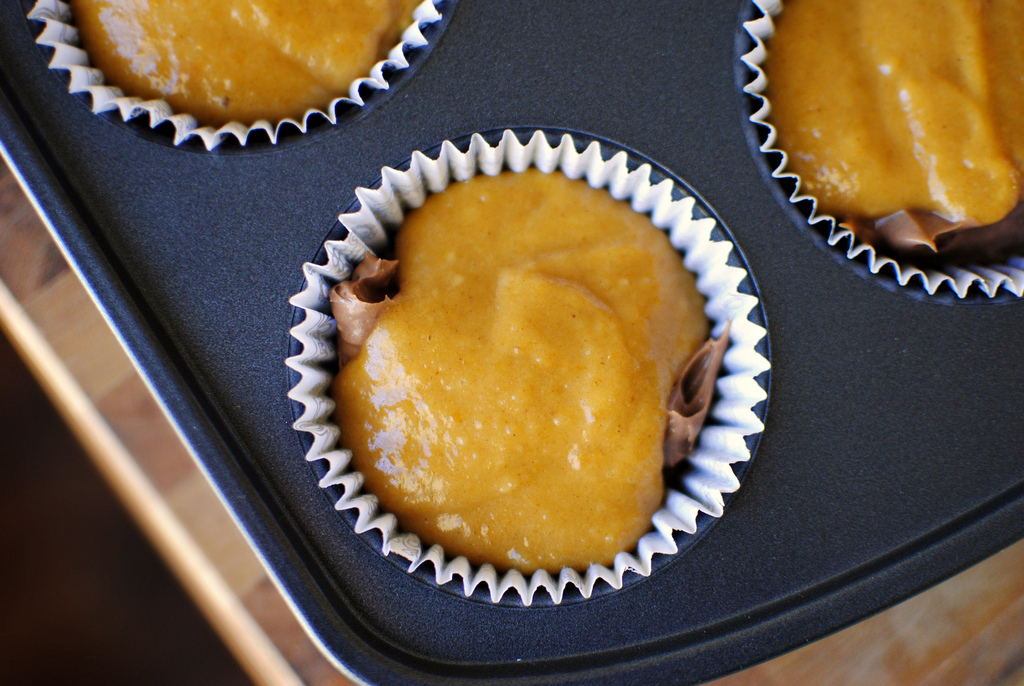 Lastly, top the Nutella mixture with two more tablespoons of the pumpkin batter. Place in your preheated oven for 18-20 minutes. See? So easy!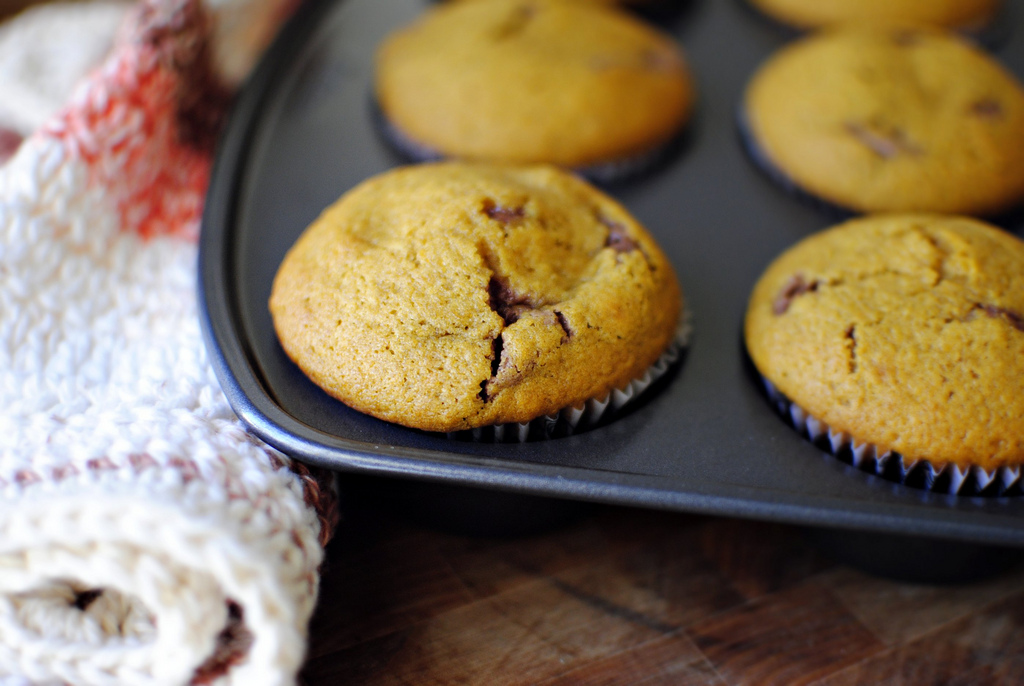 My muffins baked up perfectly in 18 minutes. They were light and fluffy and my home filled up with the smell of pumpkin. Here are some words of advice: let them cool slightly before removing from the pan and attempting to eat.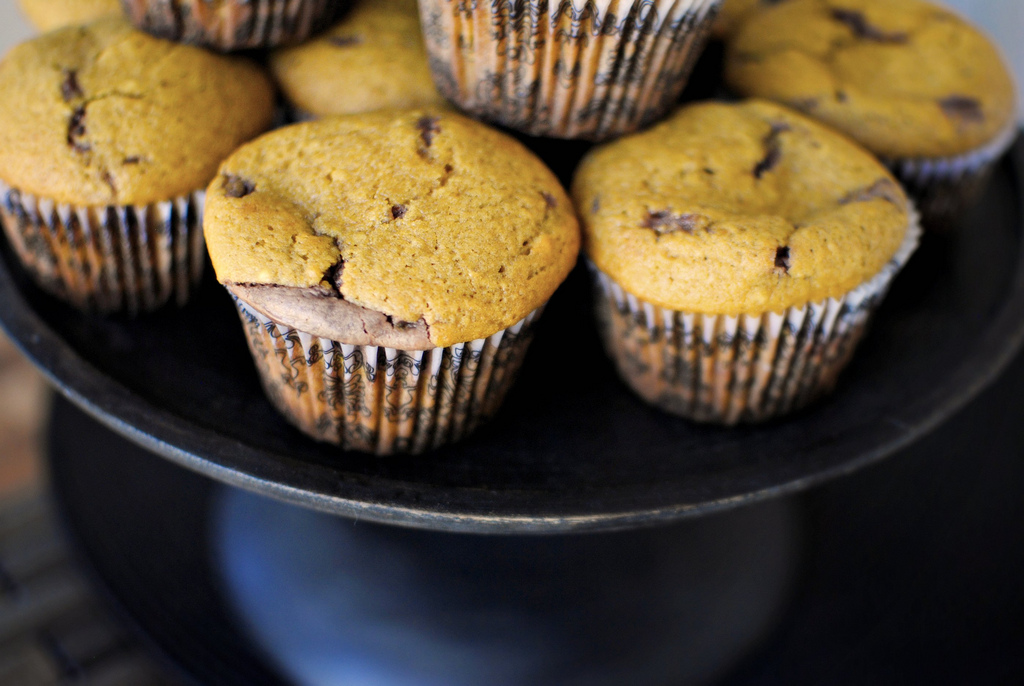 What I really liked about this recipe, besides the whole entire thing, was that the measurements are spot on. I didn't have any leftover batter or cheesecake filling. And if you keep the muffins in an airtight container, they can last for up to a week. (If that's even possible.)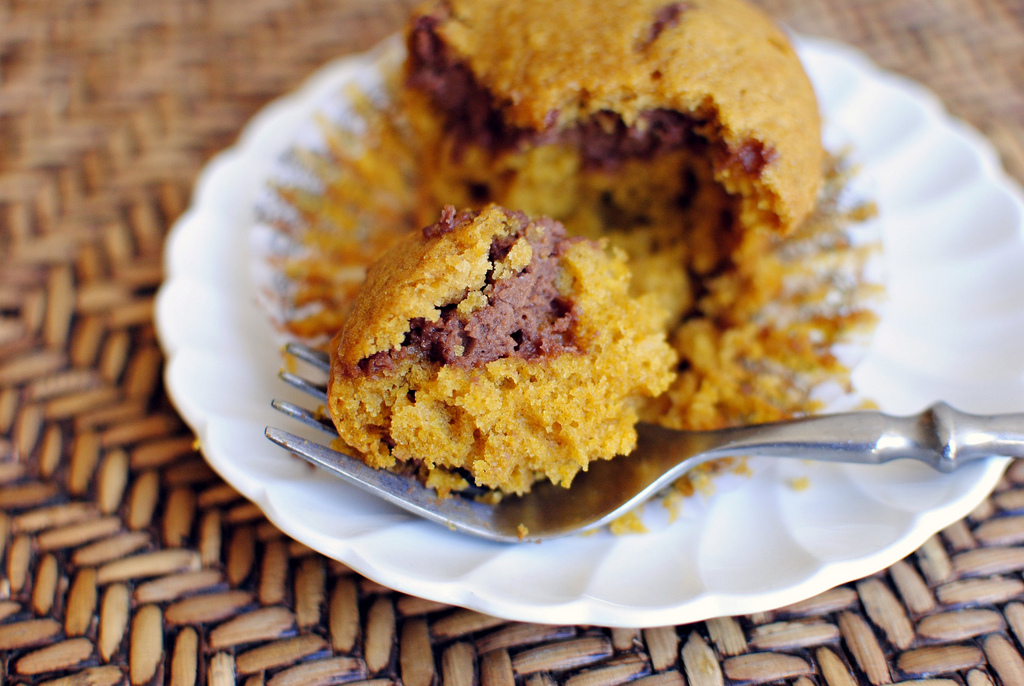 It was pure genius of Amy to match this fluffy pumpkin cake with the silkiness of Nutella cheesecake. These muffins pack easily and are great afternoon snack or as an evening dessert. And as a Season Two Dessert Host for Real Women of Philadelphia, Amy is no stranger to creating fun and delicious treats. It's obvious she knows her way around a kitchen. Just check out Amy's Tasty Kitchen recipe box or stop by her fun and happy website My Name is Snickerdoodle and you'll see just why. Thank you, Amy, for sharing such a scrumptious muffin recipe with us! This recipe will firmly hold a spot in my recipe box and I can't wait to bake these again for the holidays.
Note: The only change to this recipe I made was to use 1 cup olive oil and a half cup unsweetened apple sauce instead of 1-1/2 cups vegetable oil.
Printable Recipe
See post on mynameissnickerdoodle's site!
Description
Pumpkin muffins just says fall. Adding a little Nutella cheesecake filling to pumpkin muffins just YELLS fall!
Ingredients
FOR THE PUMPKIN MUFFINS:
4 whole Large Eggs
1-½ cup Sugar
1 can (15 Oz. Size) Pumpkin Puree
1-½ cup Vegetable Oil
3 cups All-purpose Flour
2 teaspoons Cinnamon
1 teaspoon Nutmeg
2 teaspoons Baking Soda
1 teaspoon Salt
FOR THE NUTELLA CHEECAKE FILLING:
8 ounces, weight Cream Cheese, Softened
½ cups Nutella
1 whole Large Egg
Preparation Instructions
Preheat oven to 375°F. In a large bowl, beat eggs slightly. Add in sugar, pumpkin and oil and beat thoroughly. Add in remaining dry ingredients and mix until smooth.
In a small bowl, beat together cream cheese, Nutella and egg until smooth.
Place paper liners in a muffin tin. Place about 2 tablespoons of pumpkin batter into each liner, then 1 tablespoon of Nutella batter, then top with 2 more tablespoons of pumpkin batter. Bake for 18-22 minutes.
These are best served completely cooled. Makes 20 muffins.


_______________________________________
Laurie is the force behind Simply Scratch, a blog that documents her efforts to find and create recipes that are made simply from scratch. (We think it's sweet that her mother-in-law helped her set up her blog and get started.) We love her recipes; they're not just tried and true, but they look gorgeous as well. Check out her blog and you'll become a fan too.