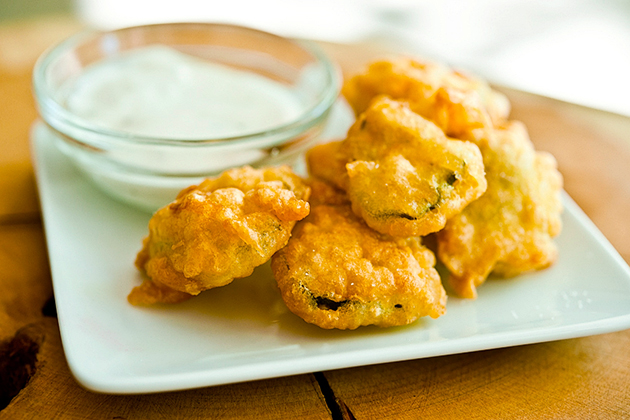 I'm fairly certain there is nothing more satisfying to eat than a fried pickle. The sad part is that it took me 29 years to discover this. Last year I tasted my first fried pickle in an Irish pub in California and I was forever transformed. I crossed the threshold into a new phase of life—pre-fried pickle to post-fried pickle. And I'm never looking back. Thank you to TK member Kelly from Live Love Pasta (who in turn sourced the recipe from Elizabeth's Edible Experience) for reminding me of this glorious food and inspiring me to share it with you today!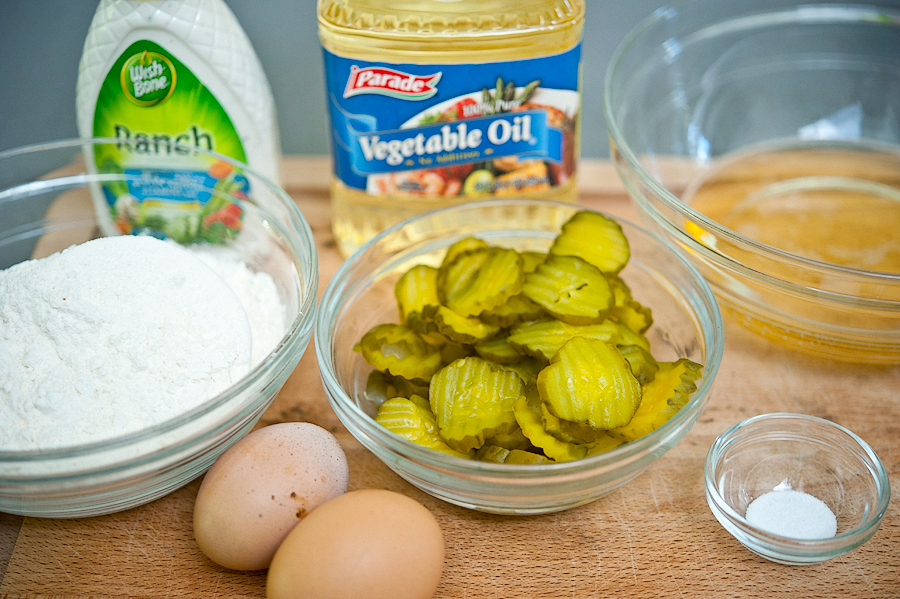 The best part? This is all you need: flour, pickle slices (you could also do pickle spears), vegetable oil, 2 eggs, salt, beer, and ranch dressing for dipping.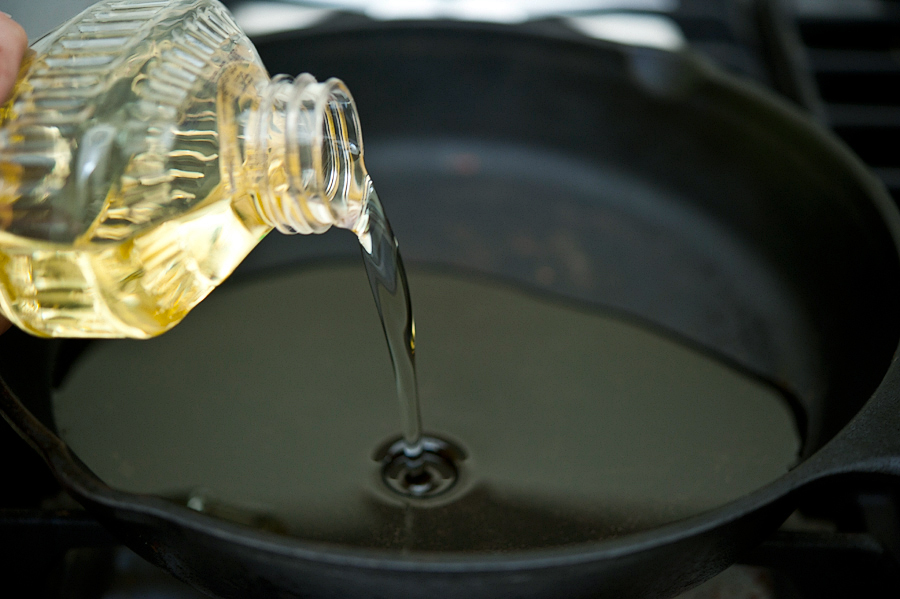 Get out your trusty skillet and pour in a thick layer of oil. About an inch will do.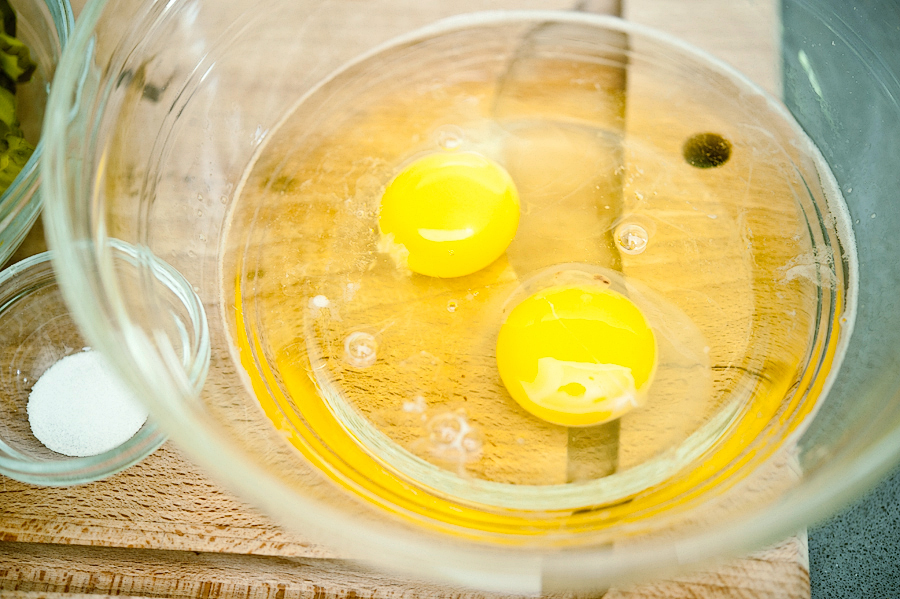 Next, combine the eggs and the beer in a bowl.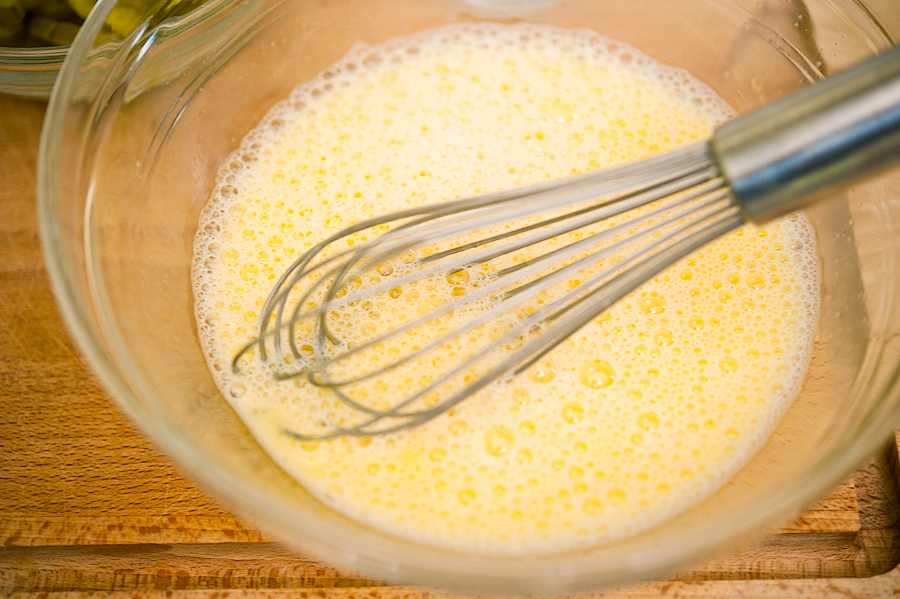 Whisk them up well and get them nice and frothy.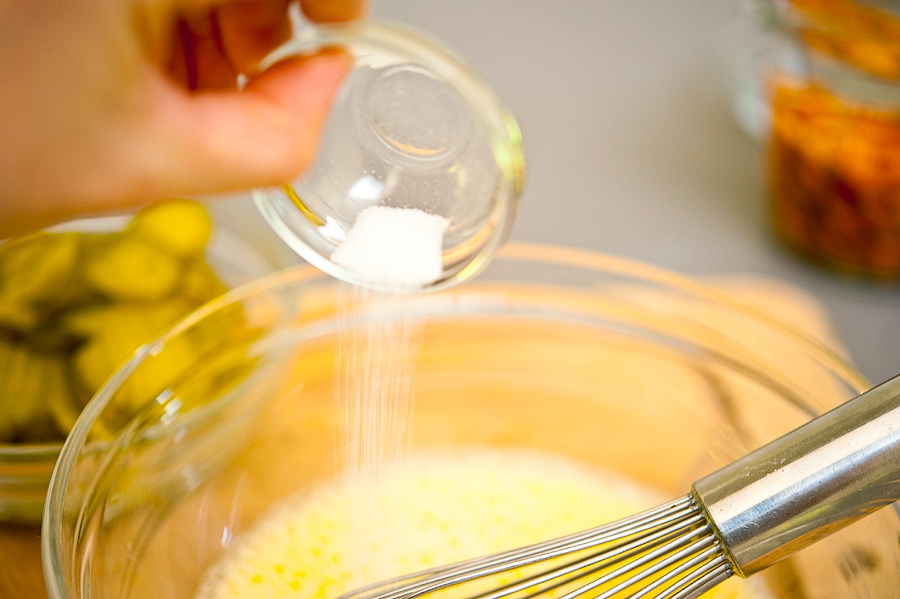 Sprinkle in the salt…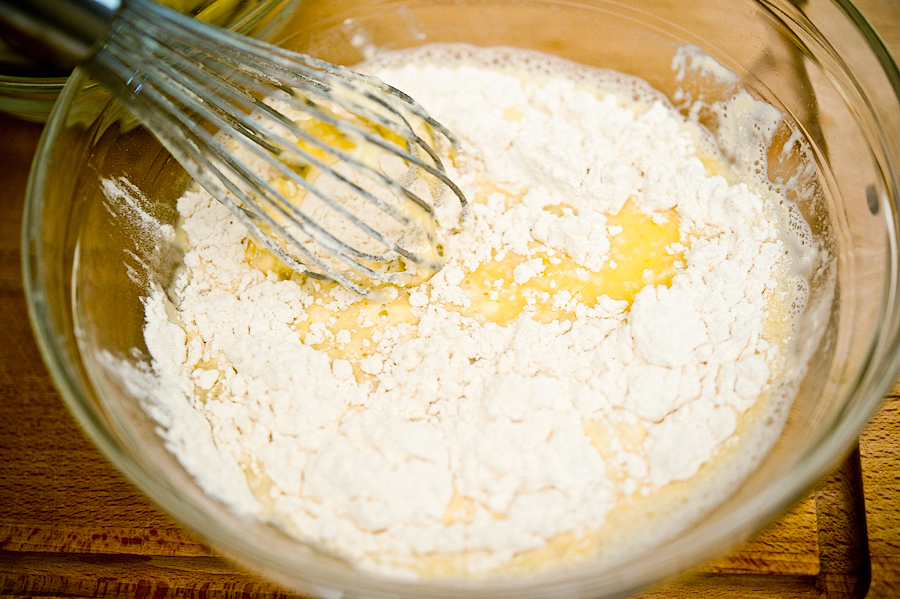 And then little by little add the flour to the liquid ingredients. You may not need all the flour, so keep whisking and see how thick it gets. You'll want it to drip with the consistency of a nice thick syrup.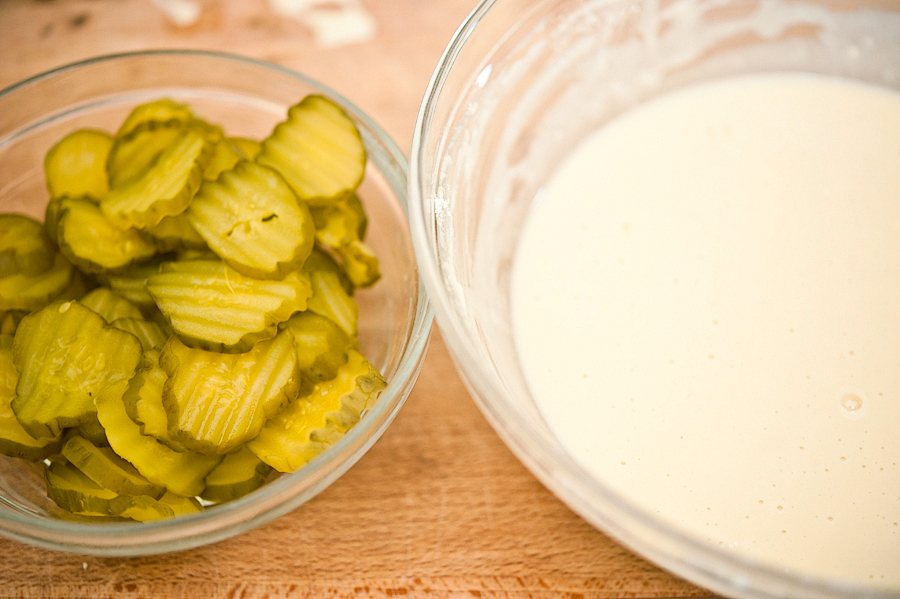 Get your pickle slices close to you while the oil heats up.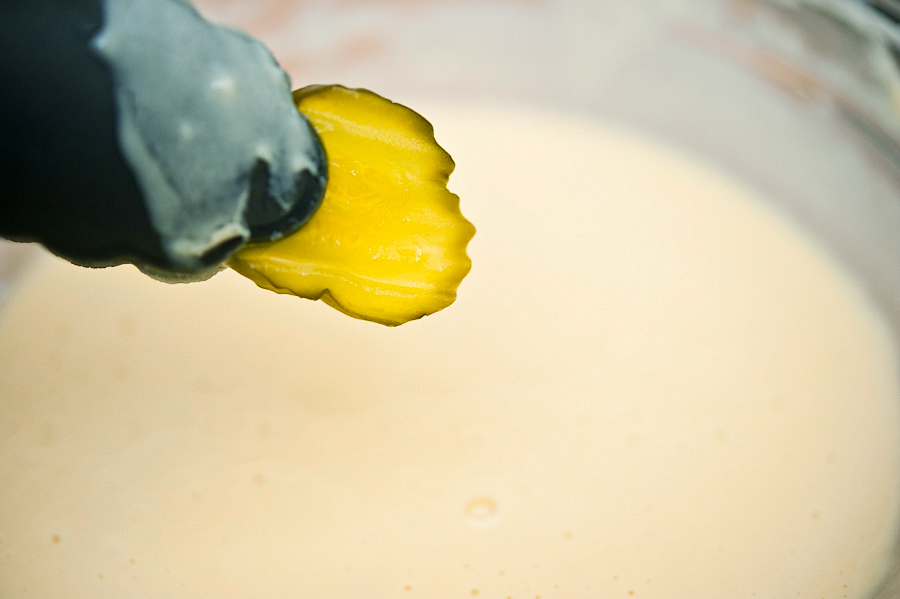 Use a pair of tongs or a fork and dip them in the batter one by one.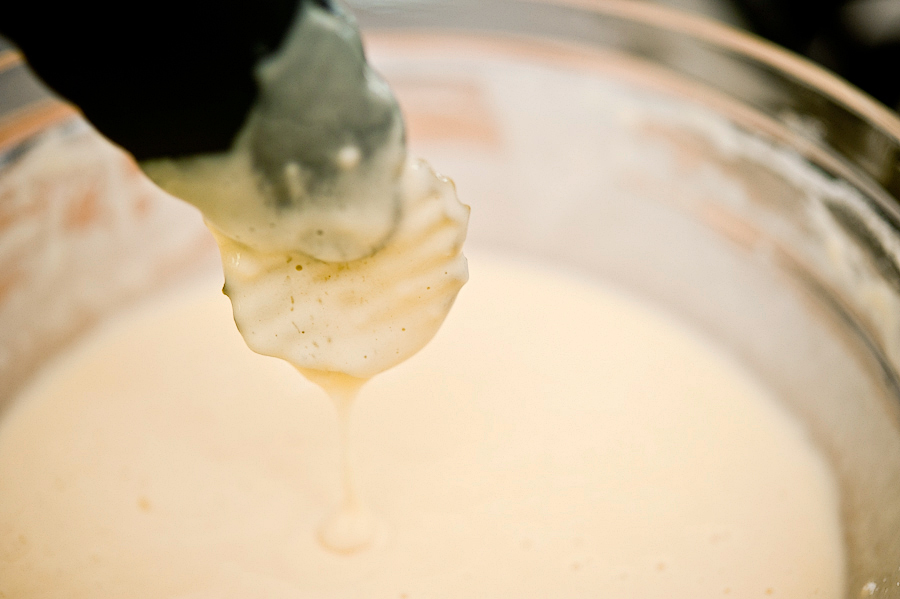 They should be nicely coated. Shake off the excess and quickly drop them into the hot oil.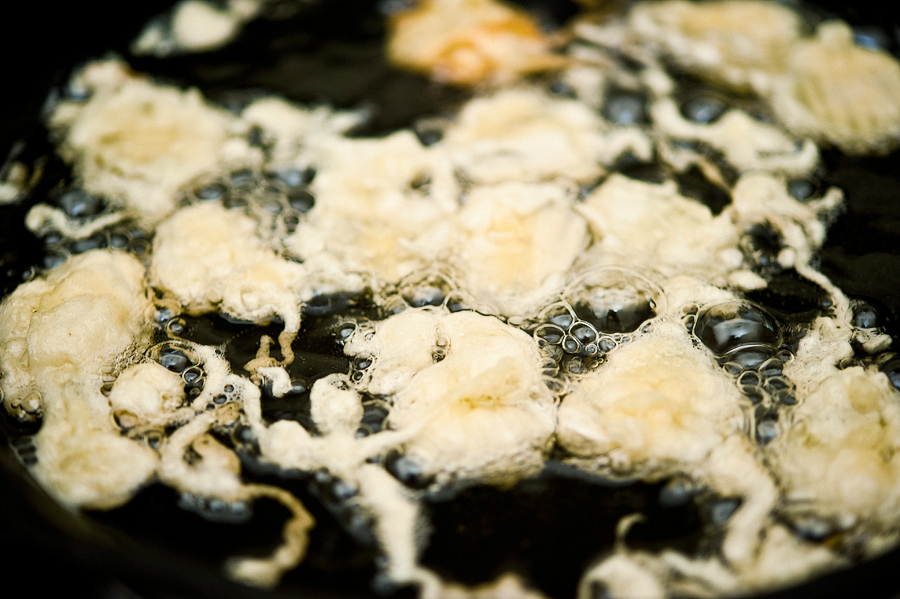 The pickles will bubble and pop and after about 2 minutes …
Flip them over so that they brown on the other side.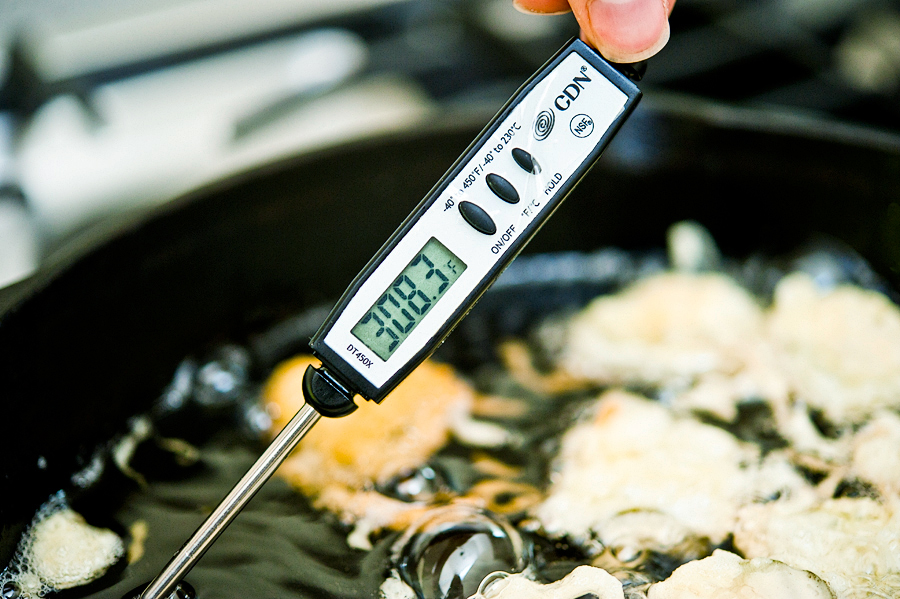 You also might want to take the temperature of the oil along the way to make sure it doesn't drop too much. The goal is to keep it hovering around 350 degrees F.
Once they are golden brown, lay them on a wire rack and sprinkle them liberally with salt to help them crisp up.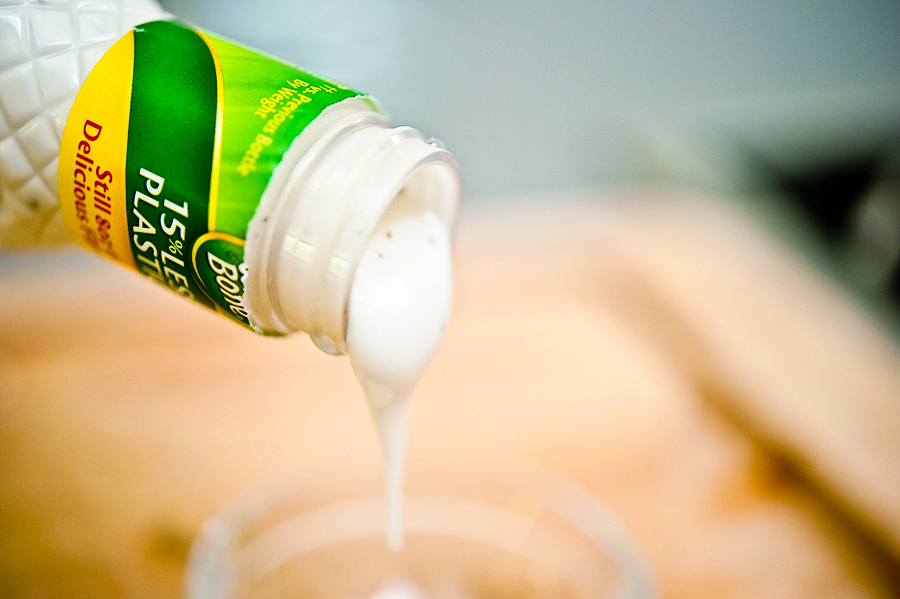 Then get out a little dipping bowl and pour in some ranch or your other favorite dipping sauce.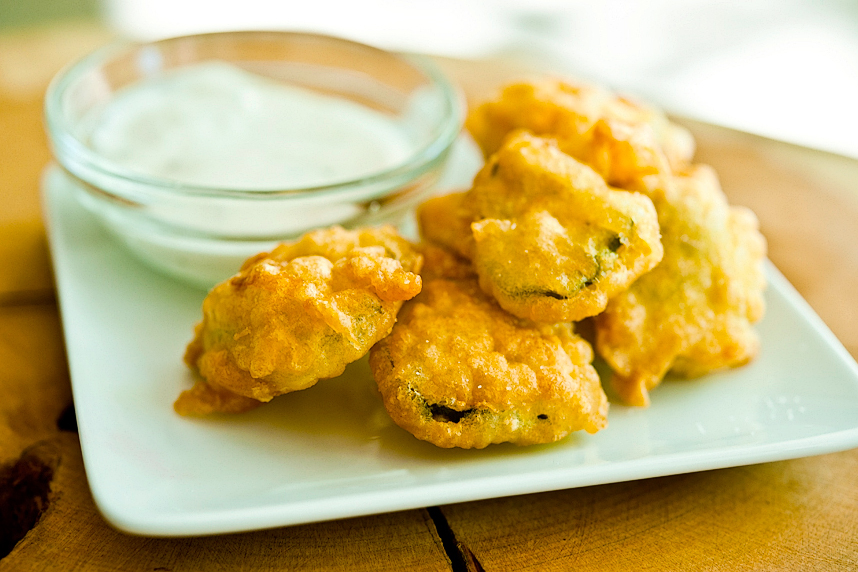 Then you will have little golden discs of crispy, crunchy, salty, sour perfection.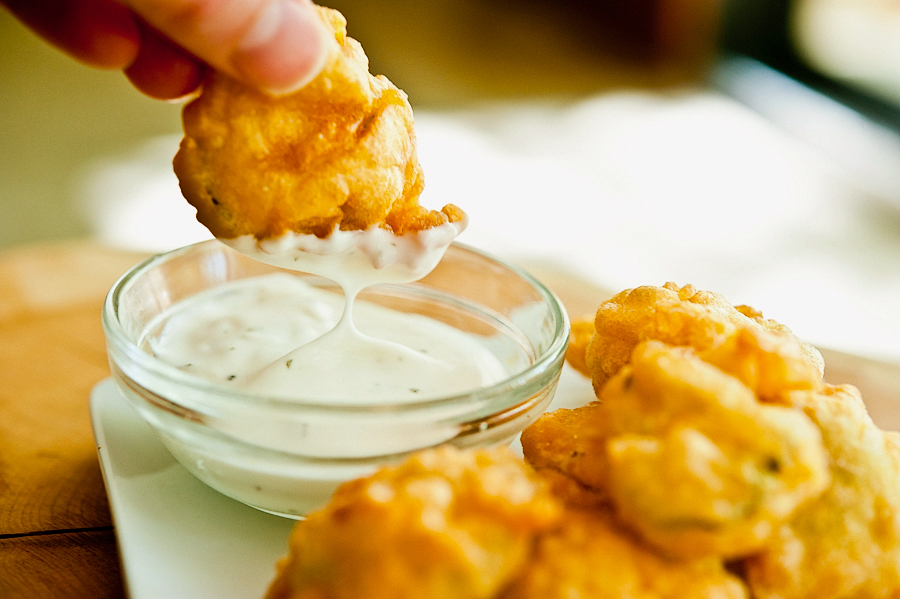 I hope you'll make these as soon as humanly possible! And thanks to Kelly for passing along such a brilliant recipe. Check out her website Live Love Pasta for other brilliant recipes!
Printable Recipe
See post on kelly @ livelovepasta's site!
Description
In honor of the Jersey Shore premiere, we decided to make Snooki's favorite snack: Fried Pickles! They're fun to snack on and they're surprisingly tasty. This recipe is pretty basic—only 5 or 6 ingredients.
Ingredients
20 ounces, fluid Canola Oil
2 whole Dill Pickles, Sliced Into ½ Inch Rounds
2 whole Eggs
¾ cups Beer, Or More As Needed
1 pinch Salt And Pepper, to taste
2 cups Flour
Ranch Dressing, To Serve
Preparation Instructions
Pour enough oil in a large skillet so that the oil is about 1-2 inches up the side of the pan. Or use a deep fryer if you have one. Heat the oil to 350 degrees F.
Slice pickles into ½-inch slices. Set aside.
In a mixing bowl, whisk the eggs and beer. Season the mixture with salt and pepper. Whisk in enough flour to form a batter. If the batter is too thick, add up to 1/4 cup additional beer to thin the batter.
Using tongs, dip pickles one at a time into the batter and then place in the heated oil. Fry pickles for about 2 minutes, flipping the pickle after about 1 minute.
Place pickles on a plate lined with paper towels and season with salt. Serve with ranch dressing.


_______________________________________
There's so much to say about Georgia, we don't know where to start. Leaving Wall Street for the French Culinary Institute, followed by a stint at the Gramercy Tavern and La Chassagnette in France, her passion for food and food traditions are evident and inspiring. Visit her site at Georgia Pellegrini, where you'll find more recipes, photos, learn all about her wonderful book Food Heroes, and enjoy her latest adventures.