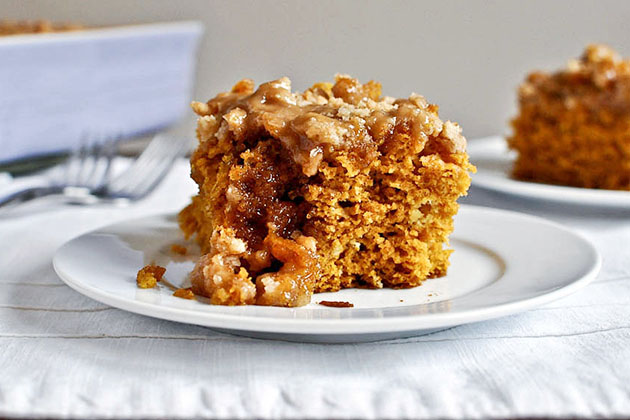 It seems that I wait all year for pumpkin. Come May, I am already craving pumpkin cookies, pumpkin roll, and pumpkin pie, and can hardly imagine waiting another four or five months to get in on that goodness. And with the recent pumpkin shortages that have been happening around the country, I sort of bought every can at my store. Like, every single can. My downstairs pantry now has a dedicated pumpkin shelf and I couldn't be happier. And hungrier.
I've had Heather's recipe saved for Pumpkin Coffee Cake with Brown Sugar Glaze since last autumn, so you know exactly what came first on my to-make list. If I'm being honest, it's the brown sugar glaze that sold me. I have a weird thing for brown sugar and for glazes, so I knew it would be a winner. I could practically taste it through through the screen. And it's easy too!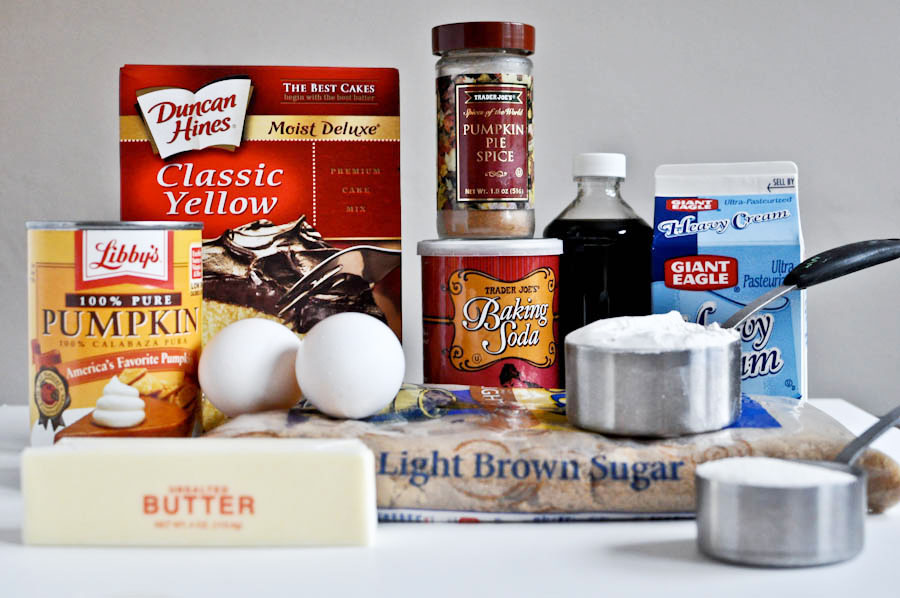 You need a can of pumpkin puree, a box of yellow cake mix, pumpkin pie spice, baking soda, vanilla extract, heavy cream, flour, granulated sugar, brown sugar, butter, eggs and water. Heather's recipe called for walnuts, and as I much as I love them, I'm a firm believer in nutless baked goods. Feel free to add them if you wish!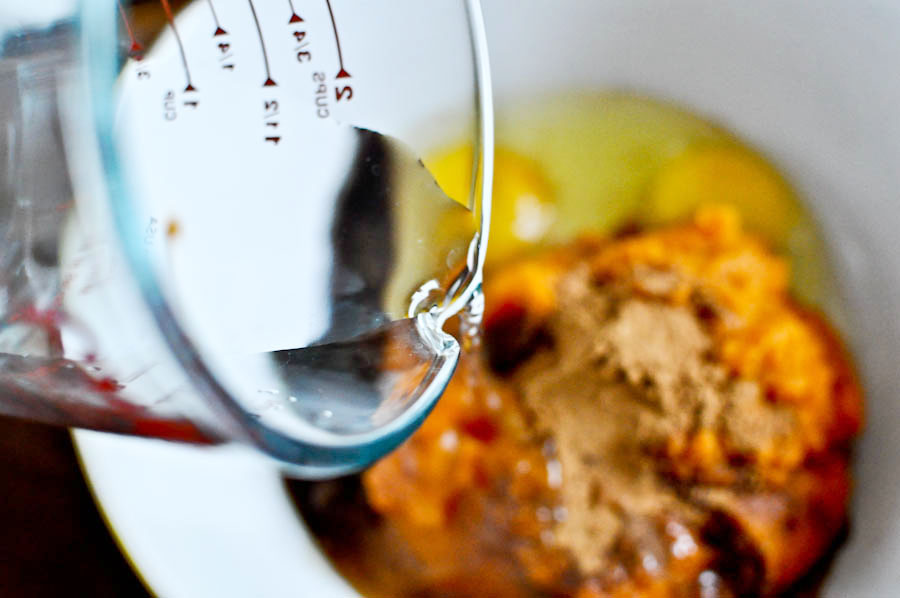 Begin by adding the pumpkin, eggs, vanilla extract, water and pumpkin pie spice together in a bowl.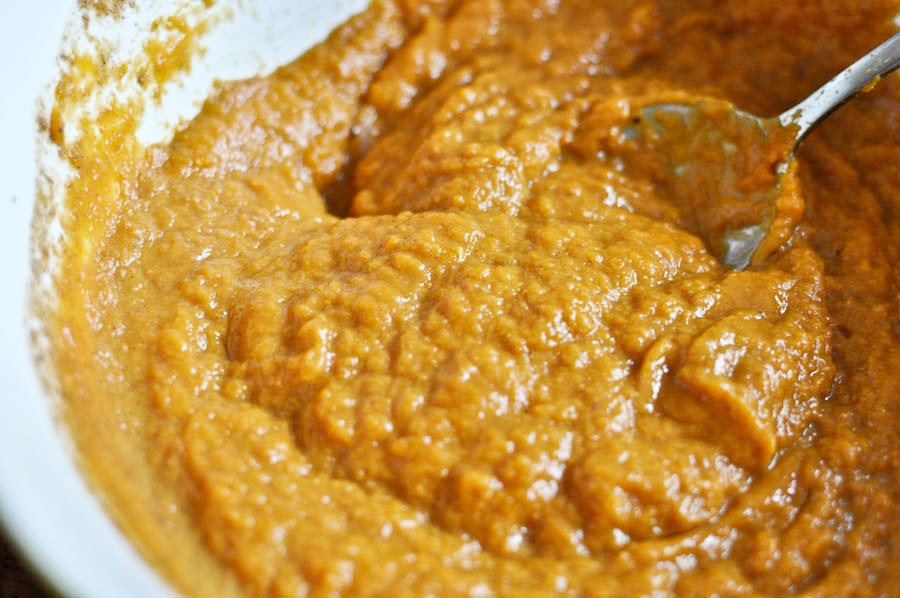 Mix it up until it looks pumpkin-y … or, you know, sort of like baby food.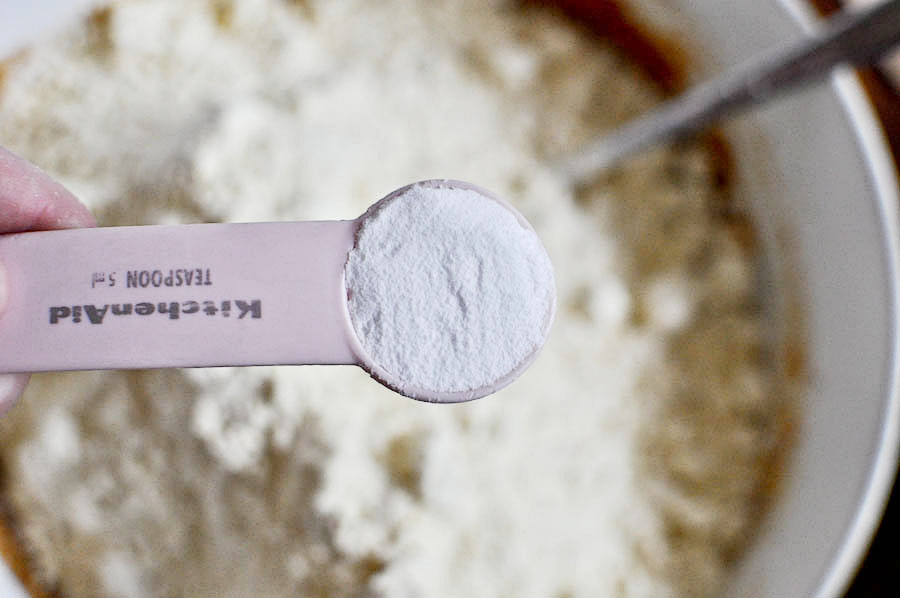 Add in the cake mix and baking soda, and mix with a spoon until combined and minimal lumps remain. It's okay if you have a few small lumps left.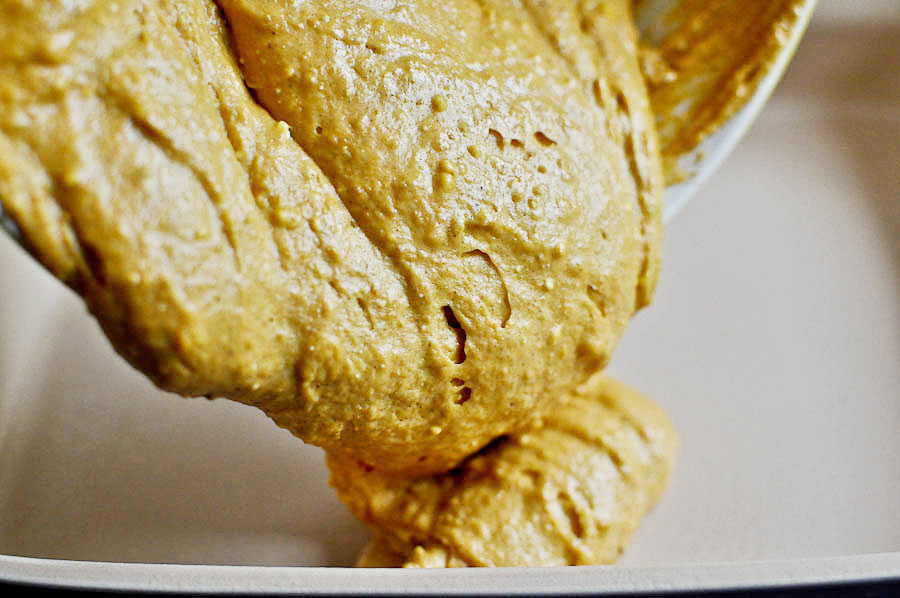 Pour batter into a 9×13 greased baking dish.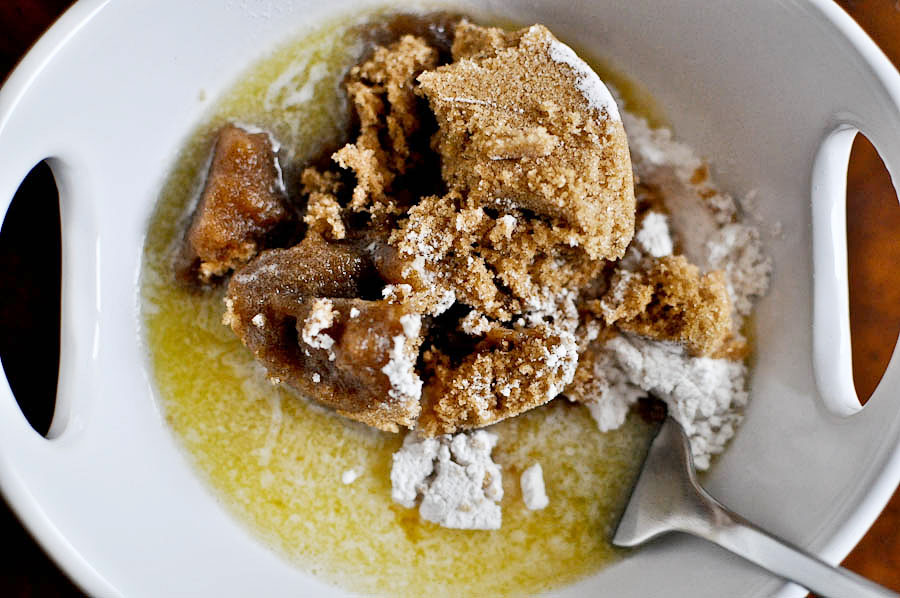 In a small bowl, mix together half of the brown sugar, flour and melted butter. If you are using walnuts, this is where they would go. Pecans would add a nice touch too.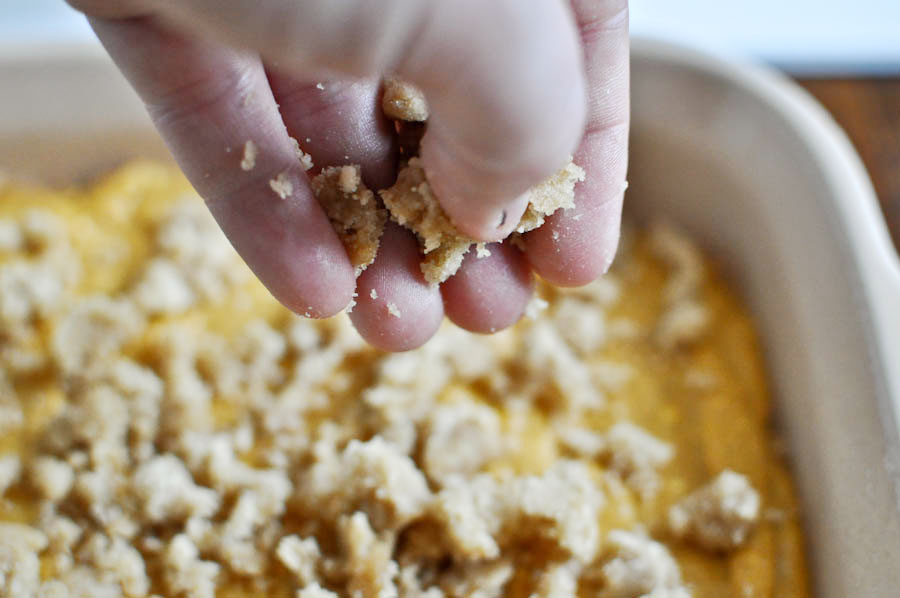 Crumble the brown sugar mixture over the pumpkin cake batter with your fingers.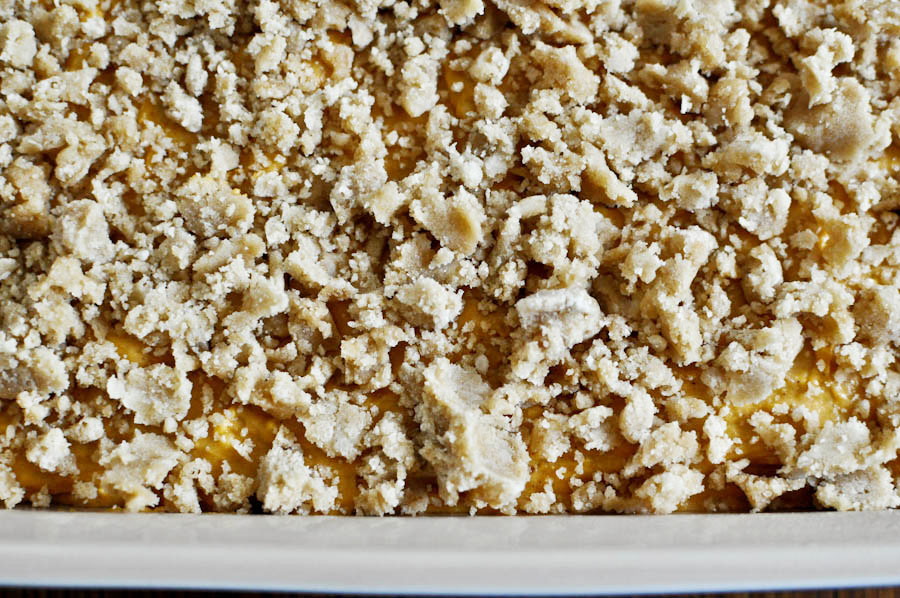 It should look like this. Absolutely devour-able.
The cake heads into a 350ºF oven and bakes for about 30 minutes, or until a toothpick inserted comes out clean.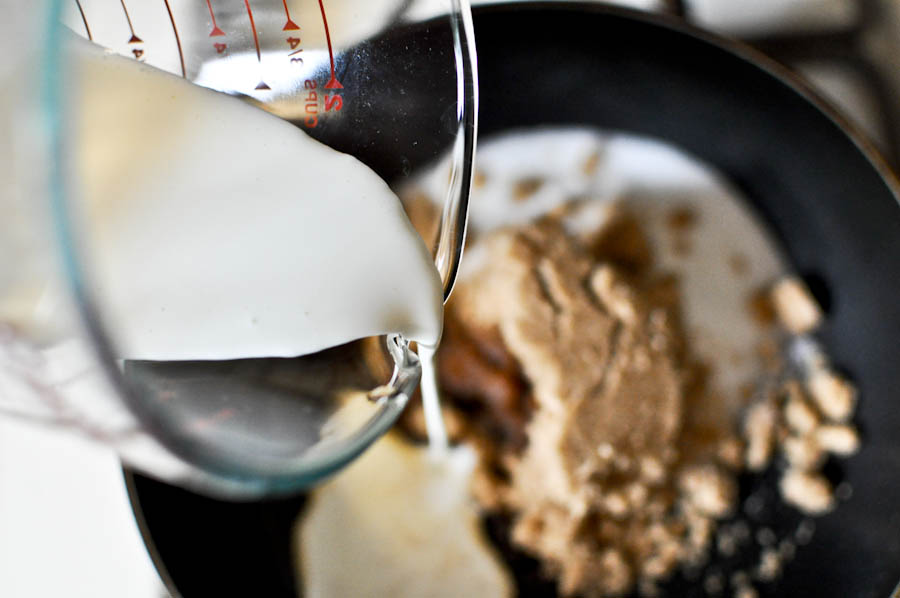 While the cake is baking, combine heavy cream, brown sugar, granulated sugar and vanilla extract in a small saucepan.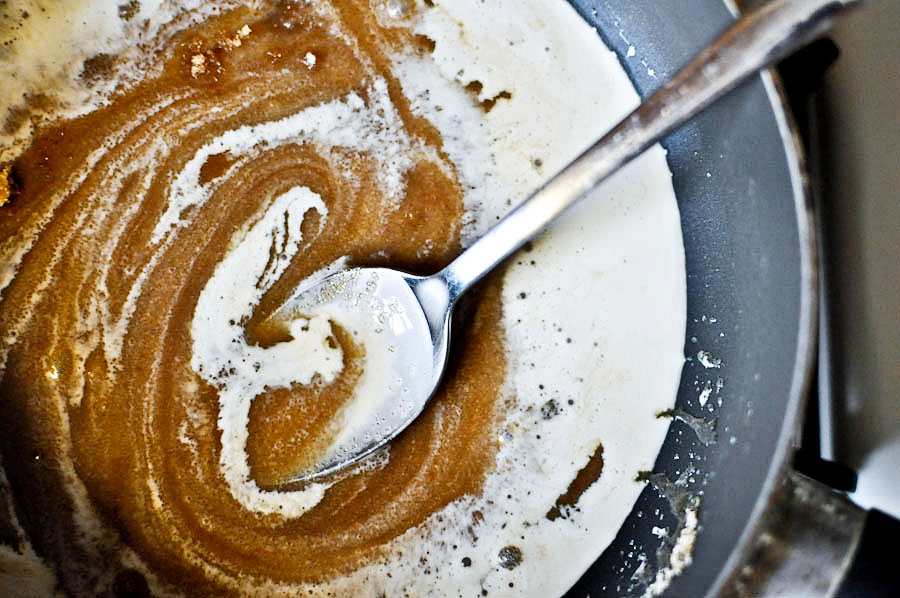 Mix to combine and bring it to a simmer, then remove from heat and continuously stir until all of the sugar has dissolved. Set it aside until ready to use.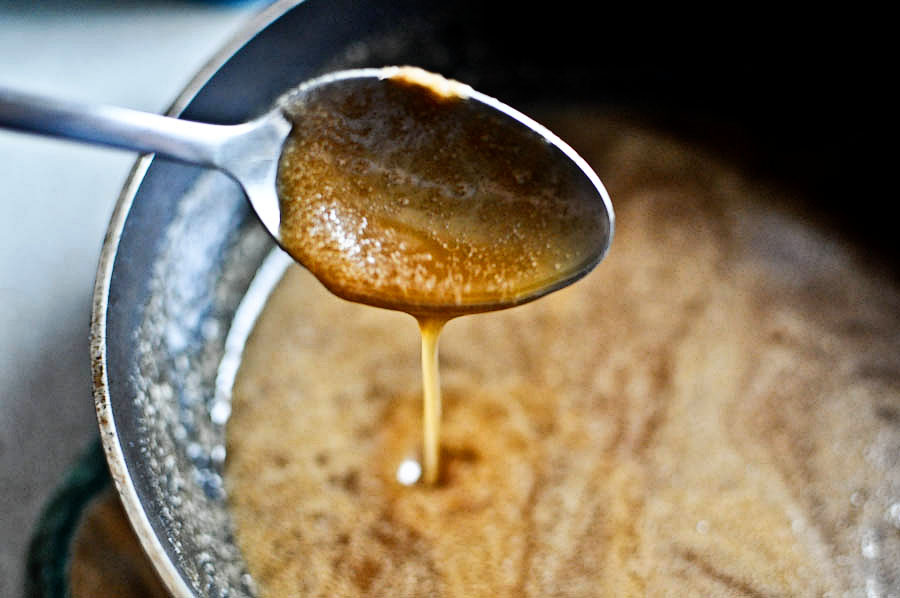 It will become all glazy and be nearly impossible to stay away from. I wanted to pour it in a mug and drink it.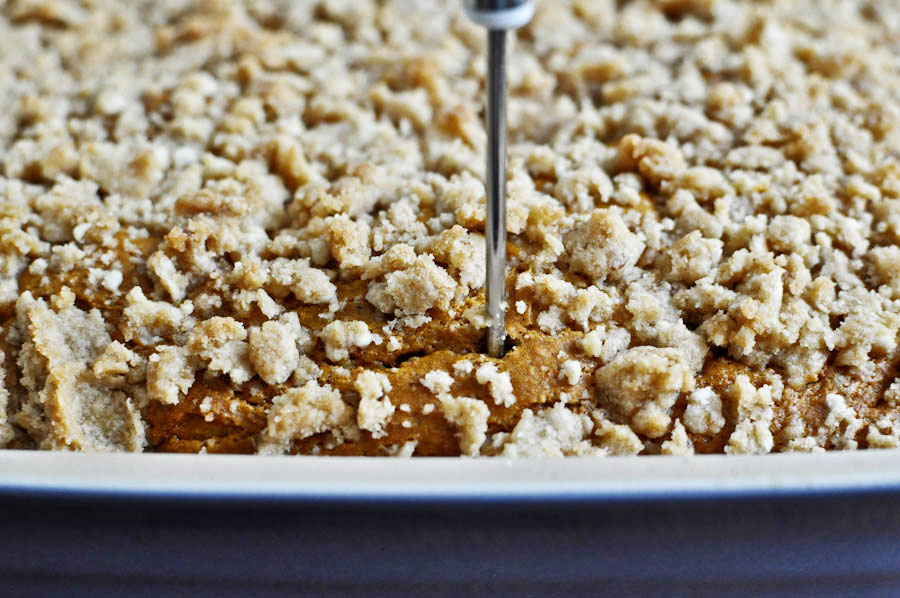 Once the cake comes out of the oven, poke holes all over the top with a toothpick. Or in my case, a fondue sticker thingy. You can also use a fork.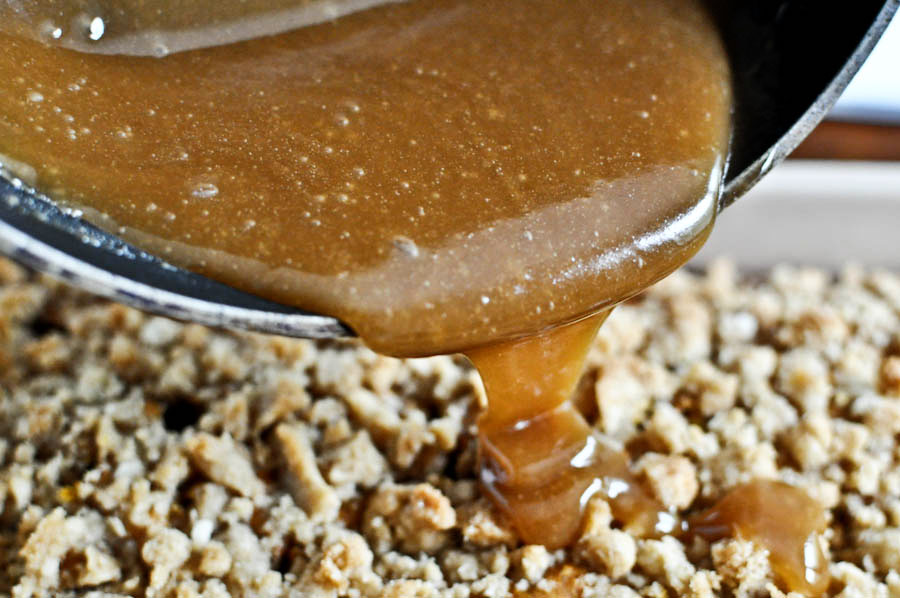 Drizzle glaze over cake evenly…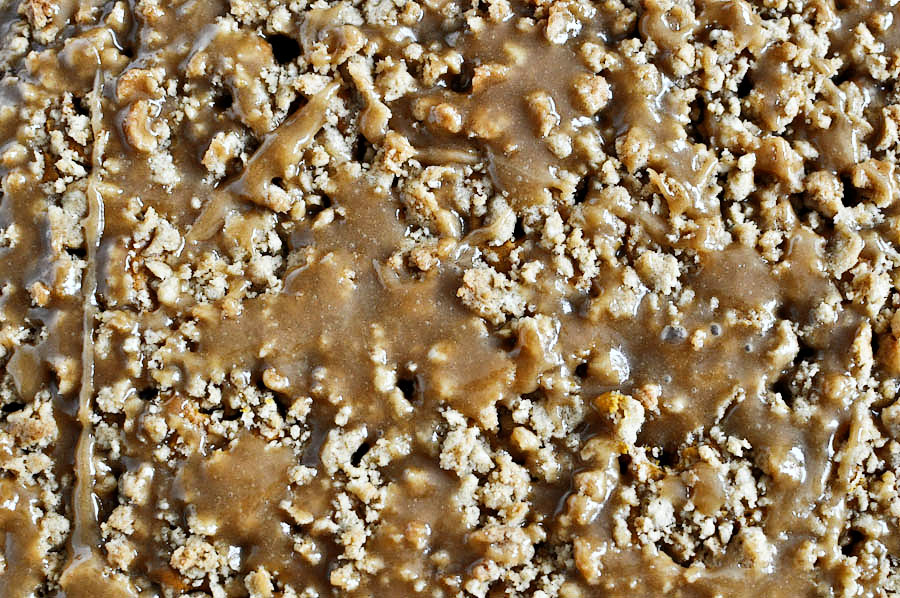 Then let cool for about 20-30 minutes, or until just slightly warm. It tastes best warm, trust me.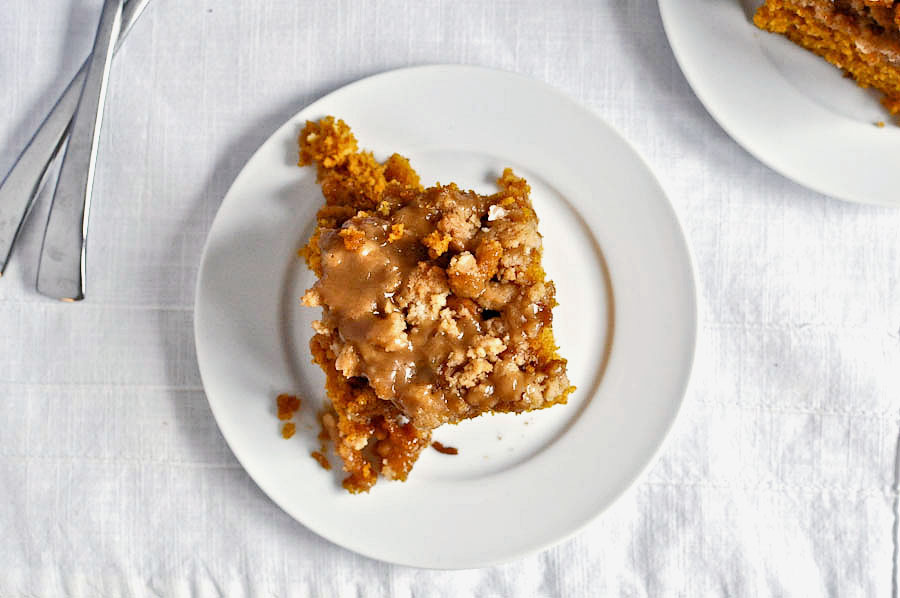 Serve yourself (and um, your guests?) a big square slice …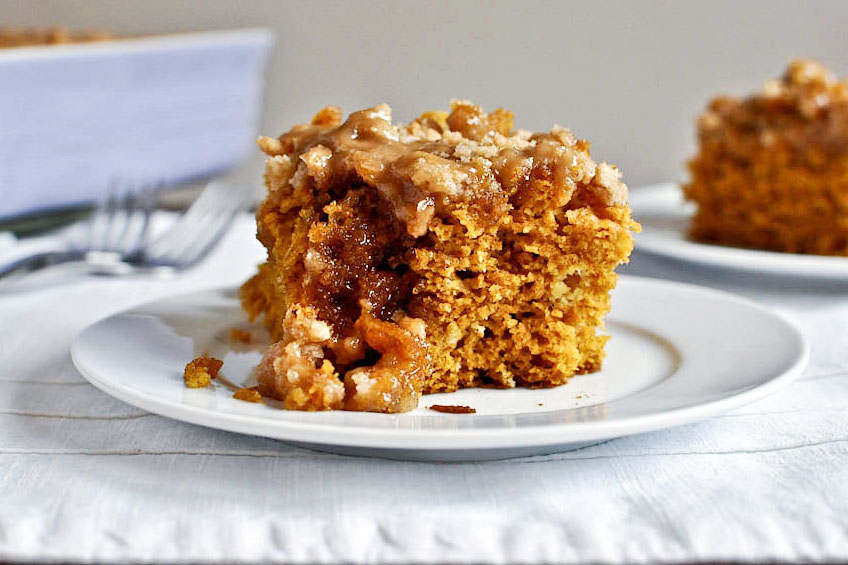 And go to town. Oh man. This cake is unreal.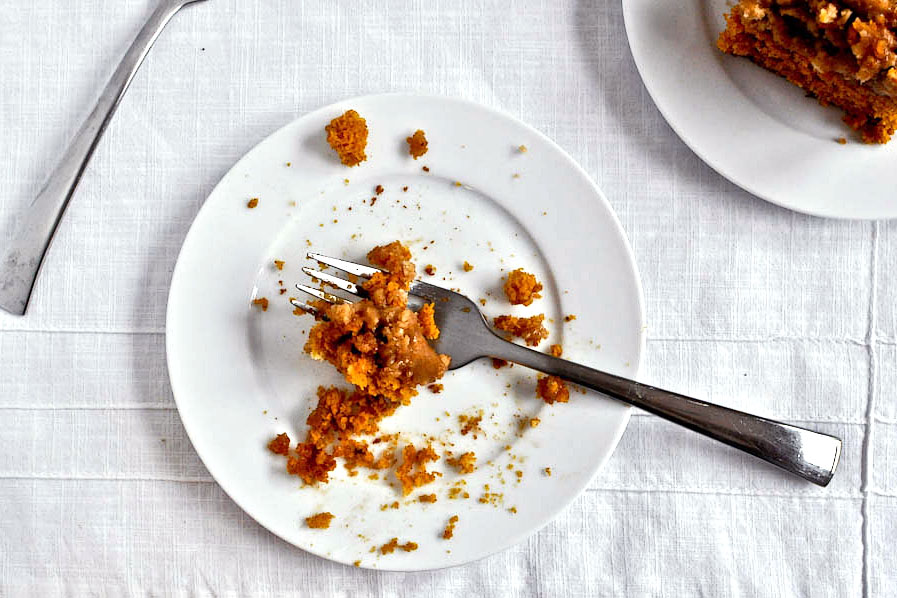 You won't believe how delicious it is, and it fits the bill for breakfast and dessert. The crunchy, gooey top is my favorite part and I can't imagine a better treat for fall.
Thanks so much to Heather for the fabulous recipe! Be sure to check out her blog, Heather's Dish, where she serves up delectable food with a side of humor and love.
Printable Recipe
See post on Heather Disarro's site!
Description
Light and fluffy coffee cake made the decadent way with a cream-and-butter brown sugar glaze. Feel free to thank me for the sugar coma later.
Ingredients
⅓ cups Water
1 can Pureed Pumpkin (15 Oz)
2 whole Eggs
1 Tablespoon Vanilla Extract
2 teaspoons Pumpkin Pie Spice
1 box Yellow Cake Mix (18 Ounce Box)
1 teaspoon Baking Soda
1 cup Brown Sugar, Divided
½ cups Flour
⅓ cups Walnuts, Chopped
4 Tablespoons Butter, Melted
¼ cups Granulated Sugar
1 teaspoon Vanilla Extract
¼ cups Heavy Whipping Cream
Preparation Instructions
Preheat the oven to 350F.
In a large bowl mix together the water, pumpkin, eggs, 1 Tablespoon of vanilla, and pumpkin pie spice until well combined. Add the cake mix and baking soda and mix until just combined.
Grease a 9×13 pan with butter and pour batter into pan.
In a small bowl mix together 1/2 cup of brown sugar, 1/2 cup flour, walnuts, and melted butter. Use fingers to sprinkle over the top of the cake. Bake at 350 for 25-30 minutes, or until a toothpick inserted comes out clean.
For the glaze, combine the other 1/2 cup brown sugar, granulated sugar, 1 teaspoon vanilla, and heavy cream in a saucepan and bring to a simmer. Remove from heat and stir until all sugar is dissolved.
When cake is finished baking, poke holes in the top with a toothpick. Pour glaze over the cake, making sure to cover all surfaces. Serve cake warm or at room temperature.


_______________________________________
Jessica Merchant is a personal trainer turned food writer and blogger. Her blog, How Sweet Eats, is where she proclaims her love for all things sweet, all things bacon, and everything else in between. She works her magic in her Pittsburgh kitchen, which she shares with her husband of 2 years.