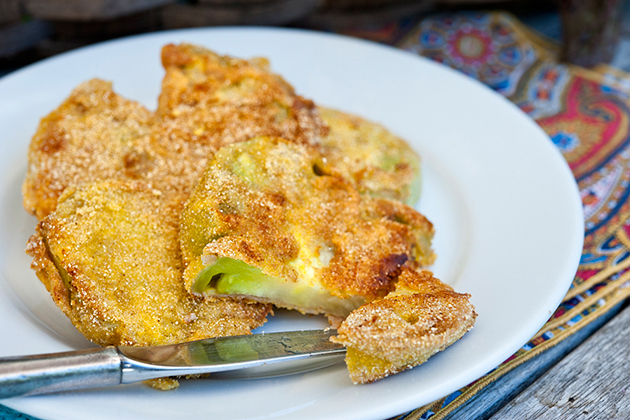 Every September I always have at least a few green tomatoes dangling in the garden. This is always a good thing because while ripe juicy red tomatoes are wonderful, green tomatoes are much more of a delicacy for me and hard to come by any other time of year. This was the perfect time for me to make this Fried Green Tomato recipe by Cookin' Cowgirl.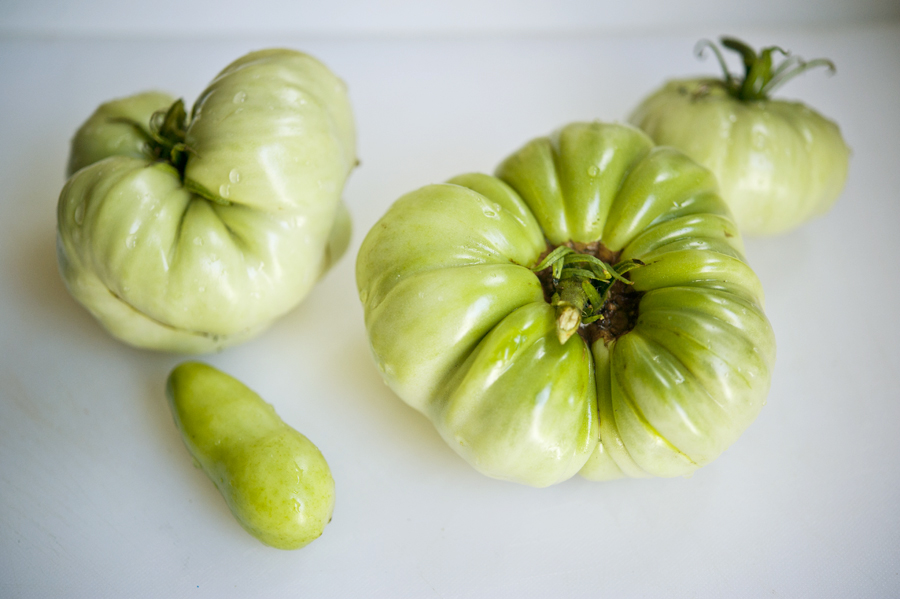 Here are some of the candidates from the garden in various sizes. Strange looking but tasty in their own right. And if you don't have any in the garden, I bet a neighbor, a farm stand or a farmers market has plenty of them right now. And you know what? I have even done this with ripe tomatoes and they're wonderful too.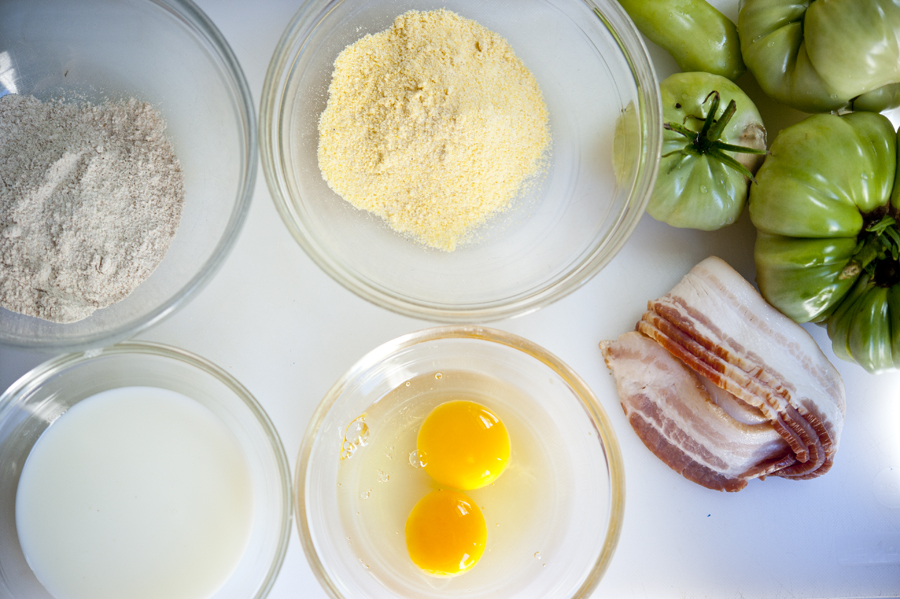 And here is what you'll need to bread them well: eggs, milk, flour, cornmeal and bacon!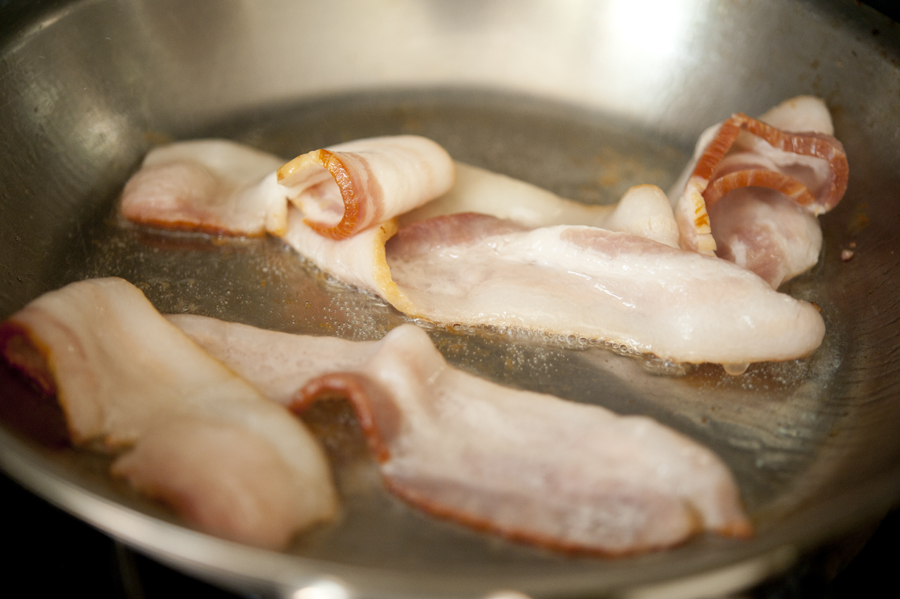 First, render the bacon slowly over low heat in order to release the fat. The fat is what you want to save in order to fry the tomatoes. It gives it that extra special je ne sai quois that only bacon can give. But if you don't have bacon or want to save time, you could use grape seed or vegetable oil just as easily.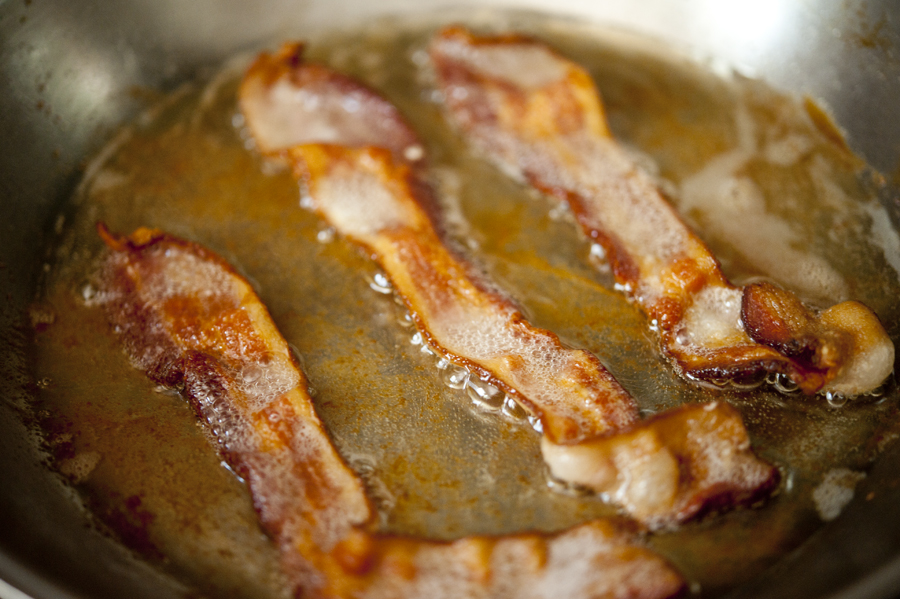 The bacon will look like this when it has fully rendered. Remove it from the fat with a fork and set it aside on some paper towels. Then eat it at your leisure! Turn off the heat and let the fat sit in the pan while you prep the tomatoes.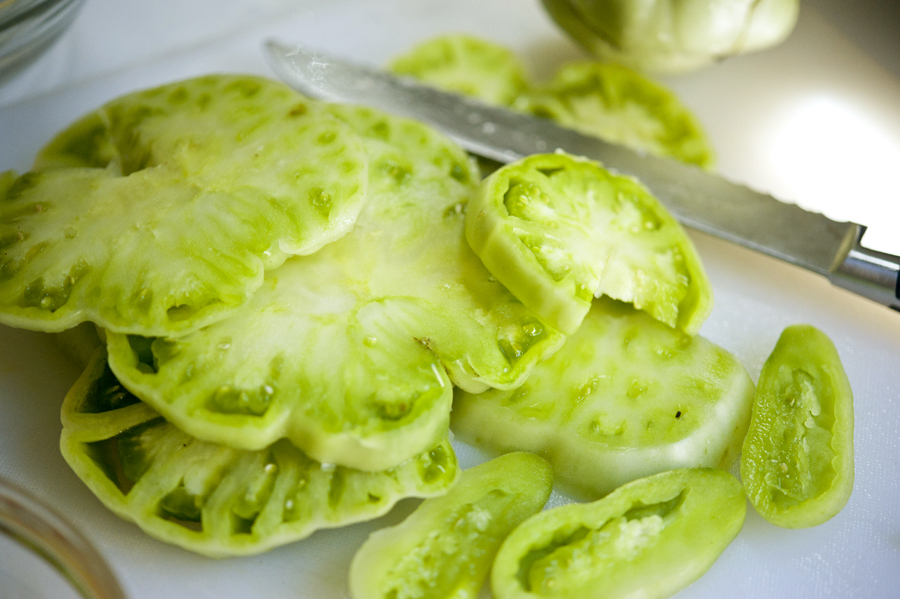 Slice the tomatoes horizontally in 1/4 –inch thick slices…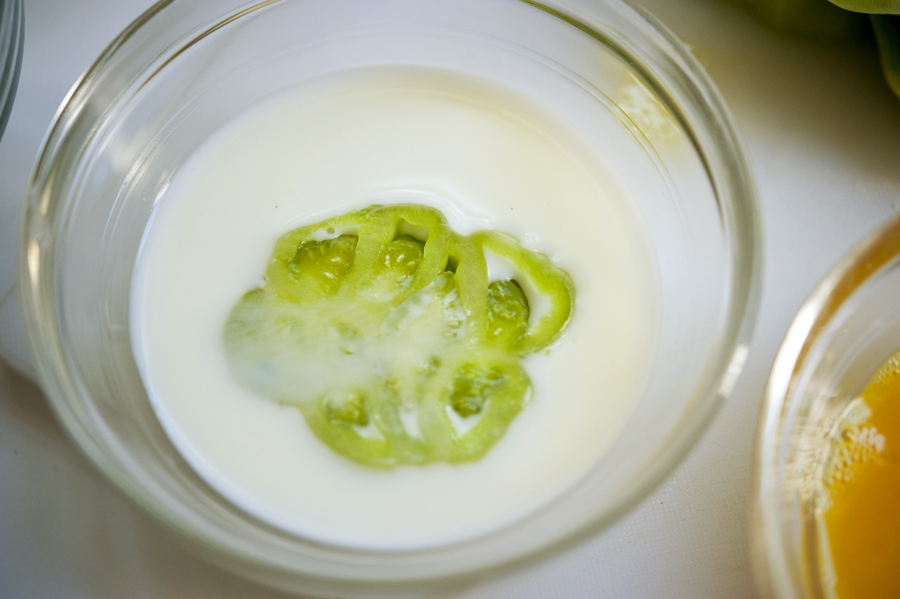 Drop the tomato slices one at a time, first in the milk …
Then in the flour …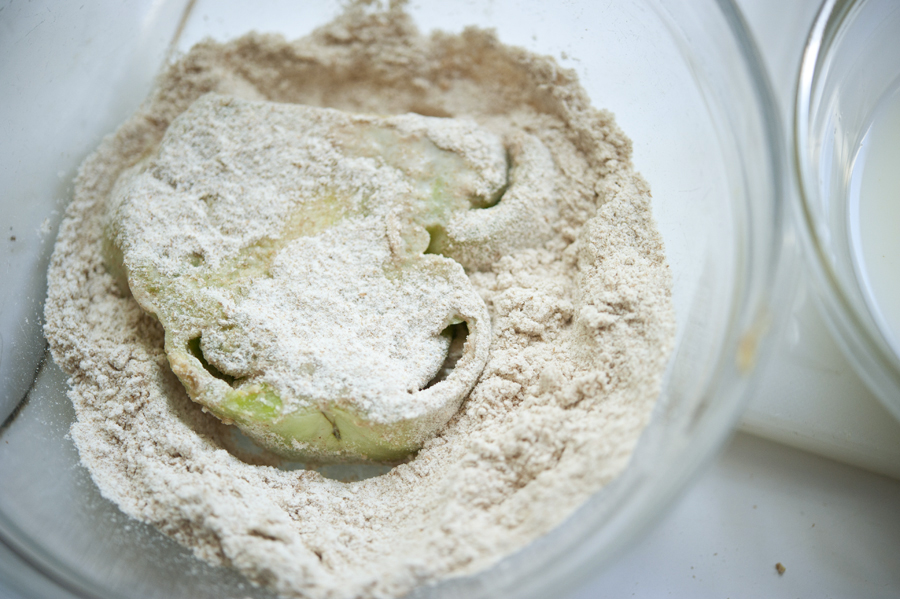 Then in the beaten eggs, then in the cornmeal.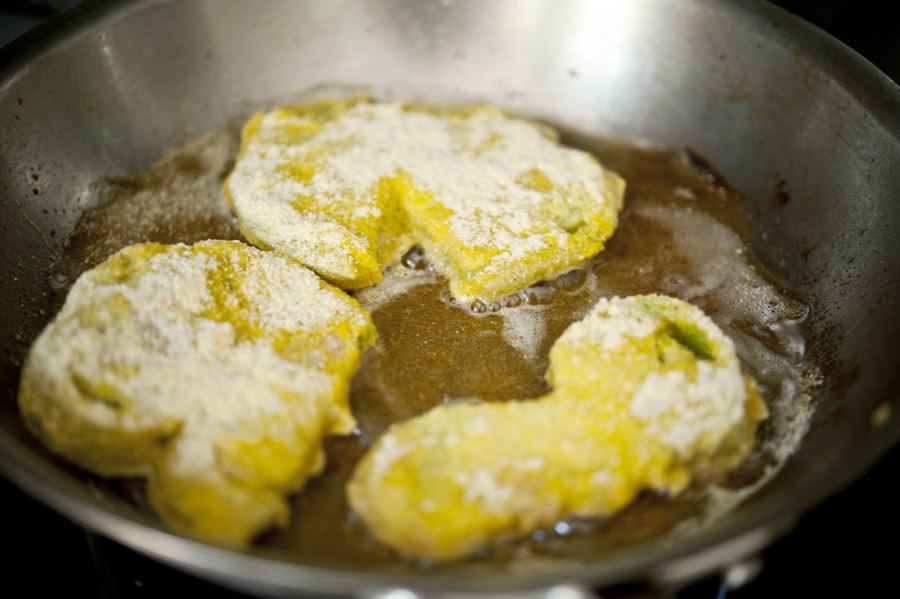 Over medium heat, fry the tomatoes in the bacon fat until brown on one side…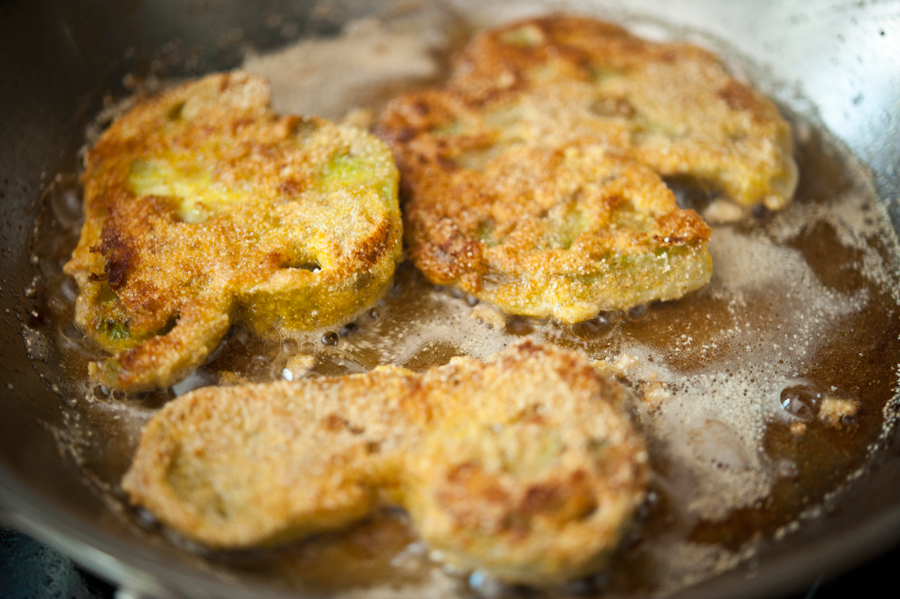 Then flip and brown on the other side. You may need to do it in batches, removing them from the pan and laying them on paper towels and giving them a good sprinkle of salt and pepper to help keep them crisp.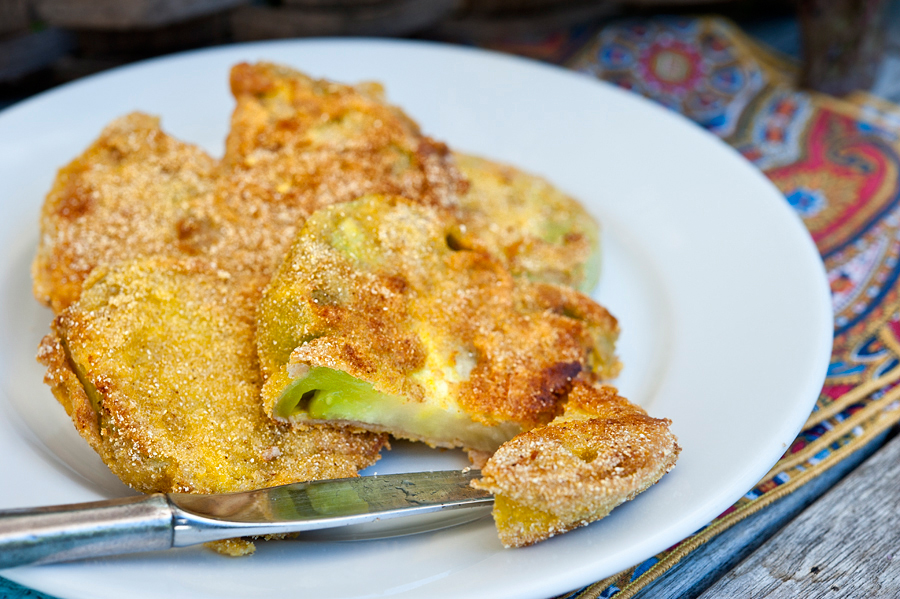 And there you have it! It's just that simple and easy. This is a beautiful and tasty way to end the summer. Thanks so much to Stephanie for sharing this recipe and inspiration! And be sure to check out her website, Cookin' Cowgirl, for other great recipes.
Printable Recipe
See post on Cookin Cowgirl's site!
Description
A Southern classic, done the right way.
Ingredients
2 whole Medium, Firm Green Tomatoes
1 pound Turkey Bacon
1 cup Vegetable Oil, Optional
½ cups Milk
½ cups Whole Wheat Flour
1 teaspoon Salt
½ teaspoons Pepper
½ teaspoons Optional Seasoning
3 whole Eggs, Beaten
½ cups Cornmeal
Preparation Instructions
Use a mandoline to slice each tomato into eight 1/4-inch thick slices. Cook bacon in a cast iron skillet. Remove bacon and leave grease in the pan. Add additional oil if necessary and heat to medium.
Meanwhile, set up breading station using 4 shallow dishes. Put milk in the first; flour, salt, pepper and seasoning in the second; eggs in the third; cornmeal in the fourth. Dip a tomato slice in the milk, then the flour mixture, then the egg, then the cornmeal. Fry tomato slices for 2 minutes on each side. If they are browning too quickly, turn the heat down. They will need about 4 minutes total for the tomato to become slightly softened on the inside. Repeat with all tomato slices. Remove tomatoes and drain on a paper towel-covered plate. Serve warm.
Makes 16 slices.
_______________________________________
There's so much to say about Georgia, we don't know where to start. Leaving Wall Street for the French Culinary Institute, followed by a stint at the Gramercy Tavern and La Chassagnette in France, her passion for food and food traditions are evident and inspiring. Visit her site at Georgia Pellegrini, where you'll find more recipes, photos, learn all about her wonderful book Food Heroes, and enjoy her latest adventures.