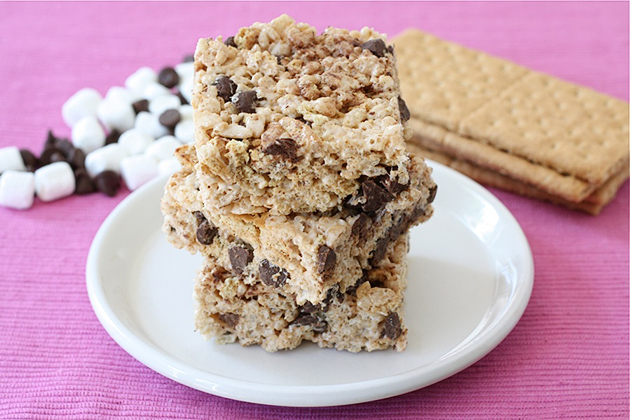 I love summer, but being pregnant during the summer is not my favorite. It is extra hot these days. Every day I am torn—do I turn on the oven to bake or keep the house cool? My love for baking and sweets usually wins, but then I have to suffer through the heat. I was browsing Tasty Kitchen the other day and came across this City Baked's recipe for S'more Rice Krispie Squares. They looked divine and the best part? No oven is necessary! The squares are made in the microwave. I was jumping for joy—an easy, delicious treat that wouldn't heat up the house. I wasn't wasting any time. I got right down to business.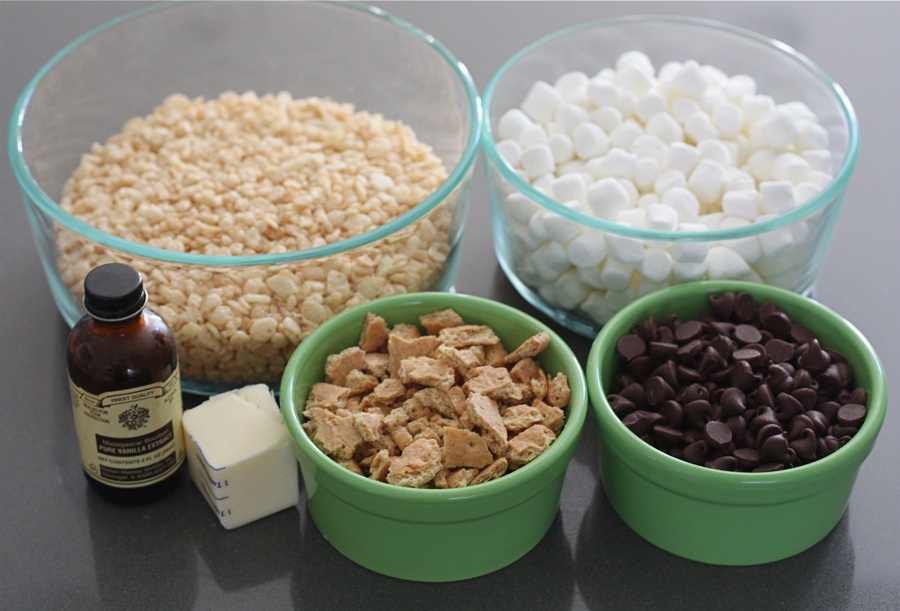 To make the S'mores Rice Krispie Squares you will need: marshmallows, butter, vanilla extract, Rice Krispie cereal, graham crackers, and chocolate chips.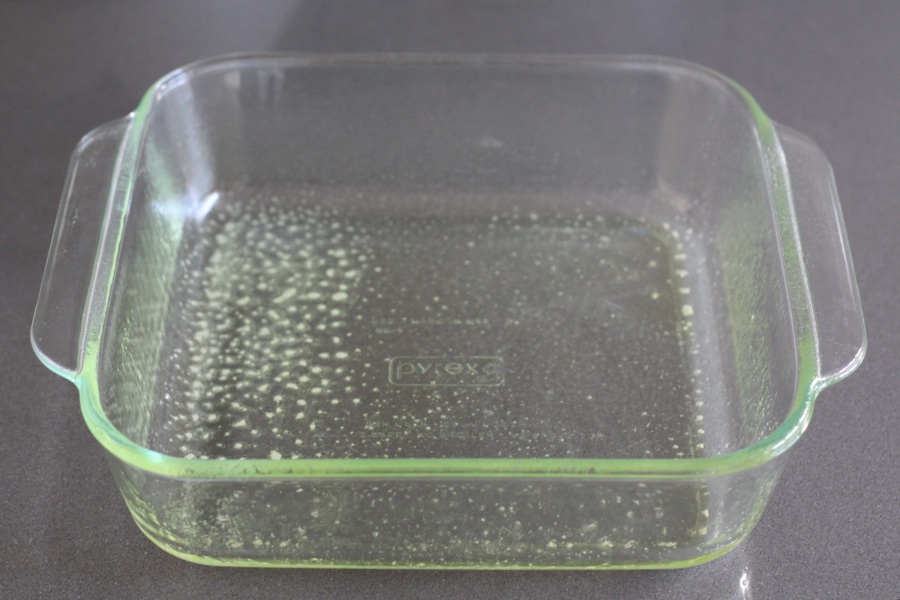 Grease an 8 by 8 baking pan and set aside.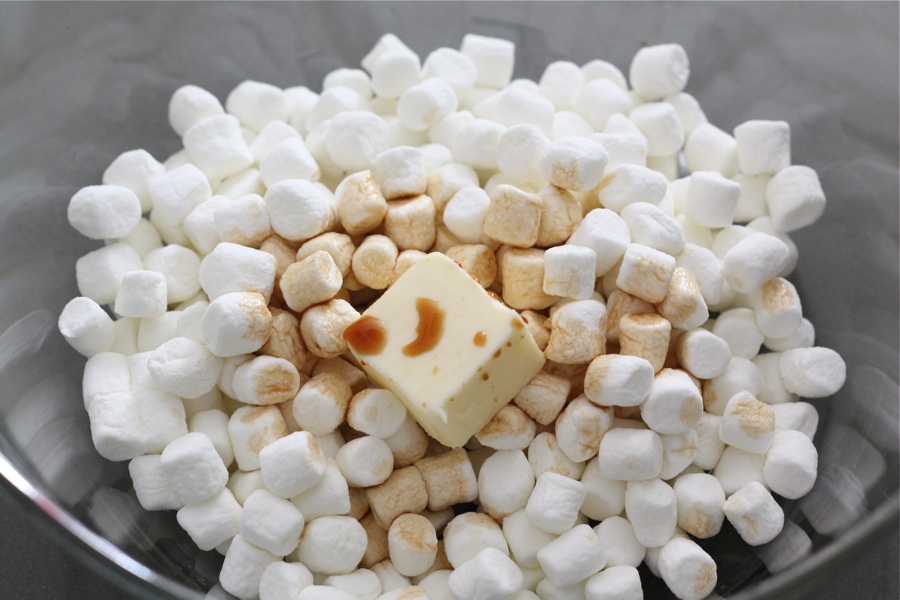 In a large microwave-safe bowl, combine the marshmallows, butter, and vanilla extract.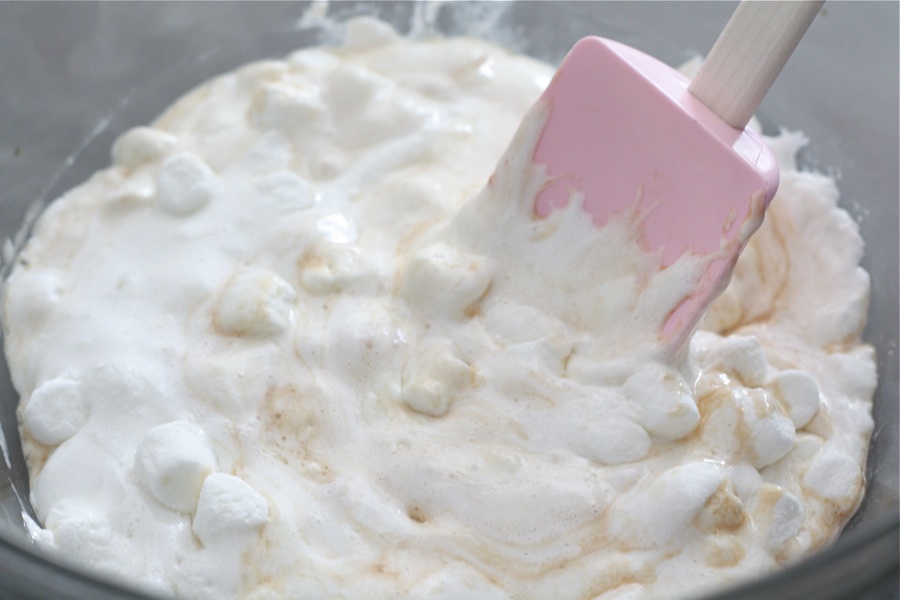 Heat for about one minute, or until marshmallows begin to soften. Remove from the microwave and stir with a spatula.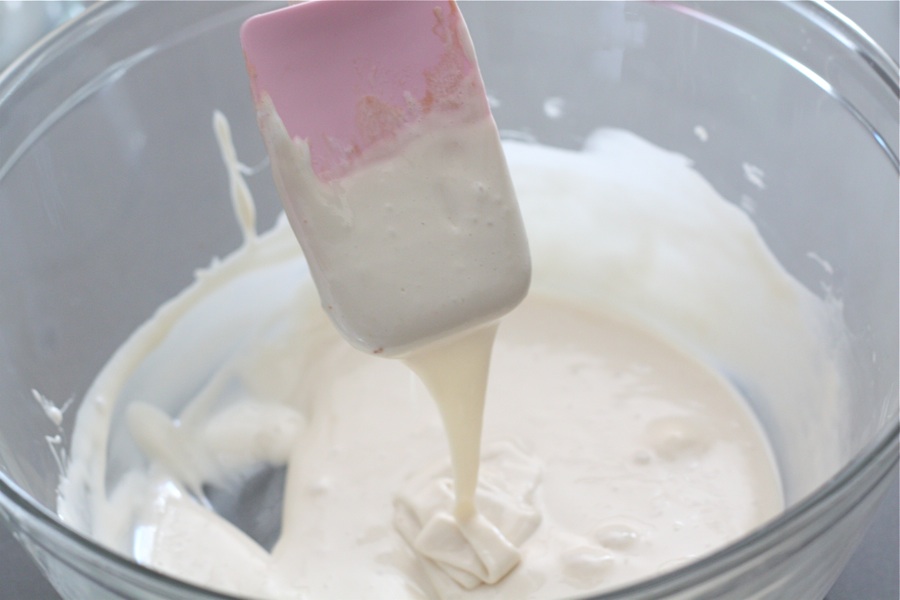 Place the bowl back in the microwave and heat for about one more minute, or until the marshmallows are completely melted and fluffy. Stir again.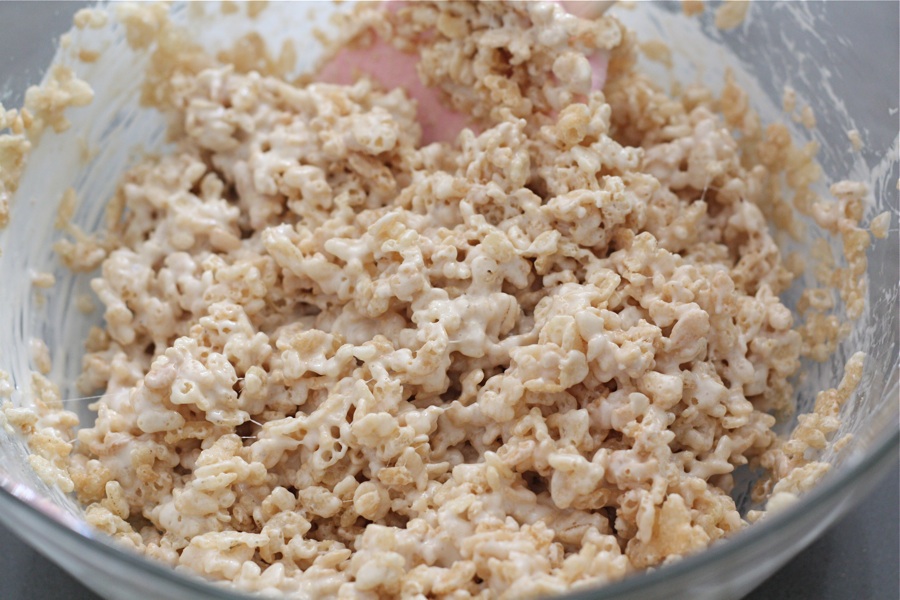 Add the Rice Krispies and stir until just combined.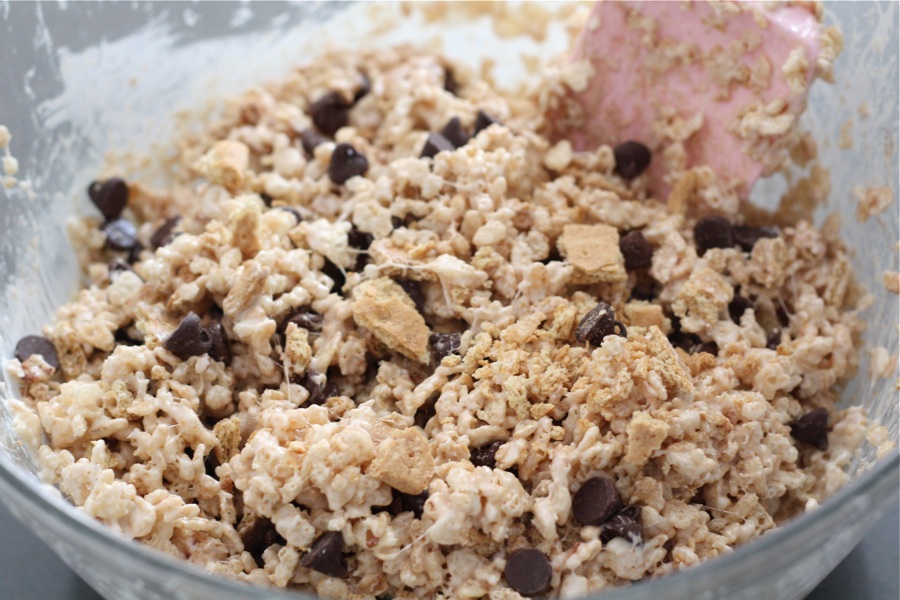 Stir in the graham cracker pieces and chocolate chips.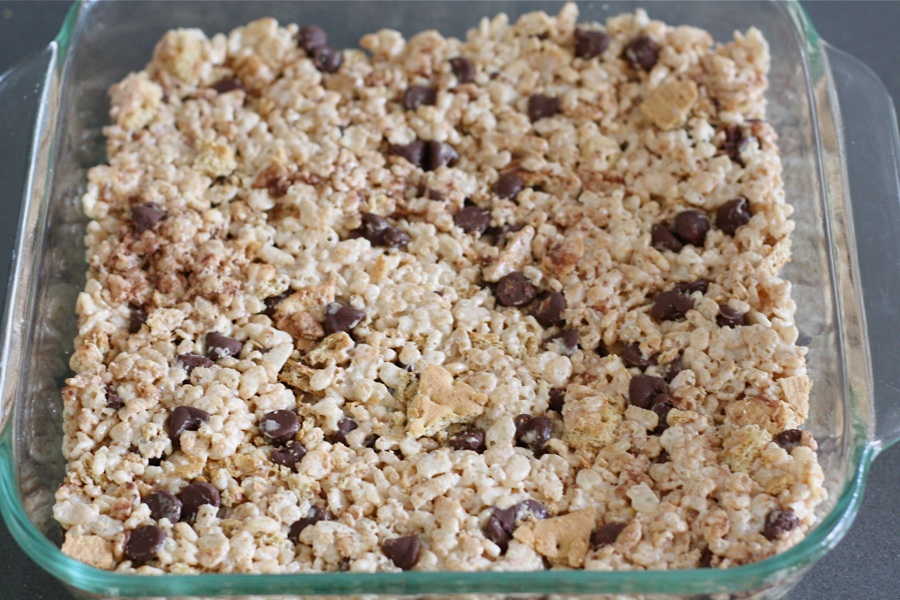 Press the mixture into the prepared pan and let cool.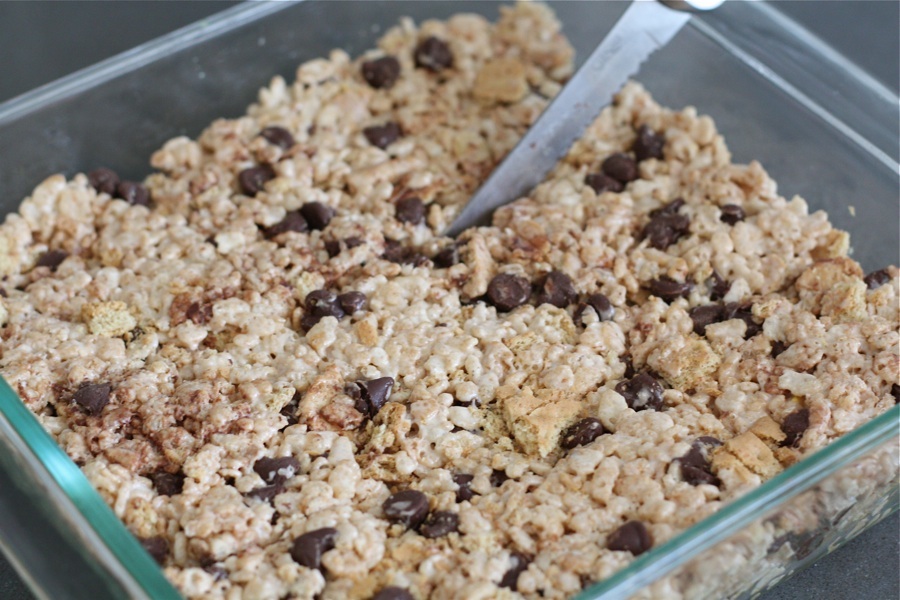 Cut into squares and serve.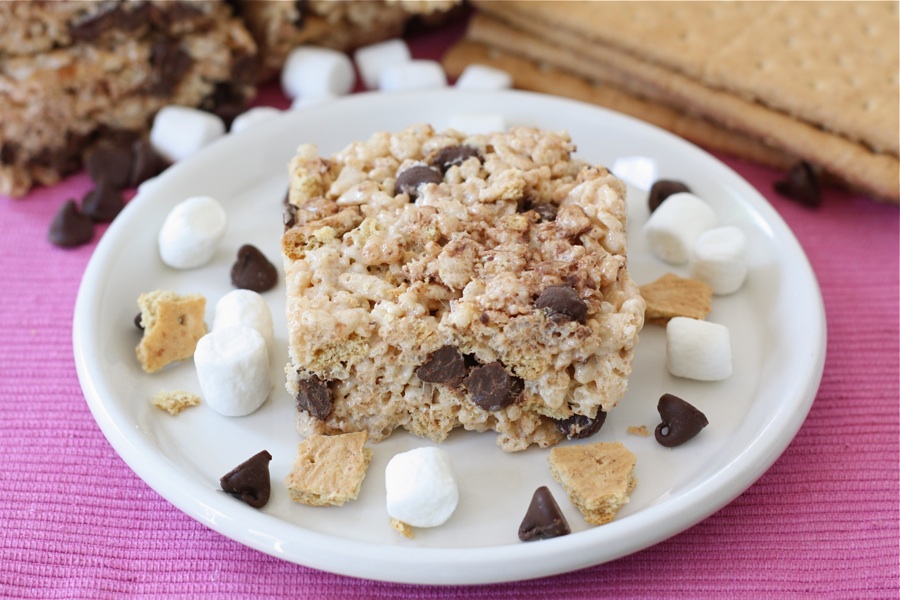 If you love S'mores, like I do, then you will really love these S'more Rice Krispie Squares. The chunks of graham crackers and chocolate chips really jazz up these Rice Krispie treats. You get all of the S'more goodness in one simple treat. Plus, this is the perfect no-bake treat for summer. If the kids are still home from school, have them help. This recipe is easy and fun to make. These S'more Rice Krispie Squares are perfect to take camping, to bbqs, on road trips, or picnics. I know I will be making them again.
Thanks Hannah for a wonderful recipe! I am so glad I found a simple, no-bake treat to fulfill my sweet cravings. This recipe is perfect for summertime! Make sure you check out City Baked's blog for other mouthwatering recipes.
Printable Recipe
See post on city baked's site!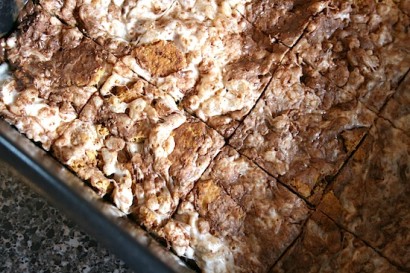 Description
A delicious switch up for the classic s'more.
Ingredients
3 cups Marshmallows
1 Tablespoon (heaping) Butter
2 teaspoons Vanilla Extract
3 cups Rice Krispies
1 cup Graham Crackers, Broken Into Coarse Pieces
1 cup Milk Chocolate Chips
Preparation Instructions
Butter an 8 x 8 inch square pan.
In a large, microwave-safe bowl, place the marshmallows, butter and vanilla in the microwave until the marshmallows begin to soften, about a minute. Mix with a spatula and microwave for another minute until the marshmallows are fully melted. Add the rice krispies until just mixed together. Add the graham cracker chunks and chocolate chips to combine.
Press the mixture into the prepared pan. Allow to cool and devour.
Just a warning: these 16 squares are on the smaller side—so you can eat more.


_______________________________________
Maria and her husband Josh (who she affectionately refers to as her "dough boy") blog at Two Peas and Their Pod. They've been featured on Saveur, Eatocracy, Gourmet Live, Glamour, and the Los Angeles Times, to name just a few. We're so glad to have them here!