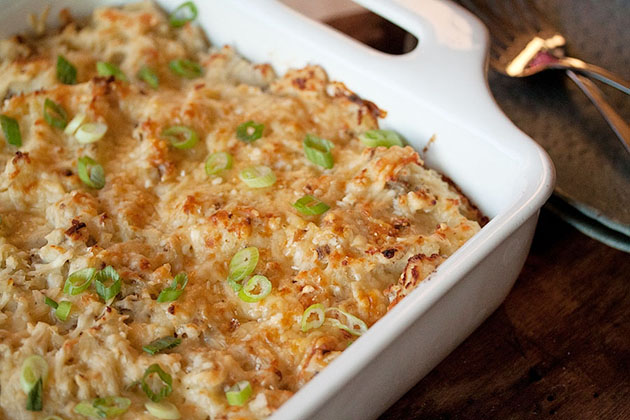 Twice Baked Potatoes have always been a favorite of mine, so when I saw this recipe for Potatoes Romanoff (something I had never tried before) I knew I had to make it immediately! It takes the twice baked potato to a whole new level by shredding the baked potato and folding in lots of sharp white cheddar cheese, flavorful shallots and sour cream. Once it's tossed together, it's topped with a little more cheese (because really, everything is better when topped in cheese) and then baked again until the cheese is golden and the potatoes are warm.
This recipe was submitted Tasty Kitchen member Duane Puitman from Cottage in the Oaks, and thank goodness for that because I'm officially obsessed. It's going to be making many appearances in my kitchen in the coming months, that's for sure!
Okay, here's what to do…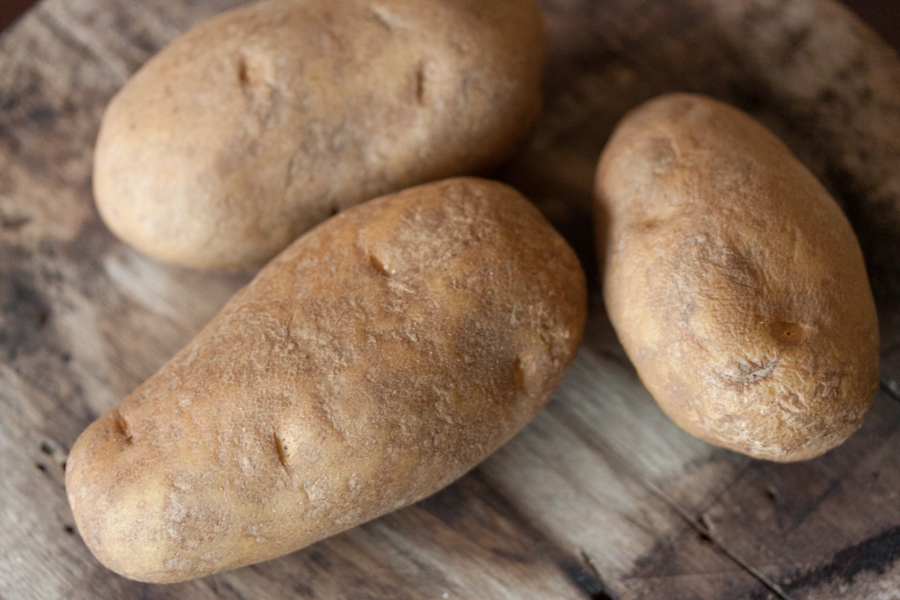 Start with 3 large russet potatoes.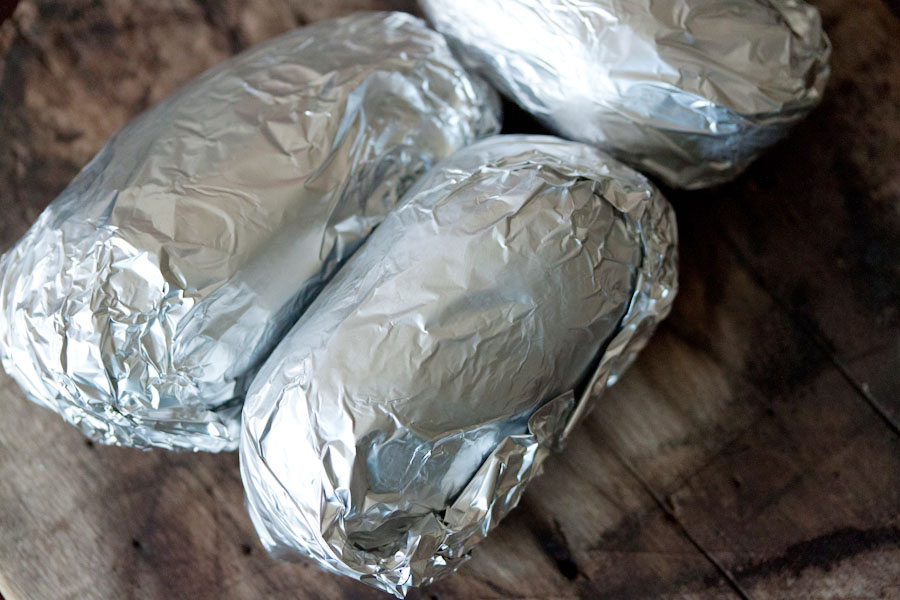 Wrap each of them up in tin foil.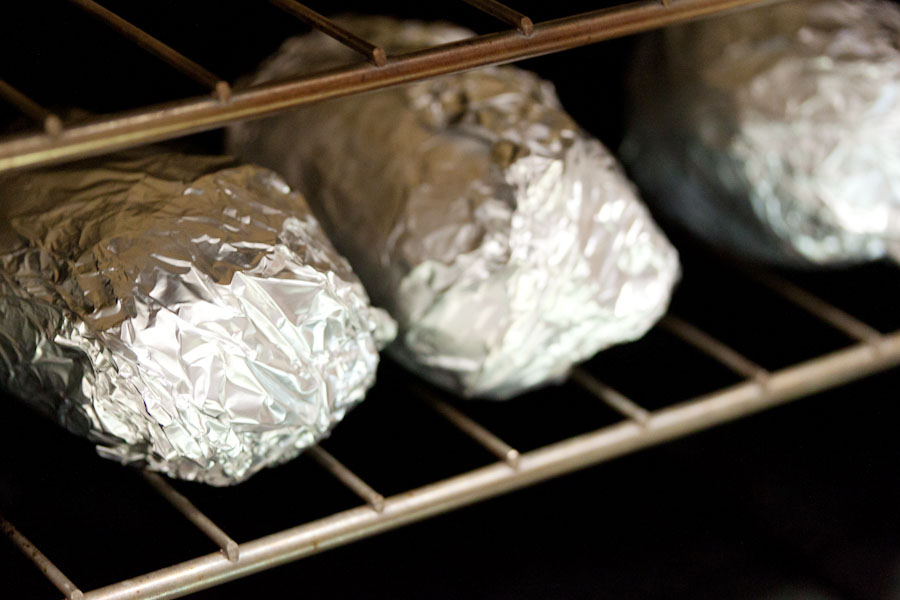 Stick them into a 425ºF preheated oven on the metal rack. They are going to bake for about 1 hour. Once the potatoes come out of the oven, remove the tin foil and let them cool. Once cooled, place them in a container and cover with plastic wrap and refrigerate overnight.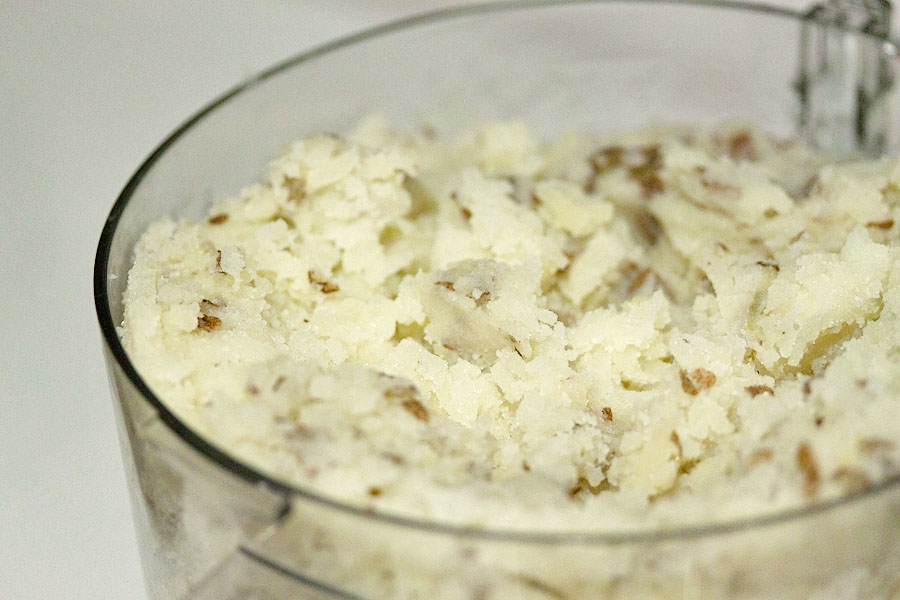 Next, using a box grater or your food processor grater attachment, grate all of the potatoes.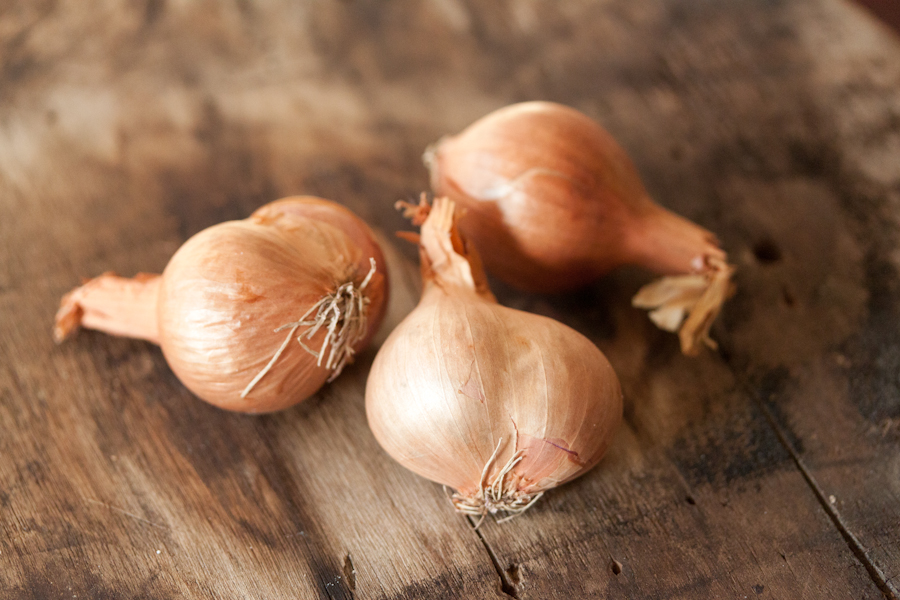 Chop up a few shallots.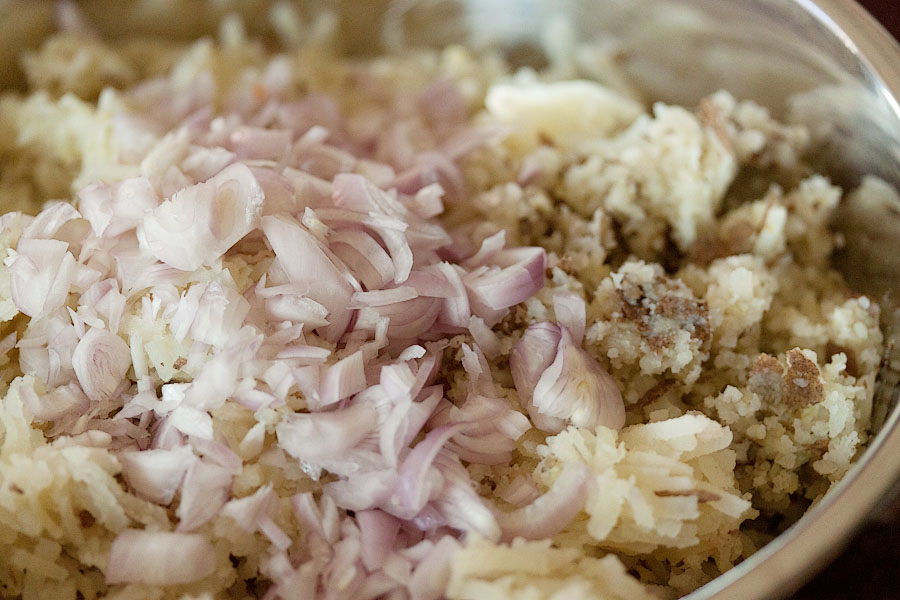 Combine the grated potato and chopped shallots in a large bowl.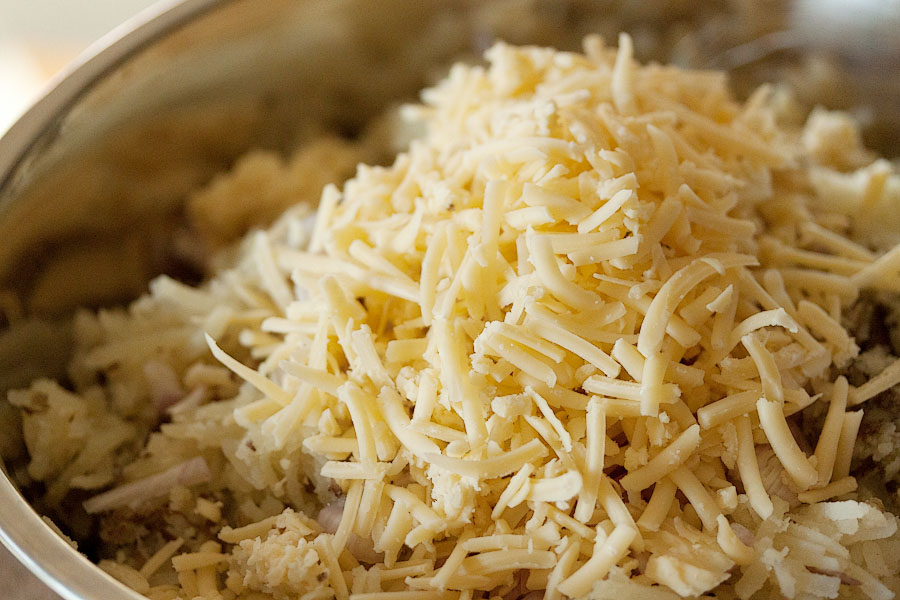 Pile on most of the white cheddar cheese. Try not to eat half of it like me because it just means you have to grate more when you're ready for it!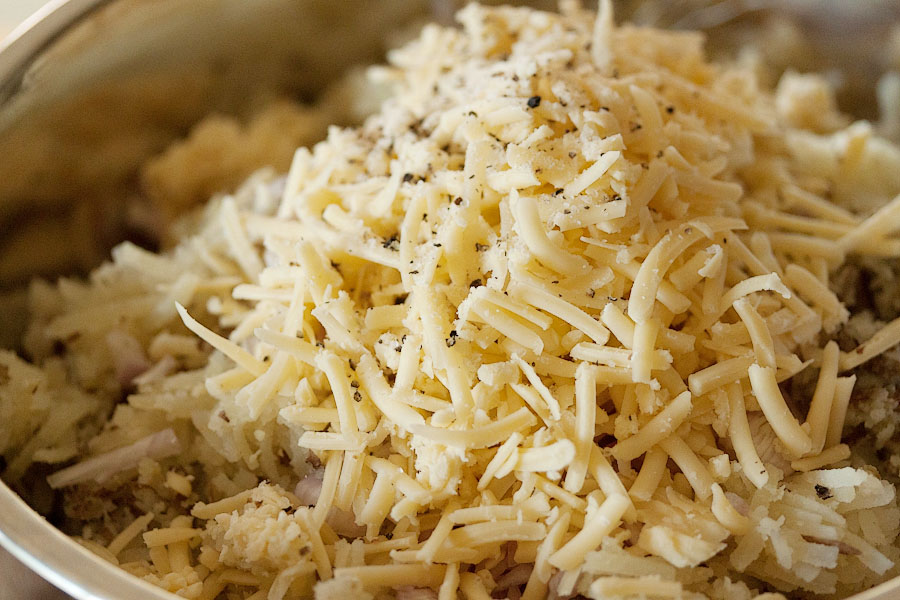 Add the salt and pepper.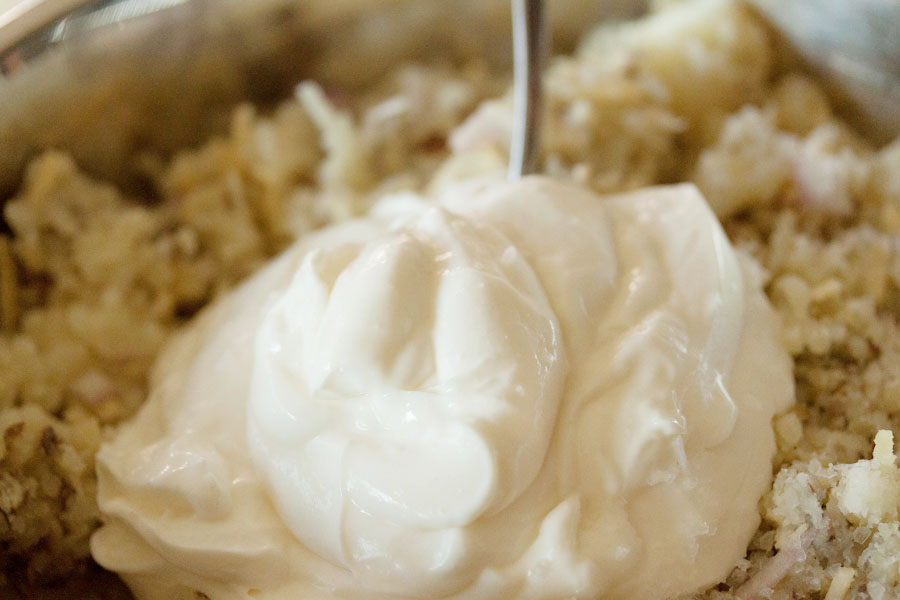 Followed by a big dollop of sour cream. Yum!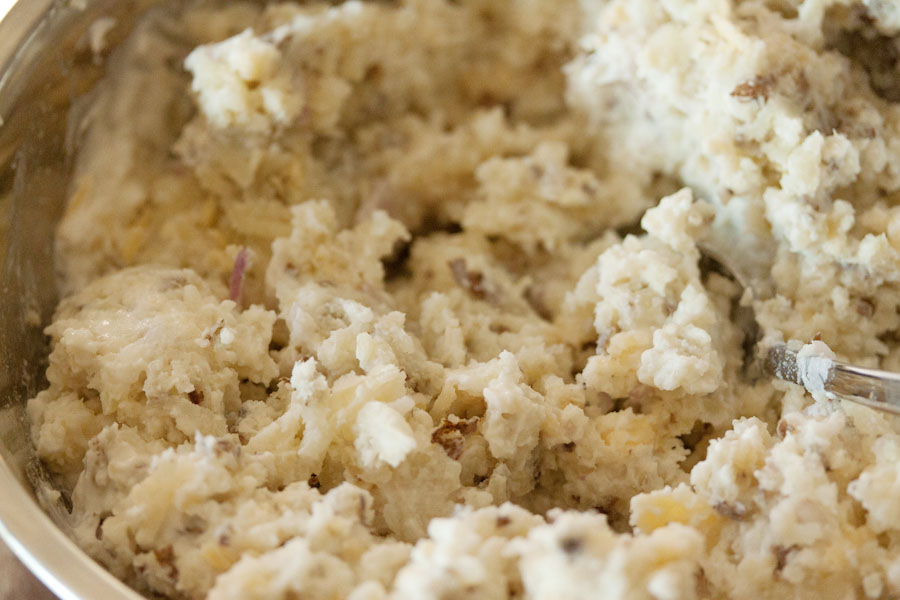 Mix everything together with your hands if you feel like getting a little messy, or with a spoon. Whichever you prefer!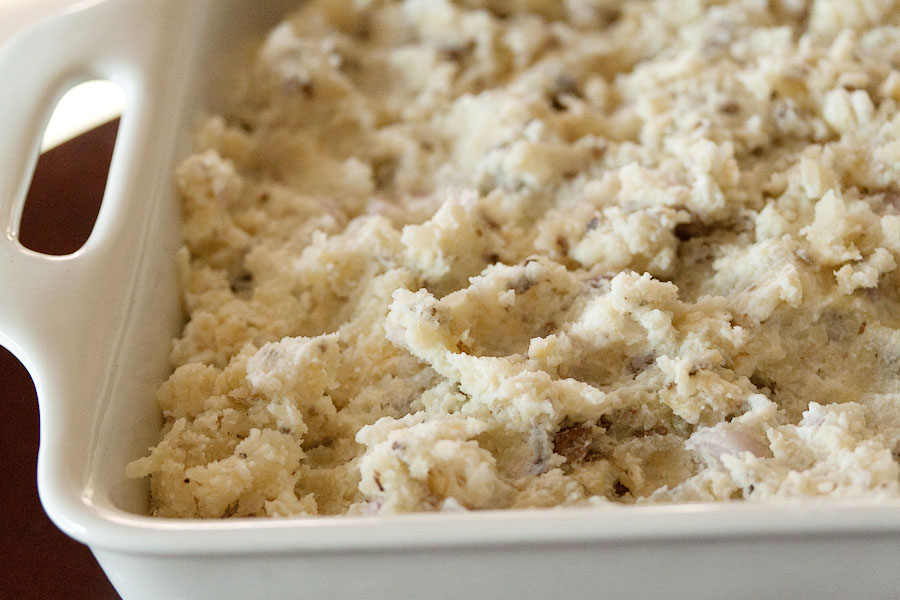 Transfer the mixture to a baking dish and plop it on in. No need to pack down the potatoes, leave them scattered about so it give it that rustic look.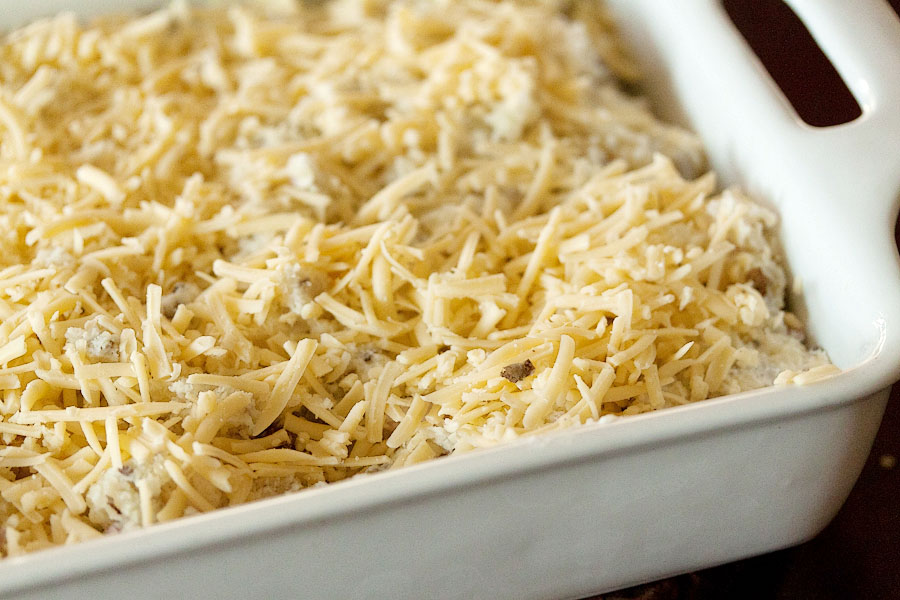 Scatter on the remaining cheddar cheese (by this step, I most certainly had to grate more cheese since I kept snacking on it) and bake it in a 350ºF oven for about 30-40 minutes until the cheese is just golden and the potatoes are hot!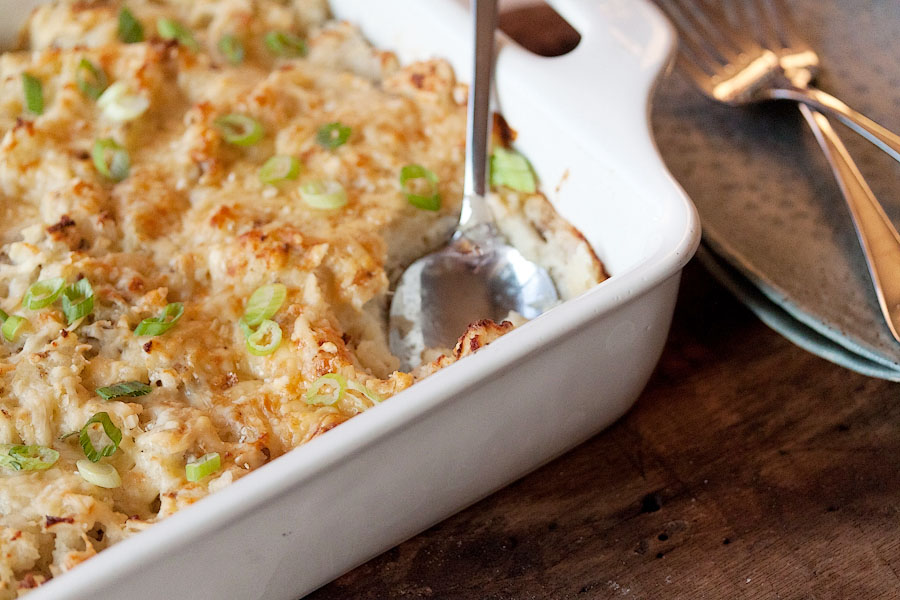 Once it's out of the oven, it's time to dig in!
Feel free to top your serving with some chopped scallions or chives. It gives it an extra dimension and it's just the right thing to do. This would be an excellent side dish for some steaks. Just saying.
A big thank you to Duane for such a delicious and wonderful recipe! Be sure to check out Cottage in the Oaks for more awesome ideas.
Printable Recipe
See post on Cottage In the Oaks | Daune Pitman's site!
Description
A great side, wonderful with steak as an alternative to baked potatoes.
Ingredients
3 whole Large Russet Potatoes, Unpeeled
¾ cups Minced Shallots
2-½ cups Grated White Cheddar Cheese, Divided
2 teaspoons Kosher Salt
¼ teaspoons Freshly Ground Pepper
1-½ cup Sour Cream
Preparation Instructions
Preheat oven to 425 F.
Wrap potatoes in aluminum foil. Bake potatoes on a pan in the oven until done, about an hour. Remove foil and let potatoes cool to room temperature. Put potatoes on a plate, cover with plastic wrap, and refrigerate overnight.
Grate the chilled potatoes, including skins. You can use a large box grater or a food processor. (I like the food processor!) Transfer grated potatoes to a bowl and sprinkle in the shallots, 1 3/4 cup cheese, salt, and pepper.
Use your hands to gently toss together. (I guess you could stir it too but you would miss all the fun. Go ahead, plunge those hands down in there!) Then fold in sour cream.
Transfer mixture to a 1 1/2 quart gratin dish, making sure that you don't compress (or squash, or moosh, or squish) it! Sprinkle the remaining cheese on top.
Bake at 350 F until the top is golden brown, about 30 minutes. Serves 6.
Recipe slightly adapted from williams-sonoma.com via Strip House.


_______________________________________
Gaby Dalkin is the young lady behind What's Gaby Cooking, a food blog that's bursting at the seams with incredible recipes and food photography. She's a personal chef and professional recipe developer, and if you follow her on Twitter, you'll soon discover her two-fold obsession: guacamole and cheese. She has small feet, a large heart, and a smile that can light up the whole building. We're pretty stoked to have her here.