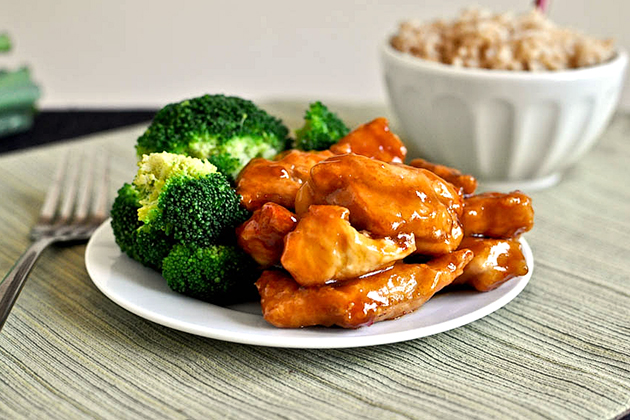 My husband has a "thing" for General Tso's chicken. A relationship of sorts. On any given day when I'm in the mood for Chinese takeout, sit down Thai, or a Japanese steakhouse, he's in the mood for … General Tso's. He rarely goes outside the box and tries anything new because his love for the crispy, saucy chicken dish is so strong. If it's on the menu, I can't even sway him into sharing the beef and broccoli, pad thai, or dare I say it: sushi. When I spied Rebecca's recipe for General Tso's chicken, I couldn't wait to make it for dinner knowing fully that he'd flip his lid. The only issue? I knew I'd be making it all the time!
I love making dishes like this at home because I know exactly what is going in them, as opposed to ordering greasy (albeit delicious) takeout in a box. This original recipe came from Food and Wine and it certainly did not disappoint! I have tried a few different versions of General Tso's over the years and I must say that this ranks up there as my favorite. It's as simple as can be and doesn't require ingredients that I not only can't spell, but can't even find in my local grocery store. You likely have almost everything on hand!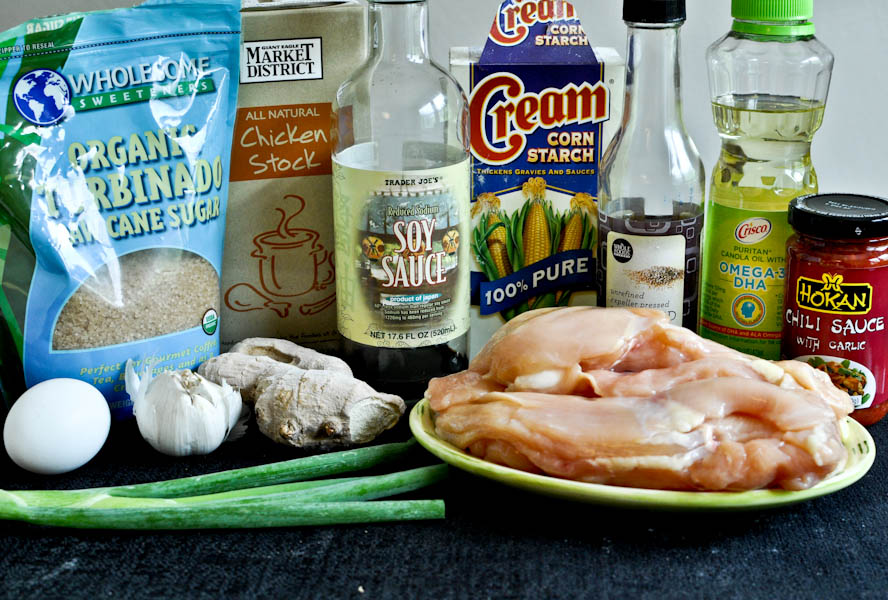 To start, you need raw sugar (I'm sure you can substitute some regular or brown sugar here), chicken stock, soy sauce, cornstarch, sesame oil, frying oil of your choice (I used canola), chili garlic sauce, ginger, garlic, an egg white, green onions, and chicken. Rebecca's recipe called for chicken thighs, but I happened to have chicken breasts on hand and was eager to try the recipe with them. It was a success!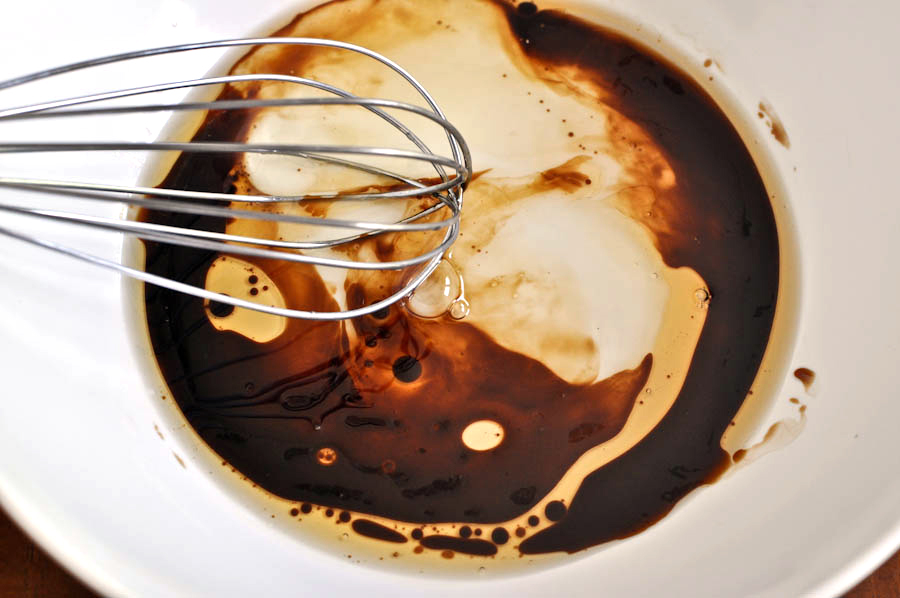 Begin by adding the sesame oil, egg white and soy sauce in a bowl.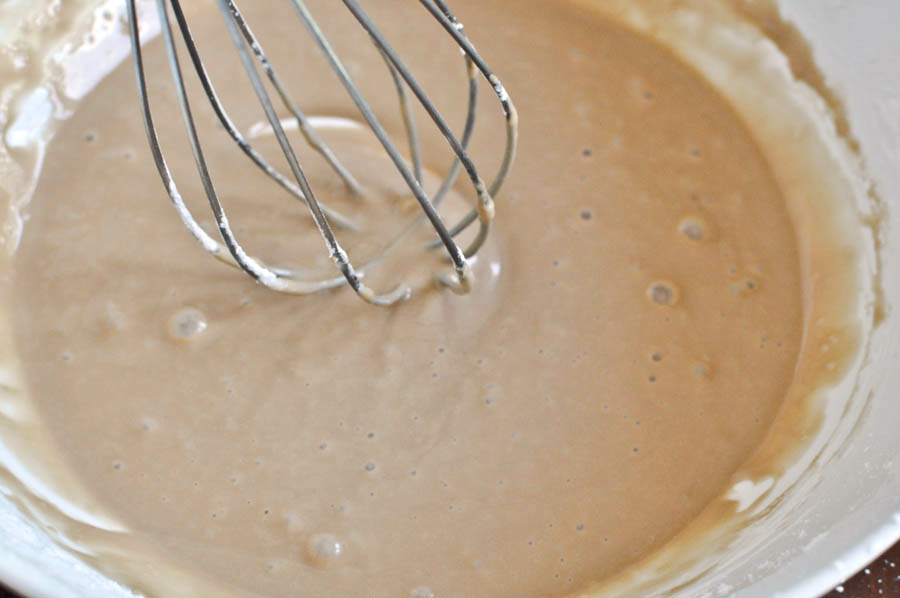 Whisk in the corn starch. Don't worry if it gets a little "goopy." That is exactly what it's supposed to do!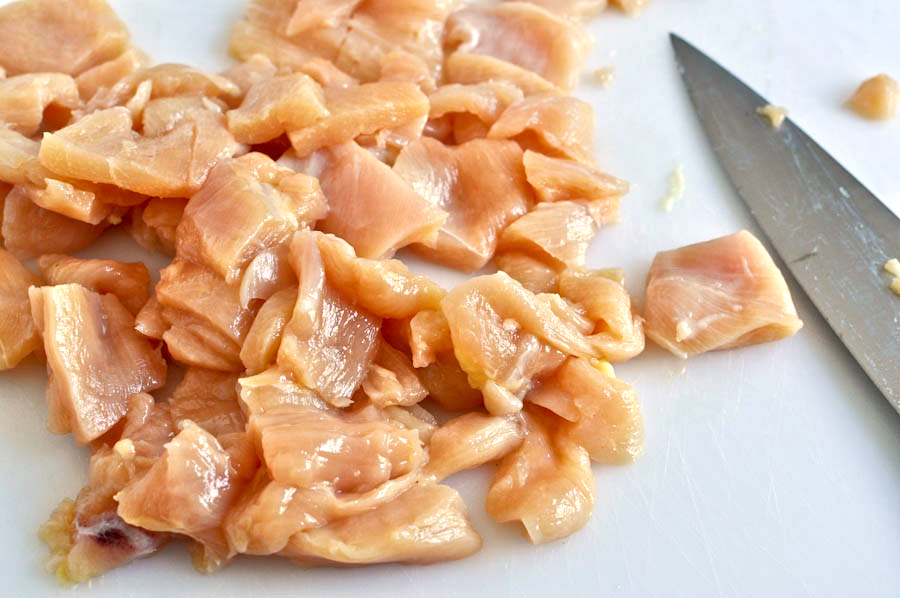 Cut your chicken into pieces …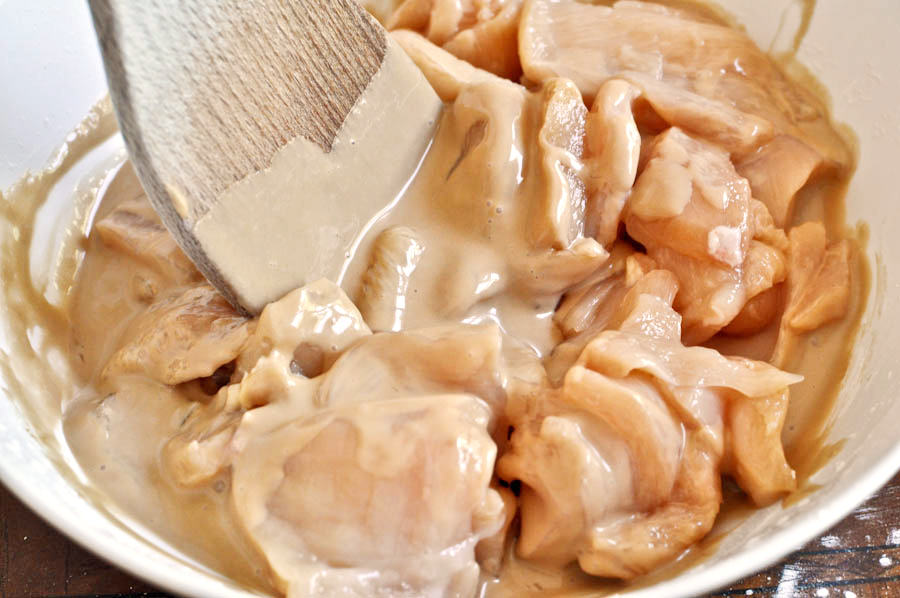 Then toss it into the mixture until it's thoroughly coated. At this time, cover the bowl lightly with plastic wrap and let it sit in a cool, dry place to marinate for about 20 minutes, tossing it once or twice. Now you can also begin to prepare any dishes that you want to serve with your chicken—brown rice and broccoli, in our case.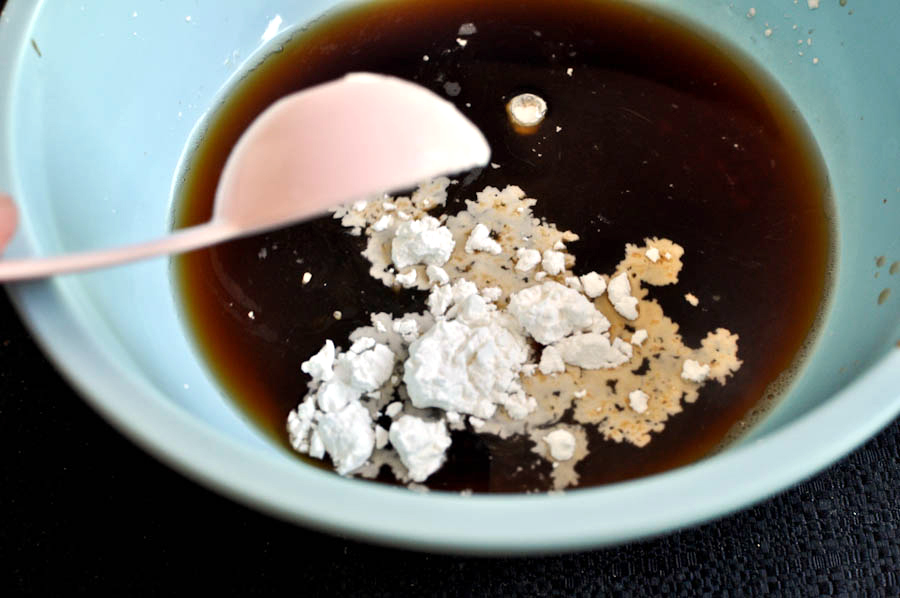 While the chicken is getting flavorful, whisk together stock, soy sauce, cornstarch, chili garlic sauce and sugar in a bowl until combined. It's time to make the sauce!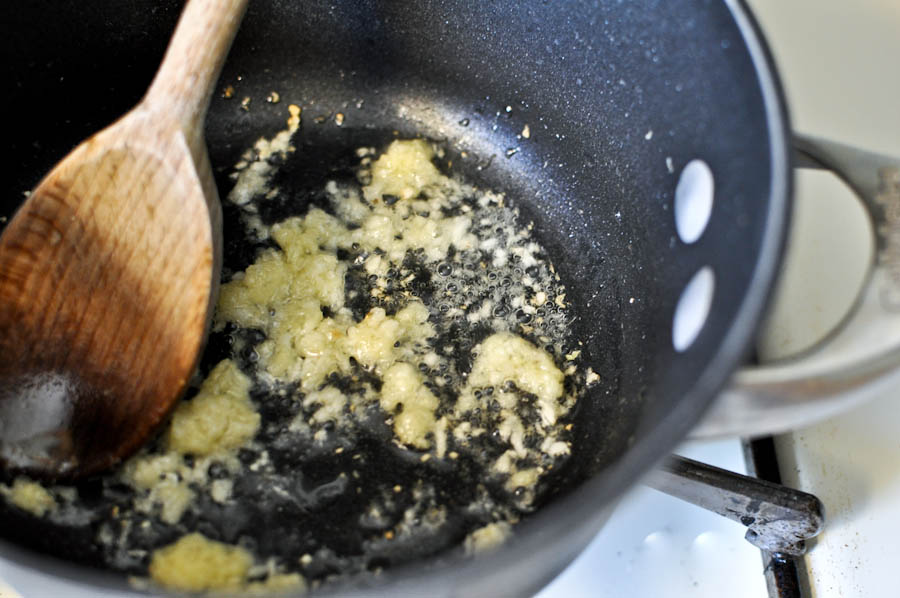 Add the tablespoon of oil to a saucepan. Once it's hot, add in your garlic and ginger. I actually grated both my garlic and ginger with a microplane as it was easiest for me. If you do this, only cook the garlic and ginger for a minute or so until it's fragrant. Don't let them burn!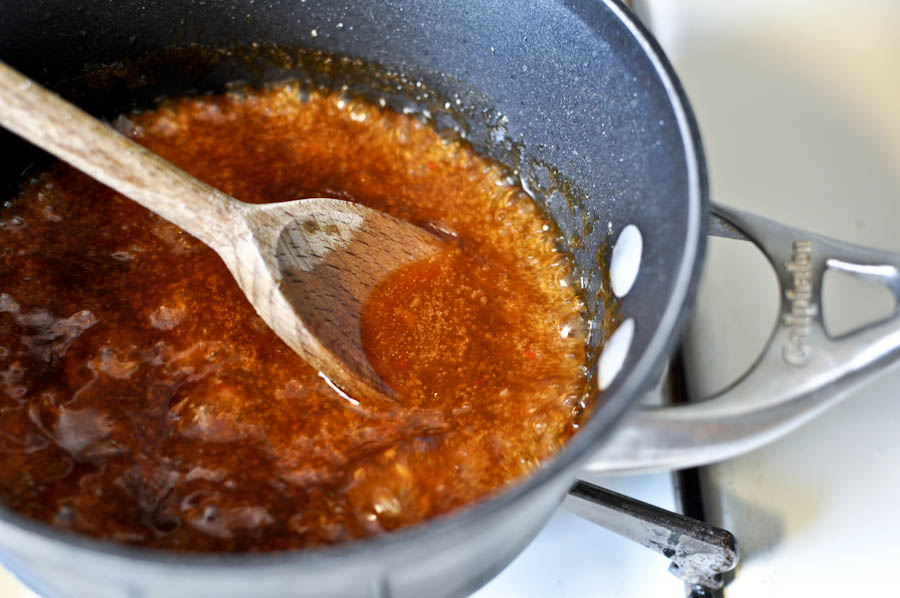 Add the sauce ingredients to the garlic and ginger, stirring until it becomes thick and shiny.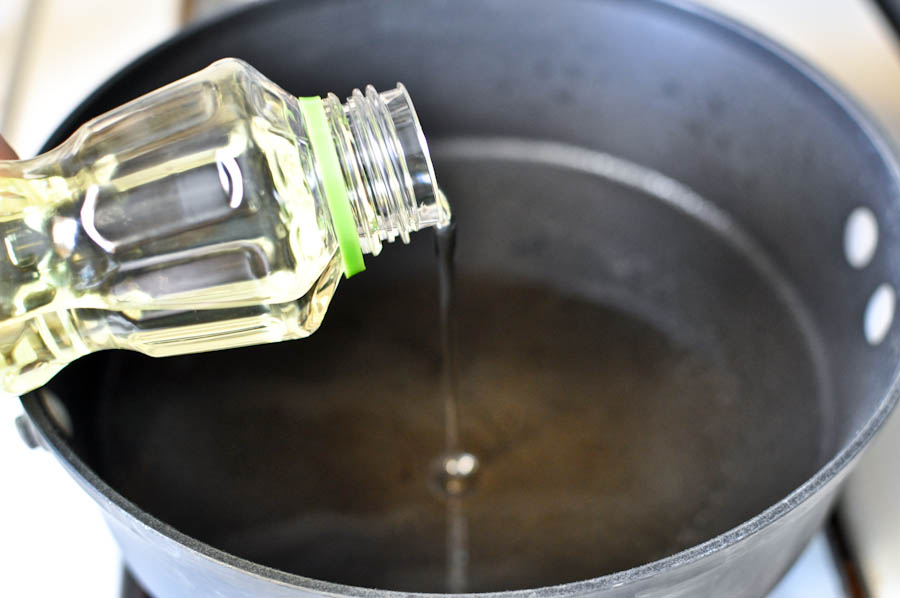 Once the sauce thickens, lower the heat and keep the sauce partially covered to stay warm.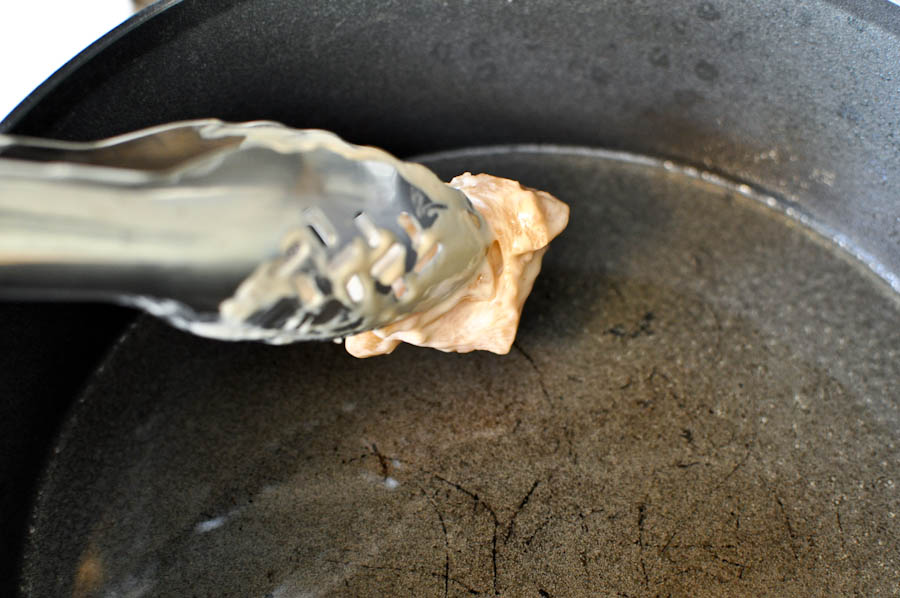 To begin frying the chicken, heat about 1/2 inch of oil in a large skillet, preferably with higher sides since the oil may splatter a bit.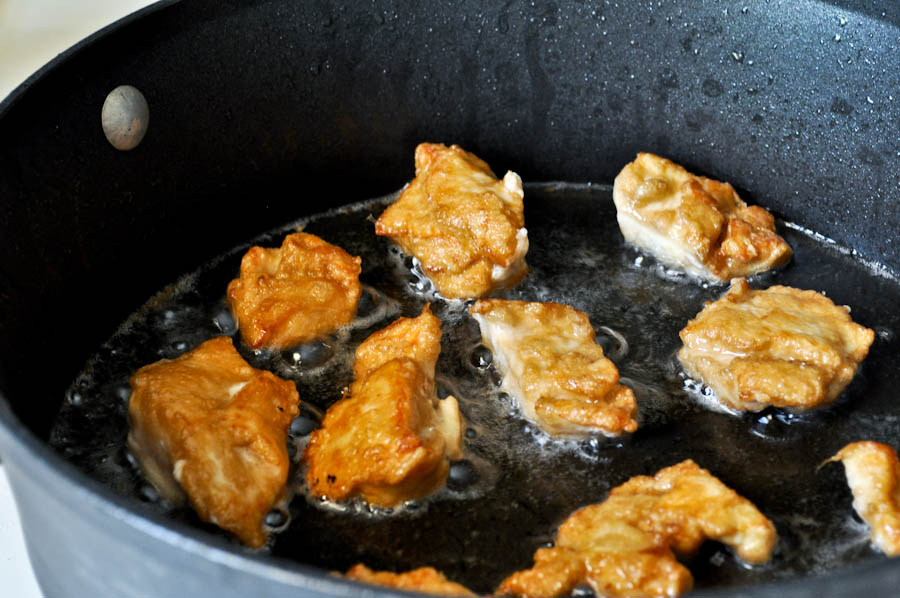 Add the chicken to the oil one piece at a time, making sure not to crowd the chicken pieces.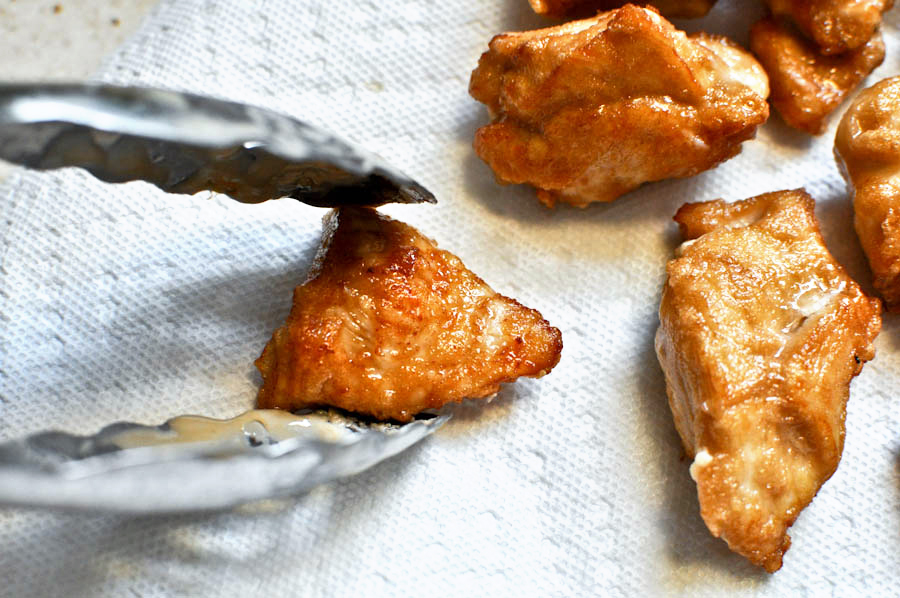 Cook until crispy and golden, about 4 minutes per side.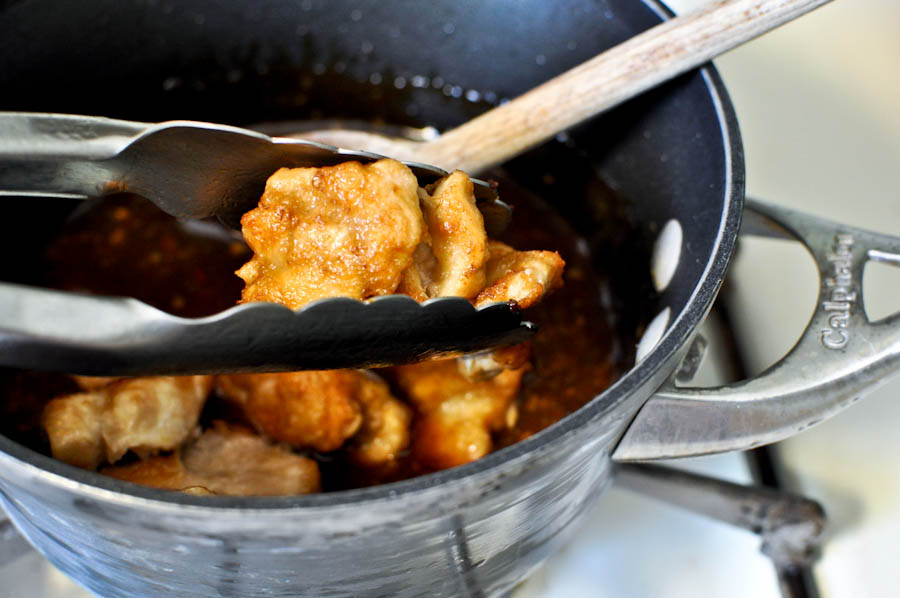 Transfer the chicken to a paper towel-covered plate to drain and continue frying the remaining chicken.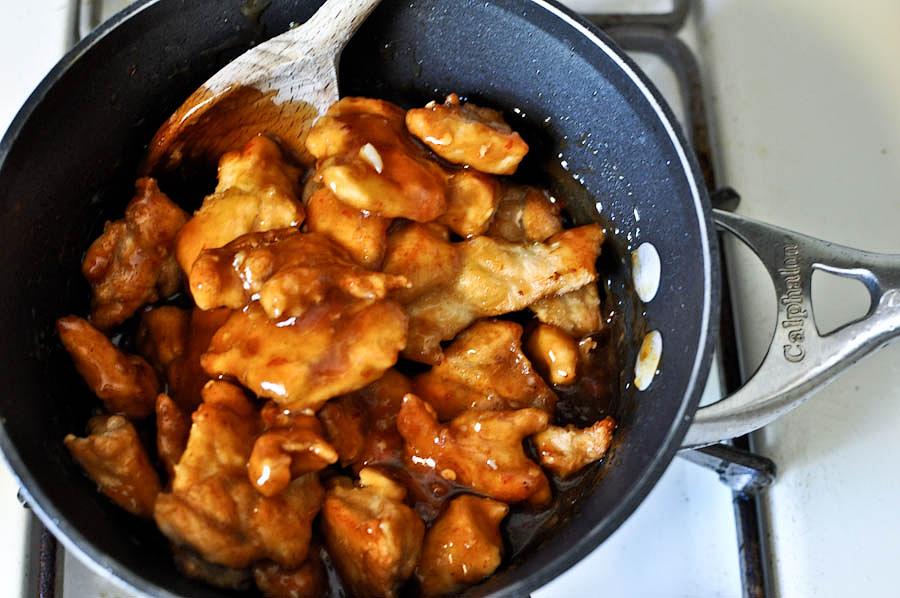 Once all the chicken is cooked and drained, add it directly into the sauce. You can also opt to drizzle or pour the sauce on top of each portion, but I found that adding the chicken to the sauce as the recipe calls for is perfect.
Stir, stir, stir! At this time, you can also add your broccoli or other side dish of choice to the sauce if you wish.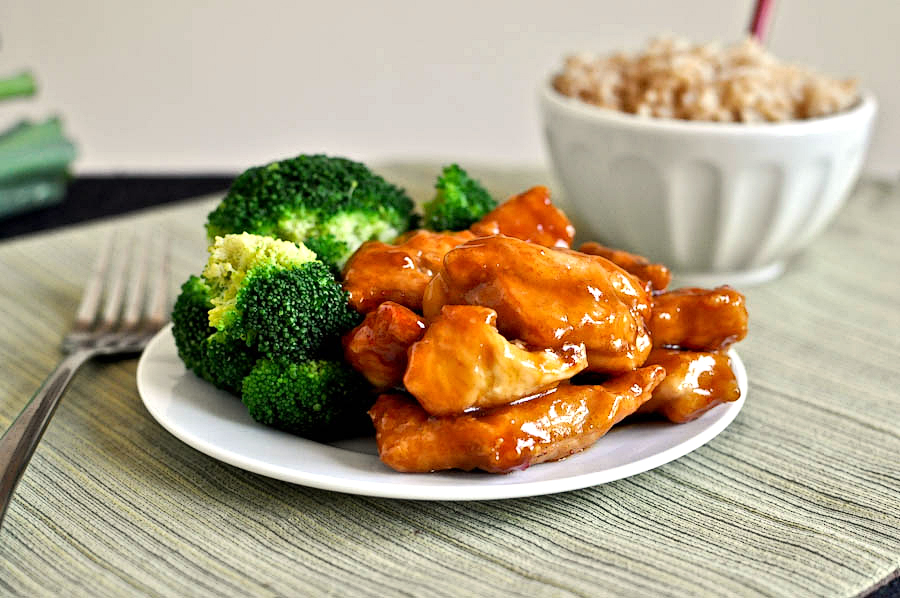 Serve some to your drooling friends and family …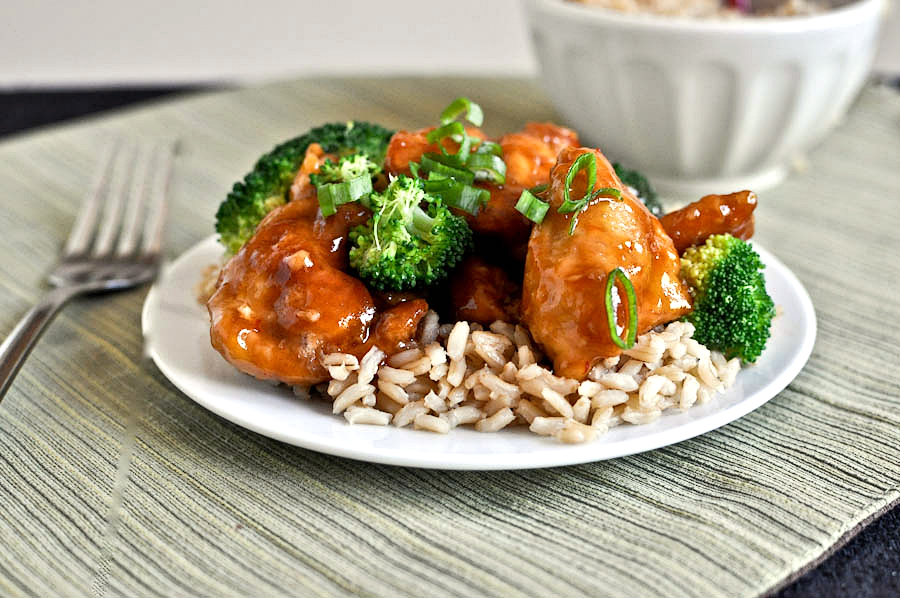 Garnish with sliced green onions and dig in!

I can't tell you enough how much we absolutely loved this meal. It is in the rotation and doesn't appear to be leaving anytime soon. I highly recommend it for the General Tso's Chicken lovers in your house. Thanks so much for the delicious dish Rebecca! Be sure to check out Rebecca's incredible blog Foodie with Family where she shares all sorts of fabulous ideas from coffee milkshakes to mozzarella sticks. I'm hungry again!
Printable Recipe
See post on Rebecca's site!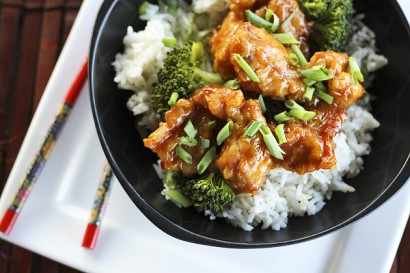 Description
Sweet and hot, crispy and tender, garlicky, gingery General Tso's chicken is a mainstay of Chinese buffets and restaurants, but you can make it better, fresher and healthier at home!
Ingredients
FOR THE CHICKEN:
1-½ teaspoon Toasted Sesame Oil
1 Tablespoon Soy Sauce
1 whole Large Egg White
¼ cups Plus 2 Tablespoons Cornstarch
1 pound Boneless, Skinless Chicken Thighs
Canola, Peanut, Or Vegetable Oil For Frying
FOR THE SAUCE:
1 Tablespoon Peanut, Canola Or Vegetable Oil
2 cloves Garlic, Peeled And Minced
2 Tablespoons Finely Chopped Fresh Ginger Root
1 cup Chicken Broth Or Stock
¼ cups Soy Sauce
1 Tablespoon Cornstarch
1 teaspoon Chinese Chile-garlic Sauce
3 Tablespoons Raw (turbinado Or Demerara) Sugar
FOR SERVING:
4 whole Scallions, Thinly Sliced
Steamed Rice
Steamed Broccoli
Preparation Instructions
Prep your chicken:
In a mixing bowl, stir together the sesame oil, soy sauce, egg white, and 1/4 cup plus 2 tablespoons of cornstarch until a thick slurry forms. It will look gummy but smooth.
Add the chicken pieces and stir until all are evenly coated. At first it may appear that it will not come together but it does!
Set chicken aside, covered lightly with plastic wrap, at room temperature for 20 minutes, stirring occasionally.
Begin the sauce:
Add the tablespoon of oil to a large, heavy-bottomed saucepan over high heat. Stir the garlic and ginger into the oil and cook, stirring constantly, until fragrant, about 1 minute.
In a separate bowl, whisk together the remaining sauce ingredients until smooth. Pour into the garlic and ginger, stirring, until the sauce becomes thick and shiny. Once the sauce thickens, lower heat and keep the saucepan over a low burner partially covered to stay warm.
To fry the chicken:
Heat 1/2-inches of oil in a heavy-bottomed, high-sided frying pan or skillet over high heat.
When the oil is shimmering, add one piece of chicken at a time, taking care not to crowd the pan. Cook chicken for 4 minutes on each side, or until deep golden brown and crisp on both sides**.
Transfer the fried chicken to a paper towel lined plate and repeat the process until you've cooked all the chicken.
Then slide all of the fried chicken into the prepared sauce and toss to coat. (If desired, add some steamed broccoli to coat with the sauce also.) Increase the heat to medium, stir and cook just until hot all the way through.
Sprinkle with sliced scallions and serve immediately over white rice.
**A note: Chicken is a safe food for me. I know that just about anything done to it is going to yield something that is, at the very least, edible. This is especially true of boneless skinless chicken thighs. It's really hard to mess those up! They stay tender and juicy and it's very hard indeed to cook them to the point of chicken jerky. Be sure to cook them through, you definitely want that crisp, deep-brown coating to hold up to the sauce!
_______________________________________
Jessica Merchant is a personal trainer turned food writer and blogger. Her blog, How Sweet Eats, is where she proclaims her love for all things sweet, all things bacon, and everything else in between. She works her magic in her Pittsburgh kitchen, which she shares with her husband of 2 years.