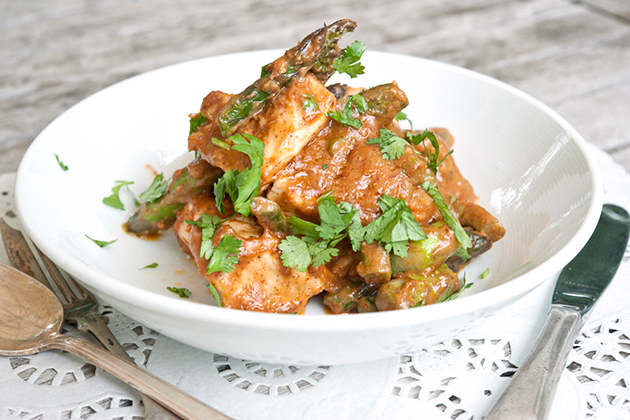 I get such a craving for Asian food sometimes. I'm not very good at cooking it myself—there's something about the flavor combinations that aren't intuitive to me while cooking, but are so delicious when put in front of me at a dinner table. I noticed that Tasty Kitchen member Marla Meridith had a delicious-looking recipe for Chicken in Coconut-Lime Peanut Sauce, and since Marla's recipes are always so accessible, I thought I'd give it a whirl. Peanut sauce is always worth exploring.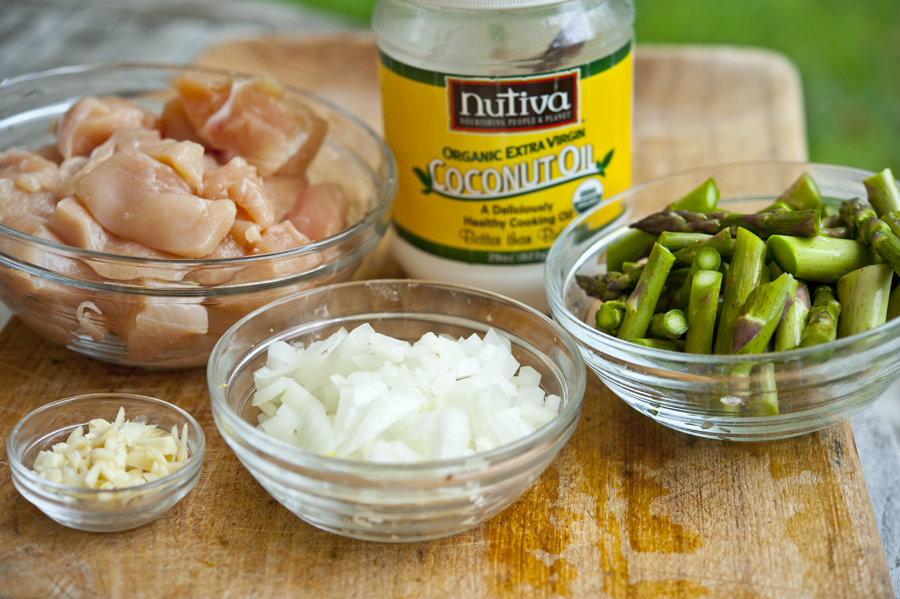 There are two components to this recipe: the chicken and the sauce. To cook the chicken, you'll need diced onions, diced garlic, asparagus, cubed chicken breast and coconut oil for sautéing. If you can't find coconut oil, no problem—butter or oil will work well.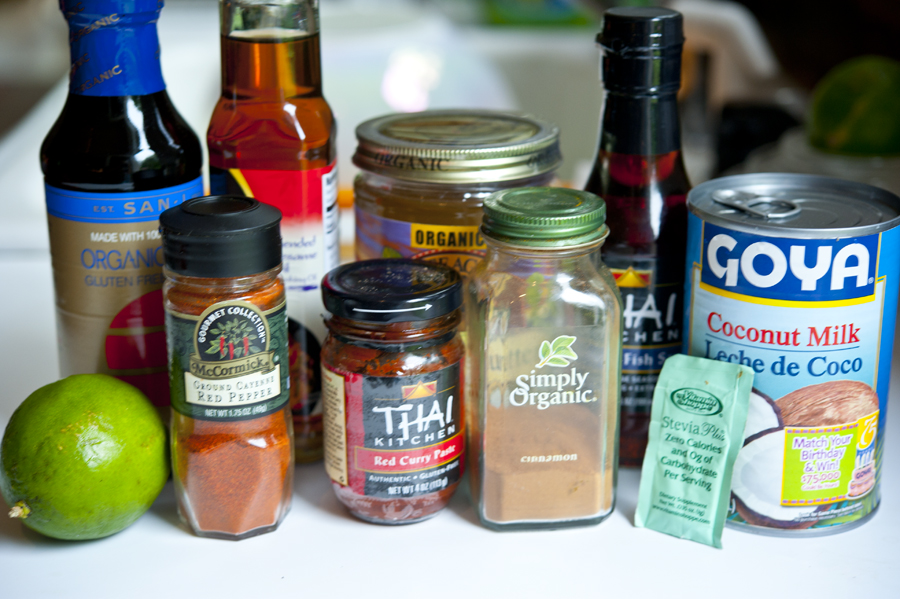 Now for the sauce, you'll need lime juice, cayenne pepper, red curry paste, cinnamon, stevia (or sugar), coconut milk, fish sauce, peanut butter, toasted sesame oil, and soy sauce.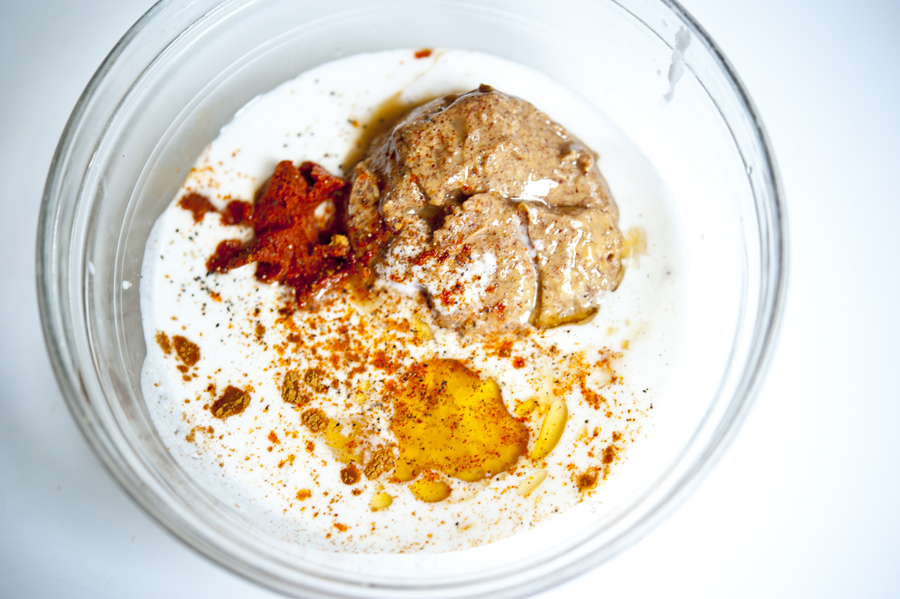 Combine all of the sauce ingredients into a bowl.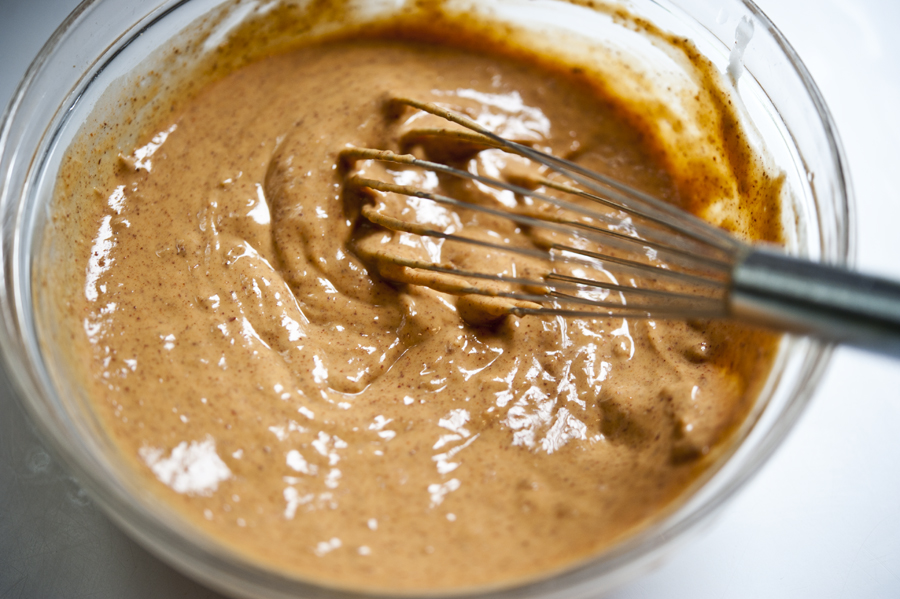 Then whisk it all together until it is well-incorporated and creamy. If it seems too thick, just add a dash of water or coconut milk to thin it out. Then set it aside.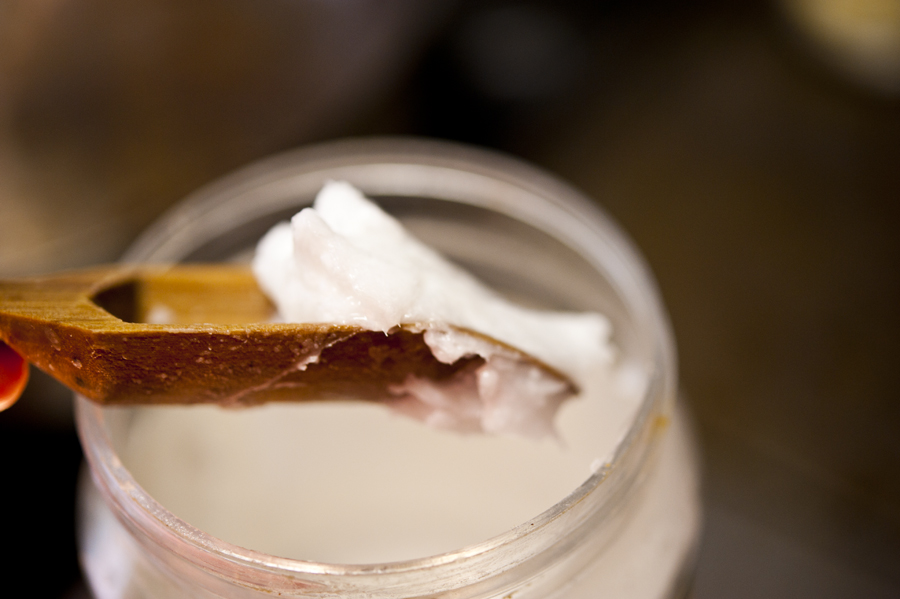 Next you'll cook the chicken. Scoop out some coconut oil, or butter if you prefer …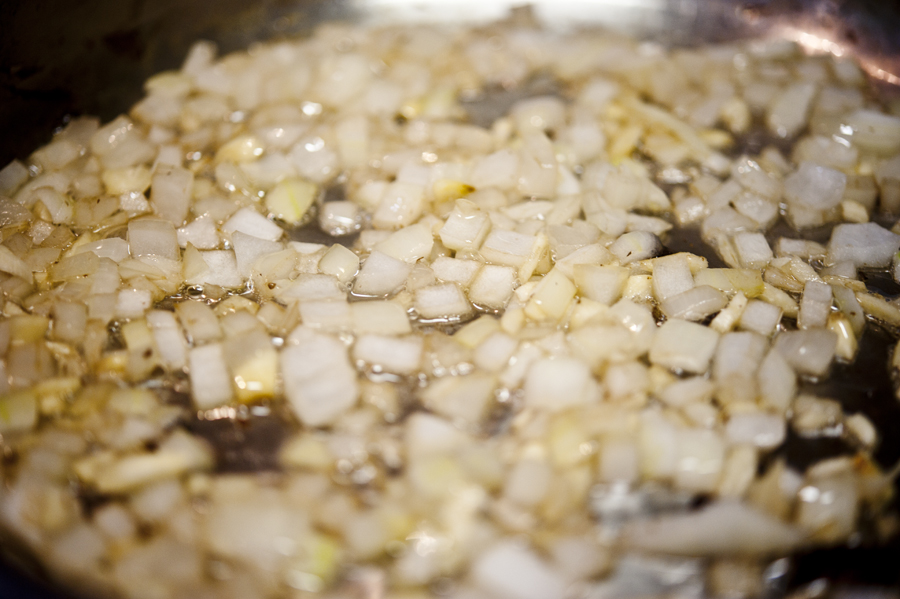 And get your diced onions nice and tender in a sauté pan.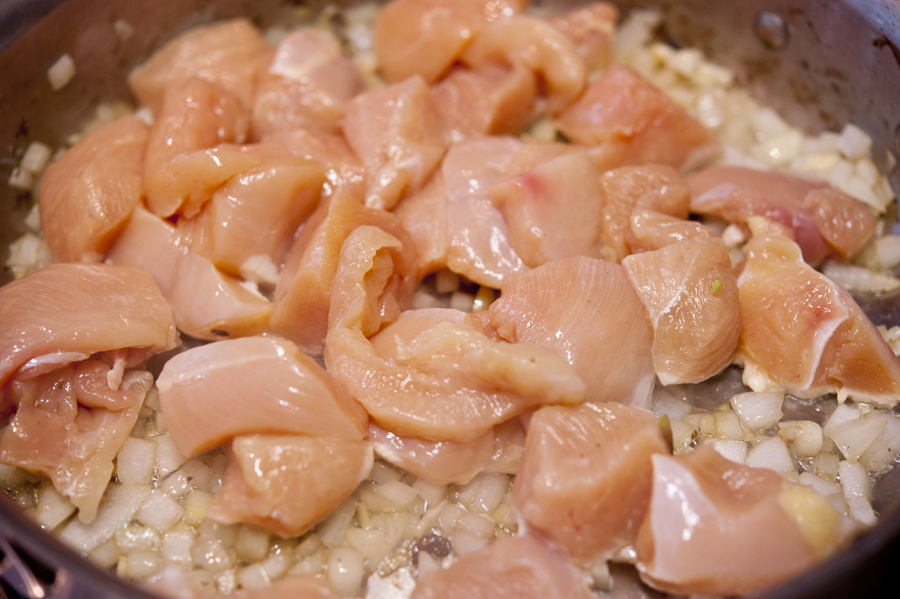 Next add the chicken cubes and let them brown and cook on all sides.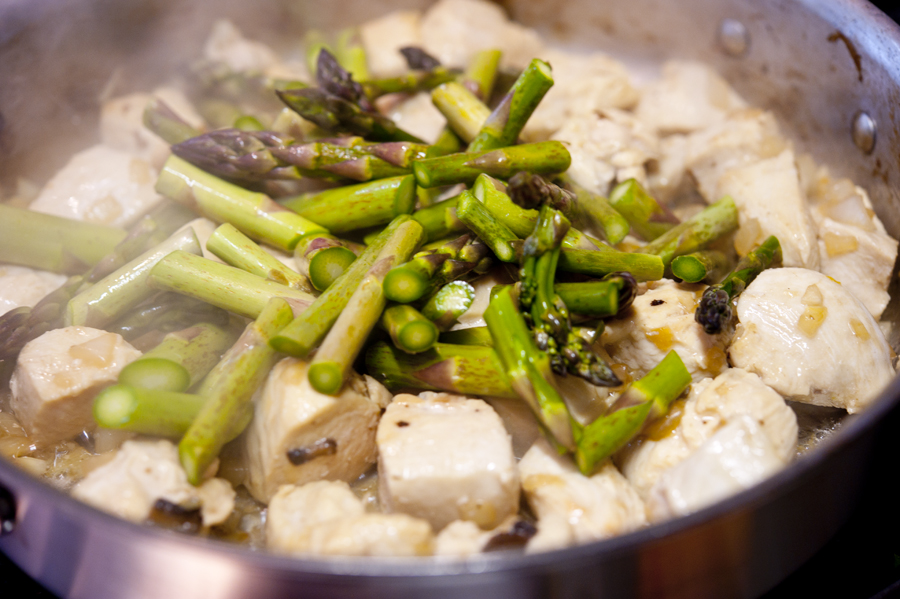 Next you can either add the asparagus if you want to cook them slightly, or you can simply add them raw at the end.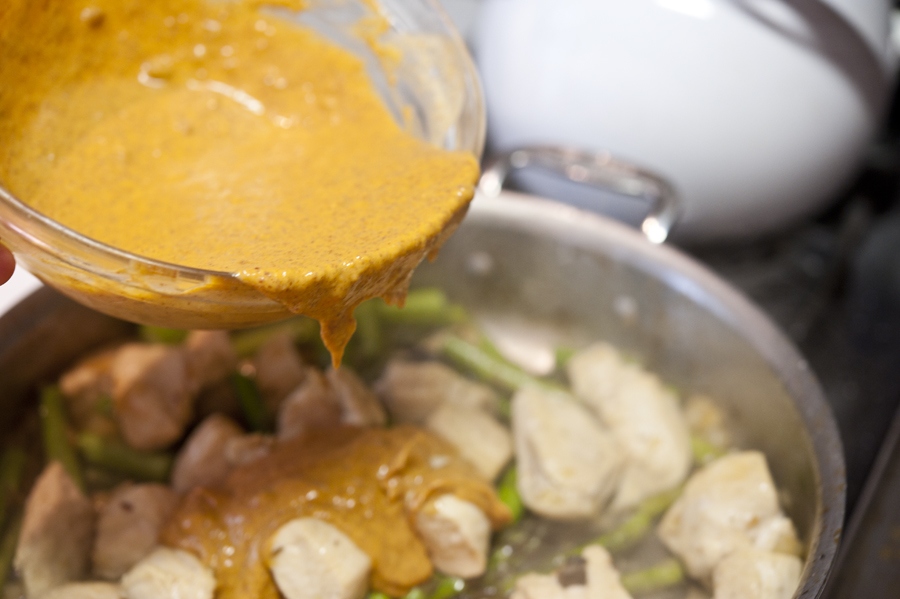 Pour your sauce in and let it warm over very low heat. You don't want to get the sauce too hot, otherwise the sauce will break. But it will still taste delicious either way.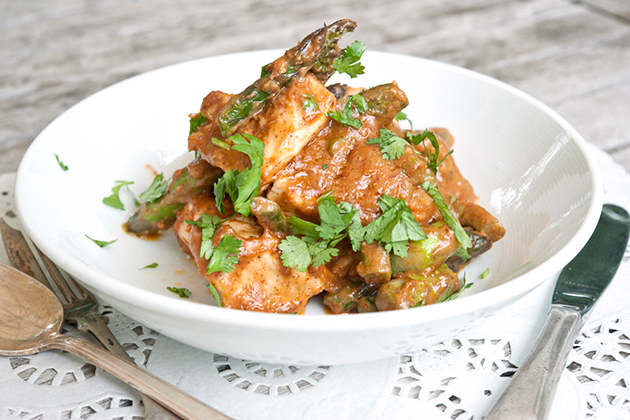 Serve heaping spoonfuls of this delicious dish into bowls. It is great warm or at room temperature.
Thank you Marla for such a great recipe and a great lunch! Check out her wonderful blog Family Fresh Cooking. It's chock full of tasty and healthy recipes.
Printable Recipe
See post on Marla Meridith's site!
Description
This recipe is perfect for family meals and upcoming Super Bowl parties. It is filling, very tasty and much fewer calories than the usual peanut sauce. The blend of Thai/Asian flavors is a big hit over here! The lime brightens up the creamy sauce. It might even brighten up those cold winter days.
Ingredients
FOR THE SAUCE:
½ cups Natural Peanut Butter (I Like Crunchy)
½ cups Light Coconut Milk
1 Tablespoon Thai Red Curry Paste
1 Tablespoon Lime Juice
1 Tablespoon Soy Sauce Or Tamari
2 Tablespoons Fish Sauce
2 teaspoons Toasted Sesame Oil
1 pinch Stevia Powder To Taste (or Honey)
1 pinch Black Pepper
1 pinch Cayenne Pepper
1 pinch Cinnamon
_____
FOR THE CHICKEN:
1 teaspoon Unrefined Coconut Oil
½ cups Diced Onion
3 cloves Garlic, Chopped
2 pounds Chicken Breast Cut Into 1 Inch Cubes
1 cup Chopped Asparagus Spears (1 Inch Pieces)
Preparation Instructions
Note: You can adjust all the peanut sauce ingredients according to taste. If you like sweet, go sweeter, spicier, etc. All is good!
Optional garnishes: cilantro, toasted peanuts, green onion, unsweetened toasted coconut flakes.
Sauce: In a medium bowl whisk together the peanut butter, coconut milk, curry paste, lime juice, soy sauce, fish sauce, sesame oil, sweetener and seasonings to form a sauce. Taste and change anything if you want to. Set aside.
Chicken: Heat coconut oil in a large sauté pan over medium high heat. Add onion and garlic, cook until softened. Add chicken, cook until golden brown and cooked through, about 10 minutes. Stir occasionally for even cooking. Stir sauce into the chicken. Partially cover and simmer for about 5 minutes to let the flavors combine. Add asparagus during the last few minutes of cook time.
Serve with spicy Sriracha sauce and garnishes mentioned above.


_______________________________________
There's so much to say about Georgia, we don't know where to start. Leaving Wall Street for the French Culinary Institute, followed by a stint at the Gramercy Tavern and La Chassagnette in France, her passion for food and food traditions are evident and inspiring. Visit her site at Georgia Pellegrini, where you'll find more recipes, photos, learn all about her wonderful book Food Heroes, and enjoy her latest adventures.