Up until a few years ago, I didn't consider myself a scone gal. I don't want to point any fingers, but my lack of enthusiasm for the traditional breakfast bread likely had something to do with a decidedly dry specimen my 9th-grade friends and I made in our Home Economics class. Of course, that was shortly following a decidedly unnerving session with an applesauce-stuffed pork roll. The dry scone was starting to look pretty good after that.
Over the past few years, I have happily eaten many a scone that could only be described as moist, tender and completely addictive. This Blueberry Streusel Scone by Tasty Kitchen member ppkongacooks certainly deserves that description. Sweet, juicy blueberries and a tender crumb are made even better by a layer of streusel topping. Really, does it get any better than brown sugar and butter?
While I did not try it with this recipe specifically, I have great success with freezing other scone recipes. Simply place the raw scones on a baking sheet lined with waxed paper. Place them in the freezer, uncovered. When the scones are completely frozen, place them in plastic freezer bags. When you are ready to bake them, take out the desired amount of scones and bake on a parchment-lined baking sheet at 375 degrees F for 17 to 21 minutes, or until golden brown. Your family will think you're a magician for producing hot, fresh scones within minutes.
Now, let's get down to business with this wonderful recipe.
Preheat oven to 400ºF. Line a large baking sheet with parchment paper.
In a large bowl, whisk together flour, sugar …
Baking powder and salt.
Add cold butter that has been cut into small pieces.
Using a pastry blender or 2 knives, cut in the butter pieces until the mixture resembles coarse meal.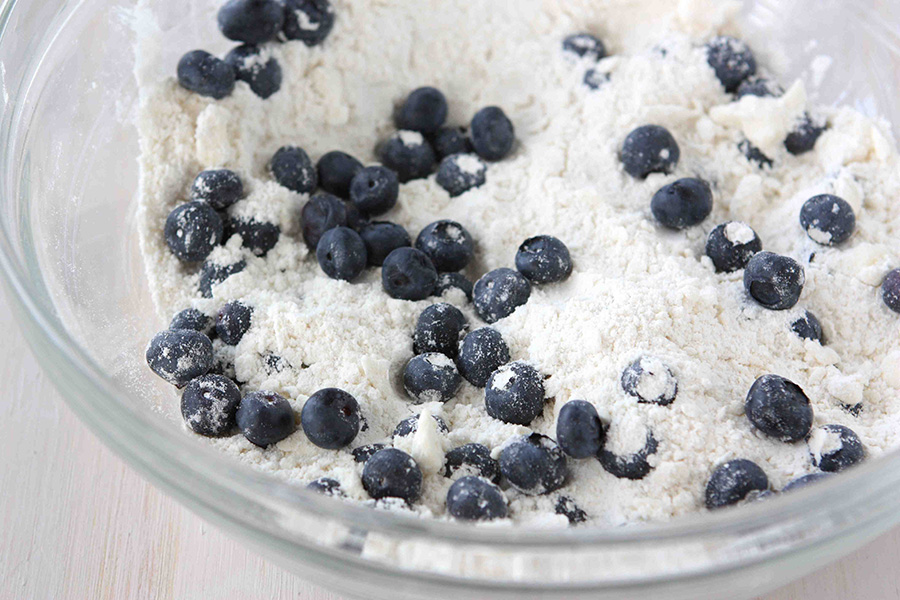 Gently stir in blueberries.
In a measuring cup, whisk together egg, milk and vanilla.
Pour the egg mixture into the flour mixture.
Using a fork, combine the two until a dough forms.
In the recipe, ppkongacook suggests that you can throw in the zest of 1 lemon at this point. You don't have to ask me twice. I adore the combination of blueberry and lemon. But take care not to over mix the dough.
Turn out the dough onto a well-floured surface, put flour on your hands and knead the dough 5 or 6 times to incorporate the ingredients completely.
Roll the dough into a ball and press down to flatten slightly.
To make the streusel, mix together brown sugar, flour, cinnamon and butter in a small bowl until crumbly.
Brush the top of the dough with milk and sprinkle the streusel over top.
Cut the dough into 8 triangles. I used a kitchen scraper for this, but alternatively you could use a knife.
Place the scones on a parchment-lined baking sheet and bake until golden brown, 18 to 20 minutes. Let cool and then dig in.

Thank you, Katrin, for these wonderful scones. They are bound to become a favorite weekend breakfast treat for my family. You can find more of her recipes on her blog, Running with the Devil(ed) Eggs.
Printable Recipe
See post on ppkongacooks's site!
Description
Blueberries and the strudel topping make this scone recipe more like a dessert than a tea biscuit. Add in some lemon zest for another flavor component!
Ingredients
FOR THE SCONES:
2 cups Flour, All Purpose
⅓ cups Sugar
2 teaspoons Baking Powder
⅛ teaspoons Salt
6 Tablespoons Cold Butter
1 cup Fresh Blueberries
1 whole Egg
½ cups Milk
1-½ teaspoon Vanilla
_____
FOR THE STRUDEL TOPPING:
¼ cups Brown Sugar
¼ cups Flour
2 teaspoons Cinnamon
2 Tablespoons Butter
Preparation Instructions
In a bowl mix together the dry ingredients for the scones. Cut in the chunks of butter with a pastry knife (I don't have one so I used 2 knives). It should be crumbly in texture. Gently fold in the blueberries. In a measuring cup mix together the egg, milk and vanilla. Pour into dry ingredients and with a fork, combine just until it forms a dough. (If you want to add the zest of 1 lemon, here's where you'd throw it in.) You don't want to over mix it because you are going to turn it out onto a lightly floured surface and knead it 5 or 6 times to incorporate everything.
Roll it into a ball and press it down. Brush a little milk on the top and top with the strudel topping, or omit if you want to cut calories. (To make the strudel topping, mix together the topping ingredients to form a crumb mixture.)
Cut the dough in half, then half again and so on until you get 8 triangles. Bake in a preheated 400ºF oven for 18–20 minutes on a parchment-lined baking sheet.


_______________________________________
Dara Michalski is a doll and a sweetheart who clearly knows her way around the kitchen. She blogs at Cookin' Canuck, where she shares her flavor-packed recipes and fun, engaging writing. The photography's pretty incredible, too.