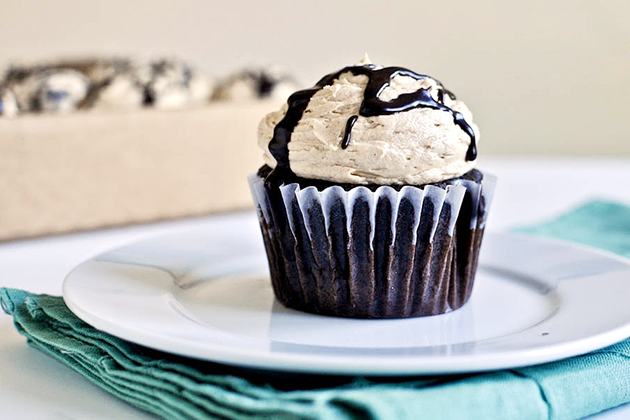 I think it's true what they say: you can never go wrong with peanut butter and chocolate. It's the combination that I consoled myself with after my first high school heartbreak (think a spoon in the jar and a sprinkling of chocolate chips) and the way we celebrated our marriage (think the best cheesecake in the universe, sliced doubly thick) on our honeymoon.
It's a comforting combination, a delicious one, and sometimes even a healthy one. Dark chocolate has loads of antioxidants, and peanut butter? Well, we have our healthy fats. Trust me. I can justify just about anything.
A few months ago I made this cupcake and it has since become my go-to cupcake. It's the cupcake that my family asks for on birthdays, the one that my brother dubbed "the best he'd ever had," and the one that I happily suggest when I'm quizzed about fabulous dessert recipes.
It's slightly more time consuming that your run-of-the-mill cupcake with a glob of frosting, but I promise it is completely worth it.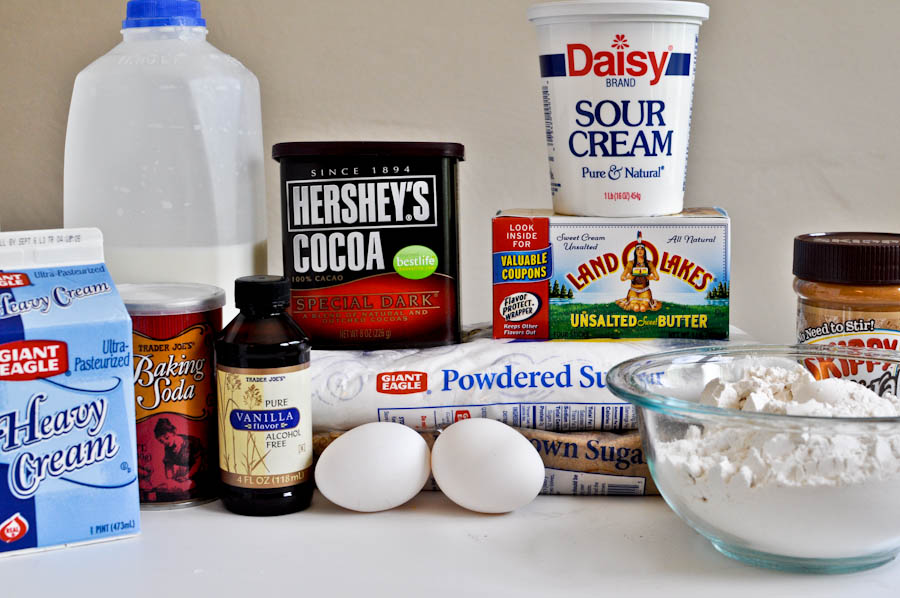 Here's what you need: milk, eggs, heavy cream, sour cream, vanilla extract, peanut butter, flour, baking soda, butter, cocoa powder (I use the dark stuff), powdered sugar, and brown sugar. Lots of cream going on here. That only means one thing: deliciousness.
First up, I make the hot fudge. I find that if I get this out of the way, it has time to sit and thicken while I make the cupcakes. You can use a double boiler, but this time around I simply combined everything in a small saucepan and let it work its magic. Super easy!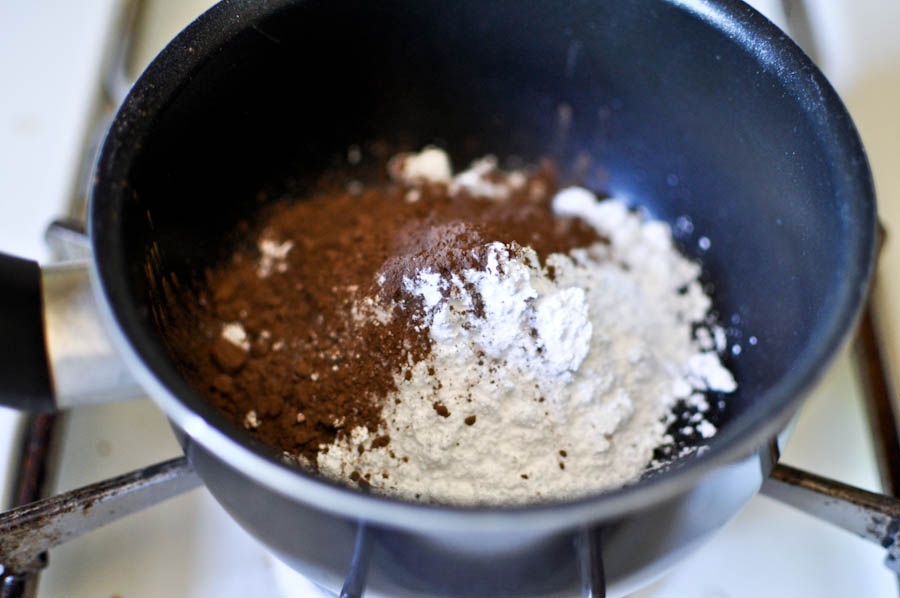 Combine the sugar, cocoa, salt, and flour in the saucepan. Separately, bring your milk or water (I always use milk, but water is fine) to a boil, then add it to the flour and cocoa mixture and stir, stir, stir over low heat. Do not look up, pass go, or collect $200. Just keep stirring until the fudge thickens.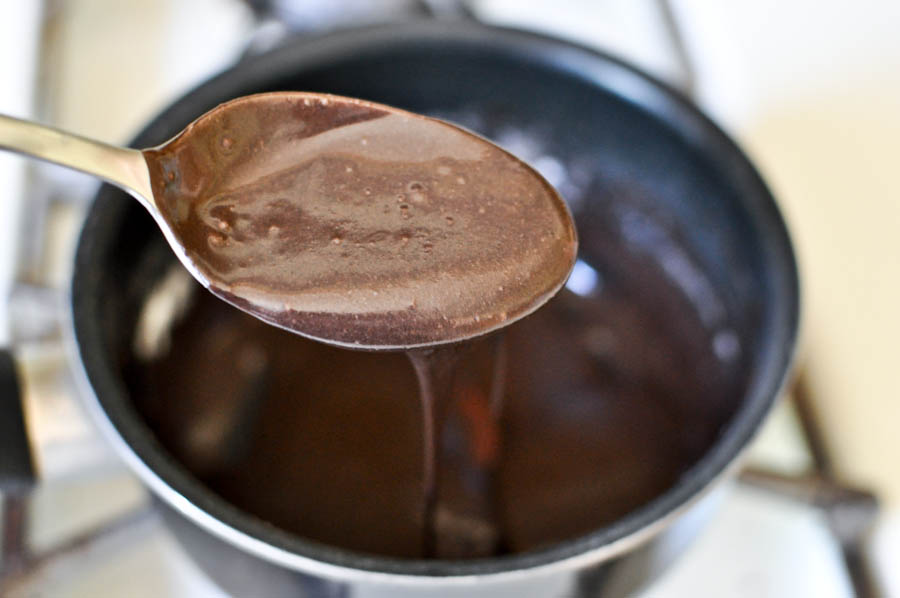 One it gets thick, remove it from the heat and stir in your butter and vanilla. Then set it aside and let it cool down to thicken a bit more.
Now it's time to start the cupcakes. My favorite part about these cupcakes is that you only have to use one bowl to bring them together. No mixer necessary. First, sift together your flour, cocoa, salt, and baking soda and set them aside.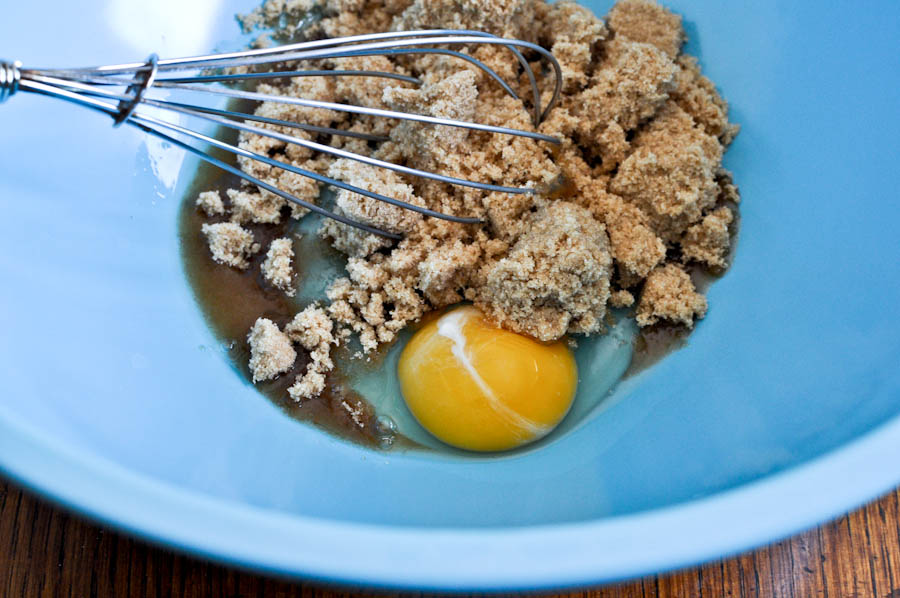 Next, in a large bowl, mix your egg and brown sugar together until no lumps remain.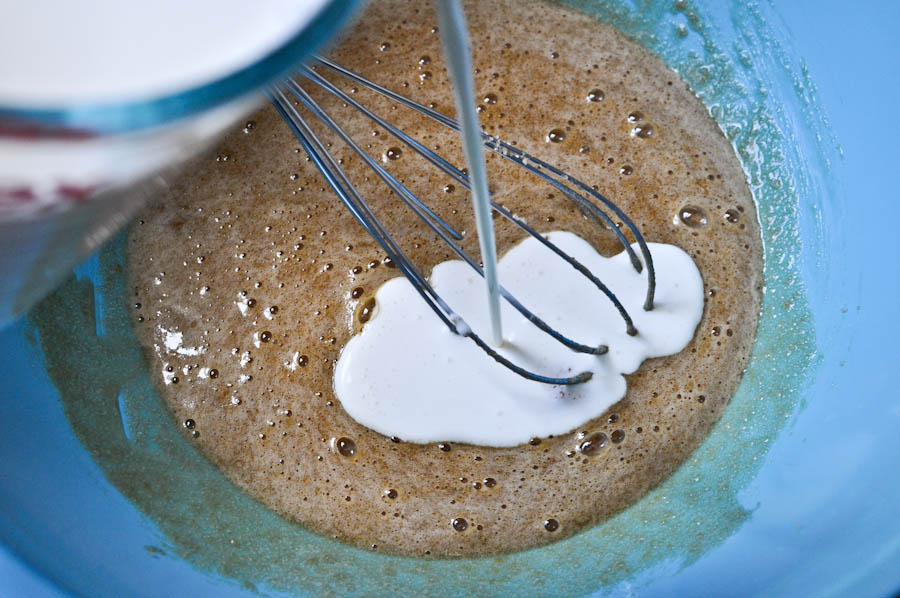 Stir in your heavy cream and milk, mixing continuously.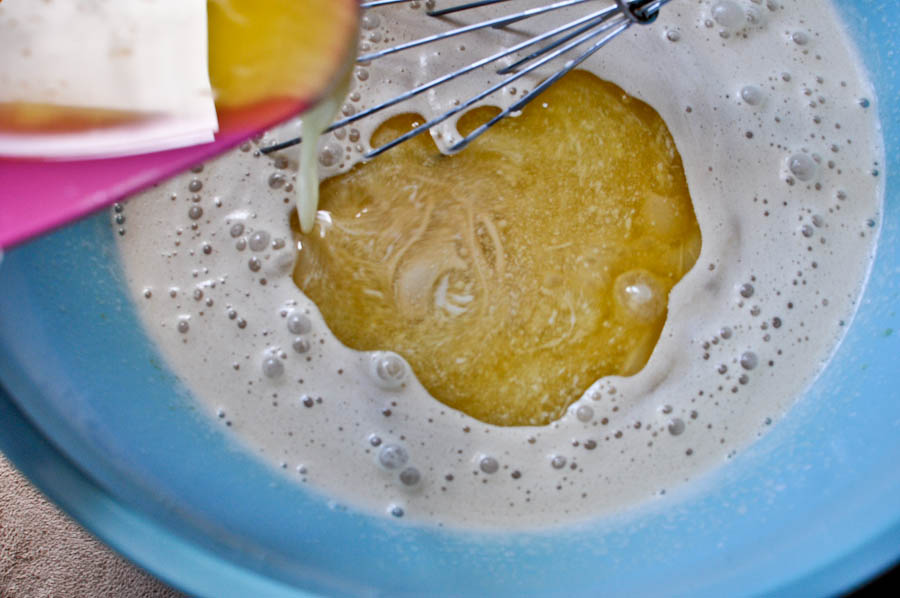 Now add in your butter and vanilla. Keep mixing away!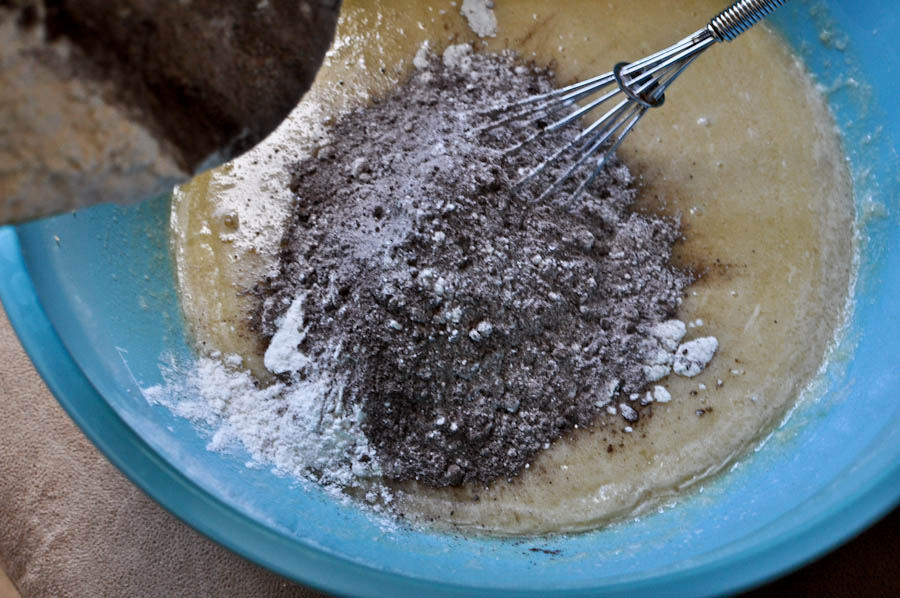 Add in your dry ingredients slowly while you continue to mix. Make sure you get out all of the lumps. And make sure you take a taste. Deeeelish.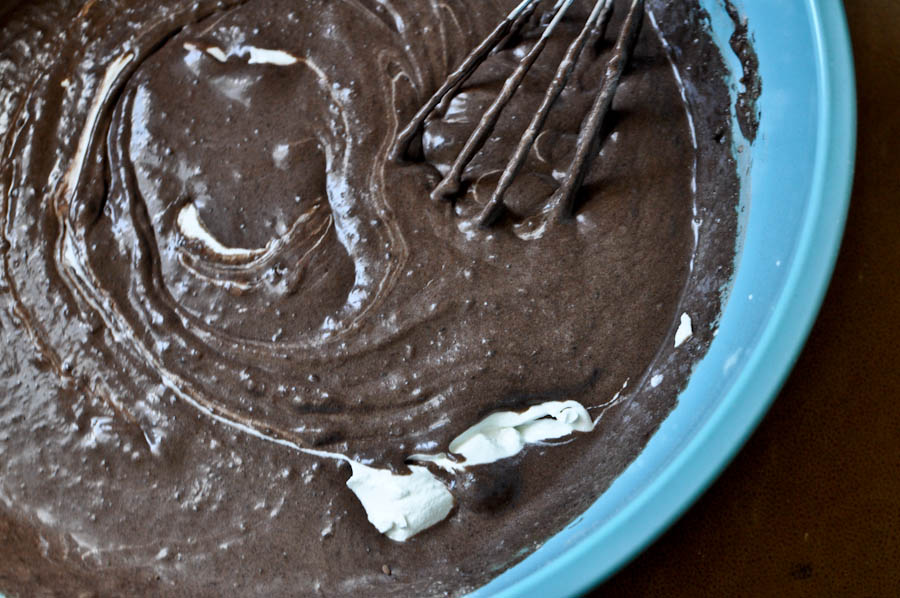 Your batter should be thick and chocolaty now. Even though you want to shovel it into your face, stir in a little sour cream. This takes it over the edge.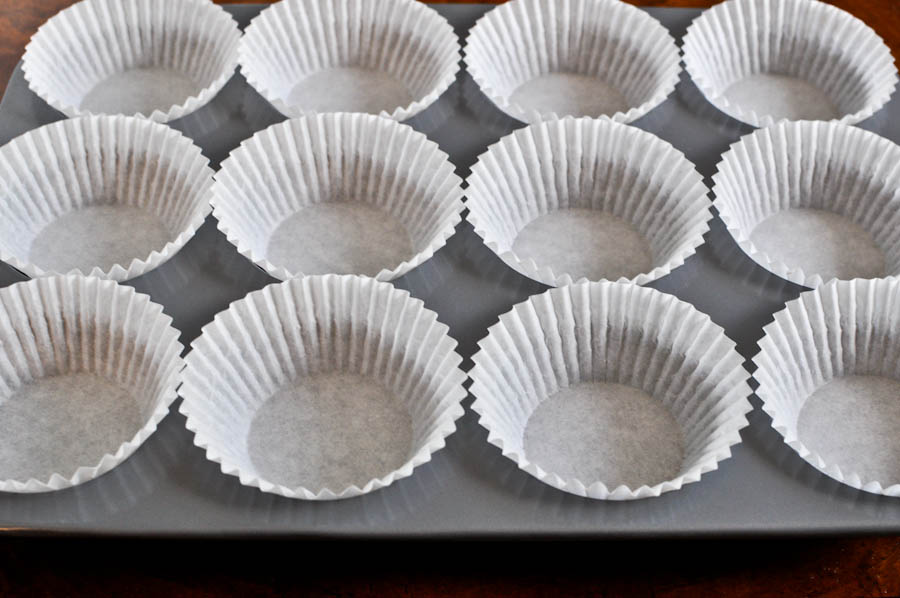 Next, line a cupcake tin with liners.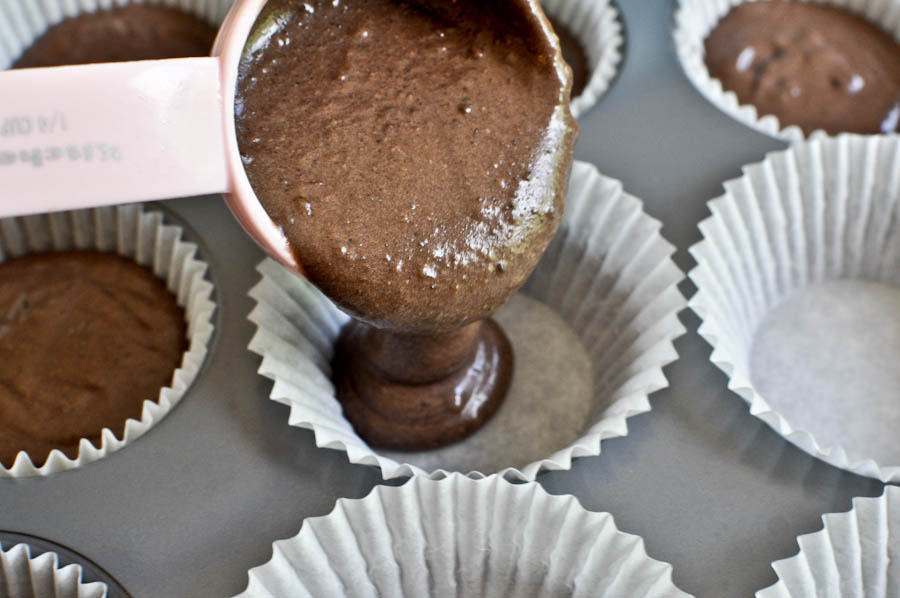 Using a 1/4 cup measure, pour the batter into each liner. I like to spray my measuring cup with non-stick spray beforehand so the batter slides right out.
Into the oven they go!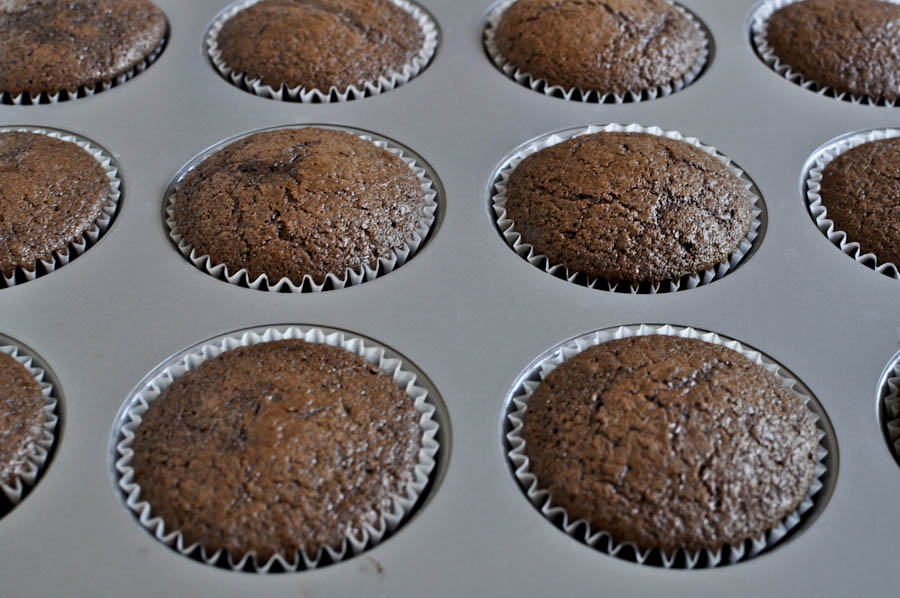 After baking, I let my cupcakes sit for about 5 minutes, then remove them from the tins and let cool on the counter. This well help them cool a little quicker and we want them to be completely cool before frosting.
While the cupcakes are cooling, you can make your frosting or do the dishes. I always choose the first option.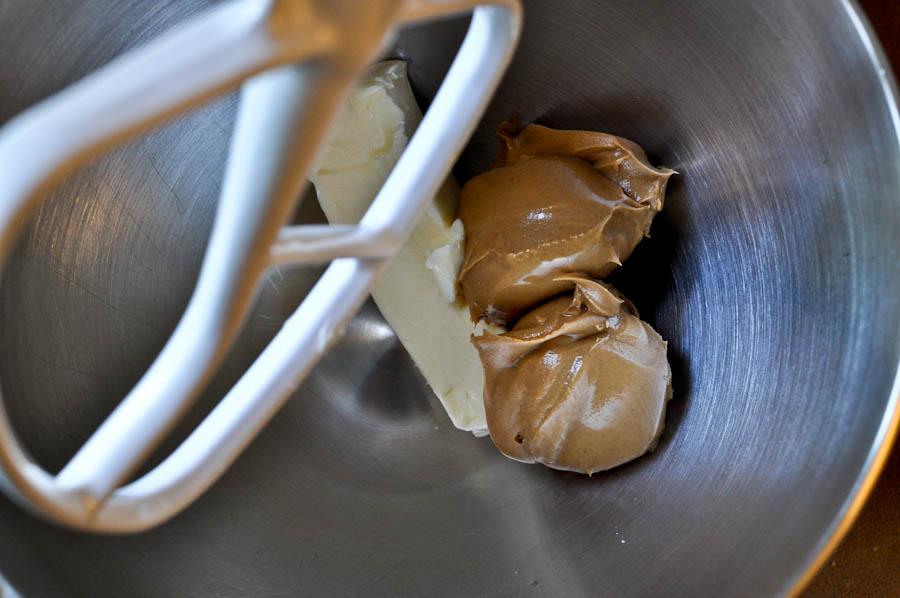 Combine softened butter and peanut butter in the bowl of your electric mixer and beat until fluffy, about 5 minutes. You gotta scrape down the sides every so often, too.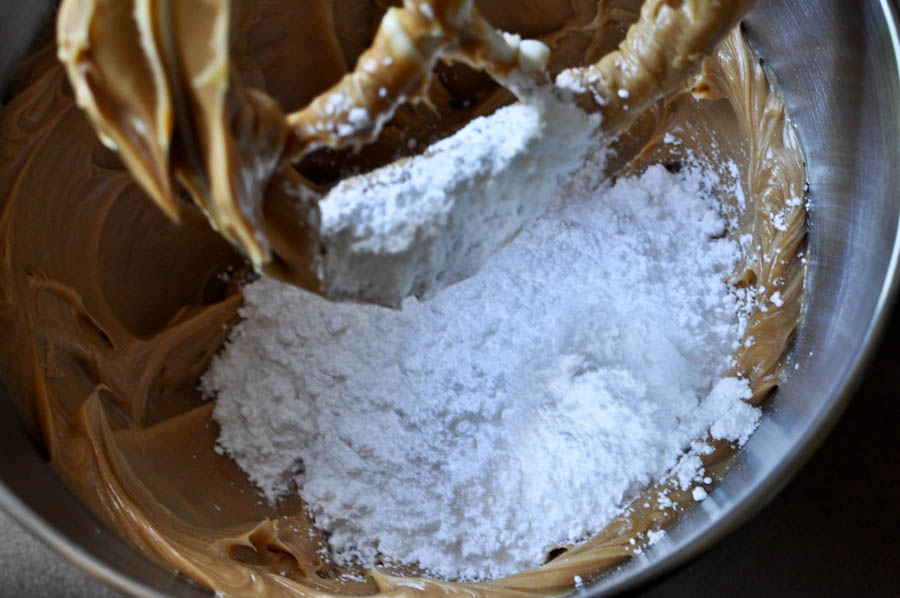 Add in your powdered sugar bit by bit and stir on low speed, gradually increasing to high speed. I'm warning you: this frosting is like a drug. Stay away. Far, far away. (At least until after you've frosted your cupcakes.)
Once your frosting is made and your cupcakes have cooled, it's time to stuff the 'cakes. I find that the easiest way to do this is to fill a pastry bag with frosting and simply plunge it down into the cake. If you don't have a pastry bag (the disposable ones are the best!), you can also use a spoon. All you have to do is remove a tiny circle from the top of the cupcake until you reach the middle, and spoon some frosting in. Then replace the top that you cut off. Easy!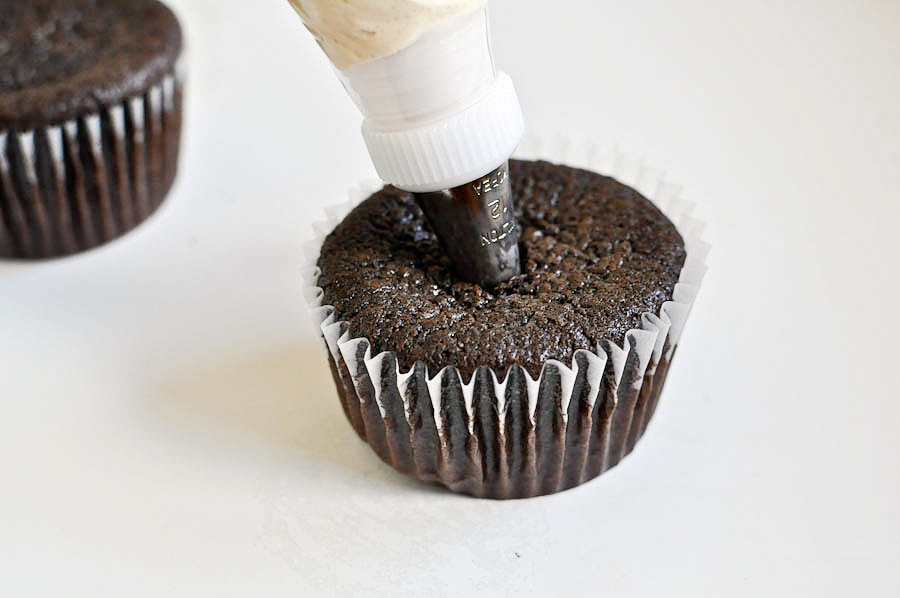 I fill a bag with frosting, stick it in the cupcake, squeeze …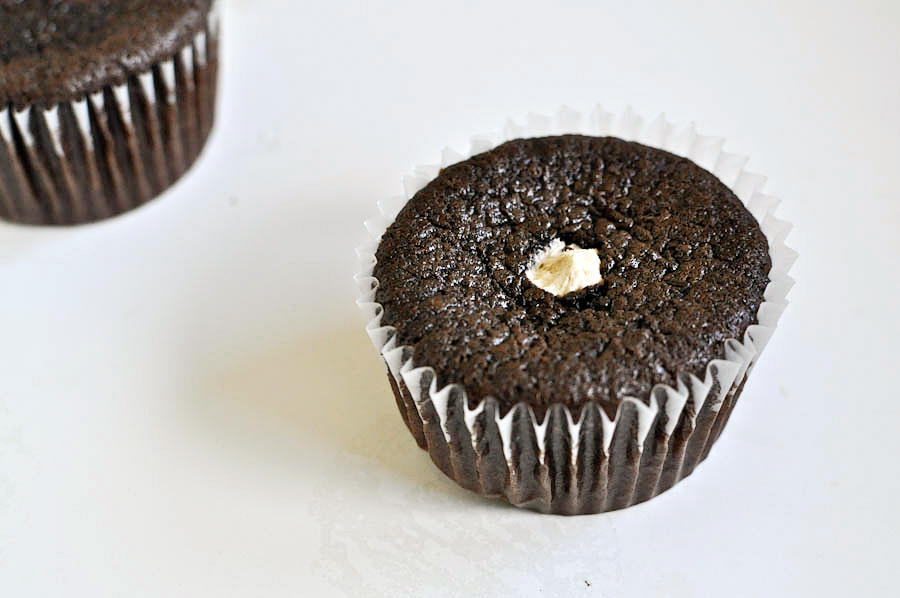 And voila! Instant stuffing. Mmmm.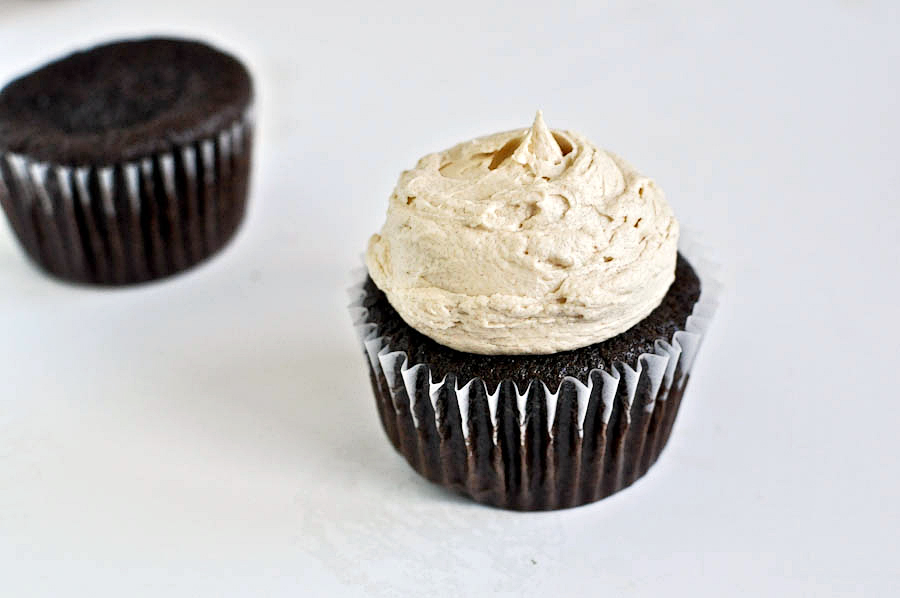 Next, I frost the top. Again, if you're not using a pastry bag, just frost the cupcake the way you normally would.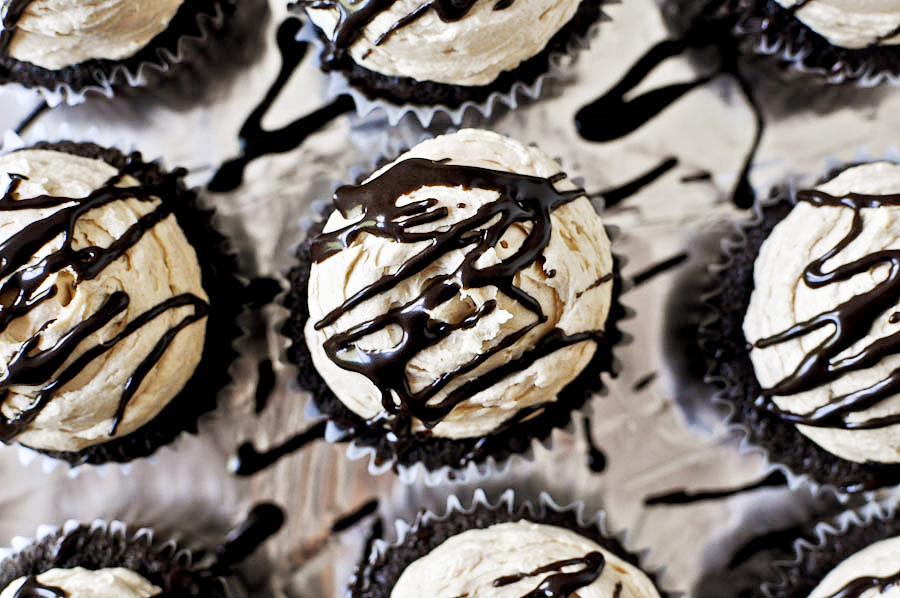 Now comes the fun part. Line up your cupcakes on parchment paper or aluminum foil and throw that hot fudge sauce you made a few hours ago all over the top. You be the artist.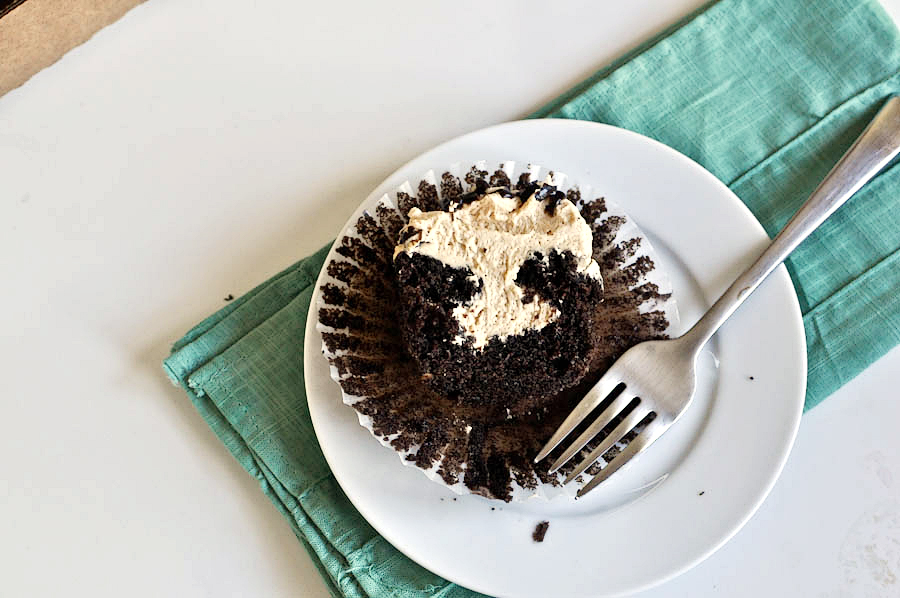 Oh, look! Another fun part. You get to eat one. No one can pass this up.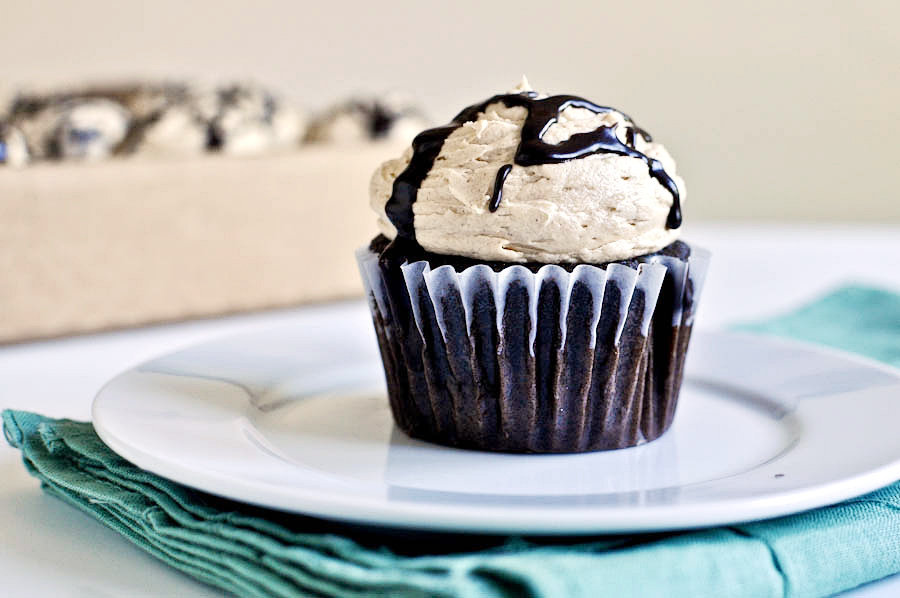 Dig right in and savor it. Chocolate and peanut butter work miracles, I tell you.
I hope you try these cupcakes and love them as much as we do! The hot fudge can be stored in your fridge for later use—like spoon dipping. It comes in handy at midnight. Just sayin.'
Printable Recipe
See post on HowSweetEats's site!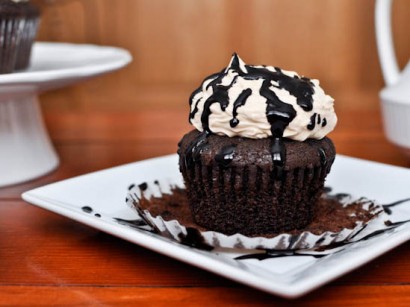 Description
Easy (one bowl!), fluffy dark chocolate cupcakes with peanut butter buttercream and hot fudge.
Ingredients
FOR THE CUPCAKES:
1 whole Egg
¾ cups Brown Sugar
½ cups Milk
½ cups Plus 1 Tablespoon Heavy Cream
½ cups Butter, Melted
1 teaspoon Vanilla Extract
2 Tablespoons Sour Cream
1-⅛ cup All-purpose Flour
¼ cups Dark Cocoa Powder
1-¼ teaspoon Baking Soda
½ teaspoons Salt
¼ cups Homemade Hot Fudge (recipe Below)
_____
FOR THE BUTTERCREAM:
½ cups Butter, Softened
⅔ cups Peanut Butter
3 cups Powdered Sugar (you May Need 1 More Cup)
1 Tablespoon Milk, Have 1-2 More On Hand If Needed
1 teaspoon Vanilla Extract
1 pinch Salt
_____
FOR THE HOT FUDGE SAUCE:
1 cup Sugar
1 cup Dark Cocoa Powder
1 pinch Salt
2 Tablespoons Flour
1 cup Boiling Water Or Scalding Milk
1 Tablespoon Butter
1 teaspoon Vanilla Extract
Preparation Instructions
For the cupcakes:
Preheat oven to 350 degrees F.
In a bowl, whisk egg and sugar until smooth and no lumps remain. Add milk, cream, butter and vanilla, and mix until combined. Stir in sour cream.
Sift dry ingredients together and then add to the wet mixture. Mix until batter is smooth, then swirl in fudge sauce. Line a muffin tin (12 count) with liners and using a 1/4 cup measure, add batter to each cup. Bake for 15-18 minutes. Let cool before frosting.
For the frosting:
Cream butter and peanut butter together in the bowl of an electric mixer. Add powdered sugar with mixer on low speed and gradually add milk and vanilla extract. Add a pinch of salt and mix until frosting is smooth. If too thick, add more milk; if too thin, add more sugar.
Put the frosting in a pastry bag fitted with a tip. Poke a hole in the cupcake with the pastry tip and fill the cupcake. Then frost the cooled cupcakes as desired.
For the homemade fudge:
Combine sugar, cocoa, salt, and flour in a bowl or pot over a double boiler. Bring water or milk to a boil in another saucepan or in the microwave. Gradually add hot liquid to sugar mixture. Stir constantly until mixture thickens.
Once it has reached the desired thickness, remove from heat and stir in butter and vanilla. Drizzle over cupcakes and store the rest of the sauce in the fridge for 1-2 weeks.


_______________________________________
Jessica Merchant is a personal trainer turned food writer and blogger. Her blog, How Sweet Eats, is where she proclaims her love for all things sweet, all things bacon, and everything else in between. She works her magic in her Pittsburgh kitchen, which she shares with her husband of 2 years.