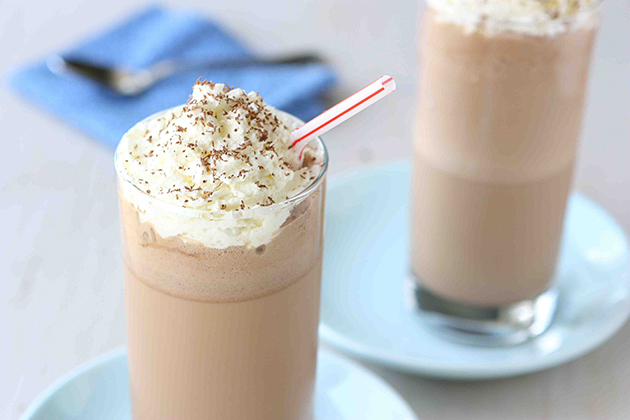 When I was in my early twenties and my waistline could handle this sort of thing, I made daily trips to one of the many coffee houses in my hometown. You'd be hard-pressed to walk two blocks in Vancouver without finding some sort of specialty coffee store. Yes, we are a highly caffeinated, but friendly lot. You know you are a regular at the coffee shop when the barista has your drink ready for you, your name written on the side of the cup, by the time you reach the front of the line. Grande cafe mocha with nonfat milk and whipped cream, please. The nonfat milk cancels out the calories from the chocolate syrup and whipped cream. If you have evidence to prove otherwise, I don't want to hear about it.
When I spotted this mocha frappe by Deb of smithbites, I was whisked back to those lazy days of my youth (my goodness, I'm getting old). To make things even better, Deb adds a touch of brandy and a pinch of cinnamon and cayenne pepper. Are you sold yet? I was ready for a really good coffee drink, but was not prepared for the-coffee-drink-to-top-all-coffee-drinks. Deb, you are a magician.
A few weeks ago, someone (you may know her—her name's Ree) posted a recipe for iced coffee concentrate. Make a batch of this and store it in the fridge to have on hand so you can make the perfect iced coffee or Mocha Brandy Frappe at a moment's notice.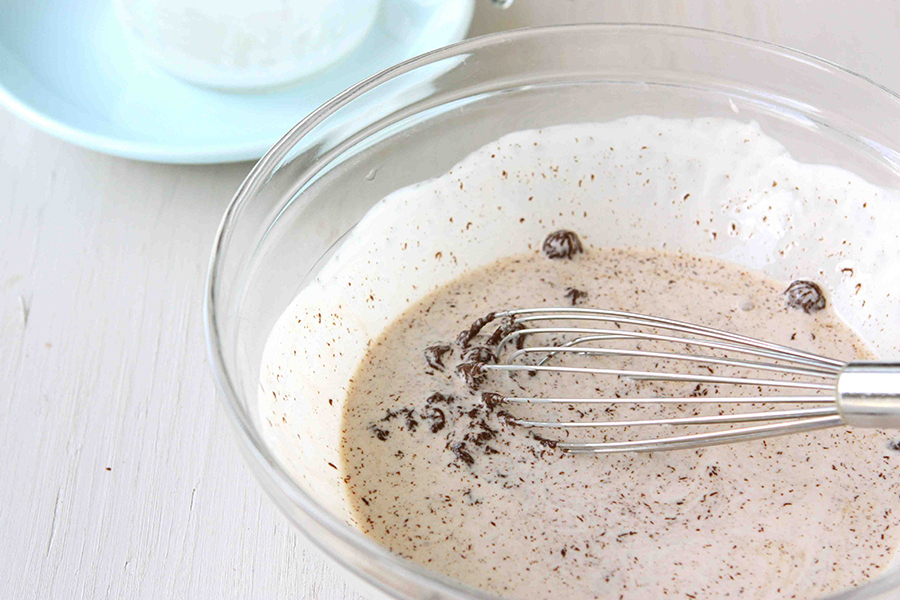 For the chocolate sauce, you can use a store-bought version or make your own. Since there was extra cream in my fridge and chocolate that would be eaten by the fistful if I didn't find another use for it, I went the homemade route. Just bring the cream to a boil, pour it over chopped chocolate and whisk. Yep, it's that easy.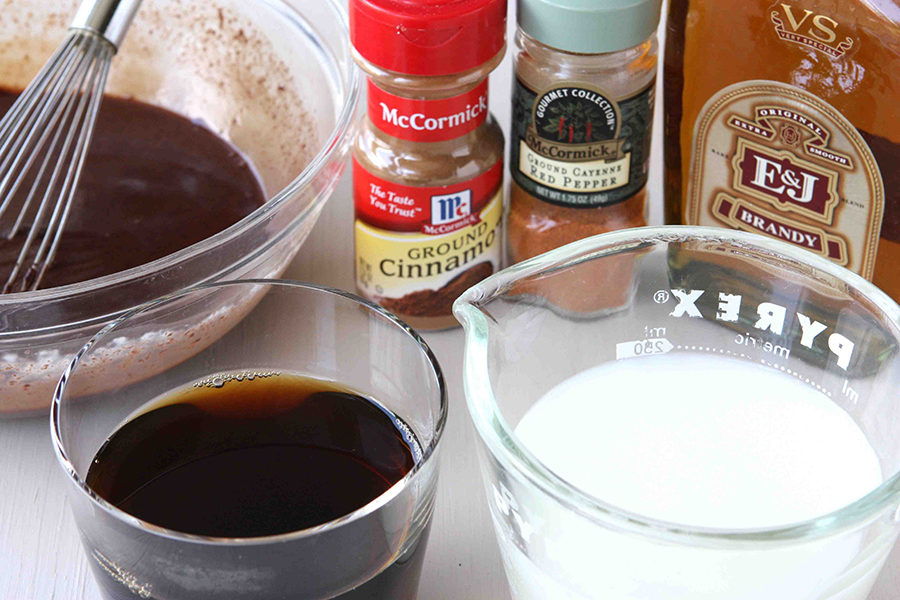 This is all you will need to make this addictive frappe. Oh, and a little ice.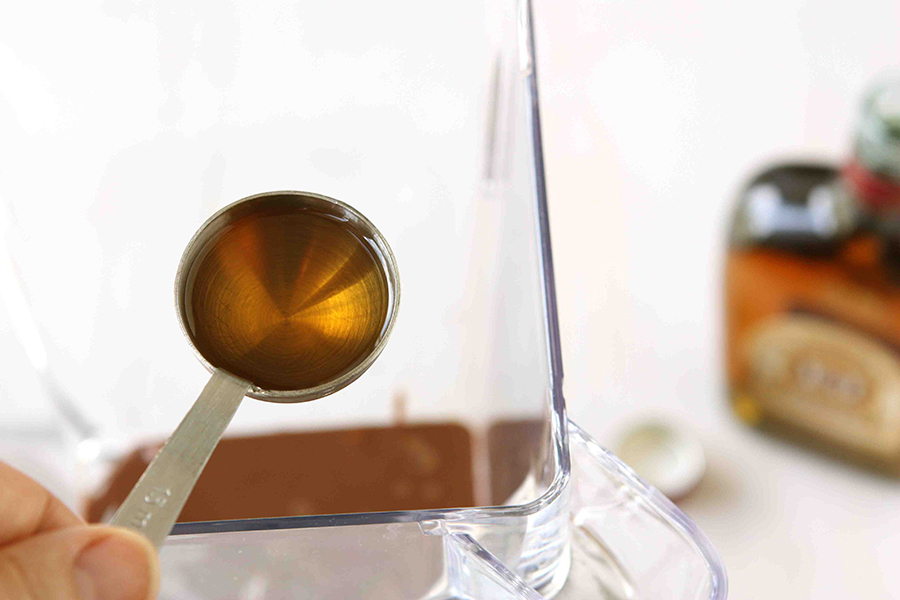 Place chocolate, brandy …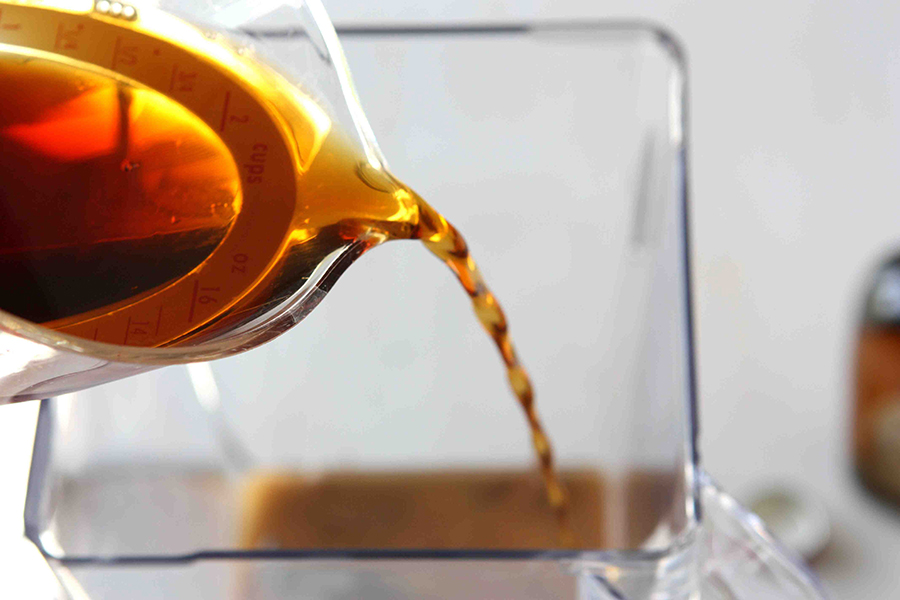 Coffee concentrate …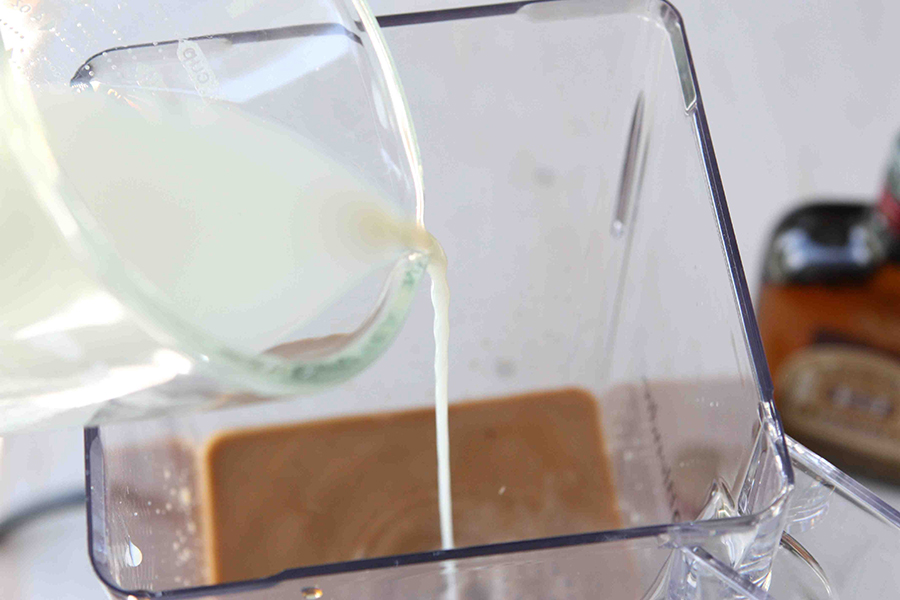 Milk (soymilk or another kind you prefer) …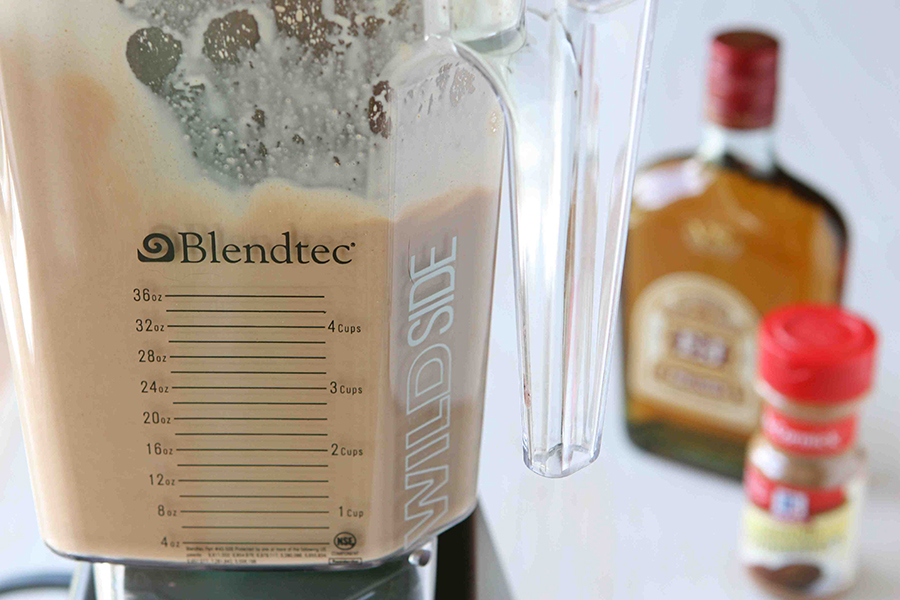 And cinnamon, cayenne pepper and vanilla syrup (if using) into a blender. Whiz for about 15-20 seconds to mix well. That's right, I said cayenne pepper. Don't you dare skip that step. Trust me.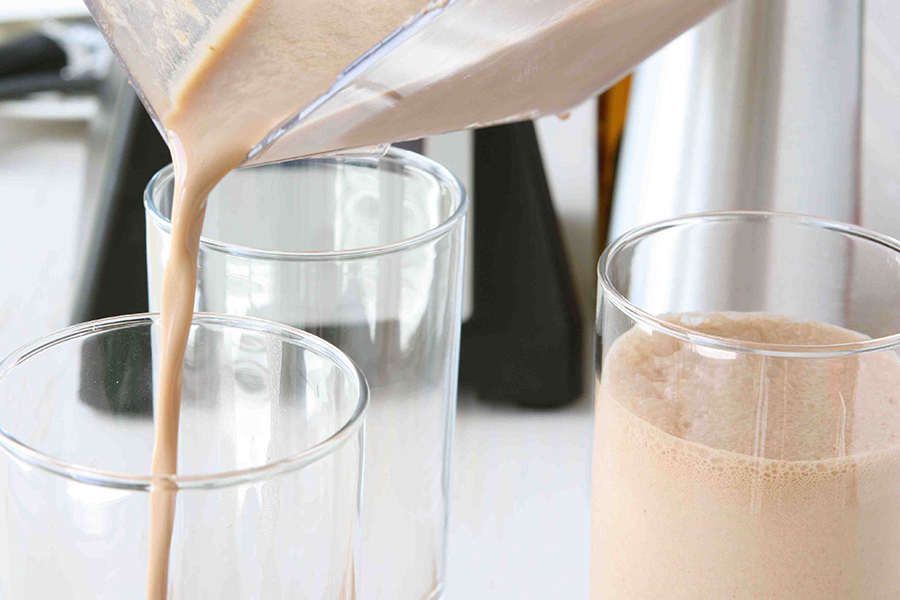 Add ice and process for approximately one minute or until well blended.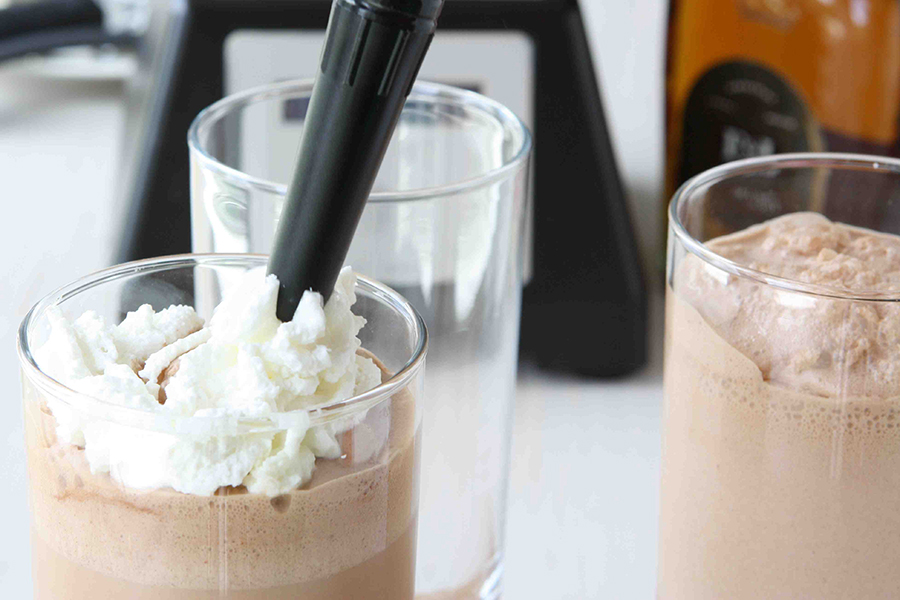 Top with real whipped cream. Smithbites labeled this step as optional, but I couldn't resist using my handy whipped cream dispenser. My kids sat nearby, assuming the baby bird position, until filled each of their mouths with a generous squirt of whipped cream.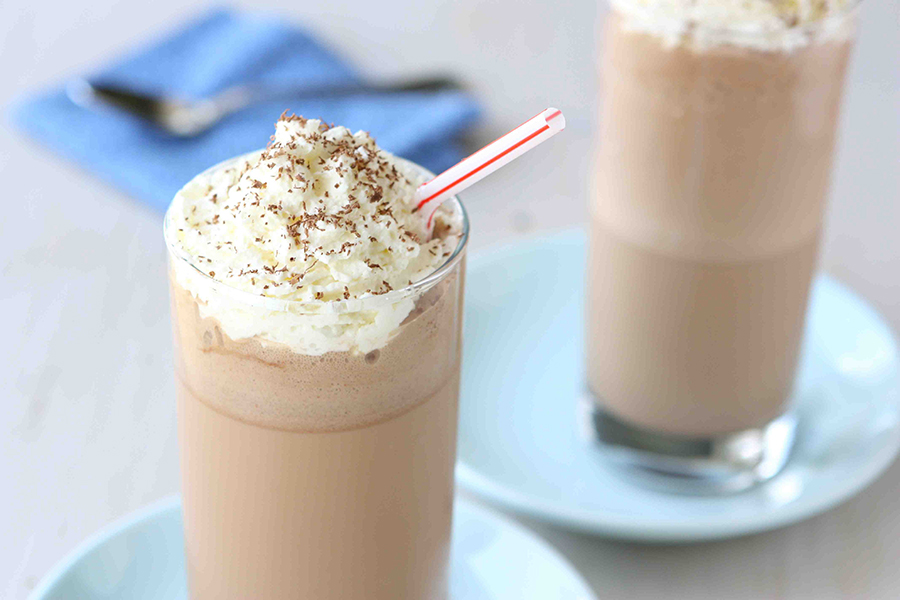 Sprinkle with a little chocolate, put on your sun hat and loll about on the patio as you sip on this heavenly drink.
I suggest you run over to Deb's blog, Smith Bites, where she and her husband (affectionately referred to as The Professor) whip up inspiring recipes several times each week.
Printable Recipe
See post on smithbites's site!
Description
DIY Mocha Frappe with a twist: brandy!
Ingredients
½ cups Chocolate Sauce
1 Tablespoon Brandy
¾ cups Cold-Brew Coffee Concentrate (coffee Must Be Cold - Hot Coffee Will Dilute Flavor)
1 cup Soy Milk (or Your Choice)
¼ teaspoons Cinnamon
1 pinch Cayenne Pepper
2 Tablespoons Vanilla Simple Syrup (Optional, See Note)
2 cups Ice
Preparation Instructions
Place chocolate, brandy, coffee concentrate, milk, cinnamon, cayenne pepper and vanilla syrup (if using) into a blender and whiz for about 15-20 seconds to mix well.
Add ice and process for approximately one minute or until well blended.
Pour into glasses, add straws and serve.
Optional: top with real whipped cream.
Smith Bites note: If you make your own chocolate sauce and use a 60-70% dark chocolate, you may need a bit more sweetener. If so, use a simple syrup or a teaspoon or two of superfine sugar. If you're using a milk chocolate or a semi-sweet chocolate to make your sauce, you probably won't need any additional sweetener.


_______________________________________
Dara Michalski is a doll and a sweetheart who clearly knows her way around the kitchen. She blogs at Cookin' Canuck, where she shares her flavor-packed recipes and fun, engaging writing. The photography's pretty incredible, too.