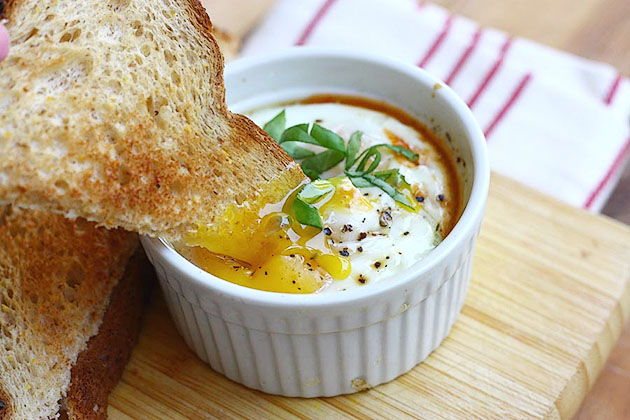 I'm a firm believer that a runny egg goes with everything. Whether it's a bowl of pasta, atop a piece of toast, or accompanied by a drizzle of Hollandaise sauce, it's simply perfect. Is there anything more attractive than a runny egg? I think not. 
That's why when I saw this Baked Eggs in Spicy Tomato Sauce with Goat Cheese from TK member Apricosa (Erica), I couldn't resist.
Goat cheese? Check. Tomato sauce? Check. And lastly, a runny egg? Triple check.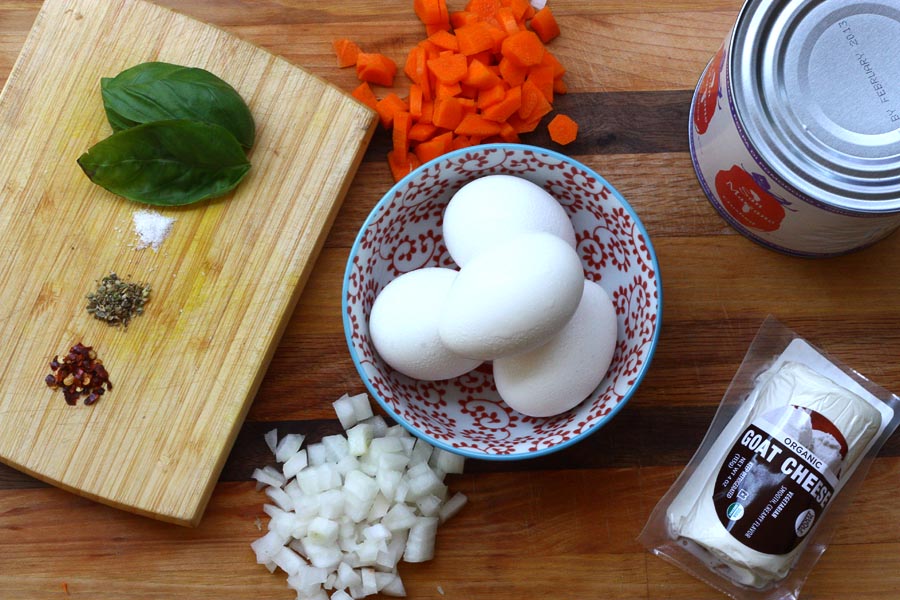 Here's what you'll need: a can of crushed tomatoes (I'm a personal fan of San Marzano), goat cheese, eggs, diced carrots, diced onions, garlic, a few leaves of basil and some spices.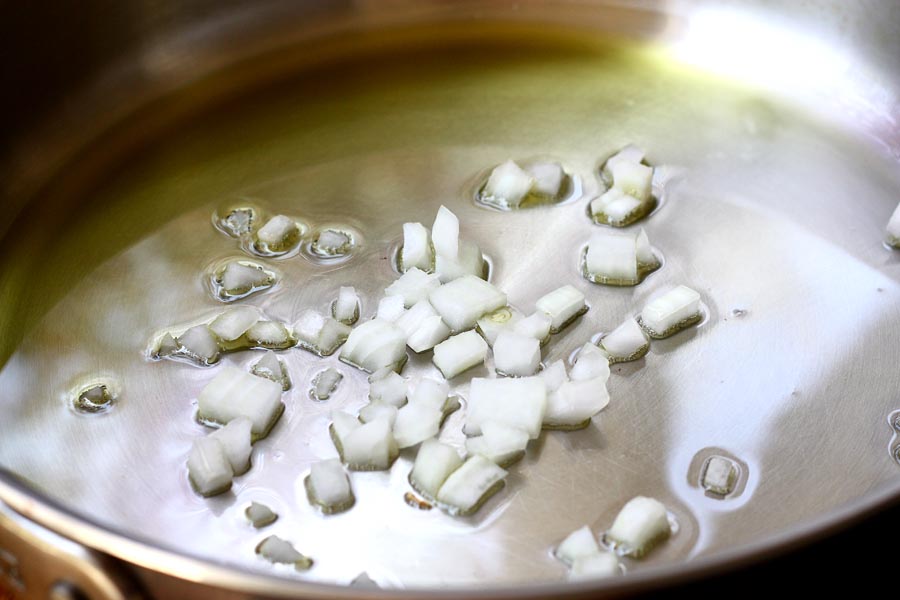 Start with heating up some olive oil in a medium-sized saucepan. When it's hot, add the diced onions…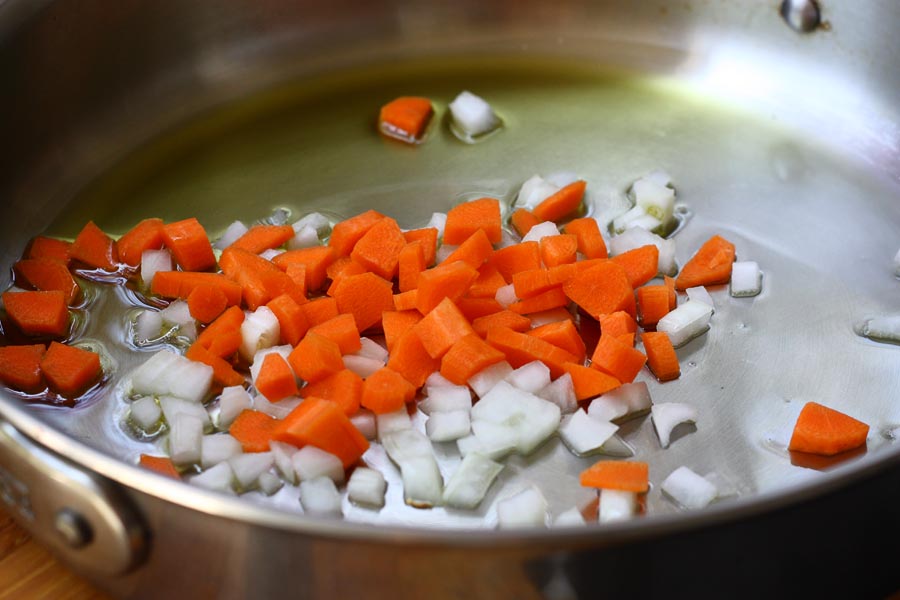 The carrots…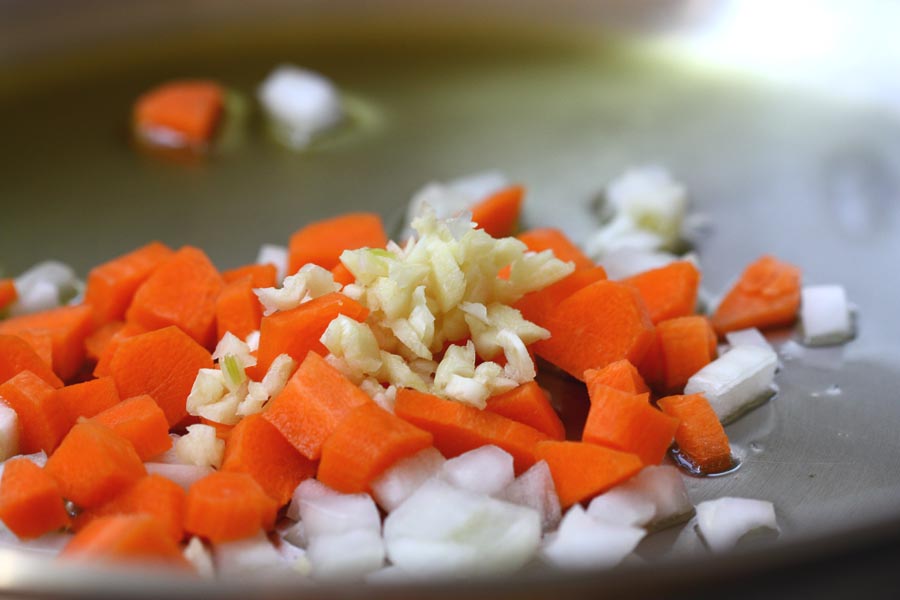 And lastly, the garlic. Cook for 5-7 minutes, or until the onions are translucent and the carrots are soft.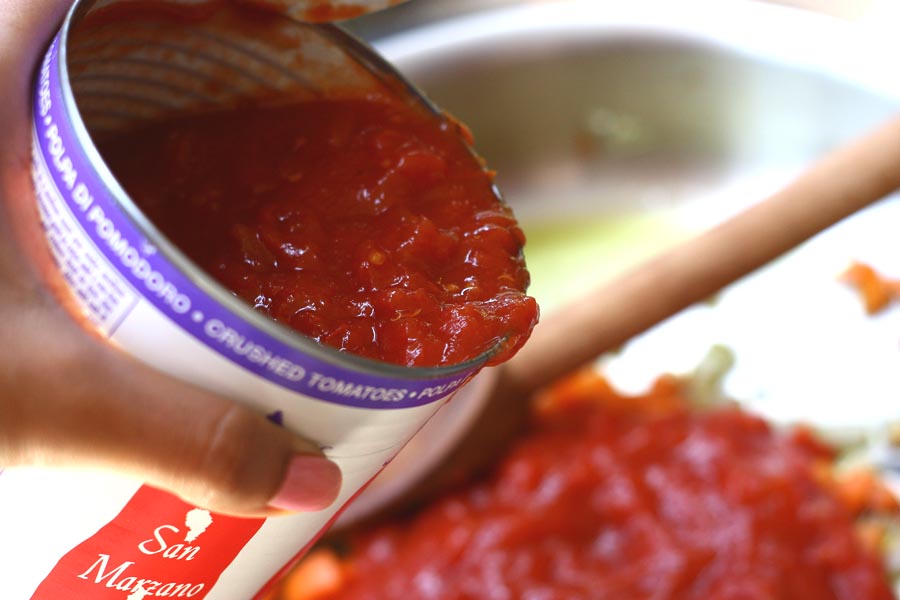 Open your can of crushed tomatoes and add them to the onion mixture.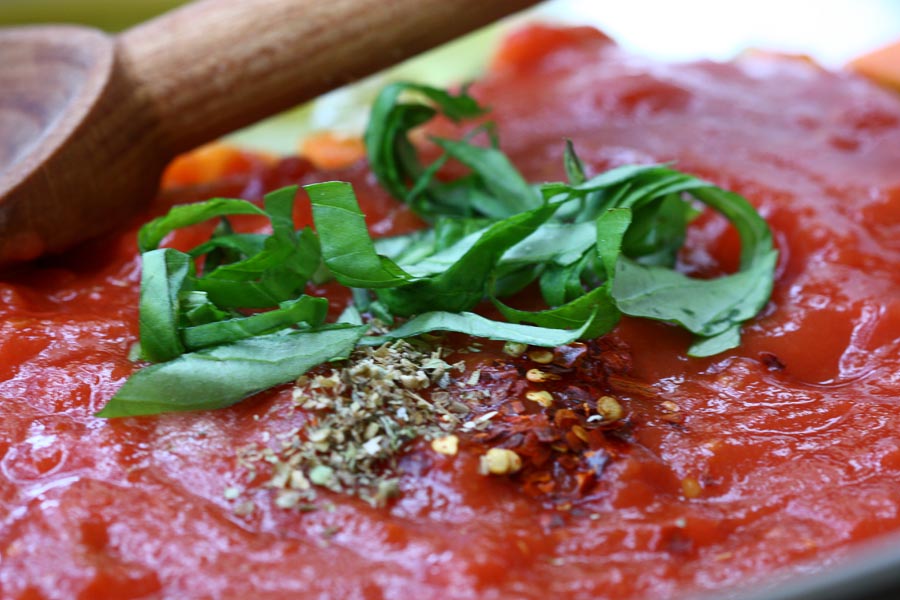 Add the basil and spices, which include oregano, crushed red pepper, salt and pepper. Since I'm a heat lover, I added a little extra crushed red pepper. Delicious.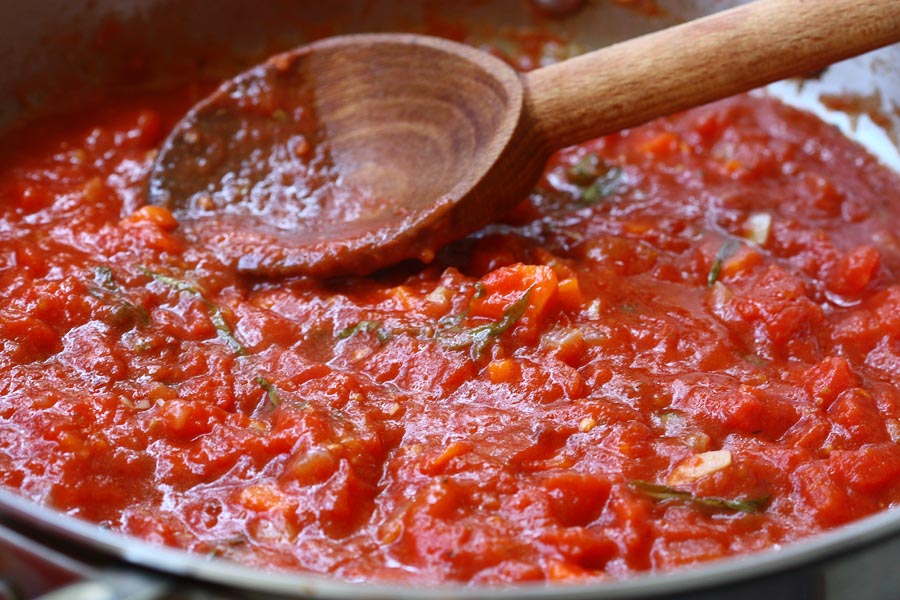 Stir the tomato mixture and let it simmer over medium-low heat for 20 minutes. The sauce will reduce, the carrots will soften even more and your entire house will smell incredible. All very good things.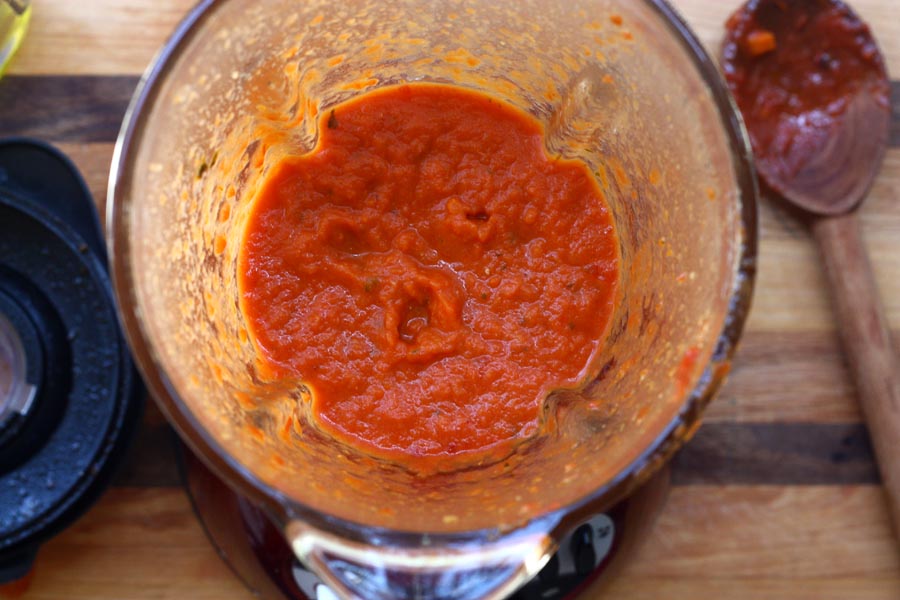 If you have an immersion blender, you can simply blend the tomato sauce in the pan. If you don't, then transfer the sauce (in batches) to a blender. Warning: blending hot stuff can be a little dangerous (read: explosions anyone?).
Doing it in a few batches and allowing the hot air to escape will prevent it this from happening.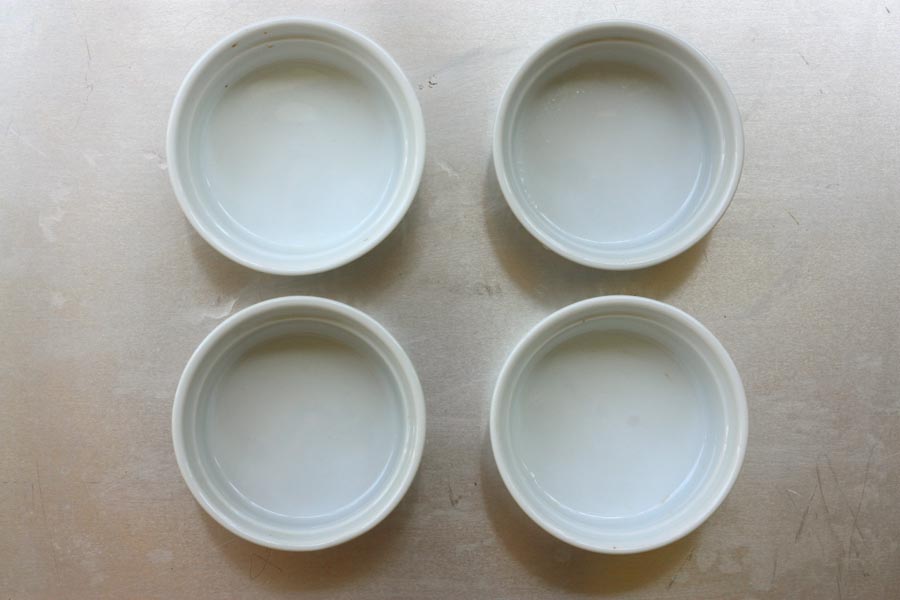 Grab eight ramekins (I halved this recipe so I did four) and fill them about 3/4 of the way with tomato sauce.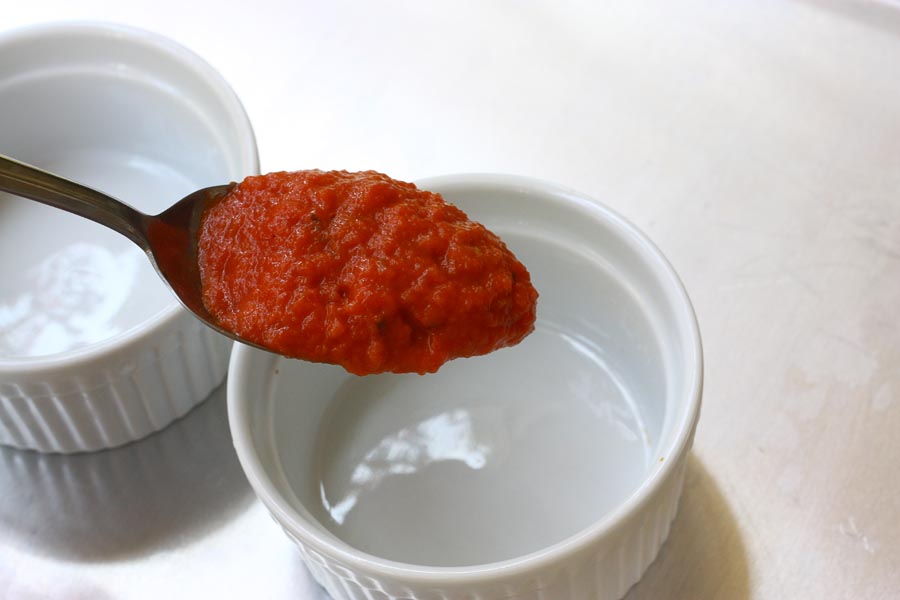 I had no extra sauce! I love it when a recipe's measurements are exactamundo, don't you?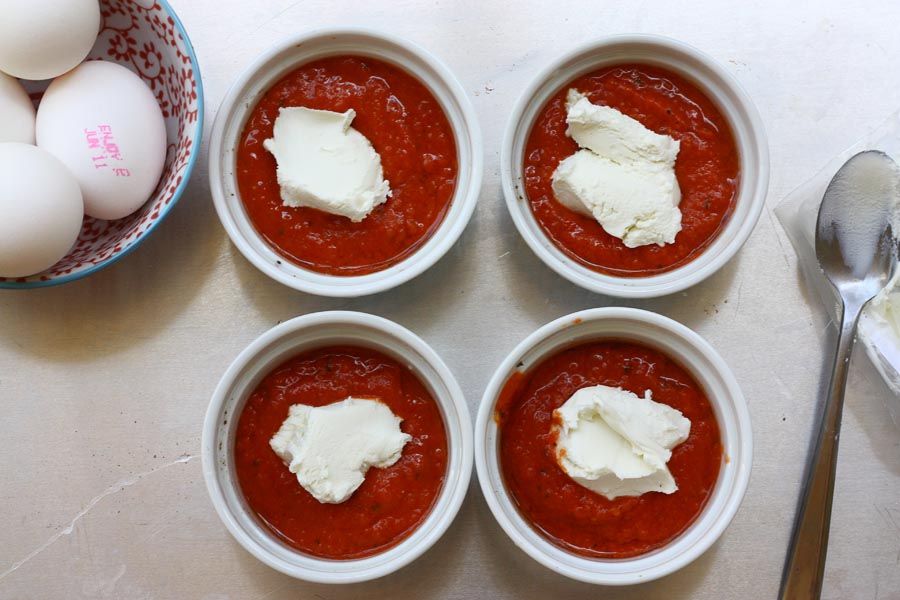 Next add the goat cheese.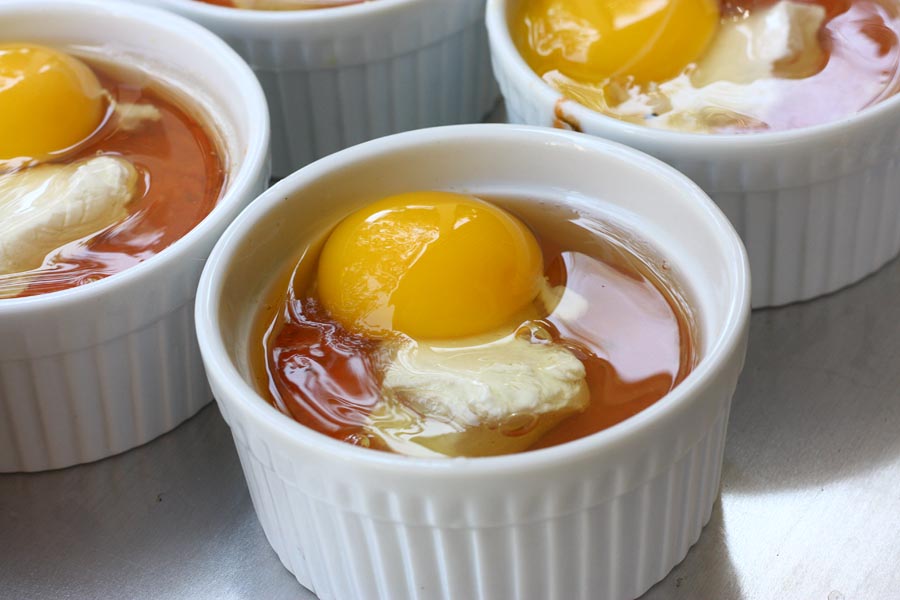 And then add one egg to each of the ramekins. Top with some salt and pepper and bake for 20-30 minutes, or until the white part has completely set.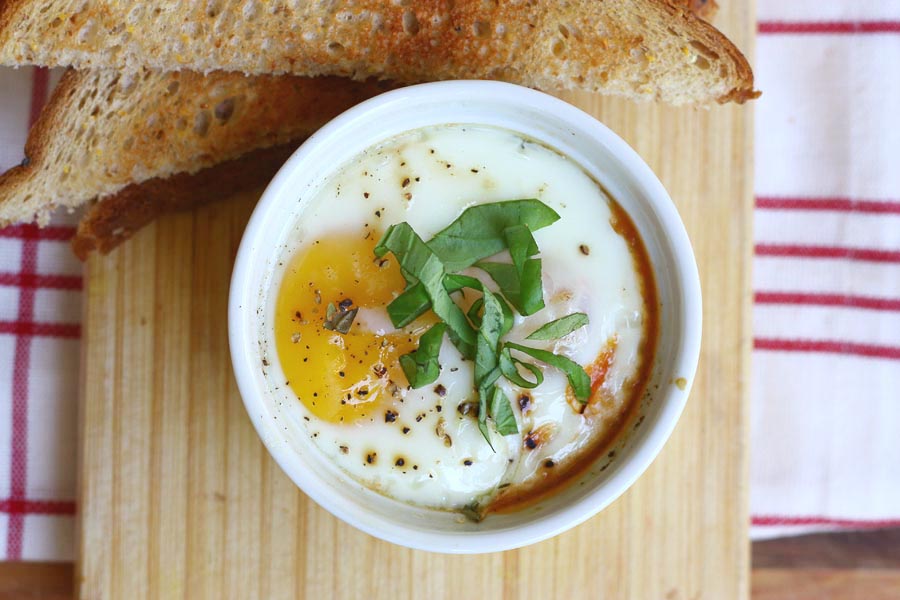 Top with a few pieces of basil and serve with toast.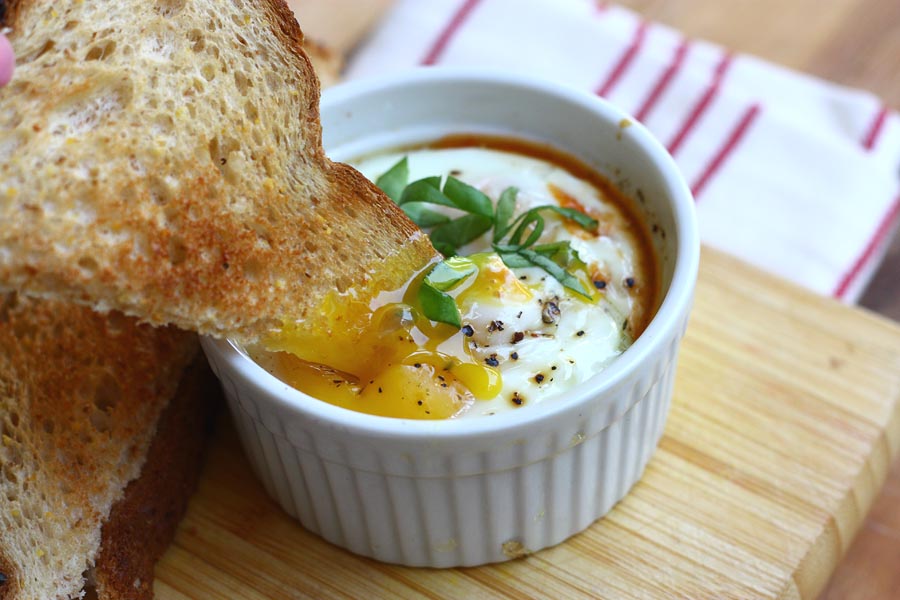 What I also love about this recipe (besides its deliciousness), is how it's so versatile. This dish would make for a great breakfast, lunch or dinner. Also, did I mention there's a runny egg involved? 
A big thank you to Erica for sharing this lovely recipe! Check out her blog, Apricosa, for a bunch of equally yumalicious meals.  
Printable Recipe
See post on Apricosa (Erica)'s site!
Description
A perfect make-ahead brunch dish!
Ingredients
1 Tablespoon Olive Oil
½ cups Diced Onion
¼ cups Carrot, Diced
2 cloves Garlic, Crushed And Chopped
⅛ teaspoons (or More) Red Pepper Flakes
28 ounces, weight Crushed Tomatoes
¼ teaspoons Dried Oregano
¼ cups (packed) Fresh Basil Leaves, Torn Into Pieces, Plus More For Garnish
½ cups Goat Cheese Crumbled
8 whole Eggs At Room Temperature
Salt And Pepper, to taste
8 slices Toast Bread, Toasted Golden Brown And Cut Into Triangles
Toast Points, To Serve
Preparation Instructions
To make the sauce, heat olive oil in a small pot over medium-high heat and saute the chopped onion, carrots, and garlic for a few minutes until slightly softened. Add red pepper flakes, crushed tomatoes, oregano, and basil, and stir to combine. Cover and bring just to a boil, then reduce heat to low and simmer 20 minutes, stirring occasionally to prevent the bottom from burning. Remove from heat and let cool slightly, then blend well with an immersion stick blender. (Do ahead: sauce can be made up to a week ahead of time. Reheat before continuing.)
Spoon 1/4 cup of warm sauce into each of 8 ramekins (use leftover sauce for another use), then dot each ramekin with about 2 teaspoons crumbled goat cheese. (Do ahead: ramekins can be prepared with sauce and cheese the day before, then covered and refrigerated overnight. Heat in the preheating oven until ramekins and sauce are warm, not hot, and continue with the recipe.)
Crack an egg into each ramekin, sprinkle with salt, and bake in a preheated oven at 425F for 15-20 minutes, until whites have set but yolk is still soft.
Garnish with fresh basil chiffonade, if desired, and serve immediately with toast points for dipping into the yolk and sauce.


_______________________________________
Adrianna and Caroline are the lovely ladies behind the scrumptious blog A Cozy Kitchen. It's filled with all kinds of mouthwatering recipes and gorgeous photography. Whether you're in the mood for something vegetarian or meaty, fancy or pure comfort, light or decadent, there's sure to be something there for everyone.