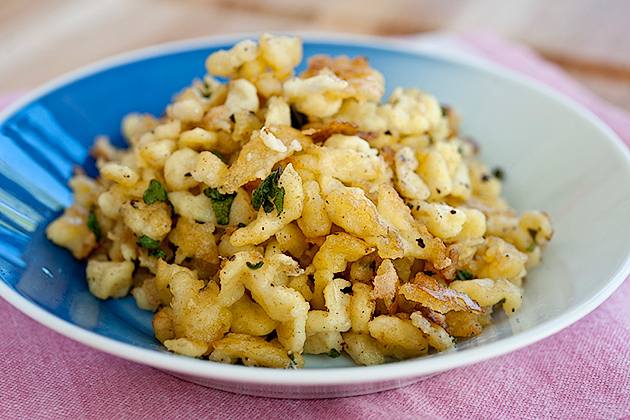 I love spaetzle. It's so comforting and German. It's pasta with a twist, with some crunch, with some extra butter, and some herbs when you feel like it. This recipe from TK member Candi reminded me how great and versatile spaetzle can be.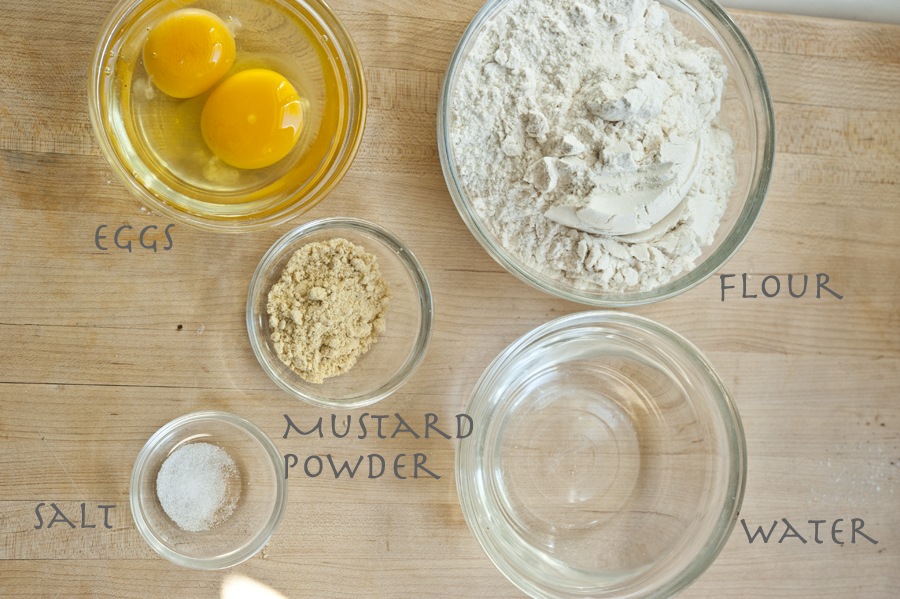 One of the things I like about her recipe is that it is 4-ingredient cooking, and they were all things that I had on hand. I of course couldn't help myself and made it 5-ingredient cooking. I added mustard powder for a little extra flair and color. But you don't have to.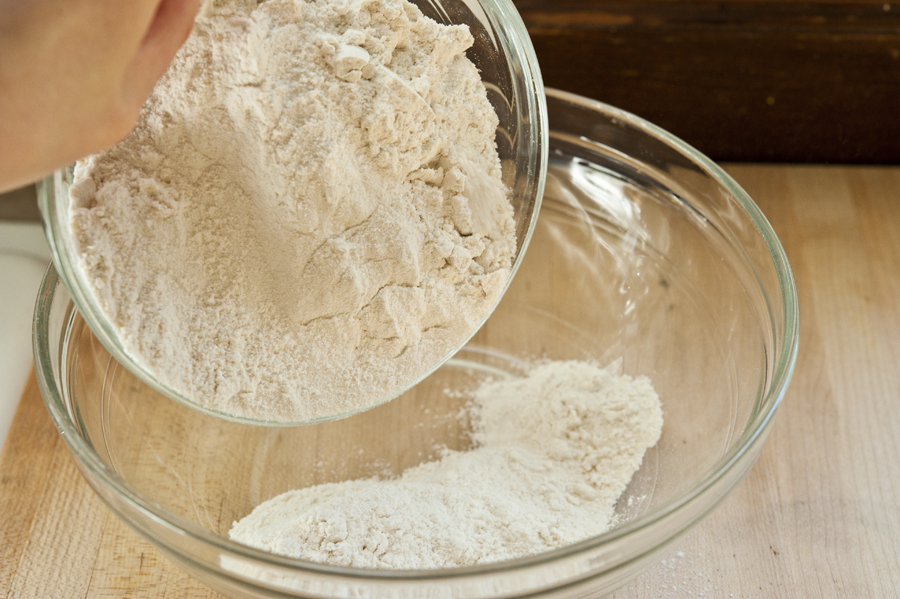 Begin by adding the flour to a large bowl.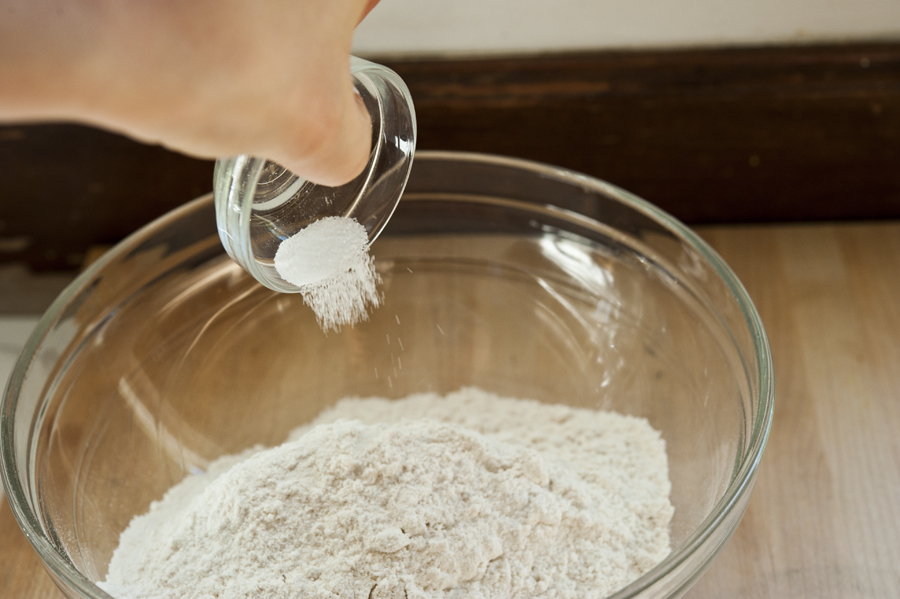 To that add the salt …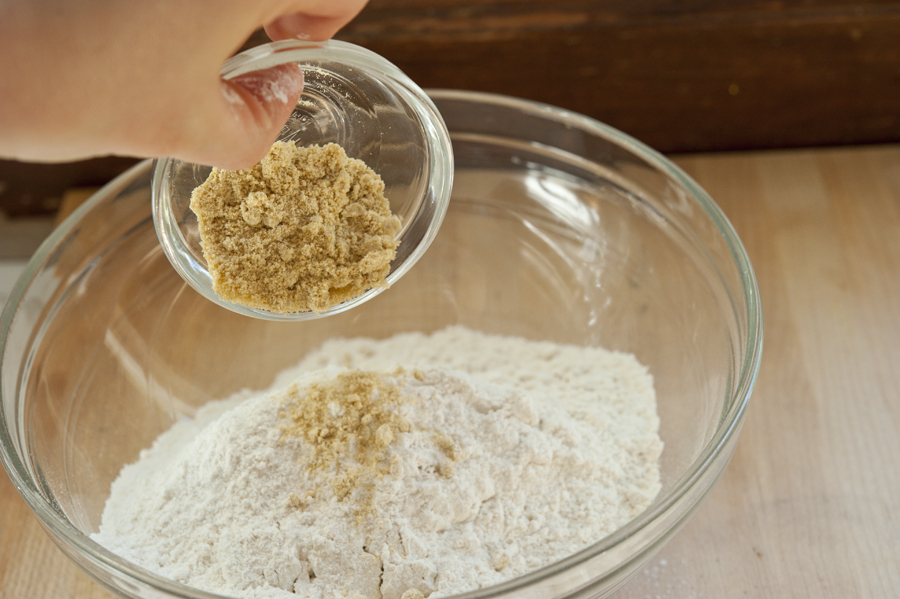 And the mustard powder …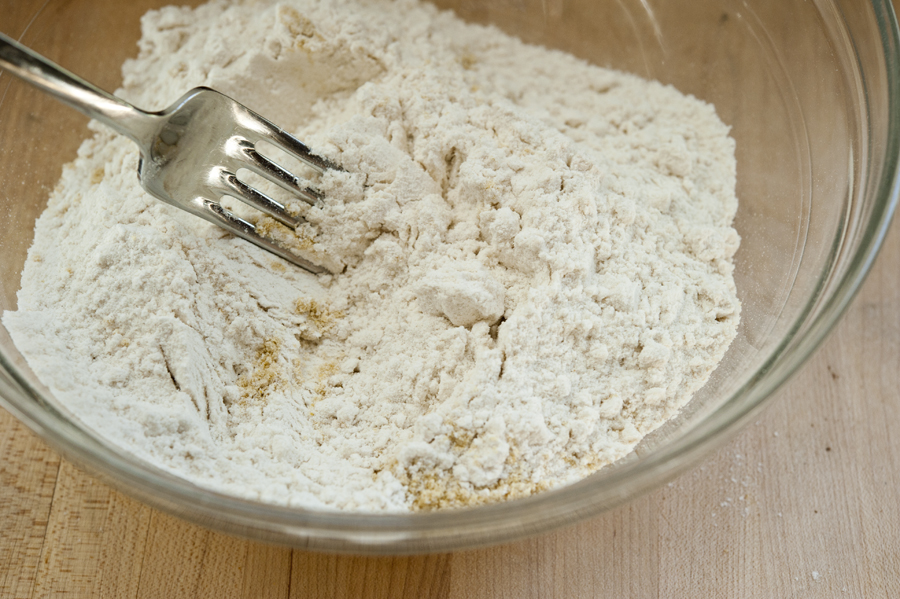 And mix it all together.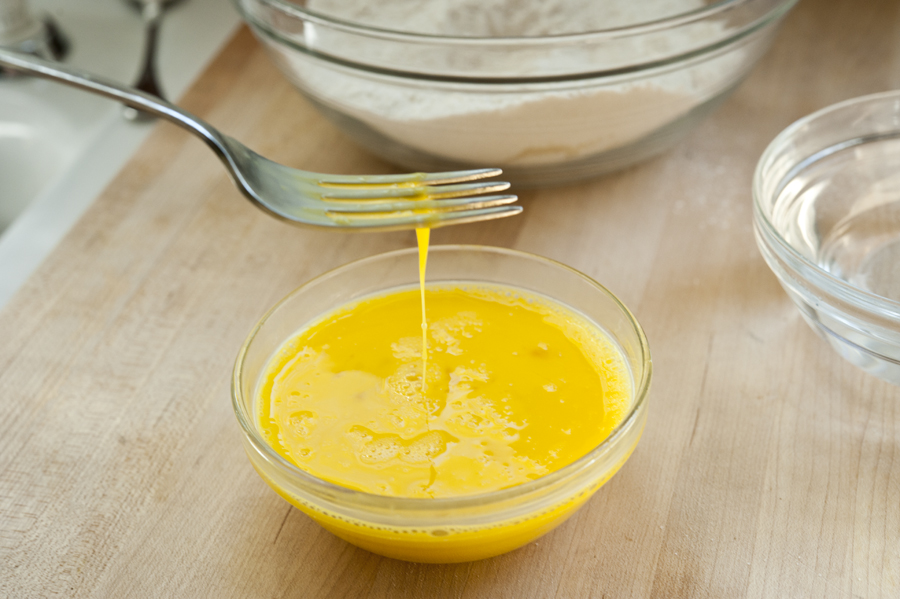 Next come the wet ingredients. Beat the eggs …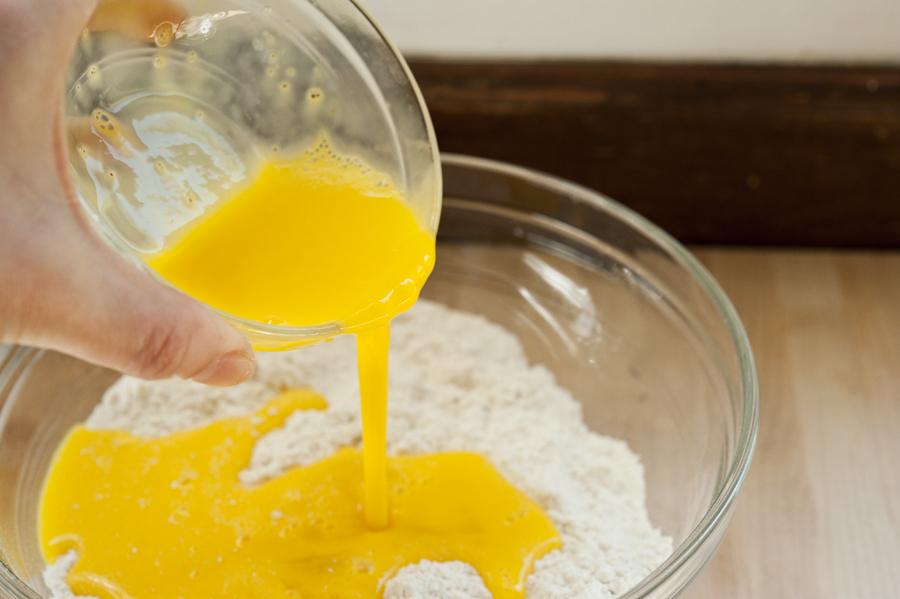 And add them to your mixture.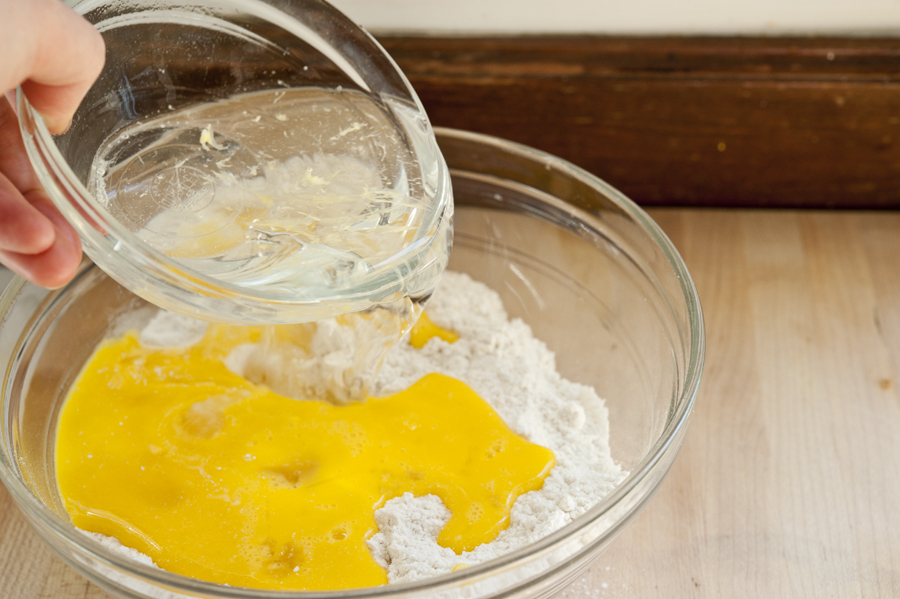 Then add the water.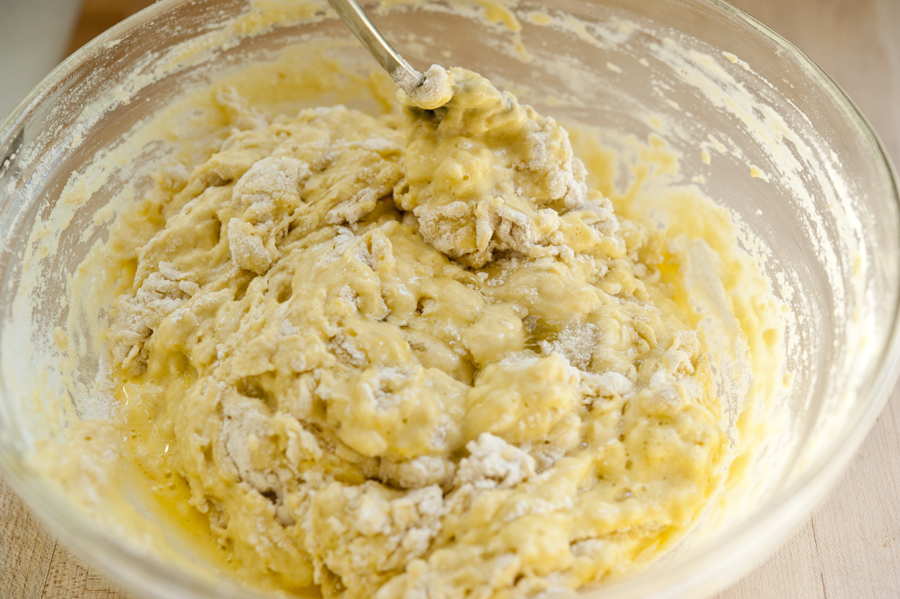 Begin to stir it all together and work out all of the lumps.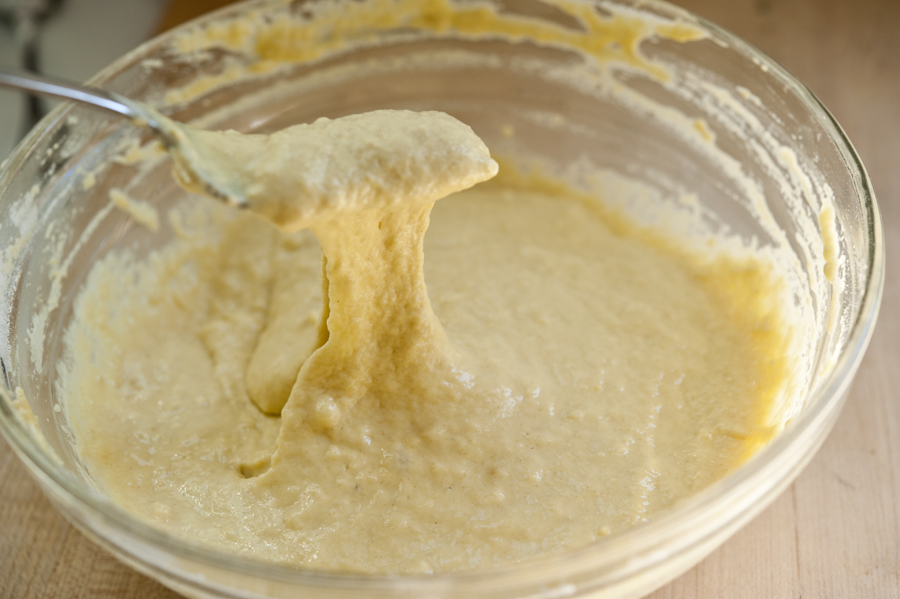 It will be the consistency of a batter, slightly elastic but able to pour easily.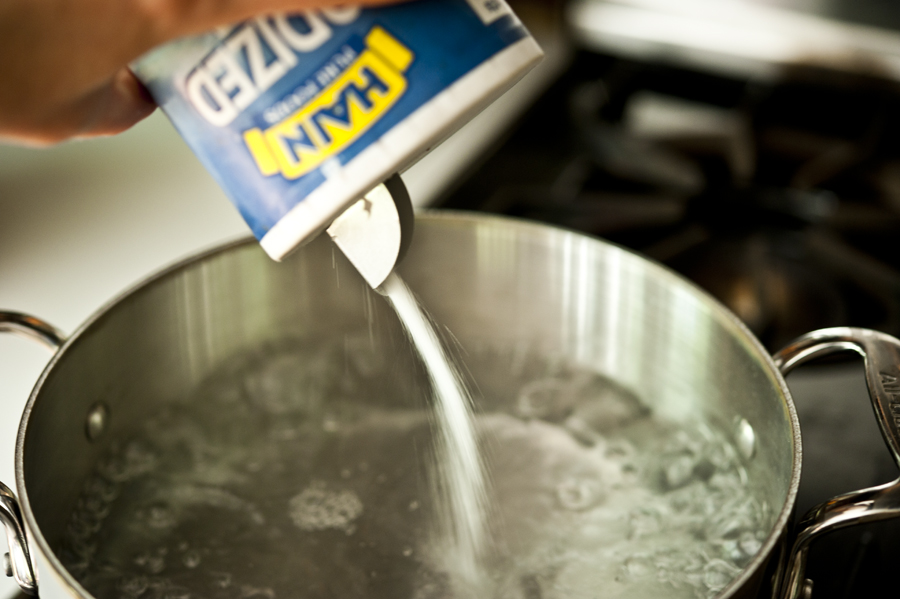 Bring some water or stock to a rolling boil. Add a bit of salt if your liquid is salt-free.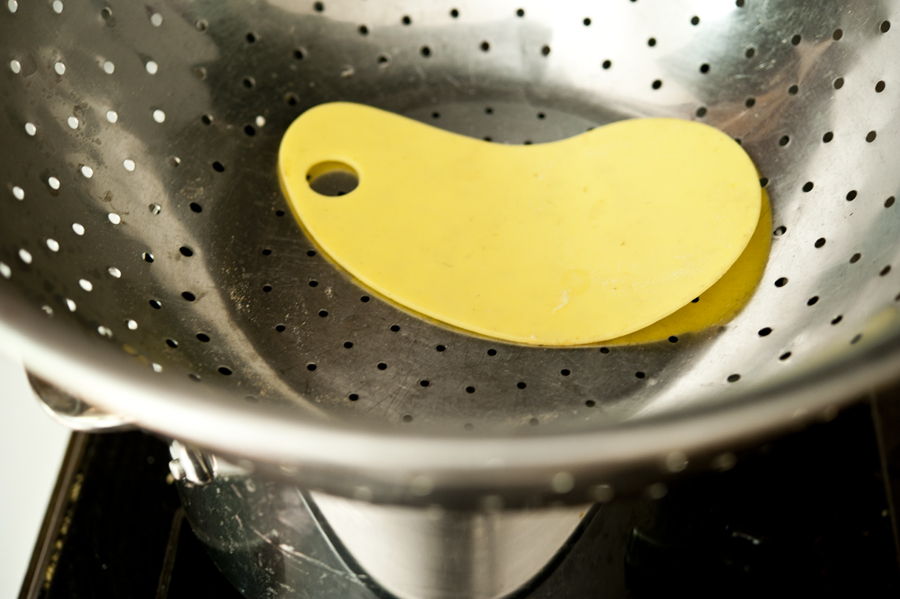 Have a colander and a pastry scraper or spatula ready. You could also use a spaetzle maker but I didn't have one so I used a colander with large holes.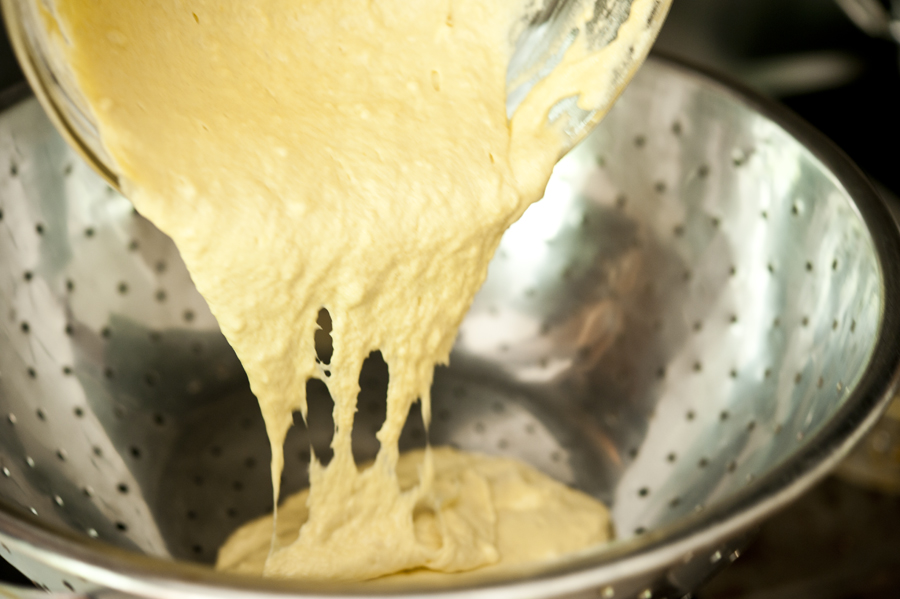 Pour the dough into the colander. You'll want to keep it above the steam so that it doesn't cook before it gets pushed through the holes.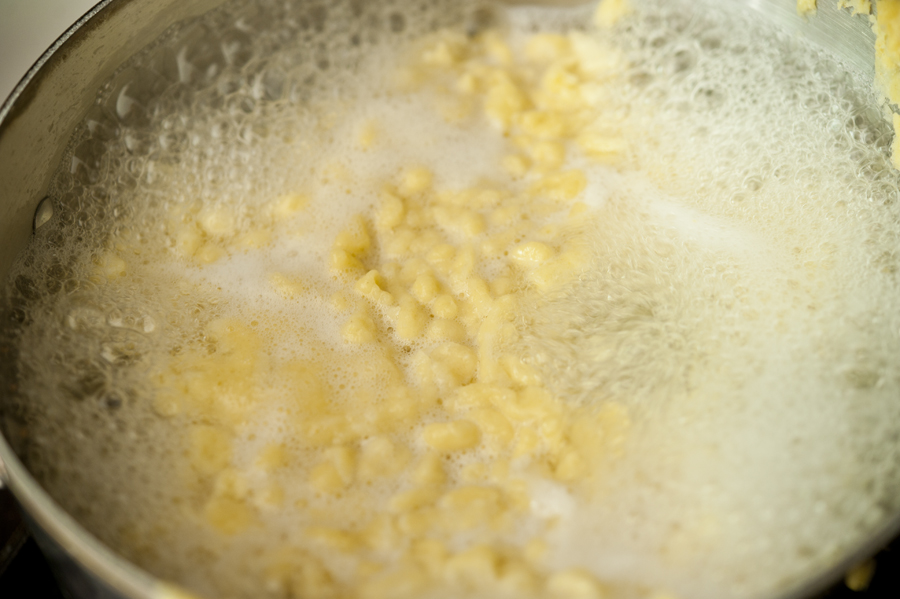 Press it through the colander with the pastry scraper or a spatula. Drops will fall into the water and cook instantly.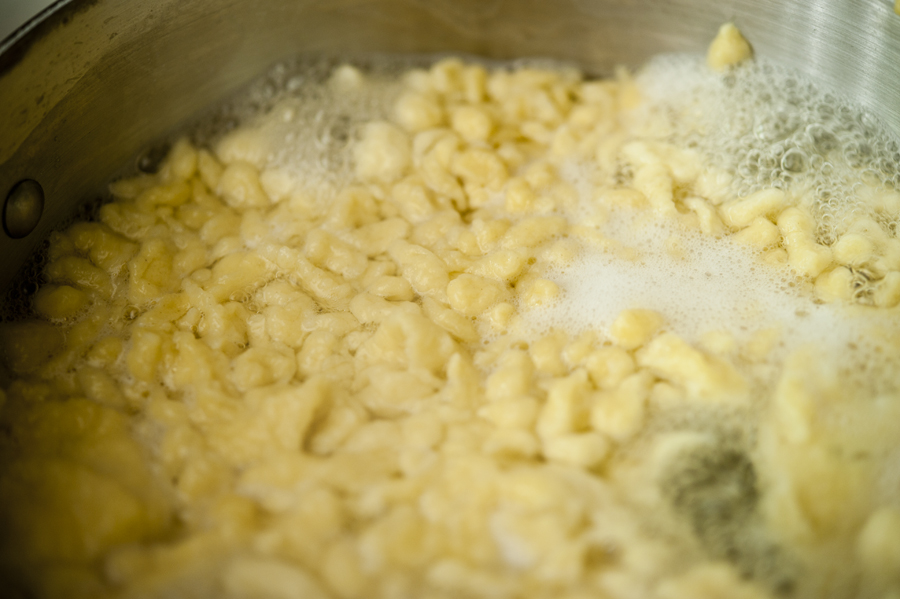 Let it boil for about 3-4 minutes so that the flour cooks well.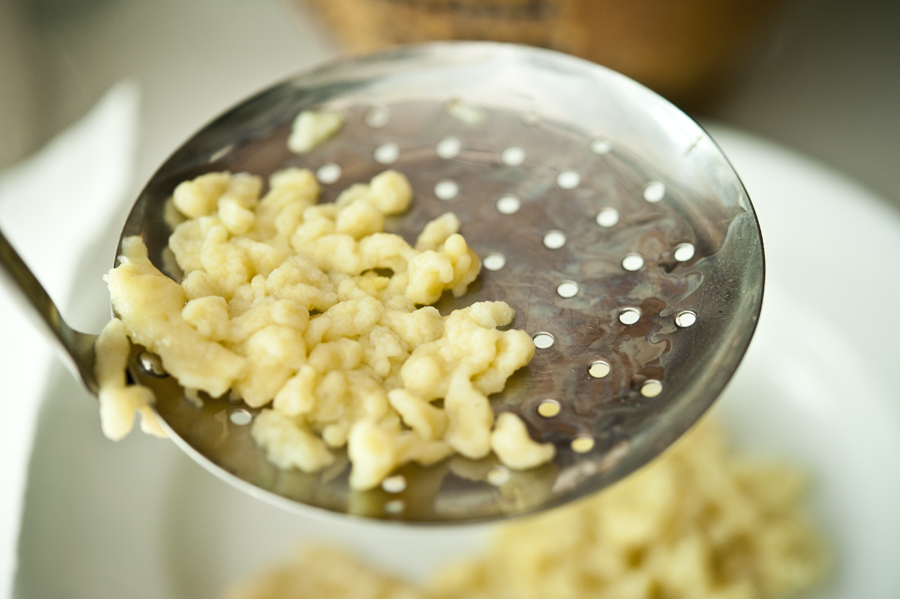 You'll then remove the spaetzle from the water and strain it into a bowl.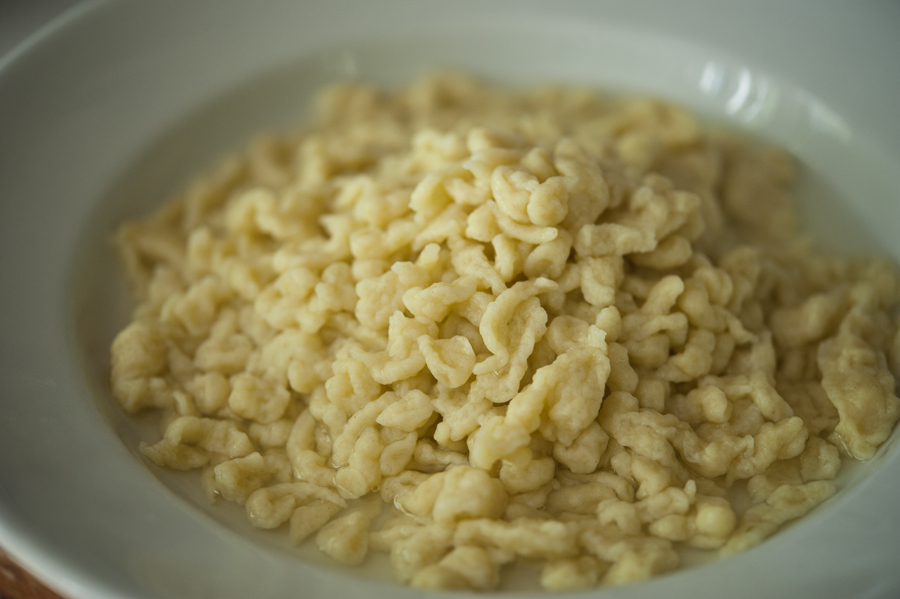 This is what it will look like when fully boiled.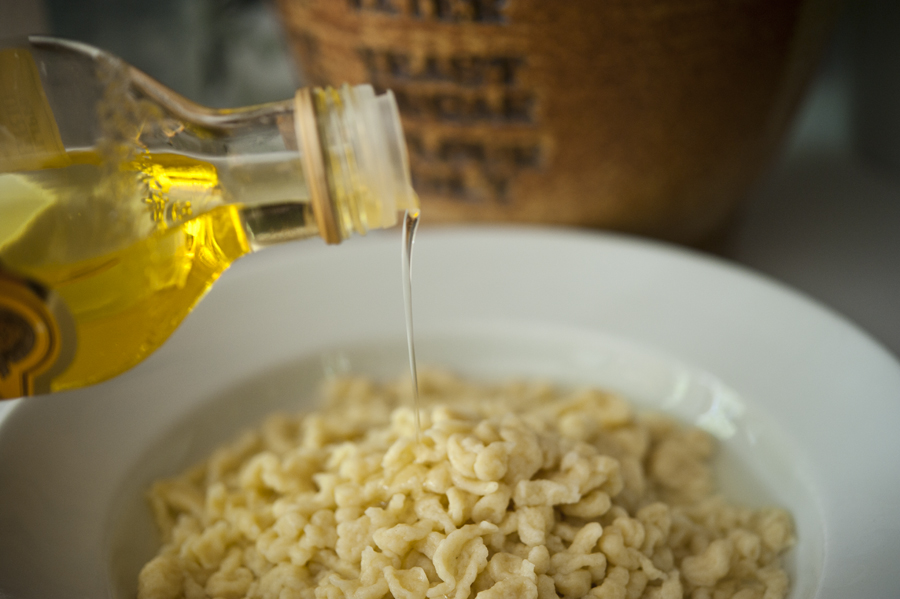 You could serve it like this tossed with a bit of olive oil.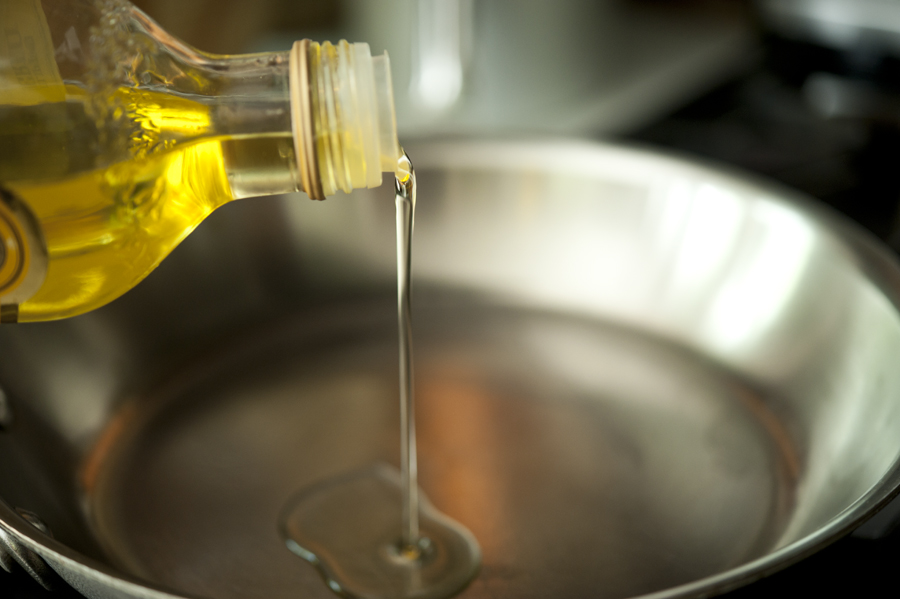 Or you could take it one step further, which I like to do.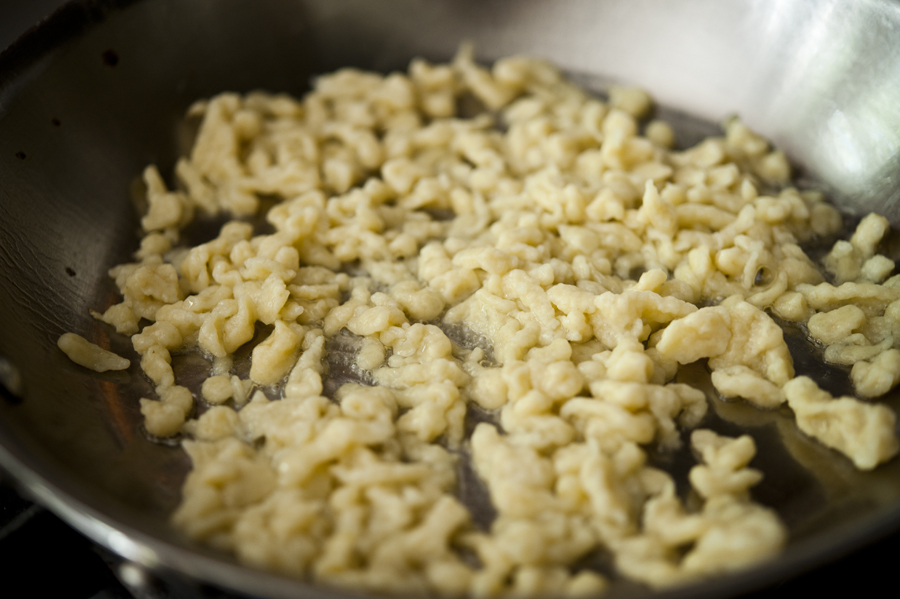 I toss the spaetzle in the pan and brown it in some olive oil or butter. It gives it a nice texture and flavor.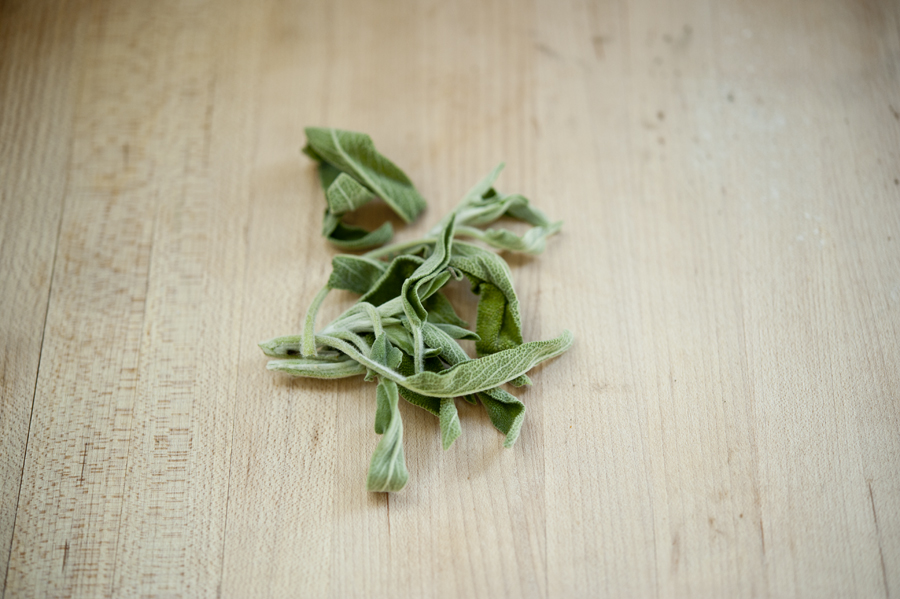 Fresh herbs are also a bonus. Parsley would be great but I had sage so that's what I used.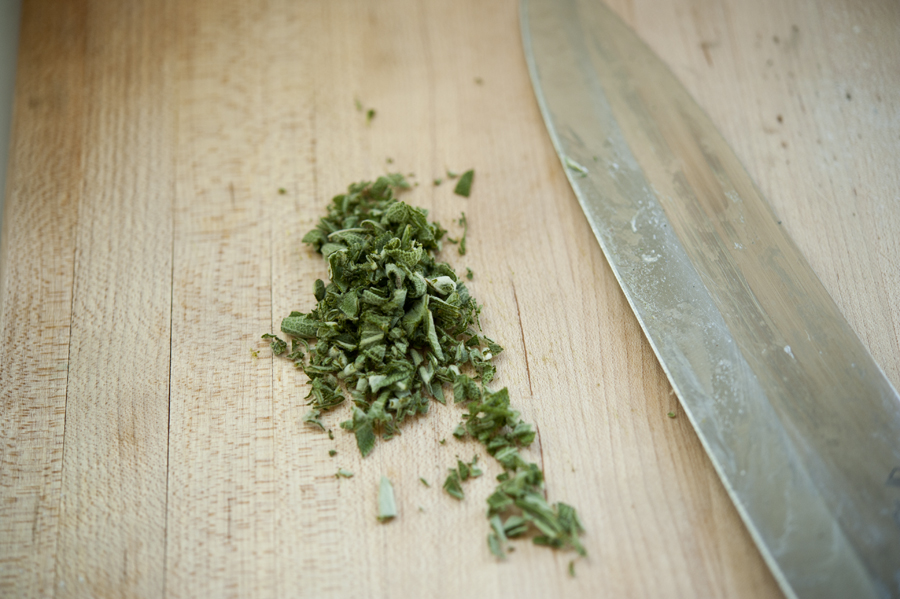 Chop it up finely …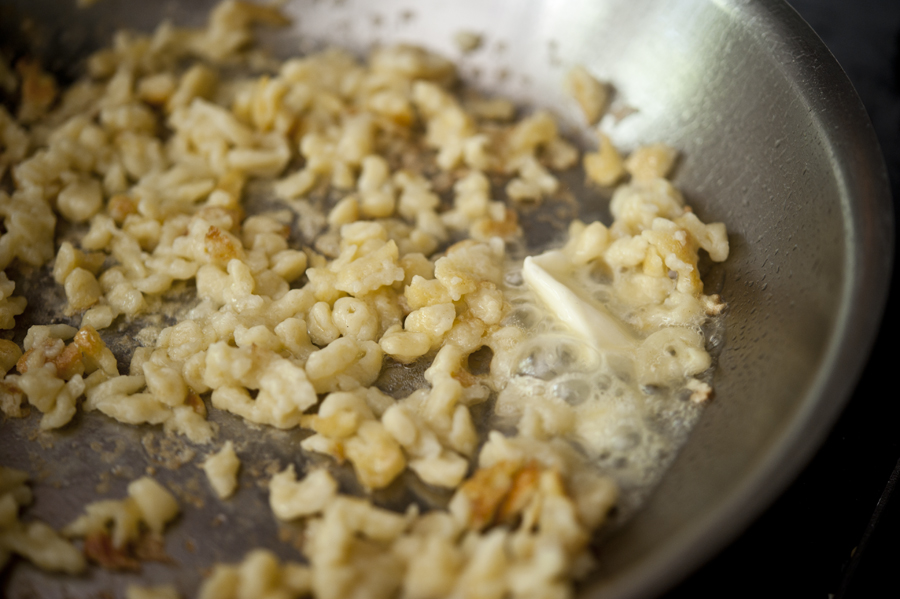 And just as the spaetzle is browned how you'd like it, add a bit of butter to help loosen it from the pan.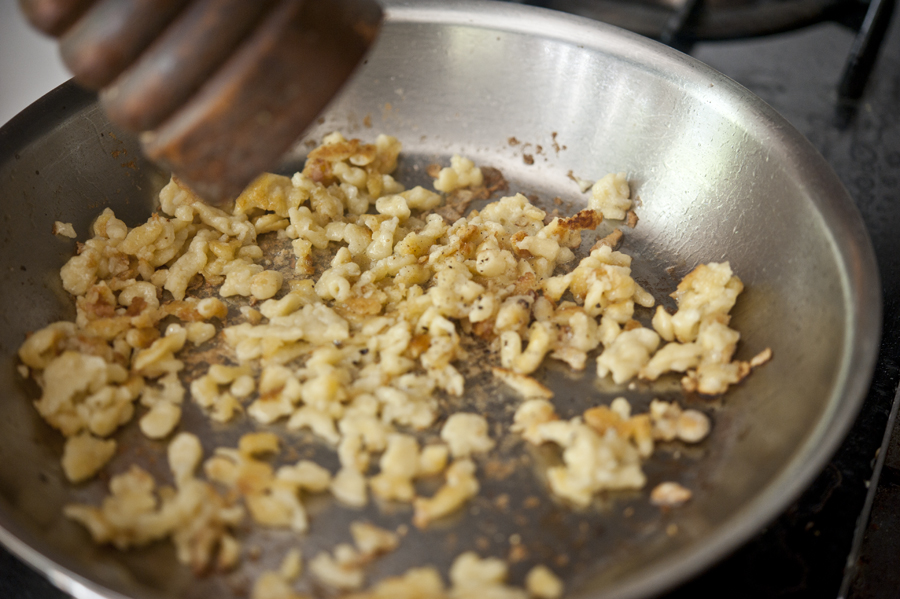 A little pepper …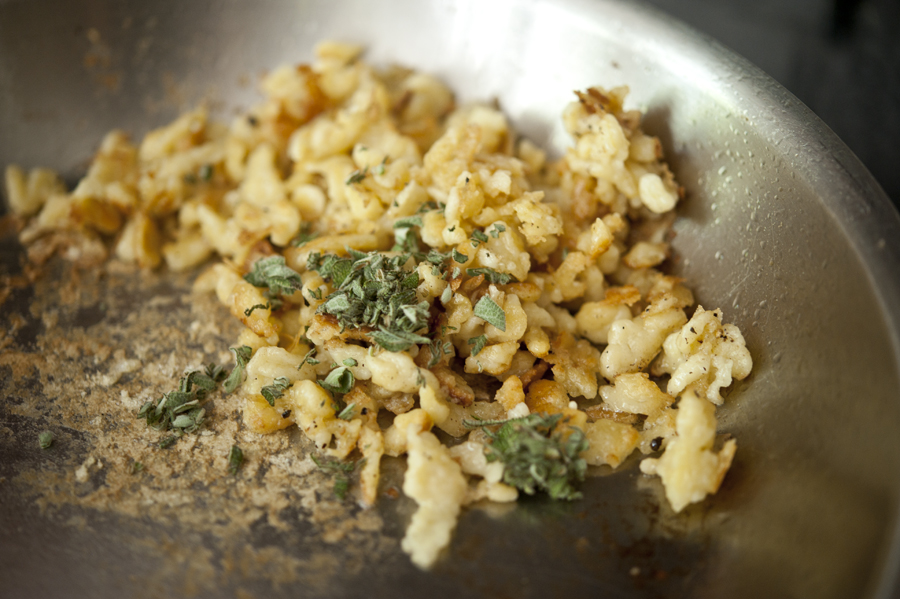 And the herbs …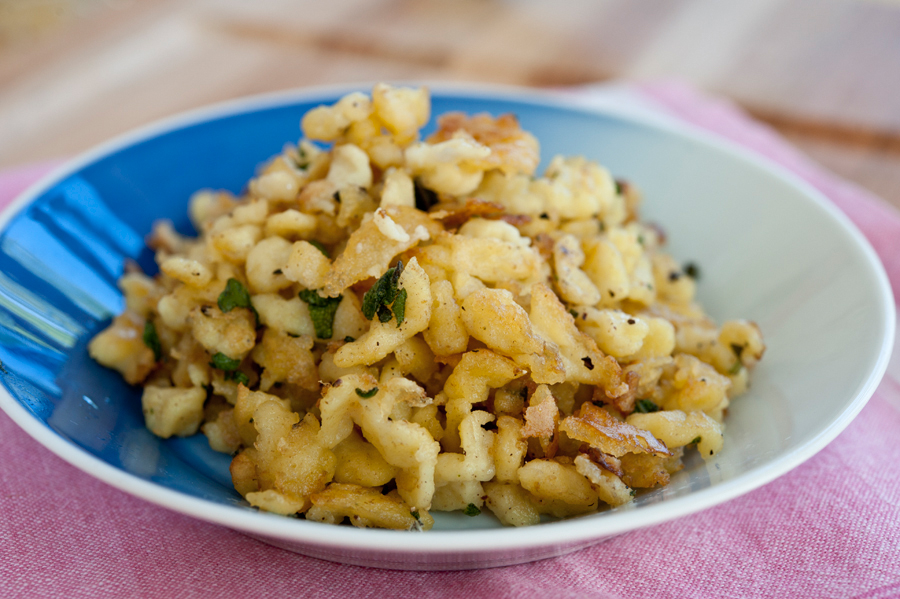 And there you have it!
Crunchy, flavorful spaetzle. Thanks to Candi for this great recipe! Go check out her blog, All Day Night, to see more of her recipes and read about the adventures of the Carson family.
Also check out the great spaetzle recipes by these other TK members:

Printable Recipe
Description
Tasty little dumplings! Serve in place of noodles, rice, or potatoes.
Ingredients
2 whole Eggs, Beaten
¾ cups Water
1-½ cup All-purpose Flour
¼ teaspoons Salt
1 cube Bouillon (I Used Chicken)
Butter, To Taste
Parsley, To Taste
Salt To Taste
Preparation Instructions
Combine eggs, water, flour and salt, beating until smooth.
Add bouillon cube to 6 cups boiling water. Put batter into the spaetzle maker and place over the pot of boiling water.
Slide the basket back and forth letting tiny dumplings fall into the water. When done, they will rise to the surface.
Do not put too much batter into water at a time or it will not cook properly.
Use a slotted spoon to strain them and place in a colander.
Gently shake off excess water and place into a large covered bowl.
Repeat the process until all of the dough is used.
Lightly toss with butter, parsley, and salt to taste and serve in place of noodles, rice, or potatoes. In the picture above, I served it with my honey balsamic chicken.
I've never tried making this without my spaetzle maker, but I've heard you can use a rubber spatula to press spaetzle batter into pot through 1/4-inch holes of coarse grater, colander, etc….


_______________________________________
There's so much to say about Georgia, we don't know where to start. Leaving Wall Street for the French Culinary Institute, followed by a stint at the Gramercy Tavern and La Chassagnette in France, her passion for food and food traditions are evident and inspiring. Visit her site at Georgia Pellegrini, where you'll find more recipes, photos, learn all about her wonderful book Food Heroes, and enjoy her latest adventures.