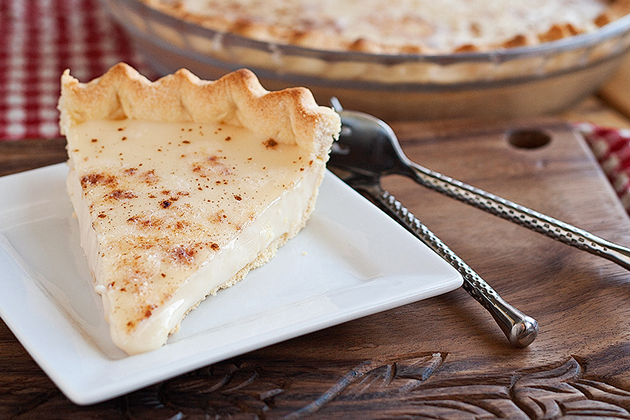 Join us in welcoming Amber of Sprinkled with Flour to the TK Blog. We're thrilled to have her! She picked a mighty fine Sugar Cream Pie recipe to share with us today, courtesy of Tasty Kitchen member sturgismama68. My goodness, does that look good. Take it away, Amber!
_______________________________________


There are certain things in life that put people in one camp or another. Canon vs. Nikon, Team Edward vs. Team Jacob (yes I admit, I'm an almost-30-year-old Twilight fan), and Cake vs. Pie.
I'm a pie kinda girl. How can you not be?
Give me a light, flaky crust, loaded with a sinful filling that puts me in a sugar-induced state of bliss for the rest of the day, and I'm a happy camper.
Cake is great, but pie is better. In my opinion.
That is why when I came across this recipe for Grandma's Sugar Cream Pie from Tasty Kitchen member sturgismama68, my eyes glazed over in anticipation of what I knew would be a delicious pie.
I wasn't disappointed. The filling was so creamy and delicious, I admit I ate a substantial amount of filling straight out of the pan. I told myself that no one would know if the pie was missing a few spoonfuls.
Fine. It was more like 5 or 6 spoonfuls.  But the point is, this pie is good.
Now let's get started.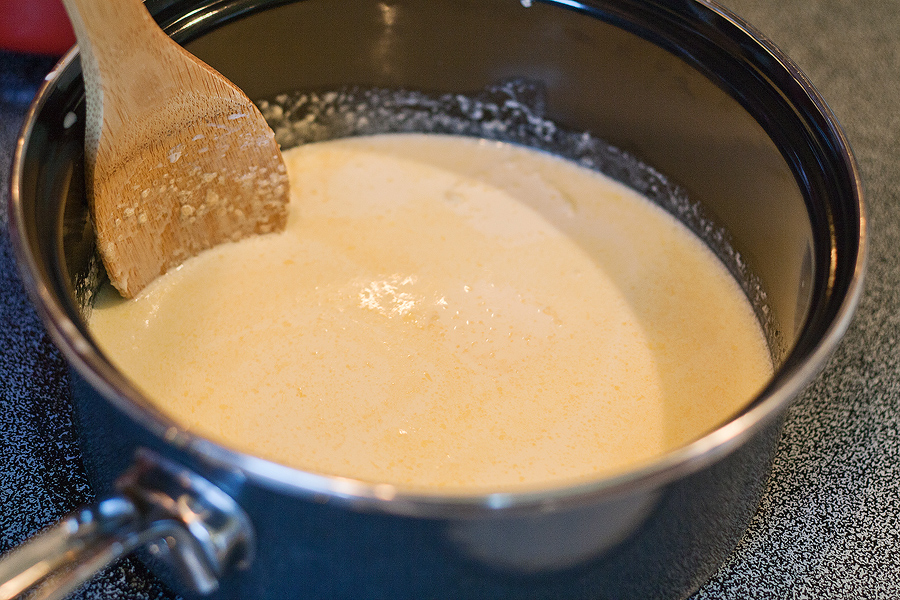 In a medium-sized pan over medium-low heat, melt 4 tablespoons of unsalted butter with 1 cup heavy cream and 1 cup half-and-half.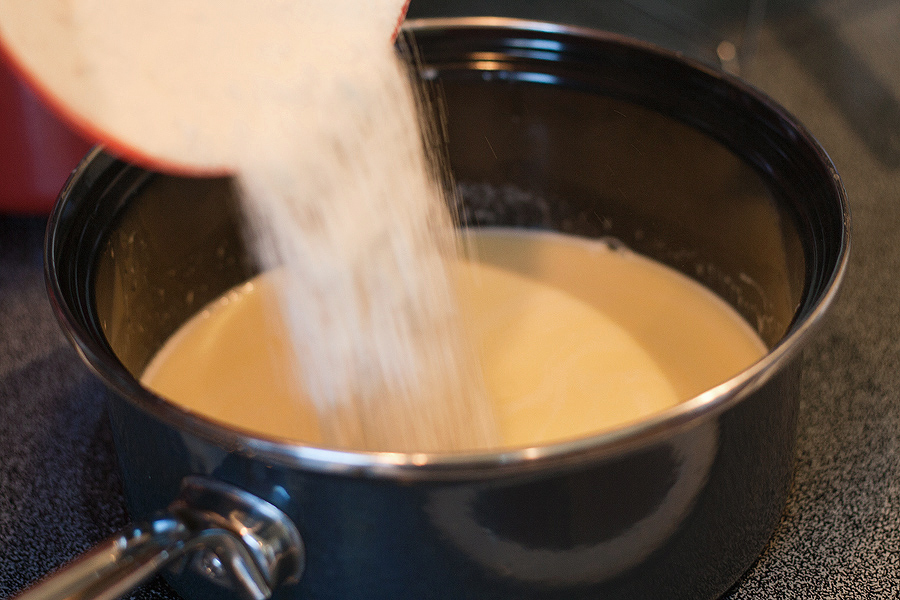 In a small bowl mix 3/4 sugar and 1/4 cup cornstarch. When the butter has melted, slowly stir in the sugar/cornstarch mixture with a wire whisk.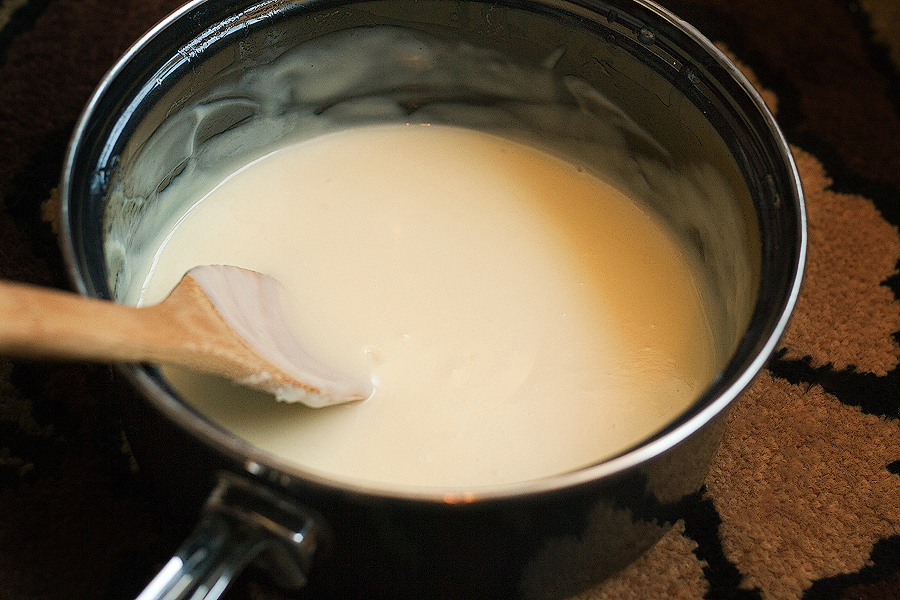 Cook, stirring constantly with your whisk until the mixture is thick and creamy. This takes about 10-15 minutes.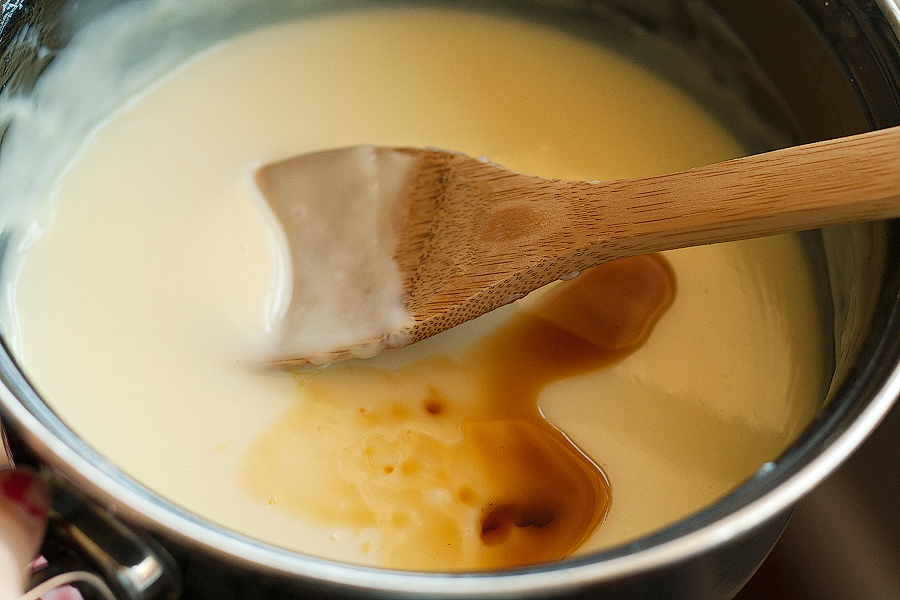 Remove from the heat and stir in 1 teaspoon of vanilla extract. Turn your oven broiler on to prepare for the next step.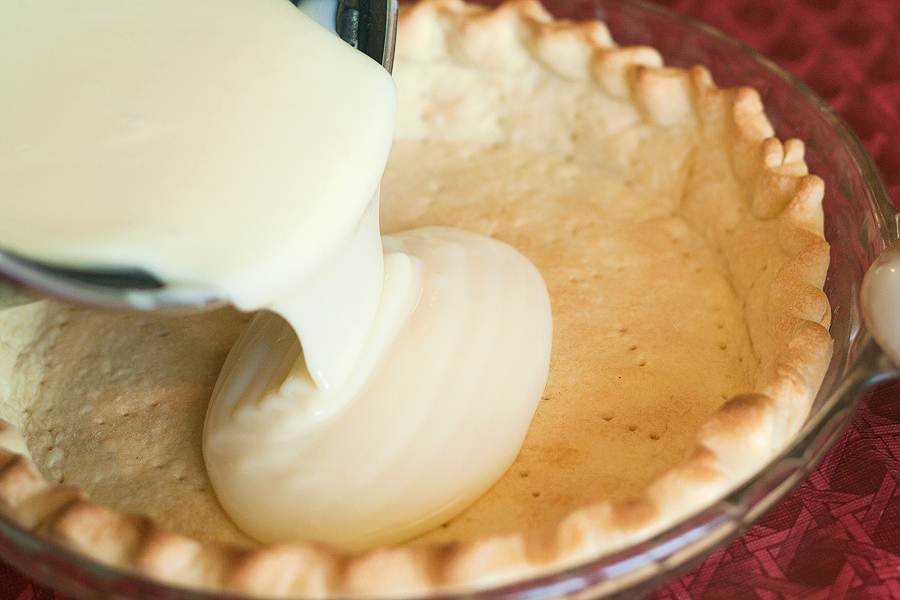 Now pour the creamy goodness into a pre-baked pie crust. (I LOVE Sylvia's Perfect Pie Crust posted by Ree).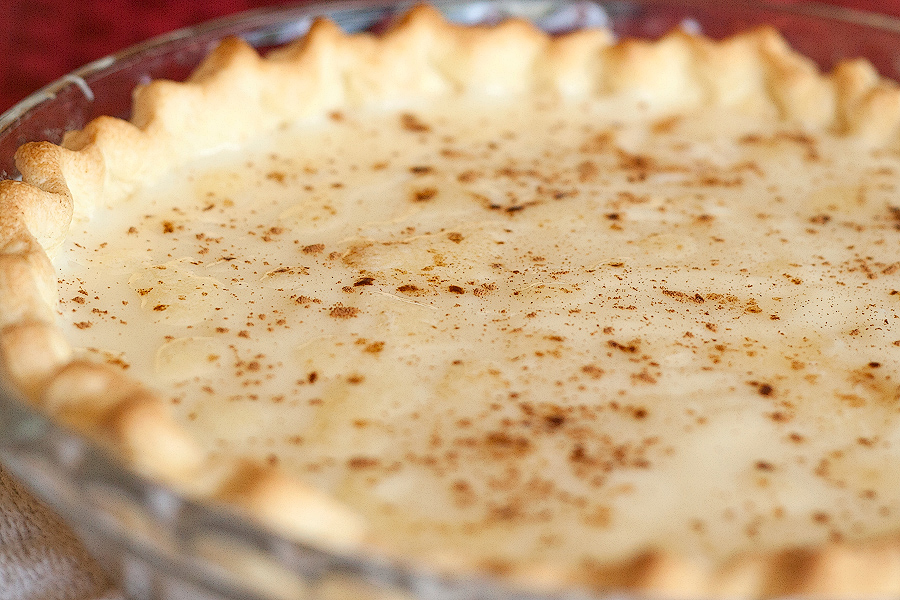 Drizzle 2 teaspoons of melted butter over the filling. Sprinkle 1 teaspoon of cinnamon over the top to garnish (I used about half of that).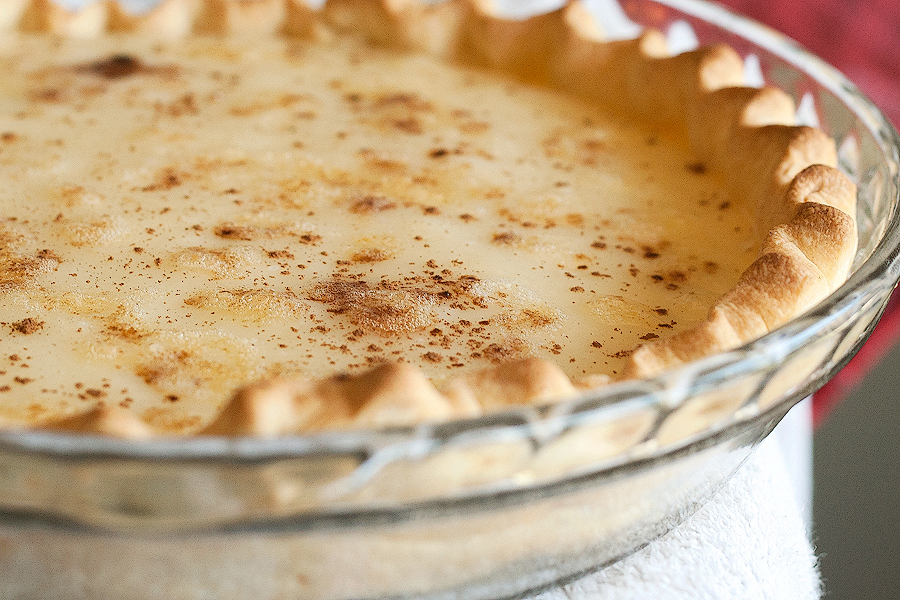 Place the pie under the broiler until the butter bubbles, about 2 minutes. Watch your pie carefully, you don't want the butter to burn. Remove from the oven and let cool for a few minutes. Then refrigerate and serve chilled.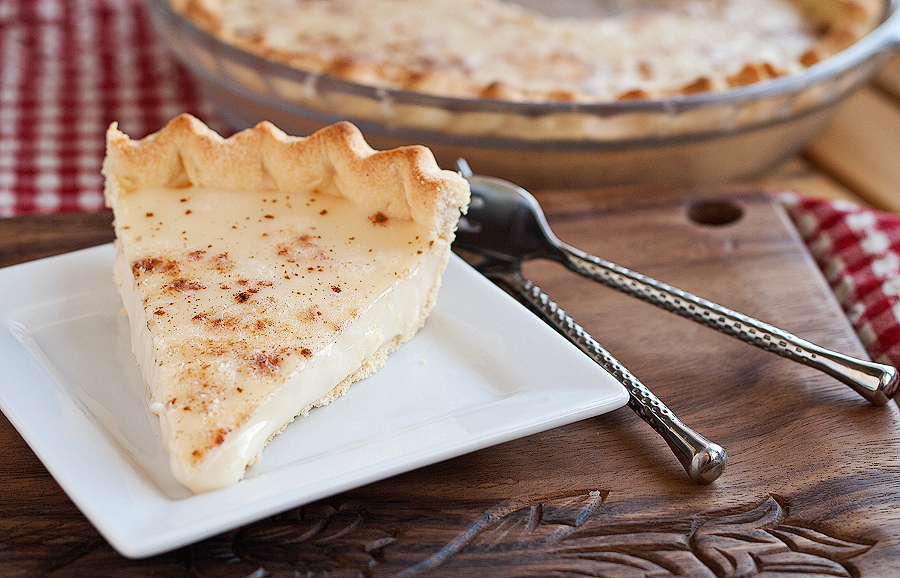 Eat, savor and enjoy.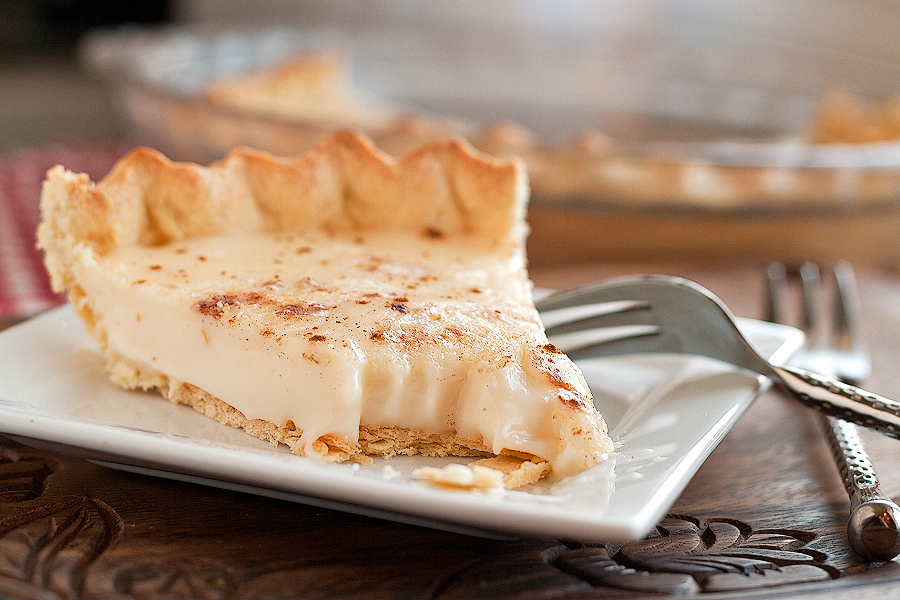 Repeat as many times as you think necessary.
A big thanks to sturgismama68 for sharing the recipe for this delicious pie—which also happens to be the Indiana State Pie. I can certainly see why.
Printable Recipe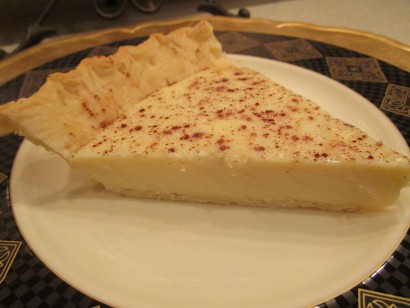 Description
Indiana's State Pie. Creamy and delicious with just a hint of vanilla.
Ingredients
¾ cups Granulated Sugar
¼ cups Cornstarch
5 Tablespoons Unsalted Butter, Divided
1 cup Heavy Cream
1 cup Half-and-half
1 teaspoon Pure Vanilla Extract
1 whole Pie Crust
½ teaspoons Cinnamon For Garnish
Preparation Instructions
In a small bowl, mix sugar and cornstarch; set aside.
On low to medium heat in a medium-sized sauce pan, add 4 tablespoons of butter, heavy cream and half-and-half. After butter has melted, with a wire whisk, slowly add cornstarch mixture. Cook, stirring constantly with a wire wisk just until mixture is thick and creamy. This will take approximately 10–15 minutes.
Remove from heat and stir in vanilla extract.
Immediately pour mixture into pie crust and drizzle with remaining 1 tablespoon butter, melted (I actually use less; adjust to your taste). Sprinkle with cinnamon.
Place pie under the broiler until butter bubbles. Watch pie carefully, this will not take long. I set my timer at 2 minutes and that seems to work perfectly.
This is a delicious cream-filled pie; don't hesitate to grab a spatula and taste the goodness left in the pan! Refrigerate and enjoy chilled.


_______________________________________
Amber is a stay at home mom who lives in the heart of the Missouri Ozarks. It's a long way from where she grew up, in Wales (yes, way over in the U.K.). The recipes in her blog Sprinkled with Flour include her original creations as well as her family recipes. Go check them out!