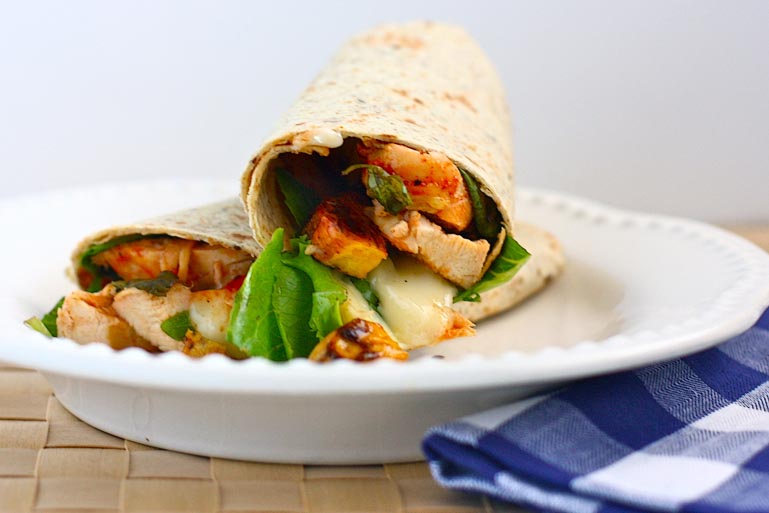 I have a thing for plantains. Specifically, crunchy fried, golden sweet plantains that are just dripping with caramelized brown sugar. Just hand me a plate of sweet plantains and I'm in heaven. So, when I saw Tina's recipe for BBQ Chicken, Brie and Plantain Wraps I knew it would be a winner. Spicy barbecue chicken with gooey brie cheese and sweet crunchy plantains? Sign me up!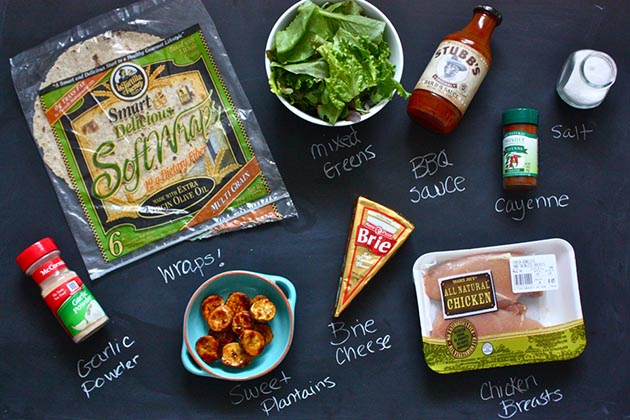 Tina's recipe calls for a box of frozen sweet plantains, but after searching five grocery stores to no avail, I decided to take matters into my own hands and make my own. I found this easy Tasty Kitchen recipe for Sweet Plantains submitted by Stephanie. It only took about ten minutes and the end result was delicious! (I'll include that recipe at the bottom of this post.)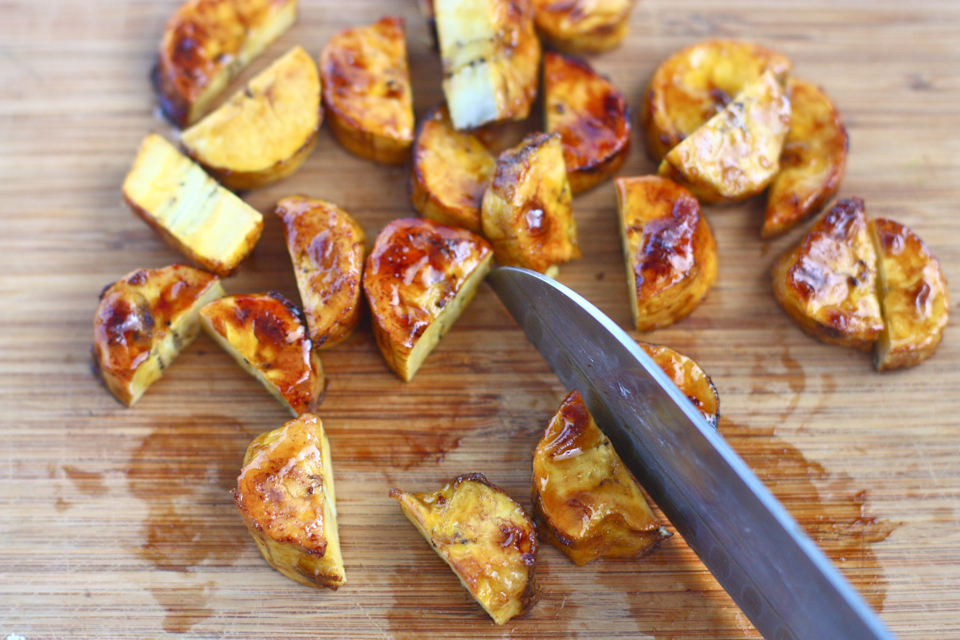 Since I skipped a step by not getting packaged plantains, after frying them I sliced them in half to prep them for my yummy wrap!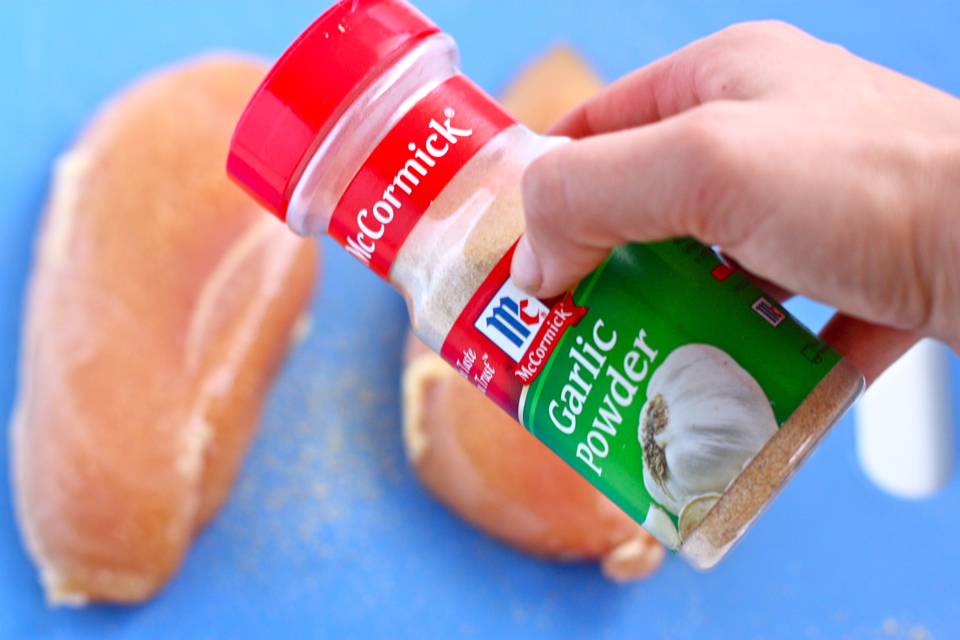 Then, I set the plantains aside and got to work on my barbecue chicken! Tina used a grill, but I decided to go the grill pan route in my oven instead for convenience. I also used garlic powder plus salt instead of garlic salt. So I sprinkled these guys with a little garlic powder first…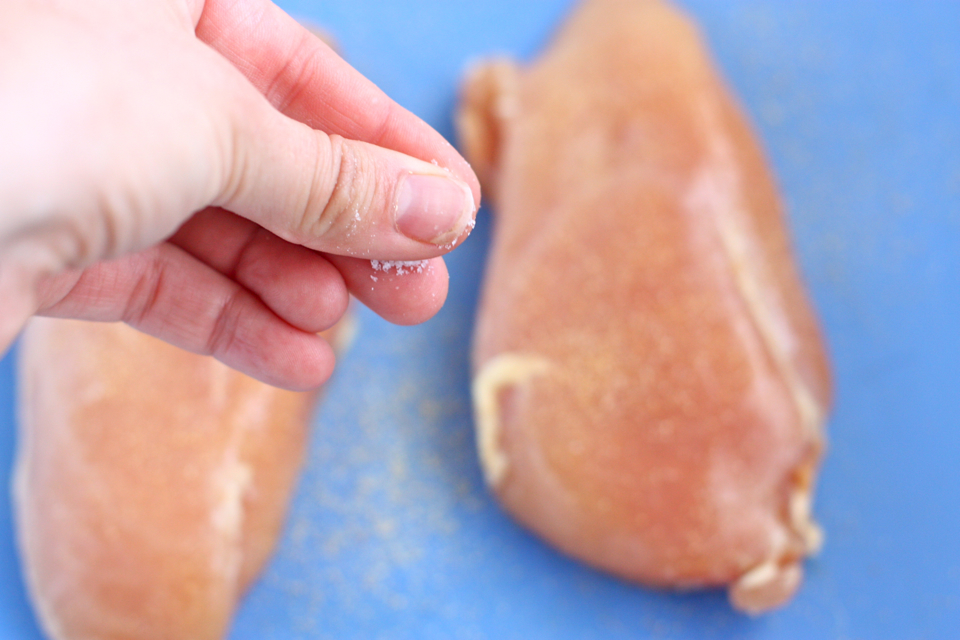 Then I gave them a good pinch of sea salt.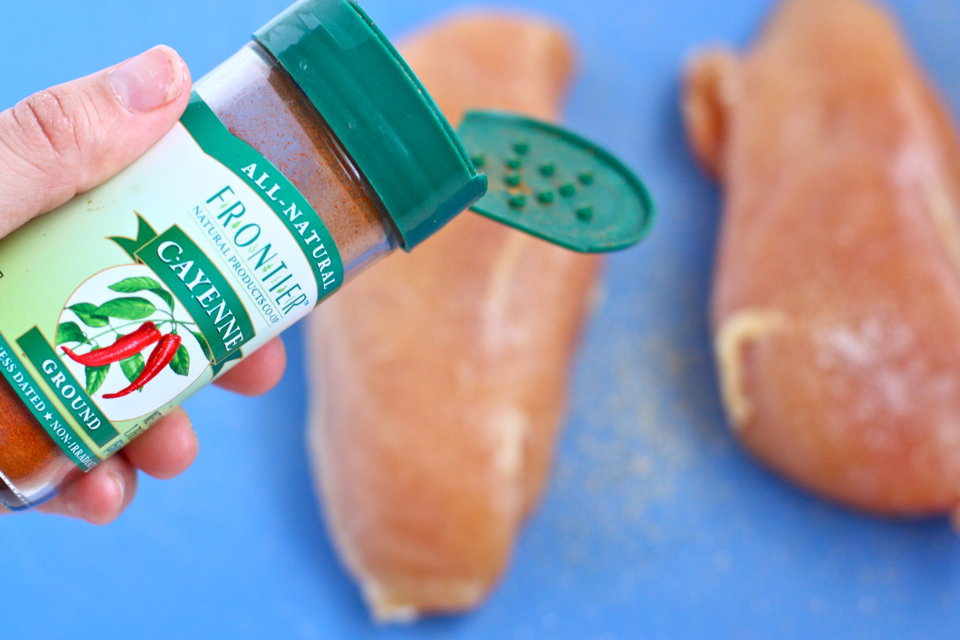 Followed by a healthy dash of cayenne—my favorite!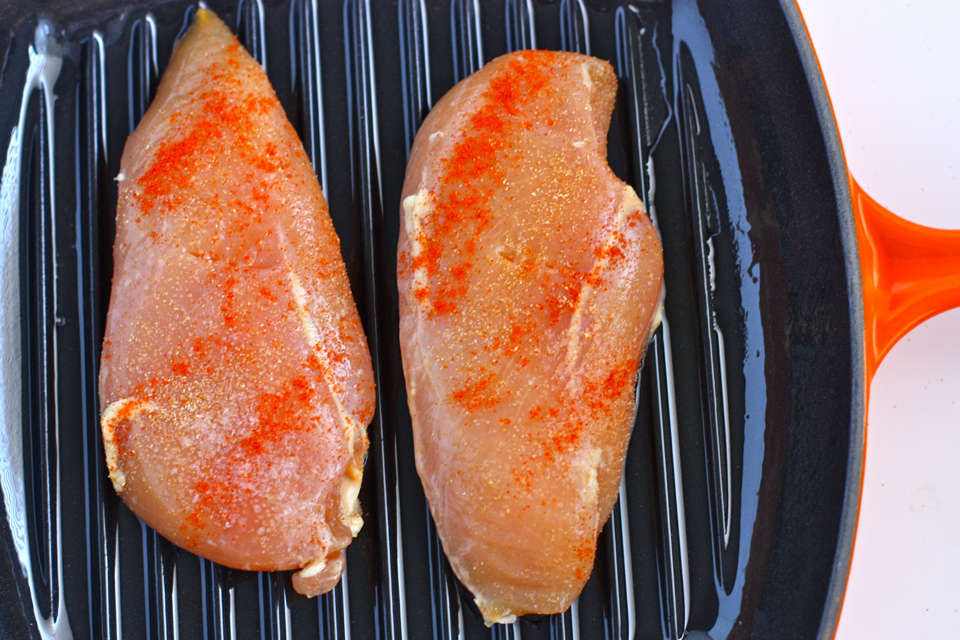 I cooked my chicken breasts for 25 minutes at 375ºF.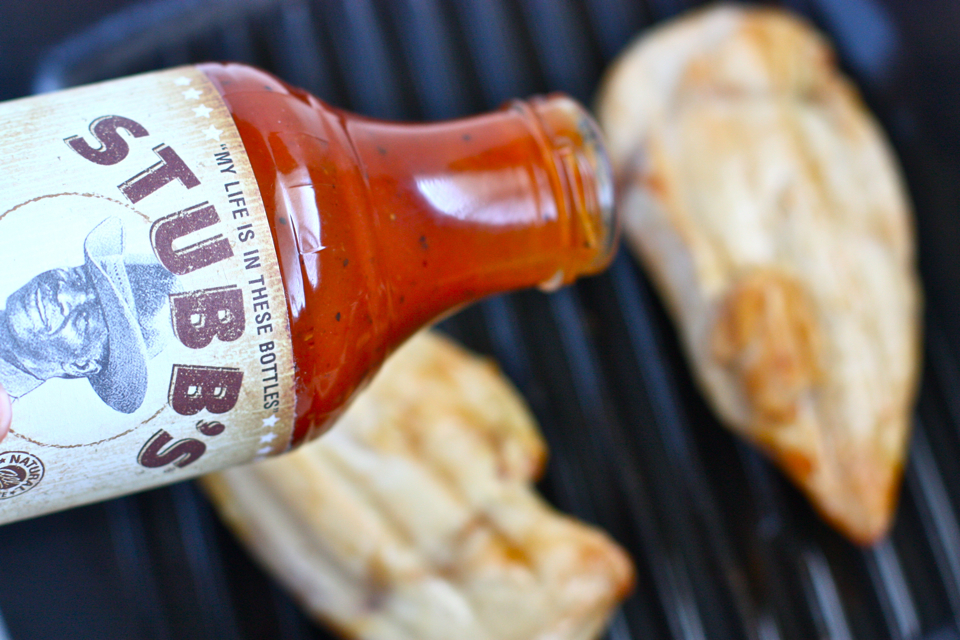 Then poured on my favorite BBQ sauce during the last five minutes of the cooking process.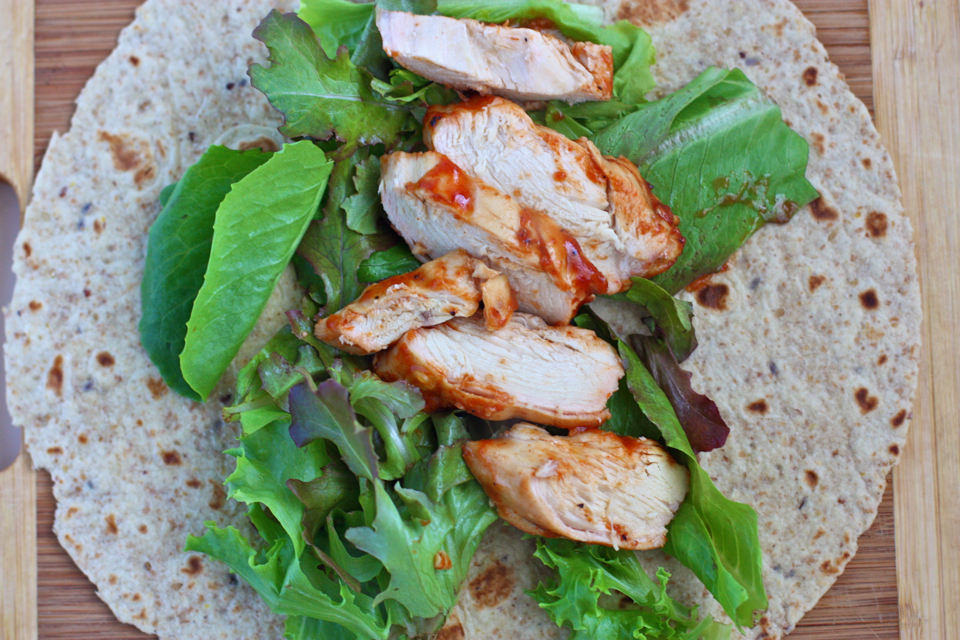 Once the chicken was done and juicy, it was time to assemble the wraps! I thinly sliced my barbecue sauce-laden chicken breast and placed it on top of my wrap and mixed greens.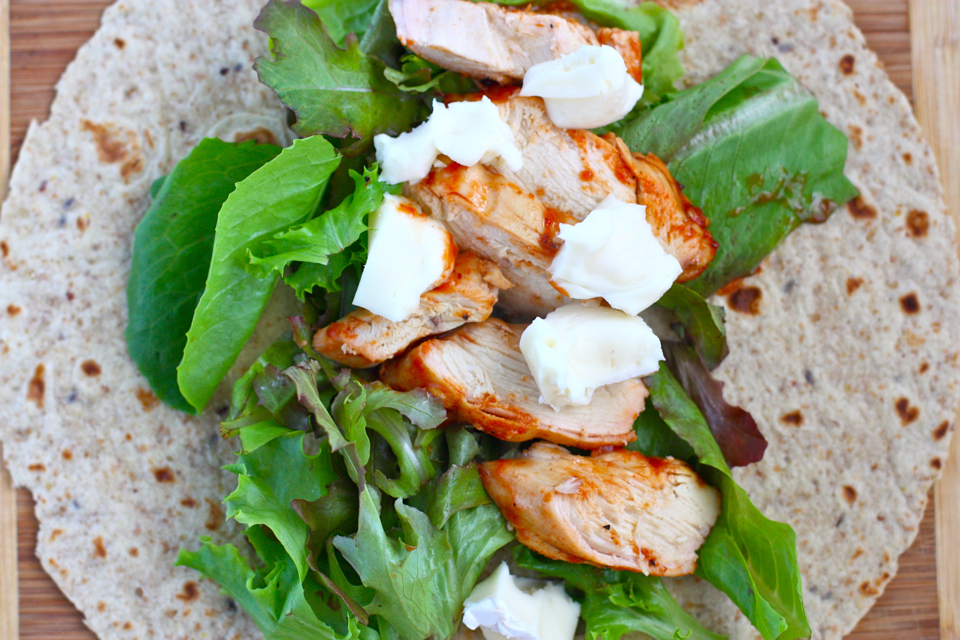 Followed by chunks of brie cheese. Doesn't that look delicious?! Just you wait.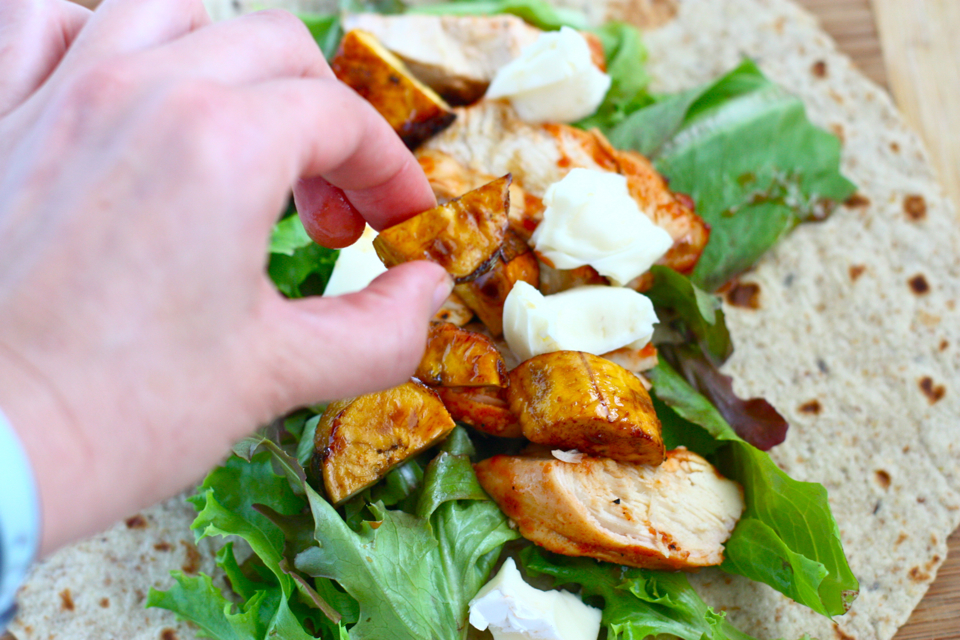 Lastly, I scattered my sweet plantains on top of everything. I'm getting hungry again just looking at this!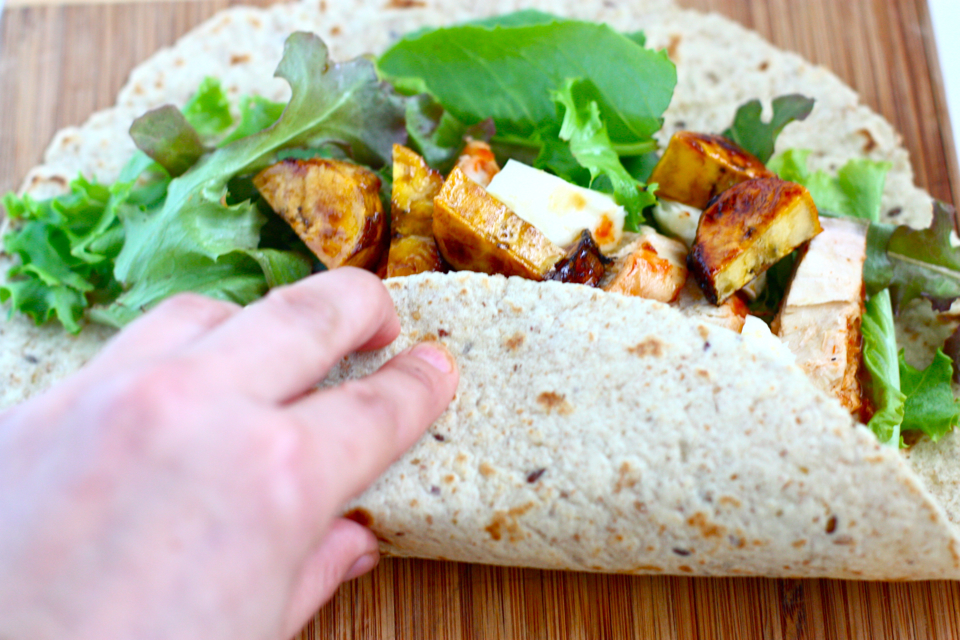 The hardest part of the whole thing was rolling the wrap up! But that's probably just because I have a history of overstuffing my tortillas.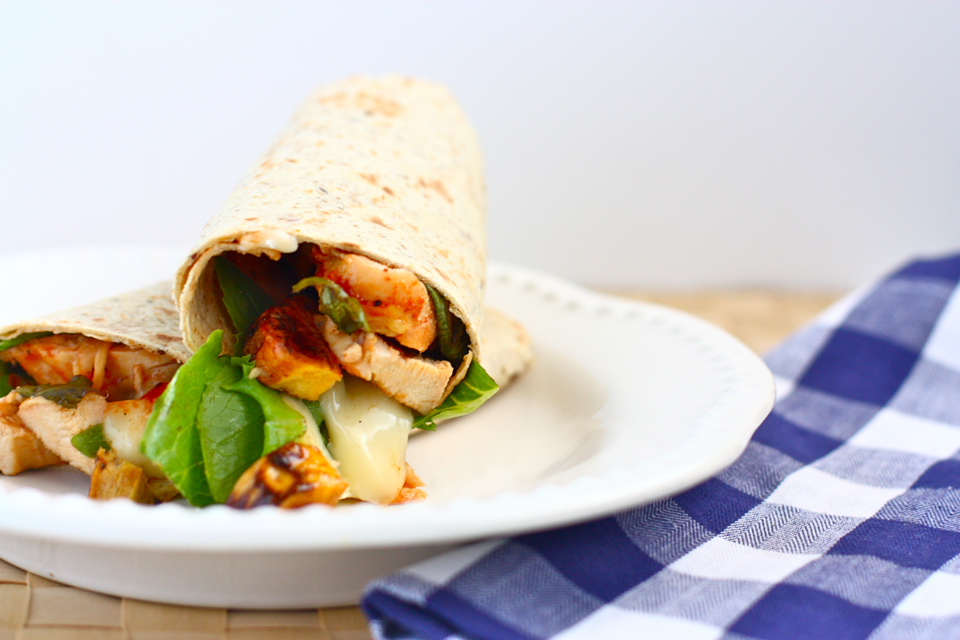 There you have it—lunch is served! I absolutely loved the flavor combination here and have a feeling these will now be my go-to lunch. Thanks, Tina, for this awesome recipe! It was cheesy, smoky, sweet and delicious! (Check out Tina's blog My Life As A Mrs. for more of her delicious recipes!)
Printable Recipe
See post on Tina (My Life as a Mrs)'s site!
Description
Smokey BBQ, creamy brie, and sweet plantain wrap = party in your mouth!
Ingredients
1 box (about 11 Oz.. Size) Frozen Sweet Plantains
4 whole Boneless, Skinless Chicken Breasts
1 teaspoon Garlic Salt
½ teaspoons Cayenne
¾ cups BBQ Sauce Of Choice
4 whole Spinach Wraps
1 cup Mixed Greens
6 ounces, weight Brie Cheese
Preparation Instructions
Ignore the cooking instructions on the box/bag your plantains. Preheat oven to 400°F. Line a baking sheet with foil and spray with nonstick cooking spray. Lay frozen plantains out in a single layer (make sure none of them are overlapping).
Bake for a good 20–30 minutes, allowing them to caramalize and get that gorgeous chewy edge! They are done when they are nice and golden with dark brown edges. Remove from the oven and allow to cool slightly. When cool enough to handle, slice each piece in half lengthwise, and set aside until ready to use.
Season each piece of chicken with a sprinkling of garlic salt and cayenne pepper on both sides and throw them on the grill until cooked completely through (flipping halfway through). Baste both sides with BBQ sauce in the last 5 minutes or so of cooking. Remove from the grill and slice into thin strips.
To assemble, lay a wrap flat and add a small amount of mixed greens. Top with a few slices of chicken, some brie, and a some of the plantains (I like mine with lots of plantains!). If you want to get REALLY crazy, go ahead and add an extra drizzle of BBQ!
Carefully wrap the wrap up (burrito style), place on a baking sheet (seam side down), and put back into the 400°F oven for just a few minutes (3–5 minutes). This allows the cheese to melt a little and the outside of the tortilla to crisp up slightly. Remove from the oven, slice in half, and serve!
Printable Recipe
See post on Stephanie Deal's site!
Description
This tasty dish is really easy to prepare and tastes great with pork chops, etc. It can also just be eaten as a snack.
Ingredients
3 whole Plantains, Very Ripe
3 Tablespoons Brown Sugar
¼ cups Peanut Oil
2 Tablespoons Butter
¼ teaspoons Salt
Preparation Instructions
Slice plantains into 1-inch slices, put in a bowl and gently toss plantain slices with brown sugar.
Heat peanut oil and butter in a large skillet over medium-high heat until the butter begins to sizzle. Put plaintain slices into the skillet and fry until the plantains begin to turn golden brown, then turn over, and continue frying until they have caramelized, about 2–3 minutes per side.
Remove slices from the skillet and dab onto paper towels. Do not put slices onto paper towels as they will stick to the paper due to the caramelization. Put on a plate and sprinkle with salt before serving.


_______________________________________
Jenna is a food writer who has worked as a pastry chef and bread baker. Her blog Eat, Live, Run has great recipes, travel stories, and the perfect slogan: "Celebrating life, one crumb at a time."