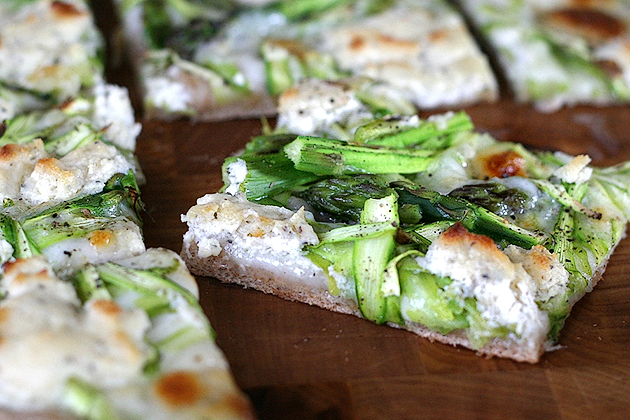 Asparagus and I haven't had the best relationship over the years. I think it was mostly a misunderstanding on my part. Because I really wanted to like asparagus, I did what I usually do with foods I'm trying to get used to: combine it with a food that I absolutely adore. In this case, I buried it in a pizza.
Peaches are also on my list, but I think I'll have to take a different approach with that one.
When I saw this Shaved Asparagus Pizza submitted by TK member keeperrox, I hoped it would be my entrance into the asparagus-lover's club. And I believe it was.
You only need six ingredients for this recipe: enough pizza dough for one 12-16 inch pizza, one bunch of asparagus, some fresh mozzarella (although regular, grated mozzarella would be just fine), olive oil, freshly ground black pepper, and some garlic and herb cheese spread. The recipe specified Boursin cheese, but any brand would do. You could even use garlic and herb flavored cream cheese.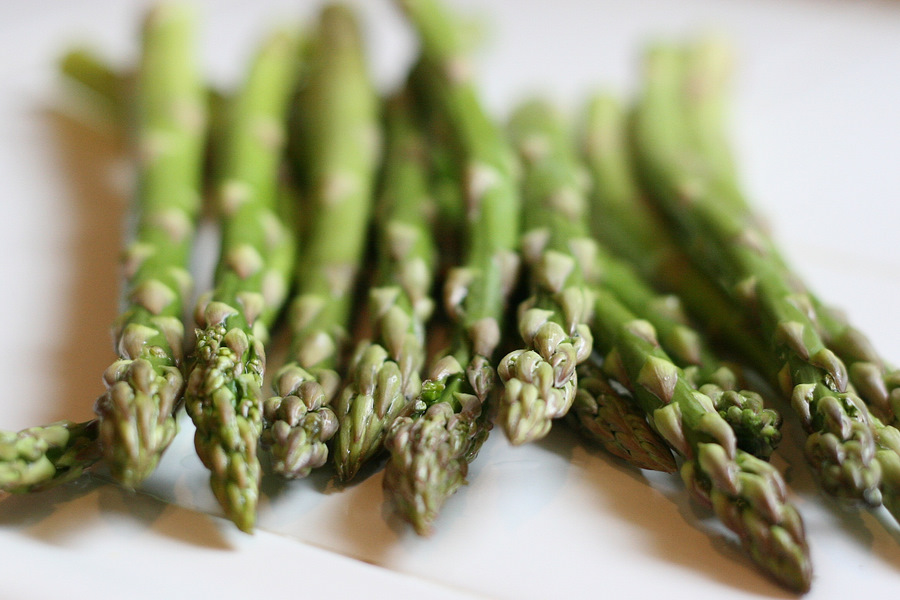 I learned a lot about asparagus lately. Look for stalks that are thinner, no bigger than a dime's width. Treat them like flowers when you get them home, cutting off a 1/2-inch from the bottom and putting them upright in an inch or so of water. And as with any vegetable, make sure they aren't bruised, wrinkled, or limp.
When you're ready to prep the stalks, bend each one until it breaks. Discard the bottom part that breaks off. That's the stalk's way of telling you where the tender section ends and the woody, tough section begins. Pretty smart vegetable.
Then take a vegetable peeler and peel off the outer-most edges and leaves. Discard those. Then keep peeling until you have nothing left but the tip.
Put the shavings and tips together in a pile and set them aside.
Time to get the pizza dough dressed! As far as pizza baking is concerned, if you have a favorite pan, stone, or method that works for you, by all means, carry on. I'll show you the way I like to do it. I used to have a pizza stone, but it tragically broke a few weeks ago. (Moment of silence.) I've tweaked my method a bit and it seems to do a great job.
First preheat your oven to 450 degrees F and place an upside down rimmed baking sheet (or a flat one) inside.
Turn another rimmed cookie sheet upside down (or use a flat one if you have it) on the countertop or workspace . Place a piece of parchment on top, just large enough to cover the surface without a lot of extra hanging over. Wouldn't want to start a fire in that screaming hot oven. Stretch out the dough and place it on the paper.
Drizzle a tablespoonful of olive oil over the dough.
Smear it around with your hands. Enjoy soft cuticles for the next few hours.
Take the sliced, fresh mozzarella and spread them around evenly on the dough. I obviously didn't slice mine thin enough, but it melted well and turned out all right in the end.
Spread the asparagus shavings evenly over the cheese.
Crank a generous amount of black pepper over the shavings. You'll love it in the end.
Now for the garlic and herb cheese spread. Here's the brand I used. I thought it might help for you to see the packaging in case you weren't sure what it was. This stuff is so packed with flavor. It was all I could do to keep my fingers out of it.
Dot the pizza with the cheese. My cheese came in a 4-ounce package, and I used almost all of it.
Take the pan holding the pizza over to the oven and slide the pizza (with the parchment) onto the preheated pan inside the oven. Bake for around 15–20 minutes until the cheese is melted and the crust is as browned as you like. To get the bottom crispier, remove the parchment about 5 minutes before the pizza is done.
Gorgeous, isn't it? I love the browned spots on the cheese and the singed edges of the asparagus.
Once you cut it, it will begin to disappear. In my case, the culprits had extremely small hands.
My two little girls and I nearly ate this whole pizza ourselves—greens and all. Although the asparagus was encased in bread and cheese, its taste was still distinct and fresh. The tingly bite from the black pepper and that garlic and herb cheese? Swoon.
Asparagus and I have been reconciled.
Thanks so much keeperrox for an easy and delicious pizza recipe! Her recipe box is loaded with unique recipes. Go check it out!
Printable Recipe
Description
This was born out of necessity. I needed something to eat and I used what was in my fridge: some no-knead dough, some asparagus, some fresh mozzarella, and Boursin cheese (it was on sale). The result? Deliciousness.
Ingredients
1 whole Batch Of Pizza Dough - Enough For 1 12-16 Inch Pizza
Extra Virgin Olive Oil, For Drizzling The Dough
8 ounces, weight Fresh Mozzarella
1 bunch Asparagus
5-¼ ounces, weight Boursin Cheese (or Similar Herb And Garlic Spreadable Cheese)
Fresh Cracked Black Pepper
Preparation Instructions
Preheat oven to 450 F.
If not already shaped, stretch your pizza dough into a large circle 12-16 inches in diameter and place on your pizza pan or stone. Drizzle dough with a thin stream of olive oil.
Slice fresh mozzarella as thinly as possible and arrange in a single layer over dough.
Using a vegetable peeler shave your asparagus into thin ribbons. Use the entire bunch, as you might only get 3 or 4 good ribbons from each spear. Pile asparagus shavings on top of the mozzarella. The asparagus WILL cook down so you want to use more than you think is necessary.
Top asparagus with several cranks of black pepper and dot generously with Boursin cheese. (I tend to use 1/4-1/2 a package per pizza.)
Bake on pizza stone or baking sheet for 15-20 minutes or until crust is golden brown. Let cool for 2-3 minutes before slicing and serving.


_______________________________________
Be sure to check out Natalie's own beautiful food blog, Perrys' Plate, where you can see her growing collection of lovely recipes. There's always something new to see there. Go visit now!