This Old-fashioned Oatmeal Cake with Broiled Topping called out to me because I love simple, no fuss cakes that can be thrown together quickly and aren't overly sweet. But more than the cake, I love the headnote Tasty Kitchen member Brandi N wrote. She found the hand-written recipe for this cake in her grandmother's old tin recipe box and said the cake was "oozing with memories" for her. When I read something like that, I know it's gotta be good.
This cake is delicious. It's fluffy and moist, and the broiled topping makes it taste like a cinnamon roll. It's the perfect partner for late-afternoon coffee or tea. Plus if it has oatmeal in it, it's has to be kind of healthy, right?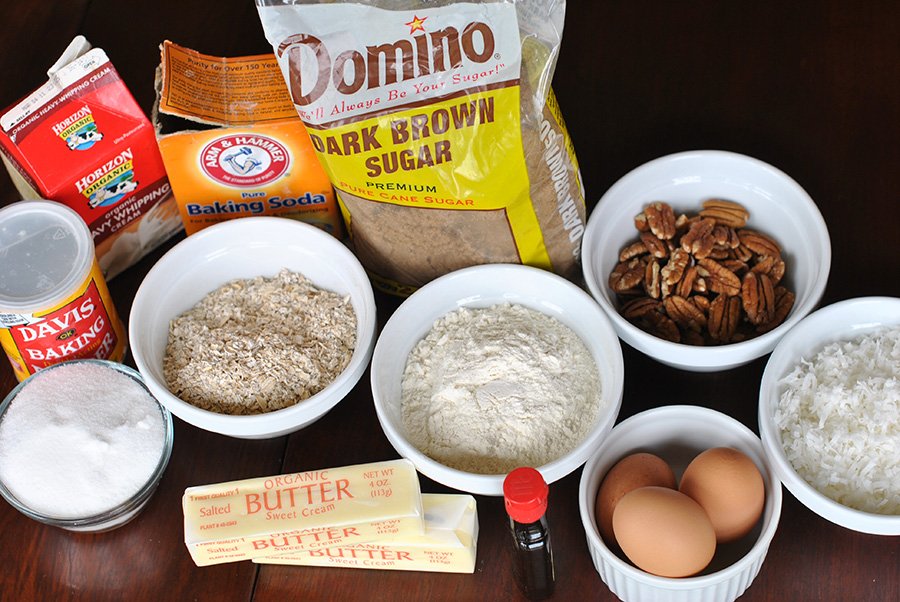 You'll need quick rolled oats, white sugar, brown sugar, butter, vanilla, eggs, flour, baking soda, baking powder, salt, heavy whipping cream (or half and half), coconut, and pecans.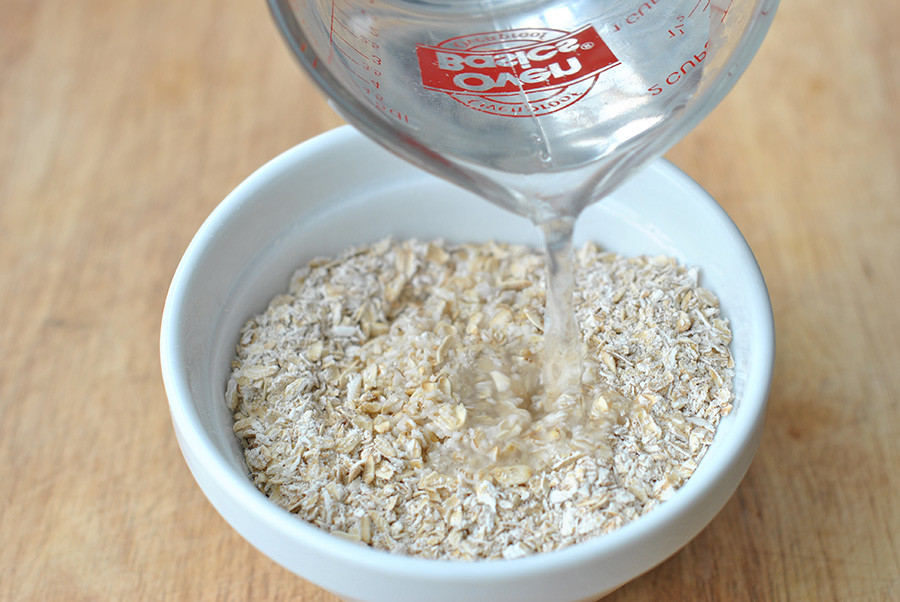 Start by combining quick-cooking oats with the boiling water. (Tip: If you don't have quick cooking oats, simply food process old-fashioned rolled oats for a few seconds.)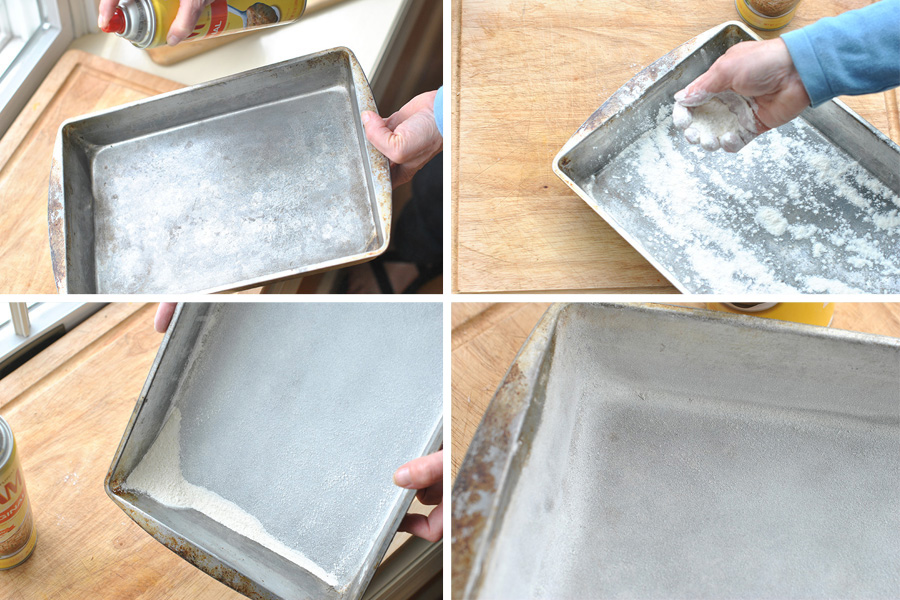 Adjust the oven rack to the lower-middle position and preheat oven to 350 degrees. Coat a 13-by 9-inch pan with vegetable cooking spray and flour.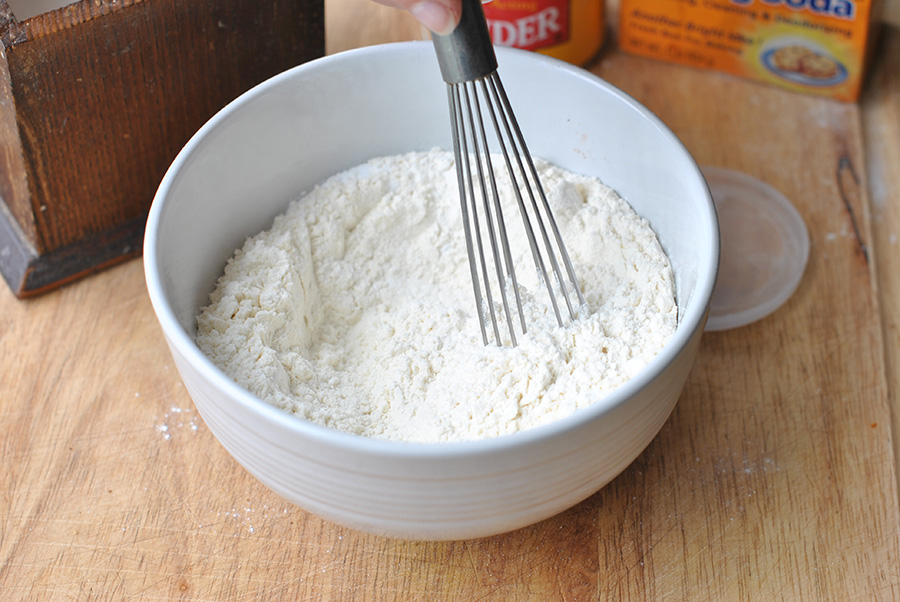 Mix all the dry ingredients in a medium bowl.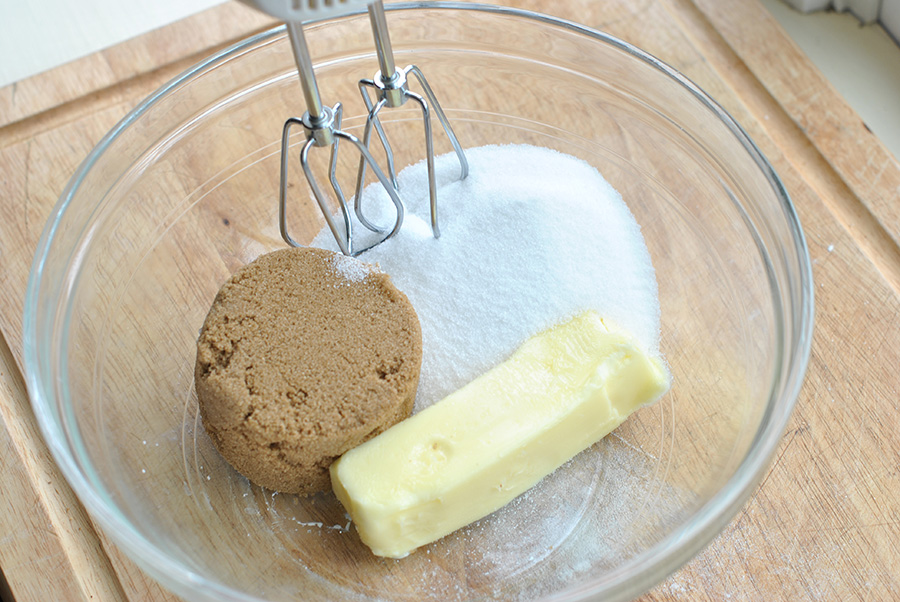 In a large bowl beat the two sugars and butter until light and fluffy.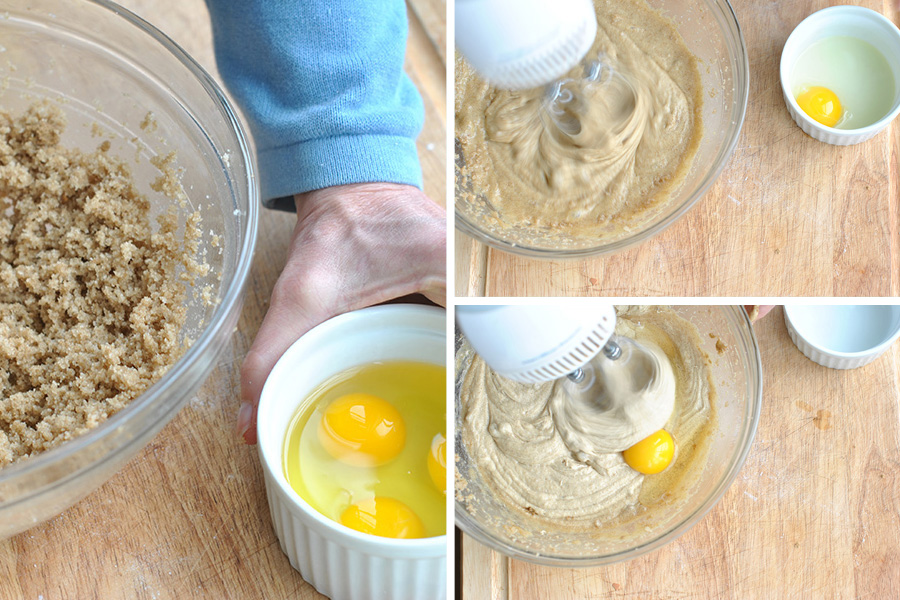 And then the eggs one at a time.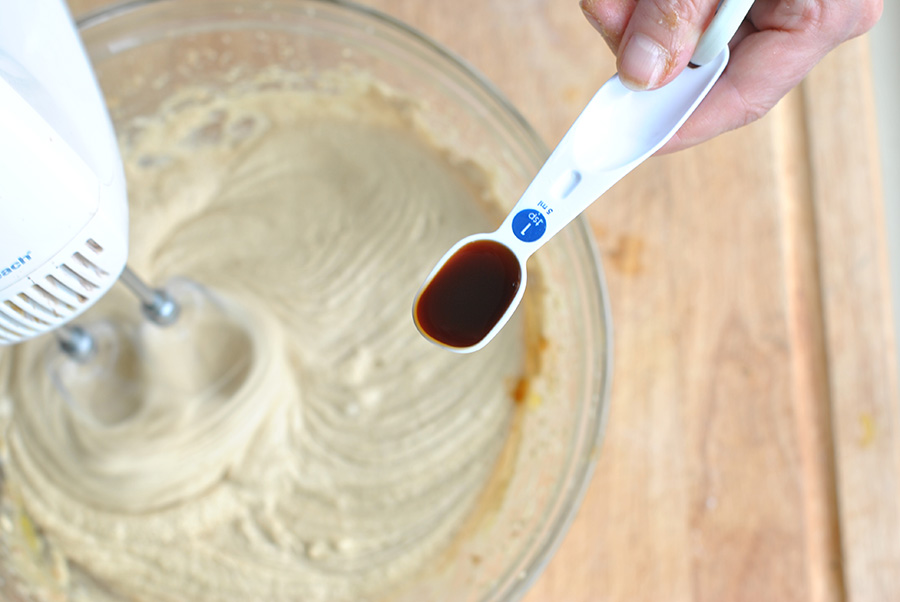 Beat in the vanilla …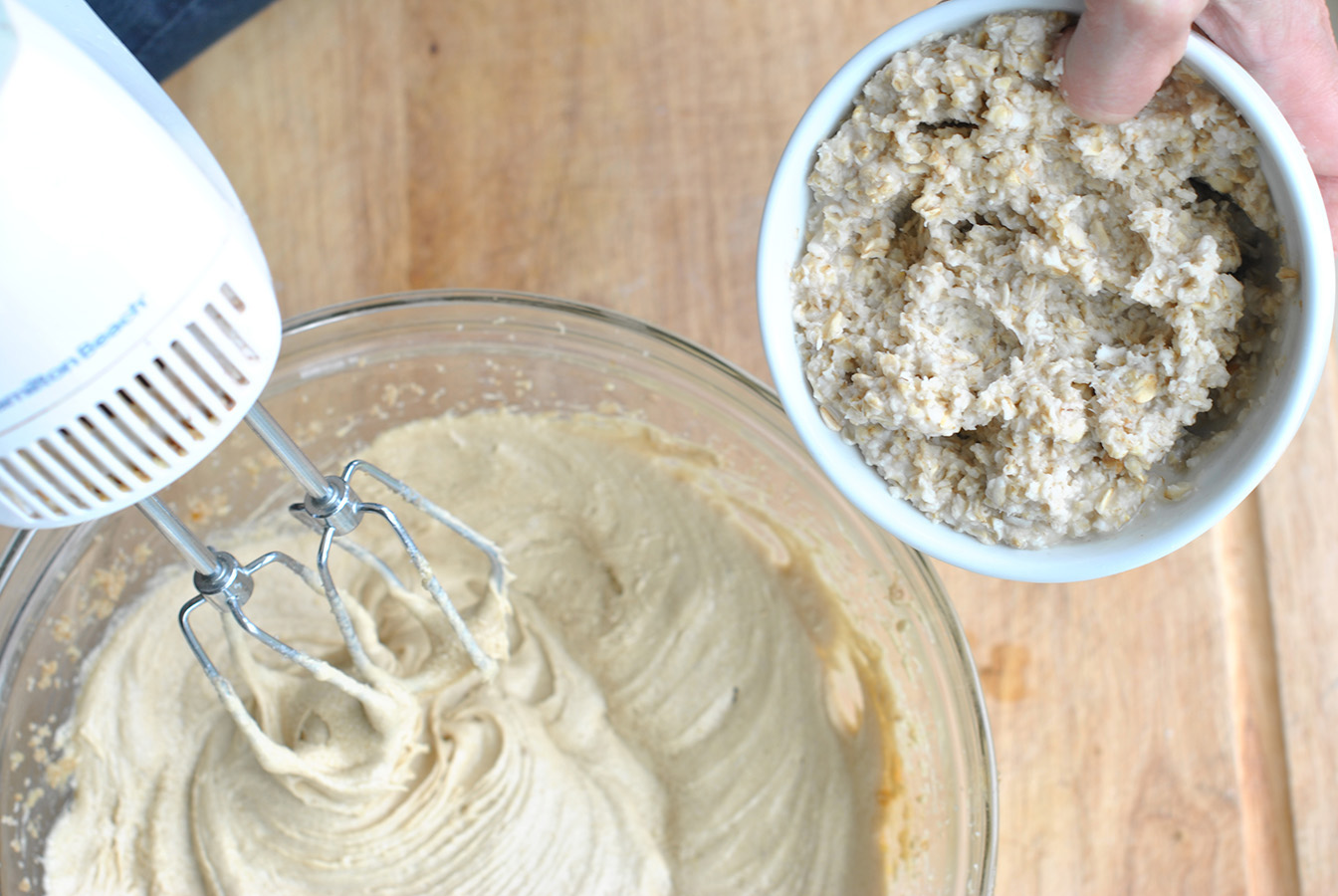 Mix in the oatmeal …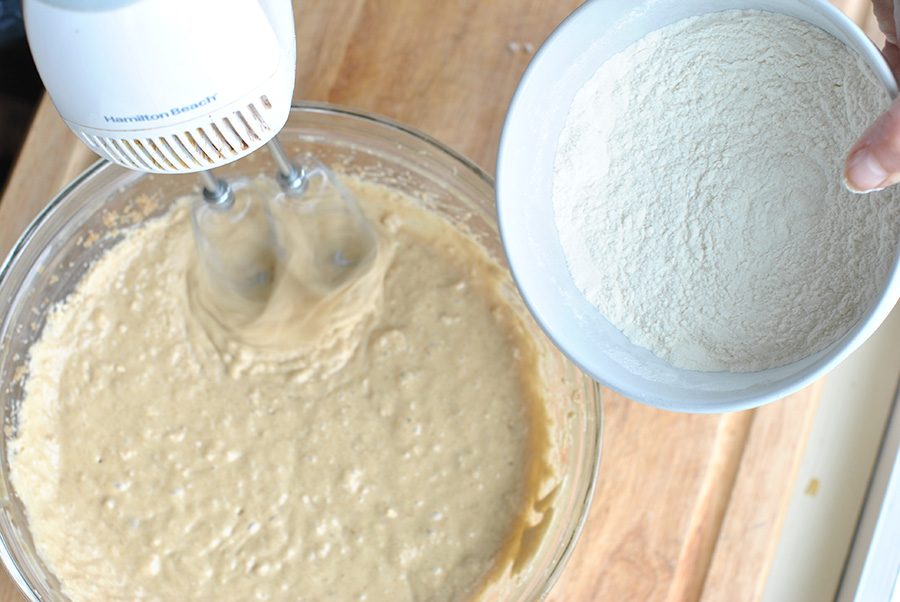 Then finally add in the flour mixture.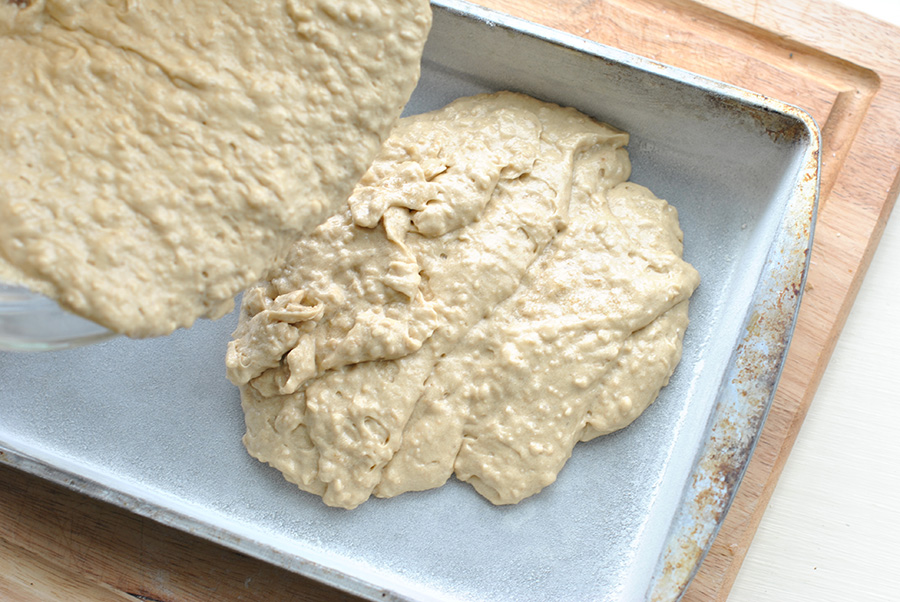 Pour the batter into the prepared pan. Bake until a toothpick inserted in the center comes out clean, 35 to 45 minutes.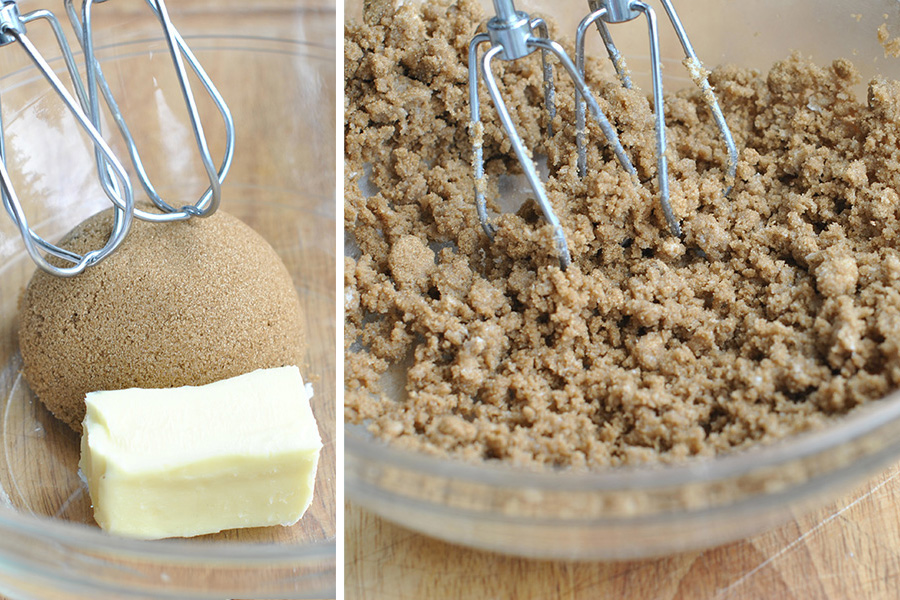 While the cake bakes, beat the remaining brown sugar and butter in a medium bowl.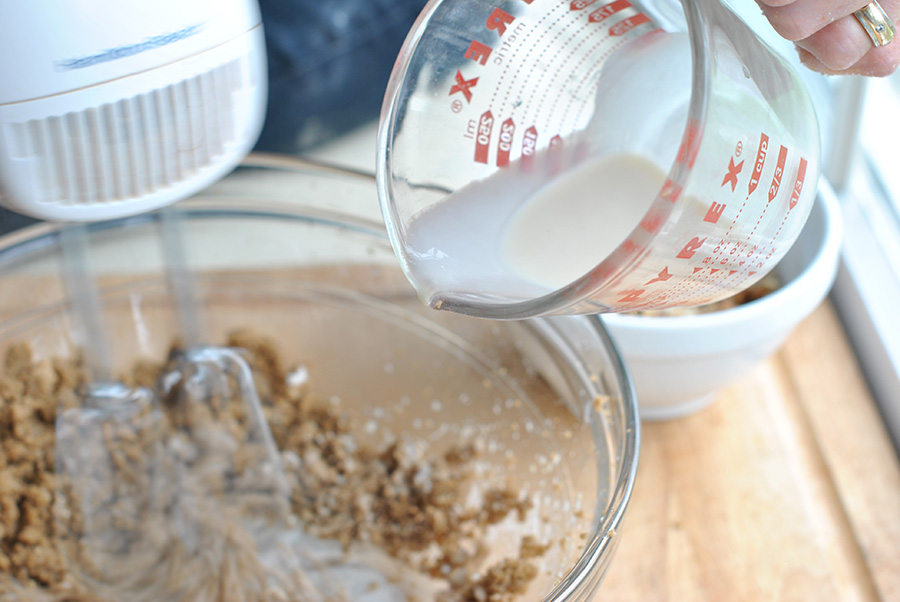 Beat in the cream (or half-and-half) until smooth.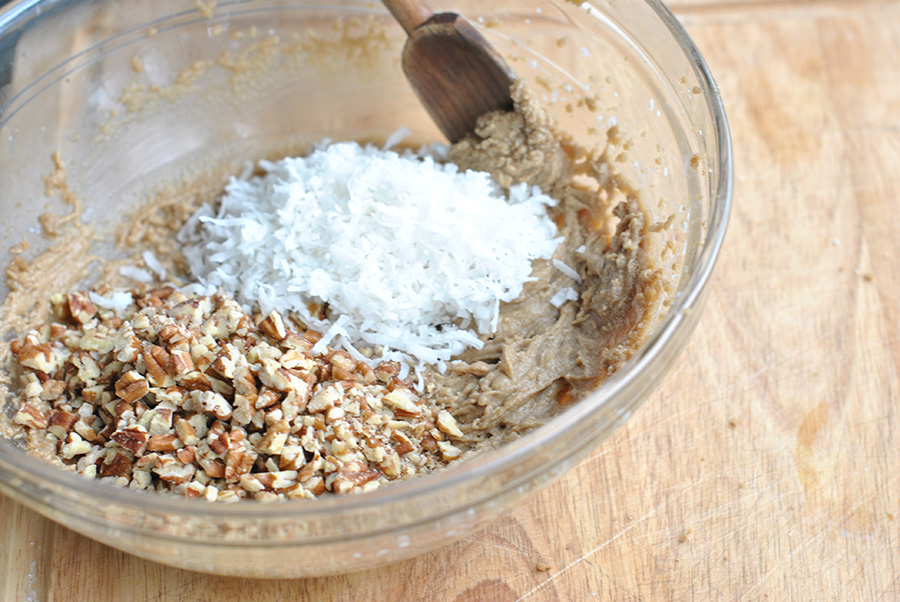 Stir in coconut and pecans.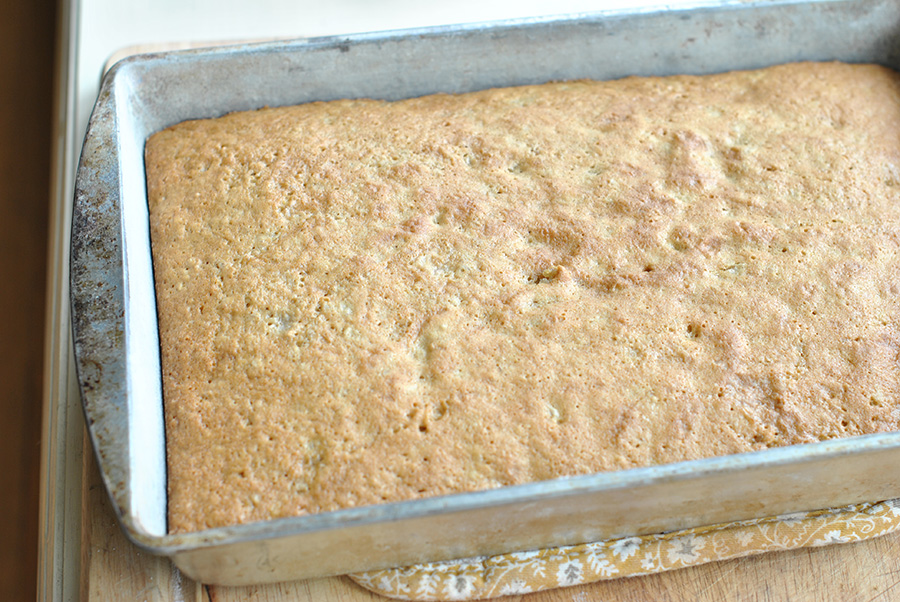 When the cake comes out of the oven, top it with this mixture.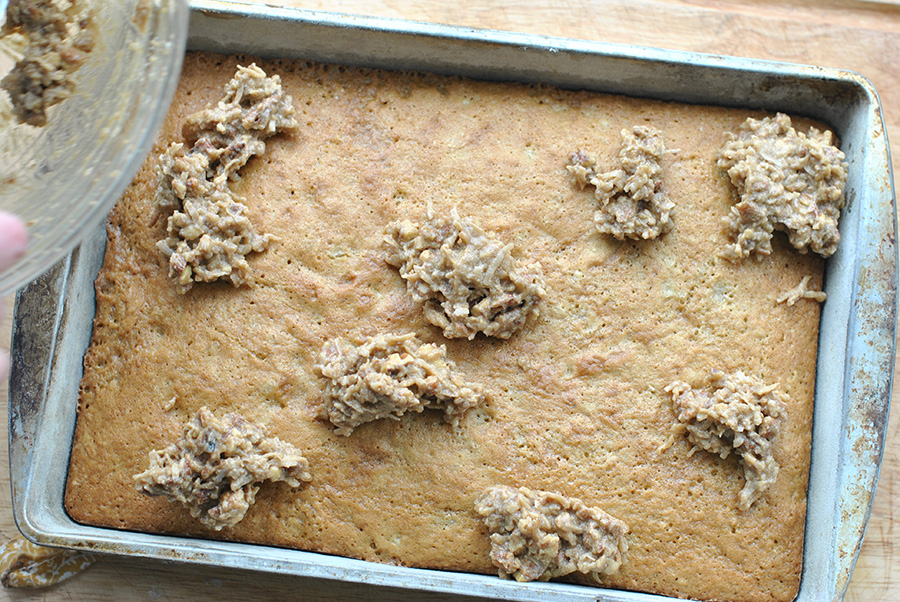 We found it helpful to spoon the topping evenly over the cake …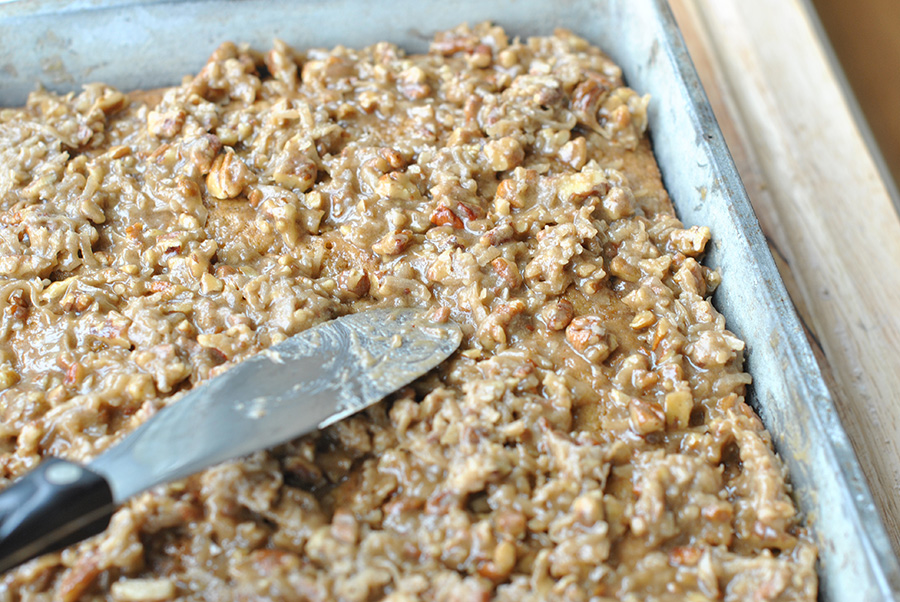 And then spread it to cover.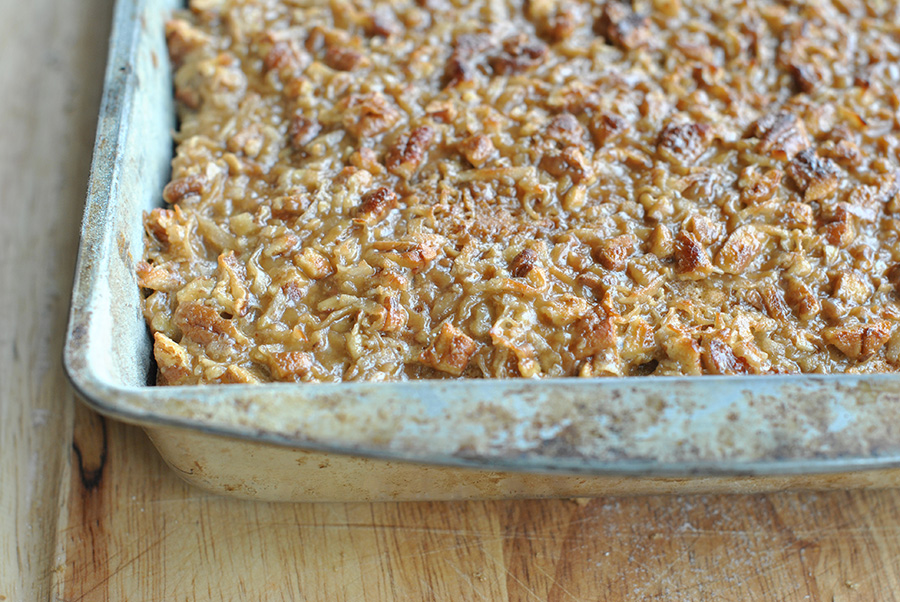 Broil the iced cake 4 to 6 inches from heating element until bubbly and light golden brown, 1 to 2 minutes. Give it a little cooling time (if you can!), then slice, serve, and enjoy!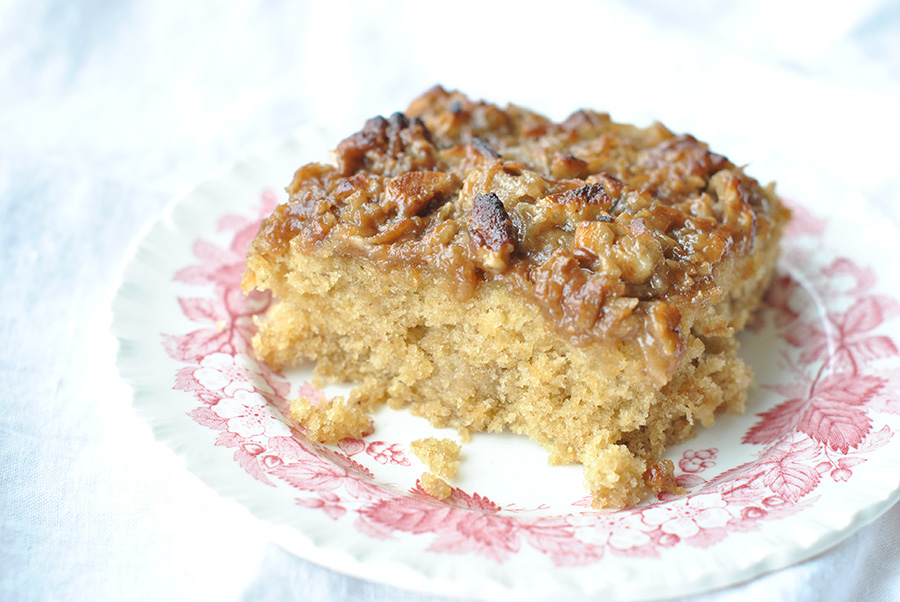 Thank you, Brandi N, for sharing your grandmother's recipe with us!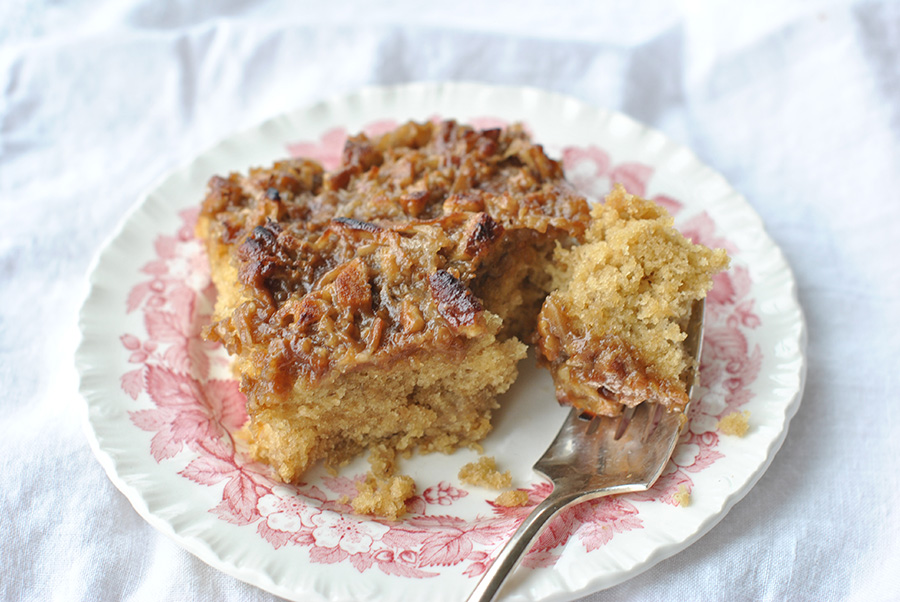 One thing is certain: Brandi's grandmother knew how to make a good cake. While we have access to more ingredients, techniques, tools (and the internet!), a lot of things were just better back then. This recipe makes me want to pick up the phone and call my own grandmother and ask her for her favorite cake recipe. But I already know what she'll say. I'll share that recipe here with you soon.
What were your grandmother's favorite recipes?
Printable Recipe
Description
While going through my grandmother's old tin box of recipes I came across this old favorite, handwritten by her, and oozing with memories. It's an oatmeal cake with a brown sugar flavor and the top is a gooey carmelized frosting with coconut and pecans. Delightfully old-fashioned.
Ingredients
FOR THE CAKE:
1-½ cup Quick Cooking Rolled Oats
1-¼ cup Boiling Water
1 cup Sugar
1 cup Firmly Packed Brown Sugar
½ cups Butter, Softened
1 teaspoon Vanilla
3 whole Eggs
1-½ cup All-purpose Flour
1 teaspoon Baking Soda
½ teaspoons Baking Powder
½ teaspoons Salt
_____
FOR THE TOPPING:
⅔ cups Firmly Packed Brown Sugar
¼ cups Butter, Melted
¼ cups Heavy Whipping Cream Or Half-And-Half
1 cup Coconut
1 cup Chopped Pecans Or Your Choice Of Nuts
Preparation Instructions
In small bowl, combine rolled oats and boiling water; let stand 20 minutes.
Meanwhile, heat oven to 350 degrees F. Grease and flour a 13×9-inch pan.
In a large bowl, combine the sugars and butter; beat until light and fluffy. Add vanilla and eggs; blend well. Add oatmeal and all the remaining cake ingredients; mix well.
Pour batter into the greased and floured pan.
Bake at 350 degrees F for 35 to 45 minutes or until a toothpick inserted in the center comes out clean.
For the topping, in small bowl, combine the brown sugar, butter and whipping cream or half-and-half. Beat at high speed until smooth. Stir in coconut and nuts. Spoon over warm cake; spread to cover.
Broil 4–6 inches from heat for 1 to 2 minutes or until bubbly and light golden brown. Cool 1 hour or until completely cooled.


_______________________________________
Three Many Cooks is the always-entertaining food blog of Pam Anderson and her two daughters, Maggy and Sharon. Pam is a well-known and much-respected food writer and author, Maggy is a "hippy adventurer meets 1950s housewife," and Sharon refers to herself as a recovering food snob learning to survive on a graduate student's budget. Theirs is a strong relationship both inside and outside the kitchen, and it shows in the food they create and the stories they tell.