When it comes to making homemade fruit leather, I will confess that I have been totally and completely intimidated. I mean, how does one even accomplish such a task? How does fruit go from actual fruit to … leather?
With that being said, I spent half of my youth chewing fruit roll-ups and consequently trying to rot my teeth, so I knew that this fruit leather had to be mastered. My mom would stock up on different flavors of fruit leather and it would often disappear within the week. When I came across Georgia's recipe for Homemade Fruit Leather, I just couldn't resist. It seemed foolproof. And delicious. And so enticing that I immediately bought more strawberries than one should ever need and got to work.
While the entire recipe is a bit time-consuming, it is quite easy. The majority of the time is downtime anyway. You can make this while you sleep!
These are the only ingredients you need: strawberries (or fruit of your choice), a lemon, water and sugar. Yes, it's that simple!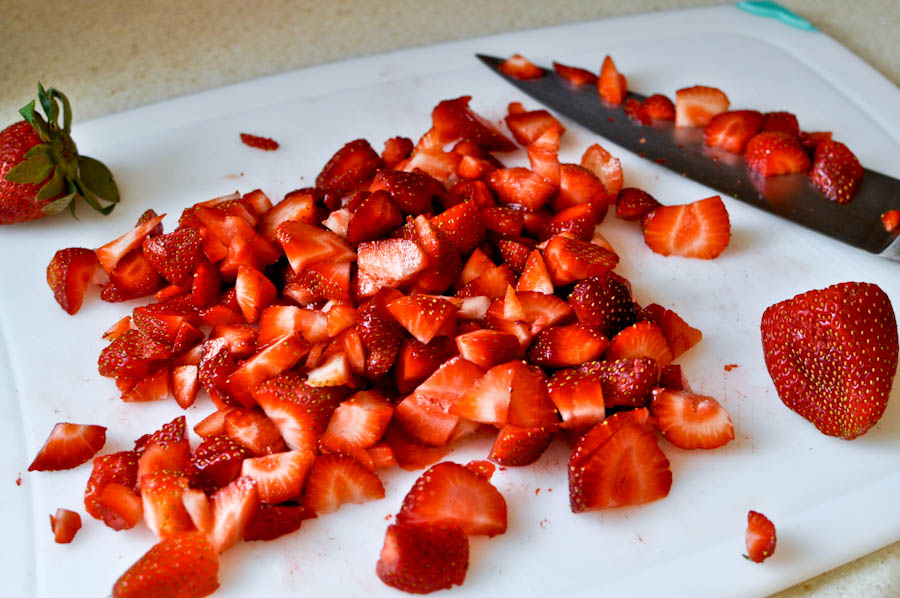 The first step is to cut the fruit into small pieces. Don't be concerned about them being uniform in size. Just do a rough chop so we can add them to a saucepan. I ended up with 2 1/2 cups of strawberries.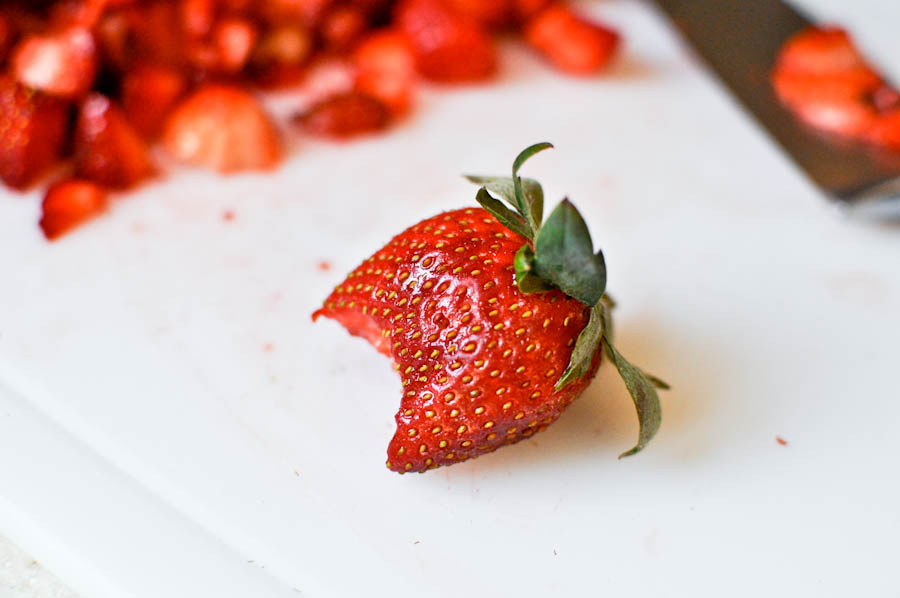 Make sure you taste test your fruit to see how sweet it is. This will give you a rough idea of how much sugar you need or want to add.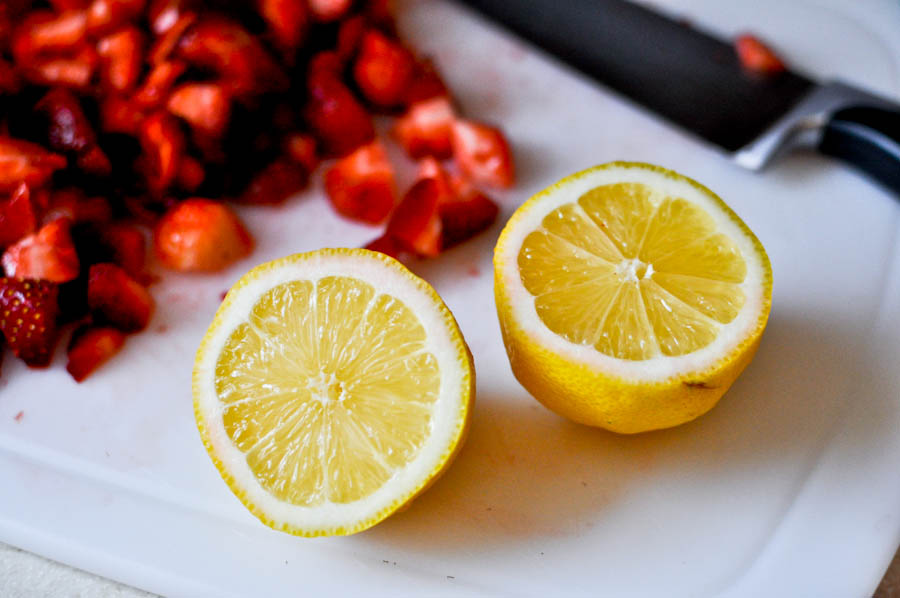 Slice your lemon and grab a bowl for juicing purposes.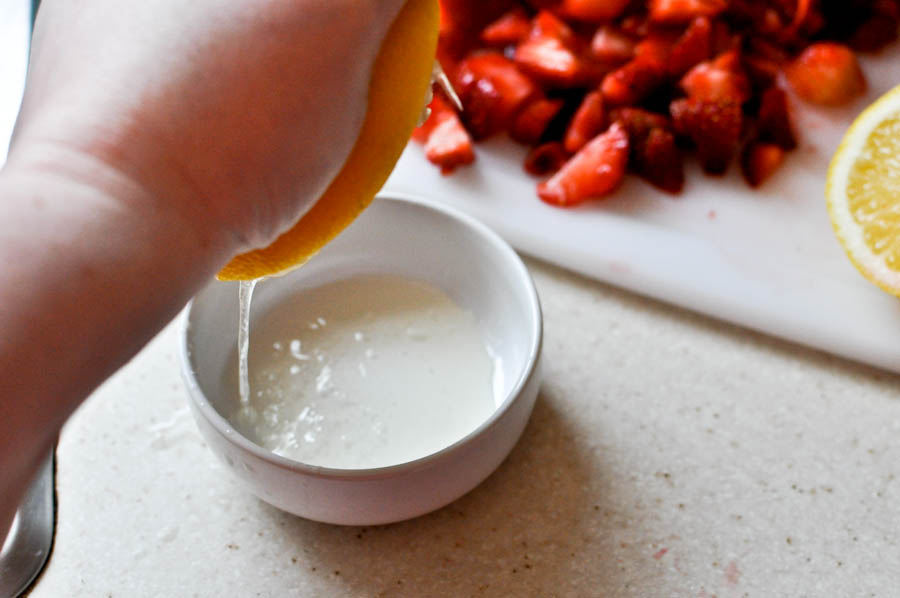 Squeeze your lemon to extract the juice. You only need about one tablespoon. Fresh is best!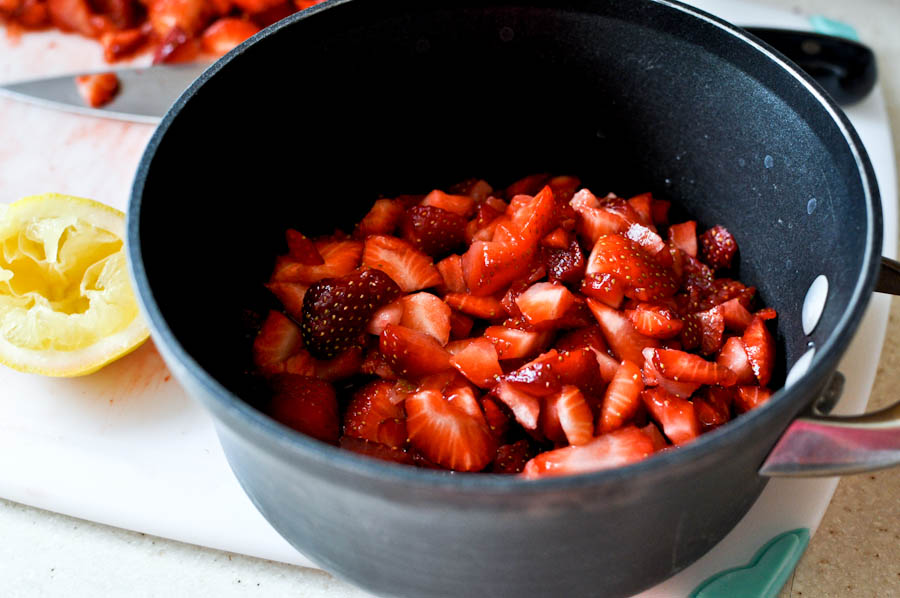 In a small saucepan, combine the chopped fruit, water and lemon juice. Heat it over medium heat and stir, then cover. Let the fruit stew for a few minutes until the berries begin to break down. I let mine go for about 5–6 minutes.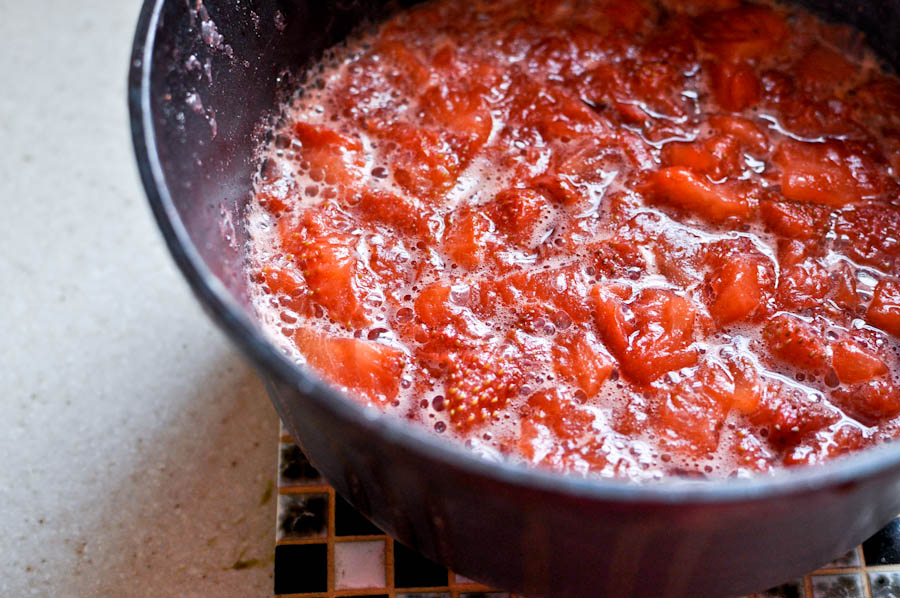 It should come out looking saucy. Now would be a good time to preheat your oven, so turn it on to 170 degrees F, or the lowest temperature it will go. It should heat up quickly.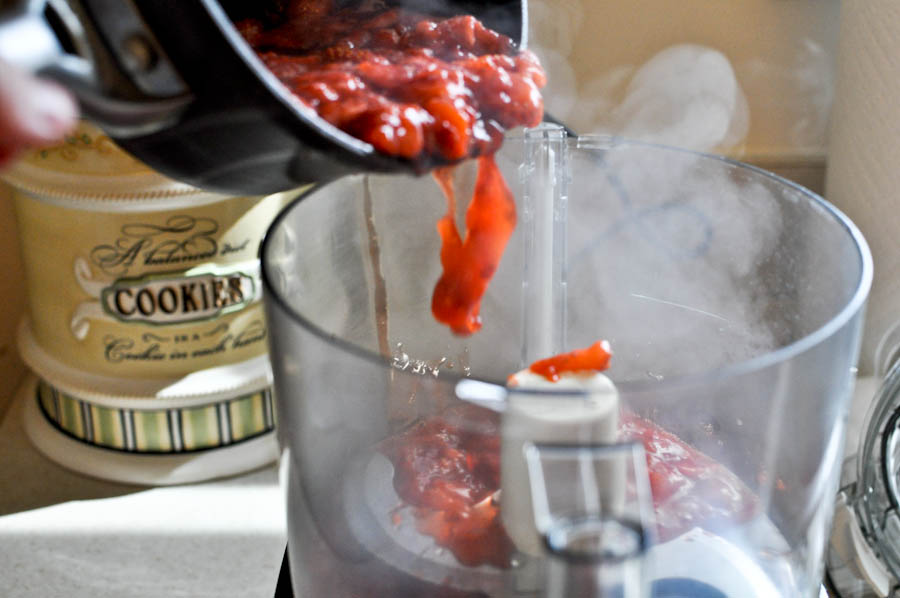 Now it's time to add the pureed fruit to the food processor. You can see that I lack patience judging from the steam rising out of the saucepan. Notice the cookie jar in the back. Sometimes (read: every single day) I get distracted by that (full) jar.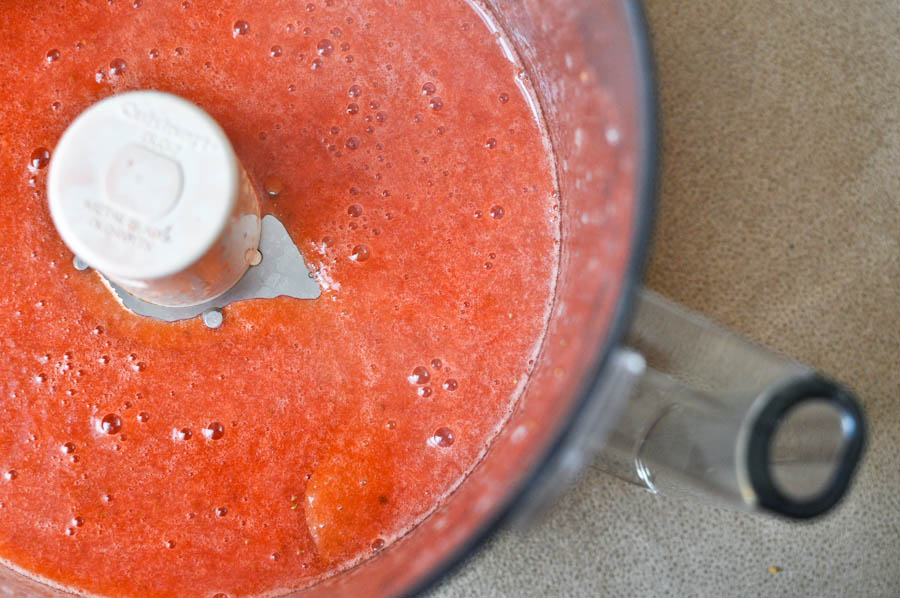 Give the fruit mixture a good whirl. You want it completely blended. Speaking of blended, you can also use a blender if you do not have a food processor. (In Georgia's blog post, she uses a blender.)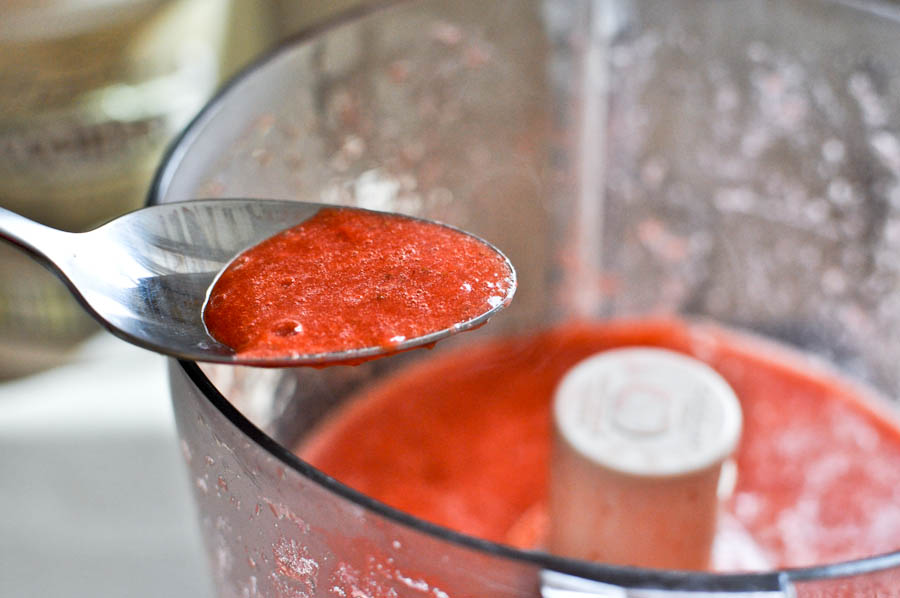 Taste testing time! Try a bit more of the pulp before adding the sugar. I am warning you: this stuff is good to enough to drink. I nearly slurped it all up and had to start over.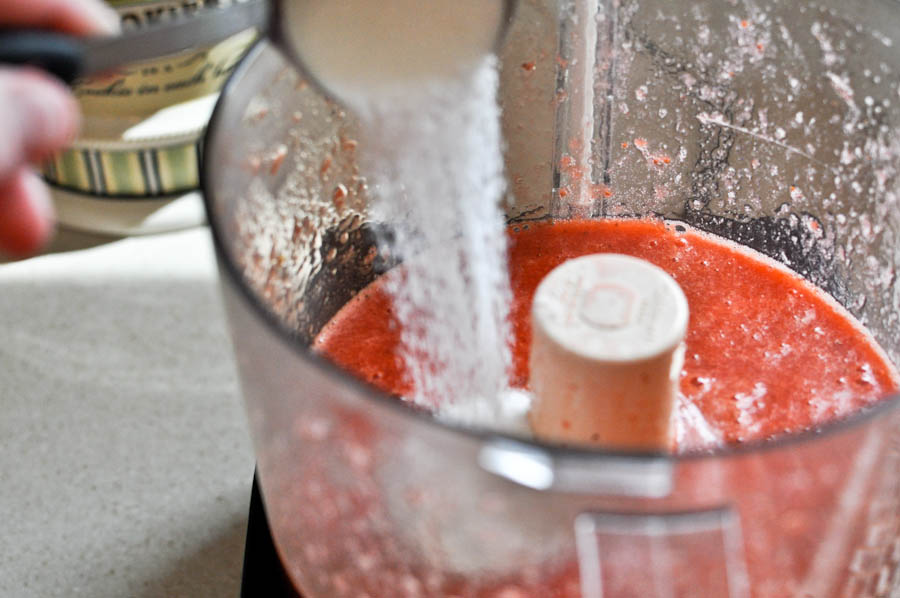 Add your sugar. I'm assuming that you could also make this recipe sugar-free if you'd like. I went with the entire 1/4 cup of sugar because I have very sweet teeth. If you have extraordinarily sweet fruit or would like it mild in sweetness, add the sugar one teaspoon at a time, blend, then taste test and go from there. Easy as pie.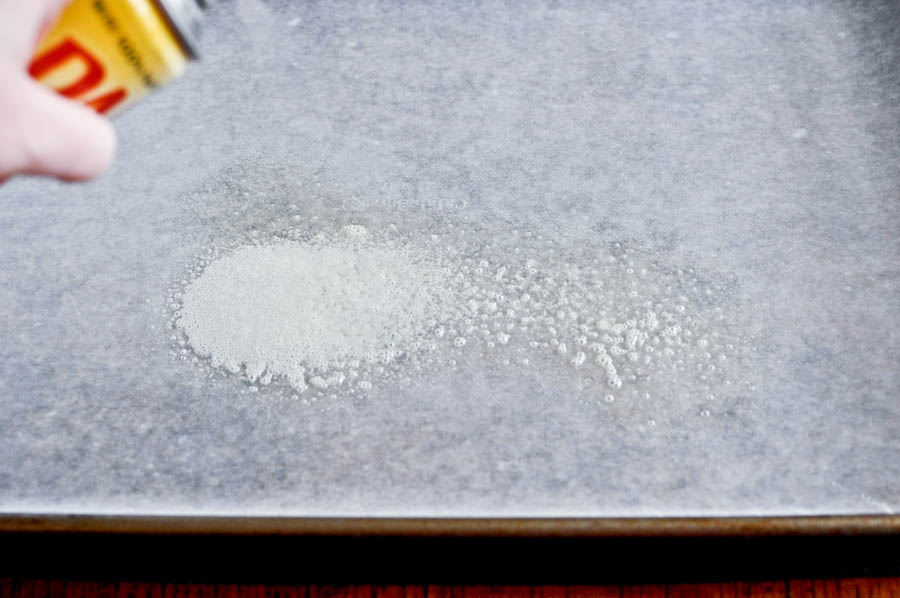 Lay some parchment paper on a sheet pan, and give it a very thorough coating of non-stick spray. Don't miss any spots! You can also brush the paper with vegetable oil. Whatever works for you.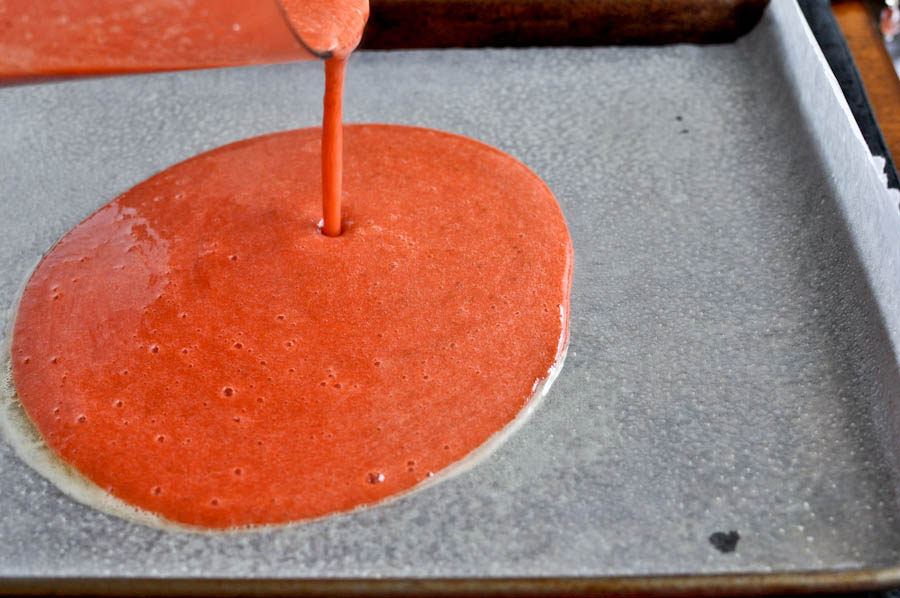 Pour the fruit mixture onto the paper-lined sheet pan. Try not to drool.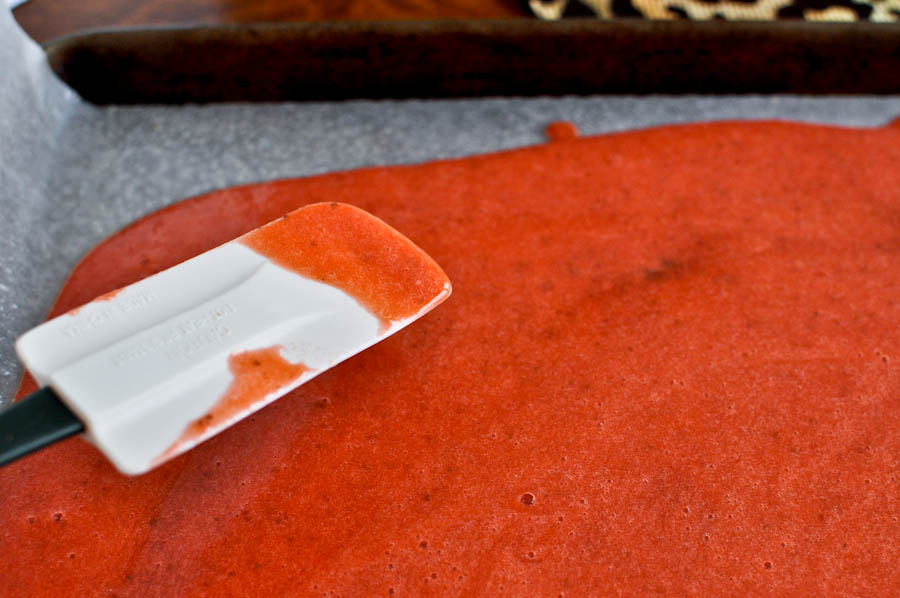 Spread it out with a spatula so it is evenly distributed. Then place it in the oven.
Now it's time to wait! And wait … and wait … and wait. This recipe takes about 12–15 hours total. Don't fret—I was concerned too! But I am convinced that it is completely worth it now. If you do not have 15 consecutive hours to be at home with the oven on, you can also sit the fruit mixture near a sunny window where it will be warm. I first stuck mine in the oven at 3 pm. I let it go for 7 hours, checking it occasionally. The only downside is that I realized halfway in that I could not use my oven for dinner! Oh well. Pizza it was.
During the "dehydrating" process, I did notice the mixture was getting a bit brittle. I followed Georgia's instructions and brushed the leather with some water using a pastry brush. It worked like a charm! At 10 pm, I inverted the leather onto another oiled, paper-lined baking sheet. I gave it a good brushing of water since I would not be checking it for 6-7 hours. I also left the oven open a crack to ensure it would not get too warm. Then I went to bed dreaming of homemade strawberry fruit roll-ups. It was like Christmas Eve!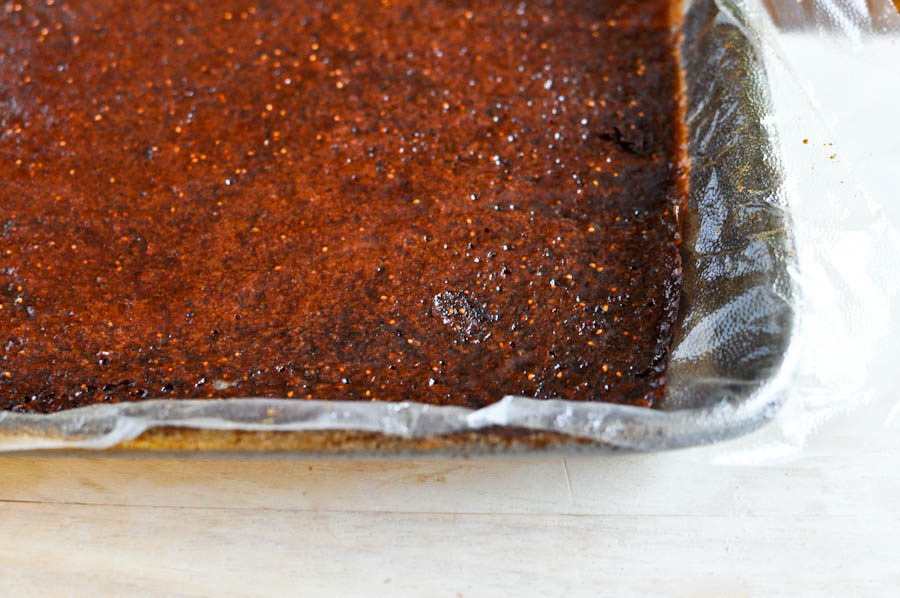 In the morning, the fruit leather looked like this. I love the little seeds.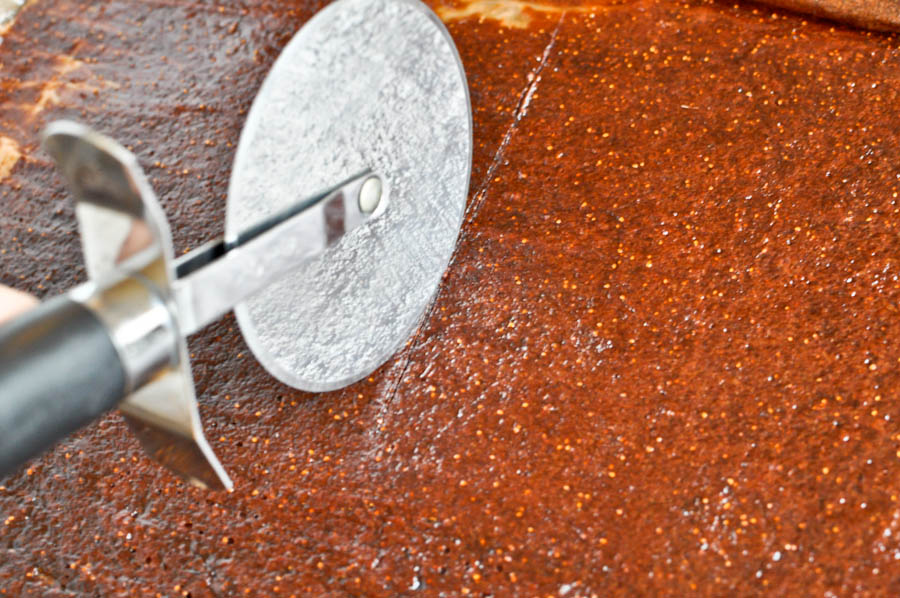 Using a pizza cutter, I cut it into strips.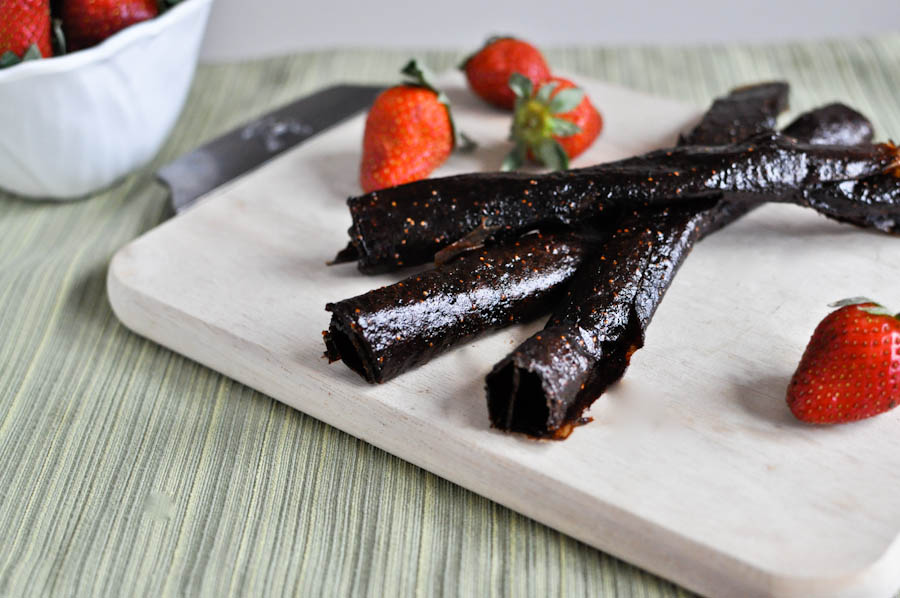 Like a kid in a candy store, I couldn't stop tasting it. It was so delicious. And so easy! I couldn't believe that I could make fruit leather at home. I rolled it up just like the old school fruit roll-ups.
I sense a new obsession coming on. Since last week, I've been envisioning every flavor of fruit leather known to man. I am quite anxious to try peach leather. And how about fig leather? Or mango leather? Kiwi leather? I would love those crunchy little seeds. Or how about this kumquat and tangerine fruit leather by acharlestonkitchen? Could one make a cantaloupe and fresh mint leather? I think we all know what I'm going to be doing for the next 3 months.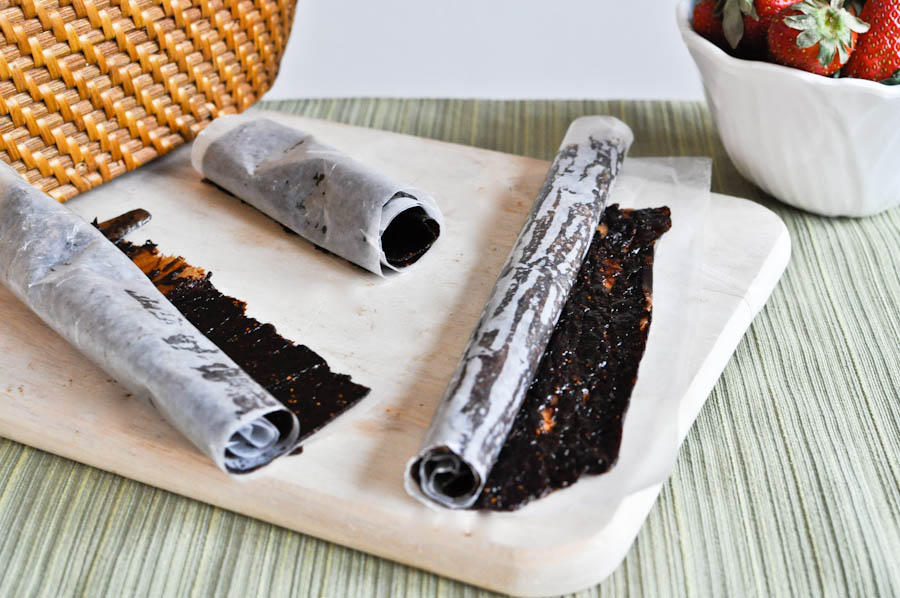 This is probably one of my favorite recipes to date. It's delicious and makes for a perfect snack. It's much healthier than the processed fruit leather since you can determine exactly what goes into it. And it is so much easier than I previously thought. Thanks so much for the recipe, Georgia! (If you don't know her yet, you should! Visit her blog, Georgia Pellegrini and enjoy all her other wonderful recipes and posts.)
Printable Recipe
See post on georgiapellegrini's site!
Description
An easy way to make dried fruit leather at home with any fresh fruit.
Ingredients
2 cups Strawberries Or Other Fresh Fruit, Chopped Into Small Pieces
¼ cups Water
1 Tablespoon Lemon Juice
¼ cups Sugar (optional, Depending On The Sweetness Of Your Fruit)
1 Tablespoon Vegetable Oil
Preparation Instructions
1. Preheat the oven to 150 -170 degrees F.
2. Place the fruit in a medium saucepan with the water and lemon juice. Simmer on medium heat, mostly covered, until they are very soft and mushy. Stewing the fruit helps it retain its color.
3.Transfer the fruit pulp mixture to a food processor or blender and blend until smooth. If it is a fruit with seeds, a food mill will remove the seeds more easily than a food processor and strainer. Taste the fruit at this point, and add the sugar if it is not sweet enough. Keep in mind that as the fruit leather dries, it will concentrate the natural sugars in the fruit and become sweeter on its own. Add a small amount of water to the mixture if necessary so that it has a pourable consistency.
4. Cover a baking sheet with plastic or a silicon baking pad. The temperature of the oven is low enough not to affect the plastic.
5. Spray or brush your baking sheet with the vegetable oil, then spread the fruit puree onto the sheet tray with an offset spatula or knife to 1/8-1/4 inch thickness. Place it in the oven for 6-8 hours. Make sure there is air circulating to prevent scorching. Alternatively place it in the sun for 6-8 hours.
6. Invert the fruit leather onto another baking sheet that has been covered in plastic or silicon baking pad and oiled, and remove the first lining. Place in the oven or sun for another 6-8 hours. If it becomes too brittle at any point, simply brush on water with a pastry brush to rehydrate it.
7. Cool the sheet tray and cut the fruit leather into desired sizes. Dust with corn starch to prevent sticking, cover in plastic and store in a cool place in a sealed container.


_______________________________________
Jessica Merchant is a personal trainer turned food writer and blogger. Her blog, How Sweet Eats, is where she proclaims her love for all things sweet, all things bacon, and everything else in between. She works her magic in her Pittsburgh kitchen, which she shares with her husband of 2 years.