When I stumbled upon 4littlefergusons' comforting recipe for Chicken Noodle Soup Casserole I knew I had to make it, especially since I was nursing my boyfriend back to health after a ski accident-induced shoulder surgery. Nothing says "get well soon" like a big pot of chicken noodle soup, and this casserole piqued my interest with the addition of yummy angel hair pasta, a creamy sauce and a buttery cracker topping.
So I gathered my ingredients and got in the kitchen. The whole cooking process took about an hour and afterwards, my house smelled just like Grandma's as I lifted this heavenly golden casserole out of the oven. It's comfort food at its finest and I think, just what the doctor ordered.
Here are the ingredients you need for success!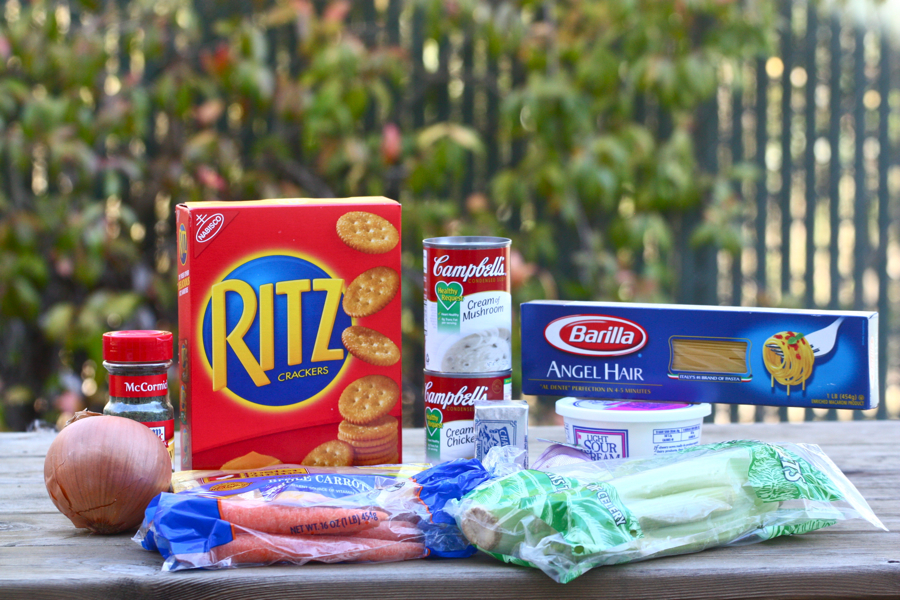 The ingredients are pretty standard to what you need for regular ol' chicken noodle soup, except of course the Ritz crackers. Oh, Ritz crackers. Where have you been all my life?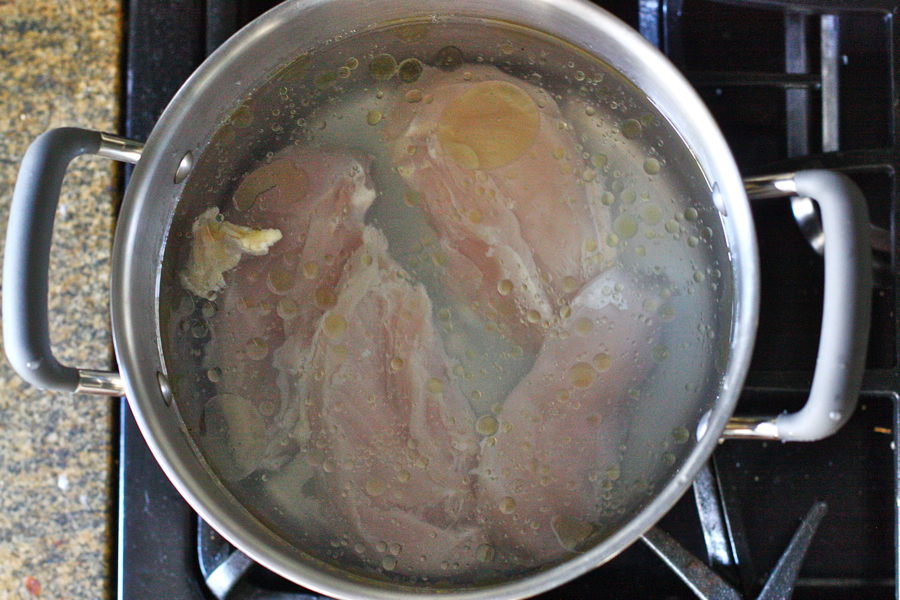 Start by cooking the chicken breasts in boiling water with a little salt and a drizzle of olive oil. This should take about twenty minutes.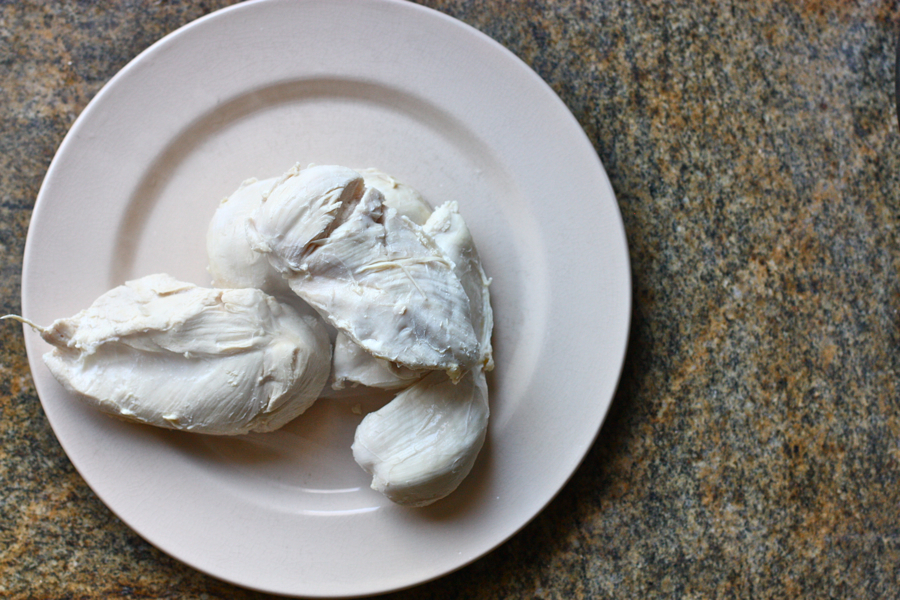 When they're done, drain them and let them cool on a plate while you prep the rest of your ingredients!
Cook your pasta in another pot of boiling water. Tonya said she used angel hair so that's what I used, too! Angel hair is by far my favorite pasta.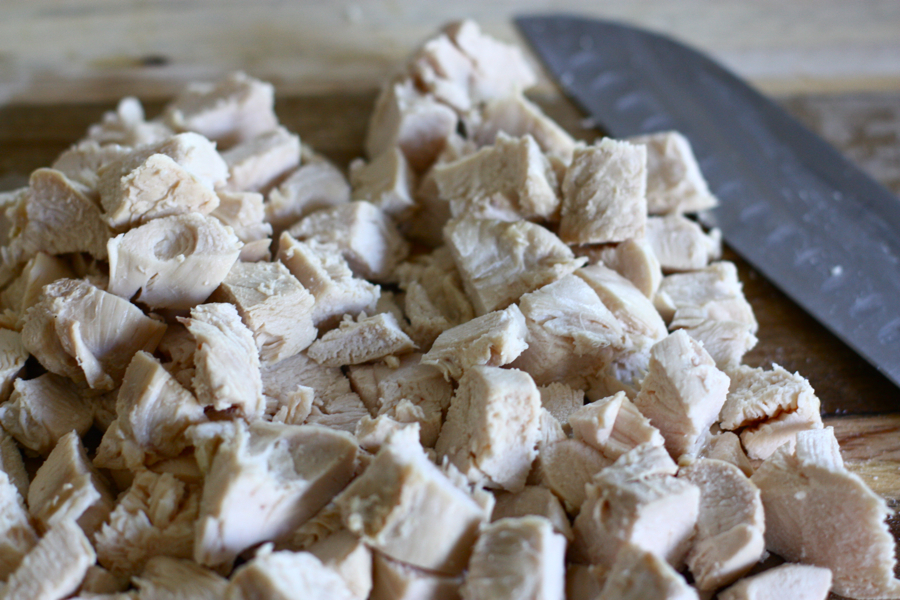 After cooking your pasta, your chicken should be cool enough to handle so chop it into ½ inch dice and then set aside.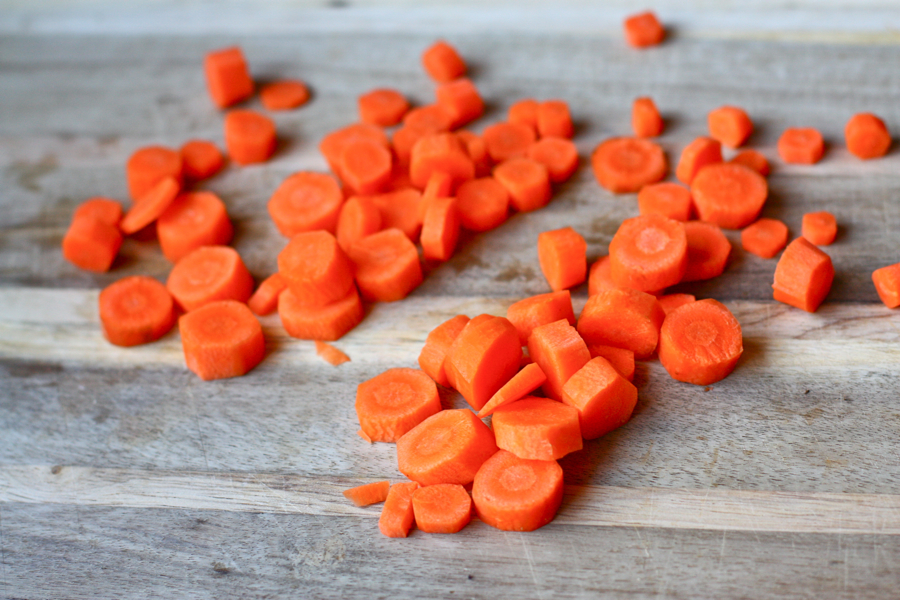 Then, chop your carrots …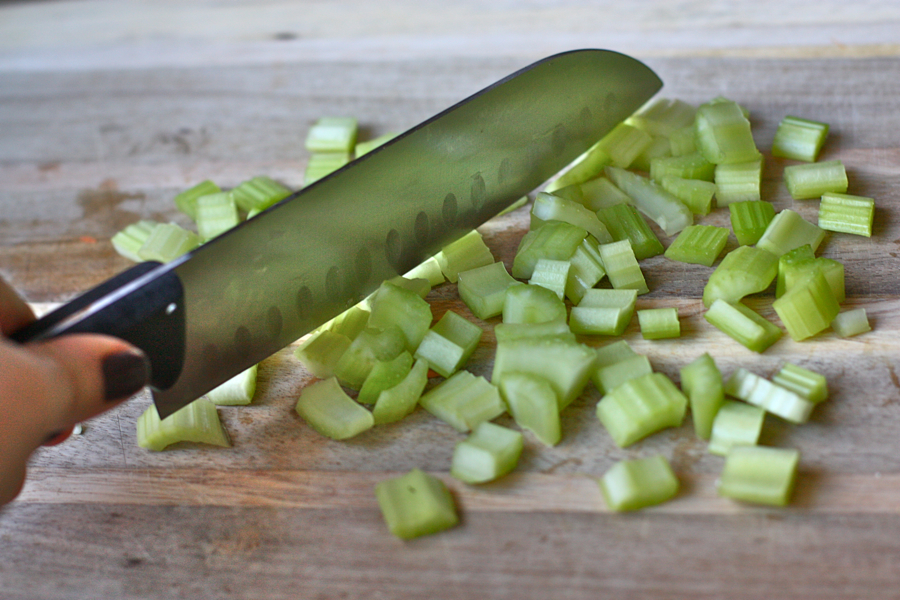 And your celery.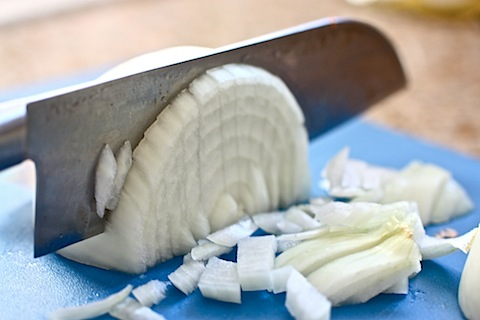 Dice your onion, too.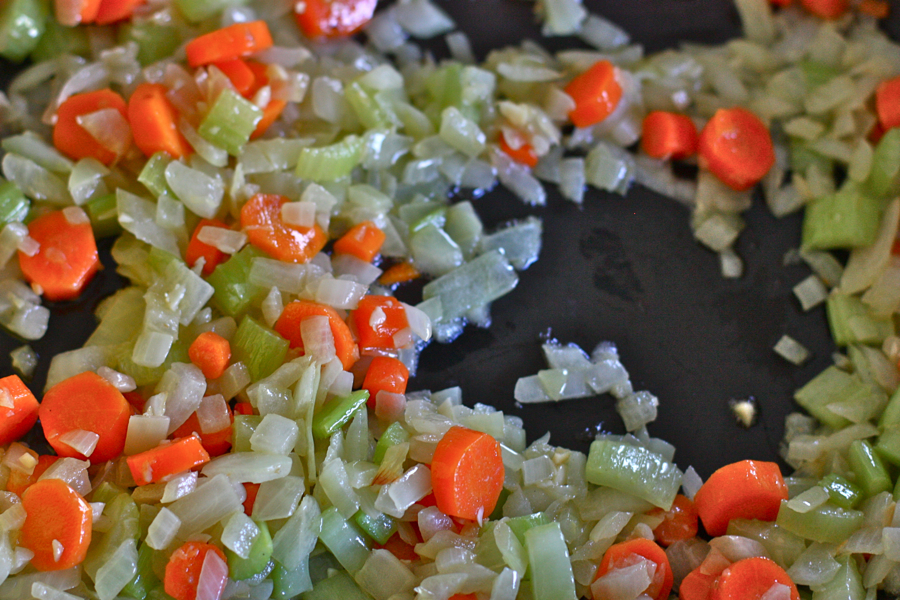 Melt four tablespoons of butter in a large skillet and sauté the carrot, celery, onion along with two minced cloves of garlic together for about six minutes, or until the onion has turned soft and translucent.
Your house should smell amazing right about now!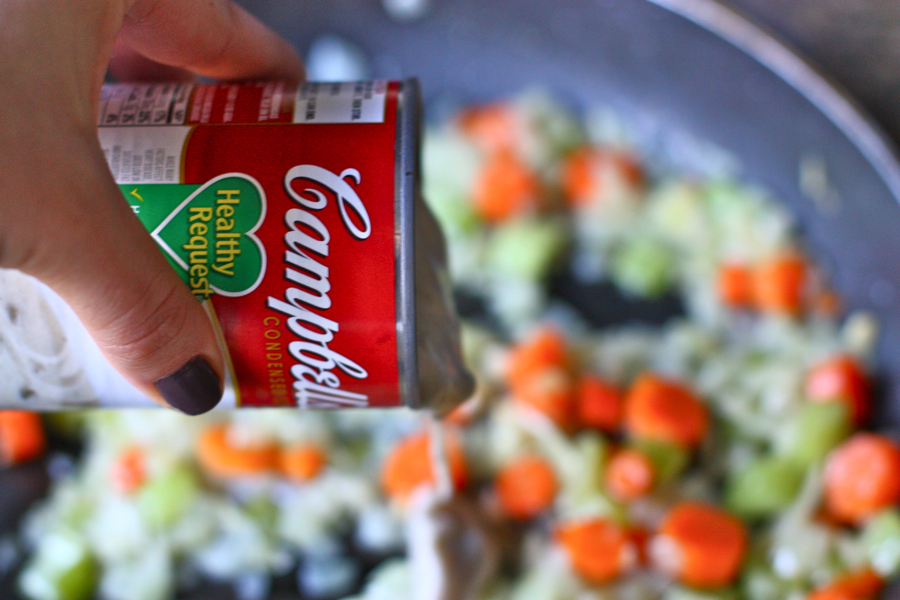 When the veggies are soft, add one can of cream of mushroom soup to the mix.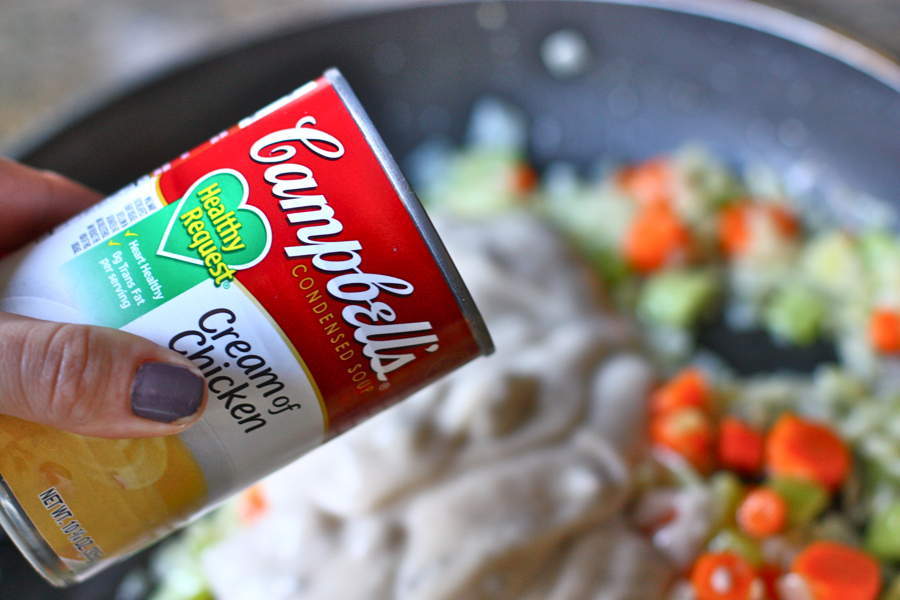 Plus one can of cream of chicken soup.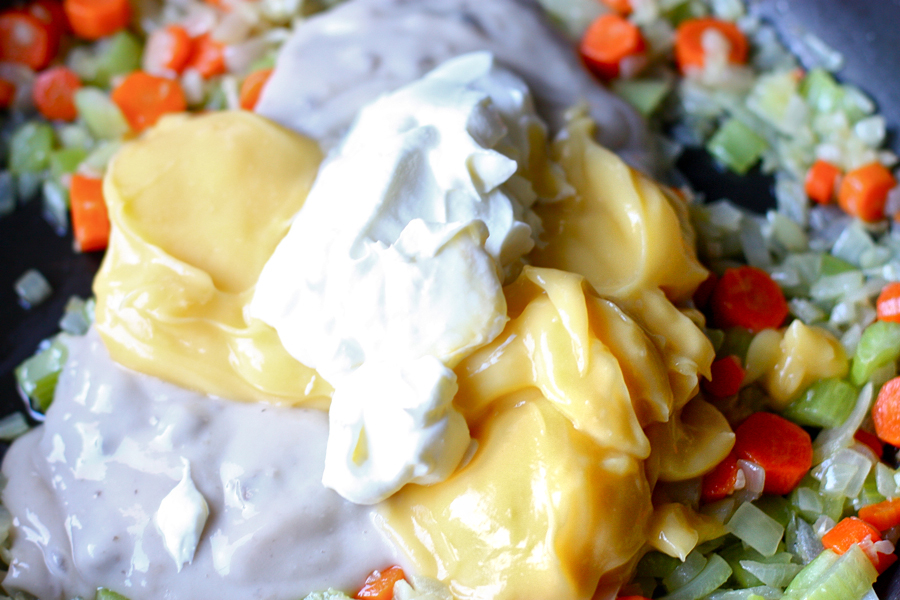 And a half cup of sour cream! I used reduced fat to lighten everything up a bit. Stir everything together to create a yummy, thick sauce and season with a little salt and pepper if you like.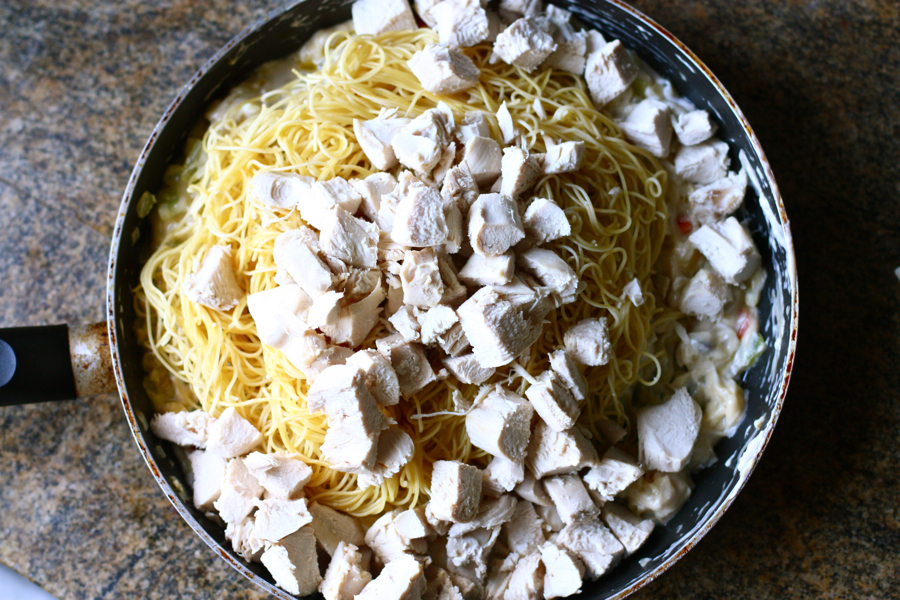 Add the cooked pasta, dried parsley and diced chicken to the pan and toss it all together.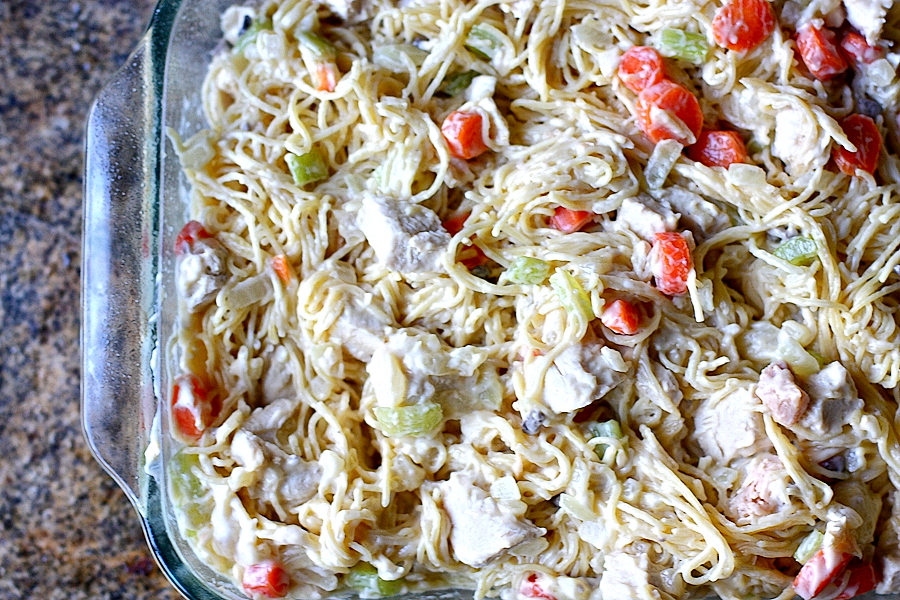 Then transfer everything to a greased 9 x 13 inch casserole dish and bake at 350ºF for 30 minutes, or until bubbly.
Now here's the best part! When the timer goes off, pour on a whole sleeve of buttery, wonderful Ritz Cracker crumbs and continue baking for five to ten more minutes.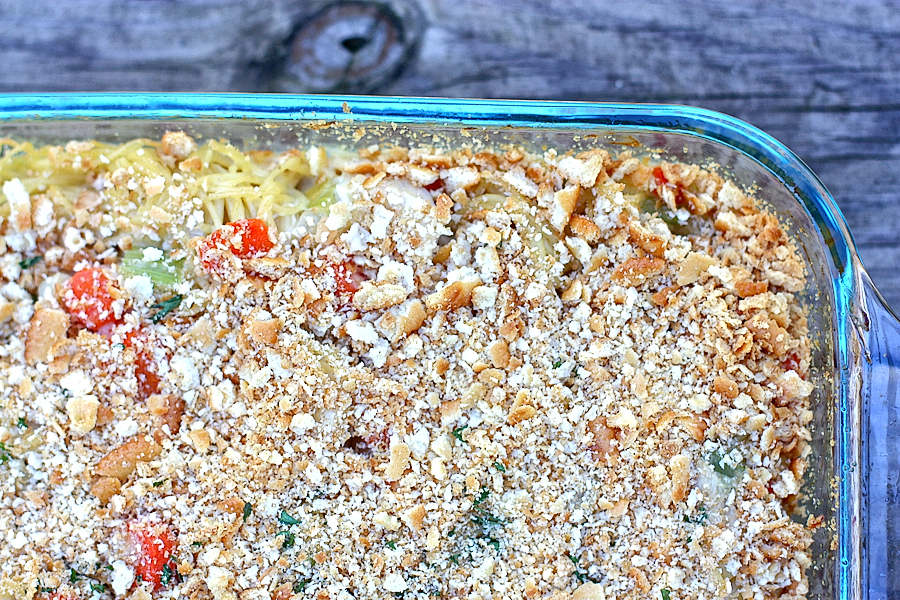 The casserole will smell delicious and be golden brown when it's done!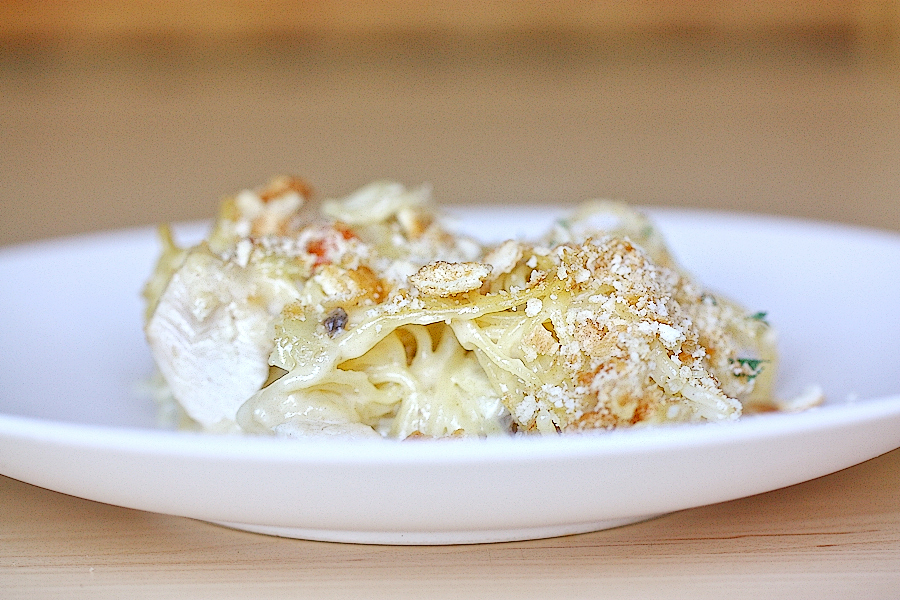 We immediately dug in and couldn't believe just how delicious this simple casserole was. Adam and I both agreed that the texture of the Ritz Cracker crumbs absolutely made this dish complete, and I didn't hesitate to serve up seconds (for dinner and breakfast the next morning!).
Thank you Tonya for sharing this classic, comforting recipe. It's definitely going to be a staple in my house from now on! (If you want to see just how cute those 4 little Fergusons are, head over to her blog.)
Printable Recipe
See post on 4littleFergusons's site!
Description
Chicken noodle soup reminds me of being sick. However, I love the flavors and this casserole was the perfect solution to my dilemma! It really hit the spot on a cold winter evening, and my kids gobbled it up!
Ingredients
4 whole Boneless, Skinless Chicken Breasts
12 ounces, weight Egg Noodles (I Prefer Angel Hair)
1 whole Onion, Chopped
2 cloves Garlic, Pressed
½ cups Carrots, Chopped
½ cups Celery, Chopped
¼ cups Butter
1 can (10 Oz. Size) Cream Of Mushroom Soup
1 can (10 Oz. Size) Cream Of Chicken Soup
½ cups Sour Cream
Salt And Pepper, to taste
1 Tablespoon Dried Parsley
1 package (1 Sleeve From A Standard, 16 Ounce Box) Ritz Crackers, Crushed
Preparation Instructions
In a large pot of boiling water drizzle some olive oil and 1 tablespoon of salt. Boil the chicken until done, about 20 minutes.
Cook the noodles in boiling water according to package instructions.
While the noodles are cooking, cut up the chicken into 1/2 inch pieces. Drain pasta and set aside. Finely chop onions, carrots and celery.
In a pot saute onion, pressed garlic, carrots, and celery in the butter. Cook until the onions appear translucent, add the mushroom soup, chicken soup, and sour cream. Mix well. Salt and pepper if needed.
Add the noodles, chicken, and parsley. Stir until fully coated. Transfer to a greased 9×13 pan.
Bake at 350F for 30 minutes or until bubbly.
Remove from oven and sprinkle with crackers and bake 5 – 10 more minutes.


_______________________________________
Jenna is a food writer who has worked as a pastry chef and bread baker. Her blog Eat, Live, Run has great recipes, travel stories, and the perfect slogan: "Celebrating life, one crumb at a time."