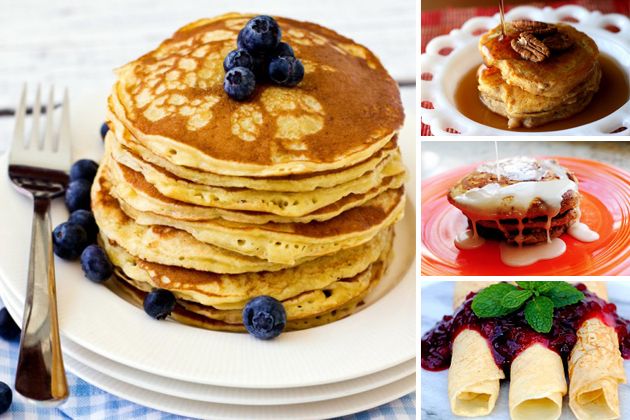 When we started doing theme posts here at Tasty Kitchen, one of our first themes was pancakes. Today, almost a year later, I'm still dreaming of those Carrot Cake Pancakes from multiplydelicious. And okay, also those incredible Cinnamon Bun Pancakes from sapeylissy.
Since then, you've been sharing so many more delicious-looking pancake recipes with us and we just had to show you more of this breakfast wonder. Because we love you, because it's Tuesday, and because I'm fa… never mind.
Let's start with some basic recipes, shall we?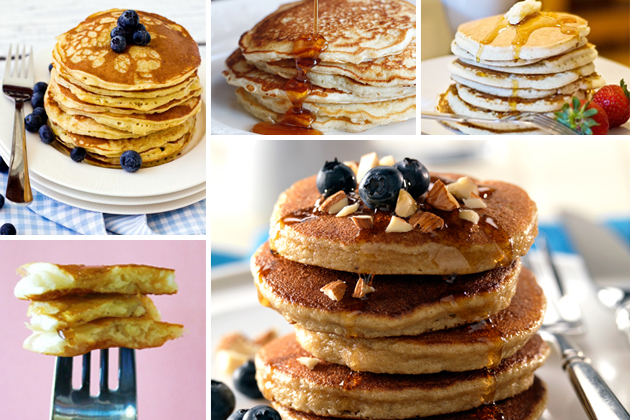 Clockwise from top left: Fluffiest Pancakes Ever from lickmyspoon, Basic Pancakes from ivoryhut, Easy Homemade Pancakes from MelodySoul, gluten-free Silver Dollar Pancakes from elanaspantry, and Buttermilk Pancakes from distractedhomemaker.
If you want to use whole wheat flour, protein powder, lighten up the ingredients, or do what you can to justify stacking more on your plate, we've got some options for you too.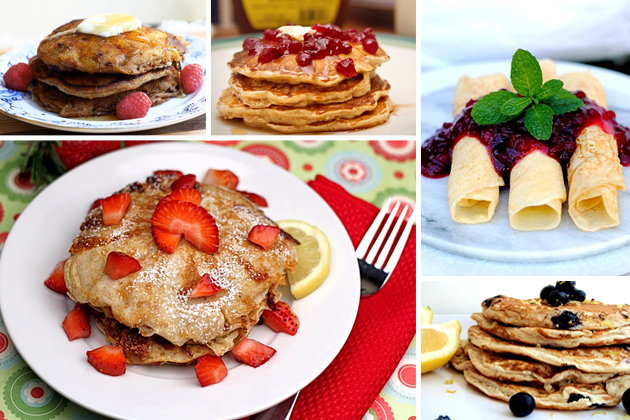 Clockwise from top left: Whole Wheat Raspberry Pancakes from A Cozy Kitchen, Whole Wheat Oatmeal Pancakes from mrnate, Swedish Pancakes from The Church Cook, Protein Pancakes from The Healthy Housewife, and Lemon Cottage Cheese Pancakes with Strawberries from twopeasandtheirpod.



Or you could go the other way and really lay it on, making pancakes decadent enough to enjoy as a dessert. Pancakes that taste like cake, pie, Italian dessert … we're holding nothing back here.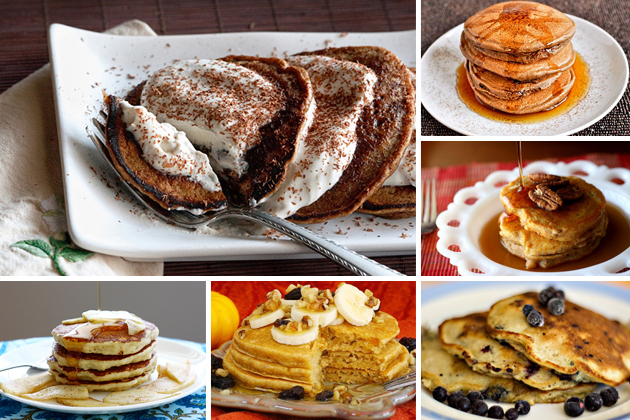 Clockwise from top left: Tiramisu Pancakes from ivoryhut, Chocolate French Silk Pancakes from HowSweetEats, Spiced Sweet Potato and Pecan Pancakes (or Waffles) from Natalie (Perrys' Plate), Blueberry Banana Pancakes from everydayisgourmet, Pumpkin Pancakes from livlife (Kim), and Bread Pudding Pancakes from A Cozy Kitchen.



Or maybe you already have your favorite pancake recipe. If that's the case, consider dressing it up with something new and try one of these pancake toppings. It's an easy way to jazz up an old standby!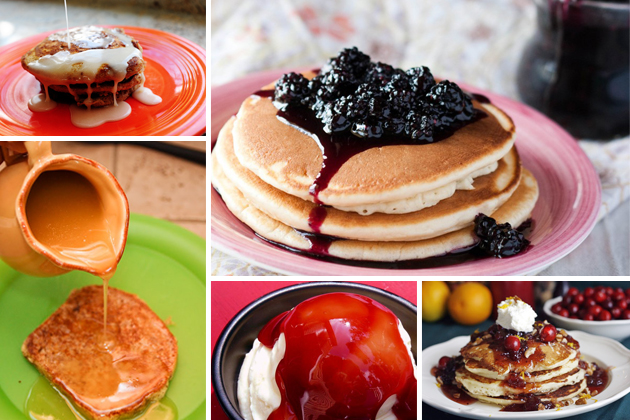 Clockwise from top left: Ree's luscious Maple-Butter Icing (for Pancakes), Very Berry Syrup from apronofgrace, Cranberry Orange Maple Syrup from taracooks, Pomegranate Syrup from ButterYum, and Essential Buttermilk Syrup from lizaskitchen.



Then there's this, which just blows every pancake tradition away. It might deserve to be in its own food group. Chocolate, candied bacon, Nutella, maple syrup … Kelly, you're killing me here!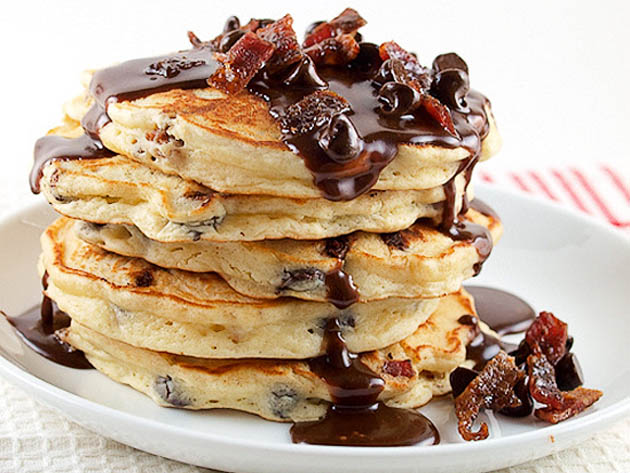 I love pancakes and I'd gladly enjoy them any time of the day. Remember that Cranberry Butter we featured here some weeks ago? Amazing on pancakes, too. Trust me on this.
How about you? Do you have a favorite pancake recipe? Favorite topping or syrup? Raise your hand if you've had pancakes for lunch or dinner. (This, she says, as she attempts to type and raise both hands at the same time.)
Happy Tuesday, everyone!