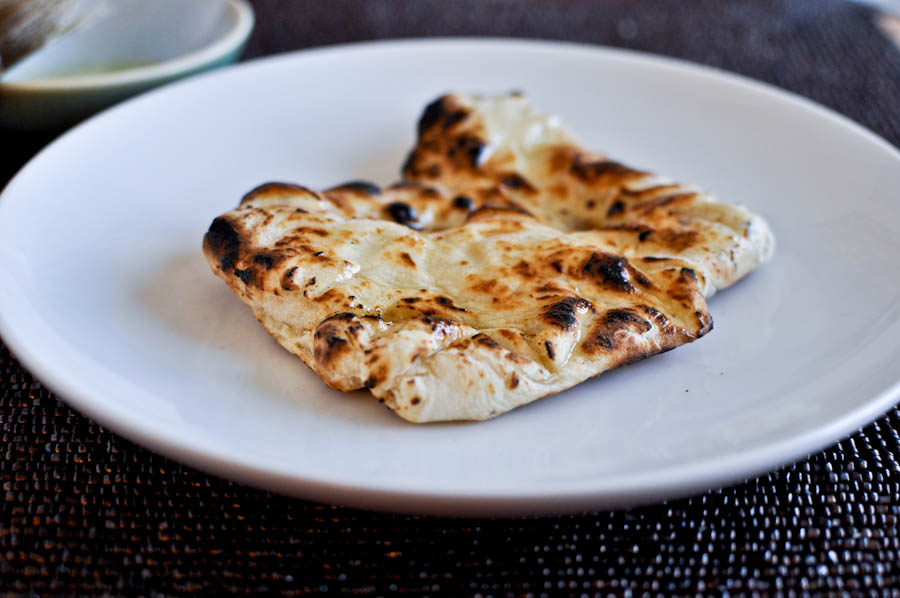 One of my resolutions for New Year was to make more homemade bread. I couldn't think of a better place to begin than with one of my favorites: fluffy naan.
To be honest, naan has always intimidated me a bit. It is so delicious that I assumed it must be complicated. Luckily, I stumbled upon Prerna's recipe for Homemade Naan and can say that is has single-handedly changed my life. Long gone are the days that I have to run to the store and purchase naan to satisfy a craving. Now I can make it at home!
Not only that, but I can't believe how simple it really is. I promise it is even easier than it looks.
I followed Prerna's recipe exactly, and loved it so much that I also made a second batch with whole wheat pastry flour. It came out great too! Now my only problem is that I can't stop eating naan with loads of butter. Send help!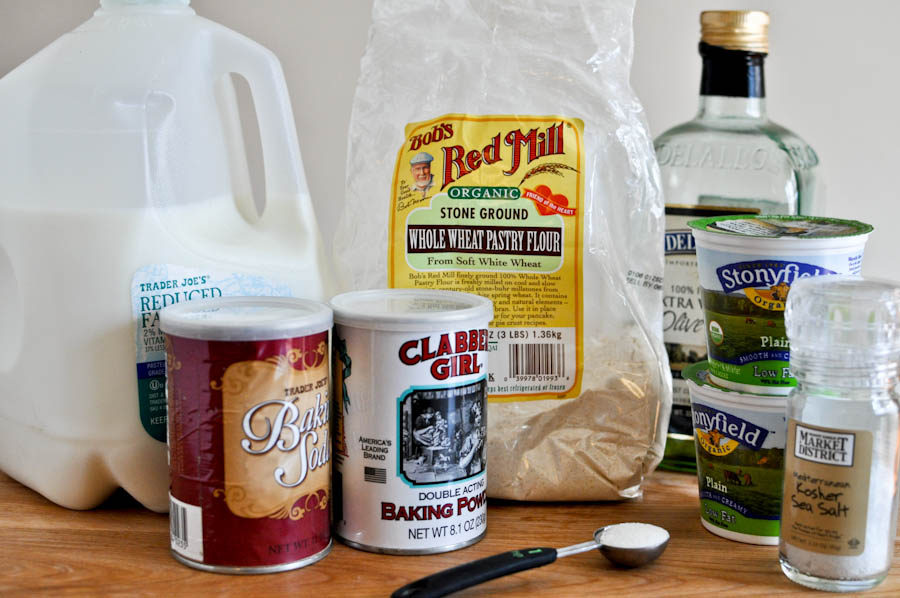 Here's everything you need for the dough: milk, plain yogurt, baking soda, baking powder, sugar, salt, olive oil and either whole wheat pastry flour or all-purpose flour. You probably have all the ingredients in your kitchen! In fact, I think you should head on in there right now and whip some up.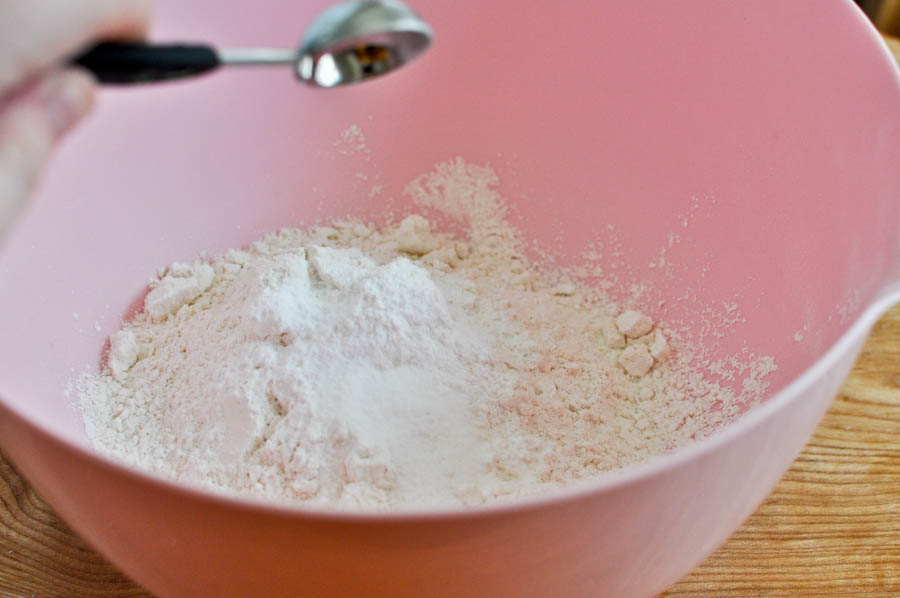 Begin by combining all of your dry ingredients—the flour, baking soda, baking powder, sugar and salt—into a bowl. Mix them up well.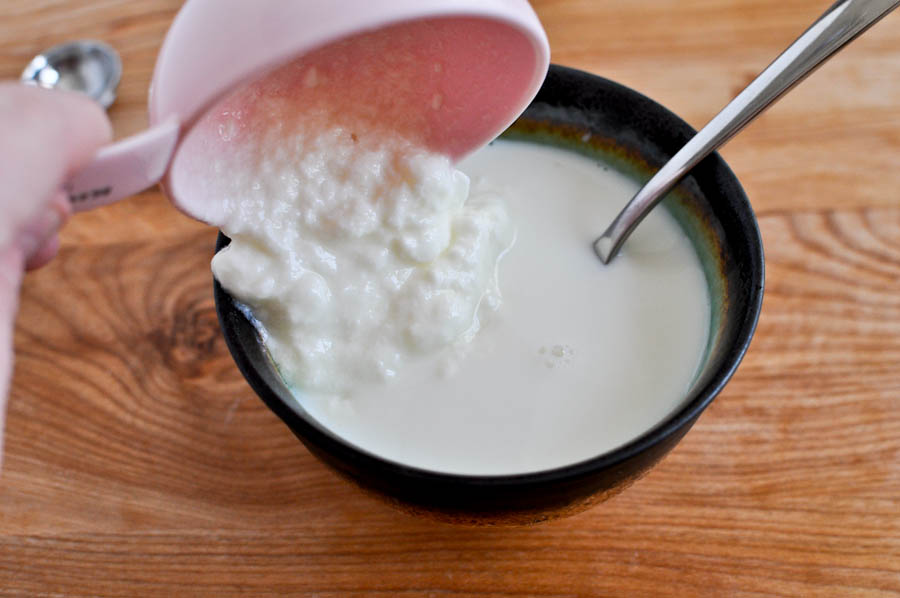 In a separate bowl, warm the milk (I used the microwave and heated mine for about 25 seconds) with the plain yogurt. I let my yogurt sit out for about 15–20 minutes just to take the chill off. It may look a little funky, but just follow the rules. Prerna knows her stuff.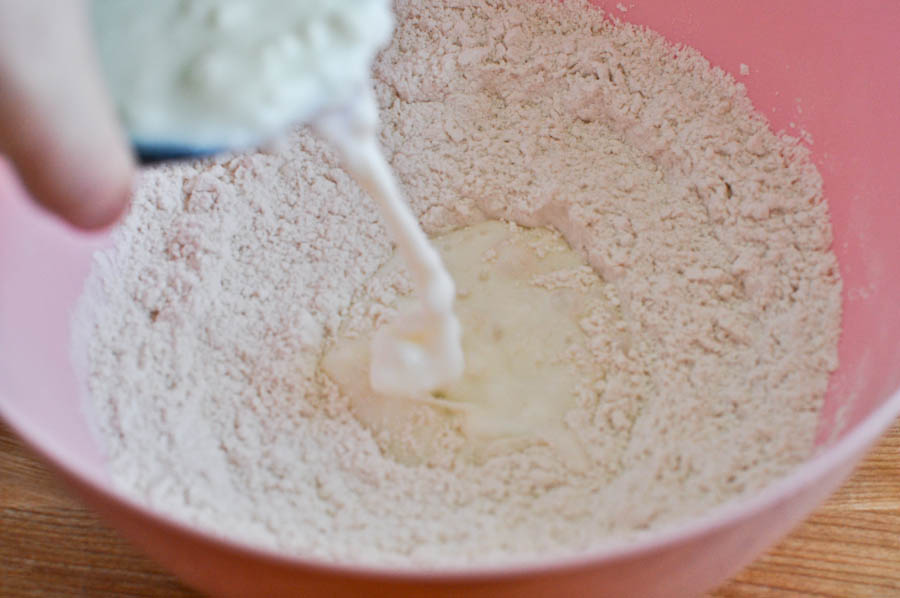 Make a well in the center of the dry ingredients and slowly add half of the yogurt and milk mixture. Right here is where I fell in love with Prerna's recipe because of her honest instructions: she does not believe that there is one exact liquid measurement to mix with one exact flour measurement to form the perfect dough. I believe the same! While that theory may take a bit of practice and getting used to, it is nearly foolproof when it comes to this naan. After adding half of the mixture, gradually add a bit more until the dough comes together. I ended up using the entire milk and yogurt mixture with the all-purpose flour. However, I only used about 3/4 of the mixture when using the whole wheat pastry flour.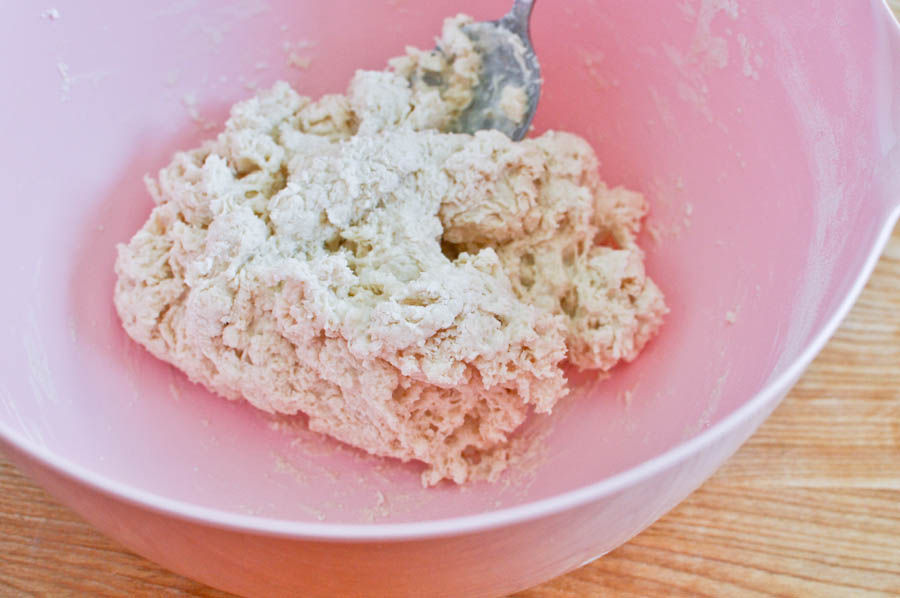 Mix the dough with a spoon until it comes together. Use a bit of oil to grease your hands and form the dough into a ball. No kneading at this stage!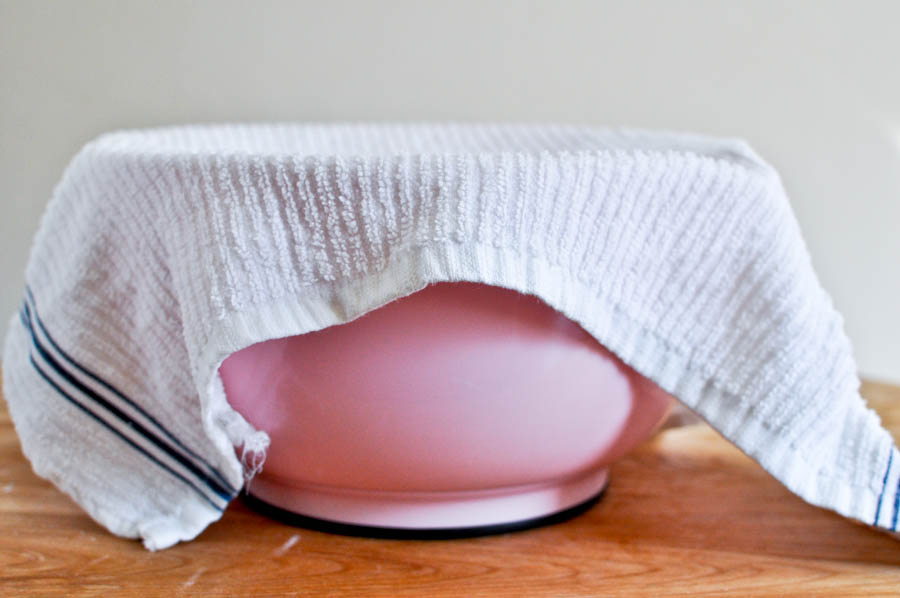 Now it's time to let the dough work its magic. Cover it with a damp cloth and let it sit for at least 2 hours. In this time, go do something fun like bake cookies or walk the dog. I took this moment to scrub my kitchen floor, which is very out of character for me. I hope I'm not falling ill.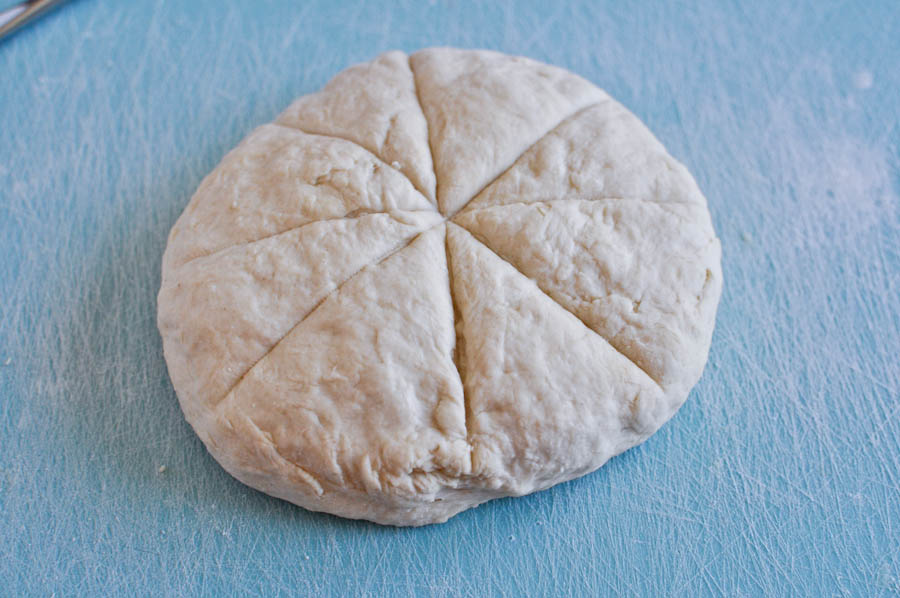 After the two hours have passed, dust your work space with flour and knead the dough for 2-3 minutes. It should be soft and pliable. Form it into a circle. I actually scored my dough to make it easier to get uniform pieces.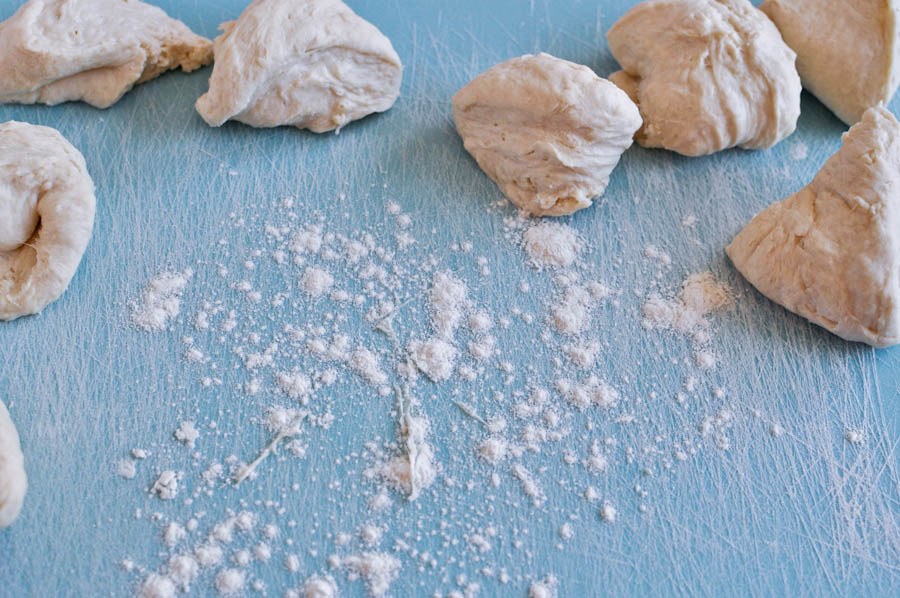 Separate the dough into eight pieces. Sprinkle some flour on your workspace again and flatten each piece of dough. It should still be slightly thick and somewhat elongated.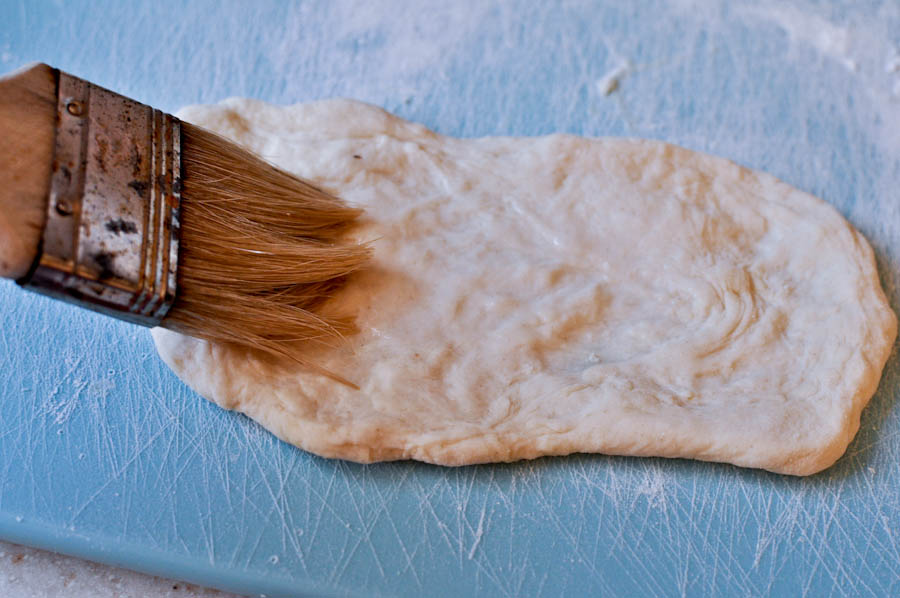 The time has come to season your naan! You want to season one side with your flavor of choice; I chose garlic and a bit of smoked paprika. But there is a world of possibilities out there. Get creative! In the meantime, brush the opposite side with water.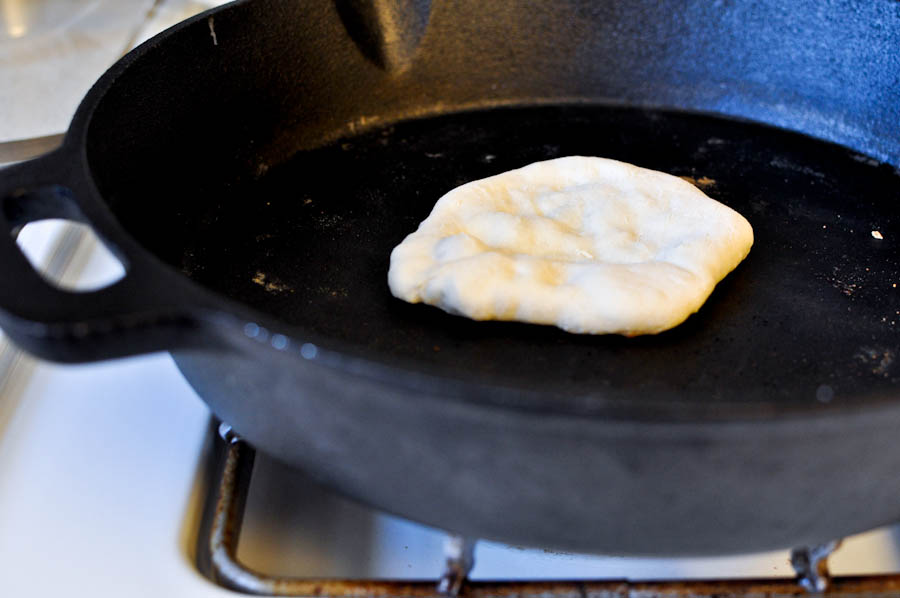 Heat a skillet on medium heat. I used my dandy, trust old cast iron. I couldn't live without it. Place your dough water-side down in the skillet. It will stick. Cook the naan for about 30-60 seconds. You know it's time to flip it when you can see the dough bubbling. If it is still sticking, give it another 15 seconds and try again. Gently lift it up with kitchen tongs.
This is where you have two options. You can flip the naan in the skillet and cook the other side just like you did the first. I did this with a handful of my dough and each came out beautifully.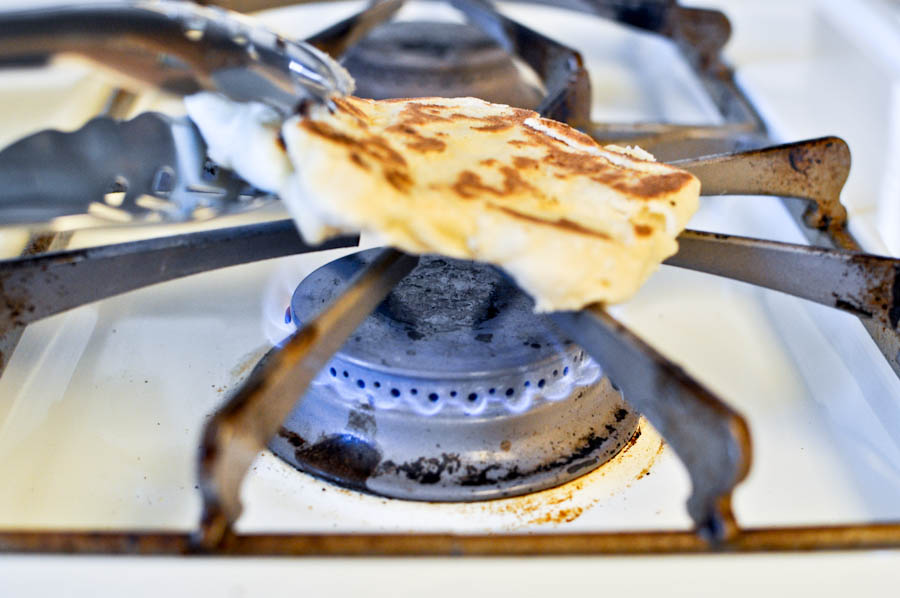 Prerna's recipe calls for heating the other side of the naan over an open flame to achieve an authentic naan look and taste. I was hesitant at first, but I lit my burner next to my cast iron skillet and got to work.
I absolutely loved this result!
I used kitchen tongs and held the naan over the flame for about 30 seconds, rotating it constantly. The timing worked perfectly since the other naan was toasting in the skillet, and it became natural to get into a routine: move naan from the skillet to the flame, place the next naan in the skillet, rotate the naan over the open flame, then set aside on a plate to cool. Repeat!
I highly recommend this option for those of you with a gas stove. Just be careful! Make sure there is nothing flammable nearby (such as towels or napkins) and give your full attention to the naan.
And remember, the other option of completing the naan in the skillet yields an excellent result as well.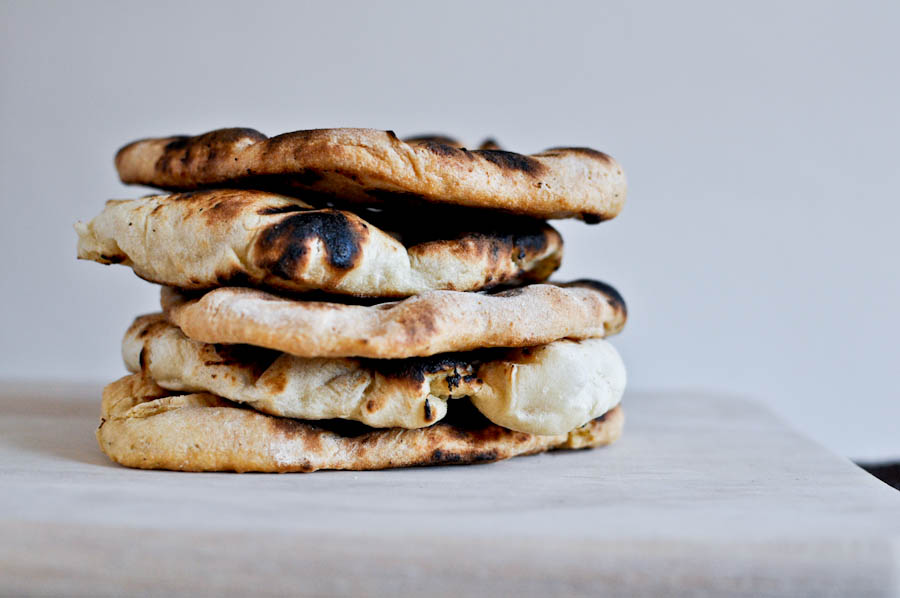 I ended up with a tall, fluffy stack of regular and whole wheat naan. I hope there is naan in Heaven.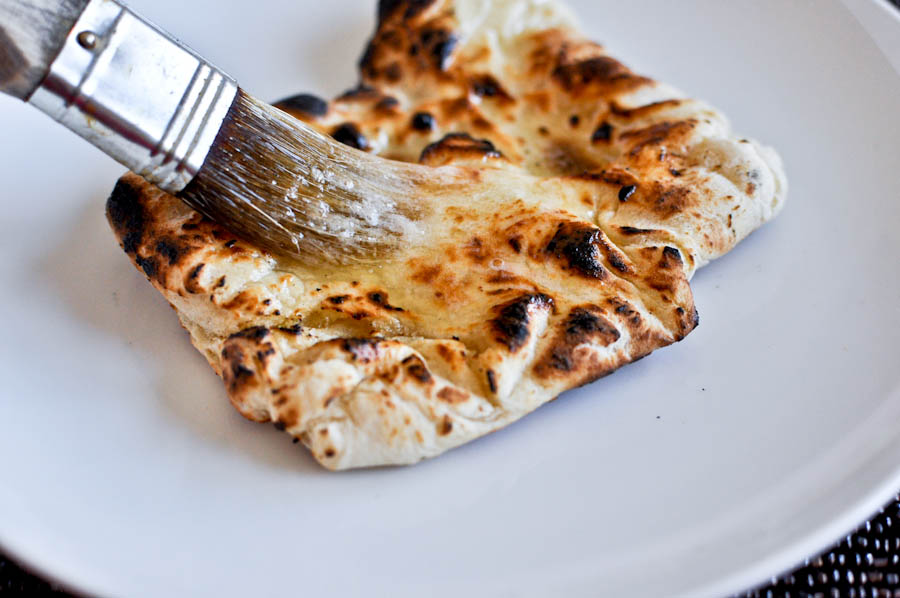 Regardless of how you choose to flavor your naan, I recommend brushing it with tons of melted butter. Why would you do anything else?
Of course, you also have the option of making naan pizzas (a favorite in our house) or peanut butter and jelly naan or even dessert naan. Naan topped with peanut butter, honey, bananas and chocolate chips? Sign me up!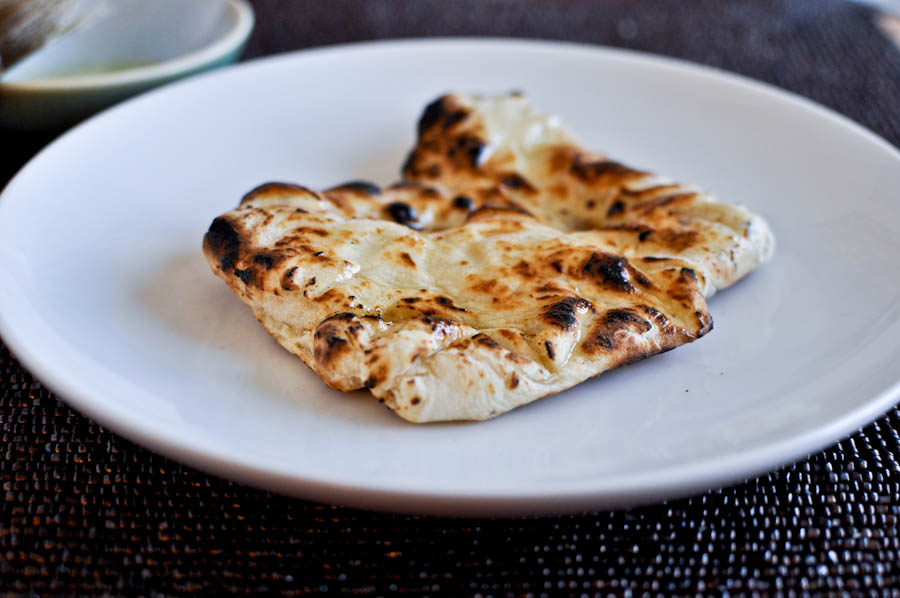 I promise you won't ever want to buy store-bought naan again. Enjoy!
Thanks to Prerna for her fabulous recipe and for helping me step out of my comfort zone in the kitchen. She made my first naan experience quite enjoyable and extremely delicious. Check out her wonderful blog, Indian Simmer, which is chock full of beautiful photography and mouth watering recipes.
Printable Recipe
See post on indiansimmer's site!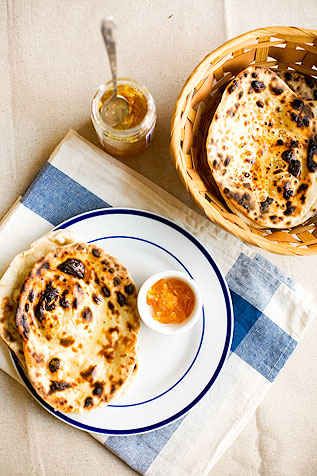 Description
Naan is one of the most popular Indian breads. It is a flat bread made with fermented dough, traditionally cooked in a clay oven called tandoor.
Ingredients
2 cups All Purpose Flour Or Wheat Flour
¾ teaspoons Baking Powder
½ teaspoons Baking Soda
½ teaspoons Sugar
¼ teaspoons Salt
½ cups Warm Milk
½ cups Yogurt
½ Tablespoons Oil, As Needed
Additional Optional Herbs And Seasonings To Flavor The Naan (See Note)
Preparation Instructions
Note: The ingredient list includes the ingredients for the dough. You can flavor your naan with all kinds of herbs. I made cumin naan, garlic naan, butter naan, and some topped with cilantro.
Mix all the dry ingredients together and make a well of flour.
Mix milk and yogurt together and pour half of it into the well and slowly combine it together.
I don't think there's an exact amount of liquid that should be added to the exact amount of flour to make a perfect dough. So what I do is continue adding liquid slowly and combining it all together slowly until a soft dough is made. The dough should be soft enough for you to be able to dig your finger into it without applying any pressure. If dough sticks to your hand too much, then use little bit of oil on your hands and then punch into the dough.
Cover with a damp cloth and let it sit in a warm place for at least 2 hours.
After a few hours, dust your working board, take out the dough and knead it for about 2-3 minutes. Divide the dough into smaller balls (in this case you should get about 8 balls to make naans).
Dust the board again and flatten the balls to make bread that is a little thick and elongated.
Now sprinkle one side of the bread with your desired flavor. I made cumin, minced garlic, chopped cilantro and some simple butter naans.
Brush the other side with water.
Heat a thick-bottomed skillet or a wok or any heavy-bottomed pan with a lid. Once it is nicely hot, place the naan wet side down (it will stick) and cover it with a lid.
Let it cook for about 30 seconds or until you see bubbles on it. Now cook the other side of the naan over a direct flame on the burner with the help of tongs. When you see some charred brown spots then you know that the naan is done.
Smother a good amount of butter on your naans and when you taste them, you'll know what a peaceful life means!


_______________________________________
Jessica Merchant is a personal trainer turned food writer and blogger. Her blog, How Sweet Eats, is where she proclaims her love for all things sweet, all things bacon, and everything else in between. She works her magic in her Pittsburgh kitchen, which she shares with her husband of 2 years.