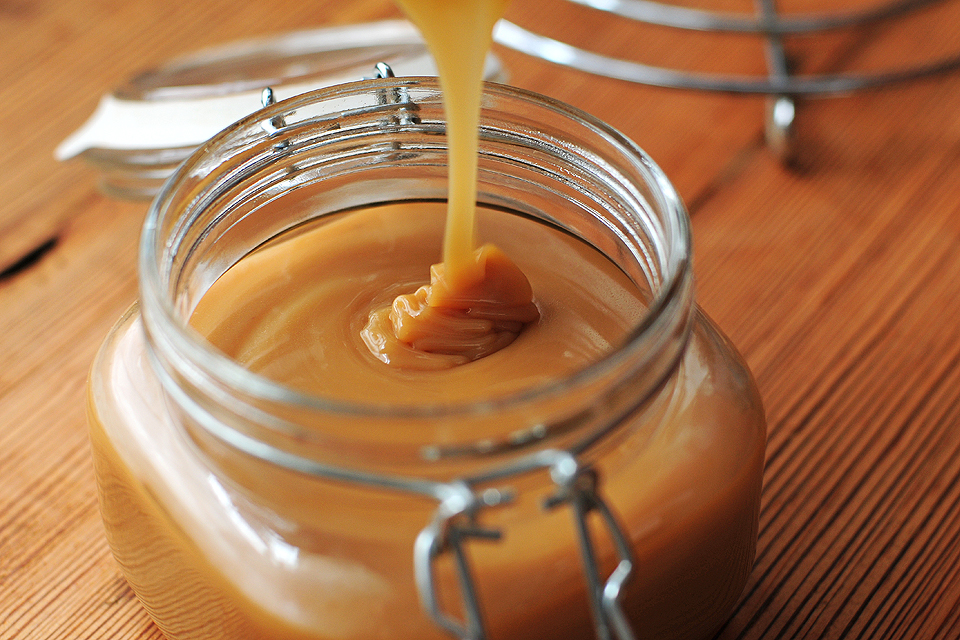 Lately I've been doing a little reading about honey. It truly is an amazing food, straight from the hive, with no added ingredients or preservatives. There's a slew of possible health benefits from eating honey, but I just enjoy the taste, one that you just can't find with other sweeteners. And depending on the time of the year and where the bees gather the pollen, the flavor will change from one batch to the next. All thanks to the handiwork of busy bees all over the world.
I think many people usually reserve honey for adding to tea, or maybe for spreading on a biscuit (which is mighty yummy indeed), but there are so many recipes that use honey as a main ingredient. Here at Tasty Kitchen you'll find a nice collection of tasty temptations utilizing the sweet, golden nectar, from baked treats to marinades and yummy sauces. One recipe I found is a honey caramel sauce, perfect for dipping apples or pears, or as a topping for ice cream or cake. And with a title like I've Been Called Evil Caramel Sauce from Sally Darling, how can you not be a little curious? Plus, it's right up my ally in the level of difficulty: easy peasy.
Wanna see how easy?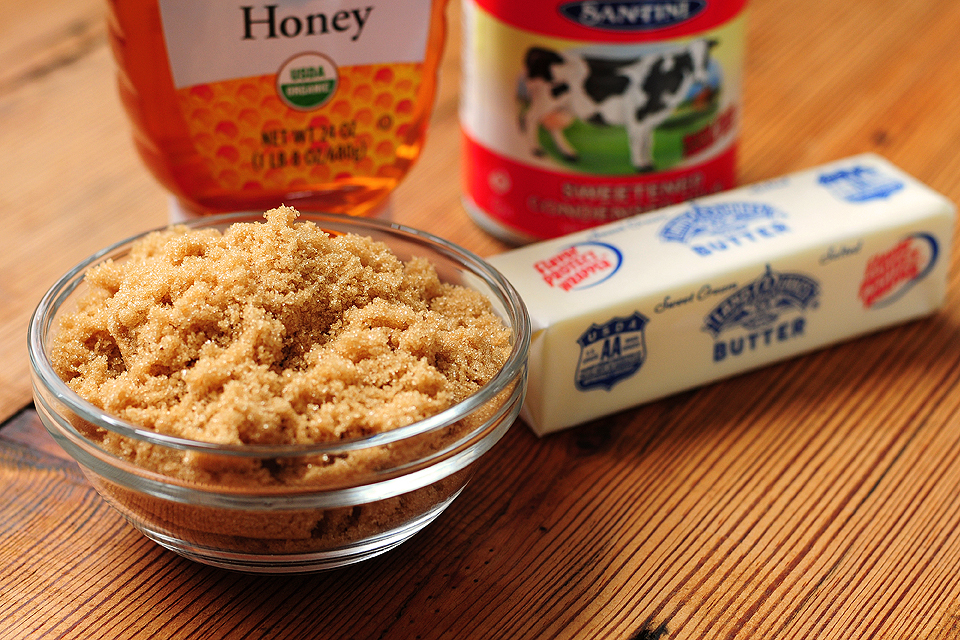 For starters, you'll only need four ingredients: honey, butter, brown sugar and sweetened condensed milk.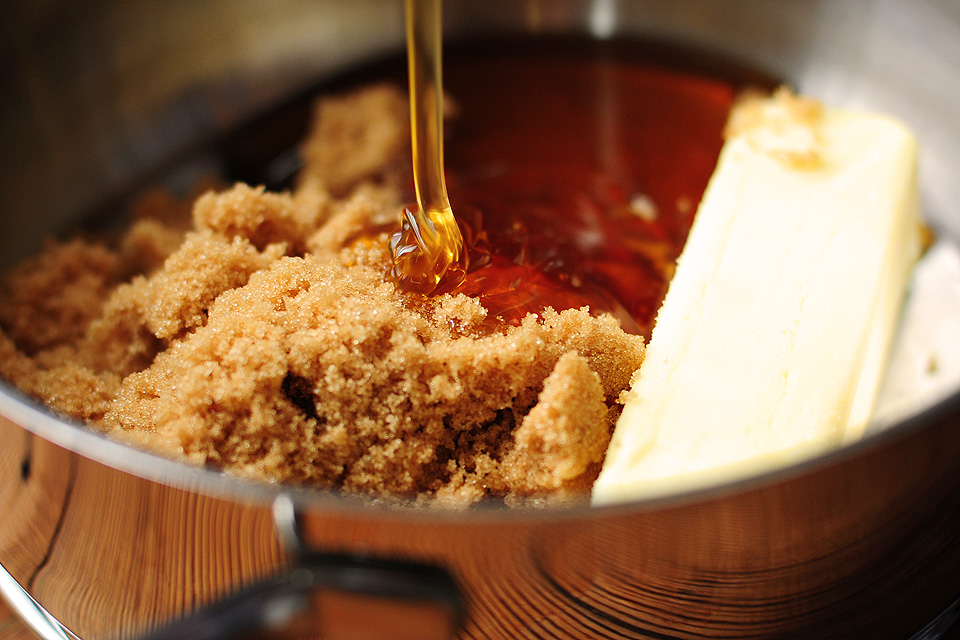 Begin by adding the honey, butter and brown sugar to a sauce pan.
Hey, while we're talking about honey, do you know the about the tip for measuring honey? Lightly spray your measuring cup with cooking spray before measuring the honey. It'll glide right out. Nifty.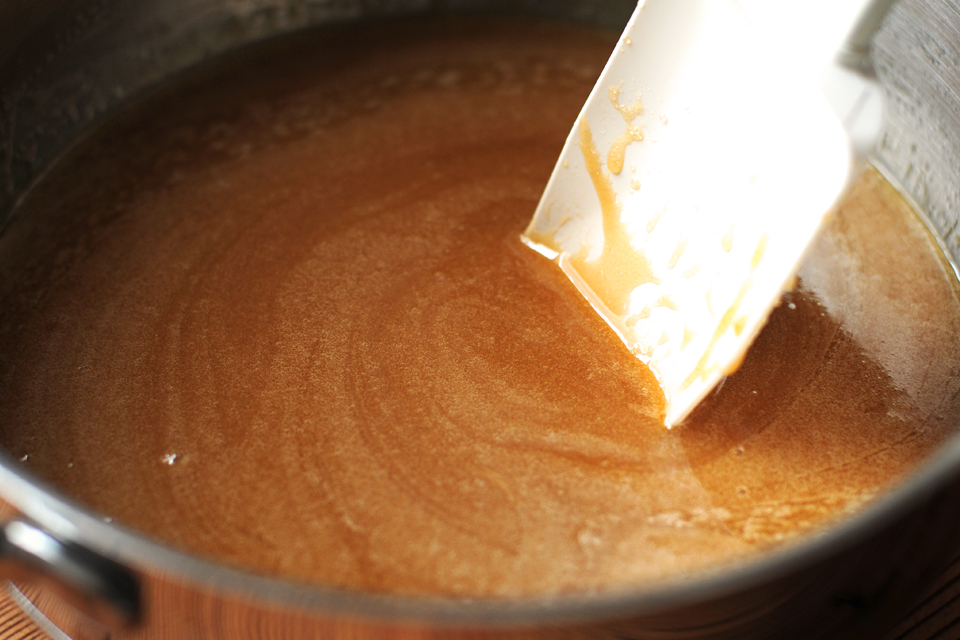 Over medium to high heat, combine until well mixed, stirring constantly.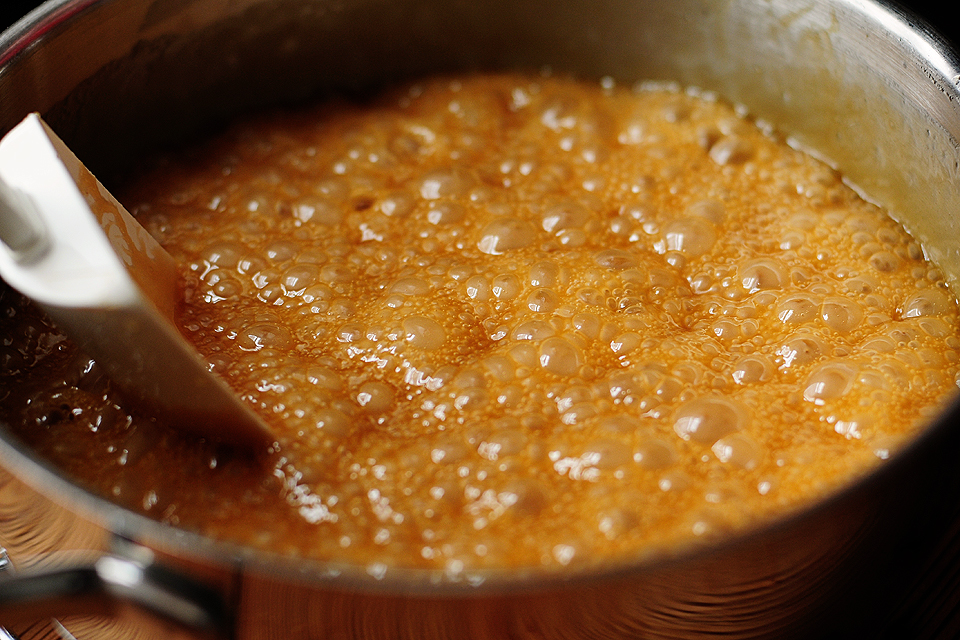 When the mixture comes to a rolling, bubbling boil, continue to stir for two minutes.
Next, add the condensed milk.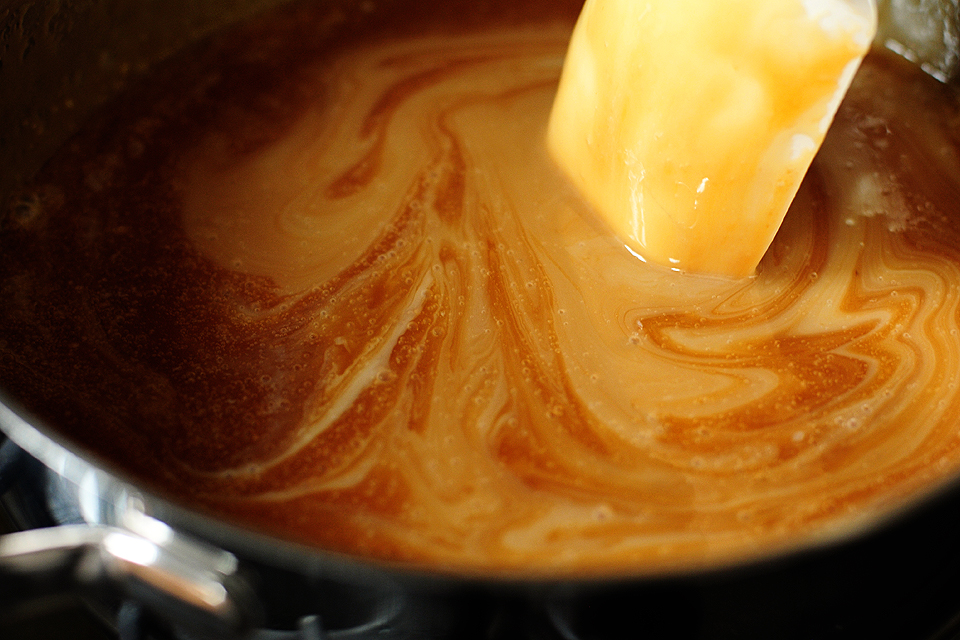 Continue stirring over medium heat until thoroughly combined. And if you're like me, have fun making designs in the pot of sweet stuff. Cool.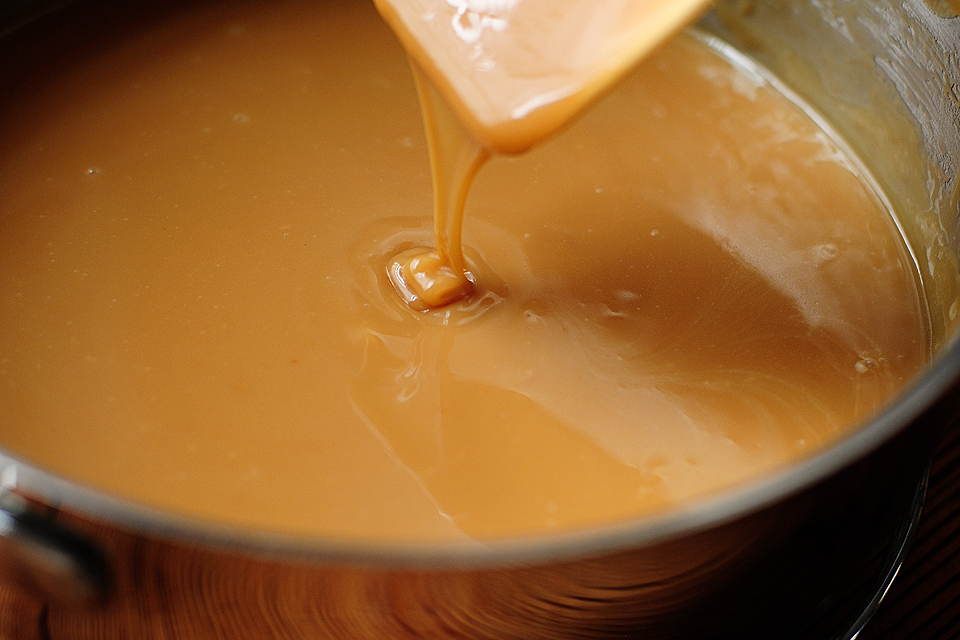 It'll thicken a bit into a smooth, lovely golden color.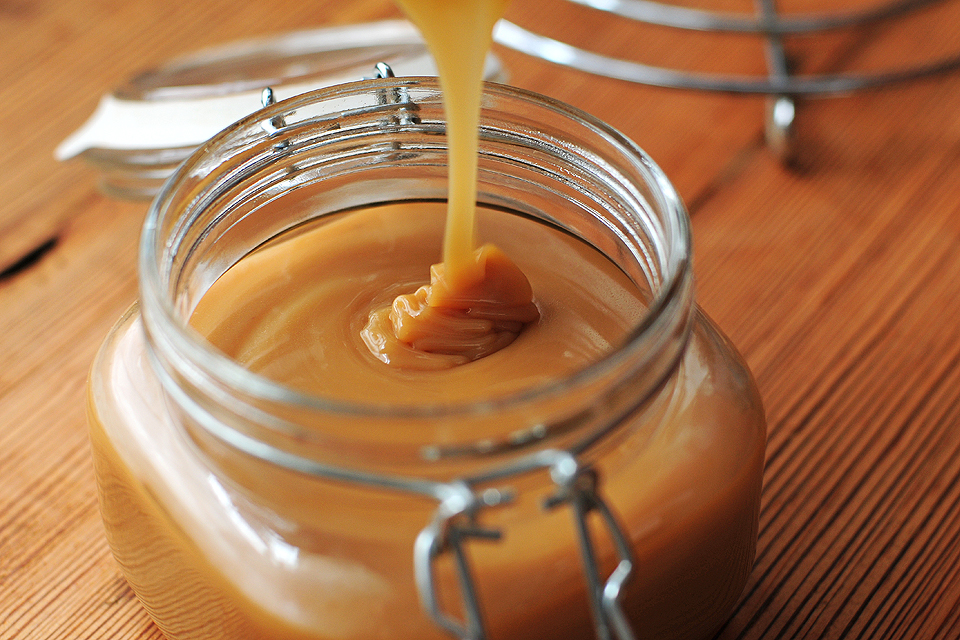 Serve right away, or let cool and store in an airtight container in the refrigerator. The sauce will thicken as it cools and can be easily warmed up in the microwave.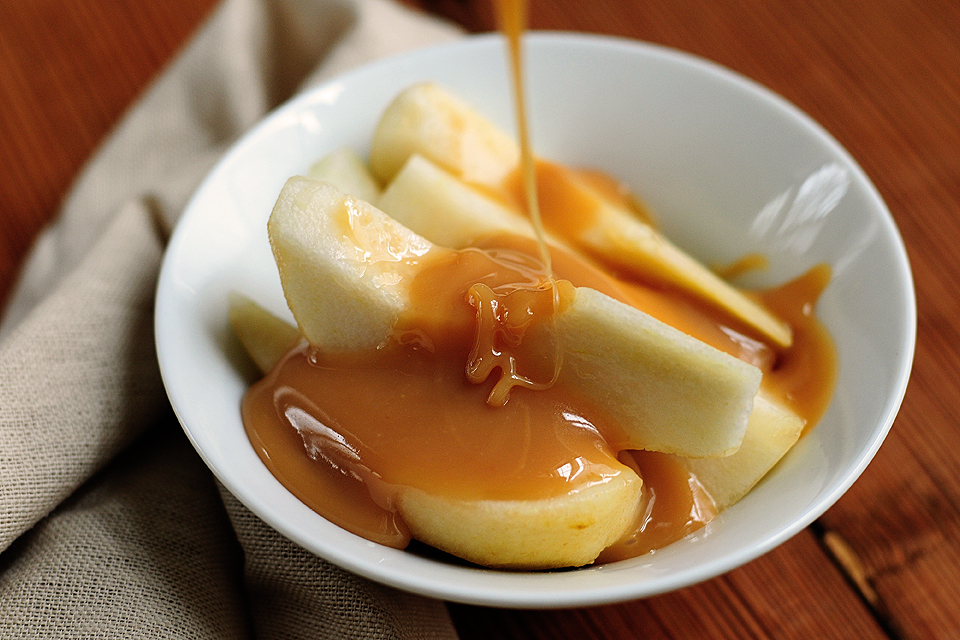 It was yummy over some sliced pears. Wouldn't it make a lovely house warming gift, accompanied with a simple pound cake, or basket of pears?

And check out these Tasty Kitchen recipes that would also make a good partner for this delicious sauce: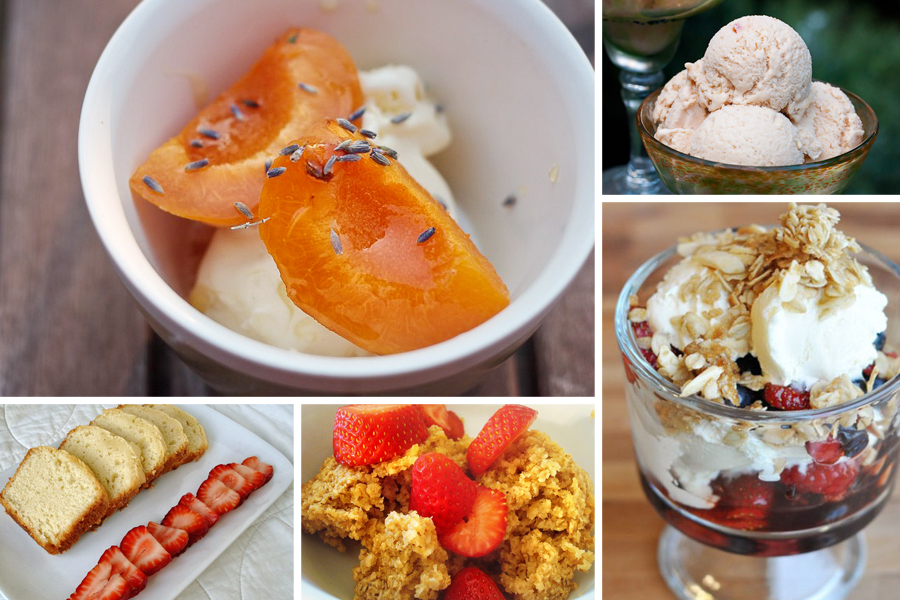 Clockwise from top left: Roasted Apricots & Ice Cream from runningwithtweezers, Brandied Peach Ice Cream from bunkycooks, Red, White and Blue Ice Cream Granola Parfaits and Baked Oatmeal from Melanie (Mel's Kitchen), Cream Cheese Pound Cake for Two with Strawberries from tinafromtexas, and (not pictured) Sour Cream Lemon Pie from sklhczech.



Thanks again to Tasty Kitchen member Sally Darling for this tasty temptation. Check out her blog, My Homemade Life, for more of her "evil" recipes!
Printable Recipe
See post on Sally Darling's site!
Description
I've been called "evil" because of this recipe. Finger in my face, "you are Evil for giving me this recipe!" You can make this delicious bit of heaven and dip Honey Crisp apples in it or pour it over vanilla ice cream. Now I know what the cooks on TV mean when they say: "Make your own caramel sauce." I always would just buy store-bought. No more!
Ingredients
½ cups Honey
1 stick Butter
¾ cups Brown Sugar
1 can (14 Oz. Can) Sweetened Condensed Milk
To Serve: Apples Or Vanilla Ice Cream Or Whatever!
Preparation Instructions
Mix together honey, butter and sugar in saucepan. Turn on medium-high heat while stirring constantly. Bring the mixture to a rolling bubbling boil for 2 minutes while continuing to stir constantly. Add condensed milk and mix well, keeping the stirring and heat constant until completely mixed through.
Store in airtight containers in the fridge. To warm up, use a microwave on a low setting.


_______________________________________
Amy Johnson is a blogger who writes about food, travel, the home (both inside and out), and various observations and random musings about anything and everything. Visit her blog She Wears Many Hats for a dose of deliciousness, practicality, hilarity, or just plain fun. She lives in South Carolina with her husband and two children.