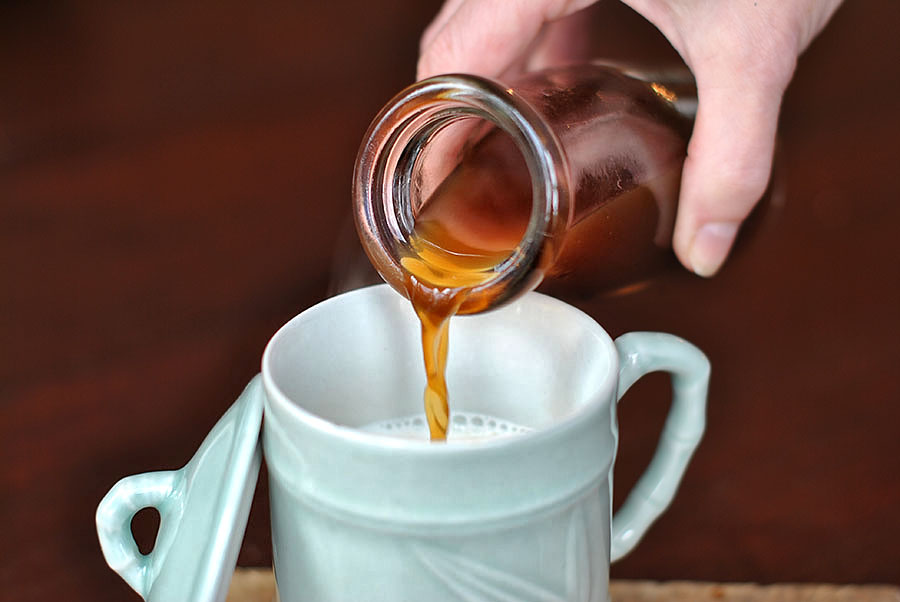 Warm spices, strong tea and steamed milk swirling around in my tummy make chai lattes a favorite during the winter months. It warms me from the inside out in a way that puts coffee and tea to shame. Unfortunately, the chai concentrate from certain coffee chains is too sweet. But there is something better.
It never occurred to me to make my own chai. (Certainly it must be too hard.) But when I saw this recipe from thecatnipcat for this Amazing Spiced Chai Concentrate, something about the whole thing seemed doable. If I had known how easy it was, I would have started making my own years ago. Needless to say, this version is delicious! And I love that I can up the quantities of the flavors I like more and reduce the quantities of the flavors I like less. For example, we used less sugar and doubled the cinnamon. Make the original version, then tweak the recipe based on your preferences. I wouldn't be surprised if you find her recipe is just right for you.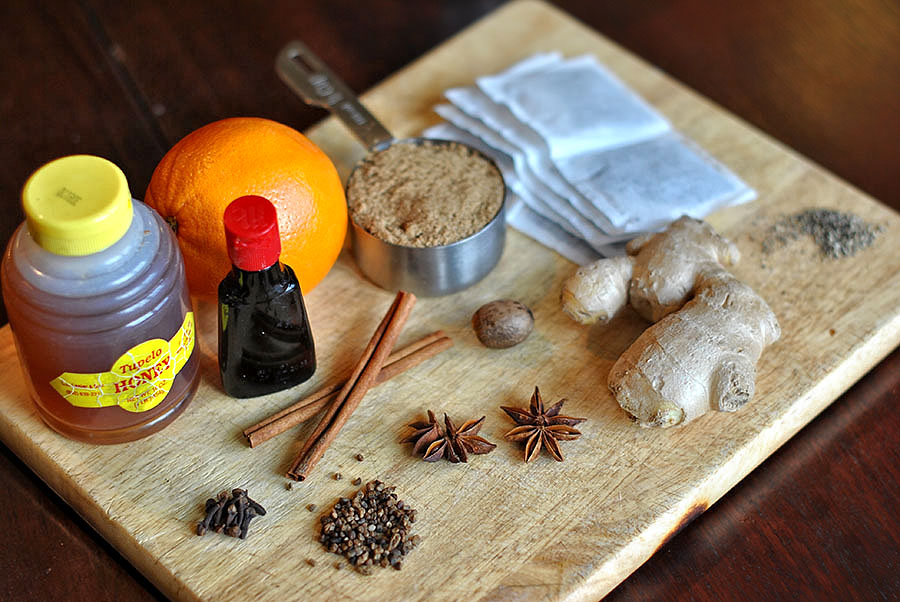 Here are the ingredients you'll need: cinnamon, ginger, cardamom, star anise, cloves, black pepper, nutmeg, orange zest, tea bags, brown sugar, honey, and vanilla.
Start by bringing 4 1/2 cups water to the boil on the stove.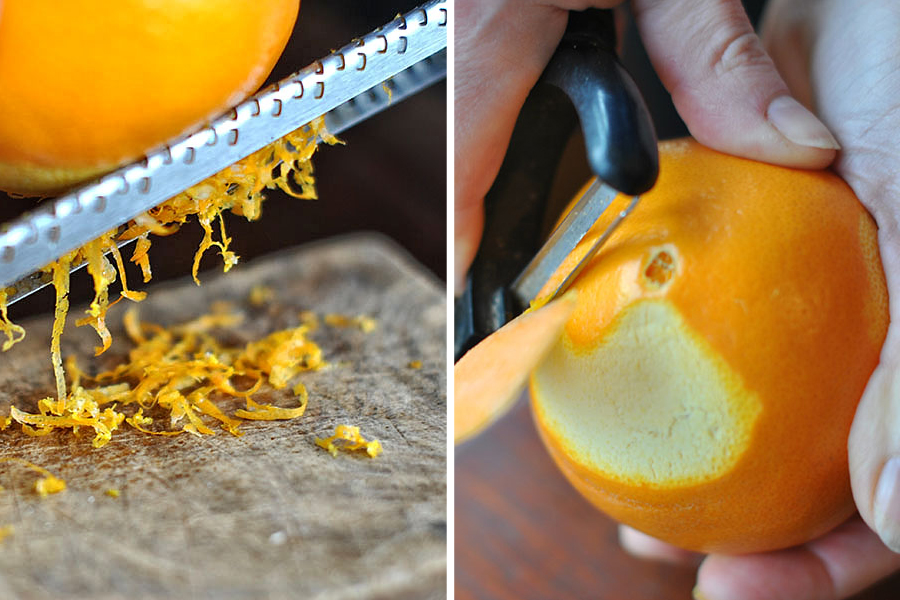 Then you need some orange zest. If you don't have a zester, you can use a vegetable peeler.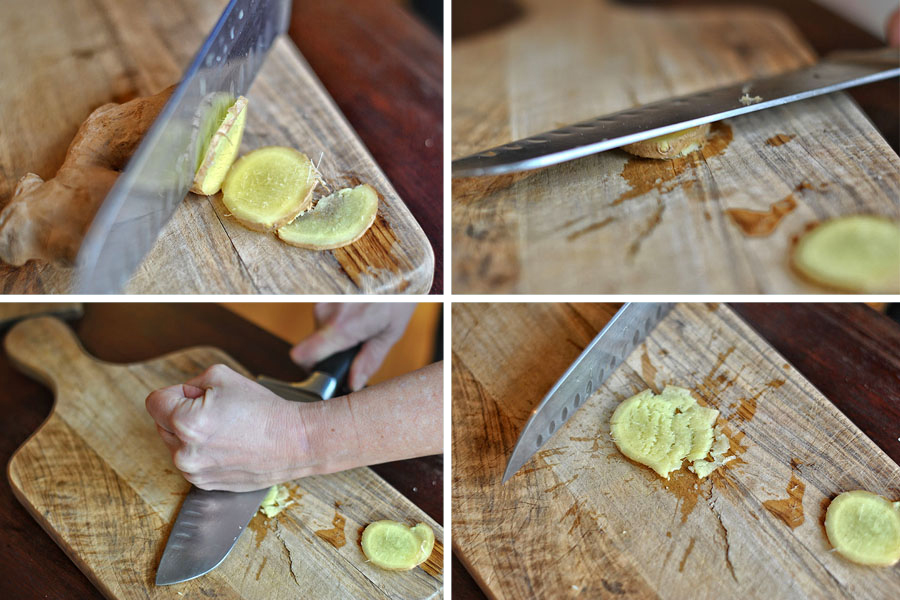 The recipe says to use a piece of ginger. For us that meant three large coins which we smashed to release more flavor.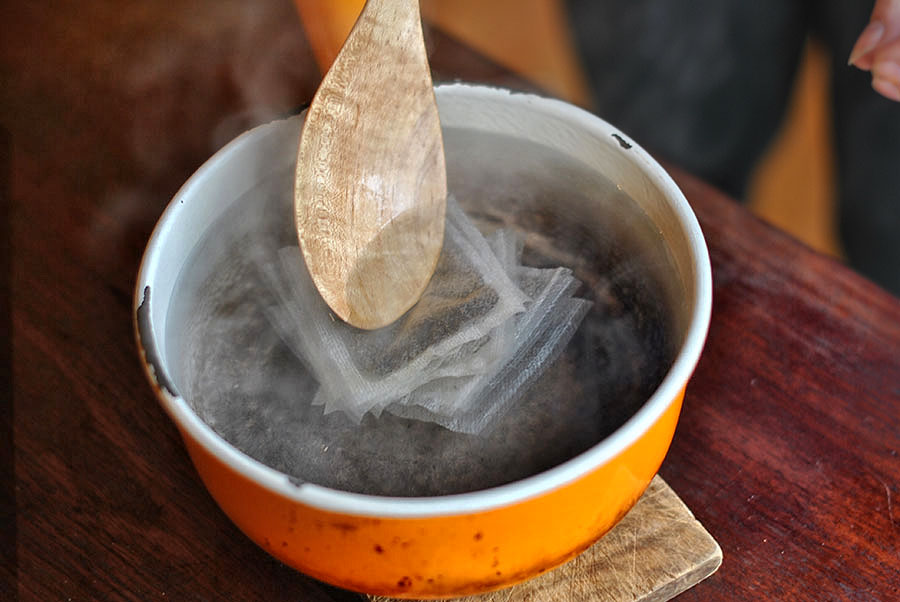 Once the water has come to a boil, remove the pot from the heat and add the tea bags.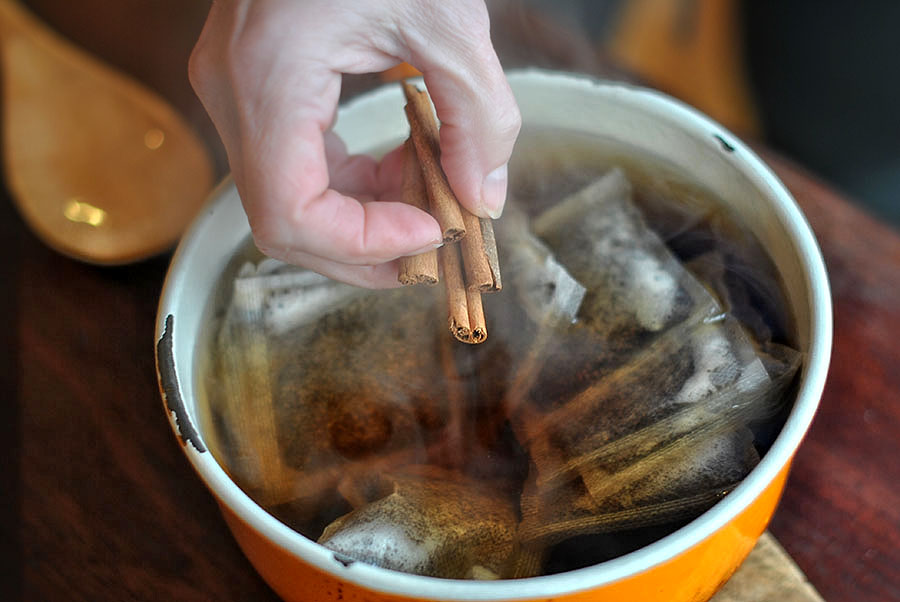 Then add your cinnamon sticks (we only add two—it just looks like we're using four because we broke them in half).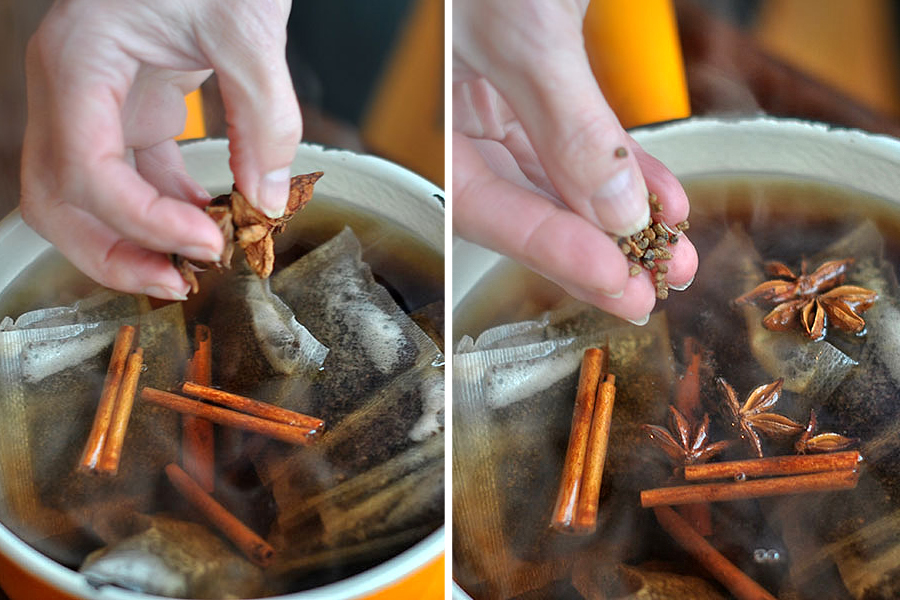 Then add your star anise and seven cardamom pods. We only had cardamom seeds so we looked up how many seeds there are in a pod. The answer is "about 12" so we added roughly 80 cardamom seeds (no we did not count them out).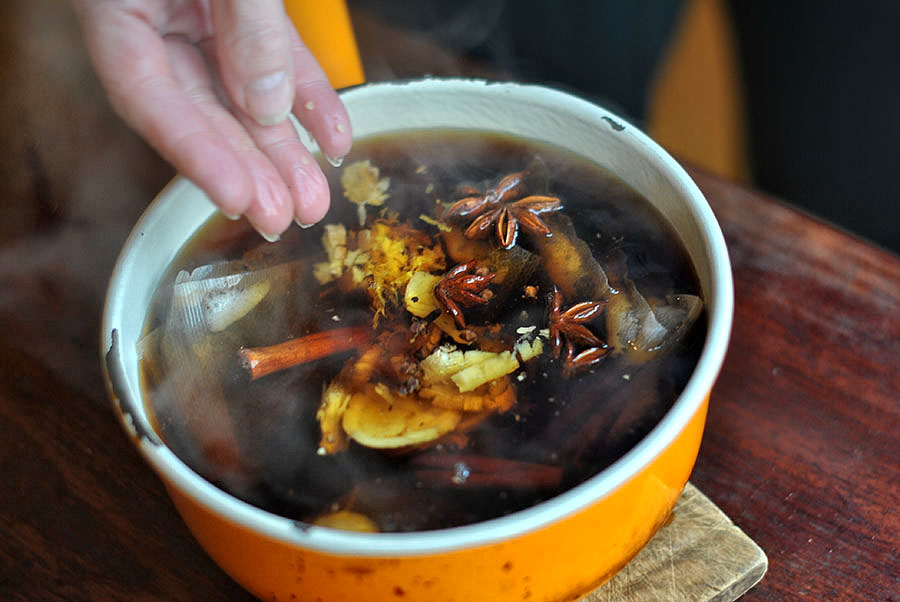 Then add the rest of the spices: the whole cloves, freshly ground pepper, zest (or peel), smashed ginger, and freshly grated nutmeg. Stir the pot to mix all the ingredients. This is the point at which Mom said, "This is starting to look like a witch's brew." I concurred.
Add sugar, vanilla and honey and then let this steep for 15-20 minutes. Our family likes our chai concentrate like we like our tea and coffee, strong and dark. So we let it go the full 20 minutes.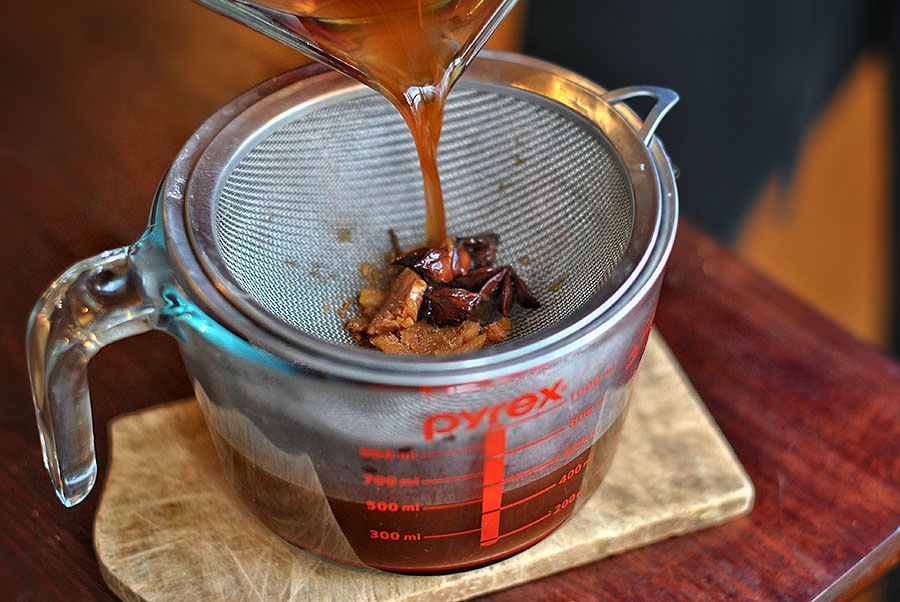 When the chai concentrate has reached desired taste and color, strain out the spices and zest.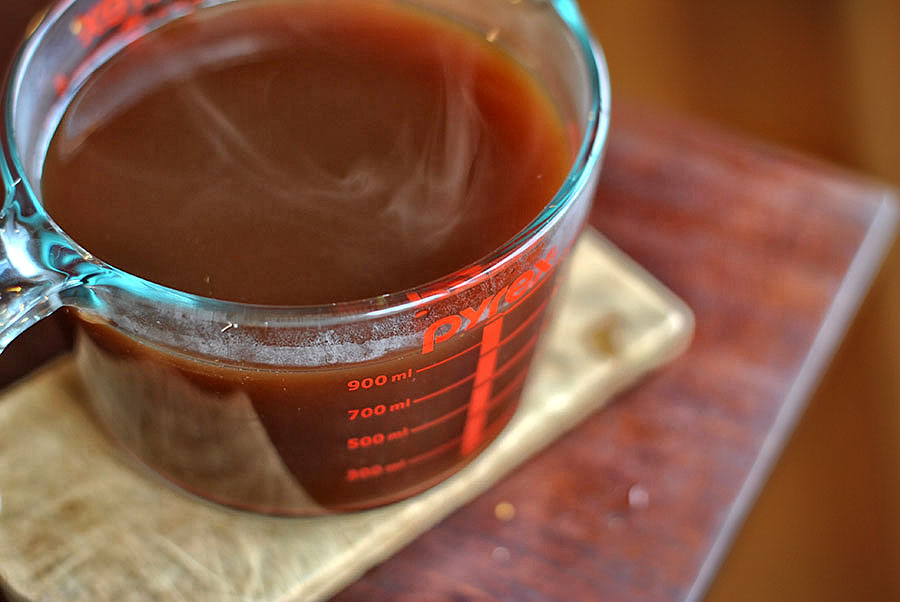 Now you are left with delicious, homemade chai concentrate.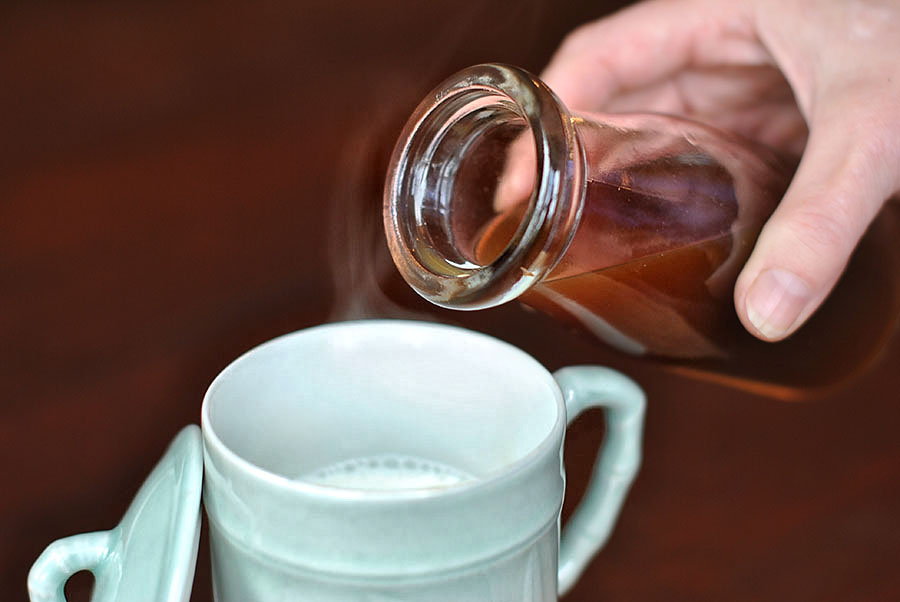 We added the chai concentrate to steamed milk, but you could mix it with ice cream or yogurt to give plain vanilla a flavor kick.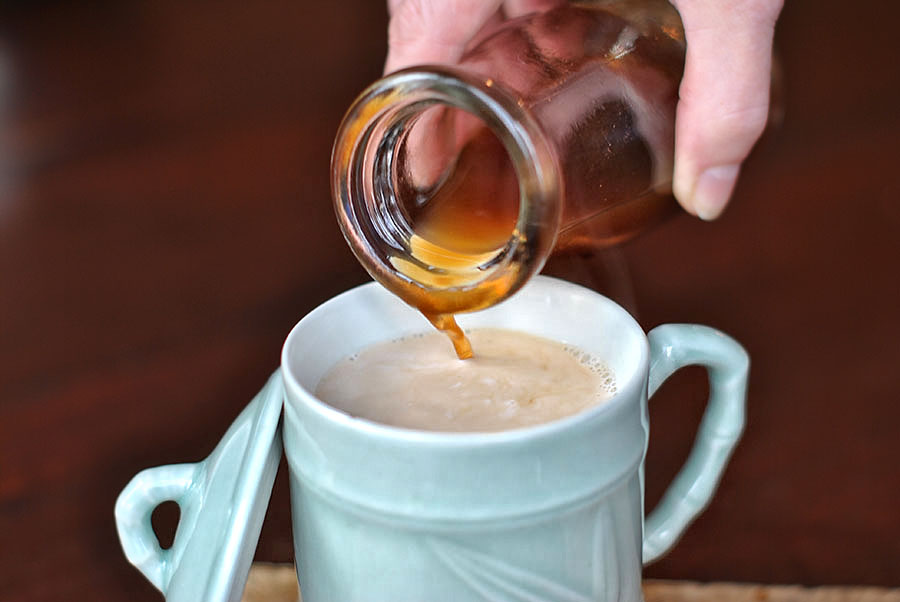 All I know is that I will never pay $3.25 for an overly-sweet chai again.
Thanks again, thecatnipcat!
Printable Recipe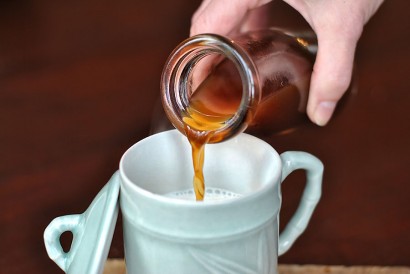 Description
All the flavor of a mix, with no funky additives or preservatives! The benefits to making your own mix are obvious: you can customize it all you want, you know exactly what's in it, and if you buy them in bulk, the spices can be dirt cheap!
Ingredients
4-½ cups Water
1 stick Cinnamon
1 piece Fresh Ginger Chopped
7 whole Cardamom Pods
2 whole Star Anise Pods
10 whole Cloves
¼ teaspoons Freshly Ground Black Pepper
½ teaspoons Freshly-ground Nutmeg
1 teaspoon Orange Zest
10 teaspoons Green Or Black Tea Or 10 Tea Bags
⅔ cups Brown Sugar
1 Tablespoon Honey
1 Tablespoon Vanilla
Preparation Instructions
Bring the water to a boil. Add the spices and tea, remove from heat and let steep 15-20 minutes, depending on how strong you want it. Strain and add the brown sugar, honey, and vanilla. Stir to combine.
Mix 1 part concentrate with 1 part milk, heat and enjoy or pour over ice.
For a stronger flavor, mix 2 parts concentrate with 1 part milk or half-and-half (if you're like me).
This concentrate will keep in the fridge for around 2 weeks. Freeze it in an icecube tray and add to smoothies!


_______________________________________
Three Many Cooks is the always-entertaining food blog of Pam Anderson and her two daughters, Maggy and Sharon. Pam is a well-known and much-respected food writer and author, Maggy is a "hippy adventurer meets 1950s housewife," and Sharon refers to herself as a recovering food snob learning to survive on a graduate student's budget. Theirs is a strong relationship both inside and outside the kitchen, and it shows in the food they create and the stories they tell.