I love Georgia Pellegrini. She's as beautiful on the inside as she is on the outside, and her passion for food writing is infectious. She's also an active Tasty Kitchen member, and I'm so excited to welcome her as a contributor. Take it away, Georgia! –Ree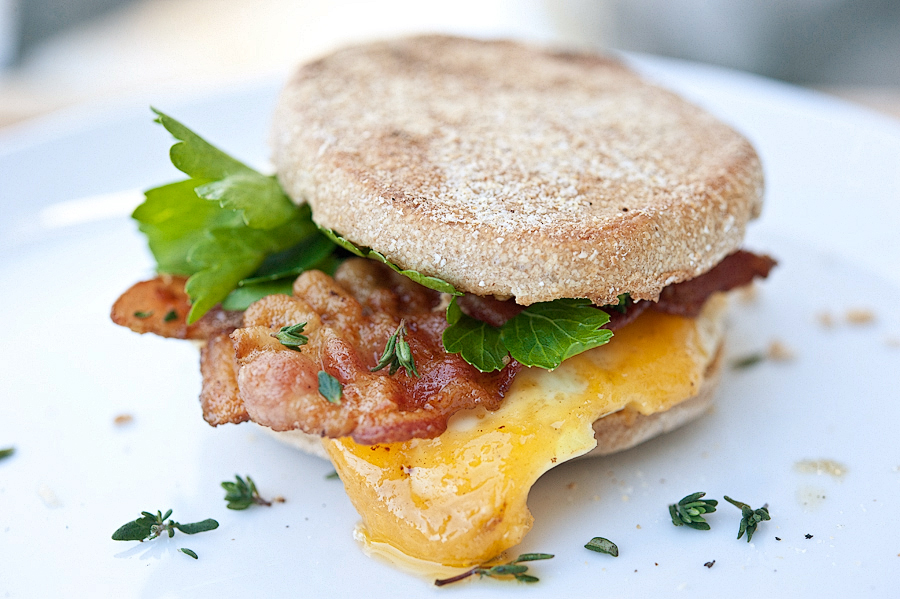 Sarah Fowler had me at skillet. In life, you need few things. Everyone has their list. Mine includes a bedroll and a skillet. Entire meals can be cooked in a single skillet. And the best part? You don't really have to wash a skillet. You just wipe it out, stick it back on the stove, and move on with your day! It is God's antidote to dirty dishes.
When I saw Sarah's recipe for homemade English Muffins, I was intrigued. When I saw it required little more than your hands and a skillet, I was sold. And so I channeled Thomas and gave them a try. They are a fun breakfast treat and not nearly as daunting as they may sound.
I also liked how simple the ingredients are—all things people often have sitting in their kitchen ready to go.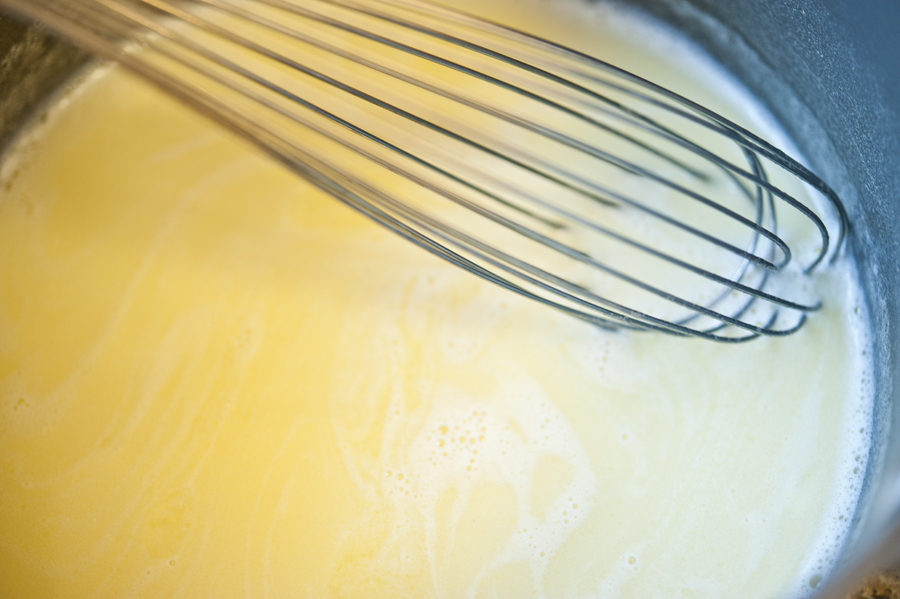 You begin by whisking together the honey, butter, and milk until it begins to bubble slightly. Then you set it aside to cool.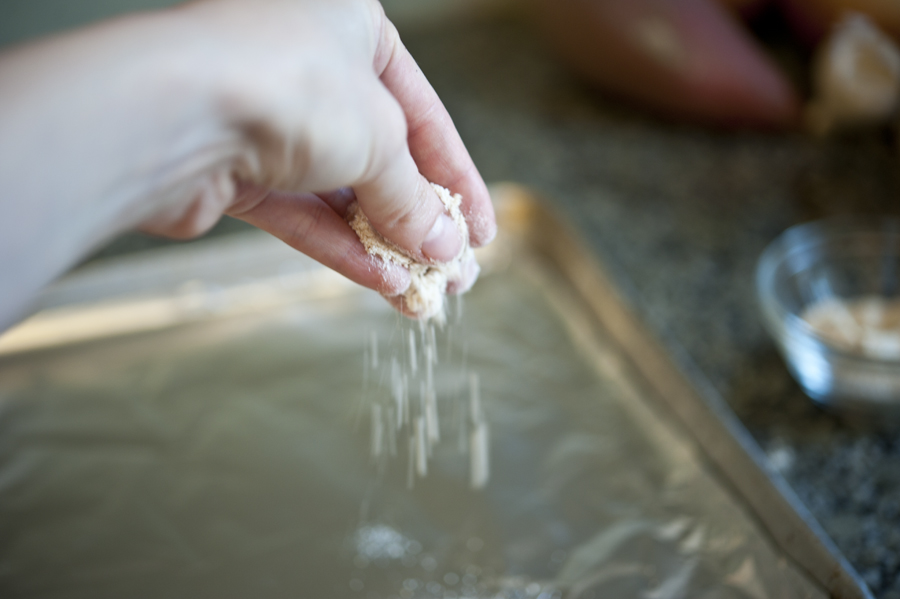 Meanwhile, you line a sheet tray with foil or wax paper and sprinkle it generously with cornmeal.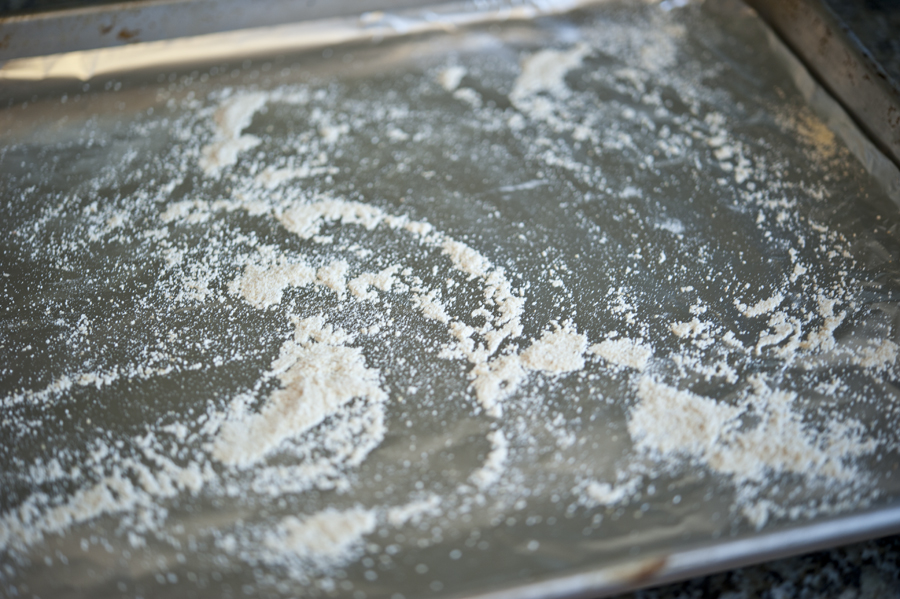 Since you don't use any butter to cook the muffins, I found it was important to be very generous with the cornmeal. That's why Thomas has that dusting of cornmeal on his muffins. It feels authentic.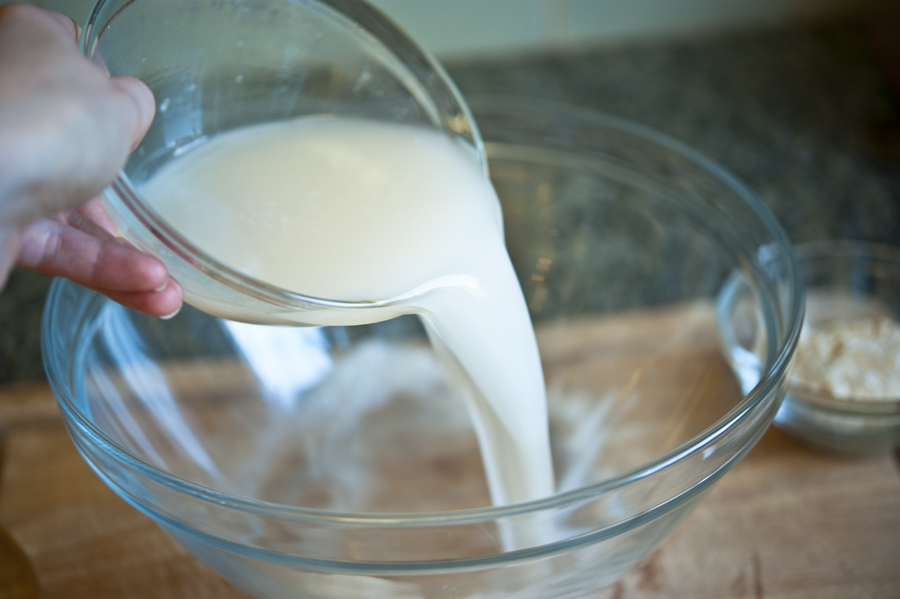 Next pour the yeast dissolved in water into a bowl.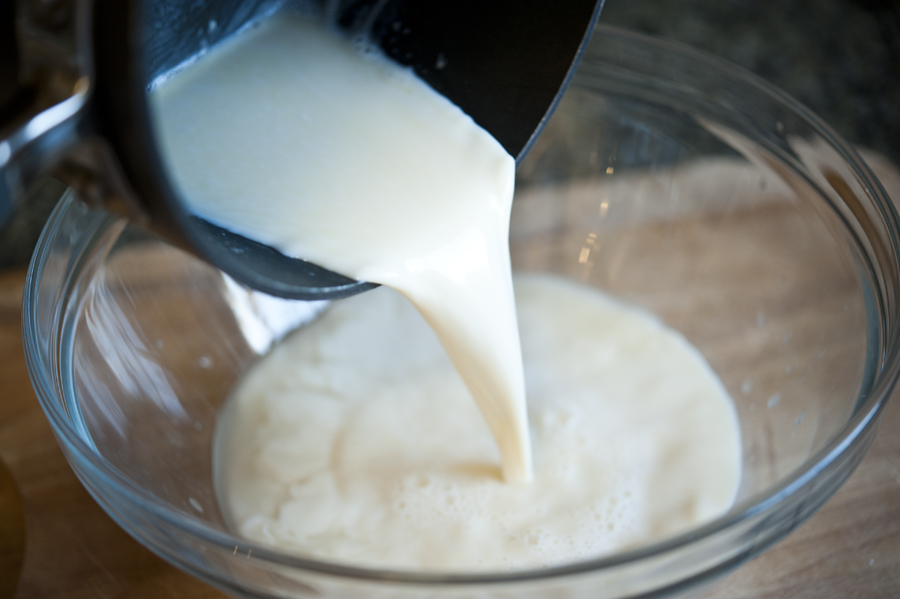 Add the butter, honey, and milk mixture, and give it a stir.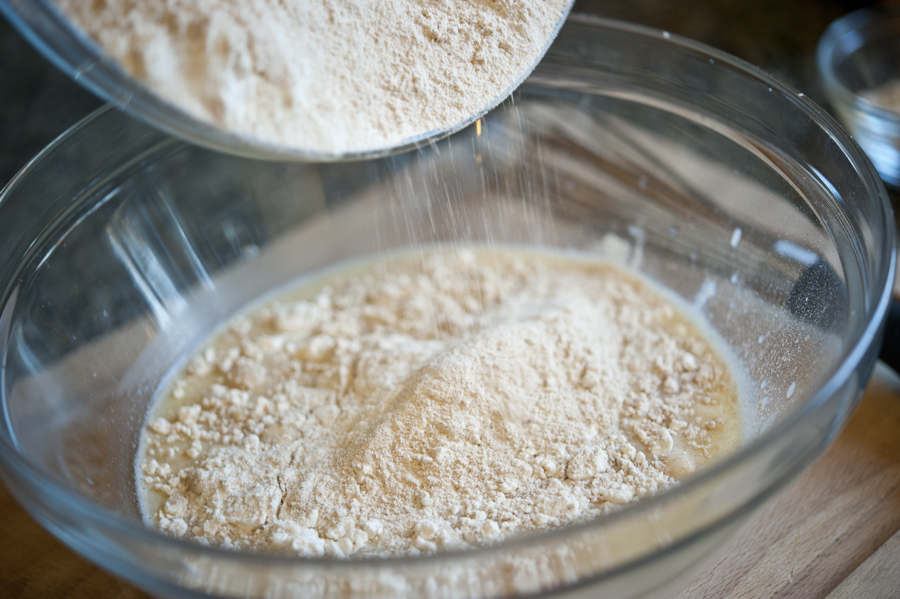 Combine half of the flour into the mixture.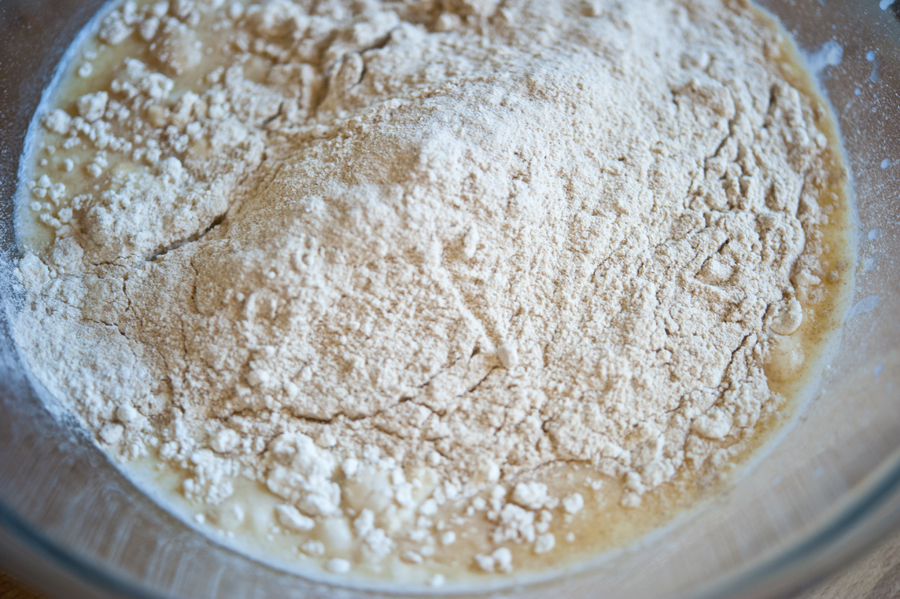 I was feeling rebellious so I added some whole-wheat flour to the mix instead of all white flour. Whatever suits your mood.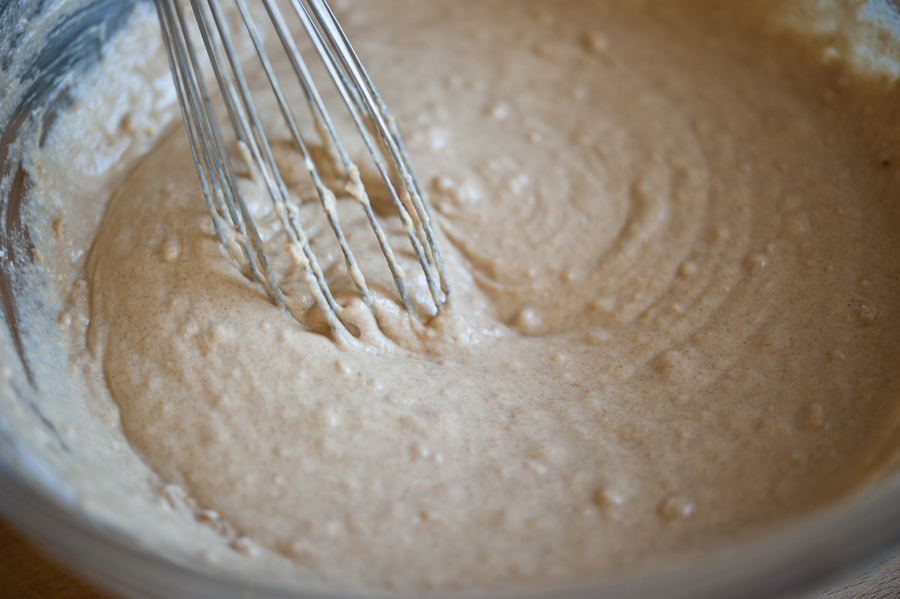 Mix it together well to remove the large lumps.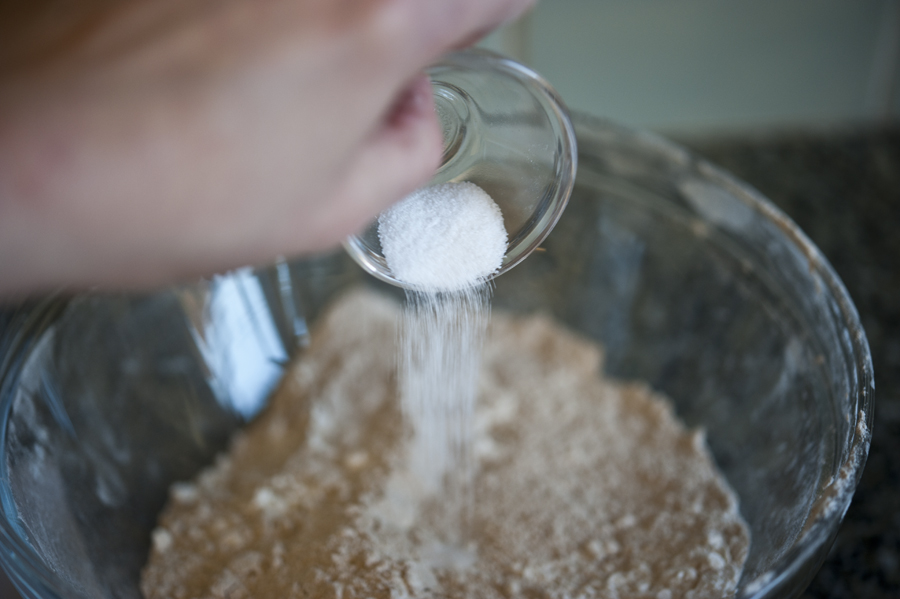 Add the salt to the remaining flour.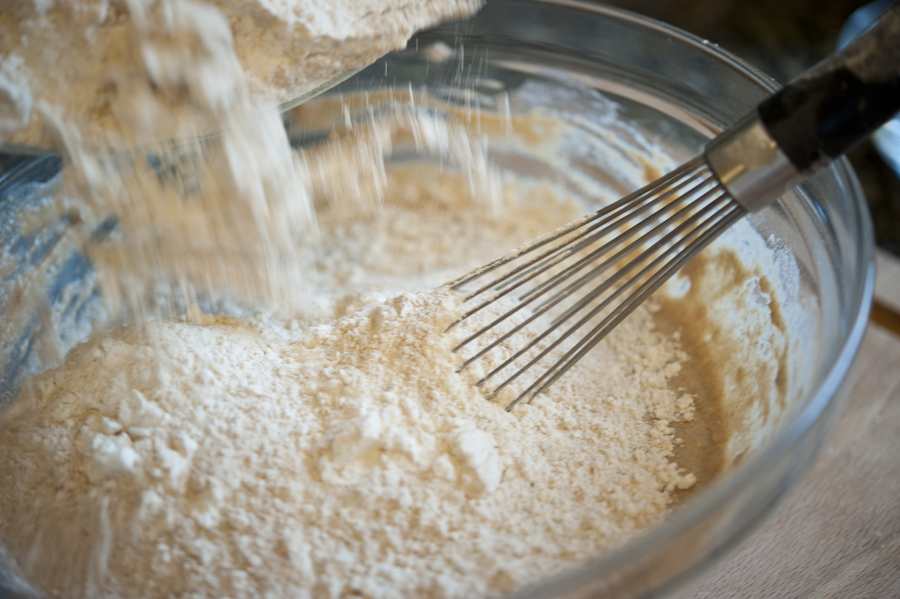 Then add the rest of the flour to the wet ingredients.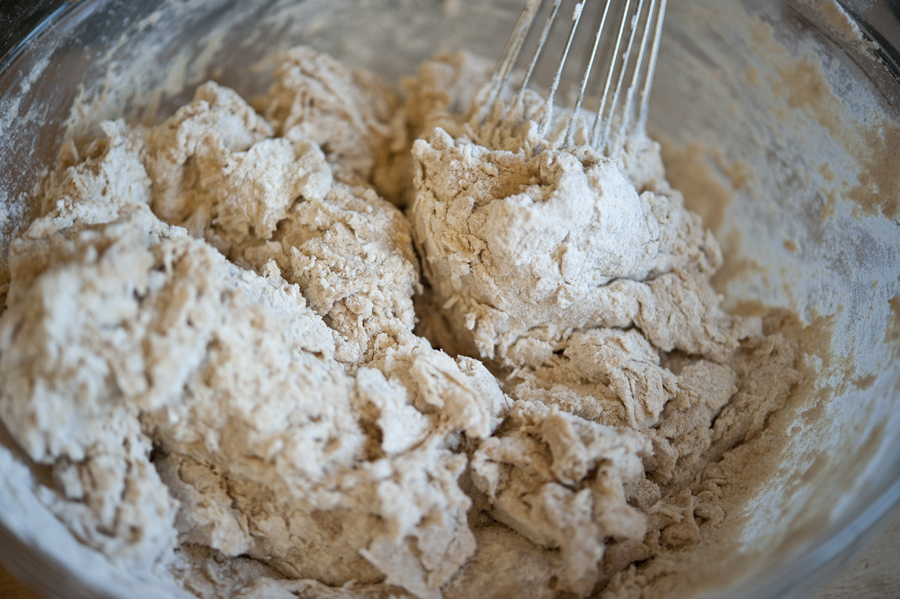 Mix it together well. Now might be the time to get your hands in there. That is your best kitchen tool, after all.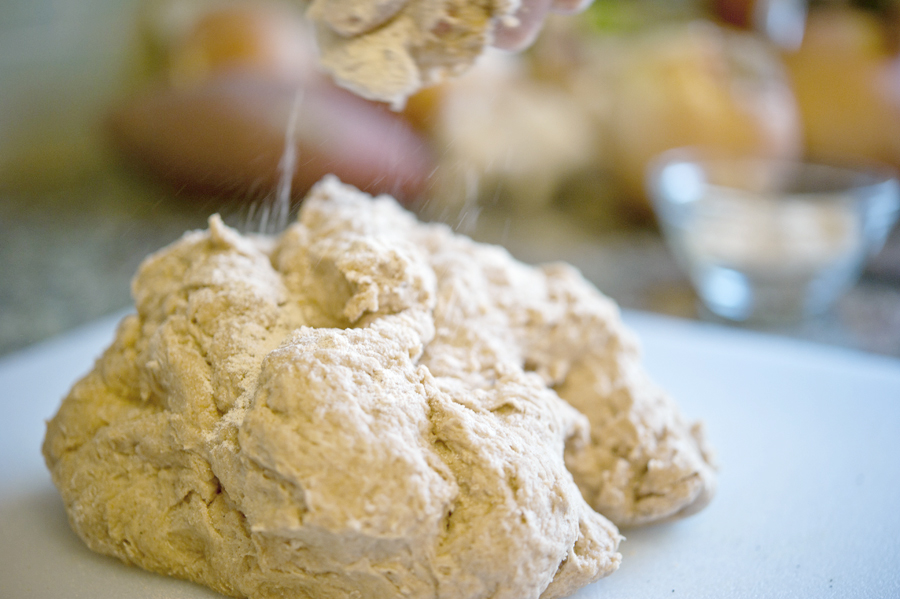 Lay the dough on a clean, floured surface and sprinkle it with some more flour.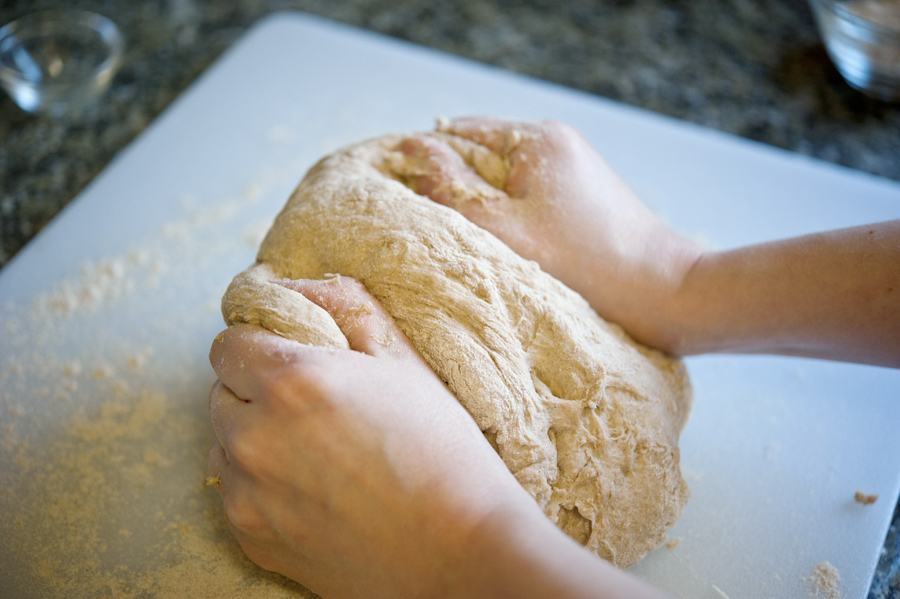 Begin to work the dough with your hands, and knead it for 3-4 minutes. Then let it rest for 5 minutes to help the gluten relax.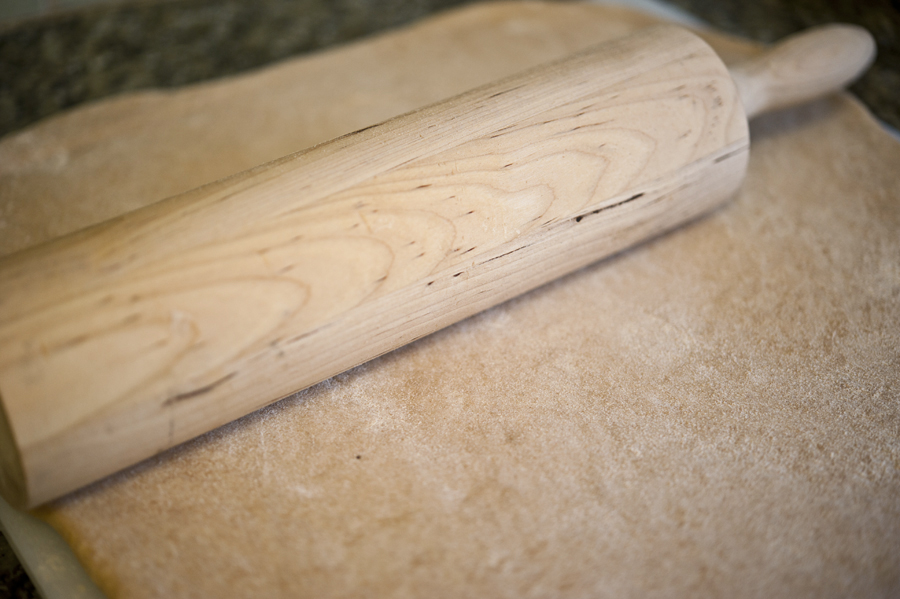 Next you get out the rolling pin. Add more flour to the surface and the rolling pin, and roll it to ¼ – ½ inch thickness. I was a little overzealous with the rolling pin and if I were to do it again, I would err on the thicker side for a thicker muffin.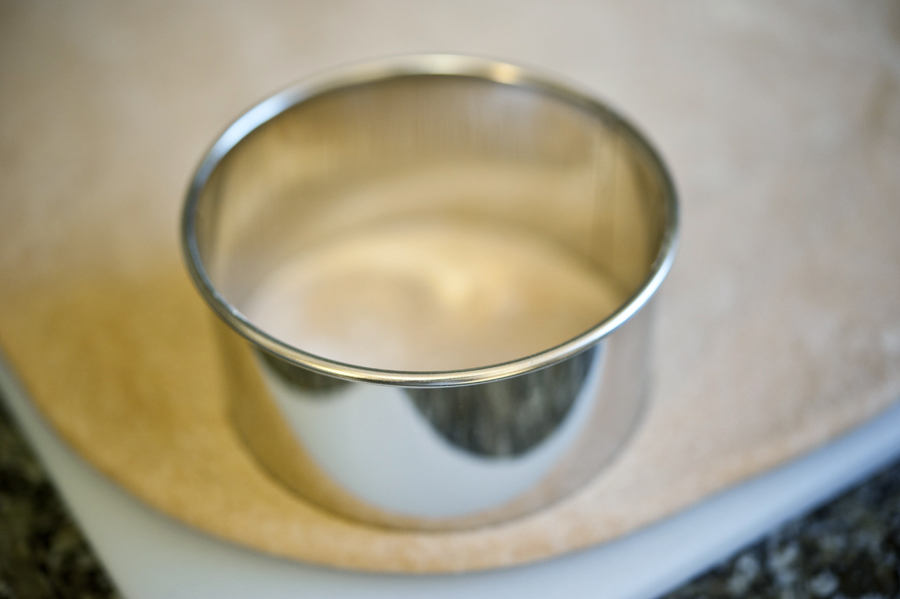 Then with a cutter, or as Sarah wisely pointed out, the top of a mason jar, cut circles from the dough.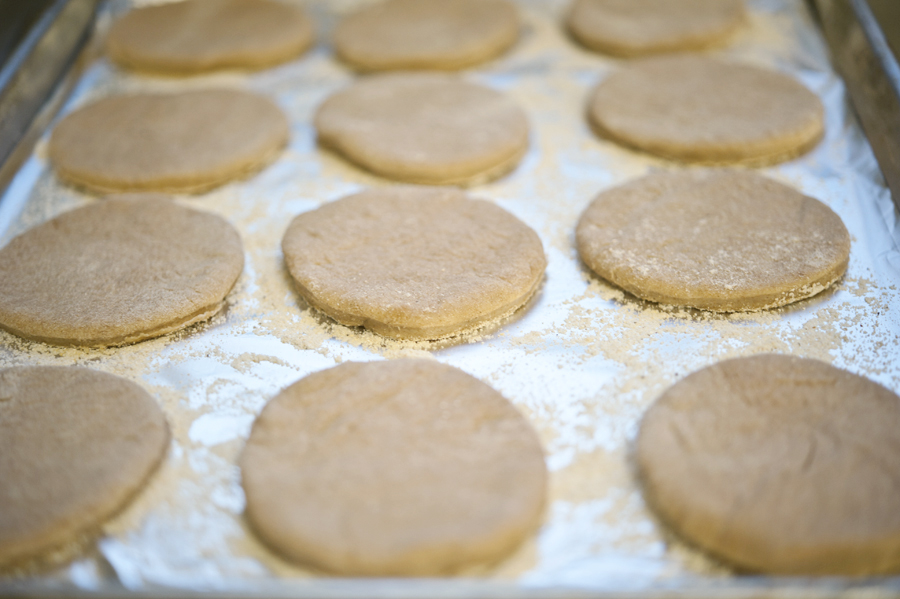 Place them on the prepared sheet tray, cover with a clean dry towel, and let them rise.
Since I made these later in the day, I let them rise overnight so that they were ready to finish for breakfast the next morning. However you do it, they may need more time to rise than the recipe suggests, depending on your environment. The key is to wait until they look plump and have about doubled.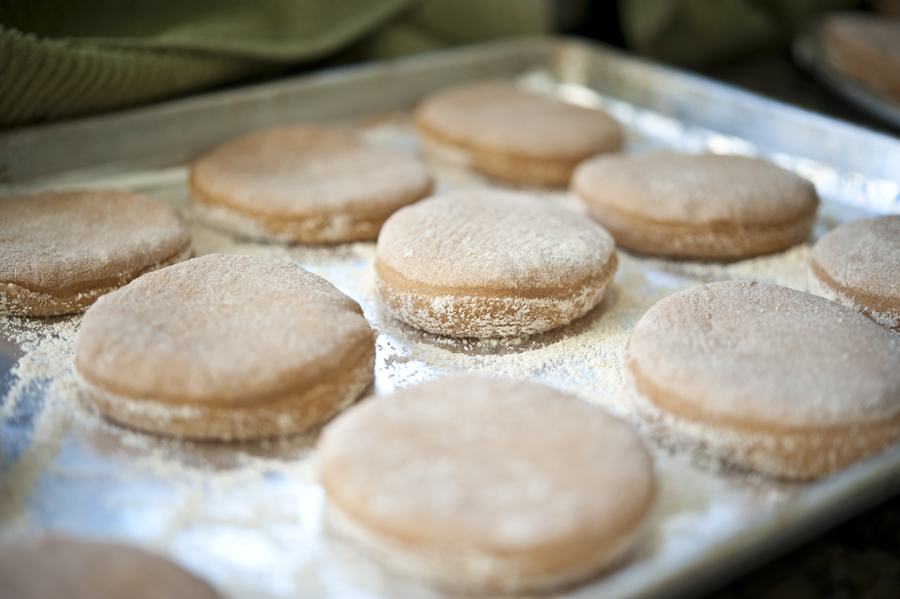 Next you remove the towel and heat an ungreased skillet.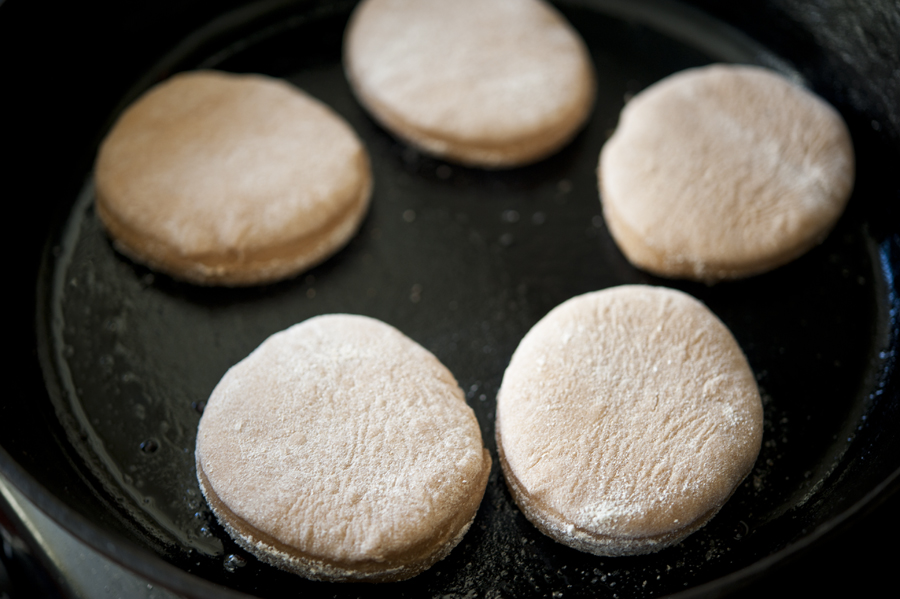 Dust off any excess cornmeal so that it doesn't burn in the pan, and place a few muffins at a time into the skillet.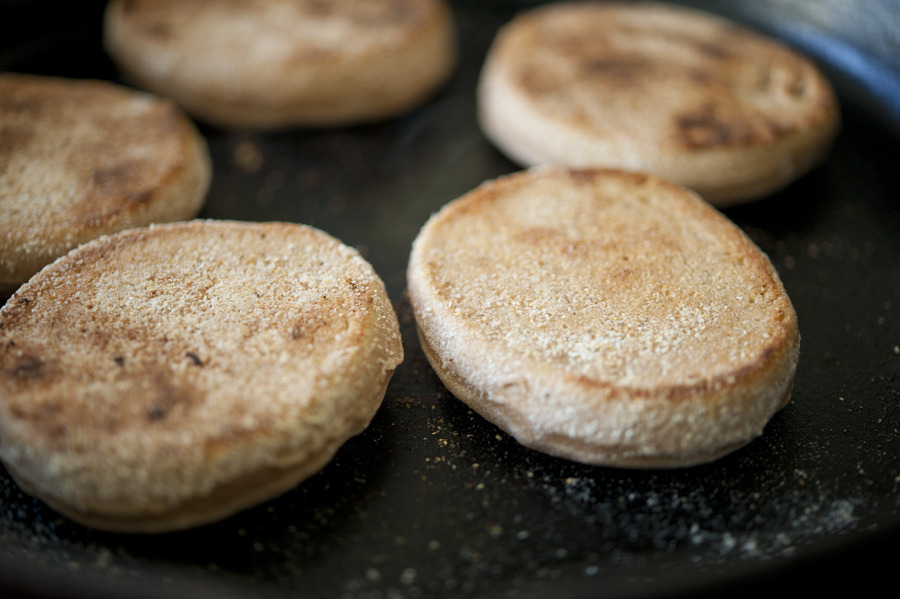 I cooked mine for about 7 minutes on each side, on medium low heat. You just want them to brown, not cook through.
Once they look browned, remove them to a rack to cool. Then, with a fork, split them open and toast them. Whatever you're not ready to eat now can be refrigerated or even frozen for another day.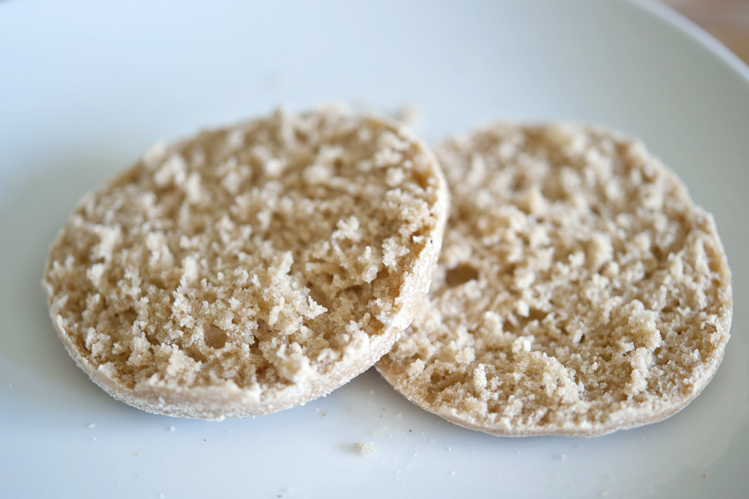 Thomas would be proud.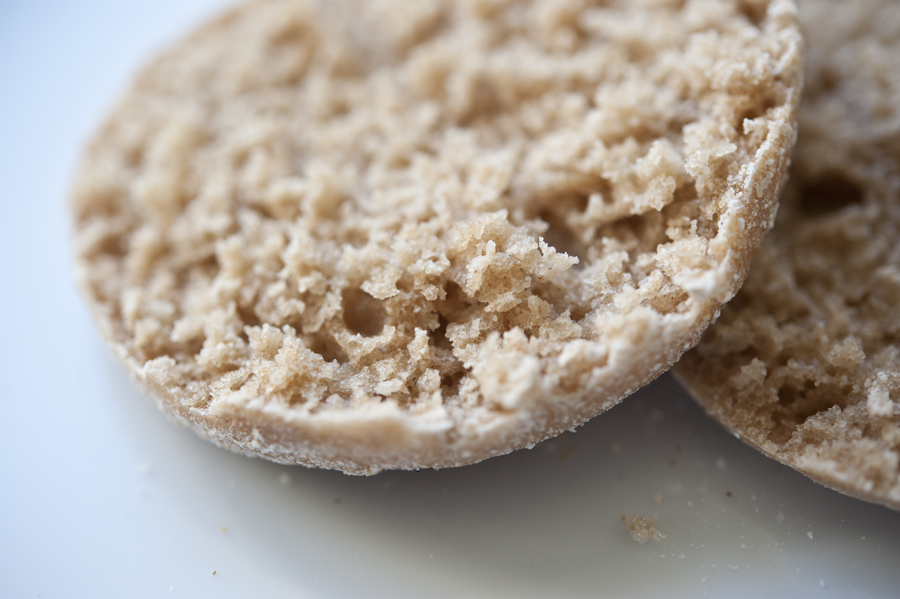 They are full of all of those signature nooks and crannies.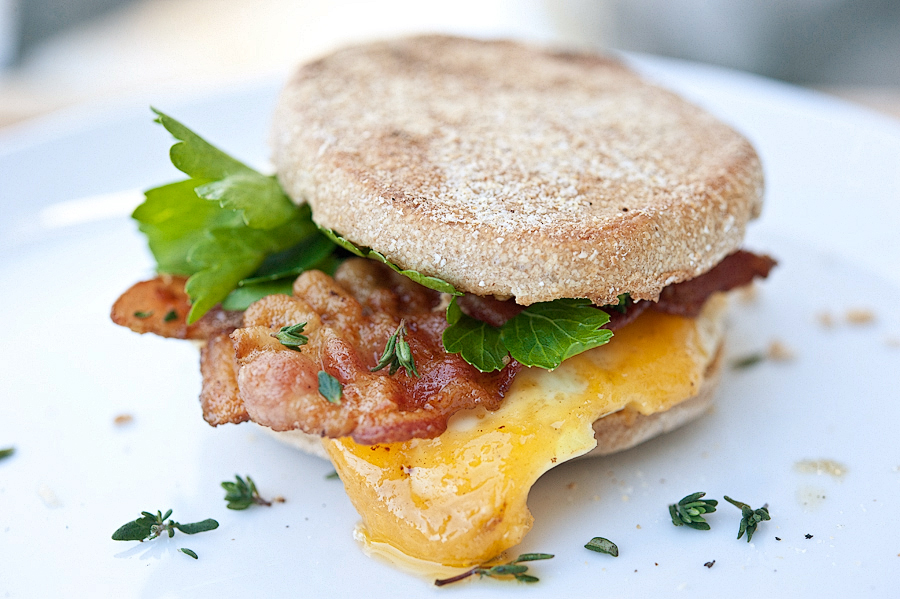 And then you can do all sorts of fun things with them. Add some lemon curd or a bit of butter and jam. Or make a truly homemade bacon, egg, and cheese sandwich.
Give these a try sometime!
And thanks again to Tasty Kitchen member Sarah Fowler for this fun homespun recipe.

Printable Recipe
See post on Sarah Fowler's site!
Description
Homemade English muffins. A lot of work, but worth it!
Ingredients
1 cup Milk
3 Tablespoons Butter
2 Tablespoons Honey
1 cup Warm Water
¼ ounces, weight Yeast
¼ cups Cornmeal
5-½ cups Flour
1 teaspoon Salt
Preparation Instructions
Combine milk, butter, and honey in a saucepan over medium heat. Warm until butter starts to melt, then whisk briefly. Remove pan from heat and allow liquid to cool to lukewarm.
Pour water into a mixing bowl and sprinkle with yeast. Stir gently with a fork. Set bowl aside for 10 minutes, or until yeast has dissolved.
Line baking sheets with waxed paper and sprinkle with a generous amount of cornmeal.
Pour cooled milk mixture into yeast mixture and gently stir until well blended. Add 3 cups flour and beat vigorously with a wooden spoon until smooth. Beat in remaining flour and salt until the dough is no longer sticky. Scrape the dough onto a floured surface and dust with flour. Flour hands and knead dough for 3-4 minutes. Let rest 5 minutes.
Roll out dough with rolling pin to about 1/2 inch thick. Cut the dough into circles (a tumbler or mason jar does well). Transfer muffins to prepared baking sheets and sprinkle with cornmeal. Cover with a dry, lightweight towel and let rise until doubled in height, 35-45 minutes.
When muffins have risen, heat a skillet over medium heat. Carefully lift muffins from the pan and place on the ungreased skillet. Cook about 10 minutes on each side, using a spatula to flip them. Transfer to a wire rack to cool before splitting (with a fork) and toasting them.


_______________________________________
There's so much to say about Georgia, we don't know where to start. Leaving Wall Street for the French Culinary Institute, followed by a stint at the Gramercy Tavern and La Chassagnette in France, her passion for food and food traditions are evident and inspiring. Visit her site at Georgia Pellegrini, where you'll find more recipes, photos, learn all about her wonderful book Food Heroes, and enjoy her latest adventures.