I'm so excited to welcome Dara, also known as prolific Tasty Kitchen contributor Cookin' Canuck, as a new contributor to the Tasty Kitchen Blog. I've been loving Dara's recipes, both on Tasty Kitchen and on her own food blog, Cookin' Canuck, for quite some time, so meeting her in person recently was a real treat for me. She's as sweet as the recipe she's sharing with us today—a sweet treat from Tasty Kitchen member Brandie (thecountrycook). Welcome, Dara and thank you, Brandie! –Ree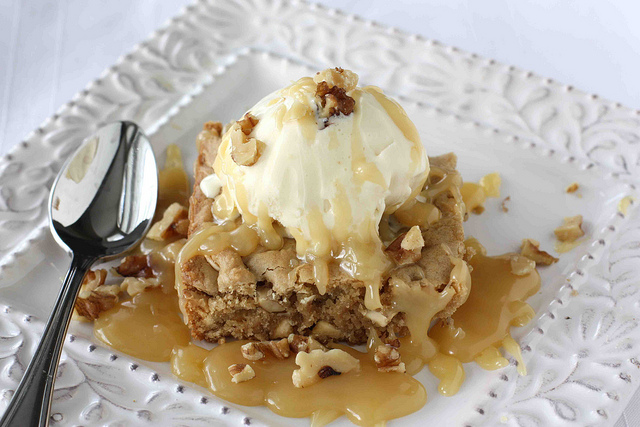 As fall seeps in through the seams of summer, all I want to do is pull on my fleece pants, sit on the couch in front of a good chick flick (okay, a rousing football or hockey game will do, too), and eat foods that will test the resolve of the elastic on my waistband. When the siren call of this recipe by TK member thecountrycook reached my ears, I simply could not resist.
These White Chocolate Walnut Blondies are not just about the brownie, though the rich chewy bar filled with white chocolate and walnuts could certainly stand on its own. This dessert is made even more alluring by the maple butter sauce drizzled—or generously poured—over the top. Think warm, sticky caramel melting a scoop of ice cream down the sides of a tender brownie.
That siren call is getting louder.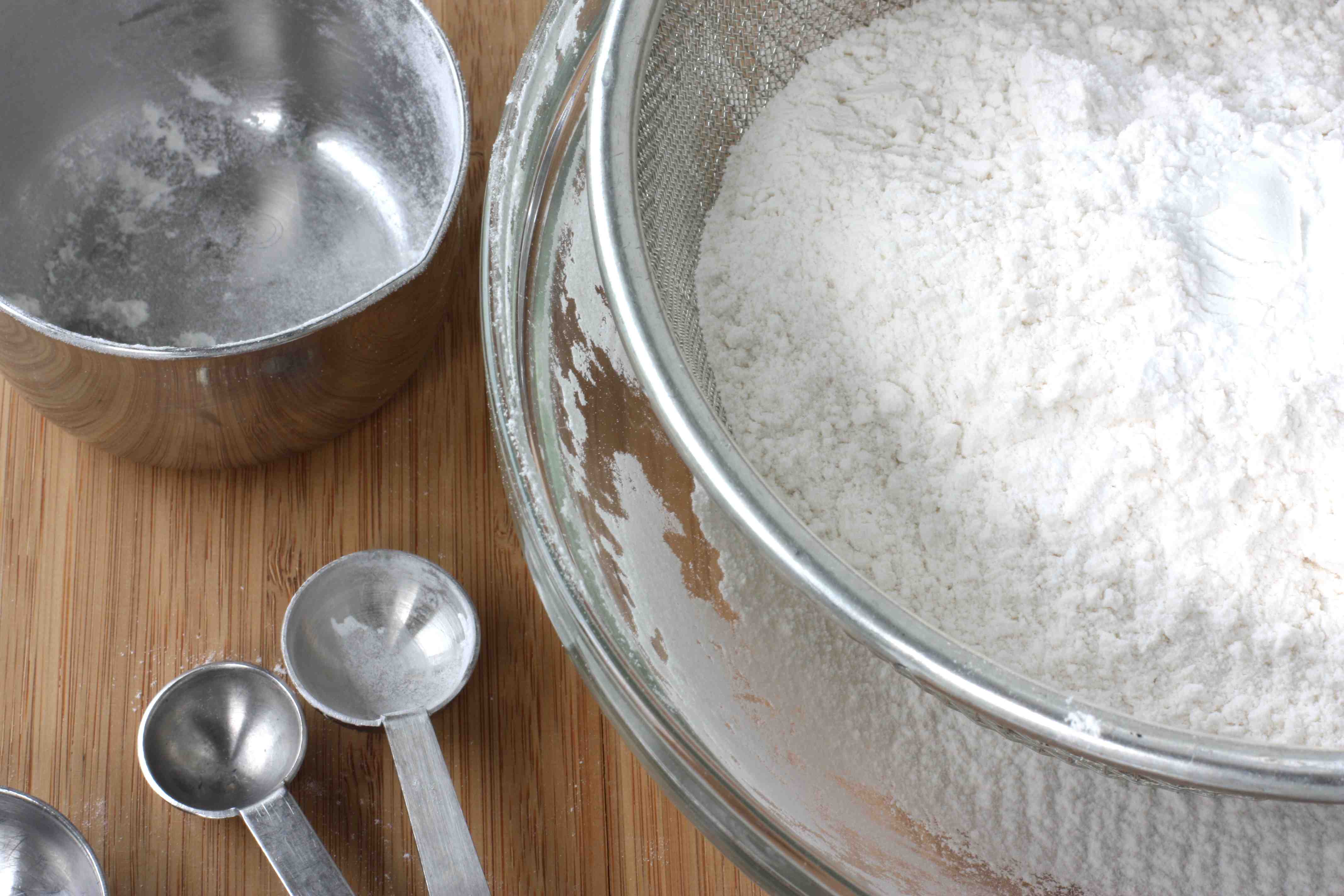 Preheat oven to 350 degrees. In a medium bowl, sift together flour, baking powder, and salt.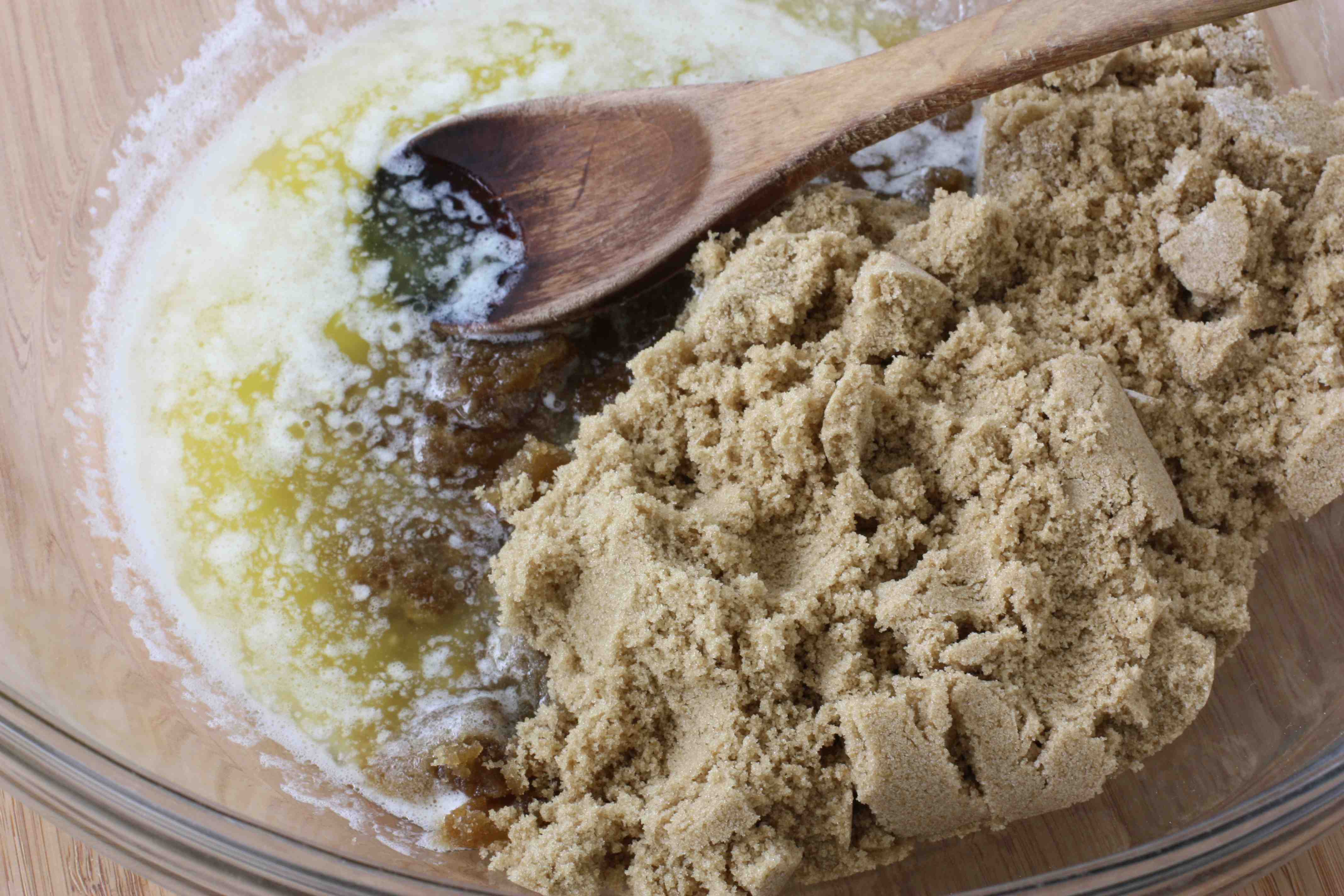 In a large bowl, combine melted butter and brown sugar. (Those are words that make me sigh with pleasure.)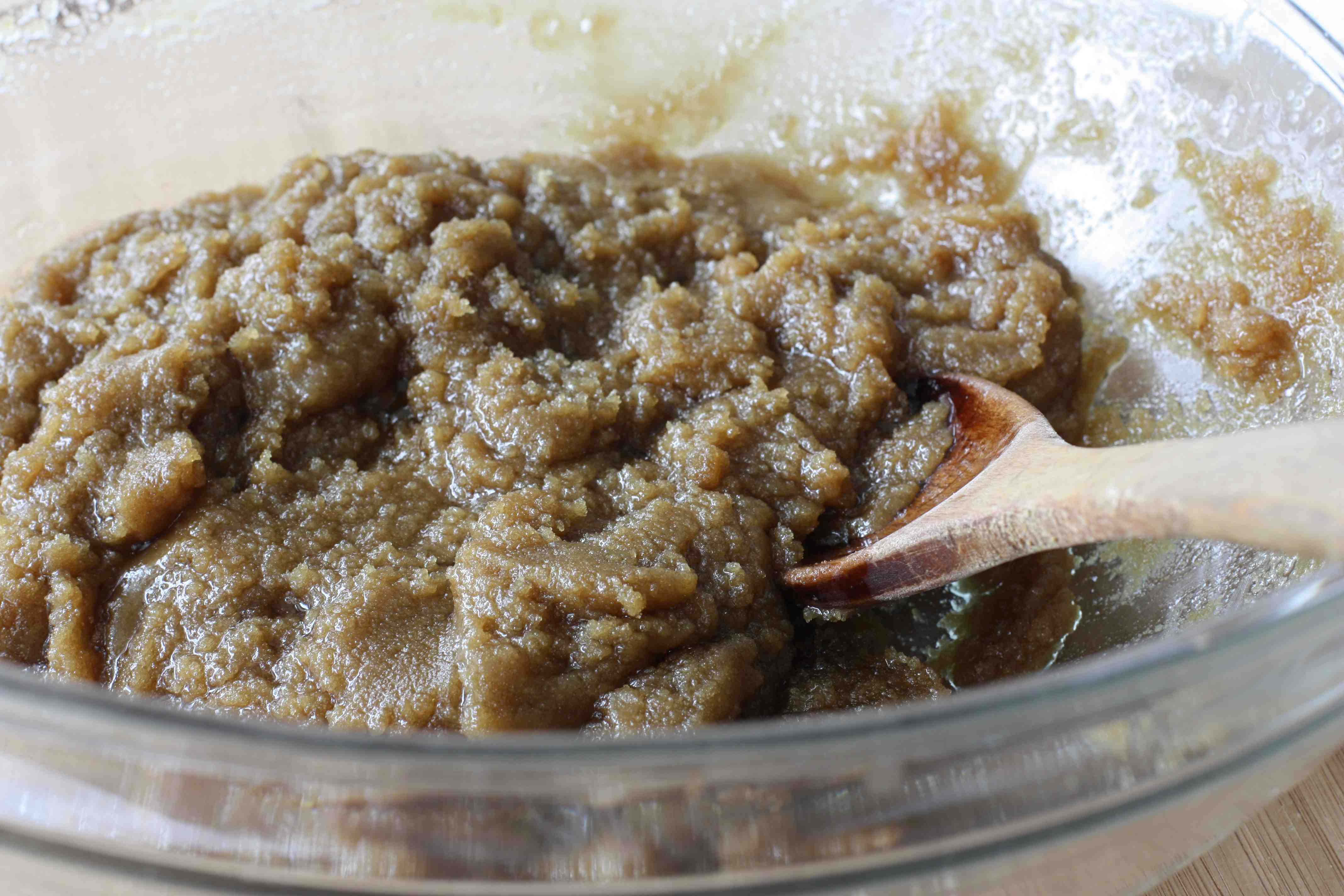 Stir together until combined. (I mean, really, who can resist dipping their finger into this?) Beat eggs and add them, along with a little vanilla, to the brown sugar mixture.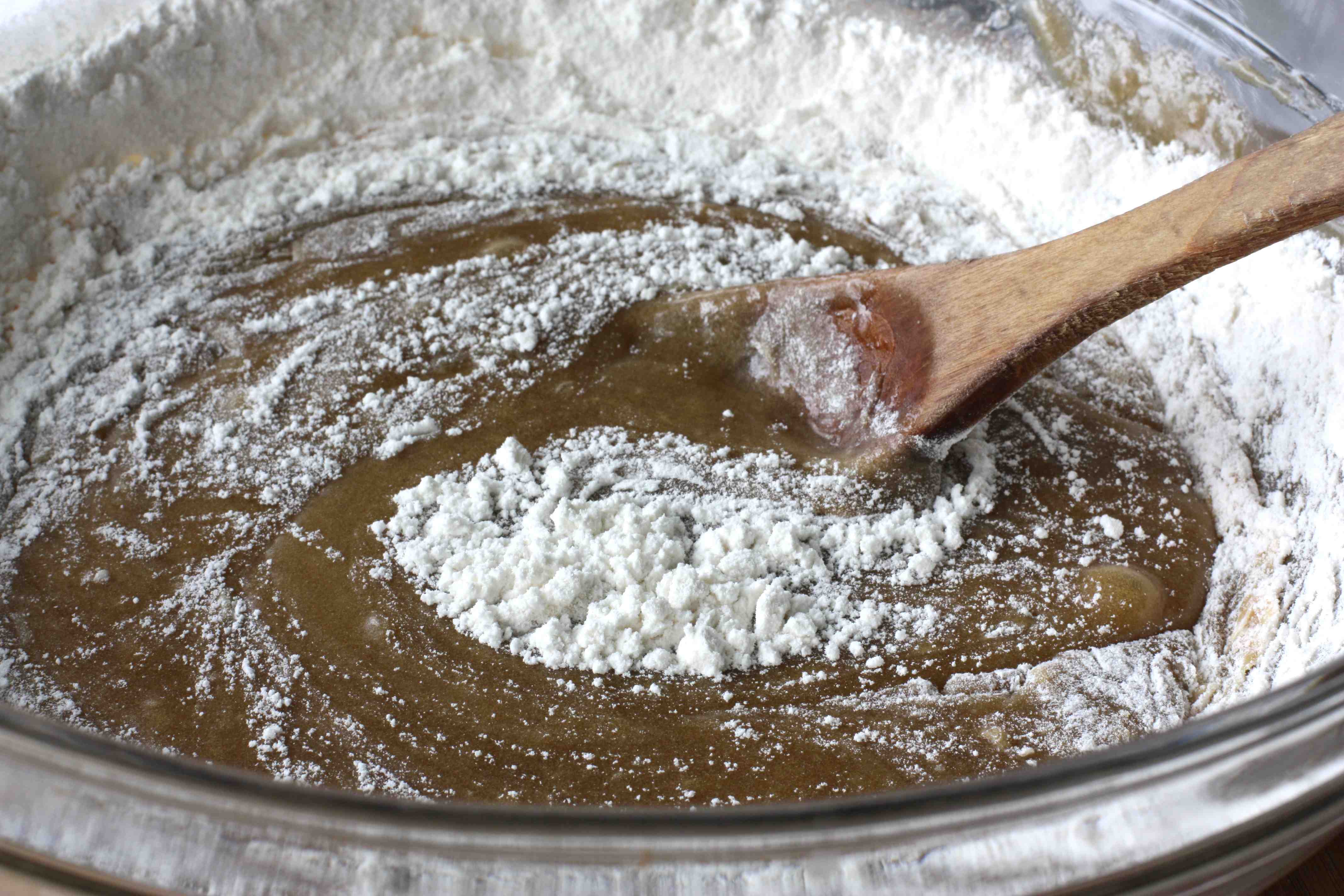 Gradually add the flour mixture and stir thoroughly. Be careful not to overmix the batter or the brownies will become tough. That would be sacreligious.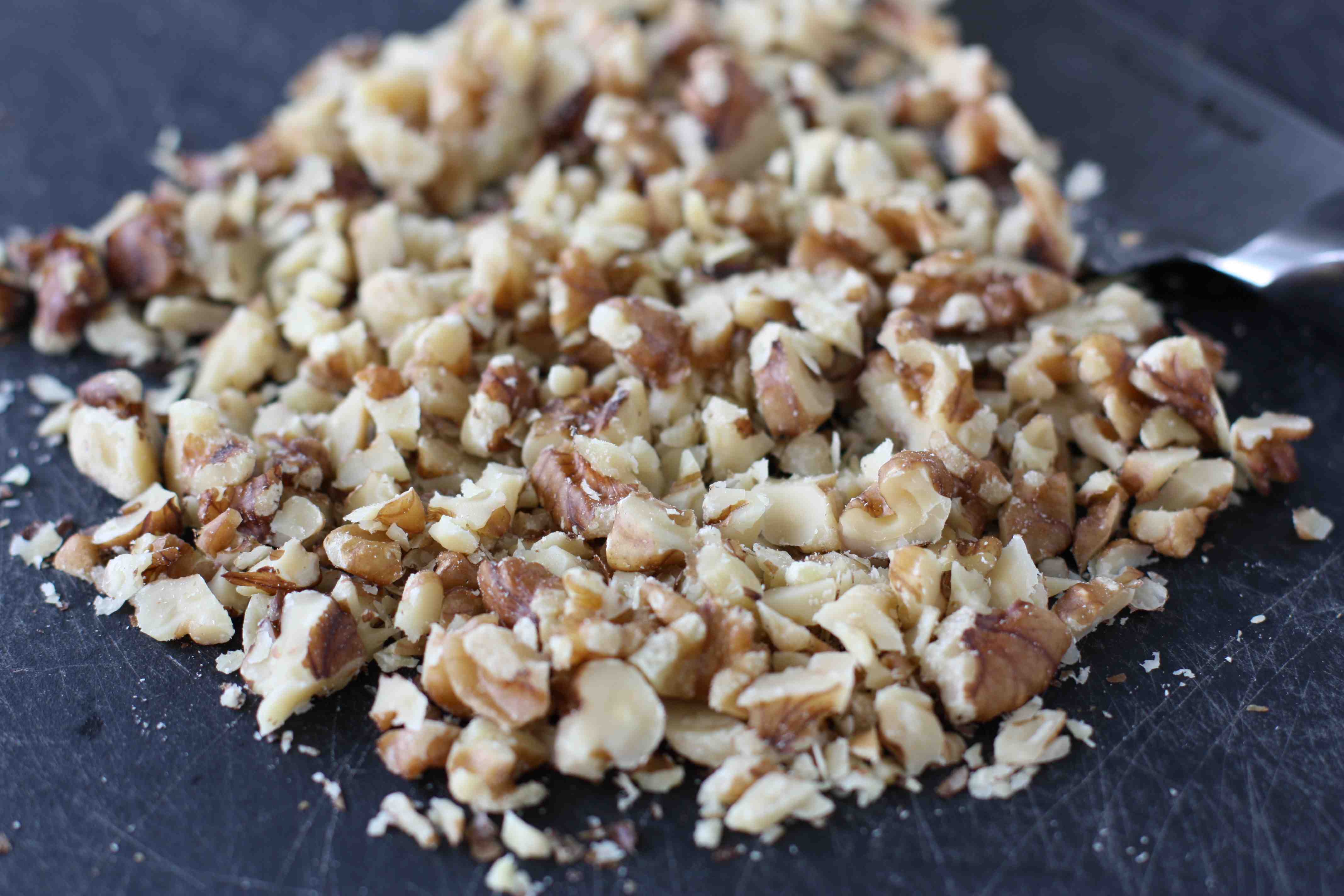 Chop some walnuts.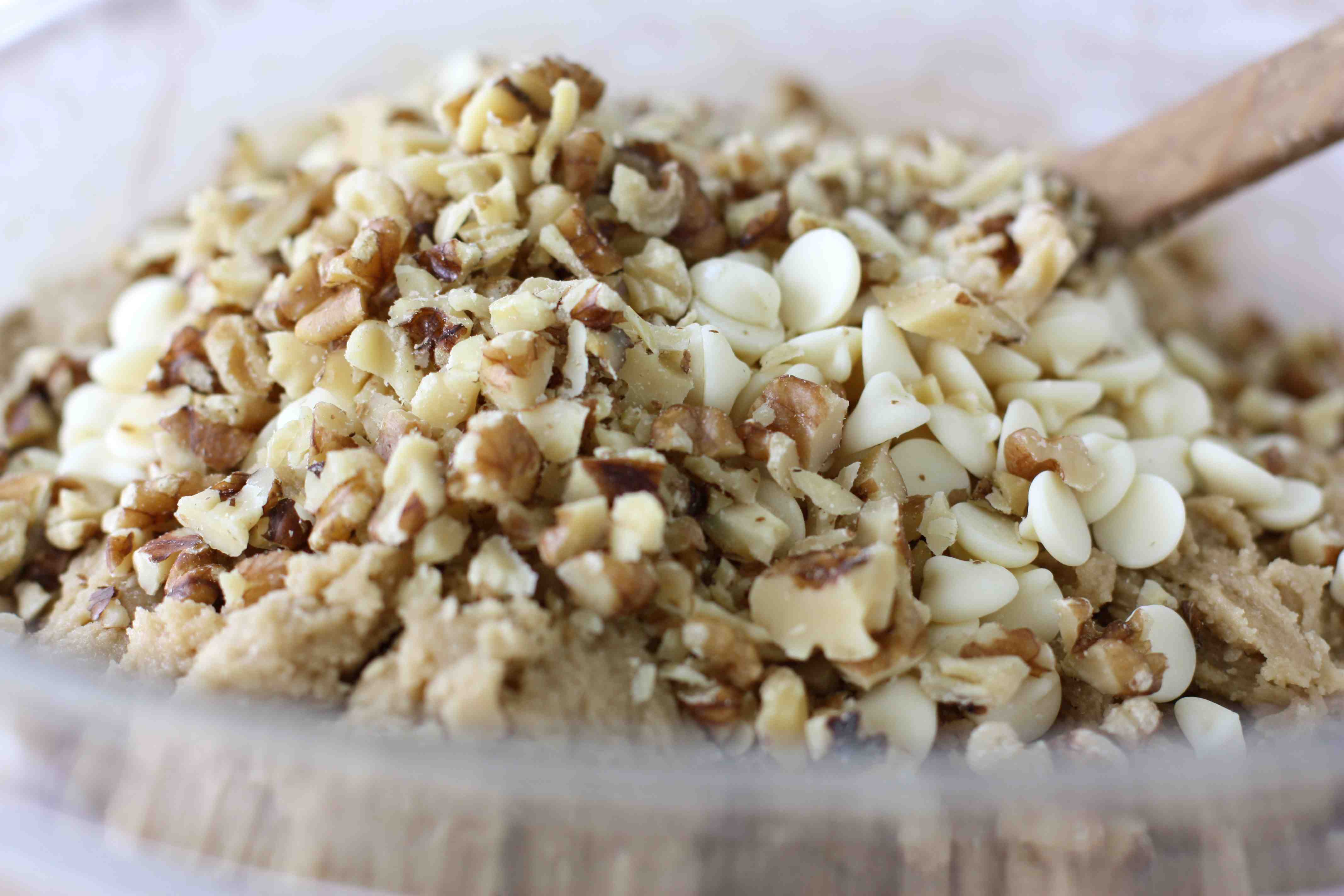 Add the walnuts and white chocolate chips to the batter. Stir them into the batter, which takes a bit of muscle. This workout is how you will justify eating three brownies later.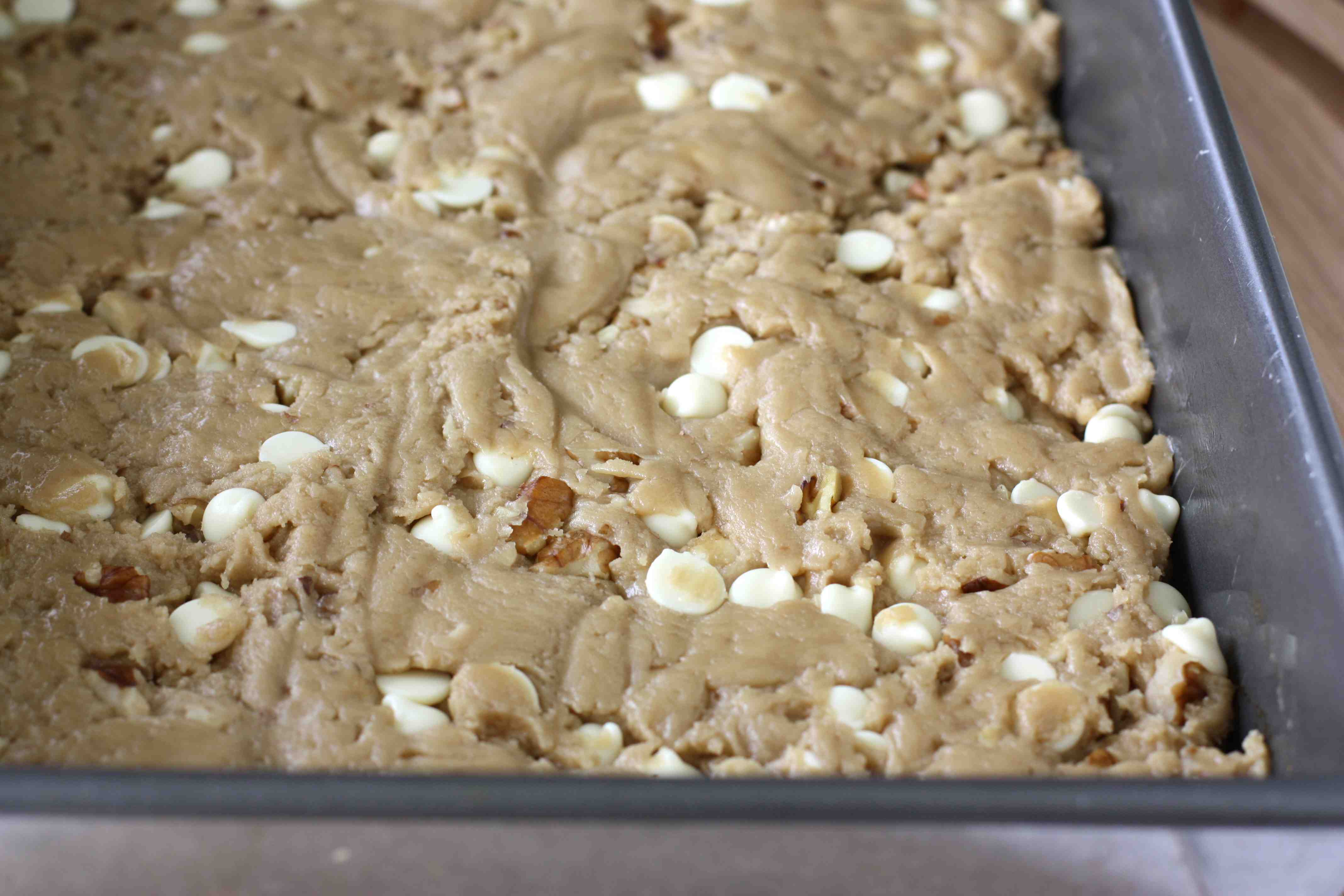 Spray a 9- by 13-inch baking pan with cooking spray. The recipe did not actually state this, but I did not want to risk any of these brownies sticking to the bottom. Press the brownie mixture into the pan.
If you are using your fingers to do this, coat them with some butter first to help with sticking. Of course, any morsels sticking to your fingers should be consumed immediately.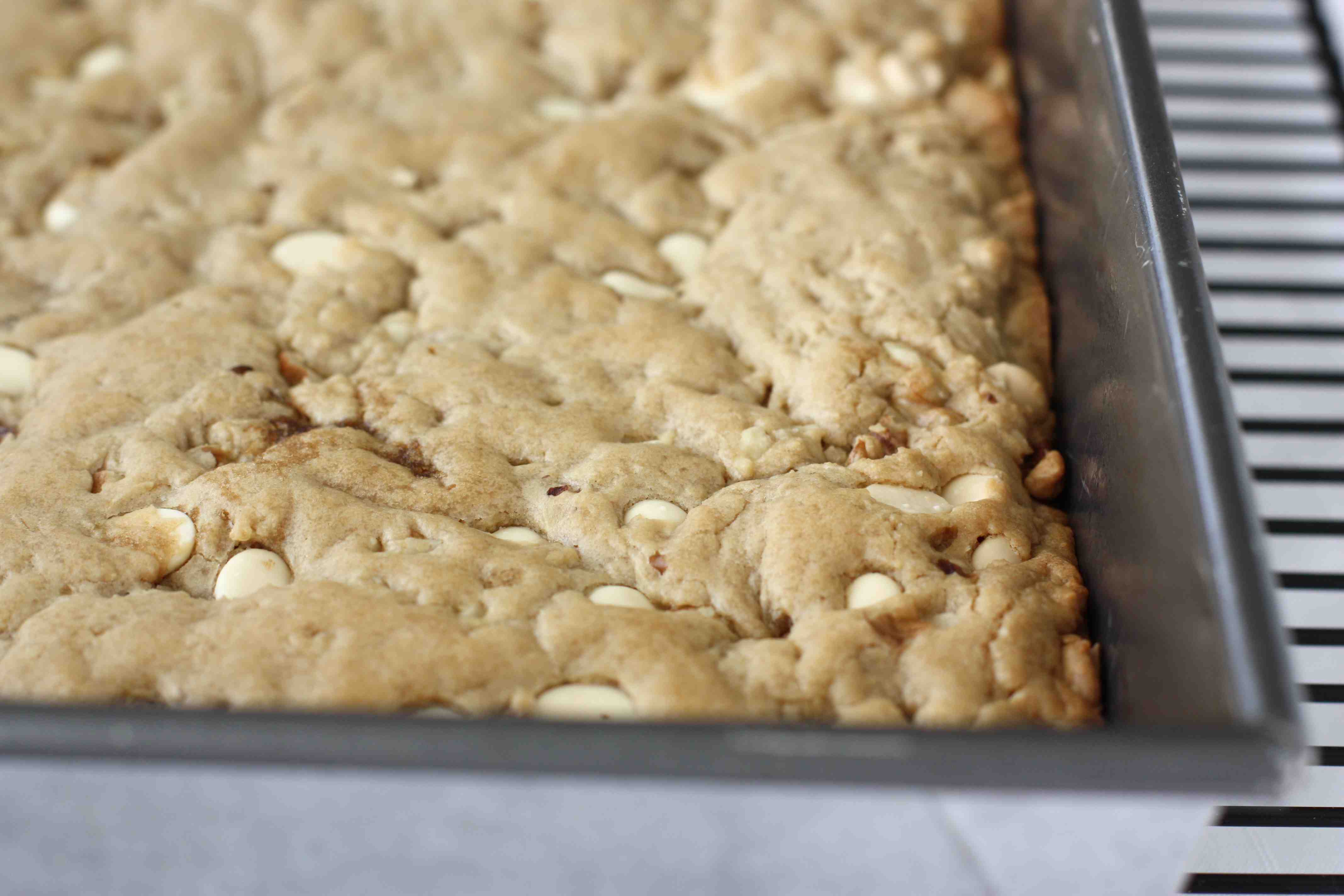 Bake until a toothpick inserted in the center comes out clean, about 25 to 30 minutes. Remove from the oven and allow the brownies to cool on a wire rack.
Here comes the good part: the sauce. The maple butter sauce. Need I say more?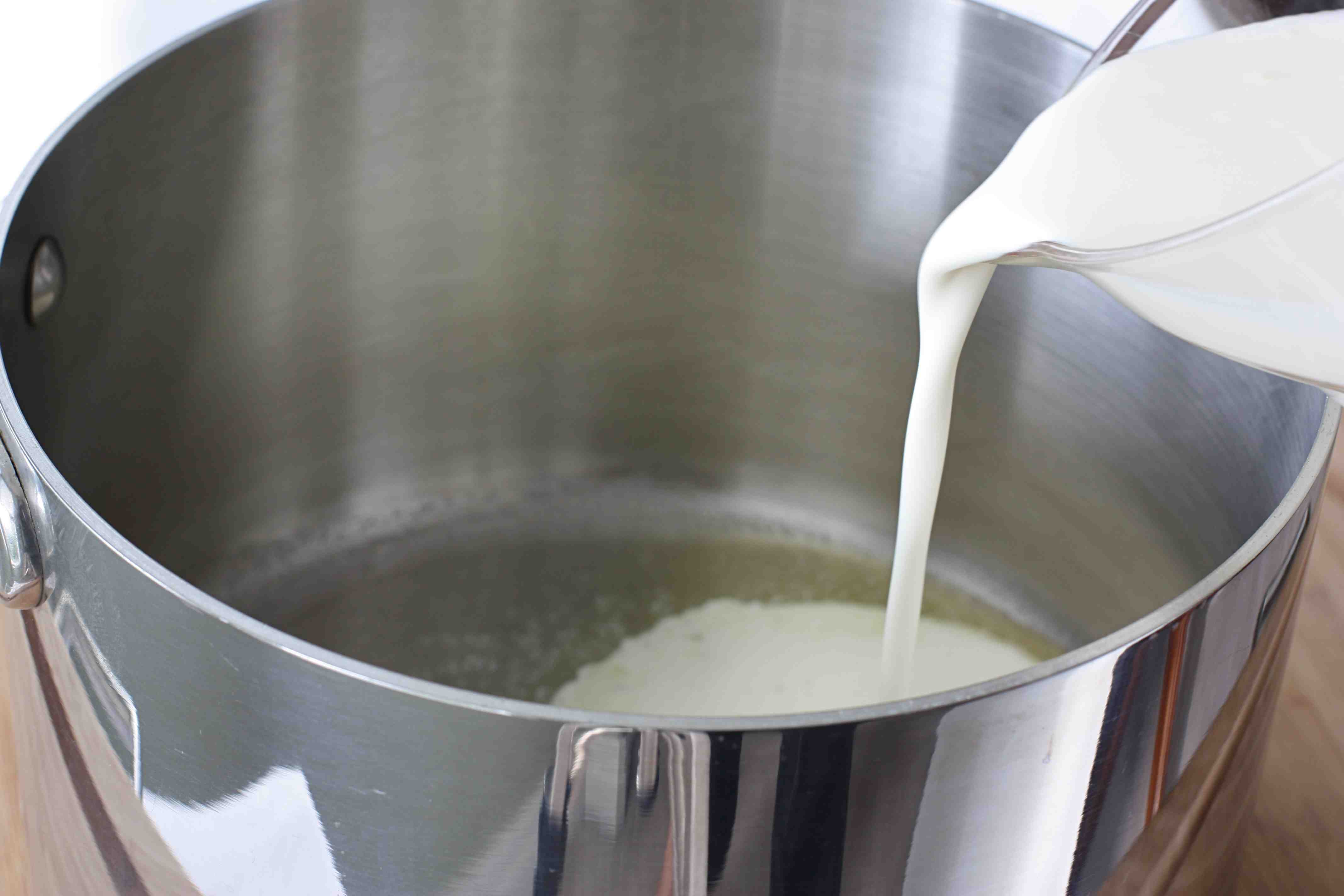 In a medium saucepan set over medium heat, melt the butter. Be certain the butter does not burn. Add heavy cream, maple syrup, and corn syrup.
Bring the mixture to a gentle simmer, adjusting the heat, if necessary. Allow the mixture to simmer for 20-30 minutes, stirring occasionally. Remember when your parents told you that good things come to those who wait? Well, this wait will be torture but oh, so worth it.
The sauce is done when it is reduced by about one-third and turns a light caramel brown.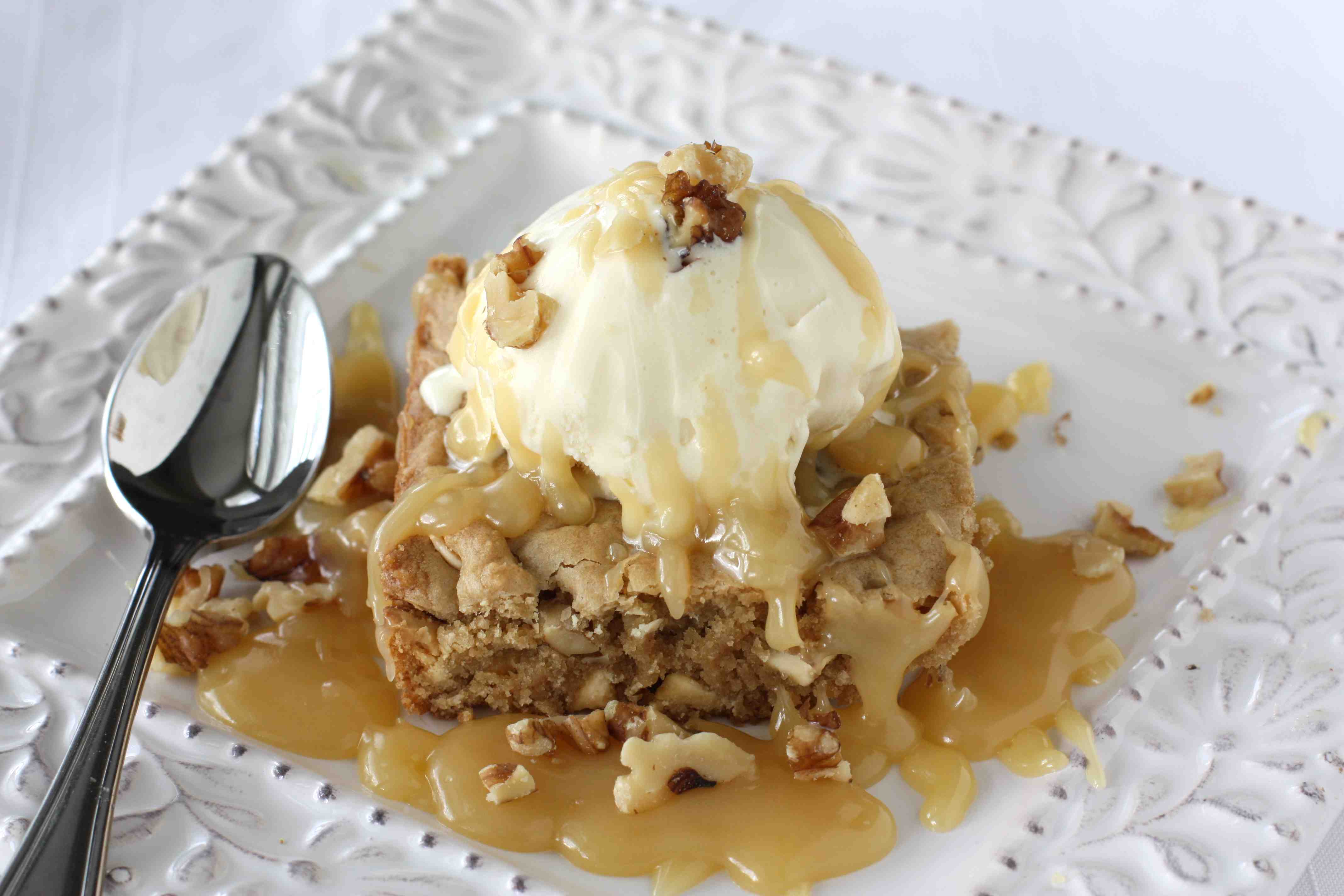 If you want to serve warm brownies (and, really, who doesn't), warm them in the microwave for about 30 seconds or in a cast iron skillet. These brownies are just begging for ice cream and you do not want to disappoint them. Drizzle the sauce over top and garnish with more chopped walnuts.
Brandie suggests doubling the sauce and I would have to agree. There is no need to skimp on this buttery goodness.
Thank you to Brandie for this decadent, irresistible recipe. Visit her blog, The Country Cook, for more of her recipes!
Printable Recipe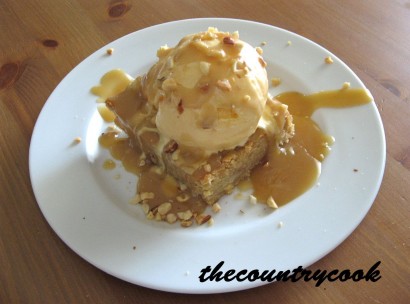 Description
Similar to my favorite Applebee's dessert. Not an exact copy…but it is still pretty dang good!
Ingredients
FOR THE BLONDIES:
3 cups All-purpose Flour
¼ teaspoons Salt
1 teaspoon Baking Powder
10 Tablespoons Unsalted Butter, melted
2 cups Light Brown Sugar
3 whole Eggs, Lightly Beaten
1 teaspoon Vanilla Extract
½ cups Chopped Walnuts
1 cup White Chocolate Chips
_____
FOR THE SAUCE:
2 Tablespoons Unsalted Butter
1-½ cup Heavy Cream
6 Tablespoons Maple Syrup
3 Tablespoons Light Corn Syrup
Optional Garnish: Vanilla Ice Cream, Chopped Walnuts
Preparation Instructions
Preheat oven to 350 degrees F.
In a medium bowl, sift together flour, salt & baking powder. Set aside.
In another large mixing bowl, mix melted butter with brown sugar until well-blended. Add in beaten eggs and vanilla. Stir well.
Slowly add flour mixture to butter/sugar/egg mixture. Stir thoroughly but take care not to overmix your batter. Fold in nuts and chocolate. Batter will be thick.
Spray pan with nonstick cooking spray, then pour batter into 9 x 13 baking pan. Bake for about 25-30 minutes (until a toothpick inserted comes out clean).
For the sauce:
Melt butter in a medium sauce pan over medium heat (do not allow butter to burn). Then add heavy cream, maple syrup and corn syrup. Allow this mixture to simmer over medium heat for about 20-30 minutes. This is the hard part: waiting for the mixture to reduce and thicken. You don't want to bring this to a boil, just a nice, slightly bubbly simmer. Stir it occasionally. Once it has reduced by about a 1/3, it's ready.
To serve: you can heat up blondie on a cast iron skillet and serve with a scoop of vanilla ice cream or you can just heat a slice of blondie on a plate in your microwave for about 25 seconds. Add a scoop of ice cream on top then pour the warm maple butter sauce on top and sprinkle with chopped walnuts.
Cook's note: if using a glass pan, adjust heat to 325 degrees F. You may have to bake slightly longer than given time. Also, you may want to double up the maple butter sauce recipe. It really is the best part. We love a lot of sauce on ours (as you can tell from the picture!).


_______________________________________
Dara Michalski is a doll and a sweetheart who clearly knows her way around the kitchen. She blogs at Cookin' Canuck, where she shares her flavor-packed recipes and fun, engaging writing. The photography's pretty incredible, too.