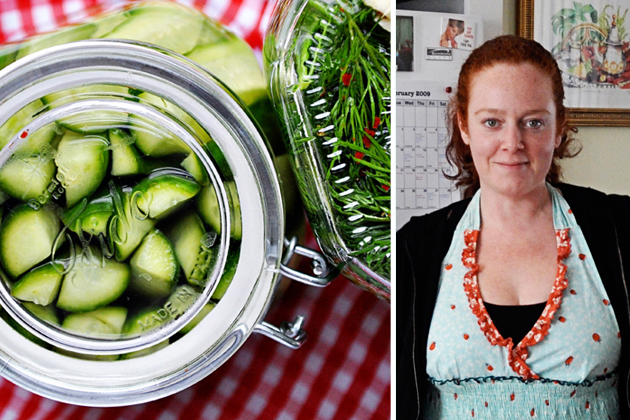 It's time for a new post featuring one of our many wonderful members here at Tasty Kitchen, and today, we'll get to know theparsleythief. Bet you didn't know her concentration in college was glassblowing and glass design. (Intrigued? I know I was.) We'll learn more interesting things about her today, so say hi to Katie, everyone!
Katie lives in South Norwalk, Connecticut with her two young boys, who she lovingly refers to as her "Bozos"—not because they have red noses or huge feet but because they're wild and goofy. She grew up in Connecticut and lived in Brooklyn, New York when she was "single, attending art school, and ordering takeout." Of course, as you can see below, she's come a long way from that and now her recipe box is just chock full of good stuff.
Clockwise from left: Rum Balls, Spice Sugar Cookies, and Apple Crisp.



Although the demands of raising a family meant that her art and her career fell to the wayside, she started blogging after being encouraged to do so by a friend who had also started one. Her blog, The Parsley Thief, gave her the creative outlet she needed. Finally, she was able to share recipes, food tips, and finally use some of her creative talents. Believe me, this lady is definitely creative in more ways than one.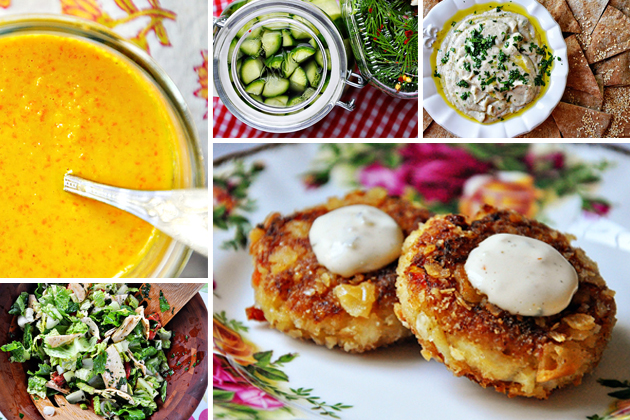 Clockwise from top left: Carrot Ginger Dressing, Dill Pickles, Grilled Baba Ghanoush, Mini Crab Cakes, and Fattoush.



Not surprisingly, Katie loves all kinds of fresh herbs, as the name of her blog suggests. "I love how a little sprinkle of green can transform something simple into something gourmet," she explains. She's right, too. I love how the fresh green herbs make some of the dishes below look extra vibrant.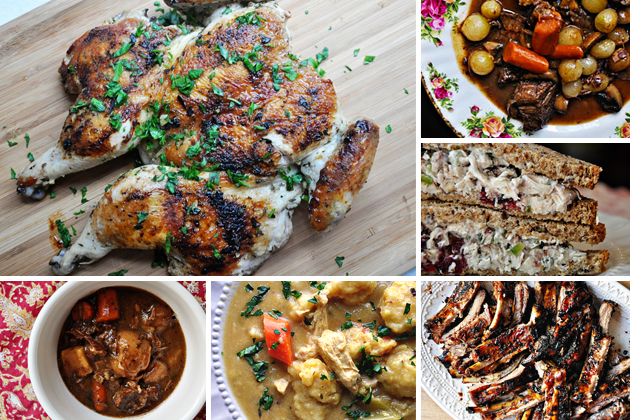 Clockwise from top left: Chicken al Mattone, Beef Bourguignon, Tarragon Chicken Salad with Pecans and Cranberries, Sticky Balsamic Ribs, Chicken and Dumplings, and Guinness Beef Stew.



Katie says that she isn't a picky eater and that it takes a lot for her not to try something new. But she is a stickler for following a recipe to the letter the first time around—even when her instinct tells her that something just isn't right. She always wants to know how the recipe developer intended for it to taste before making any adjustments. Her go-to meal is her Spaghetti and Meatballs, and believe me, she can do wonders with pasta.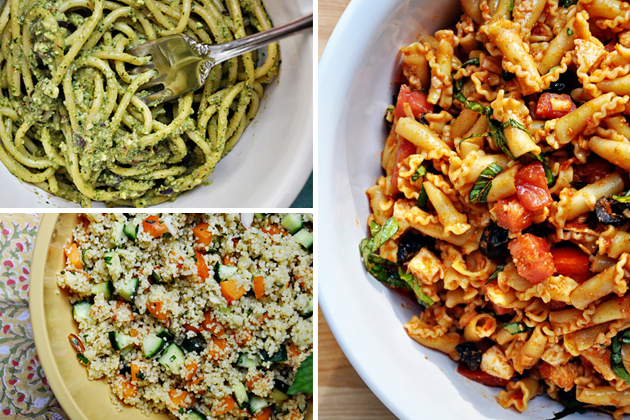 Clockwise from top left: Roasted Almond Ricotta Pesto with Olives, Pasta Salad with Fresh Mozzarella, Sun Dried Tomatoes and Olives, and Minted Apricot Couscous.

Don't those look incredible?
Now it's time to ask Katie some questions and let her do the talking. So let's learn even more about this talented lady, including her current favorite quick snack or meal that kinda made my mouth water.


Q: What do you enjoy most about cooking?
A: I know for some people, cooking can be a chore. So it may seem strange to some but I love the process of cooking. I love cooking from scratch. Sometimes the things that are the most time consuming and involved are the most appealing to me. Now, don't get me wrong. There are plenty of nights when I curse the very thought of getting dinner ready, even if it's just mac n' cheese from a box. But when I am in the mood to cook, I love it. I also love sharing food. I love entertaining.

Q: Any favorite chefs or food celebrities? Who inspires you?
A: My father is a good cook and I am definitely inspired by that. I remember making New England clam chowder with him as a kid. It took all day and it was really good! I was also extremely close to my grandmother growing up. She made the best Italian food. Her meatballs were the best I've ever had. She also made an incredible Eggplant Parmesan. My father comes very close to replicating her signature dishes. But unfortunately, no one can touch what she did.

Q: If you had to eat something right now and had only 3 minutes to get it ready, what would it be?
A: Lately, that would be toasted cranberry pecan bread from the SoNo Baking Co., smeared with some good blue cheese. I love bread and I love cheese. I love them together and could live on that the rest of my life. The only criteria is that it must be good bread and good cheese.

Q: What gives you the most trouble in the kitchen?
A: Rolling out pastry correctly gives me a lot of trouble. I find it nearly impossible to do without stretching the dough. Stretching pastry makes it shrink back in the pan while baking. So it's not good to do.

Q: What is your favorite kitchen tool?
A: Goodness. How do I choose just one? If I had to, I would say I couldn't live life without a sharp knife.

Q: Give us one of your favorite kitchen tips that you wish you'd always known.
A: I am still a novice in many ways. So I am always learning something new. But off the top of my head, I would say I wish I had always known that old eggs were easier to peel than fresh ones.
_______________________________________

Thanks for answering our questions, Katie! Now I'm going to need some of that pecan bread and blue cheese. Yum.

Katie's talents extend beyond the kitchen, so head over to her blog, The Parsley Thief, and find not just great recipes but posts about her children, photography (her background is in Art and Photography), gardening, products or designs that she loves. In other words, it's all about the things that she enjoys and so generously shares with all of us.