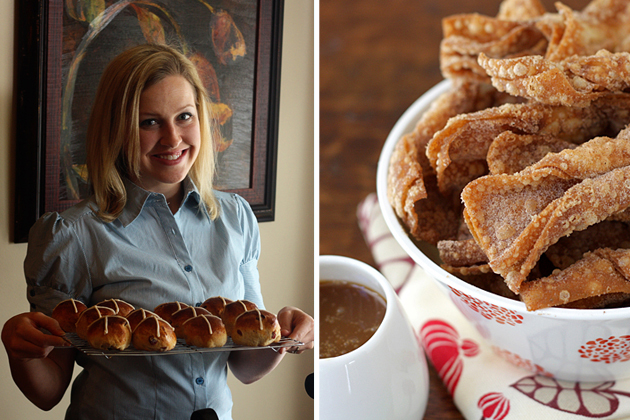 Having this lovely lady at Tasty Kitchen gives us real street cred and it means we get some pretty amazing recipes like the one you see above. She's multi-talented, a world traveler, and we're happy to introduce her to you today. Say hello to fujimama!
Rachael is fairly new to food blogging, though it certainly doesn't show. She started her blog La Fuji Mama while in Tokyo, after her first "Fujiling" was born. It wasn't a food blog until they moved back to the U.S. about a year and a half ago. She has a BA in French, studied in France, and graduated from law school here in the U.S. She loves to travel and has lived in many places around the world, including Southern California, Salt Lake City, Memphis, Paris, and of course, Japan.
Her girls are known on her blog as Squirrel and Bug, and don't worry, those aren't meant to be food references, although she confesses that she'll eat anything and has eaten some pretty "different" stuff. Her children's blog names are a result of having grown up with a dad who loved the outdoors and animals. "As a result," she says, "we always had a menagerie at home that always included a healthy assortment of reptiles." This included a 6-foot gopher snake that once escaped from his terrarium and found its way onto her bed and in her hand as she pulled up the blanket in the dark. "I'm proud to say I did not scream." But she adds, "In contrast, if I see the teeniest little spider, I will scream."
The list of "different" foods she's tried is quite impressive indeed: pig's blood jelly in Hong Kong, sweet and sour camel meat in Beijing, and hachinoko (bee larvae) and zazamushi (stonefly larvae) in Japan, to name a few. (Yes, she said those were just a few.) She loves spicy food and declares that she has yet to eat something that is too spicy for her.
You won't find a killer spicy dish below, and in case you were wondering, there's no larvae either. What you will find, though, is pure deliciousness.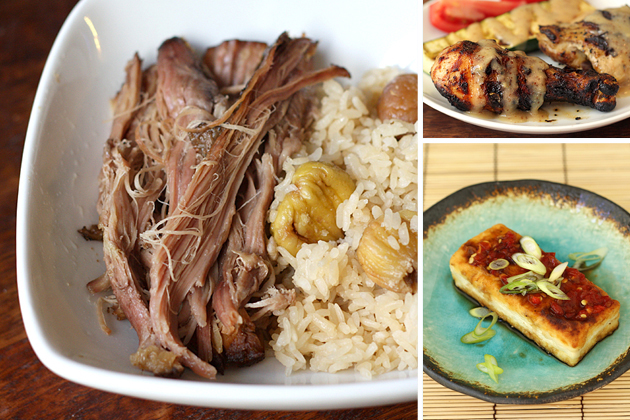 Clockwise from top left: Slow Cooker Kalua Pig, Grilled Chicken with Tangy Miso Honey Mustard Sauce, and Tofu Steak.



One thing I really enjoy about Rachael's recipes and posts is that she de-mystifies many Japanese dishes that we might find too daunting to attempt in the kitchen. From sushi rice to egg crepes to Japanese pickles, she lets us know how simple they really are to make.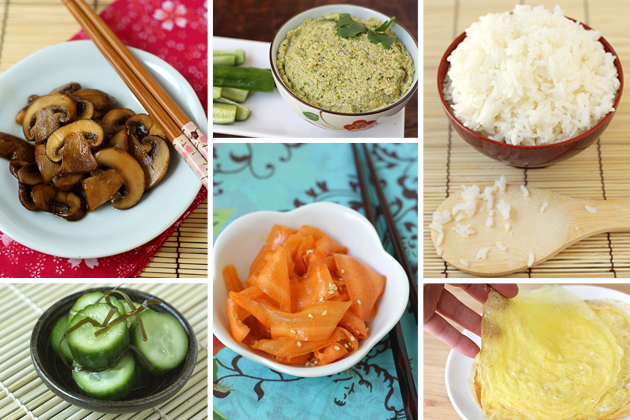 Clockwise from top left: Sweet & Sour Mushrooms, Quick & Easy Edamame Dip, Sushi Rice, Usuyaki Tamago (Japanese Egg Crepes), Carrot Sesame Salad, and Kyuri Asa-zuke (Japanese Lightly Pickled Cucumbers).



Rachael's recipe box here is also stocked with wonderful soup recipes. Not only does she explain how to make great miso soup but she also has a post on how to make dashi stock, which will take your homemade miso soup to new heights. As for me, I haven't been able to stop thinking about the oyster soup below ever since I first saw it.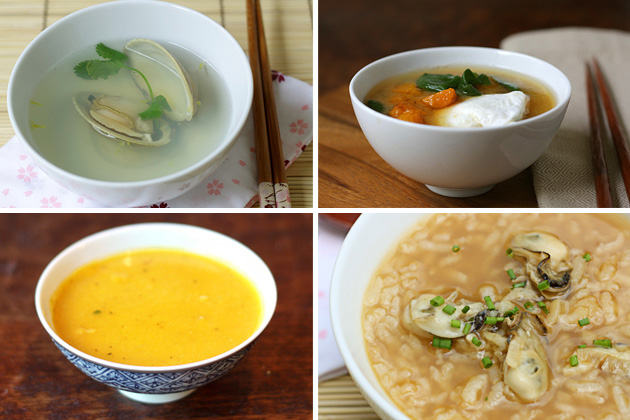 Clockwise from top left: Hamaguri Ushio-jiru (Japanese Clear Clam Soup), Miso Soup With Butternut Squash, Poached Eggs, & Spinach, Kaki Zosui–Oyster and Rice Soup, and Roasted Kabocha Squash Soup.



Rachael's repertoire isn't confined to Japanese cuisine and she has the Spaetzle and Lentils to prove it, a recipe handed down from her German grandmother. When Rachael and her husband lived in Memphis, Tennessee, she fell in love with Southern cooking and Memphis-style barbecue. Her go-to meal is a simple roasted chicken stuffed with a quartered lemon and rosemary, served with steamed vegetables and homemade bread.

When it comes to sweets, she's a chocoholic all the way. "I know something has gone horribly wrong if I have actually run out of chocolate." When pressed for time, she'll snack on slices of banana spread with Nutella. Lots of Nutella. (She made sure she specified that.)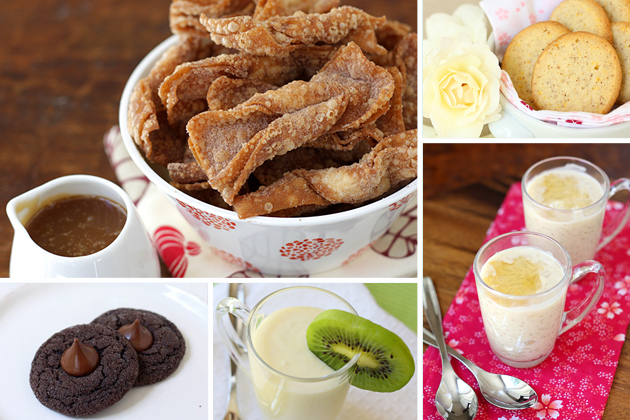 Clockwise from top left: Churro Wontons with Salted Butter Caramel Dipping Sauce, Orange Blossom Sables, Coconut Honey Rice Pudding, Gold Kiwi Cream, and Hug & Kiss Cookies.
(Sometimes, late at night, I still dream of those churros.)
There's so much more to learn about Rachael and I'll let her do the talking this time. Floor's all yours, fujimama!


Q: What do you enjoy most about cooking?
A: The whole process. I love doing anything that involves creating something using my hands, like knitting or playing the piano, so cooking fits right in. There's something about chopping, stirring, kneading, and watching as a dish comes together that brings me joy. I find the cooking process to be invigorating and therapeutic all at the same time.

Q: Any favorite chefs or food celebrities? Who inspires you?
A: The three people who have had the biggest culinary influence on me are my mother, my paternal grandmother, and my dad. My mom and grandmother are both amazing cooks and constant sources of inspiration. If I need a good recipe, I can always rely on one of them to supply me with one. My dad has always challenged my palate by encouraging me to try new things and is always good at thinking outside of the box. As far as other favorites, I love Julia Child because of her determination and spunk. I also love Elizabeth Andoh, who has been a huge source of inspiration over the past year as I have worked through her book, Washoku, and have had the privilege to get some feedback from her.

Q: Do you have a memorable kitchen disaster to share with us?
A: My first solo foray in the kitchen was in elementary school. My mom was out of town and I wanted to cook up something special to serve upon her return. I flipped through her red and white checked Better Homes & Gardens cookbook and found a recipe for petit fours that I decided to make. I made the cake without any problems, sliced it into little squares, and then looked at the recipe for the glaze that was supposed to cover each square of cake. The recipe called for both granulated sugar and confectioners' sugar and I was stumped. I had no idea what confectioners' sugar was. I was young enough that I had only ever heard of powdered sugar and had no idea that there was another name for it. So, I decided to just use granulated sugar twice. To make matters worse, I decided to make the icing a horrible Pepto-Bismol pink. The result was a horrible slushy grainy icky pink goo that I then slopped onto my squares of cake. Of course the "icing" did not set, it just oozed down the sides of the cake and soaked into the cake making it mushy and unappetizing. I knew that I had a problem but had worked so hard that I proudly served my creation to my mother when she got home. She praised me on my work and proceeded to eat several pieces. To this day I have no idea how she was able to do so with a straight face.

Q: What is your favorite kitchen tool?
A: My wooden spoon. I don't know what I would do without it. I use it for everything important like making bread and toffee.

Q: What food item do you always make at home and never buy at the store anymore?
A: Miso soup, including the dashi (sea stock)—no instant granules for me! Making dashi is so much easier than people think. It's way easier than making any other kind of stock, whether it be chicken or vegetable stock. It only takes 15 minutes and 3 different ingredients!

Q: Give us one of your favorite kitchen tips that you wish you'd always known.
A: Use a thermometer when baking bread to see if it is ready to come out of the oven. Bread is ready to come out of the oven when it reaches an internal temperature of about 200 degrees Fahrenheit. Thank you to Michael Ruhlman for teaching me that one. I always love seeing the needle on my thermometer hit 200 and knowing I can pull it out and not worry about cutting into it and having it be a doughy mess.
_______________________________________

Thanks for answering our questions, Rachael! I knew my thermometer had to have another use other than testing my home water heater.

Rachael has a Tasty Kitchen recipe box that's full of wonderful recipes and, as you've seen, they're not all necessarily Japanese dishes. There's more in store for you in her blog, La Fuji Mama, where you can find more delectable food and also see pictures of her adorable girls, Squirrel and Bug.