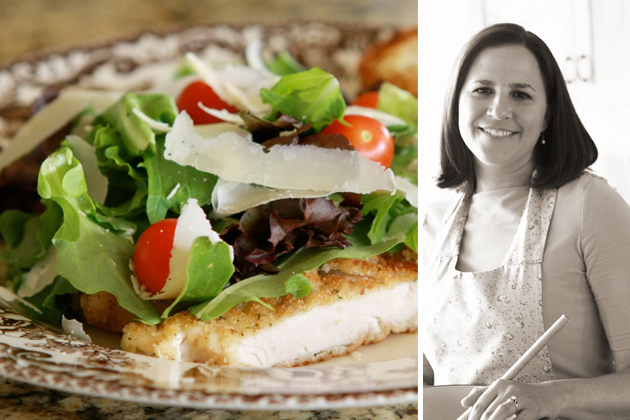 Our featured member this week has a lot of skills under her belt. From cooking to sewing to beautiful crafts, there isn't much that she can't do. Let's all say hello to the lovely Calli of callimakesdo!
Calli is a stay-at-home mom who loves spending time with her family, whether it be on the slopes or around a campfire. She has three children with ages ranging from 8 to 9. "No, that wasn't a typo," she explains. "I had three kids in 18 months, something I wouldn't recommend to anyone who likes their sanity." She loves the smell of baking bread, her garden, her camera, hiking shoes, and her sewing machine. She gets a kick out of being resourceful, and her blog Make It Do showcases her resourcefulness and hardworking nature.
Of course, we know her here from the wonderful recipes in her recipe box. Calli enjoys being creative when it comes to cooking, trying out new recipes and experimenting. "Cooking is also very aesthetic for me," she adds. "I love the smells, colors, textures, and tastes of cooking." She loves sitting down every night for dinner with her family, talking and enjoying each other, and she says good food makes it all better. Especially when even the bit player side dishes look good enough to be the main course.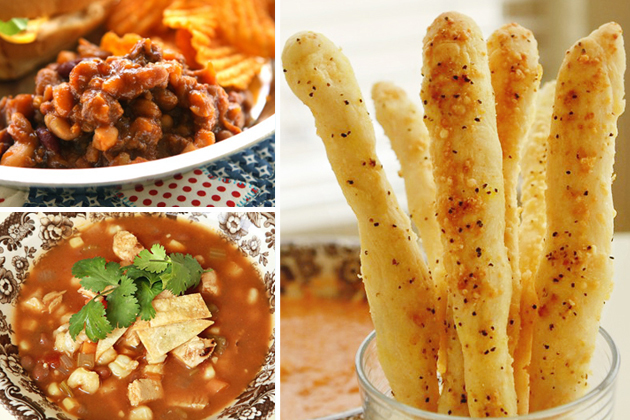 Clockwise from top left: Buddy Loves Baked Beans, Easy Peasy Bread Sticks, and D's Southwest Chicken Tortilla Soup.



When asked about her go-to meal, Calli's answer is simple: salad. She rarely serves a meal without a salad, either as a side or as the main course. She loves main dish salads with grilled chicken, fish, or steak, and Calli tries to make her salads according to the season. "My kids don't eat everything I serve," she says, "but I serve it nonetheless." As a result, her children have become quite daring eaters. Calli also offers that one way to get kids to eat salad is by always having buttermilk ranch dressing on hand.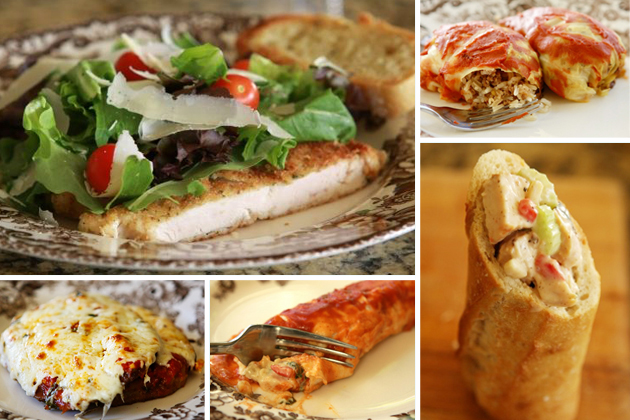 Clockwise from top left: Chicken Milanese, Cabbage Rolls, Chicken Salad Sandwiches , Chicken Enchiladas, and Eggplant Parmesan.



Calli loves food with lots of flavor, preferably on the spicy side. She also loves anything sour and uses a lot of onion and garlic in her cooking. Her palate is ecclectic and runs the gamut, from Tortellini Soup to Chicken Tikka Masala to a Greek salad with chicken and Carnitas Dulce. We even see that kind of variety in her breakfast recipes, from Busy Day Bran Muffins to a delightful Mexican-style Green Chile Egg Casserole and a lovely Harvest Vegetable Quiche.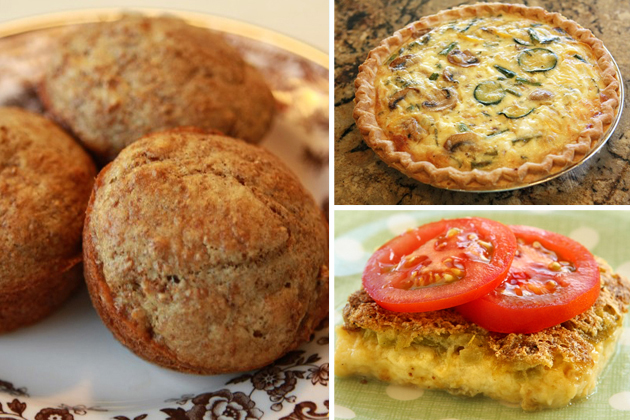 Her snack of choice is popcorn with butter and Parmesan cheese sprinkled on top. "I love popcorn," she admits. "I try really hard to limit myself to eating it once a week." She confesses that she has most trouble in the kitchen when it comes to cookies. "I like to blame it on the altitude," she explains. "If I don't adjust my recipe, I often end up with pancake cookies." Calli, from the looks of all your wonderful dessert recipes, I think you have that adjusting part down pat.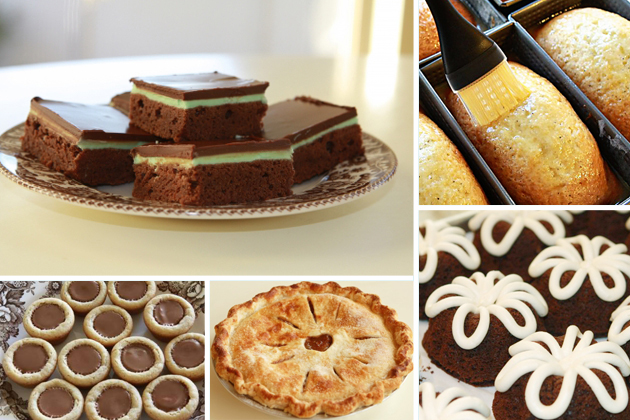 Clockwise from top left: Famous Mint Brownies, Orange Poppy Seed Bread, Lovely Little Chocolate Bundtlettes, Eva's Apple Pie, and Peanut Butter Cup Cookies.

I'll take one of each, please. And if you want to make it a double, I won't complain.
I know you want to learn more about Calli, so let's get right into the interview!


Q: Tell us more about yourself.
A: I once worked a summer in a fish cannery in Alaska … and I still love to eat fish. I am and love being a Cub Scout leader; 8-year-old boys are a kick to be around. One of my favorite movies is "Waking Ned Devine." I hate coconut. Apparently, I hum in my sleep. And I always see the glass as half full.  

Q: Who inspires you?
A: My mom and dad. They are both wonderful cooks. And their home seems to always be full of hungry people. They have at least 25 people to Sunday dinner on a regular basis. They are never daunted cooking for a crowd and everything they make tastes amazing. I've learned from my mom how to find a few favorite recipes and work with them until they're perfected.

Q: Any strange food preferences?
A: I usually eat pancakes without syrup. I scrape the frosting off of my cake if it's too sweet and I never eat the center from an Oreo cookie … unless it's mint. I also love mustard pickles. It's a canned concoction of pickling cukes, pearl onions, red pepper and cauliflower in a mustard sauce. I love it on roast or ham. It's an old-fashioned canning tradition and most people have never heard of it.

Q: Do you have a memorable kitchen disaster to share with us?
A: My husband's grandmother was an amazing pie maker. Before she died, my husband went to her house to help her make her Thanksgiving pies. Luckily he wrote everything down, because her family-favorite apple pie didn't have a recipe other than what was in her head. After she passed away, I took on the challenge of making pies for Thanksgiving. But the dinner wouldn't be the same without her apple pie. The day before Thanksgiving, I made her recipe carefully, following my husband's handwritten instructions to the letter. I baked off the pie scraps with cinnamon and sugar and to my delight the crust was flaky and delicious. Since, I wanted it to be fresh for Thanksgiving, I decided to bake the already filled pie the following morning. I covered the unbaked pie with plastic wrap and tossed it in the refrigerator. The next day I baked the pie as planned. It came out of the oven looking beautiful and smelling even better. But when it came time to serve it, I was in for a shock. The whole bottom crust was straight mush, absolutely horrible. My failure was made so much worse because it was Eva's Apple Pie. I learned the hard way that an unbaked pie crust needs to be baked immediately after the filling goes in. You live and learn, don't you? And I can laugh about it … now.

Q: Complete the sentence: "I panic when I realize that I'm out of …"
A: Olive oil. But maybe that's because I recently did run out and I didn't know how to make dinner without it.

Q: What is your favorite kitchen tool?
A: That is a hard one. I love my Universal Bosch for breadmaking, my santoku knife, and I love my 8-cup Pyrex measuring bowl. But if I have to pick my very favorite, it would have to be my Le Creuset cookware. They are the hardest working pans in my kitchen and I especially love my Dutch oven.

Q: What food item do you always make at home and never buy at the store anymore?
A: For years I was intimidated by making pie crust. I had tried here and there to make crusts with mixed results. I usually bought frozen crusts from the grocery store when it really mattered. Finally I got smart and called my mom to ask for a lesson. After making them with her and really watching her techniques I've became a lot more confident. I also made a small investment in an inexpensive fabric pastry frame, which I love. I love making pie and a homemade crust is so much better than a frozen store-bought crust. There are just some things in the kitchen that take practice.
_______________________________________

Thanks, Calli!

Check out more of Calli's recipes in her Tasty Kitchen recipe box. For even more recipes and fun stuff like crafts, sewing projects and tutorials, cleaning tips and so much more, visit her blog Make It Do, where she shows us the many ways to "Make it. Do it."