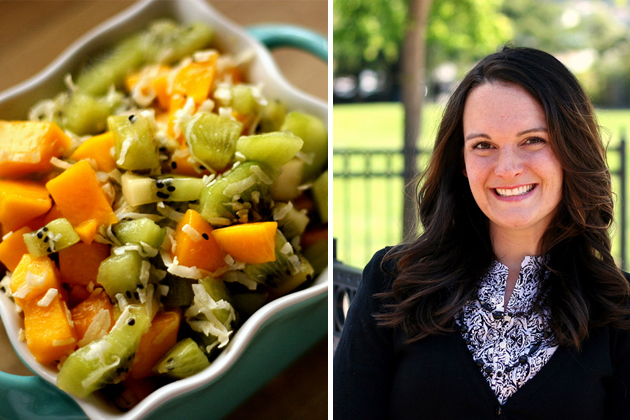 This week, our featured member is a self-taught home cook who got her love of food from the southern women she grew up with, then fed it with endless hours of Food Network while her husband was deployed in Afghanistan. She's funny, creative, passionate about the quality of food that she makes, and incredibly talented. Generous too, for sharing the recipes in her recipe box with us. Let's all say hello to Natalie!
Natalie (Perrys' Plate) is a full-time wife and mother. She met her husband in Russia (she says it's a long story, but maybe we can prod her to spill some of it) and they've been married six years. They have two little girls, and live in California while her husband finishes chiropractic school.
Natalie confesses that she spends more time thinking about food than she likes to admit. All that thinking must be part of the reason she can get so creative with her dishes. A few weeks ago, she ran a Sun-Dried Tomato Pesto week in her blog, Perrys' Plate, after realizing that her husband didn't like sun-dried tomatoes and being stuck with a large warehouse-club-sized jar of it. So she made pesto, then proceeded to create six different dishes using the pesto. It made me hungry for sun-dried tomatoes all week.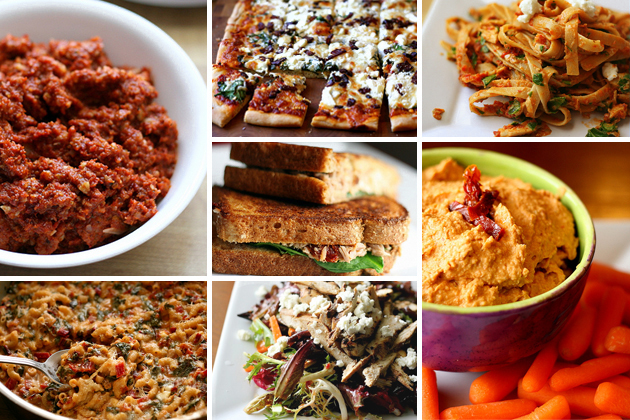 Left column, top to bottom: Easy Homemade Sun-Dried Tomato Pesto and Swiss Chard and Sun-Dried Tomato Skillet Mac. Center column, top to bottom: Spinach, Bacon and Feta Pizza with Sun-Dried Tomato Sauce, Sun-Dried Tomato Tuna Melts, and Balsamic Grilled Salad with Sun-Dried Tomato Vinaigrette. Right column, top to bottom: Creamy Chicken and Sun-Dried Tomato Fettucine and Sun-Dried Tomato Hummus.



Natalie graduated from BYU with a degree in Travel and Tourism and a minor in German. "I should really get the award for the most useless diploma for a stay-at-home mom," she says. She loves spending time in the kitchen because it allows her "to taste and create a lot of different things in a relatively short amount of time, compared to, say, furniture restoration or needlework." As a bonus, it makes her feel like a multitasking superstar to be able to get creative in the kitchen while also feeding her family.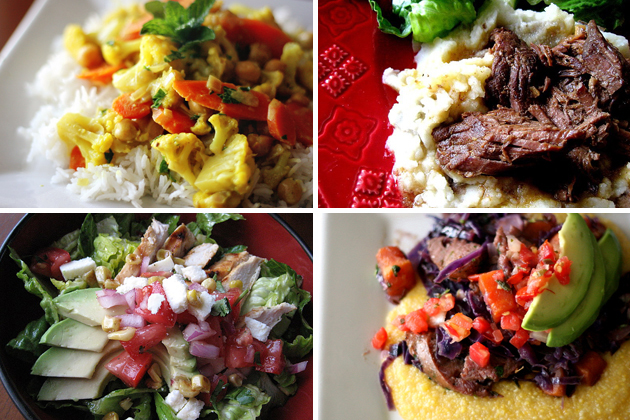 Clockwise from left: Coconut Curry with Cauliflower, Carrots, and Chickpeas, Steak-Inspired Slow-Cooked Beef, Spicy Sausage and Sweet Potato Hash over Creamy Polenta, and Grilled Chicken Salad with Chipotle-Lime Vinaigrette.



When it comes to specific ingredients or favorite foods, Natalie loves bacon, and is almost convinced that it can find a home in any recipe. She especially likes it with sweet potatoes or butternut squash (her Bacon, Kale, and Sweet Potato Breakfast Burritoslook absolutely scrumptious). She can't do without fresh onions and garlic, saying "I feel blind/baked/armless without them." She also loves the brightness that vinegars and fresh citrus bring to a recipe.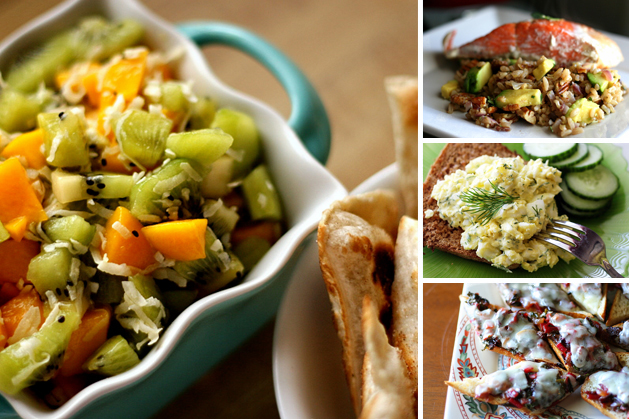 Clockwise from left: Natalie's prize-winning Coco-Kiwi Mango Salsa with Cinnamon Crisps, Nutty Lemon-Herb Brown Rice with Avocado, Mayo-Free Egg Salad, and Garlic Bread with Bacon, Greens and Provolone.



As for professional chefs or food celebrities, she likes Tyler Florence. "He emphasizes the importance of quality ingredients and goes the extra mile to create the best flavors in a dish." Of course, having grown up with those food-loving southern women, she is also greatly inspired by her Grandma Inez, who taught her not to be afraid of bacon grease. Grandma Inez also taught her some pretty wicked looking desserts, including an "Impossible Pie" that creates its own crust. One thing Natalie is adamant about: "When I want a dessert, I want a dessert."
Of course, some of her breafkast items look good enough to be eaten as dessert, too.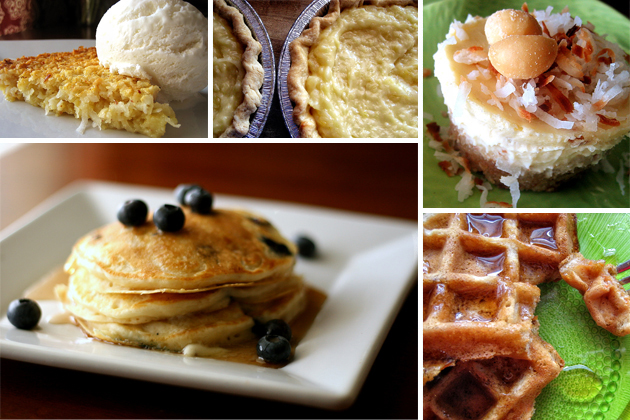 Clockwise from left: Grandma Inez's Impossible Pie, Grandma Inez's Pineapple Pie, Toasted Coconut Cheesecake Cups, Spiced Carrot Waffles, and Blueberry-Lavender Ricotta Pancakes.



Those are just a few of the goodies in Natalie's recipe box. But enough of me talking. Let's get to my favorite part of these posts, when we ask all kinds of questions and hear directly from our featured member. The floor's yours, Natalie!


Q: What is your go-to dish or meal?
A: I make a lot of sweet potato fries because my kids inhale them, and I often marinate and grill chicken to cut up and throw on some salad greens. (Luckily my husband is a salad man. When we go to a restaurant, he's more likely to order a salad and I'm the one who gets a burger and fries. We frequently have to switch our plates around after the server leaves.)

Q: What is the strangest food or food combo that you enjoy?
A: Oh my. When I was living at home we'd mix a little ranch dressing into some cottage cheese and dip Baked Lays into it. It's a lot more amazing than it sounds.

Q: Do you have a memorable kitchen disaster?
A: During the first semester at college, my roommate and I wanted to roast a turkey for Thanksgiving. We got to the point where we needed to put the turkey in the oven bag, so one of us held the bag (just open over the floor, like a trick-or-treat bag … do you see where this is going?), and the other "dropped" the turkey in. The bottom of the bag gave out and the turkey ended up sliding across the kitchen floor. We laughed, rinsed the turkey off and grabbed another bag. (Thank goodness those come in pairs.) No harm done.

Q: What gives you the most trouble in the kitchen?
A: It has to be melting and dipping things in chocolate. I've had so much chocolate seize up and rarely do the things I dip end up looking smooth and shiny. It's a huge mess.

Q: What is your favorite kitchen tool?
A: Hands down, my Lamson-Sharp santuko knife. It makes cooking so much more enjoyable when you can slice through produce effortlessly. I am quite clumsy, though, and have almost cut clear through the tip of my thumb, halfway into my thumbnail. Twice. In the exact same place. (The second cut is healing as we speak.) I make a conscious effort to tuck my thumb in now when I'm chopping.

Q: Give us one of your favorite kitchen tips that you wish you'd always known.
A: Using open ramekins for salt. I can't believe how much of a time saver it is. I hated digging out my salt box every time I needed more than a shake. I also like feeling the salt in my fingers and having more control over how much goes in.

Q: What food item do you always make at home and never buy at the store anymore?
A: I make a big batch of roasted garlic pasta sauce and freeze it into quart-sized Ziploc bags. I use it in pasta dishes as well as on pizzas. It's great. I also make my own taco seasoning. I should really post that on Tasty Kitchen. No one has put cocoa in theirs yet, have they?
_______________________________________

Thank you for answering our questions, Natalie! And I know I won't be the only one waiting for that taco seasoning recipe.

To see all of Natalie's recipes here at Tasty Kitchen, check out her ever-growing recipe box. Then head to her blog Perrys' Plate for even more of her dishes, wit, and mouthwatering food photography. Natalie says she loves to cook something new every day, and if you're the same way, your family will love you for making her dishes some of the new additions to your repertoire.