Rounding up our Terrific Threesome of guest posts is Erica Lea, who brings us a yummy dish that she saved in her recipe box as soon as she saw it. If you've read the Tasty Kitchen blog post last month when we featured Erica, then you know you're in for some good food that's beautifully photographed. We're all ears (and eyes), Erica!

Red Curry Coconut Noodles. Just the name sent my imagination spinning. As I glanced at the ingredient list, I knew I wanted to make this recipe.
This dish, brought to us by nika, is a glorious explosion of flavors. Don't be intimidated if some of the ingredients seem exotic. You should be able to find most of them at your local grocery store or an Asian market.
Here's what you'll need: boneless, skinless chicken breasts, coconut milk, red curry paste, fresh ginger, cilantro, Thai sweet chili sauce, chicken broth, rice noodles (I used the flat kind), an onion, two red bell peppers, and two heads of broccoli.
Start by prepping your ingredients. Grate enough ginger to make about 1 tablespoon. Chop up enough cilantro to make a tablespoon or so. I went heavy on the cilantro. Next, julienne your veggies. Julienne is just another way of saying "cut into long, thin slices."
To make this recipe easier, you can use prepackaged broccoli slaw in place of the broccoli stems. But I like to do things the hard way.
Remove the broccoli heads (reserve for a later use), cut off the hard bottoms, and carefully peel the stem. Chop the broccoli stems into pieces about 2-3 inches long, cut into thin slices, stack the slices, and cut across the slices. Now you have little matchstick-sized broccoli pieces.
Cut the chicken into bite-sized cubes.
Scoop the thick cream off the top of the coconut milk. This will be your "oil" for frying the chicken and vegetables.
Plop the coconut cream into a large pot set over medium-high heat. Add the curry paste and ginger and let simmer for one minute. Your kitchen will begin to smell lovely.
Add the chicken pieces and cook, stirring occasionally, until the chicken is cooked through.
Once the chicken is completely cooked, add the rest of the coconut milk, chili sauce, cilantro, and chicken broth. Bring to a simmer.
Shove the veggies into the pot.
Now it's time for a bit of magic. Poke the rice noodles into the pot and stir.
Return to a simmer and cook until the noodles are done, about 5 minutes. The sauce should begin to thicken.
Remove from the heat and let sit for about five minutes. This allows the sauce to thicken even more.
Serve in bowls and garnish with extra cilantro.
Notes: I was very pleased with this recipe and hope to make it again! Another time, I might add more curry paste and less noodles. The noodles really soaked up the sauce, and I ended up pouring the whole package of chicken broth into the pot. This recipe is so forgiving and versatile.
I served the noodles with many sides and sauces: yogurt, sweet chili sauce, curry paste, peanut butter, and toasted coconut. Use your imagination!
Thank you, Nikki (nika), for sharing this recipe and for answering all my questions about your recipe.
Printable Recipe
See post on nika's site!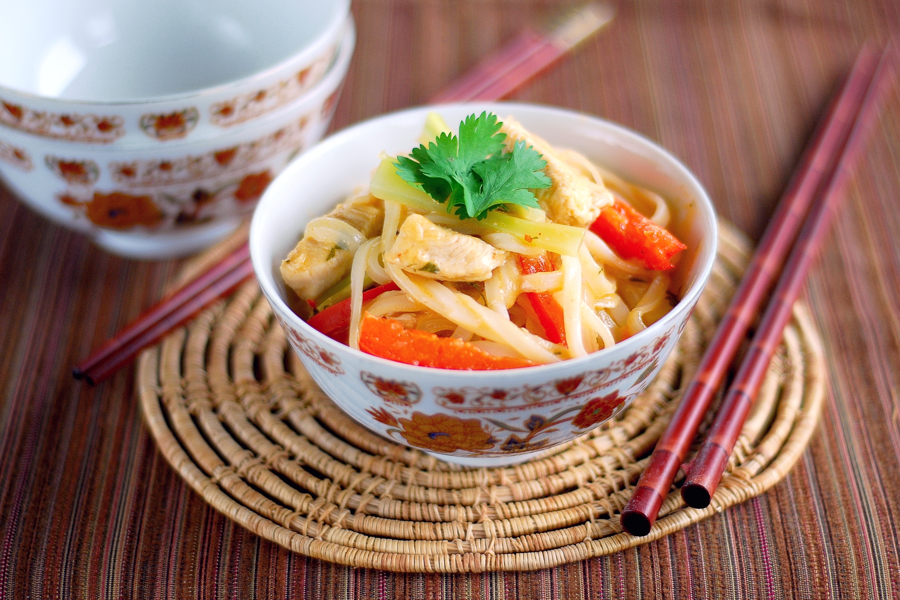 Description
This has become a family favourite! I love that it never tastes exactly the same, and it is easy to add in other flavours that you might like in your coconut curry.
Ingredients
6 whole Chicken, Boneless, Skinless Breasts, Cubed
2 cans Coconut Milk
2 teaspoons Red Curry Paste
1 Tablespoon Ginger (fresh, Grated)
1 Tablespoon Cilantro (fresh, Chopped)
¼ cups Sweet Thai Chili Sauce
2 cups, 1 tablespoon, 2 teaspoons, 7-⅛ pinches Chicken Or Vegetable Broth
1 package Rice Noodles
1 whole Onion (julienne)
2 whole Red Peppers (julienne)
1 cup Broccoli Slaw
1 Tablespoon Salt To Taste
Preparation Instructions
Start with a large pot over medium-high heat. Scoop the cream off the top of the coconut milk, and put into the pot. The cream will be used as the "fat" instead of oil or butter. Along with the cream, add the curry paste and ginger. Let this simmer for 1 minute.
Then add the chicken. Cook the chicken through.
Then add the rest of what is in the coconut milk cans, sweet Thai chili sauce, cilantro, and chicken broth. Bring this to a simmer.
Then add your julienned veggies and rice noodles. Simmer this. You will see the broth slowly thicken as the rice noodles absorb it. It should only take about 5 minutes for the rice noodles to be cooked through.
Pull the pot off the heat, and let sit for about 5 minutes. It will thicken during this time. Then, it's done. Slurp these noodles out of big noodle bowls! Garnish it with a bit more cilantro.
* I have also added peanut butter to this recipe, and a bit of honey if you want a less savoury/spicy version.


_______________________________________
Erica Berge shares her wonderful recipes and amazing food photography on her blog, Cooking for Seven. She also writes about crafts and posts more of her beautiful photography in her personal blog, EricaLea.com. There really isn't much that this amazing young lady can't do, and we're thrilled she does some of it here.