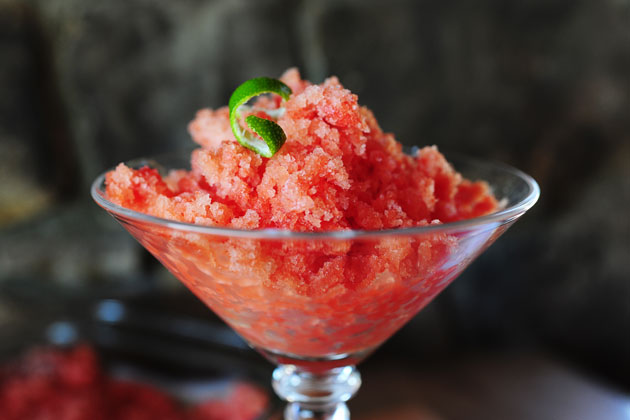 I love summer. And not just because it's the opposite of winter. Summer brings with it a wealth of sunshine (an embarrassment of riches, really), an abundance of play time, and more varieties of fresh fruits and vegetables than you can shake a stick at. (Do people really shake sticks at anything? Have you seen this stick-shaking activity in your everyday travels? Enlighten me, please.)
For me, if there's one fruit that screams "summer's here!" loud and clear, it's the watermelon. Okay, and strawberries. Peaches. Pineapple. But mostly watermelon. When I imagine summer picnics and fruity desserts, I usually picture a chubby-cheeked little boy happily chomping on a watermelon wedge, juice running down his arms, with a blissful look of satisfaction on his face. Watermelon is refreshing, hydrating, sweet, and if you stick a little funnel in it and infuse it with alcohol, it can be a little naughty too.
So let's talk about watermelons today! Tell us:
Do you have any favorite tips for choosing, serving, or storing watermelon?
My mom taught me to look for a watermelon with a flat, yellow part where it would have sat on the ground. She said that means the watermelon spent time ripening on the ground, and wasn't picked too early. My biggest challenge is finding space in the fridge to store 3/4 of a watermelon after we've cut into it. Well, maybe that's my second-biggest challenge. Maybe my biggest challenge is that I'm allergic to watermelons but eat them anyway. Because apparently, I have little self-control when it comes to watermelon drinks. And watermelon granita, like the one in the photo above. Spiked or otherwise.
How about you? Are you a watermelon fan? Have you had those yellow watermelons or the square ones? Any recipes to share? (Agua fresca!) Any tips for picking a good one, or even growing them? Come share!