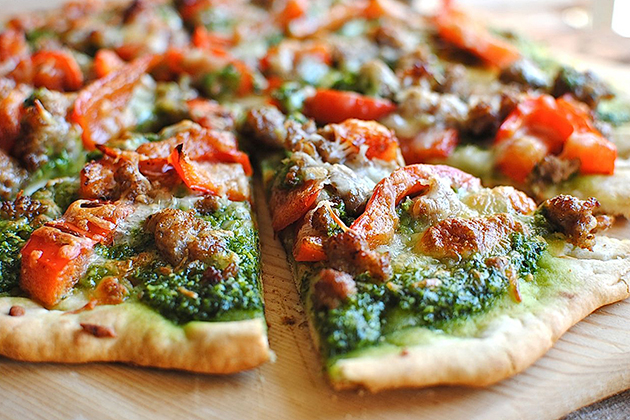 I scream, you scream, we all scream for … pizza! Yes, I know that's not how it goes, but I'm convinced that pizza in the summertime is just as popular as ice cream. Actually, pizza is crazy popular just about anytime, with just about anyone. Even gluten-free pizza has come a long way from its humble cardboard-y beginnings.
More folks have been trying their hand at making homemade pizza, which is great because there's just something special about a pie made from scratch in your own kitchen. If you think about it, it shouldn't be that difficult, really: dough, cheese, sauce, your favorite toppings. It doesn't sound like rocket science. But sometimes, it feels like it is. The dough can be finicky, it can be tricky to get the temperature just right so the dough is properly cooked and the cheese melted just so, and wouldn't you know it, the onions burned again. Of course, it'll still palatable—it's pizza, after all—but deep in your heart, you know it could have been better.
The quest for a better homemade pizza is a noble pursuit (or so says my belly), so let's help each other out! Tell us:
Do you have any tips and tricks for making homemade pizza?
I find that giving the dough a mini-vacation in the fridge to proof (overnight if possible, up to 3 days) gives the crust a lovely flavor. Instead of pizza sauce, I like to roast slices of fresh tomato (sprinkled with salt, pepper, drizzled with olive oil) in the oven and lay those on the crust. And if you find that your dough tends to finish cooking before the top is properly done, try this trick: move the pizza to a higher rack in the oven. Using the top oven rack intensifies the heat from above without having to use the broiler, which cooks the top of the pizza faster. Favorite toppings? I have two all-time favorites: a simple margherita with anchovies, or seafood pizza. I'm weird, I know.
How about you? Do you have any favorite pizza tricks? Any great basic or gluten-free crust recipes to share? Can you teach me how to toss a large disc of dough in the air and catch it like nobody's business? Have any favorite toppings or unique flavor combos for us to try? Share your pizza tips with us below!