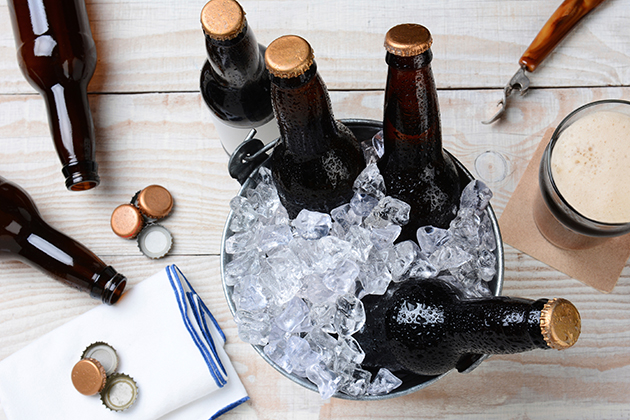 If we took a poll and asked people to name the unofficial summer adult beverage, I have a feeling beer would be at the top of the list. (Melted bourbon ice cream would be at the top of my list, but that's just me.) The craft beer scene has really exploded in the recent years, and you can try a new beer every week and never have to repeat until March of 2089.
The thing is, like wine, beer is a very personal thing. What tastes great to you may never garner so much as a second sip from someone else. And, I'll admit, I've been swayed more than once by creative label artwork or a funky bottle, only to be disappointed by the actual drink. Now that I'm gluten-free, watching friends kick it on a hot day with a cold brew in hand can be such torture, so I find myself compelled to try all the gluten-free beers I can find in my search for one I can really enjoy. It's an ongoing search and I keep hoping I'll eventually find it!
Meanwhile, my search often leaves me with 3 or 5 remaining bottles of something I don't particularly care for. And it's not just me. It happens to others who just enjoy trying different kinds of beer (you're bound to stumble upon a few that turned out to be duds). Or maybe you had some six-pack-toting friends over (those are good friends to have), and now it's the morning after and you're left with random bottles that no one wanted to drink. However it happens, beer ends up in your house that you're not inclined to drink. It may just be me, but I hate wasting stuff that's still perfectly edible. Even though I wouldn't drink it, I wouldn't have the heart to toss it either. That kind of thing just goes against every frugal, penny-pinching bone in my body.
So that's what we're talking about today! To help save our beer-loving sanity, recover space in our bars, and for the satisfaction of being able to put good ingredients to use, let's brainstorm together!
What can you do with an assortment of beer that you don't particularly care to drink?
I've seen beer used in stew or chili, or for braising meat, particularly if it's a strong-tasting brew. My husband once accidentally bought a spiced banana beer which would probably make a good beer bread. Or perhaps a lighter-tasting beer could go into a beer and cheese sauce. Maybe you have a favorite cocktail recipe that calls for beer, which will make the beer you have more palatable. Or do you have other non-edible uses for it, perhaps in the garden or for some really cool and unusual cleaning magic?
Whatever your ideas are, we want to hear them. And if you have a recipe to share, let us know! Let's put our heads together and launch a campaign to rescue all the sad and lonely beer in the world! Or something like that.
P.S. Perhaps the real solution is just to be a man already and just drink it because hey, it's beer. I could be down with that too.