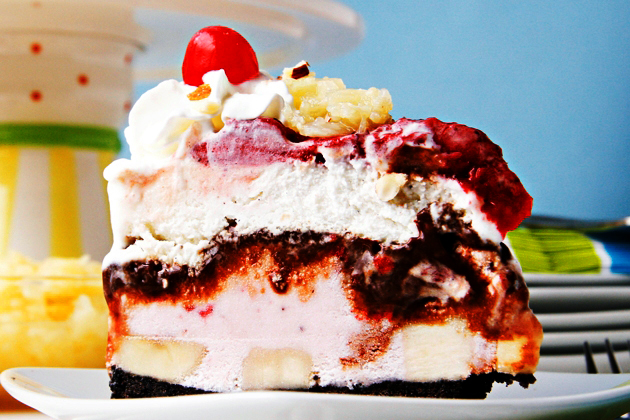 I've been waiting for summer to hit the usually-cooler cities everywhere so I'd have an excuse to talk about ice cream. (I'm always looking for a reason to bring up ice cream.) Yes, it doesn't have to be warm outside to enjoy it, but I figured it might make me appear more seasonal than obsessed if I waited until summer.
We've discussed ice cream here before, talking about tips and tricks to homemade ice cream, and I've bombarded you with quite a few ice cream roundups in the past. Whether homemade or store-bought, ice cream is the perfect summer treat. So easy, too! Just grab from the freezer, scoop, and eat. Instant gratification.
But today, we'll take a bit of a different approach. After all, there's more than one way to enjoy ice cream. Which is always a good thing. Today, we want to know:
What's your favorite thing to make with ice cream?
Do you like ice cream cakes (like that incredible Banana Split Ice Cream Cake you see above)? Ice cream sandwiches? Soda floats? Super thick milkshakes? Or are you against all things that complicate ice cream and firmly believe all it needs is a spoon?
These days, I've been enjoying that wonderfully simple Italian affogato. All it is, really, is a scoop of gelato or ice cream with a shot of hot espresso poured over it. Sometimes I'll add some Bailey's in there, but that's it—just one extra step after scooping the ice cream. Almost feels like cheating.
Kids love ice cream in any form, and an afternoon treat that includes it in any way is always a big hit with them. With adults, too! So let's broaden our ice cream repertoire this summer and find even more ways to enjoy it!