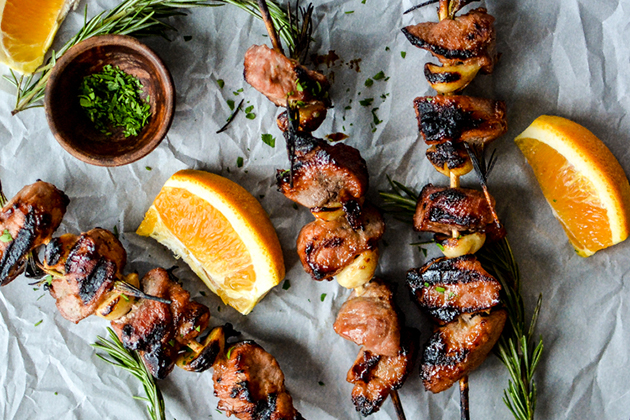 I'm going to sound pushy in a bit, but hear me out because I only want good things for you. Ready? Make these Apricot and Orange Pork Skewers with Garlic and Rosemary on the grill this weekend! Or tonight even. Just throw together the marinade ingredients, then let the meat sit for at least an hour. After that, it's all up to the grill to work its magic.
While that's happening, you might want to treat yourself to a nice cocktail. I recommend something refreshing with a hint of rosemary. A cold Rosemary Gin Fizz will do nicely, or if pressed for time, just mix up a simple gin (or vodka) and tonic with a splash of lemonade and use a rosemary sprig as a stirrer.
Serve these skewers with a fresh salad and maybe soft flatbread or a garlicky rice pilaf, and you're good to go! While you have the grill going, you might want to grill some fruit as well to finish off the meal. But only if you want to. I'm not that pushy.
Thanks for sharing this, Justine! She's a regular TK contributor and her TK recipe box is packed with all kinds of incredible recipes. Go check it out, and visit her blog Cooking and Beer for more! For the printable recipe for the skewers, click on the photo above.
Happy weekend, friends!