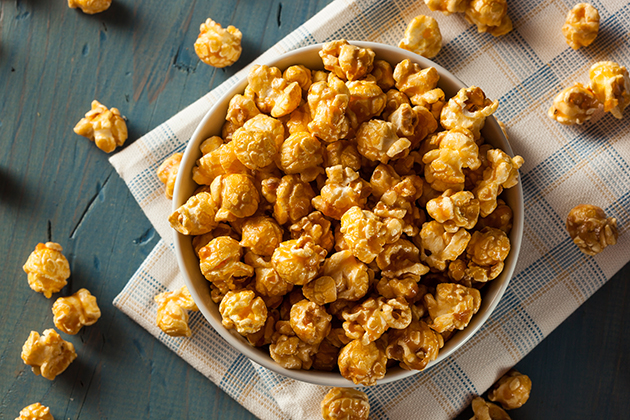 'Tis the season for movies! Are you ready for summer and all its much-anticipated blockbusters? Do you have a long Netflix (or Hulu or iTunes) queue or a hold request list at your local library for all the movies you want to see over the next couple of months? I know I do. I rarely have time to go to the cinema anymore, so I have a lot of catching up to do. (Also, does anyone call them 'cinemas' anymore? Or is my age showing?)
Everyone knows popcorn and movies go together like eggs and bacon, and as much as I love popcorn at the multiplex (ha! You thought I was going to say 'cinema' again, didn't you?), I much prefer the comfort of my own home where I can recline on the couch, drape an old throw over my legs, and munch on homemade flavored popcorn. I can heckle the screen if I want to and attempt to solve the mysteries out loud (The neighbor did it!), and no one will shush me. My husband may just shoot me an exasperated look, but nope, no shushing.
Kettle corn is my favorite popcorn flavor to make at home if I'm going for something other than the simple butter-and-salt kind. I have a serious weakness for that salty-and-sweet flavor. But I also love showering popcorn with Parmesan cheese, or using herbed butter with a touch of honey. Popcorn lends itself to so much customization and the possibilities are endless! So, while it's early in summer, let's start dreaming up new ways to do popcorn. Tell us:
What's your favorite way to dress up a bowl of popcorn?
Do you like it sweet with caramel? Spicy? Cheesy? With added nuts and chocolate? As popcorn balls? Do you like it super fancy with truffle oil? Or maybe you use popcorn in new and creative ways, like as croutons for salad, or in granola? Perhaps you don't necessarily have a favorite flavor but have a special way of popping the popcorn. If it's popcorn-related, we want to hear it. Come share below!