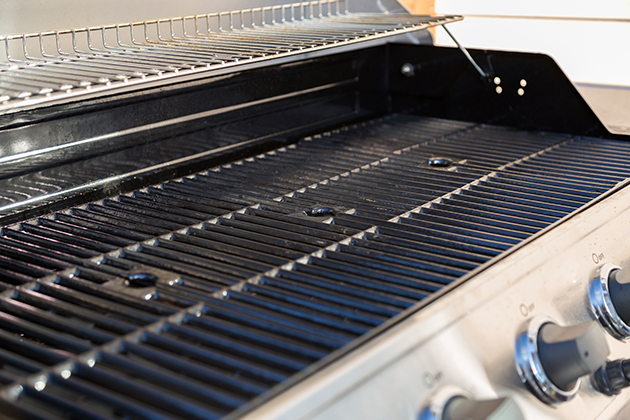 The unofficial start of the grilling season is just around the corner, and I for one cannot wait. Yes, I know in some places, the cold hasn't quite relaxed its grip just yet, and in other places, it's been grilling season since 1983. But still. There's just something exciting about being able to grill with everyone else. Perhaps cooking over fire outdoors is both primal and communal.
Every year, after going through a winter that makes grilling outside impossible, I look forward to the day I can finally lift that heavy grill over off. But I always do it with a bit of trepidation, wondering what I might discover underneath. Did my husband remember to clean the grates properly before throwing the cover on? Did we perhaps get surprised by the first snowstorm and inadvertently cover the grill with food still inside? Will I find my long lost pair of tongs in there? Will I be greeted by that orange monster, rust?
Of course, I'm being melodramatic. We never leave food in the grill, so I don't know why images of moldy cobs of corn and hockey-puck burgers on black crusted grates dance in my mind. I've also never found utensils left inside accidentally. (I should have been a surgeon.) But the cleaning-before-storing part? That's real. I watch too many food shows and have grate envy. Their grills look so nice and smooth, and when they rub that piece of paper towel dipped in oil all over, the paper towel still looks clean! How do they do it?
So to prepare ourselves for what I hope to be a long season of outdoor cooking and al fresco dining, let's make sure our equipment is in good shape and looking its best.
What are your favorite grill cleaning tips?
My husband does most of the grilling around here, and my pet peeve is those grates. I look at them and all I want to do is take a brush and Baker's Joy and make them all shiny and new again. But as I researched grill cleaning tips online, I read that you actually want that black crud on your grates after cooking. Minus any large pieces of food, of course. Apparently, that coating around the grates protects their seasoning in between grilling sessions, and it also adds an extra barrier against rust. The time to clean it up is before grilling, not after. Who knew! (Anytime someone gives me permission to NOT clean, I obey.)
I've also seen people clean their grates with a thick disc (about 1-inch thick) of fresh onion pierced with the pointy end of a grilling fork. Once the grill has been preheated, the onion is rubbed all over the grates. Supposedly, acid from the onion helps clean and even disinfect the grates (especially if using a public grill), and it has the added bonus of adding a bit of flavor and making it smell like you already have something amazing cooking in there. I've never tried it, but it can't hurt, right?
I have yet to tackle the outside of our grill, so I'm looking forward to all your cleaning tips. Share your (or your husband's) favorite tips below!