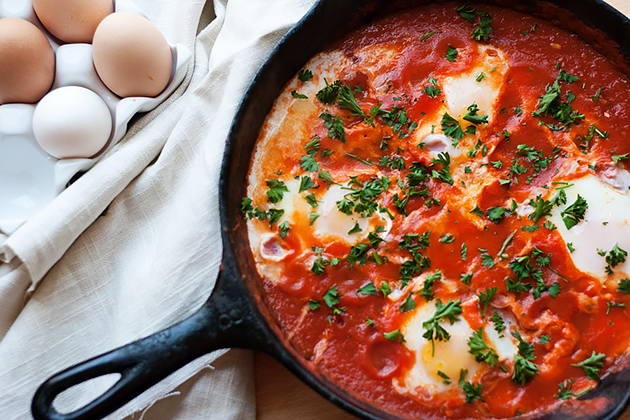 Pregnancy makes me super lazy and undisciplined. We're usually pretty health-conscious around here, but we've gone out to eat more times in the last few months than I'd like to admit. (I also have an aversion to doing dishes.)
When I find quick, simple, yet healthy meals to feed our little family (that my girls like!), I do a little dance of joy. This recipe for Moroccan Eggs submitted by TK member Katie is exactly that.
This is basically a recipe for shakshuka, which is eggs cooked in a spicy tomato sauce. This version is very simple, but very delicious. If you wanted to spice it up even more, you could add a Moroccan-style spice blend or some spicy sausage. I quite liked the simplicity of only using a handful of ingredients. Here, I'll show you.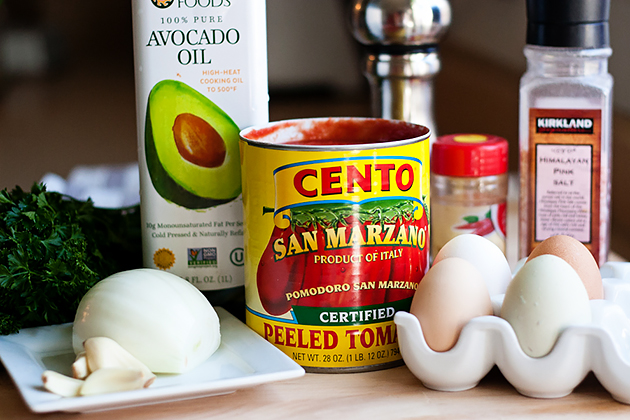 You'll only need a large can of tomatoes, a sweet onion, garlic, parsley, eggs, cooking oil (I used avocado oil), cayenne, and salt and pepper. And perhaps something to accompany the eggs, such as crusty bread, rice, or roasted vegetables. (More on that later.)
The recipe calls for diced tomatoes, but I happened to have these San Marzano tomatoes on hand and decided to blend them up for a smoother consistency. Whatever floats your boat.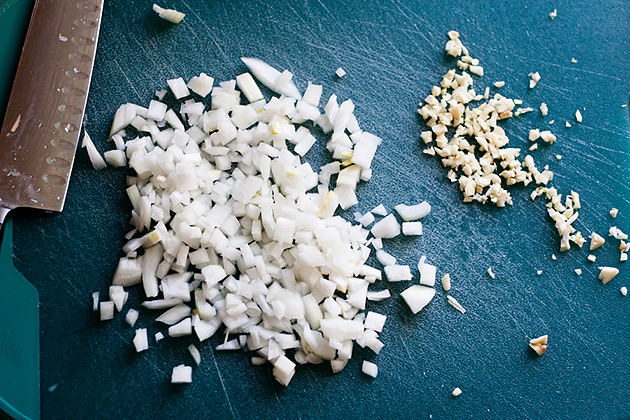 Yes, you'll need to break out that knife and cutting board, but just for a minute! Dice that onion and give those cloves a good mincing.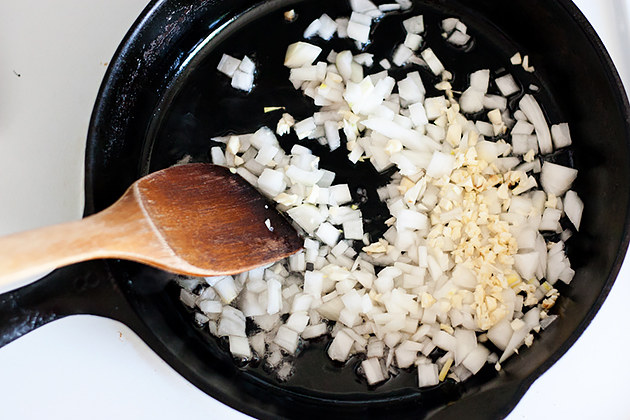 Heat the oil in a medium-sized skillet and cook the onion and garlic until the onion is somewhat translucent and soft.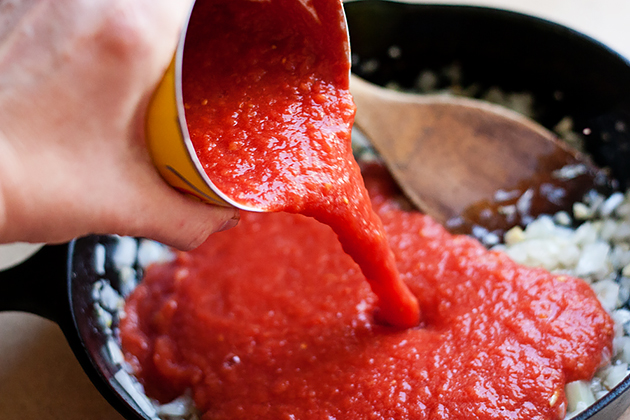 Add the tomatoes!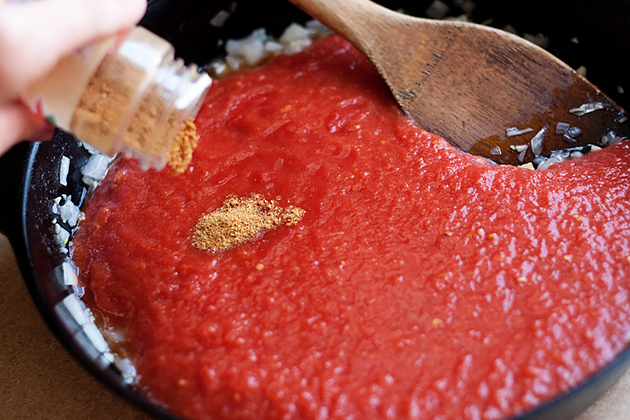 And however much cayenne you prefer. This little dusting was enough for me.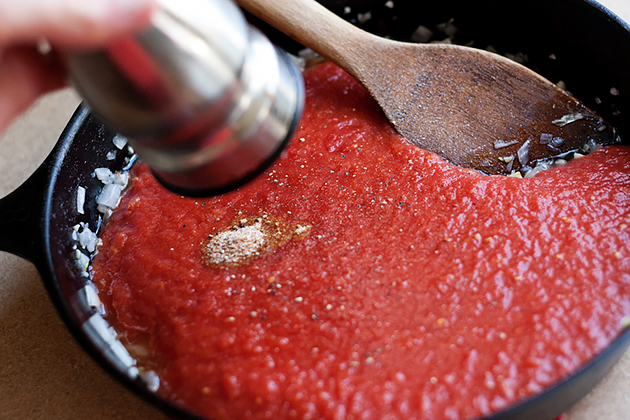 Don't forget the salt and pepper.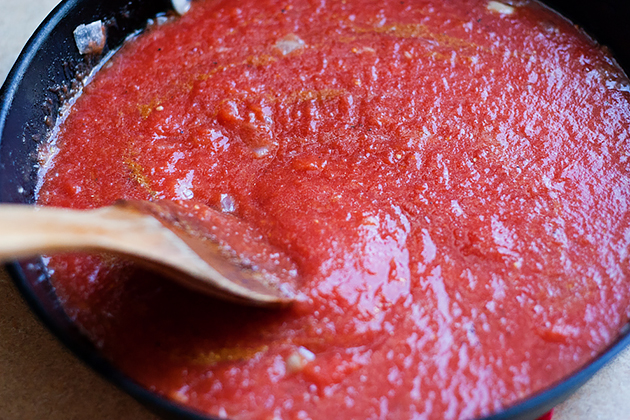 Give it a stir. Notice how watery it is? We're going to fix that.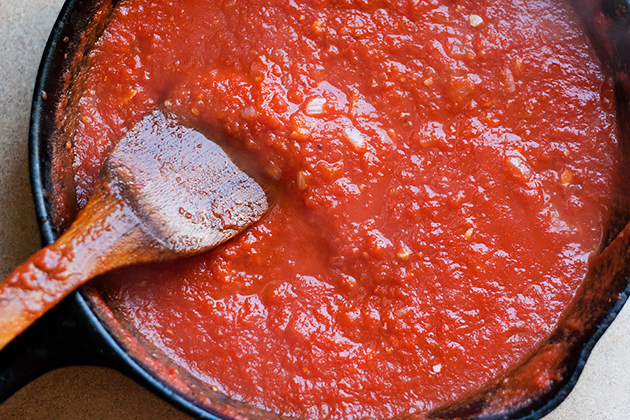 Let the sauce simmer over medium-high heat for about 10 minutes or until some of that water has cooked off. Bubbling tomato sauce is a stovetop's worst nightmare. You can partially cover the skillet with some foil so it doesn't splatter everywhere and steam can still escape.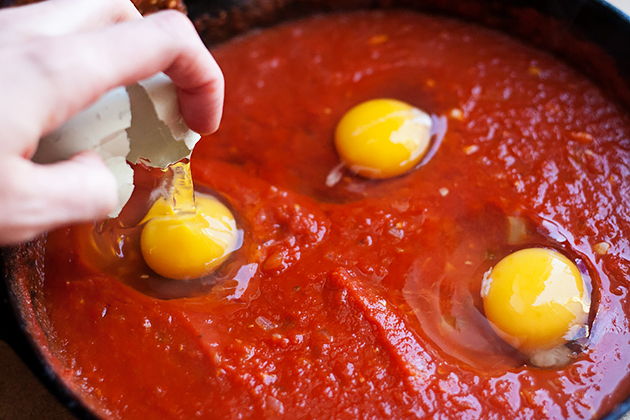 Now for the fun part. If your sauce is thick enough, make little divots in the sauce and add the eggs. The recipe suggests cracking them into a small bowl first, but I like living on the edge.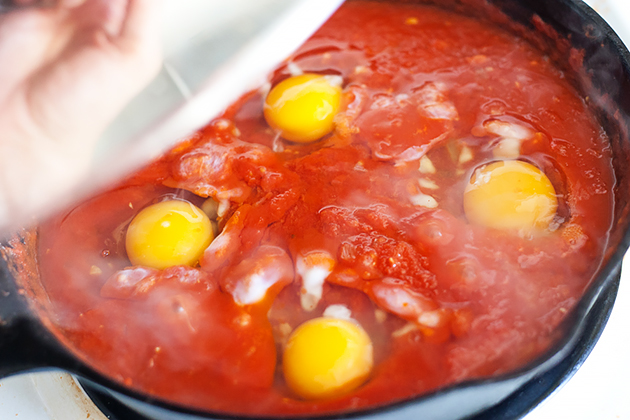 Bring the heat down to about medium-low and cover the skillet, allowing the eggs to cook. The whites should be cooked and the yolks should be a little runny.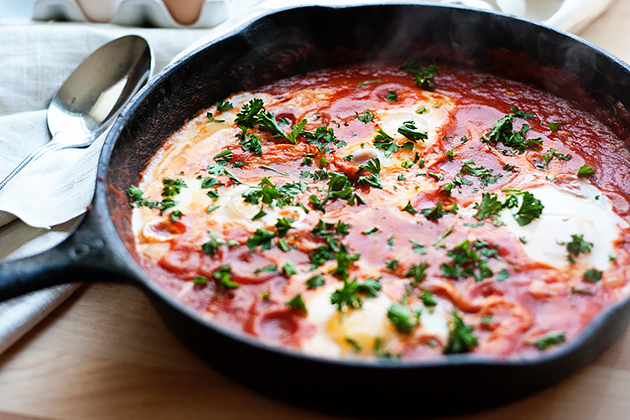 Chop a little parsley and sprinkle it over the top. And you're done! Easy, huh?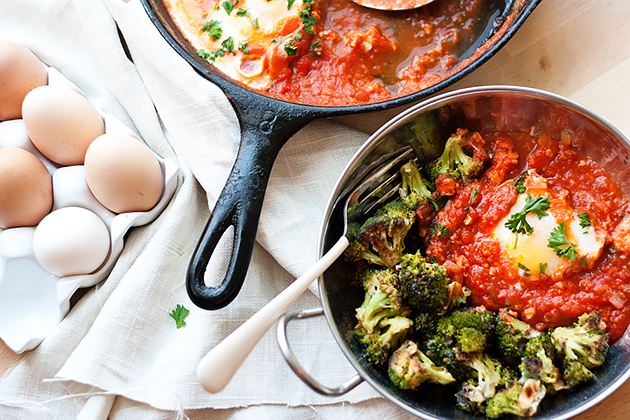 I try to avoid eating grains, except when I'm pregnant (see comment above about being undisciplined), but I made a valiant effort for you guys. So, I pushed thoughts of crusty bread out of my head and warmed up some leftover roasted Parmesan broccoli.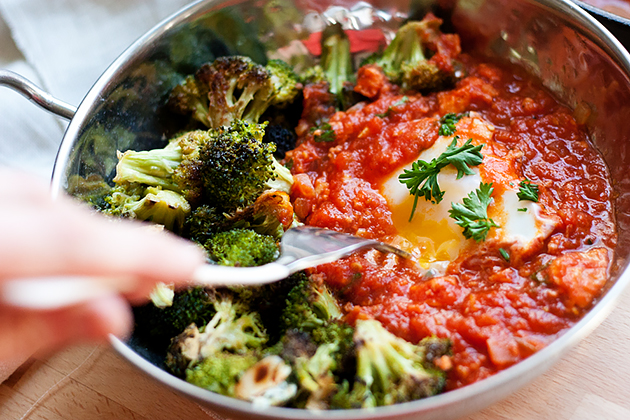 It was a PERFECT vehicle for those eggs and spicy sauce! Thank you, Katie, for a deliciously simple meal that may save us from grabbing a pizza!
Be sure to check out Katie's TK recipe box and her blog, 24 Carrot Life for more tasty and healthy recipes!
Printable Recipe
See post on 24 Carrot Life's site!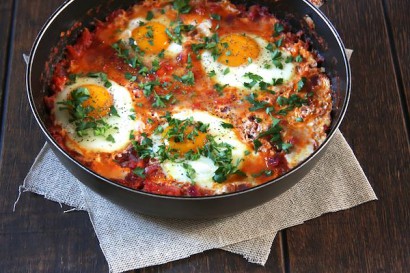 Description
These Moroccan Eggs are made with just a few natural ingredients and taste so great with toasted crusty bread.
Ingredients
1 Tablespoon Olive Oil
1 whole Red Onion, Chopped
4 cloves Garlic, Minced
28 ounces, weight Canned Chopped Tomatoes
¼ teaspoons Cayenne Pepper
Salt And Pepper, to taste
4 whole Large Eggs
Chopped Parsley For Garnish
Crusty Bread, Toasted, To Serve
Preparation Instructions
Add olive oil to a pan over medium heat. Once hot, add onion and garlic and cook for about 4 minutes, or until translucent.
Add tomatoes and cook on medium high heat for about 10 minutes. Once tomato juice has cooked off, add cayenne pepper, salt, and pepper. Stir to combine.
Using the back of a large cooking spoon, make a divot for each egg. Crack eggs one by one into a separate bowl to make sure there are no shell pieces. Slowly add one egg into each divet, repeating separately with each egg.
Cover the skillet and cook on low heat until the egg whites are cooked, about 5 minutes.
Garnish with parsley and serve with toasted bread for dipping.


_______________________________________
Be sure to check out Natalie's own beautiful food blog, Perrys' Plate, where you can see her growing collection of lovely recipes. There's always something new to see there. Go visit now!