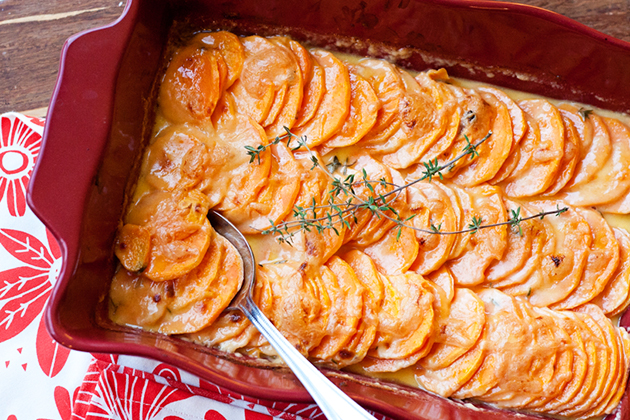 I'm a big fan of cheese. Especially smoked cheeses. I also love sweet potatoes in savory dishes—especially those with smoky flavors. Clearly this recipe was meant for me.
This Scalloped Hasselback Sweet Potatoes recipe submitted by TK member Tove is the newest addition to my special occasion recipe file. I paired these with some spice-crusted steaks for dinner, but it would also play well with just about any roasted meat or bring a smoky-sweet addition to a potluck spread. 
By the way, if you're a bit of a geek like me, you may be thinking these don't look like Hasselback potatoes. And you'd get extra points for that. Hasselback potatoes are usually left whole, sliced but with the bottoms attached so the slices stay upright when cooked (like this). This dish is more like a Hasselback Potato Gratin: the potatoes are sliced, but stacked tightly in the dish so they stand upright. I used a larger dish, so my potato slices look like they're taking a nap, not unlike me after a long day spent running after toddlers.
Culinary terms aside, this dish is delicious any way you slice it. And there are only five ingredients! Fabulous!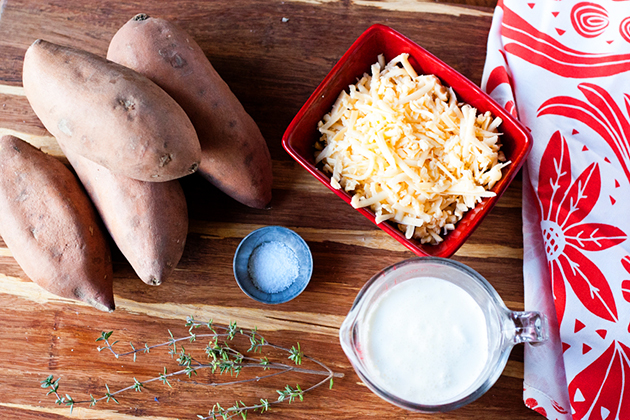 You'll only need sweet potatoes, shredded smoked gouda, heavy cream, fresh thyme, and salt.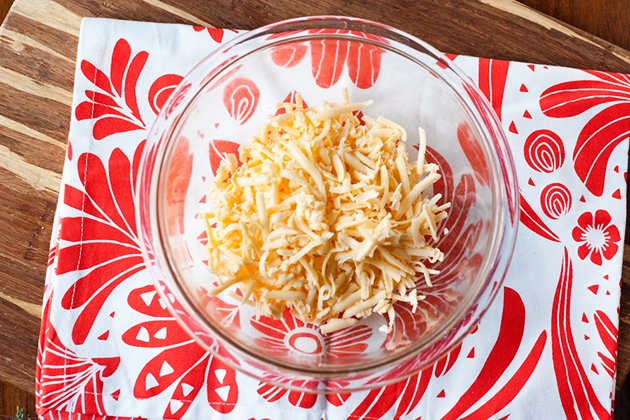 Put the cheese in a medium-sized bowl.
While making this recipe I discovered that my kids don't like smoked gouda. I was shocked and questioned our biological relationship. They love fresh Parmesan, Romano, goat cheese, feta, and even Dubliner. But not smoked gouda? My mind is still reeling.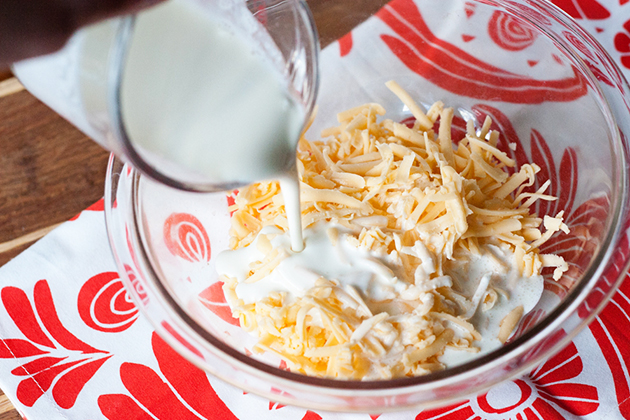 Anyway, back to the recipe. Add the cream to the cheese.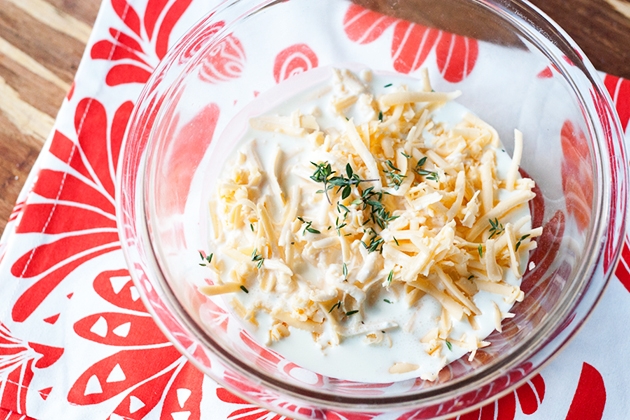 Sprinkle on the thyme leaves. You can also use dried thyme if you like, probably about 1/4 teaspoon.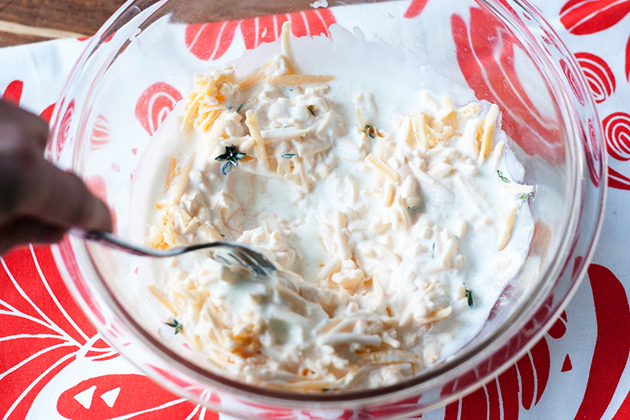 Add in the salt and give it a quick stir to combine.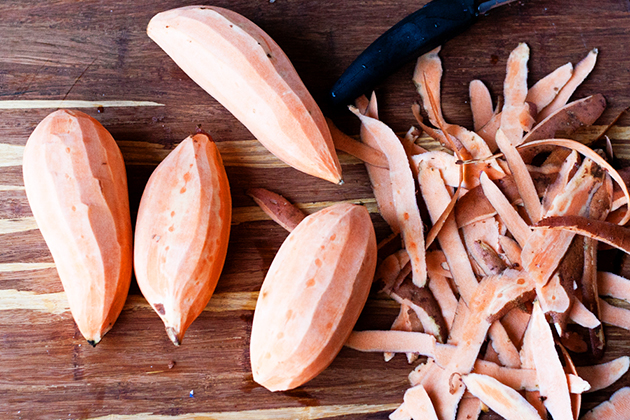 Now for the sweet potatoes. Peel them!
Do you know the difference between a sweet potato and a yam?
My inner food geek is about to come out in full force now. Just a warning.
The ones we see in the grocery stores labeled as "yams" are actually orange sweet potatoes. The lighter ones are simply white sweet potatoes. True yams are native to the Caribbean and are white and very starchy. Unless you shop at an extremely diverse market or spend a lot of time in the Caribbean, you'll probably never encounter a true yam in your life. 
This information makes me want to take a Sharpie to the signs in the grocery store. (That's my inner perfectionist coming out.)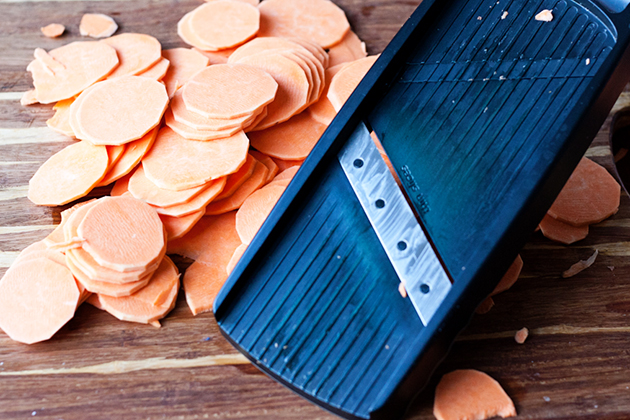 This is when you'll be so glad you have a mandoline slicer! I love mine and use it often. For this, I used the "thin" blade, just slightly thicker than the "thinnest" blade.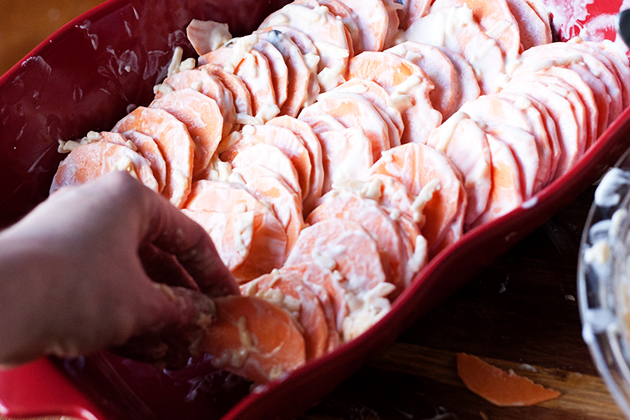 Here's the messy, fun part. Dip the potato slices in the cream/cheese mixture and lay them in a baking dish. I did them a handful at a time. Try to get them to stand upright if you can for that Hasselback look. As I mentioned earlier, my dish was a little large for that so they're sort of lounging on each other.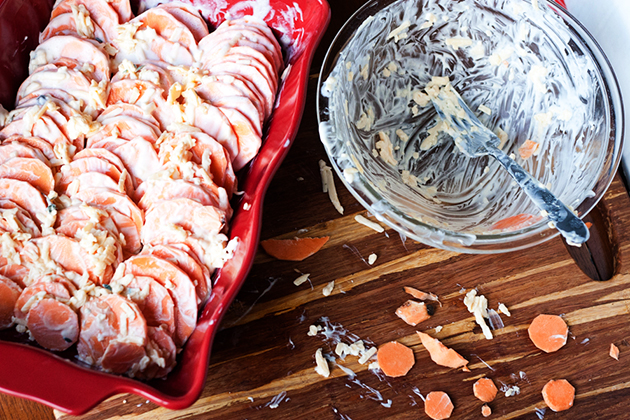 When you're finished, spread the remaining cream/cheese mixture over the top. I only had a few chunks of cheese left.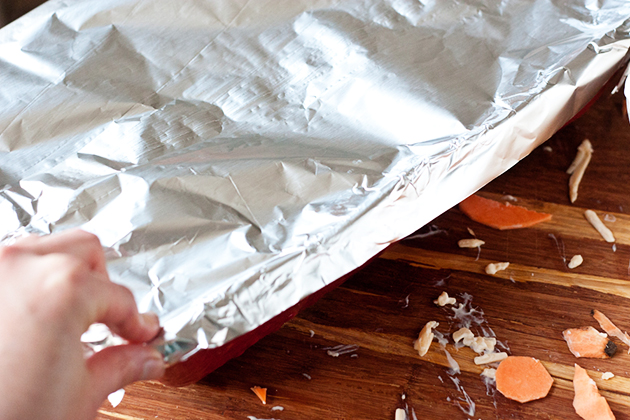 Cover the dish with aluminum foil and bake for about 35 minutes.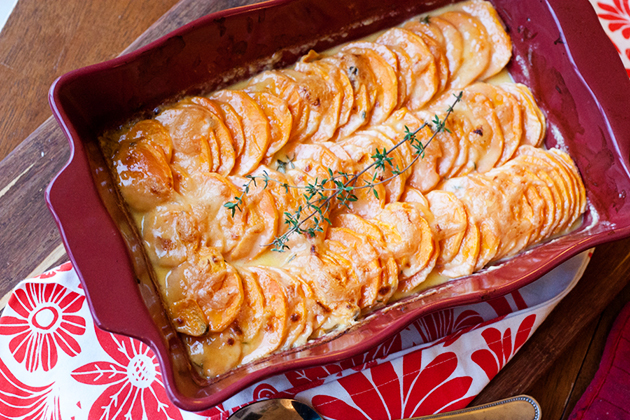 Tove suggests sprinkling brown sugar over the top and returning the pan to the oven, uncovered, for 10 more minutes. Just out of personal preference, I just sprinkled more cheese to keep the flavors in the dish more savory. 
Now, eat! I made a double batch of these for a church potluck (after we devoured the first pan) and I came home without leftovers! If you love smoked gouda, you'll love these. The cheese plays so nicely with the sweetness from the potatoes. And the cream … well, cream makes everything nicer. 
Thank you, Tove, for a fantastic holiday side dish recipe! 
Be sure to check out Tove's TK recipe box and her blog, Sweet Sour Savory, for some Scandinavian-inspired recipes! 
Recipe adaptations:
When I made this recipe, I used 1 1/2 pounds of potatoes and 1 1/2 cups of cheese and liked that ratio. I also left off the brown sugar topping and added a little more cheese. 
Printable Recipe
See post on sweetsoursavory's site!
Description
The smoked gouda and the sweet potatoes and with the caramelized crunch works perfect.
These sweet potatoes are very addictive.
Ingredients
½ cups Grated Smoked Gouda
6 ounces, fluid Heavy Whipping Cream
2 sprigs Thyme Leaves, Leaves Only
¼ teaspoons Salt
2 pounds Sweet Potatoes
Preparation Instructions
Preheat the oven to 400℉ (200℃).
Grate the cheese, and mix it with cream, thyme and some salt.
Peel the potatoes and slice them thinly on a mandoline. Toss the potato slices in the cream/cheese mixture, making sure to cover each slice.
Stack the potato slices and lay them in ovenproof dish with their edges aligned vertically. Continue to fill the dish with the potatoes until the dish is filled. Pour excess cream/cheese mixture evenly over potatoes.
Cover dish with tin foil, and bake the potatoes for about 35 minutes until the potatoes are tender when pierced with a knife
Take off the foil and sprinkle the brown sugar on top, and continue to bake for another 5–10 minutes until the sugar has caramelized.
When the potatoes is done, take the dish out of the oven and let the potatoes rest for a few minutes, before serving. Enjoy!


_______________________________________
Be sure to check out Natalie's own beautiful food blog, Perrys' Plate, where you can see her growing collection of lovely recipes. There's always something new to see there. Go visit now!