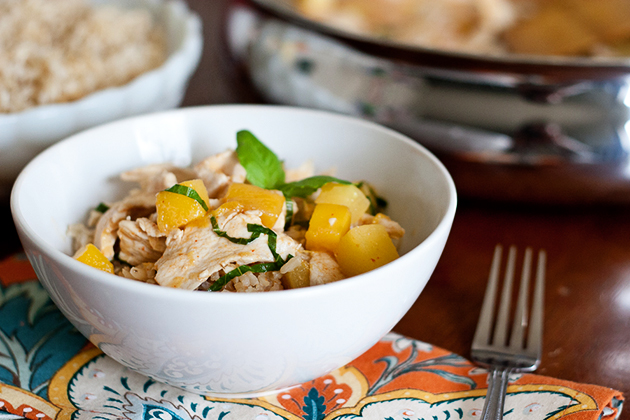 I love Thai food. And I'm thankful for the fact that I can walk into almost any grocery store in this country and buy tropical fruit and Thai curry paste. Isn't it amazing that we have access to all of these things? It wasn't that long ago when ethnic flavors and produce just weren't available here. It's fantastic.
You know what else is great? Easy, approachable ethnic recipes to make during the holidays. I can only eat so much bread, potatoes, and heavy cream, you know? I need recipes that are quick and different from the typically rich meals of the season. 
Enter: Tropical Thai Chicken Curry This recipe submitted by Anetta is exactly what I was looking for. If you prep the ingredients ahead of time you can have this on the table in about 15 minutes. Really.
Here, I'll show you.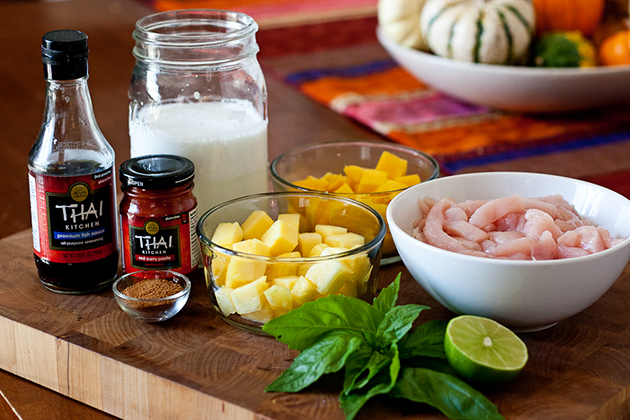 You'll need a few things, but luckily they're all relatively easy to find. Boneless, skinless chicken breasts or thighs, pineapple, mangoes, fresh basil, a lime, coconut milk, a sweetener (I used coconut sugar), red Thai curry paste, and fish sauce.
The coconut milk, curry paste, and fish sauce can be found in that Asian section I was talking about. Or an ethnic grocery store, if you're lucky to have one in your town. 
Don't ask me what fish sauce it. And don't smell it. Just use it and you won't be sorry.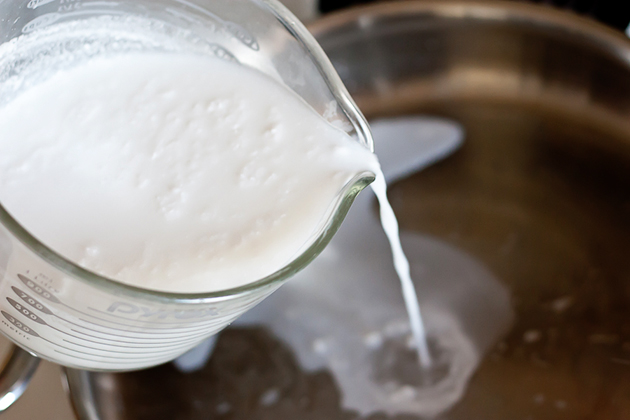 First, get a big, sturdy pan out and warm up the half of the coconut milk until it's bubbly.
Add the curry paste.
If I'm not mistaken, red curry paste is the most spicy of the Thai curry pastes, followed by green paste and then yellow being the least spicy. 
Because I have little ones I need to feed, I was conservative with the amount I initially added, but I ended up putting more in later. And it still wasn't too spicy! I'm pretty sure the coconut milk and sweetness from the fruit mellowed it out. So, don't be shy with it!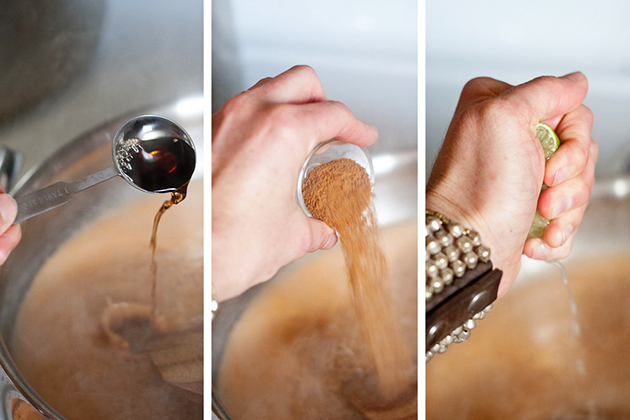 Once you get the paste incorporated and a lovely salmon-colored sauce started, add the fish sauce (you smelled it, didn't you?), sweetener, and lime juice.
The recipe originally called for wild lime leaves, but I was unable to find them. Perhaps I could have looked harder, but I didn't want to tote my crazy never-wants-to-stay-in-the-cart-monkey-child to one more place. 
So, I took Anetta's advice and used half a lime. And kept my sanity.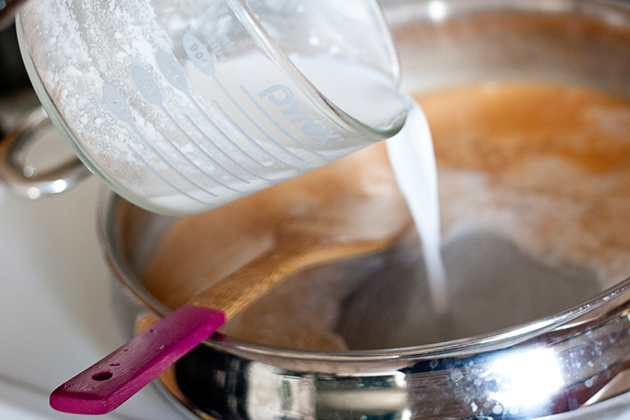 Now, add the rest of the coconut milk.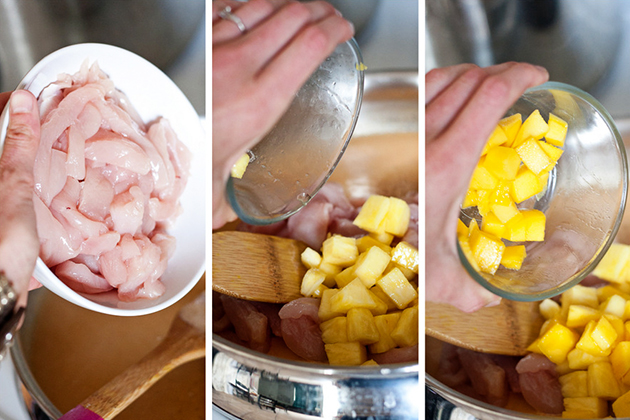 In go the thinly sliced chicken, mango, and pineapple chunks. 
The next time I make this, I think I'll add a handful or two of butternut squash chunks. It'll blend right in! (It's physically painful for me to make a meal without vegetables. There, I said it.)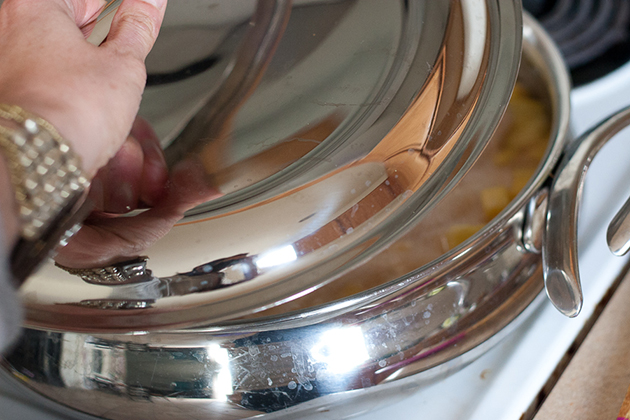 Stir it well, then cover and let it simmer for a few minutes until the chicken is cooked through. It'll go fast and give you just enough time to chiffonade the basil.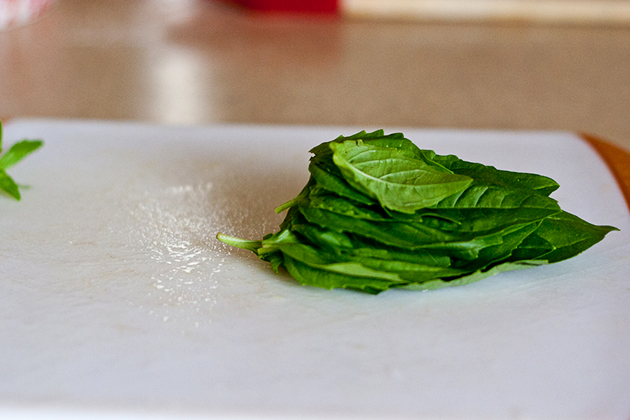 To chiffonade sounds fancy, but it just means you're cutting the basil into little strips. That's all. You could even say it with a French accent. 
First, stack the leaves.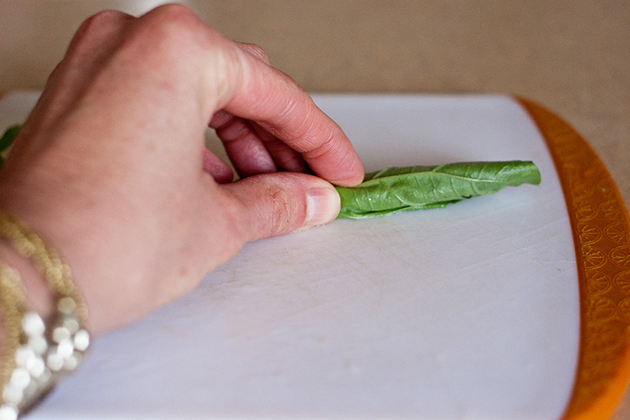 Roll them tightly.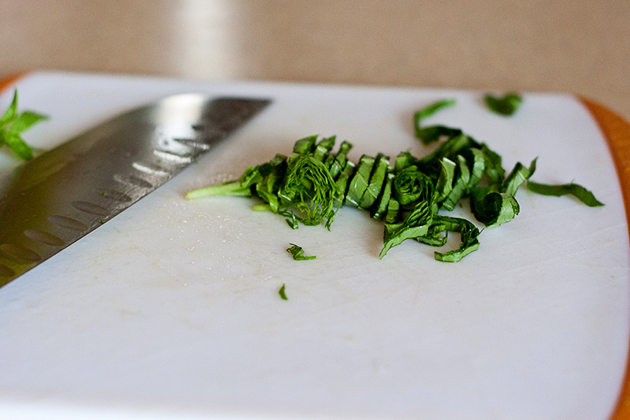 Then slice it up!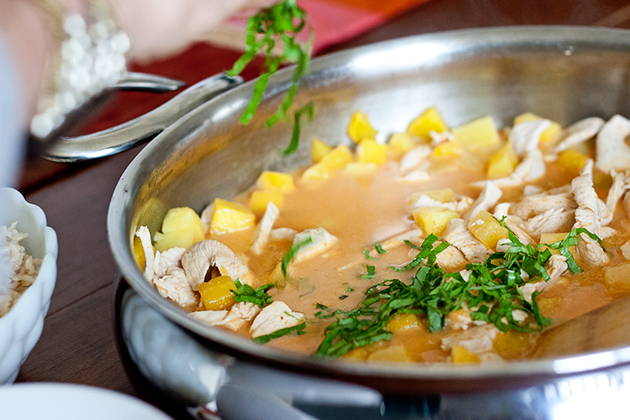 When the curry is finished, sprinkle the basil over top.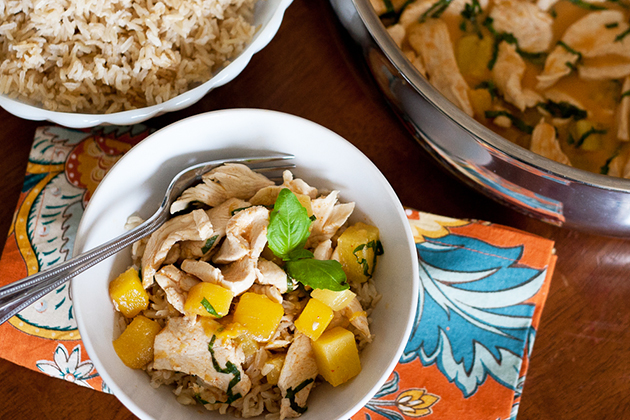 Aaaaaand serve.
I used brown basmati rice, but you can use jasmine rice, quinoa, or even cauliflower rice if you're watching your grain intake.
Be sure to check out Anetta's Tasty Kitchen recipe box. Hers should really be called a treasure box with so many easy recipes from around the globe. Check out her blog, The Wanderlust Kitchen, too!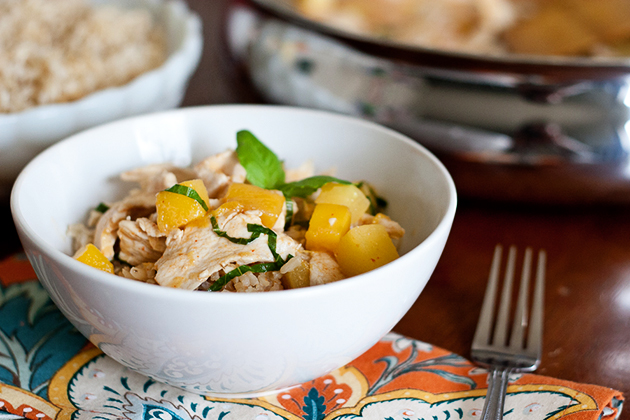 Note: I replaced the water in the recipe with additional coconut milk. I make my own coconut milk, which tends to be thinner than commercially canned coconut milk. Next time, I'll just leave it out completely or reduce the coconut milk to get some of the water out. 
Printable Recipe
See post on Anetta (The Wanderlust Kitchen)'s site!
Description
Pineapple and mango add sweetness to this rich and flavorful chicken curry dish. Under 500 calories per serving, and only 30 minutes until dinner is ready.
Ingredients
1 can (14 Oz. Size) Coconut Milk, Divided
2 Tablespoons Plus 1 Teaspoon Red Curry Paste
2 Tablespoons Fish Sauce
1 Tablespoon Palm Sugar Or Brown Sugar
4 whole Wild Lime Leaves (or Juice From Half A Lime)
½ cups Water
1 pound Boneless, Skinless Chicken Breast, Very Thinly Sliced
1 cup Fresh Pineapple Chunks
1 whole Mango, Peeled And Diced
⅓ cups Fresh Basil Leaves, Sliced
Cooked Jasmine Rice, To Serve
Preparation Instructions
1. Heat half the coconut milk in a wok or heavy-bottomed skillet over medium-high heat until foaming.
2. Add curry paste and stir to combine. Add fish sauce, sugar, and lime leaves and let cook for 1 minute. Add remaining coconut milk and water.
3. Add chicken, pineapple, and mango to the curry and let cook for 2-3 minutes. Reduce heat to simmer and continue to cook for 5 minutes or until chicken is cooked through.
4. Remove from heat. Remove wild lime leaves and stir in the sliced basil. Serve with jasmine rice.


_______________________________________
Be sure to check out Natalie's own beautiful food blog, Perrys' Plate, where you can see her growing collection of lovely recipes. There's always something new to see there. Go visit now!