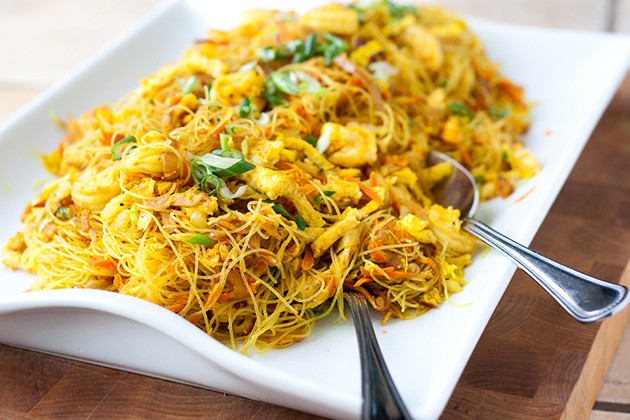 As much as I love eating out, I can't help but mentally calculate the meal I could have prepared at home for the cost of the meal in the restaurant. That meal in my head is usually much larger and consists of higher quality food. Often it ends up tasting better and costing less. Plus, it's almost always healthier when made at home.
That being said, I don't miss having someone else do the work and clean up the mess when it's all over. I suppose that's what we pay for when we eat out. Not having a toddler clinging to my legs is sometimes worth the extra cost.
Having small children definitely helps with the temptation to eat out frequently. So does finding popular restaurant or take out recipes to prepare at home. Enter: Singapore Noodles (Singapore Mei Fun) from Tasty Kitchen member Sarah. 
You'll be glad you stayed home for this. I promise.
Let's get started!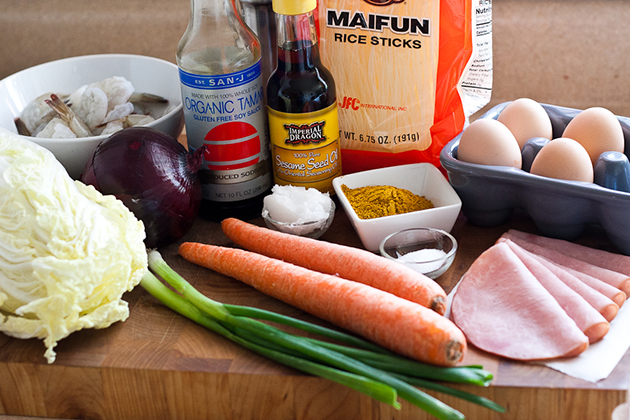 First you'll need a bunch of stuff. Nothing too hard to find, though. You'll need medium uncooked shrimp (peeled, tail-on), Napa cabbage, a red onion, soy sauce (or tamari), sesame seed oil, rice noodles (I used Maifun rice sticks), coconut oil (or any other heat-safe oil), curry powder, eggs, salt, carrots, and green onions. The recipe also calls for Chinese sausage. I don't recall ever seeing Chinese sausage in a store in Northern Nevada and taking small children on a hunt around town is about as fun as taking them to a nice restaurant. So, I used smoked deli ham like Sarah suggested.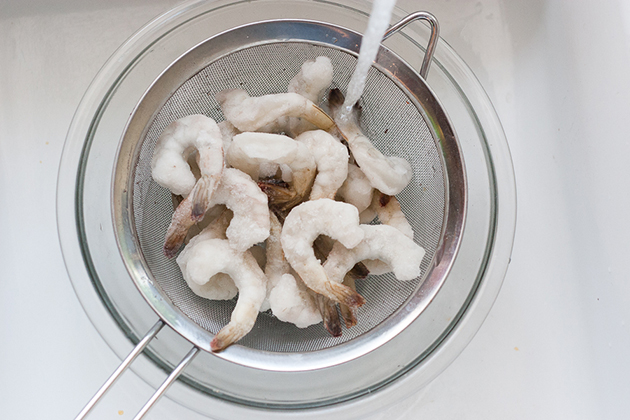 If your shrimp is frozen (like mine was), put them in a sieve and run tepid water over them for a minute or so until they soften. I left mine sitting in the sink for several minutes while I gathered the rest of the ingredients.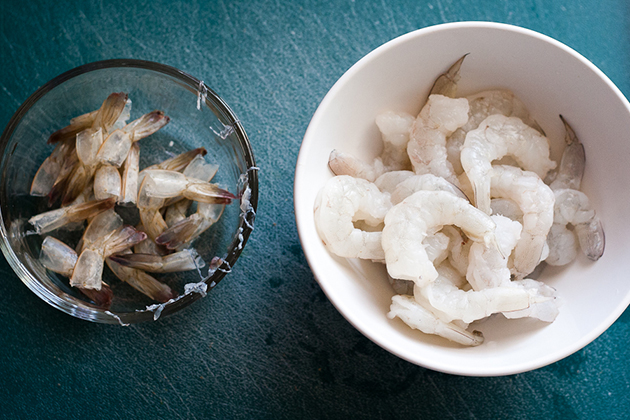 Once the shrimp is fully thawed, pull the tails off. Then, run the tip of your knife along the inside curve of each shrimp to remove the intestinal tract. (Yep, that's what that is. Gross, huh?) This really doesn't take long.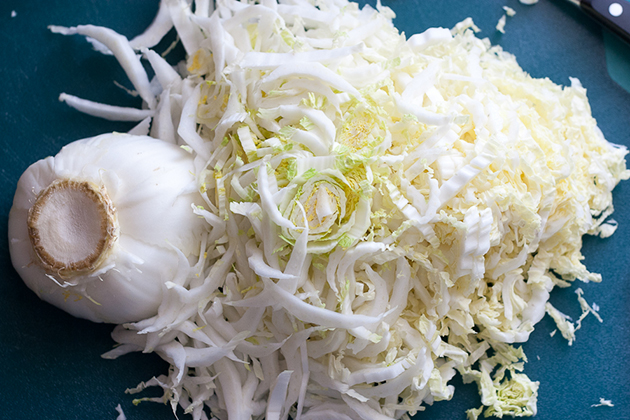 Now we start prepping the vegetables. This recipe is rather heavy on the chopping, but the cooking time is super quick and easy. It all balances out!
Slice the Napa cabbage into skinny ribbons.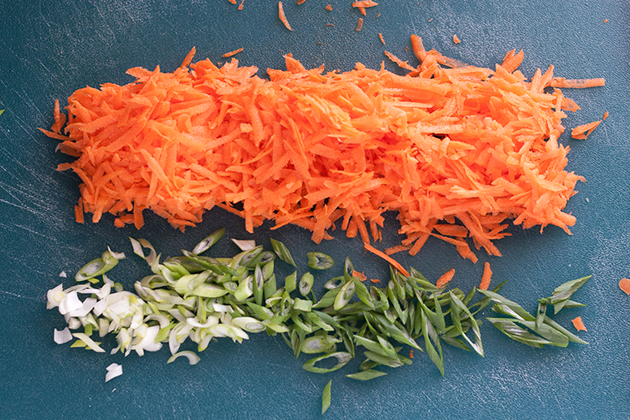 Shred the carrots and slice the green onions thinly.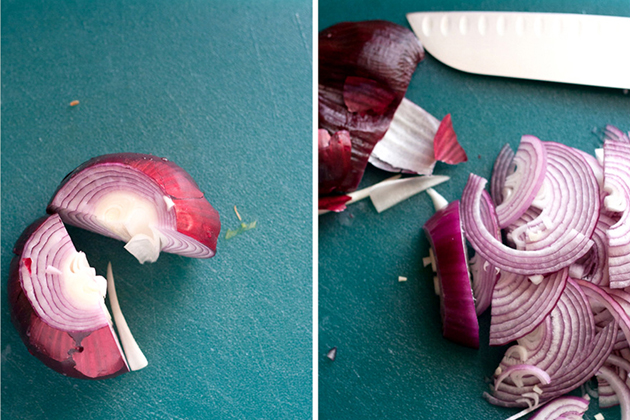 Trim, peel, and slice the red onion.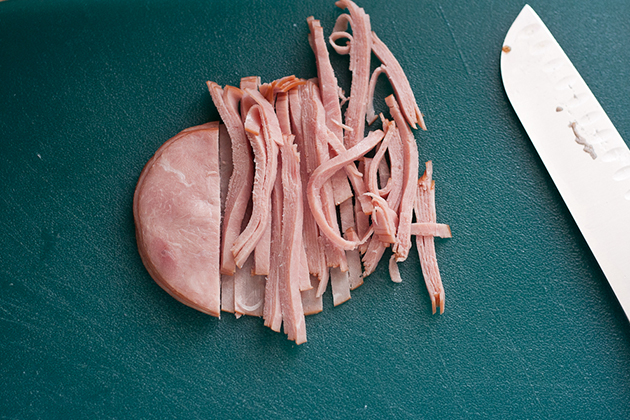 Slice up that deli ham, too. 
Chopping is over! We survived!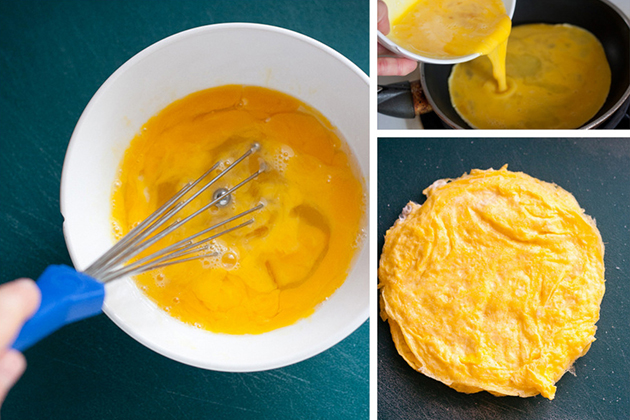 Now crack the eggs into a bowl and give them a good whisk. Pour them into a small nonstick skillet, and cook until eggs are done, flipping halfway through. You want to make an omelet-like form instead of a scramble, so don't move them around while they cook. 
Transfer them to a cutting board and … oh. I guess we do have a little chopping left. But it's super quick. Cut the eggs into ribbons.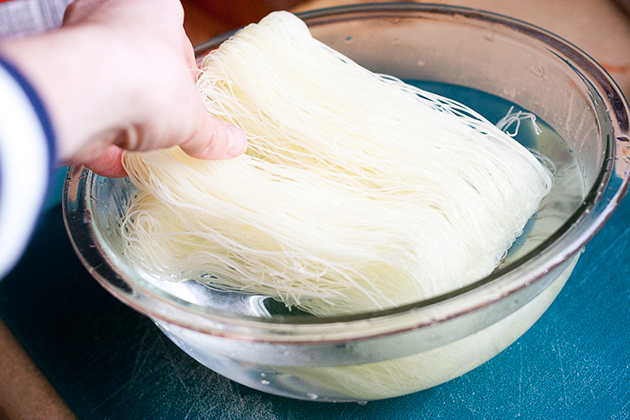 Place the rice noodles in a bowl of hot water. Let them sit for 5 minutes or until they become pliable but still too crunchy to eat. If you leave them in too long, they'll turn to mush when you cook them.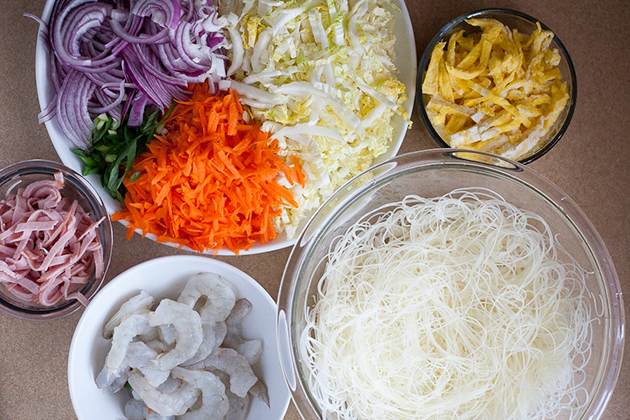 Alrighty. We've got our ingredients prepped and ready to go. You could actually do this the night before and keep them refrigerated until you need them. That would be handy on a busy night and you'd have dinner on the table in less than 15 minutes.
Your family will think you're a rockstar.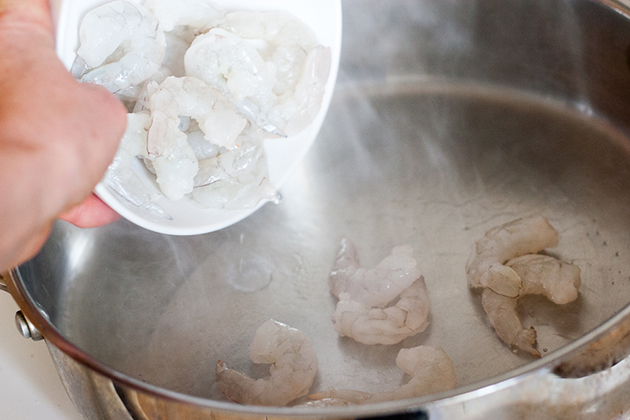 Grab your wok. Or large saute pan with high sides. Or some kind of deep skillet to keep everything in.
Bring the coconut oil to medium-high heat, then add the shrimp.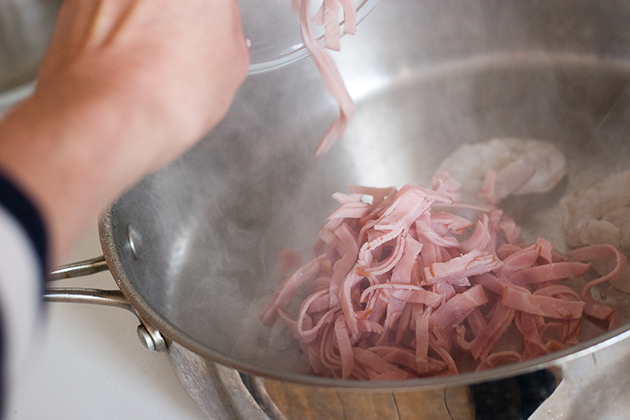 Add the ham. Stir them around and keep things moving as you add the other ingredients.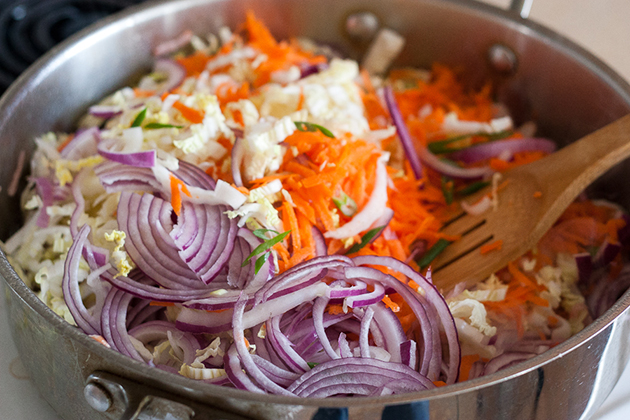 Now throw in the cabbage, red onion, and shredded carrots. 
I have to tell you. Trying to photograph a stir-fry step-by-step is an adventure. Seriously. Tossing vegetables into a screaming hot skillet and keeping them from burning while trying to get decent sort-of-in-focus photos through all the steam is wild. I like to live on the edge.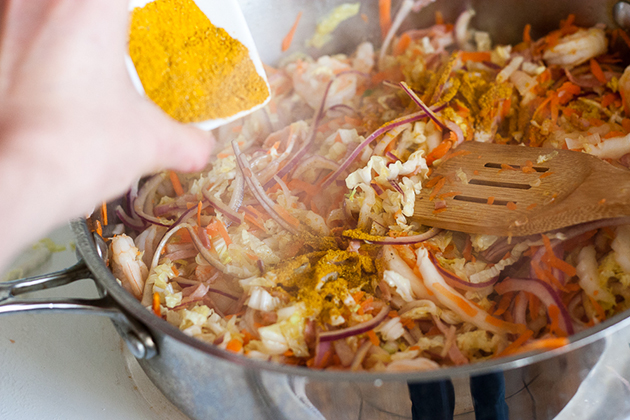 Once you get it all mixed together, add the curry. And stir again. 
There's a reason why this is a stir-fry.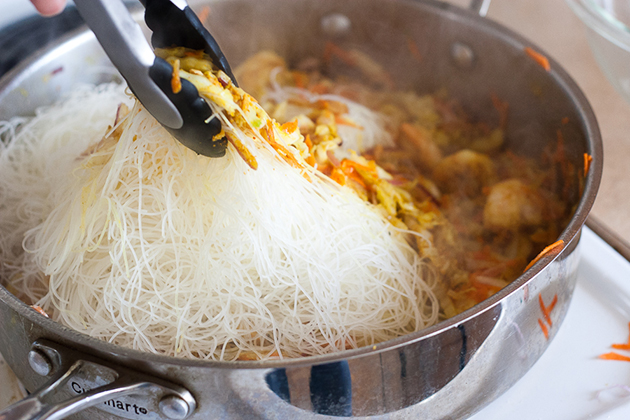 Add the rice noodles, breaking them apart as you put them in. Using your tongs, try to combine the rice noodles with the rest of the contents of the pan.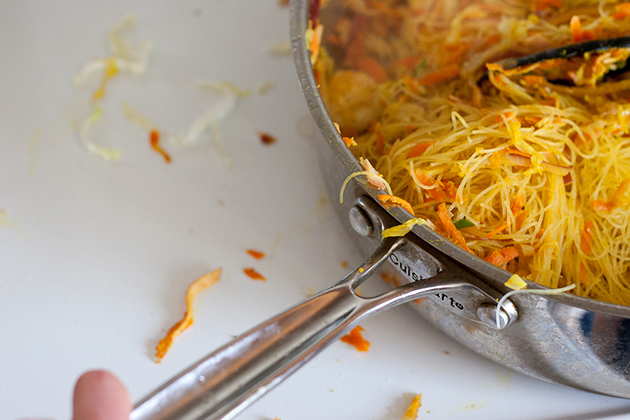 If you spill, I won't judge.
We're almost to the finish line! Add the soy sauce and sesame oil.
Add the green onions, salt, pepper, and egg ribbons. Stir those in gently.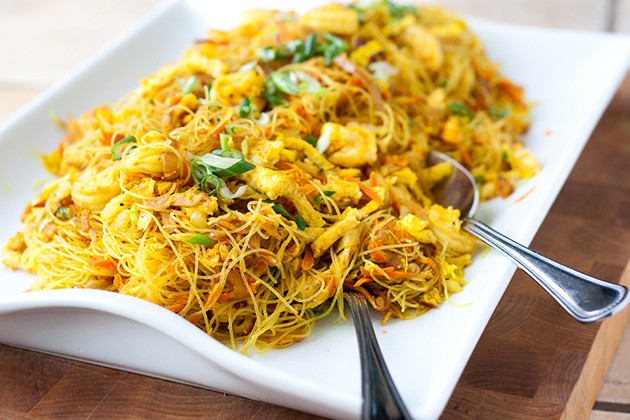 Dump it all onto a platter and serve it up!
I have to say, this exceeded my expectations. I ADORE this meal. It was fun to make, and I love the bright colors from the spices and vegetables. It's also light, but filling. You could even replace some noodles with more vegetables to add more of those vitamin things. If you don't like shrimp, thinly sliced chicken or beef would also be good.
Thank you, Sarah, for giving me another reason to make a meal at home! 
Be sure to visit Sarah's TK recipe box and her blog, The Woks of Life (I love that name) for more Chinese recipes!
 
Notes:
1. This recipe called for dried chiles which I initially omitted because my kids freak out when food has the slightest amount of heat. However, I added them anyway at the last minute, and I'm glad I did! Three peppers gave it just the right amount of tingle.
2. I doubled this recipe to feed our family of five and ended up with a lot of food. Enough for 6 adult servings. 
Printable Recipe
See post on Sarah @ The Woks of Life's site!
Description
You'll find it on every takeout menu in America but it's actually really easy to make at home! Try my dad's authentic recipe.
Ingredients
12 whole Shrimps, Peeled, Deveined, And Butterflied
2 cups Soaked Rice Noodles
2 whole Eggs (optional)
3 cups Shredded Napa Cabbage
1 whole Carrot
1 whole Scallion
½ whole Red Onion
3 whole Dried Red Chiles (optional)
⅓ cups Thinly Sliced Roast Pork, Ham, Or Chinese Sausage
1 Tablespoon Oil
1-½ Tablespoon Curry Powder
2 teaspoons Salt
1 Tablespoon Shaoxing Wine
½ teaspoons Sesame Oil
½ Tablespoons Soy Sauce
¼ teaspoons White Pepper
Preparation Instructions
Rinse the shrimp and pat dry. Soak the rice noodles in cold water for 20 minutes. Drain the noodles just before you're ready cook.
If you decide to use eggs in this, beat them in a bowl and make a thin omelet by cooking eggs in a hot oiled wok or nonstick skillet. Transfer to the cutting board and cut the omelet into thin strips about 2 to 3 inches long and set aside. Julienne the napa cabbage, carrot, and scallion. Thinly slice the red onion and set aside along with the dried chili peppers. Cut the Chinese sausage (or ham or pork) into thin pieces similar to the size of the carrots.
Heat the wok on the highest setting and add oil, sausage and shrimp and stir-fry for about 10 seconds. Add the dried chili peppers, carrot, napa cabbage and onion and stir-fry for about 30 seconds and then sprinkle the curry powder evenly over the mixture.
Add the rice noodles and while doing so, make sure you rip them into manageable 7- to 8-inch lengths for easy eating later. Add the salt and wine and mix well (about 1 to 2 minutes), making sure you firmly scrape the bottom of the wok with your spatula to prevent the noodles from sticking. A hot wok is a must to prevent sticking but ensuring that you scrape the bottom of the wok as you mix is an important technique.
The noodles should be taking on the rich color of the curry powder. Add the sesame oil, soy sauce, white pepper, scallions and the cooked egg if you decided to include it. Mix thoroughly again for another minute, plate and serve immediately!


_______________________________________
Be sure to check out Natalie's own beautiful food blog, Perrys' Plate, where you can see her growing collection of lovely recipes. There's always something new to see there. Go visit now!