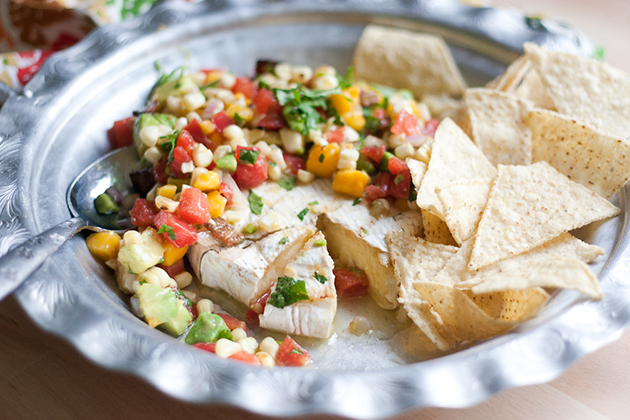 I love finding recipes that nearly knock me out of my chair and get lodged into my brain so tightly that they MUST be made within the week. It's an extra bonus if it ends up being as good as it looks.
One of my favorite things ever is ooey-gooey brie. Grilled corn is also up there. So is mango salsa. And bacon. (Clearly.) So you can imagine my reaction when I saw the Grilled Brie with Grilled Corn and Mango Salsa recipe from TK member Justine.
I believe I shrieked out loud.
It never occurred to me to grill brie. Or pair it with a salsa. Or put bacon in mango salsa. The whole thing almost made my head explode—in the best way possible. It's brilliant. And it was like summertime on a platter.
Luckily it's not hard, either. Here, I'll show you!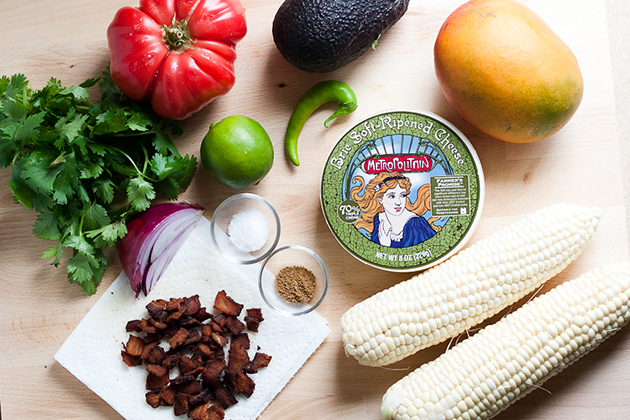 Brie, fresh corn, crispy bacon. (Wow, we could stop there and make something tasty, couldn't we?) Also, mango, avocado, tomato, fresh cilantro, onion, lime, jalapeno, cumin, and salt.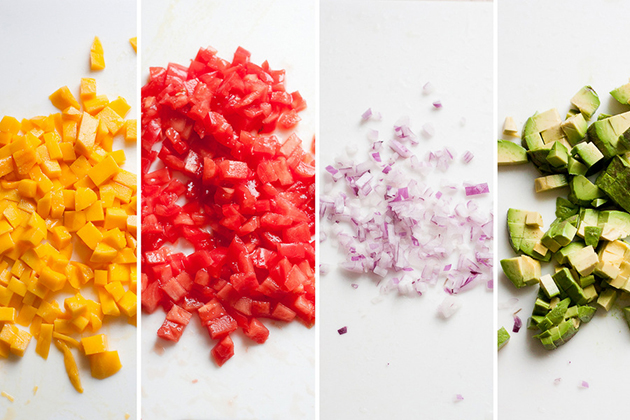 Start by dicing the mango, tomato, onion, and avocado. It helps if they're all roughly the same size.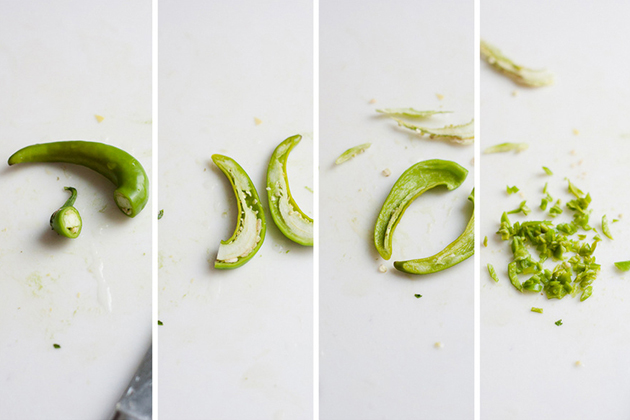 Now prep the jalapeno by cutting the top off, slicing it in half, removing the seeds, and mincing. You don't have to remove the seeds if you want it spicy. I have small children who are still in "spicy food training" so I removed most of mine.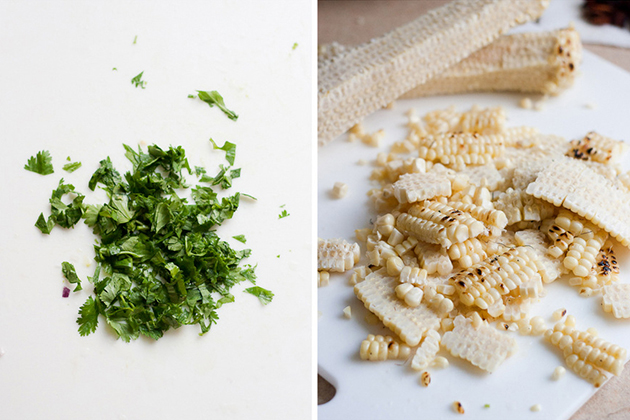 Now chop the cilantro. Throw the cobs on a hot grill for several minutes and turn them a few times until you get a few charred spots. Let them cool and remove the corn from the cobs with a sharp knife.
Yes, this takes some prep work, but you're seriously almost done. I hope you have some chips ready.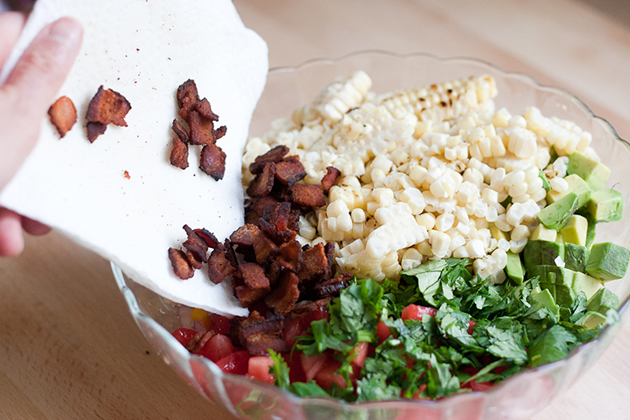 Combine everything you just prepped, along with the bacon, into a bowl.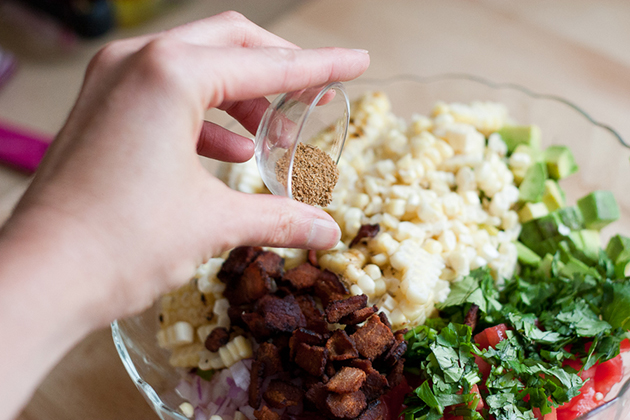 Add the cumin.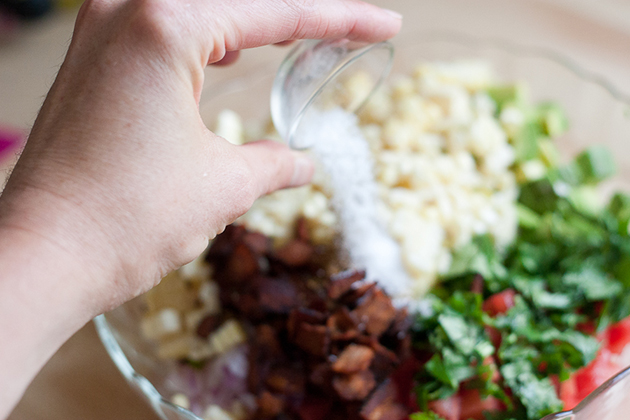 And the salt.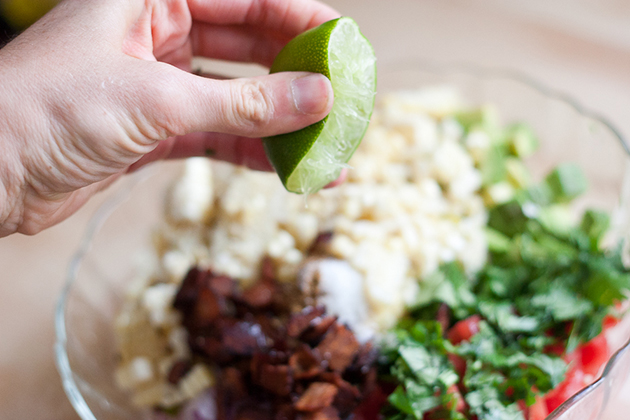 And the lime. Start with a half lime and add more later if you think it needs it.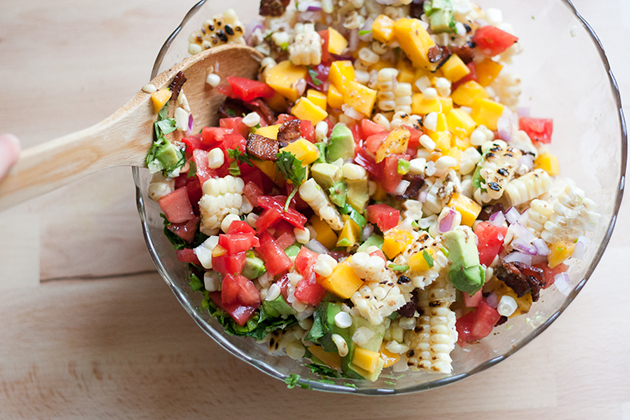 Give the whole thing a stir. Then stand back in awe because it'll be the prettiest bowl of food you've ever seen.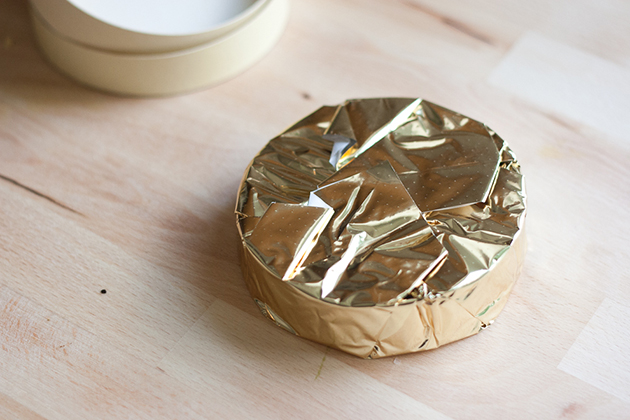 Now the brie. Is your grill still hot? Good.
Remove the brie from the package and take off any foil/paper it is wrapped in.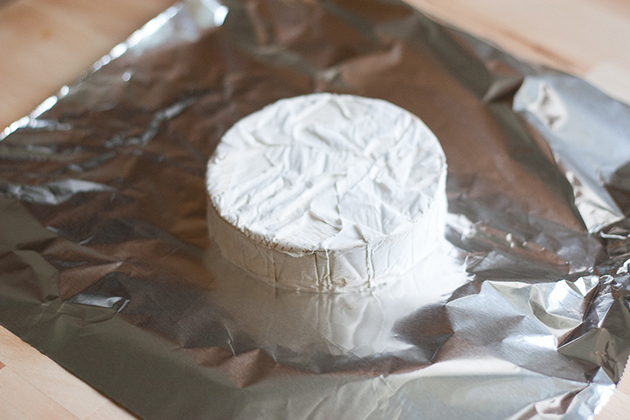 Place it on a sheet of aluminum foil.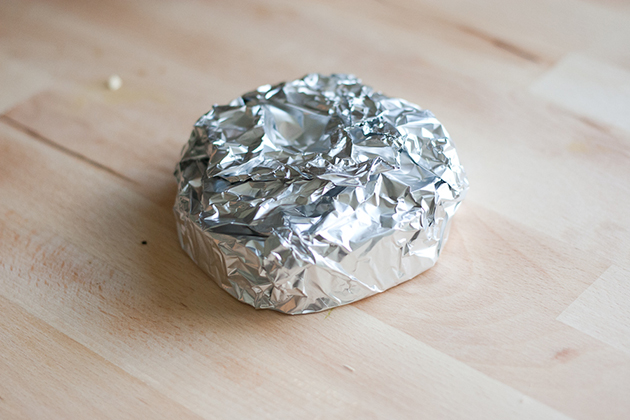 Wrap it tight. Then cook it on the grill, flipping once, until it has warmed and is slightly gooey, but not too gooey or it'll fall apart when you try to take it out of the foil.
Alternately, if you're using a stove-top grill pan, you can put the brie right on the pan instead of covering it with foil. And you'll have pretty grill marks like Justine's brie.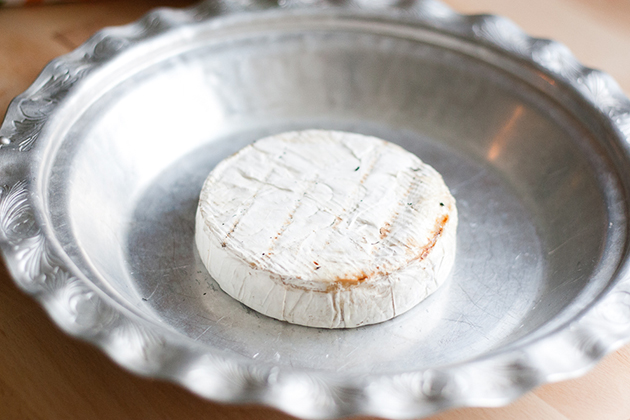 This doesn't look very grilled but I promise it's nice and warm on the inside. Place the brie on a serving dish.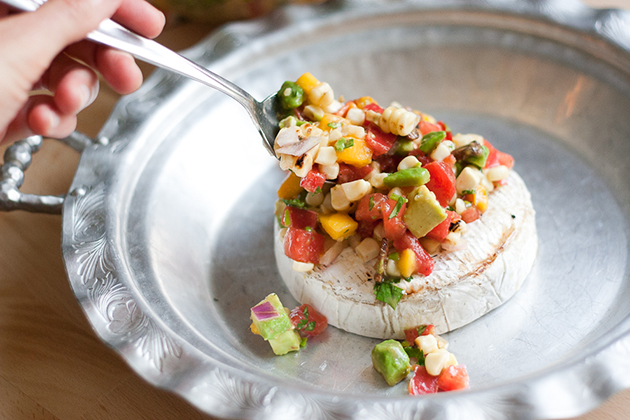 Spoon some of that gorgeous salsa over the top. You can be liberal with this. You'll have GOBS of salsa leftover. If you'd rather not have gobs of salsa leftover, then cut the salsa part of the recipe in half.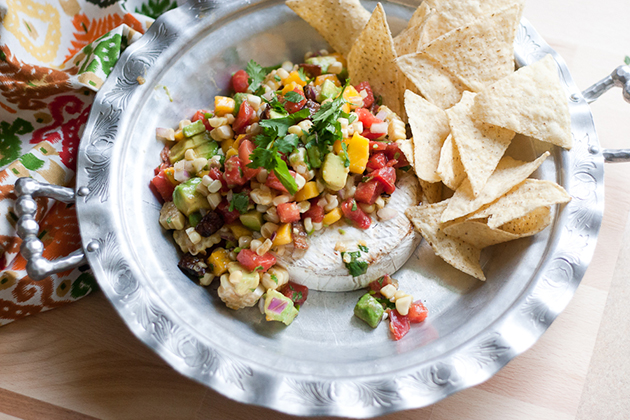 Throw some chips in there and try to restrain yourself if you are expecting company.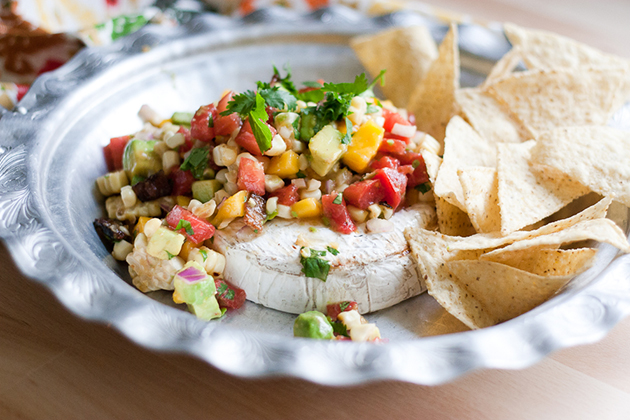 If not, then eat away. I would recommend having another person with you so you don't end up eating the entire thing yourself.
Just, um, a warning. It can happen.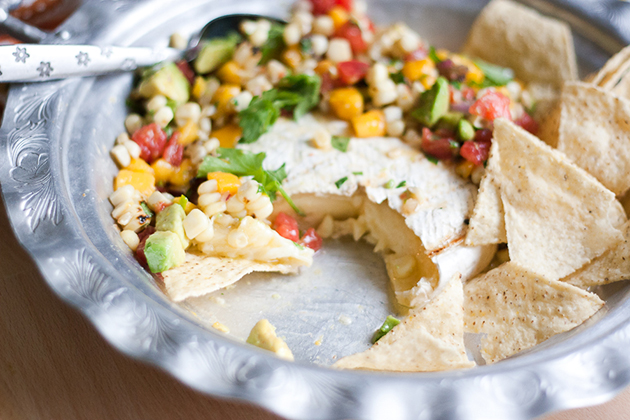 Because it's really hard to stop eating this. It's like deconstructed nachos with fancy cheese. And it tastes every bit as good as you think it will. Maybe even better.
You should definitely check out Justine's TK recipe box! I just saw about six things I want to make. (Chipotle Baked Sweet Potato Fries? Yes, please.) You can also find her over on her blog, Cooking and Beer.
Printable Recipe
See post on Justine Sulia (Cooking and Beer)'s site!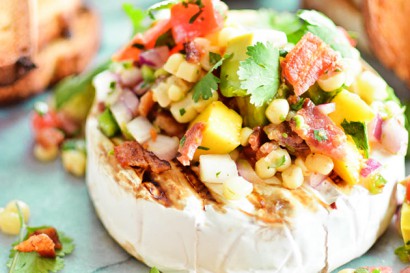 Description
This grilled brie is the perfect appetizer to serve at your next party!
Ingredients
2 ears Corn, Cleaned
1 whole Jalapeño, Seeds And Stem Removed, Diced Small
¼ cups Red Onion, Diced Small
1 whole Large Mango, Pitted And Skin Removed, Diced
1 whole Tomato, Seeds Removed, Diced
1 whole Large Avocado, Pitted And Skin Removed, Diced
3 slices Thick-cut Bacon, Cooked Until Crisp, Chopped (May Be Omitted For A Vegetarian Version)
¼ cups Fresh Cilantro, Chopped
1 Tablespoon Lime Juice
½ teaspoons Salt
1 teaspoon Sugar
½ teaspoons Cumin
8 ounces, weight Brie Cheese Wheel
Toasts Or Tortilla Chips (for Serving)
Preparation Instructions
Preheat grill or grill pan to medium-high heat. Wrap corn in foil and place on the grill. Grill until warm, about 5-6 minutes, turning the cobs often. Remove from heat and set aside to cool slightly. Decrease the heat on grill or grill pan to medium-low.
Once the corn is cool enough to handle, remove the kernels carefully.
To prepare the salsa, combine the corn kernels, jalapeño, red onion, mango, tomato, avocado, cilantro, lime juice, a dash of salt to taste, sugar and cumin in a medium bowl. Add bacon (if using) and toss to combine. Set aside.
Now it's time to grill your brie. If you are using a grill pan, you may place the brie directly on a greased grill pan. Cook for 4-5 minutes on each side or until you have nice grill marks and the center is warm. If you are using an actual gas or charcoal grill, wrap the brie in foil and grill for 10-12 minutes or until the brie is warm and "oozy." Be careful to not place the brie directly over an open flame without being wrapped in foil as the paper is subject to burn.
Serve the brie topped with corn and mango salsa with toasts or tortilla chips. Enjoy!


_______________________________________
Be sure to check out Natalie's own beautiful food blog, Perrys' Plate, where you can see her growing collection of lovely recipes. There's always something new to see there. Go visit now!