The winner of the Le Creuset is:
#335 Pam S: "I love all of the colors — so hard to choose only one! Maybe the turquoise blue? Or the red? But the yellow is beautiful, too." (Now's your chance to pick one!)
Congratulations! Contact [email protected] to claim your loot.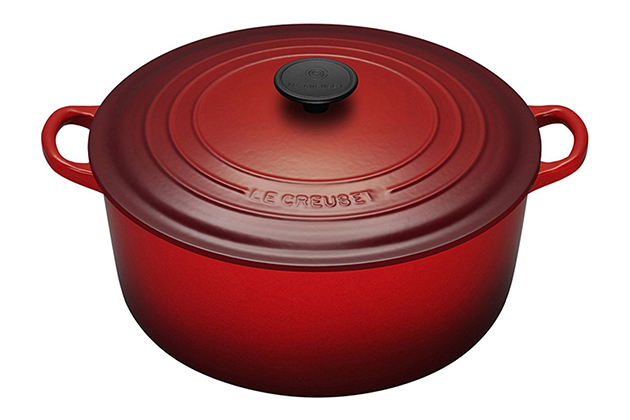 We're celebrating our fifth anniversary with giveaways all week. Today, it's one of our all-time favorite pieces of cookware, the Le Creuset French Oven. In my kitchen, it sits out on the stove almost all the time, ready for its next job. They're so versatile and durable, and with all the bright, beautiful colors, they can become part of your kitchen decor. Here are some prize-winning recipes, best made in one of these French ovens. Get ready to be hungry.
Olive Oil & Italian Herb Dutch Oven Bread from Jackie of La Casa de Sweets. No knead. Delicious served warm!
Texas Chili from Jen of Devour the World. Short rib chili. Meaty goodness.
Red Curry Vegetable Lentils from Gina of Running to the Kitchen. Healthy veggies can be comfort food, too!
Braised Beef Short Ribs Over Polenta with Gorgonzola from Carly Klock. A truly scrumptious, stick-to-your-ribs dinner.
Homemade Ricotta Cheese from Gaby of What's Gaby Cooking. So easy and so rich. Definitely worth making your own. (Le Creuset pots are great for other homemade ingredients, like Greek yogurt.
Turkey Bolognese Ragu with Pappardelle from Nam of The Culinary Chronicles. This is an everybody-pleaser! Hearty and so tasty!
So, now that our tummies are growling, let's get to the giveaway!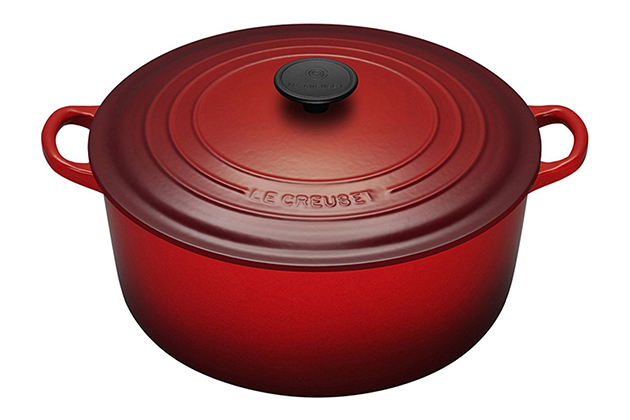 We're giving away one Le Creuset 7 1/4-quart Round French Oven. You get to choose the color, too!

TO ENTER
To enter this giveaway, just answer the following question in the Comments section of this post:
"Which Le Creuset color is your favorite?"
Tell us your answer below and you'll automatically be entered to win!

THE RULES
One entry per person, please. Contest ends tonight at 9PM PST.
Winners will be chosen randomly and announced tomorrow morning.

All anniversary week giveaways sponsored by Tasty Kitchen.