Some days I really want a brownie. Okay, most days I really want a brownie, but making brownies all the time would be a dangerous thing for me. I have very little self-control when there are baked goods sitting on my counter, and I end up eating them for breakfast.
No bueno.
Enter: Paleo Brownies by TK member elanaspantry. Elana is known for her almond flour recipes and paleo-focused blog and cookbooks. I've been reading her blog for several years and have had a lot of luck with her recipes. I think she has magical powers.
These chocolatey bites were just the thing to curb my brownie cravings without completely falling off the healthy wagon. They're naturally sweetened, grain-free, and dairy-free. Can't get much better than that.
Plus, they have a rich, dark, chocolate flavor. I like my chocolate (and my brownies) dark.
Let's get started!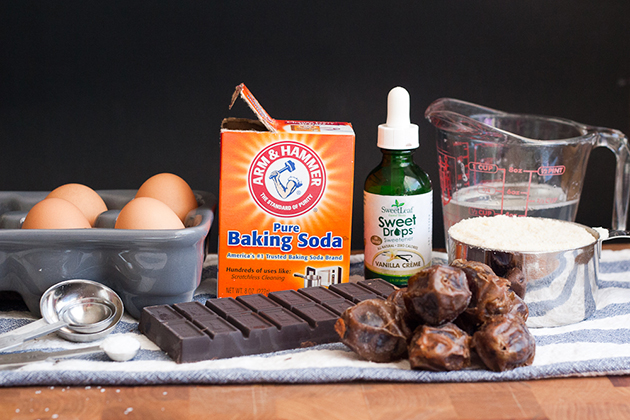 You'll need eggs, baking soda, vanilla stevia, coconut oil, blanched almond flour, dates, 100% cacao baking chocolate, and salt.
First, put the almond flour, salt, and baking soda in the work bowl of a food processor. My food processor has a 9-cup bowl. You may be able to get away with a 7-cup bowl but I wouldn't go smaller than that.
Did I mention all of this is done in a food processor? No other dishes or pots and pans needed! If you don't have a food processor, go buy one.
Joking. (Kinda.)
You can make it without a food processor, but you'll have to tweak the instructions a bit. I'll help you out when we get to that point.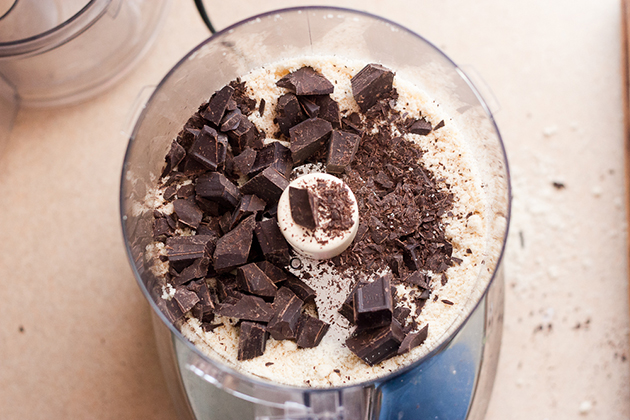 Chop the chocolate into smaller pieces and add them to the food processor.
If you don't have a food processor, melt the chocolate over low heat and stir it into the almond flour mixture.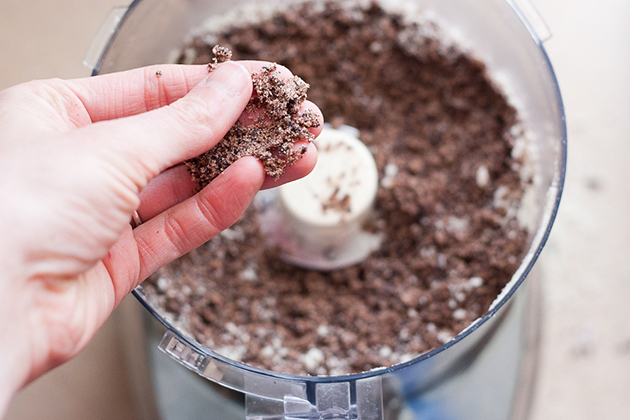 Pulse the mixture until it resembles wet sand and all of the large chocolate chunks have been broken down.
Now for the dates. If your dates aren't pitted, you'll need to remove the pits. It's super easy. Just rip them in half and pull the pits out.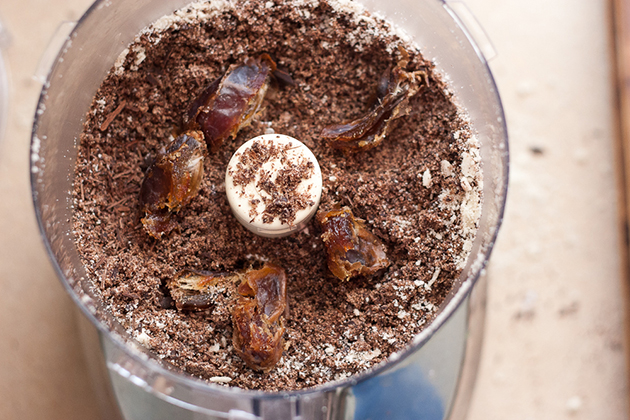 Add the date halves to the food processor.
If you (still) don't have a food processor, jump in your car and grab one. I'll wait.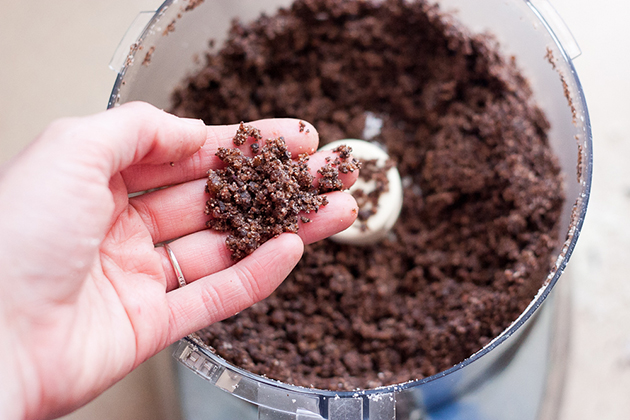 Pulse the mixture until (again) it looks like wet sand and the dates are broken up well.
No processor, still? You'll need to chop those babies up really small. As in, mince. Then stir them into the mixture.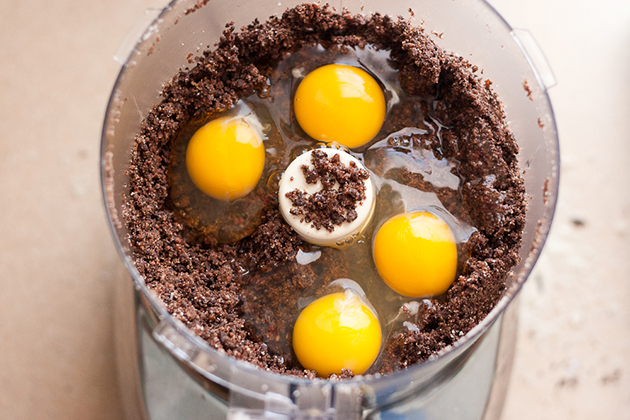 Time for eggs! The recipe suggested three eggs, but my eggs were on the small side, so I used four. Blend the mixture again!
Add the vanilla stevia.
And coconut oil. I've made this with coconut oil in both liquid and solid form. It didn't make a difference in the end.
After the last blend, it should be thick and look something like this.
Transfer the mixture into a greased 8 or 9-inch square baking pan. I used coconut oil spray to grease my pan.
Bake as directed in the recipe until an inserted toothpick comes out clean.
Here they are after baking! I was ready to dive into these when I read, "Allow brownies to cool for 2 hours, then serve."
DEVASTATION.
After making these a few times, I trust Elana. They taste much better after they've been sitting around a while. I thought the flavor was even better the next day. So wait, if you can. If you can't, I won't judge.
They come out of the pan and slice so well, too!
Thanks so much, Elana, for a healthier alternative to one of my favorite treats!
Go check out Elana's TK Recipe Box as well as her blog, Elana's Pantry for more paleo recipes and naturally-sweetened grain-free treats!
Notes:
These were slightly more cakey than I like my brownies to be, so I decided three eggs was better, even if said eggs were small. Also, if you reduce the baking time by a few minutes the texture is even more fudgy—which is my favorite.
Printable Recipe
See post on elanaspantry's site!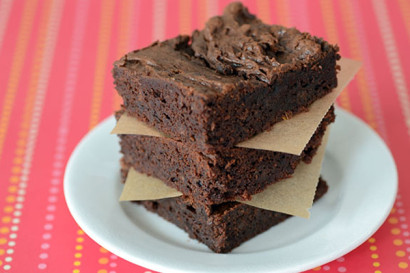 Description
These dark chocolate brownies are lightly-sweetened with dates and packed with other Paleo perks such as coconut oil.
Ingredients
1 cup Blanched Almond Flour
¼ teaspoons Celtic Sea Salt
¼ teaspoons Baking Soda
4 ounces, weight Baking Chocolate, 100% Cacao
7 Medjool Dates
3 Eggs
½ cups Coconut Oil
½ teaspoons Vanilla Stevia
Preparation Instructions
Preheat oven to 350°.
In a food processor, pulse together almond flour, salt and baking soda. Add the squares of dark chocolate and pulse until you reach the texture of coarse sand. Add the dates and pulse until you reach the texture of coarse sand. Add eggs and pulse to combine. Add coconut oil and stevia and pulse until mixture is smooth.
Transfer mixture to a greased 8 x 8 inch baking dish. Mixture will be very thick so you'll need to smooth it with a spatula.
Bake at 350°F for 18-22 minutes. Remove from oven and set dish on a rack. Allow brownies to cool for 2 hours, then serve.


_______________________________________
Be sure to check out Natalie's own beautiful food blog, Perrys' Plate, where you can see her growing collection of lovely recipes. There's always something new to see there. Go visit now!