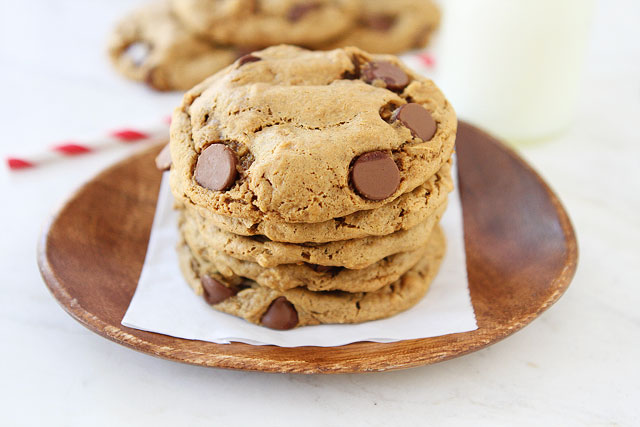 I get asked all of the time what my favorite cookie is. I can never give a completely honest answer because I have more than one favorite. It just depends on my mood. I love all kinds of cookies—chocolate chip, snickerdoodles, peanut butter, oatmeal, lemon, chocolate, coconut … and the list goes on. There are too many good cookies out there so it's really hard for me to narrow it down to one cookie. 
When I saw Monique's recipe for Flourless Peanut Butter Oatmeal Chocolate Chip Cookies, I knew had to try them. Peanut butter, oatmeal, and chocolate chips all in one cookie! Yay! I love that this recipe combines three of my many favorite cookies.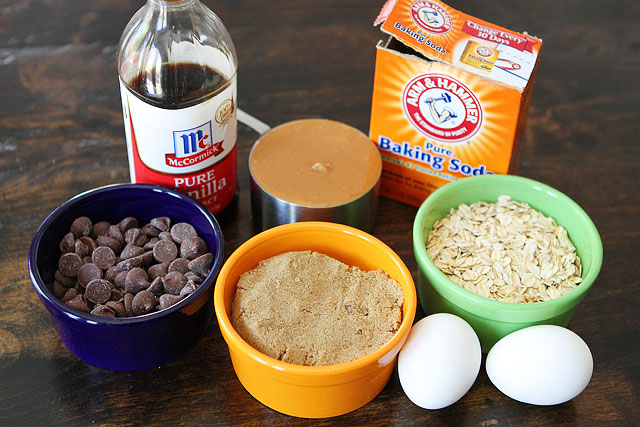 To make the cookies, you need the following ingredients: oats, baking soda, peanut butter, dark brown sugar, eggs, vanilla extract, and chocolate chips. I love that the ingredient list is so simple!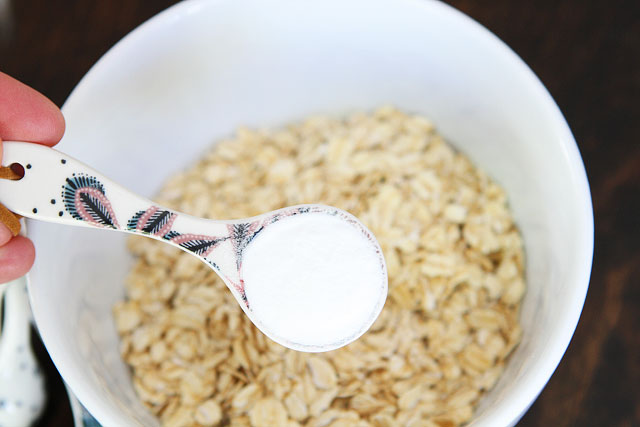 First, mix together the oats and the baking soda in a small bowl. Note-you can use gluten-free oats to make gluten-free cookies.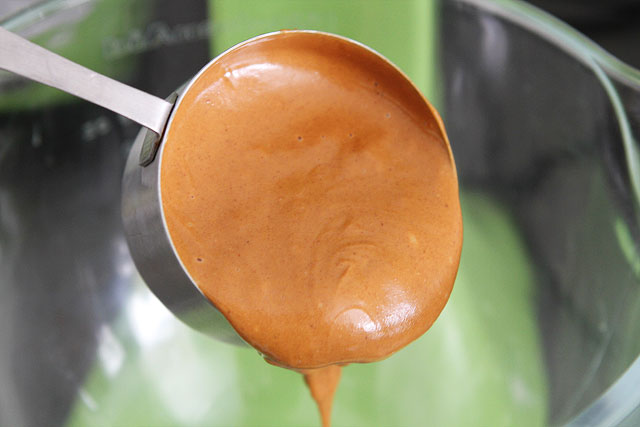 In the bowl of a stand mixer, add the creamy peanut butter.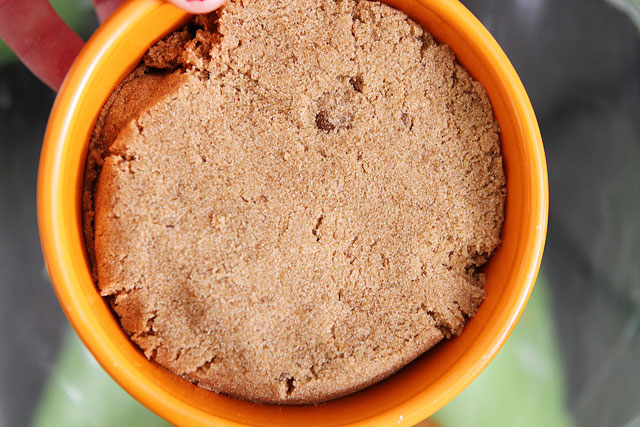 Add the brown sugar.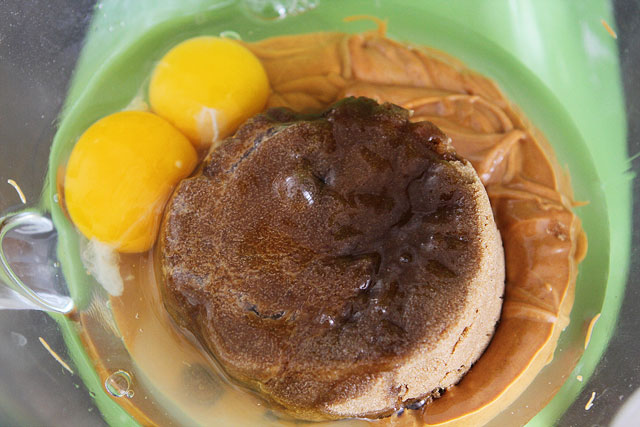 Next, crack in the eggs. Make sure you omit the shell:)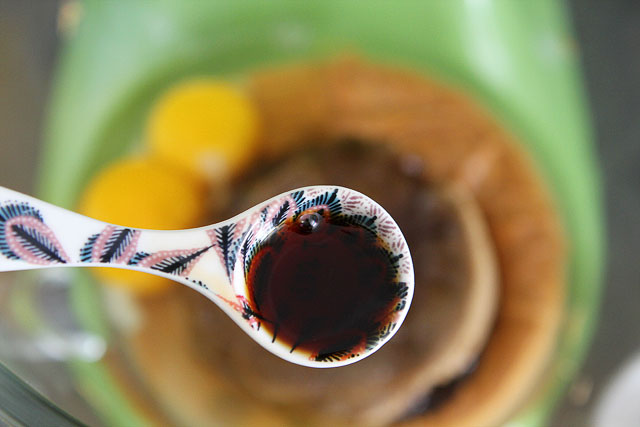 Add the vanilla extract.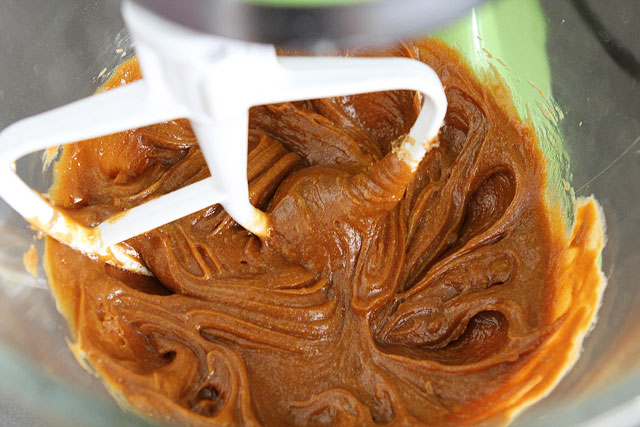 Turn on the mixer and beat until smooth, about 3 minutes.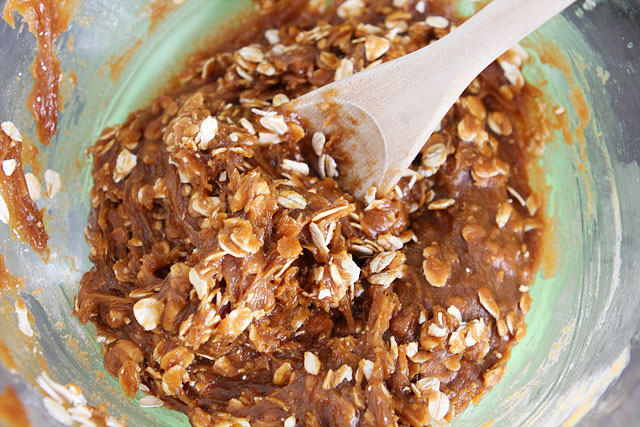 Add the dry ingredients and stir with a wooden spoon.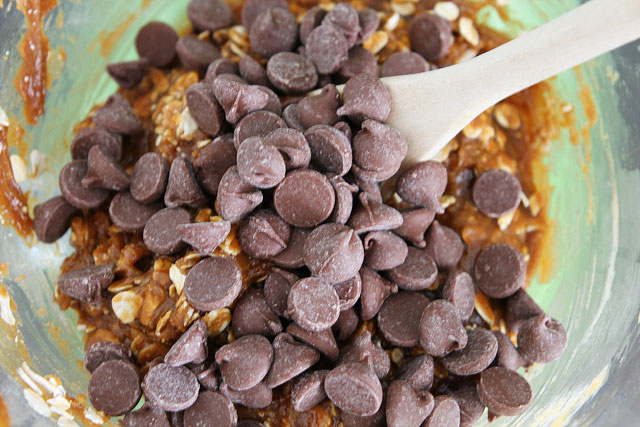 Stir in the chocolate chips. Try not to eat the dough at this step. It is hard, so if you cave in, I wont' tell.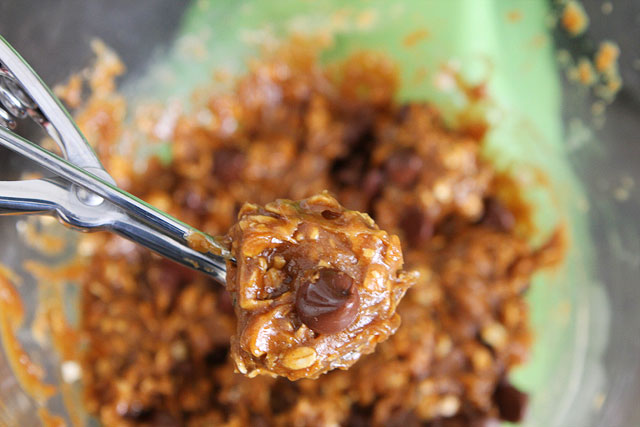 Use a cookie scoop to form your cookie dough balls. You can roll the dough with your hands, but it is pretty sticky, so I opted for the scoop.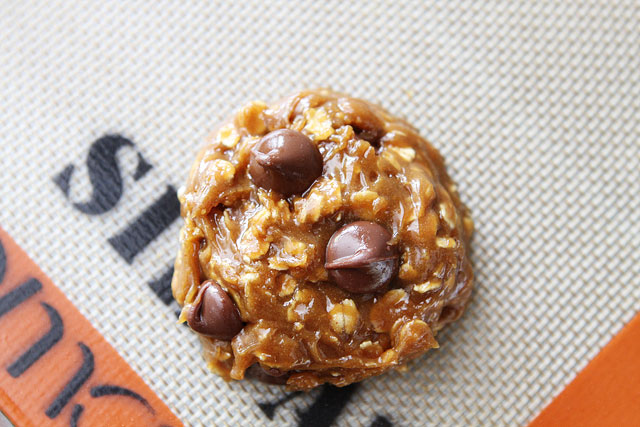 Place the cookie dough balls onto a baking sheet and lightly flatten with your hands. Bake for 9-11 minutes in a 350ºF oven. Remove cookies from the oven and let cool on the baking sheet for 2 minutes … if you can wait that long!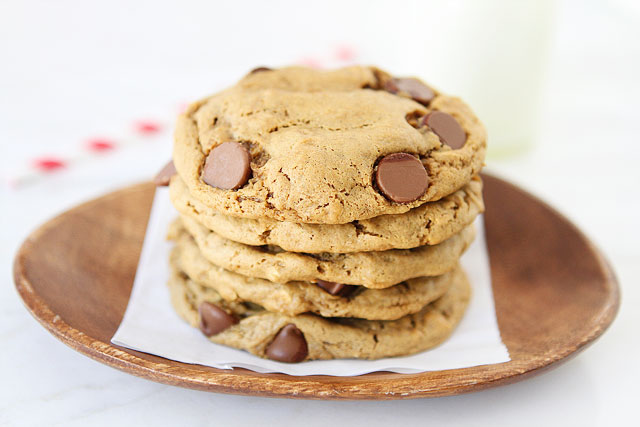 Grab a stack of cookies and start eating!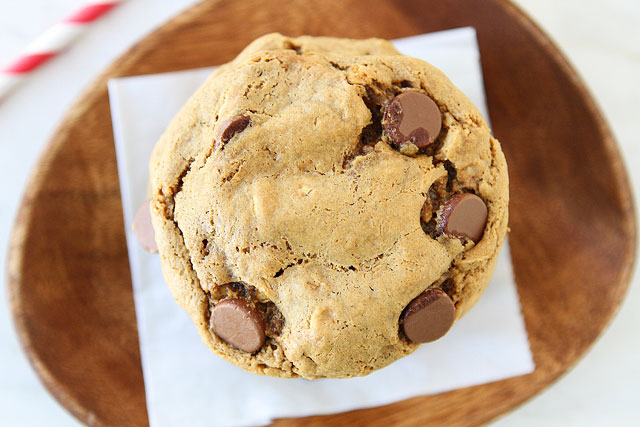 These cookies are super soft and chewy. And I love that there is no butter or flour involved. No butter means I can eat more cookies, right? Please say yes. 
Thanks Monique for an awesome cookie recipe! This recipe is going on my favorite cookie list! 
Make sure you check out Monique's amazing blog, Ambitious Kitchen, for more delicious recipes. 
Printable Recipe
See post on Monique of Ambitious Kitchen's site!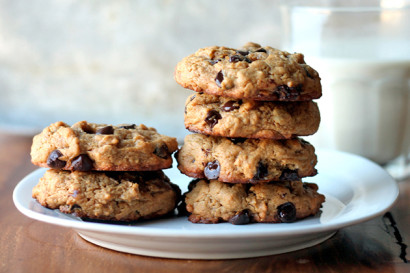 Description
Thick, chewy peanut butter oatmeal chocolate chip cookies made without butter or flour. Delicious!
Ingredients
⅔ cups Rolled Oats (gluten-free If Desired)
1 teaspoon Baking Soda
1 cup Old-fashioned Peanut Butter (I Used Skippy Creamy)
⅔ cups Dark Brown Sugar
2 Large Eggs
1-½ teaspoon Vanilla Extract
⅔ cups Chocolate Chips
Preparation Instructions
Preheat oven to 350ºF.
In small bowl, mix together the oats and baking soda; set aside.
In a large bowl, beat peanut butter, brown sugar, eggs and vanilla with an electric mixer until smooth, about 3 minutes. Mix in dry ingredients with a wooden spoon, then gently fold in chocolate chips.
Roll cookies into 2-inch dough balls and place onto cookie sheet 2 inches apart, then barely flatten the top of the cookie with your hand. The dough should be pretty sticky so if you find this method annoying, simply use a cookie scoop to drop the cookie dough onto the prepared baking sheet. The cookies may not be as round in shape and perhaps a bit thicker, but that's okay, they will still be delicious.
Bake cookies for 9-11 minutes and remove when edges barely begin to turn a golden brown. The cookies may look a little underdone, but they will continue to cook once you remove them from the oven. Cool for 2 minutes on the cookie sheet then transfer to a wire rack to cool completely. Repeat with remaining cookie dough.
Makes 16-20 cookies.
Notes:
1. You can use less sugar or less chocolate chips to save calories—I have tried using 1/2 cup of sugar and 1/2 cup mini chocolate chips and they turned out great!
2. Feel free to substitute almond butter or another nut butter in replace of peanut butter.
3. These cookies disappear quickly so I recommend doubling the recipe!


_______________________________________
Maria and her husband Josh (who she affectionately refers to as her "dough boy") blog at Two Peas and Their Pod. They've been featured on Saveur, Eatocracy, Gourmet Live, Glamour, and the Los Angeles Times, to name just a few. They'd also just recently added a little pea to their pod. We're so glad to have them here!