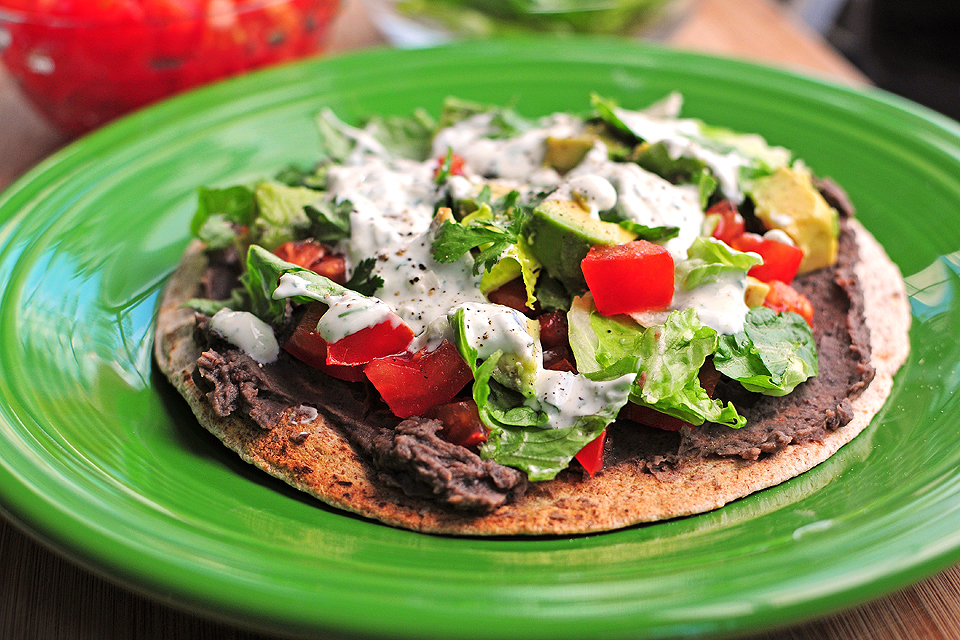 Finding healthy go-to meal options that are quick without sacrificing flavor can sometimes be a challenge. Honestly, sometimes what I throw together for a meal isn't always the best for you. This recipe from Tasty Kitchen member, Lindsay for Healthy Black Bean Tostadas with Cilantro Sauce can change all of that. This recipe can be totally prepped ahead and refrigerated to be able to put together later in under 10 minutes. And although I've made black bean tostadas before, the cilantro sauce in this recipe makes this recipe over the top in flavor. The sauce alone will be something that I make jars of to keep on hand for a salad dressing. Made with only plain Greek yogurt, garlic, cilantro and salt, it's crazy low in calories. And it's crazy good. And crazy easy. I'm not kidding. Crazy.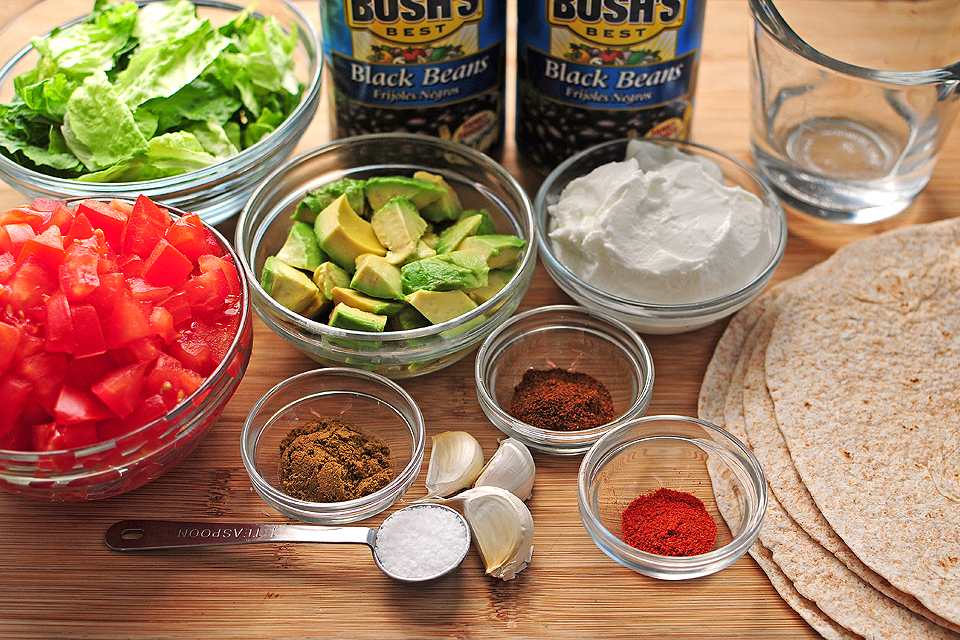 To get started you'll need: black beans, chili powder, cumin, cayenne pepper, water, cilantro leaves (not shown), plain Greek yogurt, garlic, salt, flour tortillas, diced tomatoes, avocado, and shredded lettuce.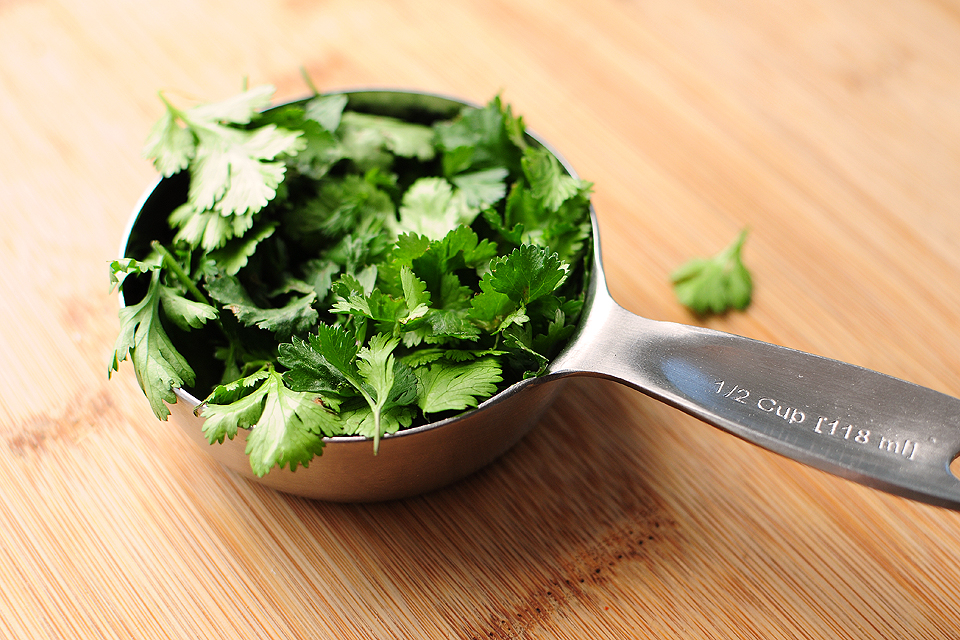 Whoops, forgot the cilantro leaves in the above photo. Use fresh cilantro for this recipe. Dried cilantro just won't make for the same tasty sauce.
Other toppings could be added if desired. Lindsay suggests cheese, lime wedges, salsa, roasted corn and peppers.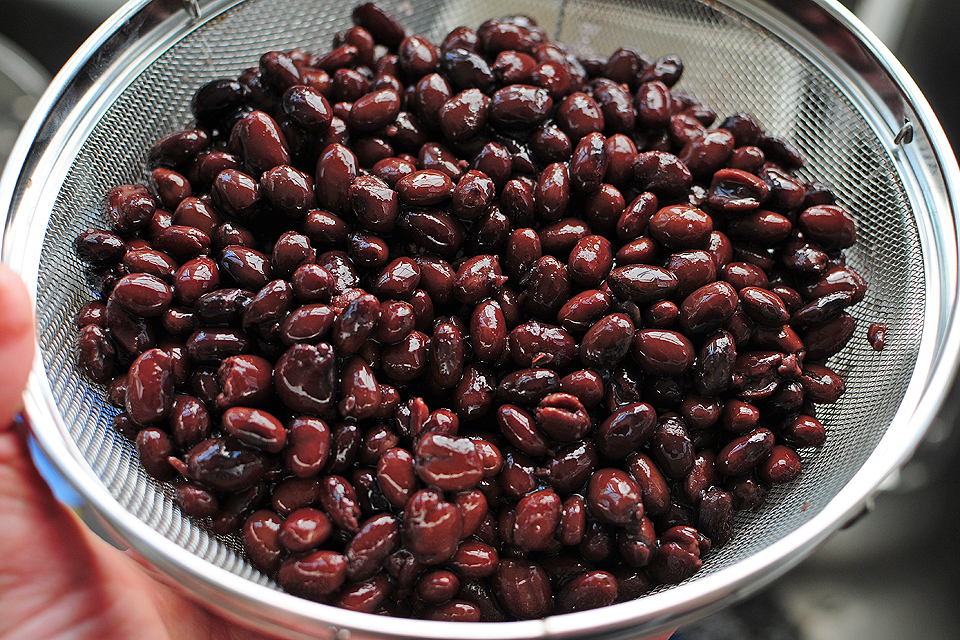 Begin by preheating the broiler, and draining the beans.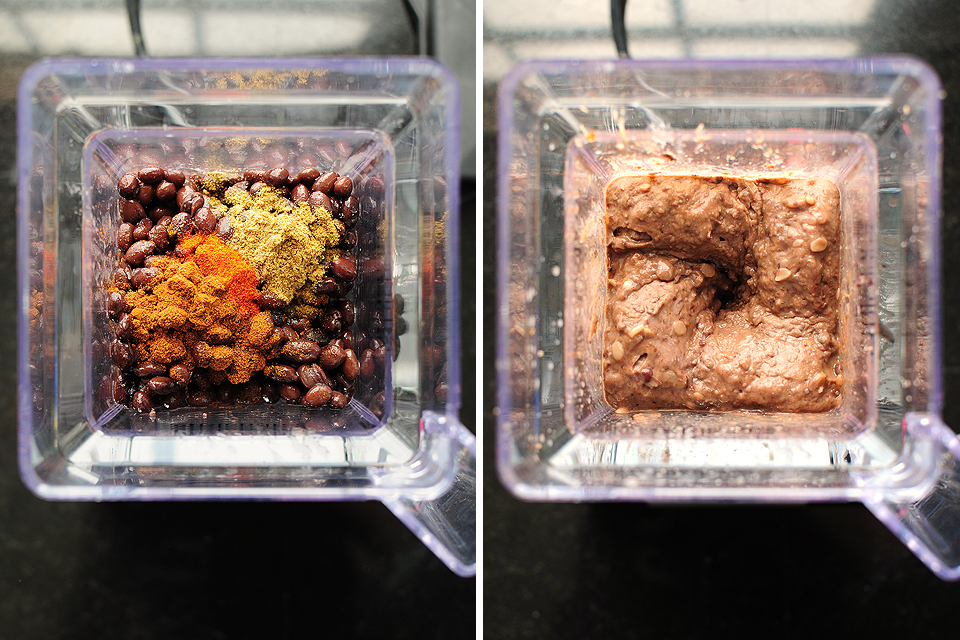 In a blender or food processor (or with a little mashing and mixing by hand), puree the black beans, chili powder, cumin and cayenne pepper. Add a little of the water as needed to help blend the ingredients together. Blend for about a minute or so. You'll see a little texture was left in the mixture. Cover and set aside.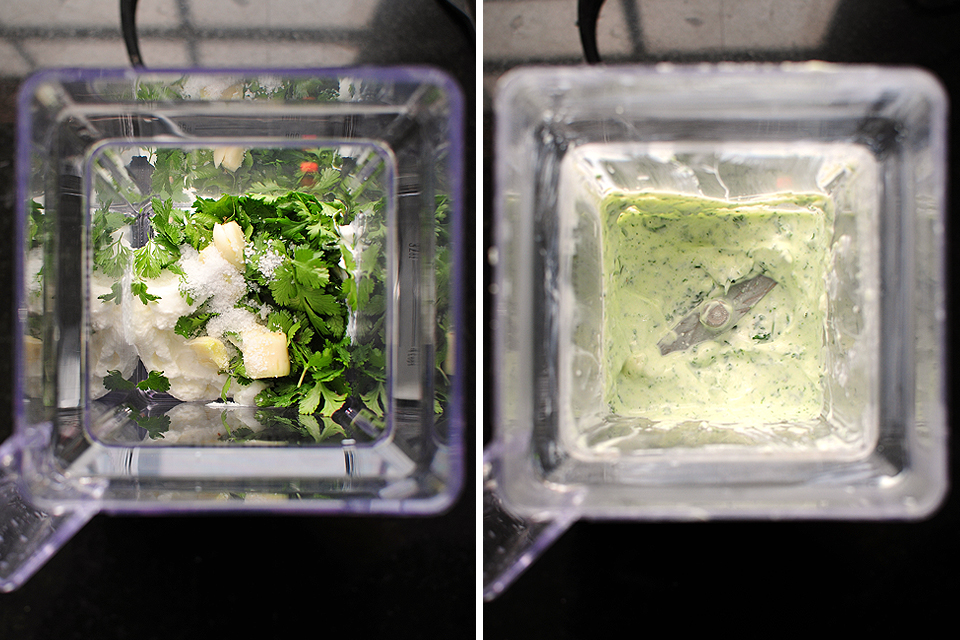 To create the sauce, blend together the cilantro, yogurt, garlic and salt in a blender or food processor until combined. Adjust seasonings to your taste.
Both the black bean mixture and cilantro sauce can be prepared ahead and refrigerated, making this a quick healthy go-to meal or snack.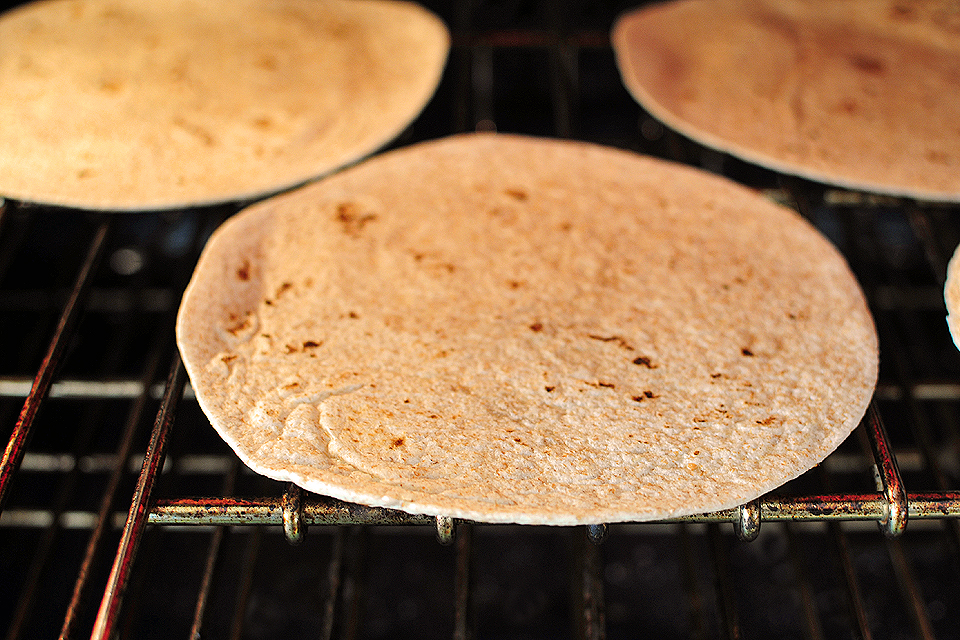 In the preheated oven, place tortillas directly on the oven rack and broil each side for about 3-5 minutes or until browned and crispy.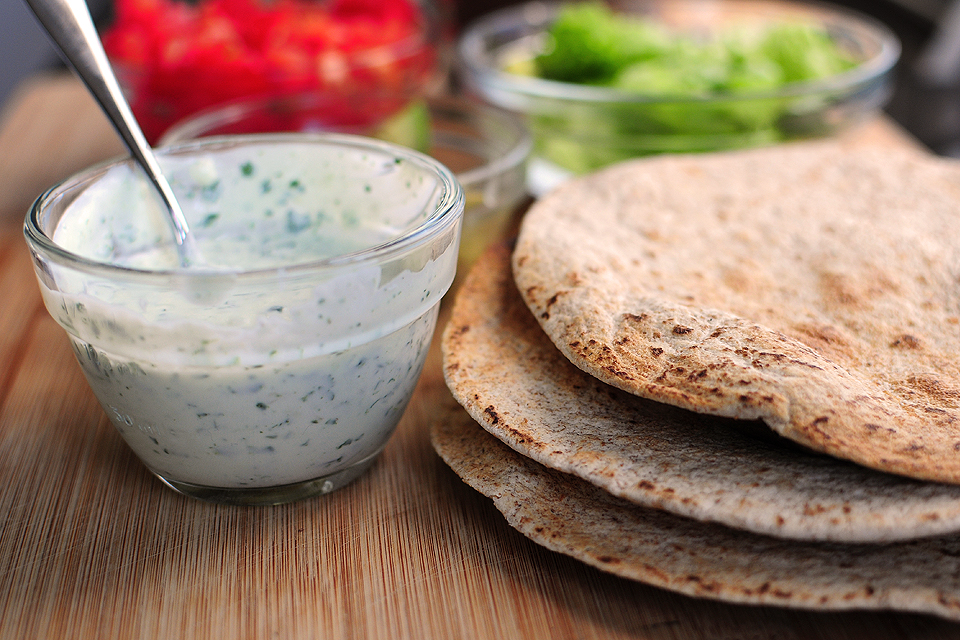 I set out all the ingredients and let everyone fix their own. It was a tostadas bar, y'all. I should've made more cilantro sauce. It disappeared quickly.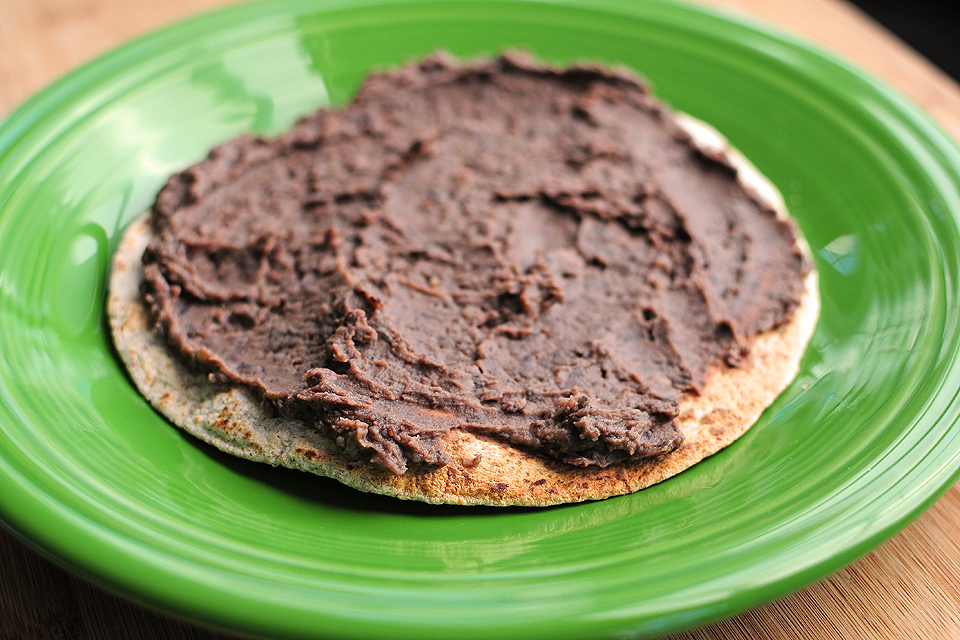 Begin building the tostada by topping a tortilla with the black bean mixture.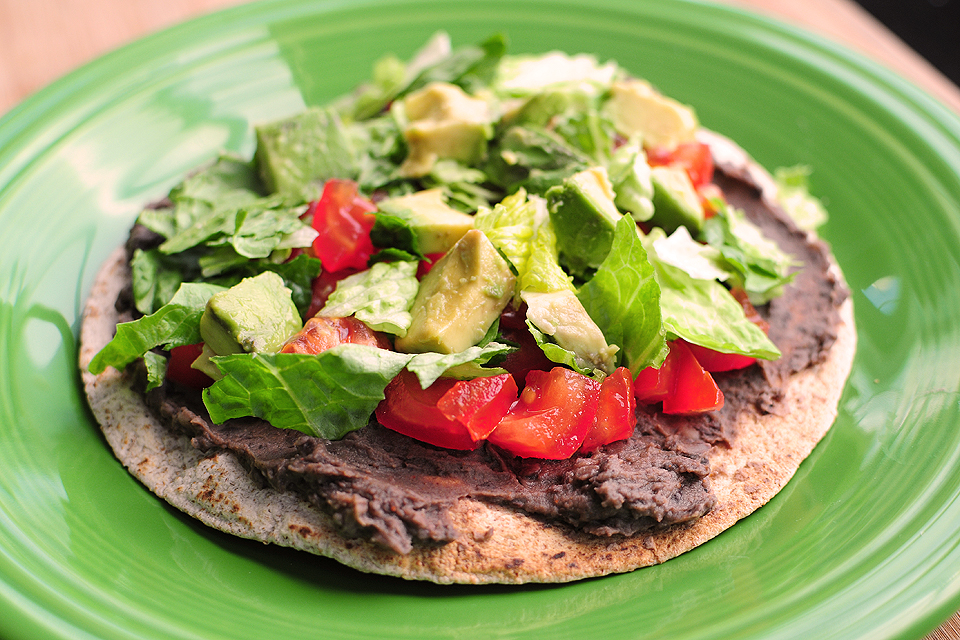 Next add tomatoes, lettuce and avocado.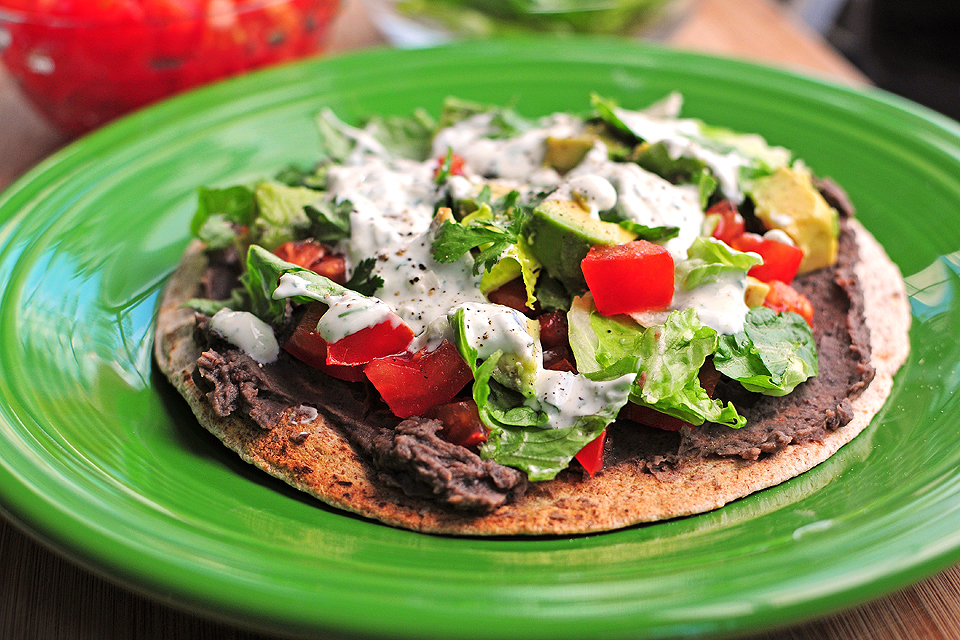 Then the pièce de résistance: the cilantro sauce. (I guess that should be the Spanish equivalent for pièce de résistance instead?)
Oh my. Delish!
Thanks to Lindsay for this healthy, but very tasty option. Check out Lindsay and her husband Bjork's other offerings over at Pinch of Yum.
Printable Recipe
See post on Lindsay's site!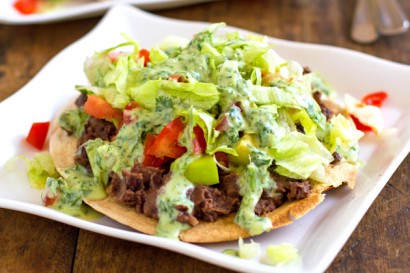 Description
A crispy baked tortilla loaded with good stuff.
Ingredients
2 cans (15 Oz. Size) Black Beans
1 teaspoon Chili Powder
1 teaspoon Cumin
¼ teaspoons Cayenne Pepper
¼ cups Water (optional)
½ cups Packed Cilantro Leaves
⅔ cups Plain Greek Yogurt
3 cloves Garlic
1 teaspoon Salt
4 whole Flour Tortillas
4 whole Tomatoes, Chopped
1 whole Avocado, Cubed
2 cups Shredded Lettuce
Preparation Instructions
Preheat the broiler. Rinse and drain the beans. Puree the black beans, chili powder, cumin, and cayenne in a blender or food processor, adding a tablespoon of water at a time to help the mixture move, if necessary. I ended up using about 2 tablespoons water and pureed for a minute or two but still left some texture.
In a food processor or blender, puree the cilantro, yogurt, garlic, and salt, adjusting the seasoning with more cilantro/salt/yogurt to your taste.
Place tortillas in the oven directly on the rack, taking care that the edges are all supported by the rack (otherwise they will bend through the cracks and it will be bent in a funny shape). Let the tortillas bake for 3-5 minutes on both sides until they are browned and crispy.
Top the crispy tortillas with black beans, tomatoes, avocados, and lettuce. Drizzle with cilantro sauce.
Notes:
Holding the tostadas while you spread the bean mixture helps them not to break apart.
Other topping ideas include cotija cheese, lime wedges, salsa, ranch dressing, or roasted corn or peppers.


_______________________________________
Amy Johnson is a blogger who writes about food, travel, the home (both inside and out), and various observations and random musings about anything and everything. Visit her blog She Wears Many Hats for a dose of deliciousness, practicality, hilarity, or just plain fun. She lives in South Carolina with her husband and two children.